Have you ever wondered what it's like to stay at one of the overwater bungalows in Jamaica? We thought we'd tell you all about our experience staying at overwater bungalows in Jamaica because many people haven't had the opportunity to stay at one yet and everyone wonders what it is like!
Overwater bungalows are very popular, especially in the Pacific Ocean, near Asia, and Polynesia. But they've started to make their way to the Atlantic Ocean as well. Now you can find pretty overwater bungalows near the USA and in the Caribbean. One of our favorites is at Sandal's All-Inclusive Resort.
Unlike the far-off bungalows, the overwater bungalows in Jamaica are just 1.5 hours flying from Miami and 2-3 hours from many USA airports. They are just a hop, skip, and jump away!
If you've never stayed at an all-inclusive, here's what you should know. Your nightly rate is usually per person, and that is what it is like at Sandals as well. In your nightly rate, everything is included. Yes, everything.
While you are on the resort, you won't have to pay for a single thing. That includes all food, room service, top-shelf liquor, activities on the resort, and if you have a room level with a butler, their services as well. So, let's break down what exactly you can expect when staying at an overwater bungalow in Jamaica.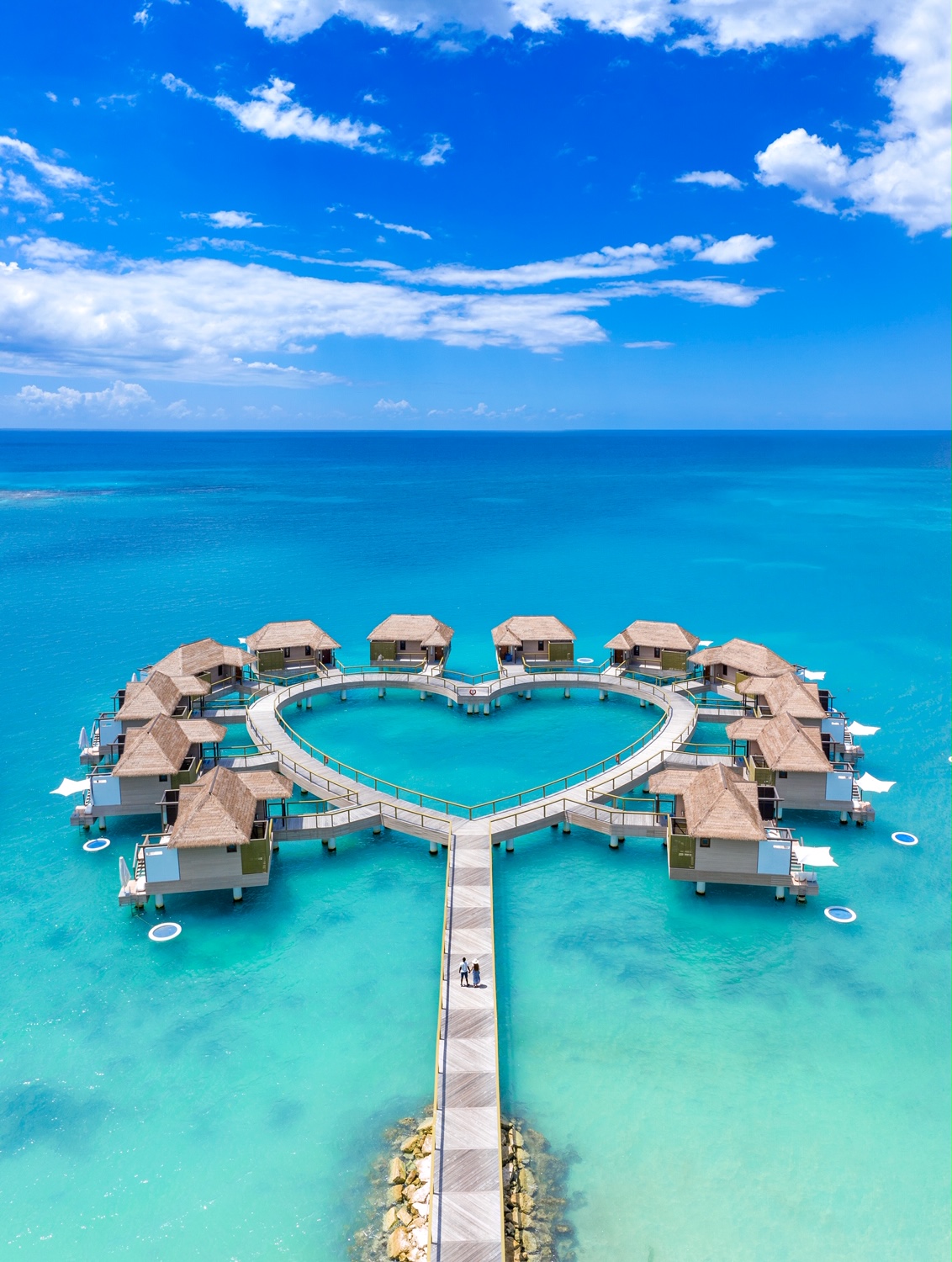 Does Jamaica Have Overwater Bungalows?
Yes! At Sandals South Coast and Sandals Royal Caribbean, you can find overwater bungalows! Each offers a unique overwater bungalow in Jamaica experience, but you can't go wrong staying at either one.
The one distinct difference is that Sandals Royal Caribbean has both overwater bungalows [which we will discuss here] and overwater villas, which come complete with a plunge pool and more!
You can only find the overwater villas at Royal Caribbean, and there are just 4, so make sure to book well in advance!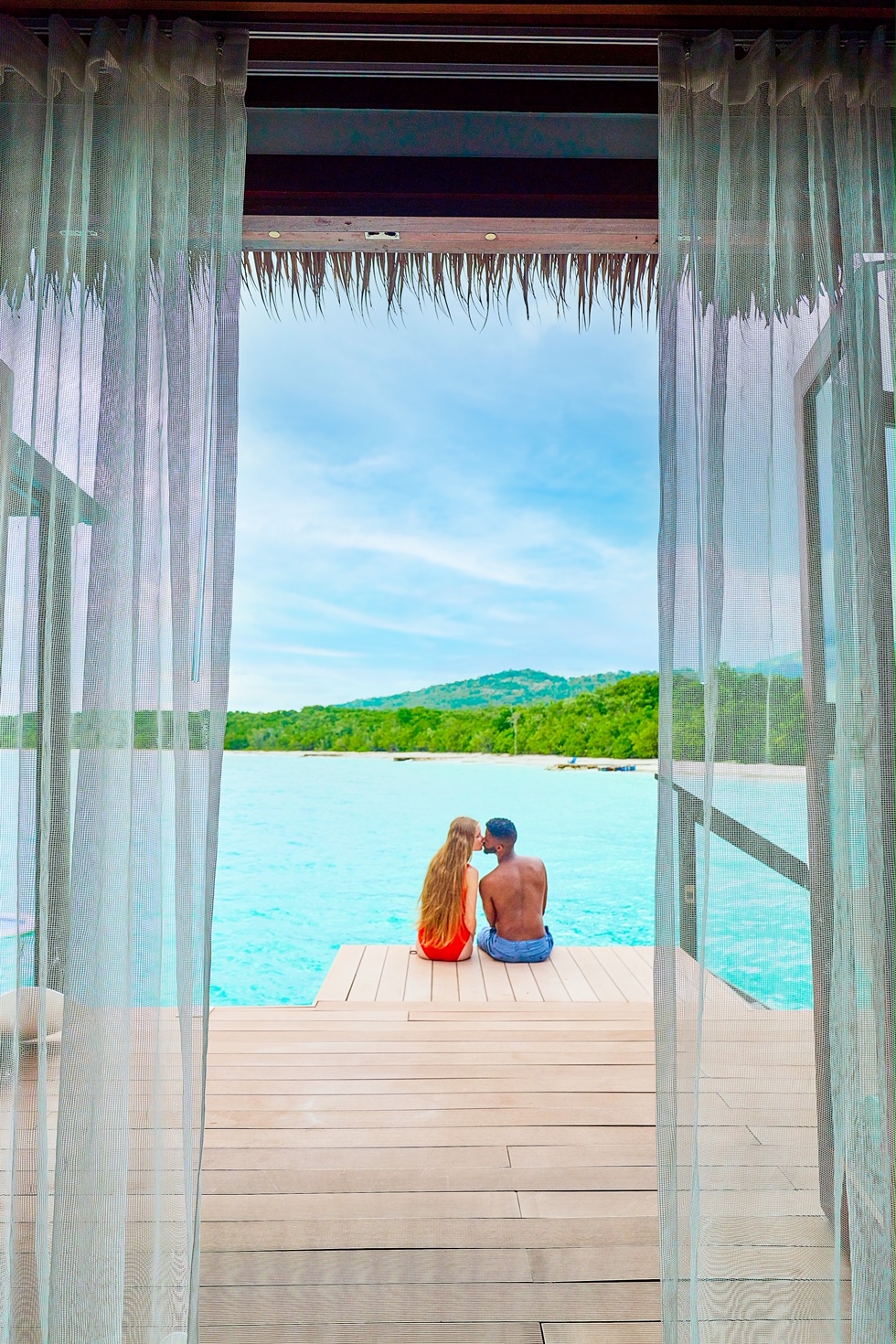 Overwater Bungalows At Sandals South Coast
The overwater bungalows at Sandals South Coast are fairly new to the resort. There are 12 bungalows, and each of them comes with additional amenities, outside of the standard all-inclusive amenities.
Along with the classic all-inclusive perks, you'll have your own private butler, an extended room service menu, and more.
If you are looking for a more luxurious all-inclusive experience, then the overwater bungalows at Sandals South Coast are the way to go. They are completely private, full of luxury fittings and décor, and of course, have stunning views.
Click Here To Check Rates At Sandals South Coast!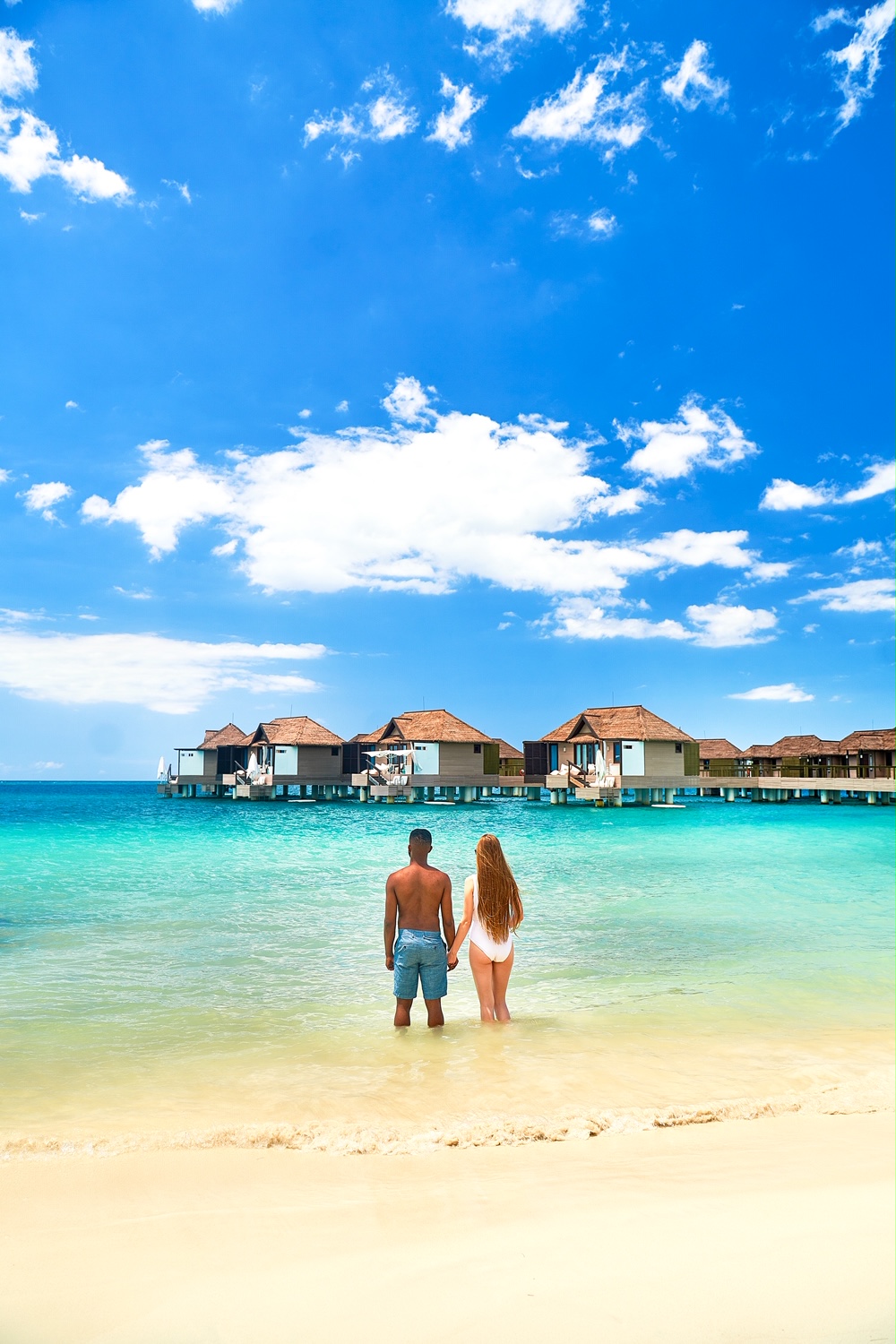 Best Rooms To Book For Overwater Bungalows In Jamaica
No matter what room you book, you're going to enjoy your stay. There is truly something for everyone when it comes to the overwater bungalows. They all naturally have stunning views.
If you don't mind a walk, you can have a room that is completely ocean views. Those rooms are 6004 to 6007 and are at the top of the "heart" shape.
There are also rooms that have the best sunset views or the best sunrise views. If you don't have a 100% view of the ocean, don't worry, it's still a beautiful view. It may just also include the beach or even mountains in the distance.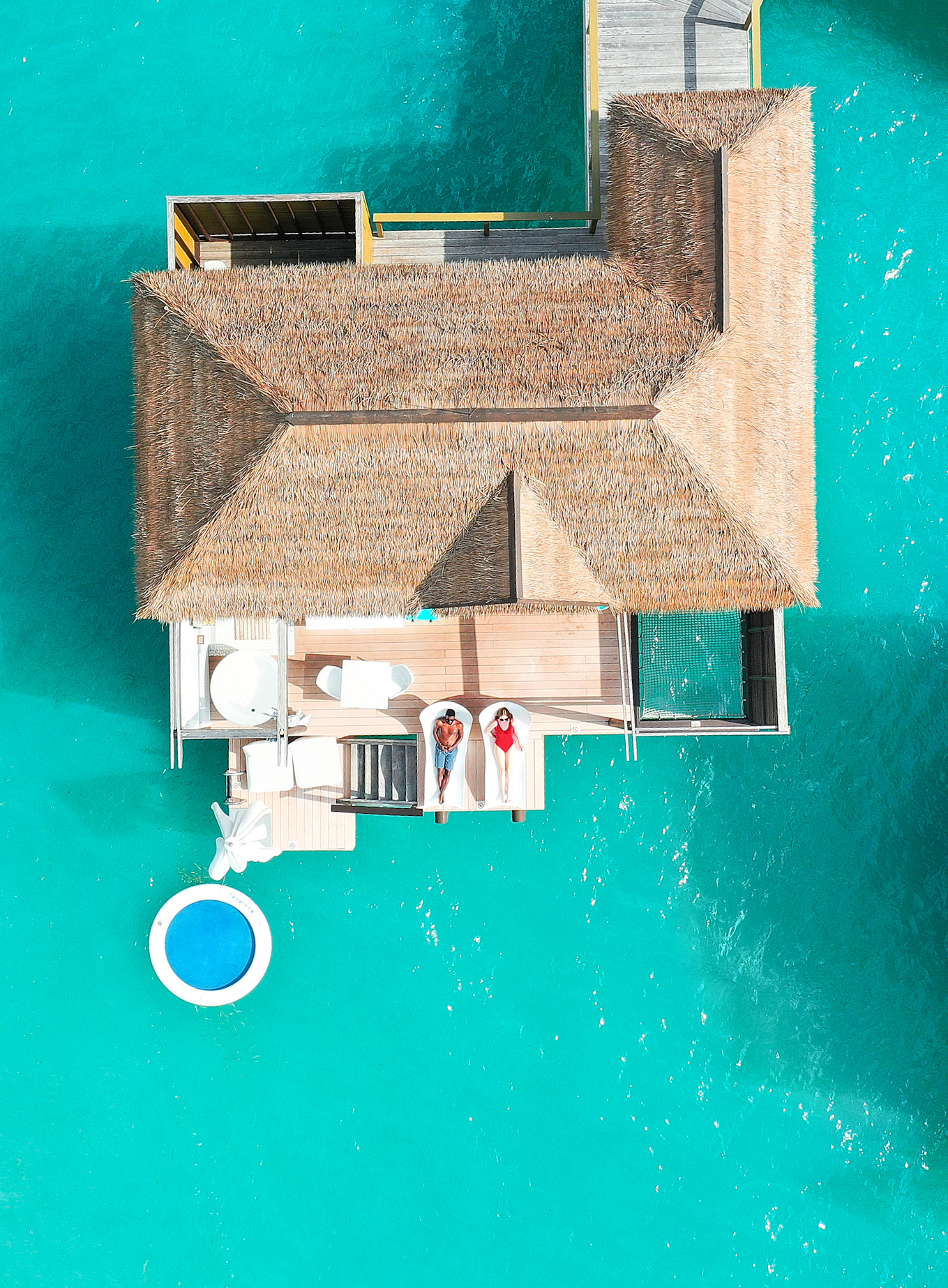 Some rooms do face the other parts of the resort, and this is for guests who want to see and be seen enjoying their luxe overwater bungalows!
Now, you can request a specific room type, and Sandals will do its best to accommodate you. But, they can't guarantee they'll have the room view you want. So keep that in mind when booking your room. Even if you don't get your top choice when it comes to the view, you'll still have a lovely stay.
This view from the soaking tub is from room 6001 with a view of the ocean, beach, and mountains.
Check Rooms At Sandal South Coast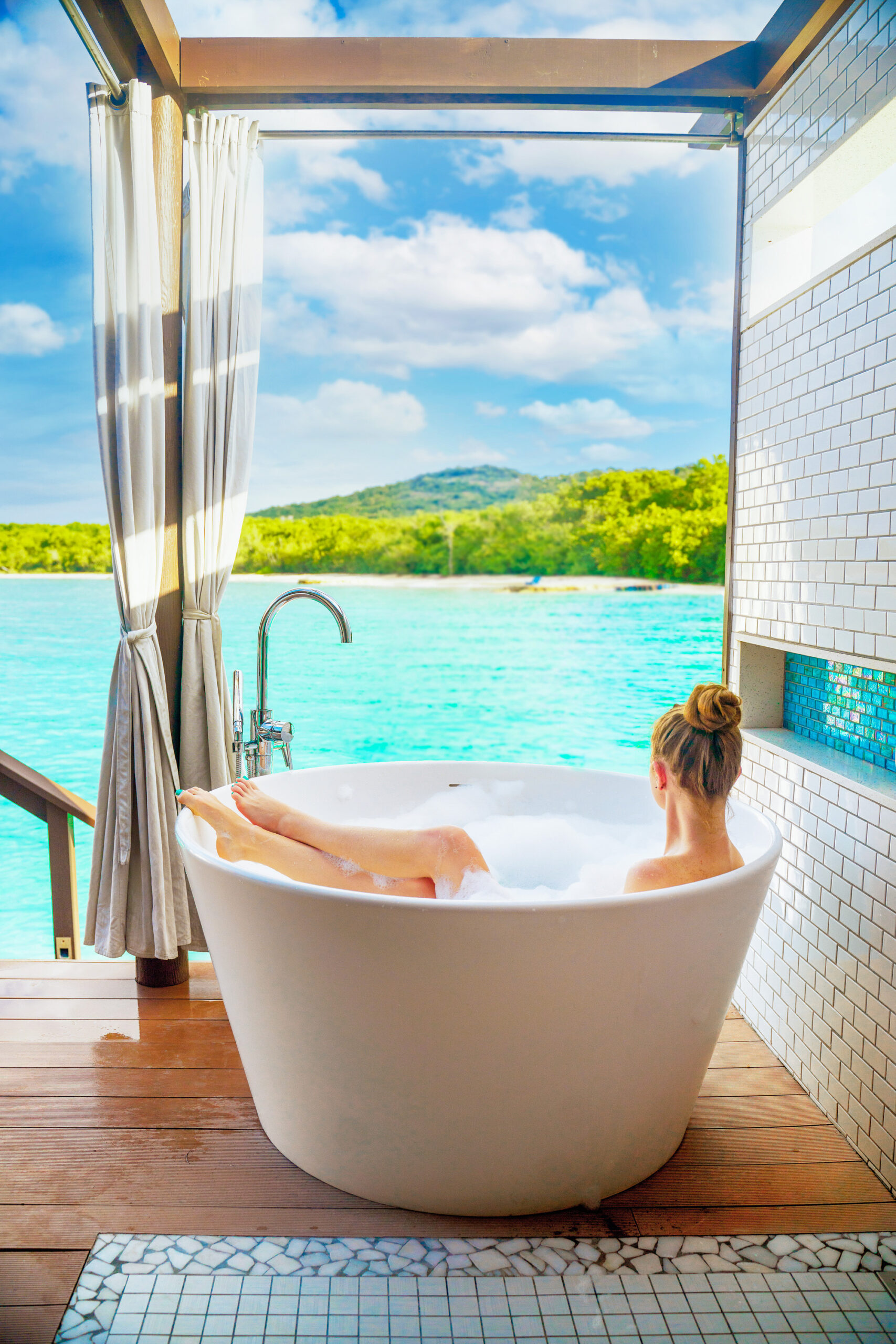 Butler Service At Overwater Bungalows In Jamaica
Your butler can even bring you room service from ANY restaurant on property, something that isn't an option for non-butler rooms which is pretty awesome! So if you want to try something new without ever leaving your room, it is entirely possible!
One of the best things about the overwater bungalows in Jamaica is probably the premier butler service. Your personal butler is available via a smartphone you get at check-in 24/7.
Upon your arrival to Sandals, your personal butler will greet you with lemongrass scented towels, a fresh drink, and show you to your suite and make sure your luggage gets delivered.
Your butler can even unpack your suitcase and fold your clothes if you so desire!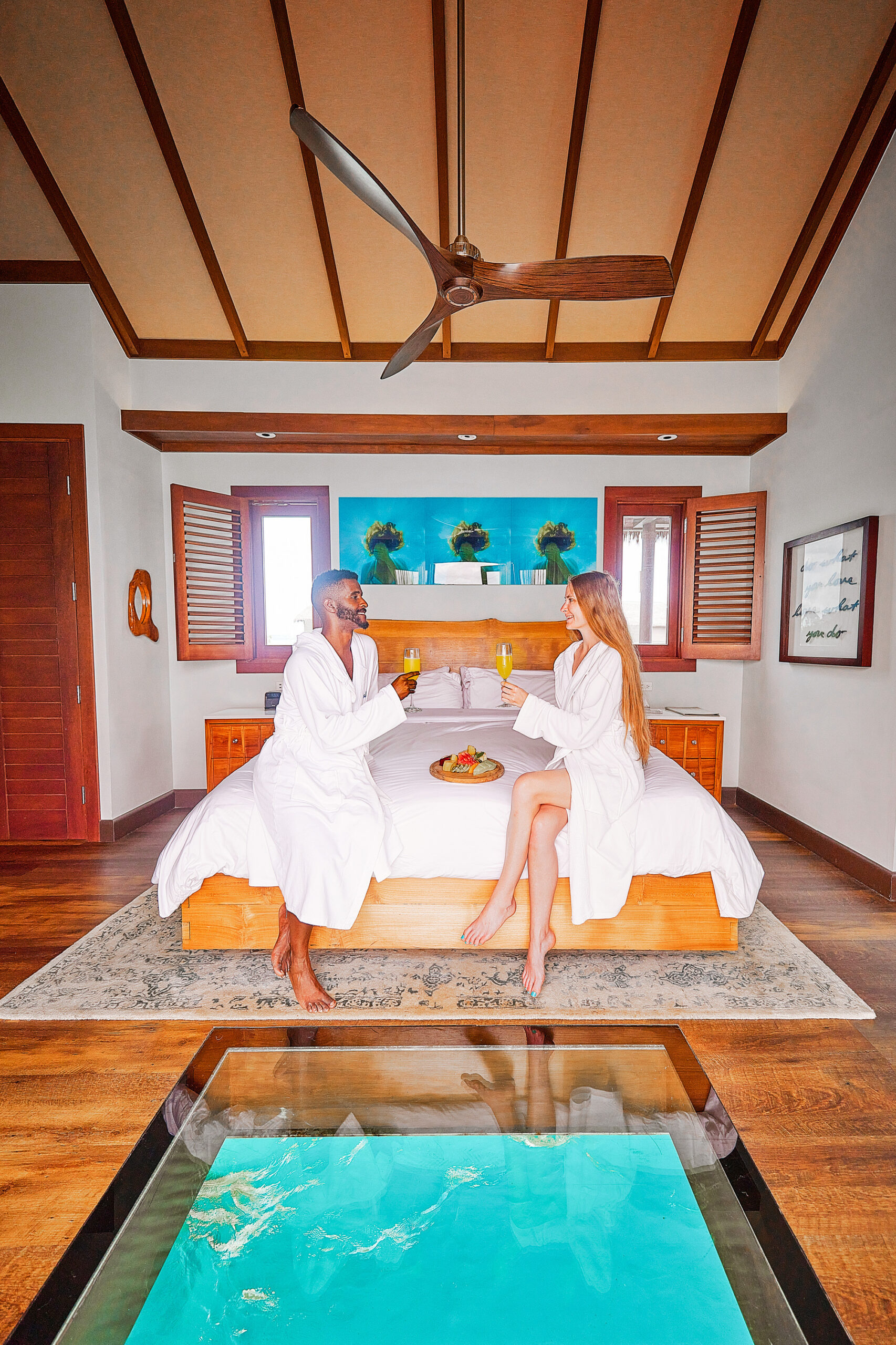 While you stay at the resort, you can ask your butler to help you with pretty much anything. You can coordinate restaurant reservations, make tour bookings, and schedule spa treatments for you.
If you are by the pool or at the beach and you get hungry or need a drink, your butler will happily bring you something.
Your butler can even bring you food from any of the restaurants, which is something that non-butler rooms cannot do! So if you are hungry but don't want to leave the room, call your butler up and they can get you set up.
When you're ready to leave, your private butler will arrange transportation back to the airport, make sure your luggage is being taken care of, and help you check out of the resort. The butler service aims to make your stay as smooth and relaxing as possible.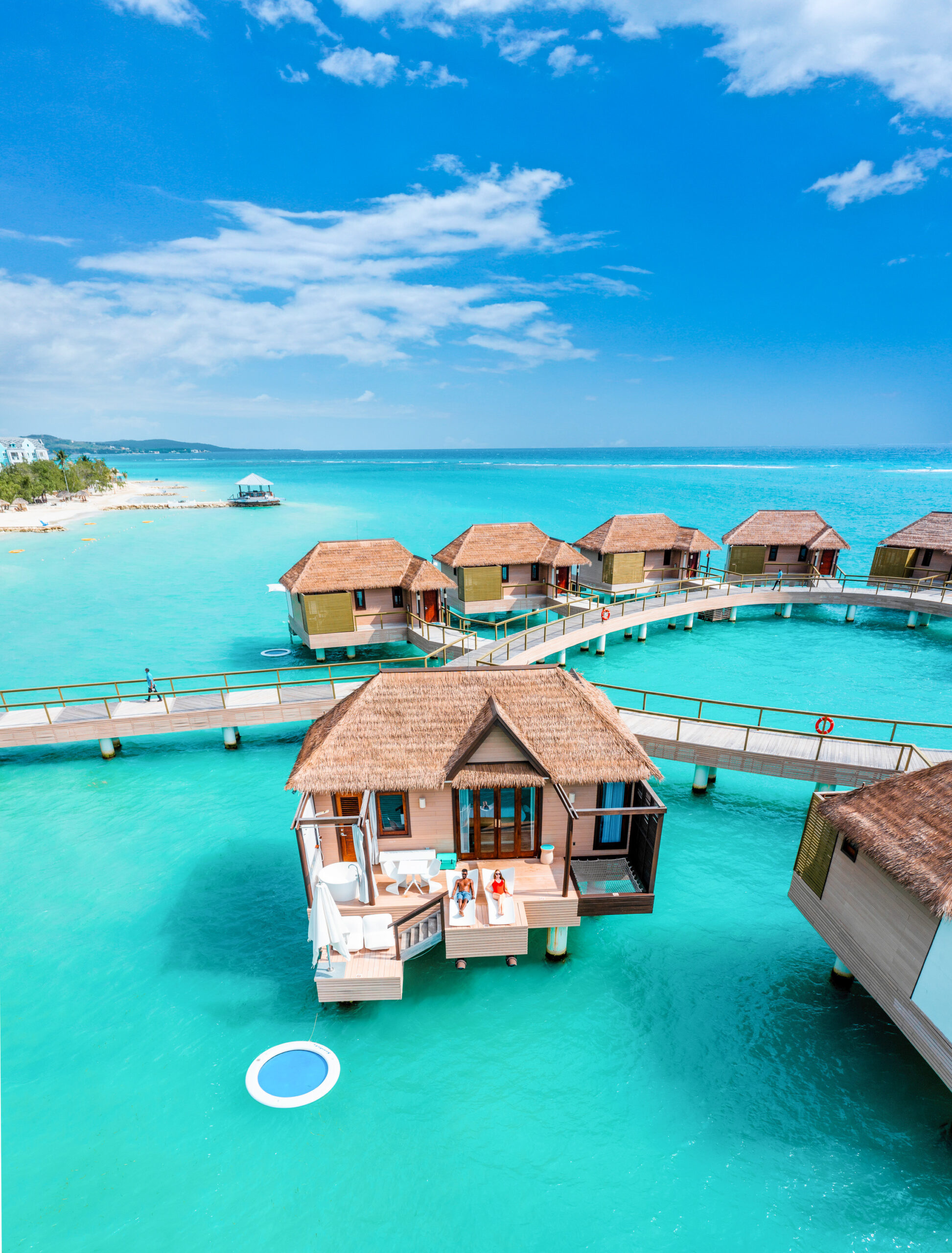 Rooms At Sandals South Coast Overwater Bungalows
When you walk into your overwater bungalow at Sandals South Coast, you'll find a luxury room. There is a stocked butler pantry when you walk in that you can enjoy.
Your butler can even leave things in there without ever seeing you! If you don't want to see your butler a lot, just let them know and they can be scarce.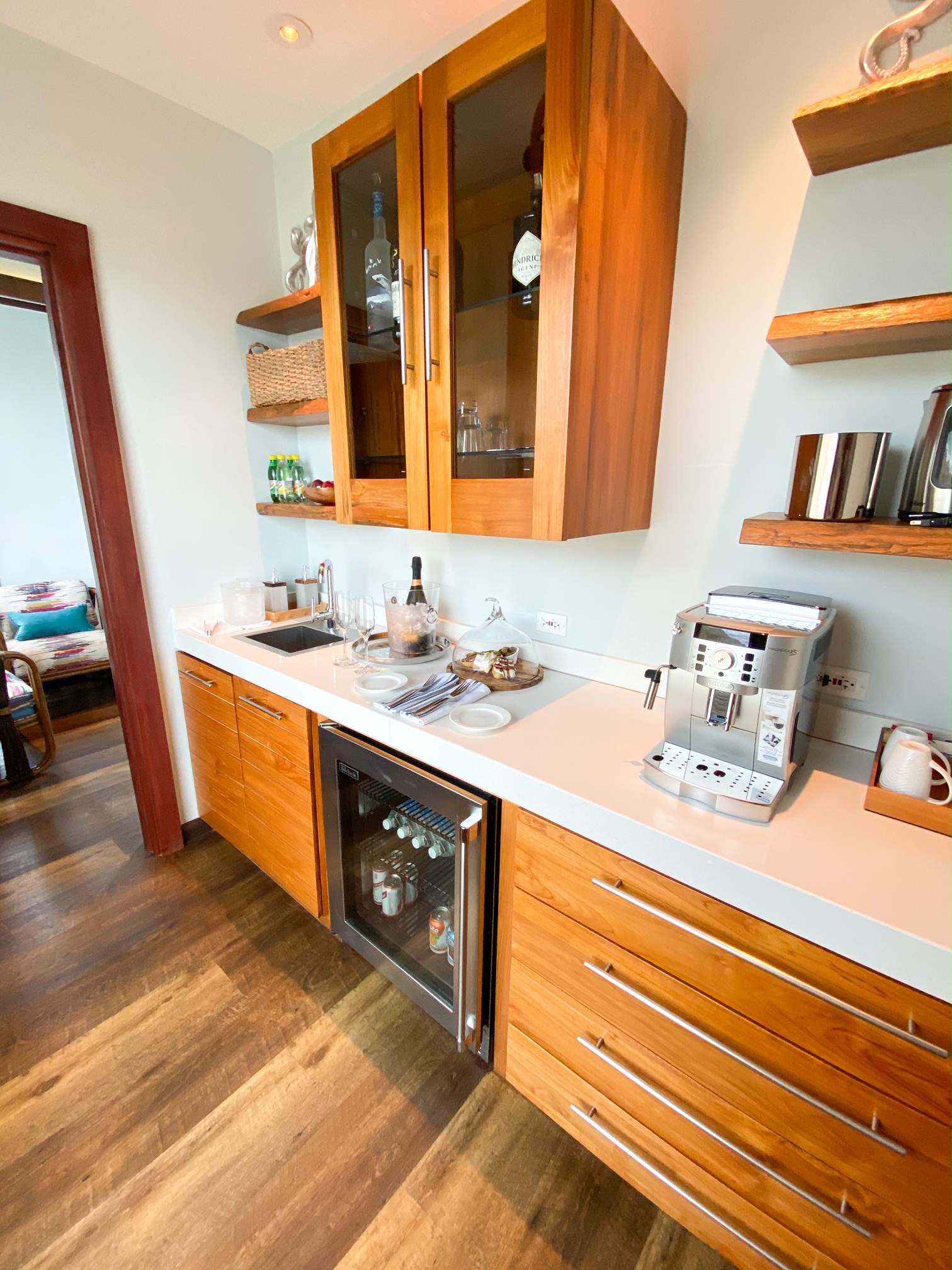 Spend your nights relaxing on the king-sized bed while you look out at the ocean through the double French doors.
The doors lead to your private sun deck, and of course, the ocean. At the end of the bed, there is a window on the floor that looks down into the ocean. At night, you can turn on a light that attracts the fish and brings them to your bungalow so you can view them!
We did this constantly throughout the trip and it was so fun!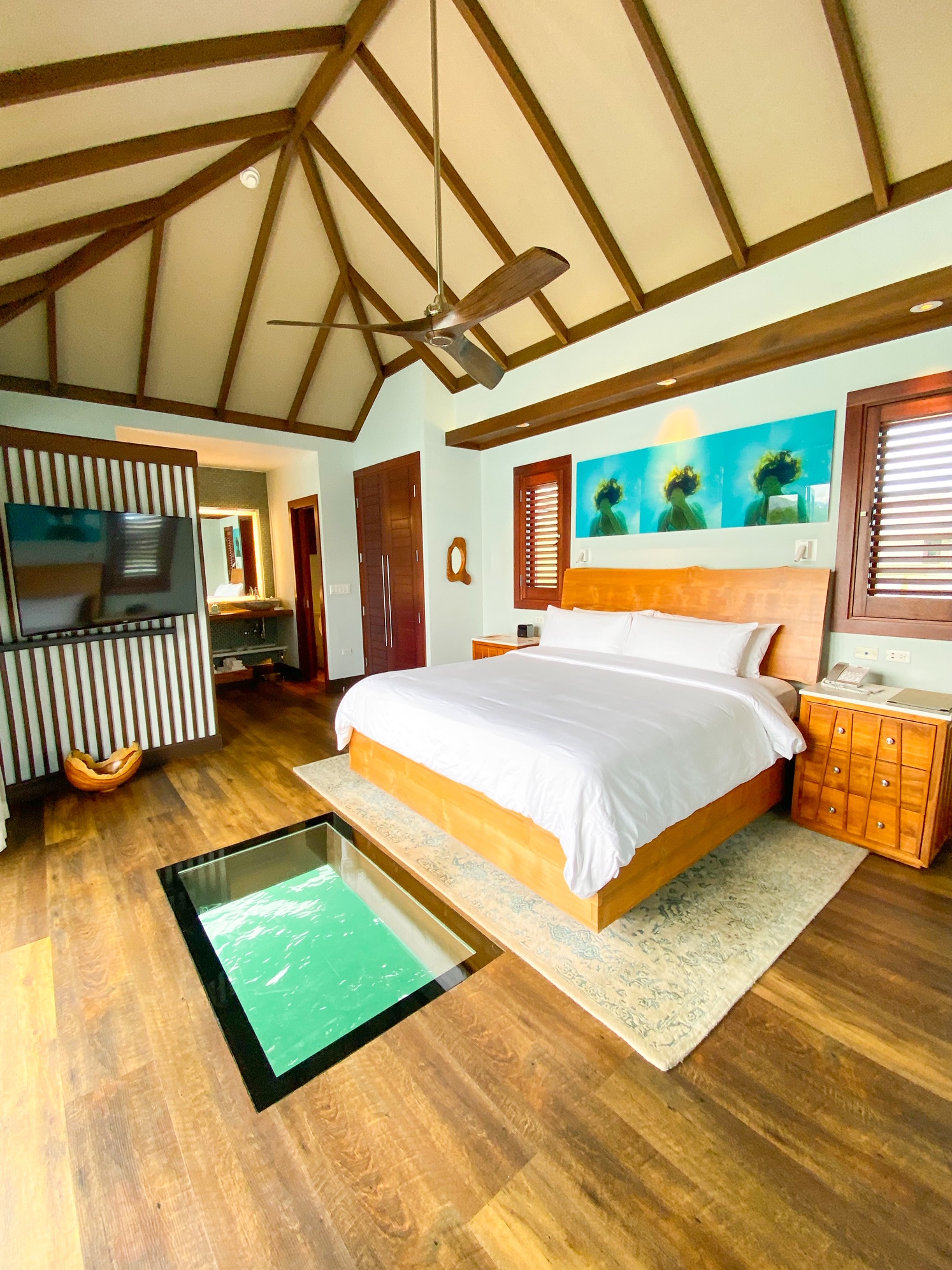 Sandals Overwater Bungalow Bathrooms
The bathrooms in the bungalows are very luxurious. Inside, you'll find stone sinks, a walk-in shower with two shower heads, and a separate water closet. The resort also provides a collection of luxury toiletries for you to use and enjoy.
Inside your shower, there is a door to your outdoor soaking tub and an outdoor shower. So you essentially have three areas to bathe! A soaking tub, a outdoor shower, and an indoor shower.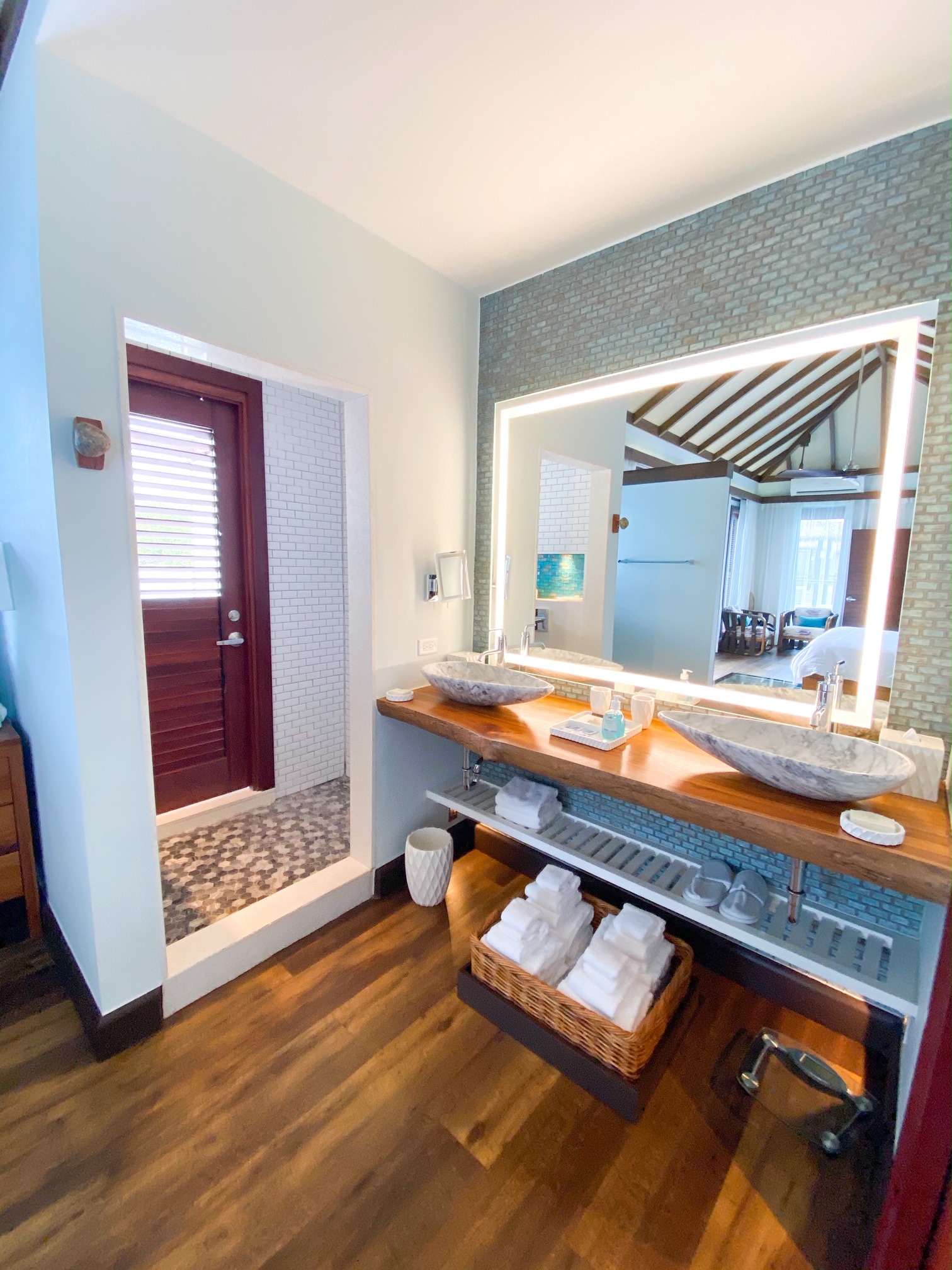 Overwater Bungalow Outdoor Spaces
One of the best parts about the overwater bungalow in Jamaica is the outdoor spaces. When you walk out of the double French doors in the main suite, you'll walk out onto your private patio. The patio has a number of different areas for relaxing.
There are chairs for you to stretch out and relax on. If you want to enjoy a meal by the water, there is a small bistro set. In one area, there is a large netted space that hovers over the water 15 feet. It's perfect for laying and relaxing together.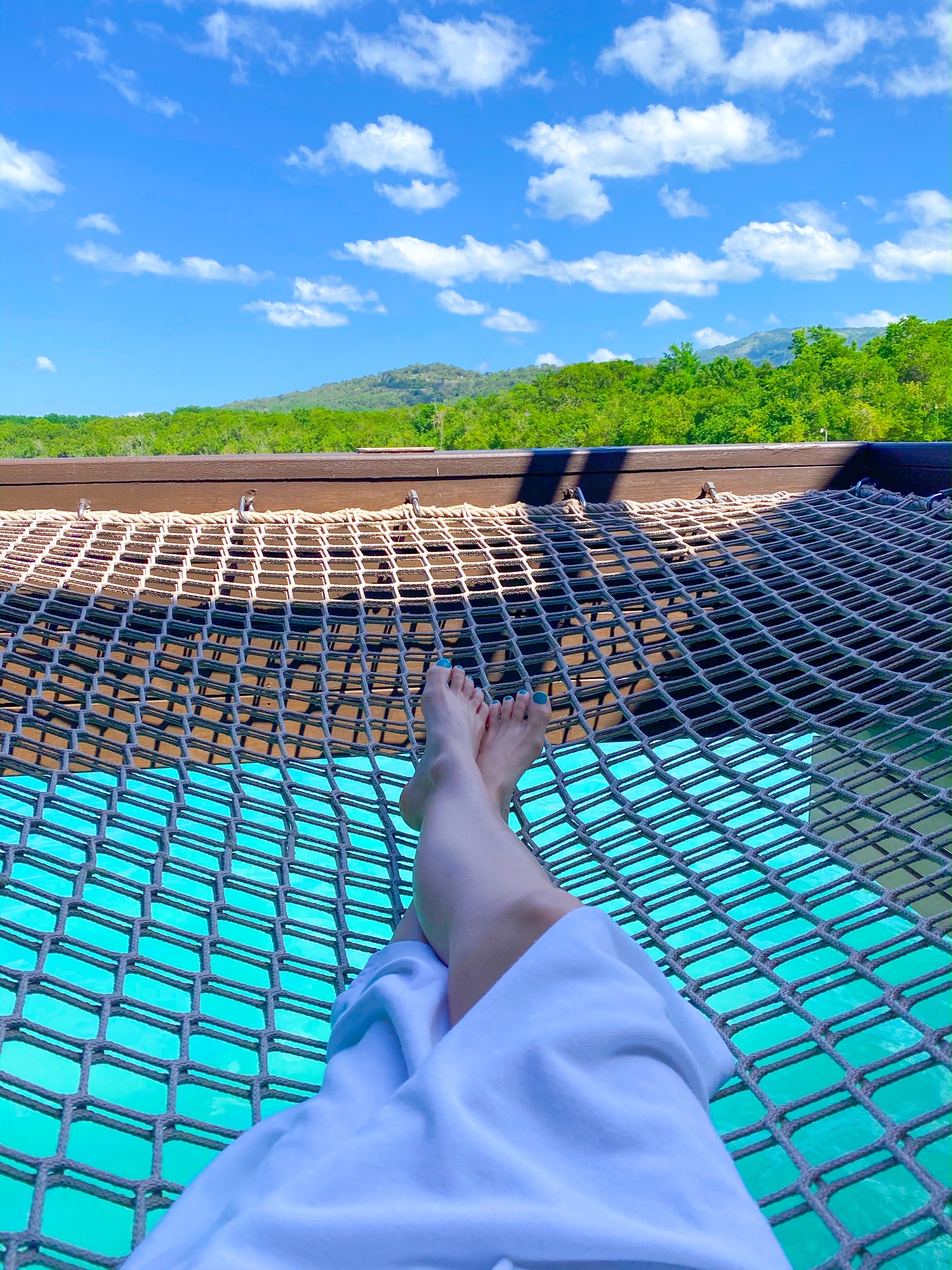 The best part about the net is that you can hear the ocean lapping below you and it is so relaxing!
After a day spent swimming in the ocean, you can rinse off in the private outdoor shower or soak in the large tranquility tub. Outside is where you'll also find the storage for things like snorkels, masks, and life jackets. There is also a cooler to keep your food and drinks cold.
Swimming Off The Overwater Bungalows In Jamaica
If you've ever wanted to walk out of your room and jump right into the ocean, then you'll love the overwater bungalows at Sandals South Coast. You can jump right into the ocean off of your private patio. From the highest jumping off point, the jump is about 15-20 feet. You can jump to your hearts content, but no diving.
Not everyone loves jumping straight into the ocean though, and that's okay. Sandals has already thought of that! On your patio there is a ladder you can climb down into the ocean. You'll also have your own mesh floating ring that you can sit in and have access to life jackets if you want to use them.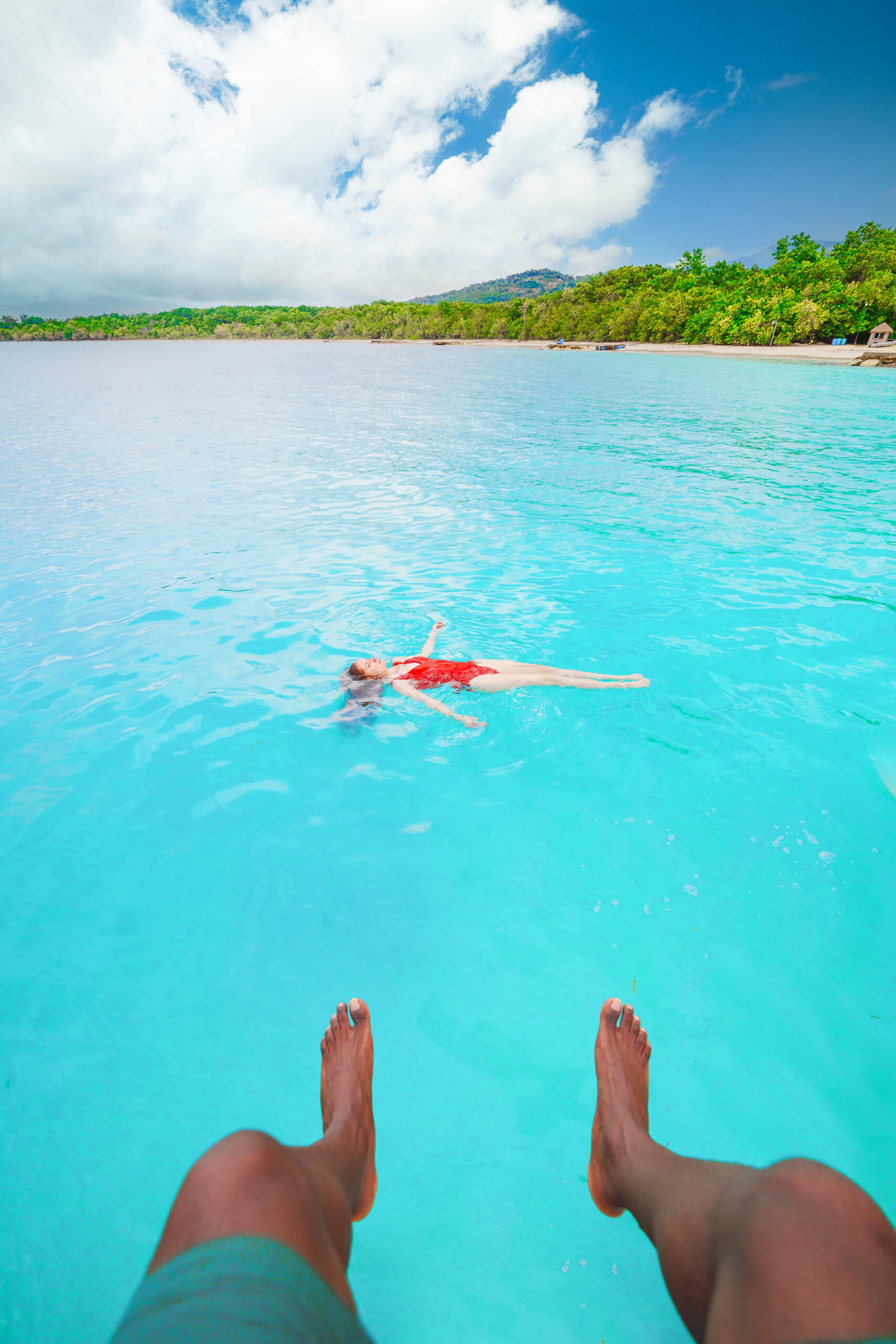 Food At Sandals Overwater Bungalows
The food at the overwater bungalows is the absolute best. When you stay at the bungalows, along with the butler service, is a menu just for the bungalows. The menu includes options for breakfast, lunch, dinner, and snacks for in between.
When we tell you that the bungalow room service is the best food on Sandals South Coast property, we are not kidding! The food here is SO good you won't want to leave the room, and you don't have to!
Enjoy a cup of coffee with a Sugarcane Pancake Stack or a classic Jamaican Breakfast. For lunch or a snack, order Crispy Vegetable Spring Rolls and a fresh pressed juice to eat after a morning of swimming.
If you have any dietary restrictions at all such as gluten-free or celiac, vegan, vegetarian and more, Sandals will accommodate! I am a vegetarian with quite a few food allergies, and my friend who I traveled with is celiac and always loves visiting Sandals for this reason!
If you don't want to head to one of the many restaurants for dinner, order room service. You can watch the sunset while you enjoy Fish Tacos and finish the night with a Pineapple Cream Sphere.
Prices For Overwater Bungalows In Jamaica
The overwater bungalows in Jamaica at Sandals South Coast is a luxury resort stay.
The prices fluctuate depending on the time of year, availability, and more! The best way is to head to the Sandals South Coast website and put in your dates and check for yourselves!
This is a luxury 5 star all-inclusive resort, add overwater bungalows on top of this and you get what you pay for!
Keep in mind that these overwater bungalows at Sandals South Coast do book up quite quickly so you want to book well in advance! Sandals is very helpful, just give them a call or do the online chat service and your questions will be answered!
Check Prices For Sandals Overwater Bungalows!
We hope you found this break down of Sandals South Coast Overwater Bungalows informative. Its a one of a kind experience that makes for a great luxury vacation.