Don't cheap flights to Iceland sound like a dream? When flying WOW air, this dream actually becomes a really achievable reality! WOW air is an ultra-low cost international airline based out of Reykjavik and offers dirt cheap flights to Iceland and Europe. It is entirely possible to fly to Iceland for under $100 and European destinations for around $200, depending on the season.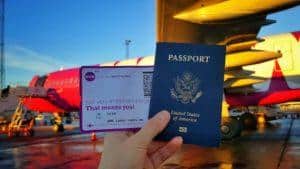 We have all flown budget carriers domestically, whether it was American based Spirit Airlines or the infamous Ryanair, but what about a cheap international airline? Read on to find out more about why we love WOW air.
10 Reasons To Love WOW air's Cheap Flights To Iceland
#1 Flights are beyond cheap
Yeah okay, we just said this a bunch of times and it's even in the title of the article, but WOW's budget-friendly prices can't be denied. No international carrier comes even close to the prices they offer. Whether you want to visit Iceland or are simply looking to go to Europe, WOW beats out every competitor by far, even when you factor in the additional price of luggage.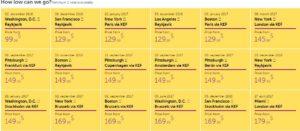 #2 You only have to pay for what you want
Unlike other airlines that include the price of bags, snacks, and even water in the fare, WOW….doesn't. The pricing strategy allows them to offer the uber cheap flights to Iceland that we all enjoy. After all, why should we pay for a checked bag when we only want to bring a carry-on? WOW understands that people only want to pay for what they need. Don't care about snacks? Don't buy one. Not bringing a ton of bags? Only pay for what you need! Here is a full list of optional charges. 
#3 On-time arrivals/departures
You might think that WOW air sacrifices on-schedule arrivals/departures in order to keep costs low, but that simply isn't true. Despite offering cheap flights to Iceland and beyond, WOW ensures that the flights arrive and depart in a timely manner. We have flown this carrier numerous times and our flight was only delayed one time because of weather, which is out of WOW's control entirely. Other than that, all flights departed/arrived either on-time or early.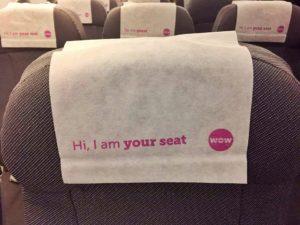 #4 Literally everything about the WOW experience is "fun"
WOW injects fun and sass into every single part of the experience. From their website asking "how low can we go" and promising "that WOW feeling" and their in-airport staff wearing adorable slogans, to giving their seat covers and even your boarding pass personality, WOW truly pays attention to even the smallest detail. Who said saving money couldn't be tons of fun?! When you fly WOW air, make sure to keep an eye out for all the "fun" details before, during, and after your flight!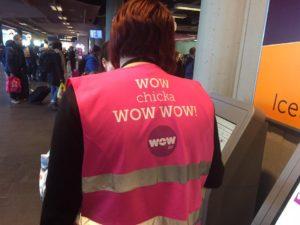 #5 All of the flight attendants are basically vintage models
Every single flight attendant is gorgeous. When passenger airlines first became popular in the 50's-70's, stewardesses dressed very fashionably, wore heels, and wore lovely hairstyles. A flight on WOW air will transport you back in time and you will love it! Their attendants are so perfectly coiffed that they look like vintage models. English is spoken fluently and the are oh-so-kind.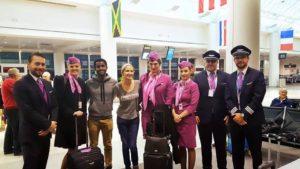 #6 Seats are comfy and offer plenty of leg room
We have flown not-so-budget carriers to Europe in the past and they didn't offer any more legroom than WOW air does on their cheap flights to Iceland. Why on earth would we pay double or even triple the price for flights we can get for so cheap from WOW air? If you are looking for even more space, book a seat in the super-roomy exit row or in the very front of the plane.
Disclaimer: This is the worst photo on the face of the planet but we really wanted to show how spacious the seats were so please understand. Also note: Terrence is slouching/laying down and still have plenty of leg room. 
#7 They offer in-flight entertainment via iPad
WOW air actually offers a ton of in-flight entertainment for under $20 USD via an iPad! We have flown domestically where Wifi alone has rang in at $20 for a 4-hour flight so we felt that the price was extremely reasonable to have access to a ton of movies and games for over 6 hours. Cheap flights to Iceland don't have to mean you are bored to tears and we love that the iPad was offered.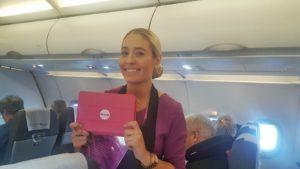 #8 Pilots point out tons of neat things to see
We love the pilots every time we fly WOW air. They are all super nice and every announcement is made in both English and Icelandic. For Americans, hearing two languages over the loudspeaker is pretty cool. Pilots never fail to point out something cool during our flight. Whether it is an epic overhead vista of Greenland, Manhattan Island, or the Northern Lights, passengers are always kept in the know.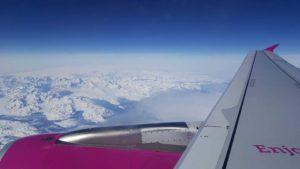 #9 Food and drinks are reasonably priced
Newsflash: Icelandic food is expensive. WOW air's in-flight offerings are actually reasonably priced when compared to how much you would spend on dinner on the island itself. We also appreciated that they offered various vegetarian offerings from flatbread to soups. Soda rang in at only a few dollars and a whole lot cheaper than buying one at the gate before boarding. In order to find cheap flights to Iceland your food, if you want to eat any at all, isn't free, but it isn't overpriced either!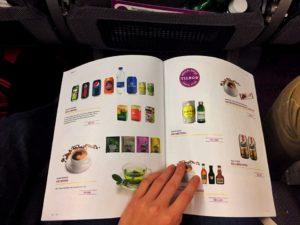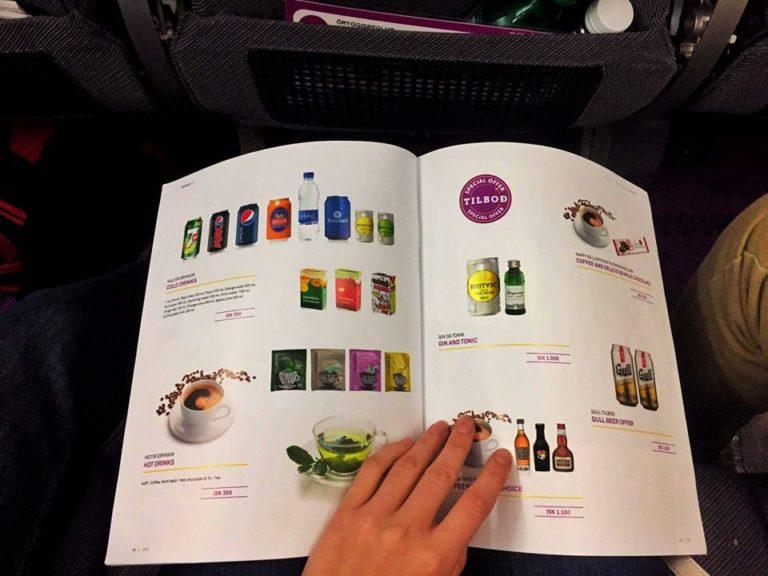 #10 Purple planes=LOVE
We don't know about you, but we LOVE that the WOW planes are purples! Everything, from the boarding pass, luggage tags,crew outfits, and even the planes themselves are vibrant purple. Purple is such a fun color and really makes your cheap flights to Iceland and Europe much more fun!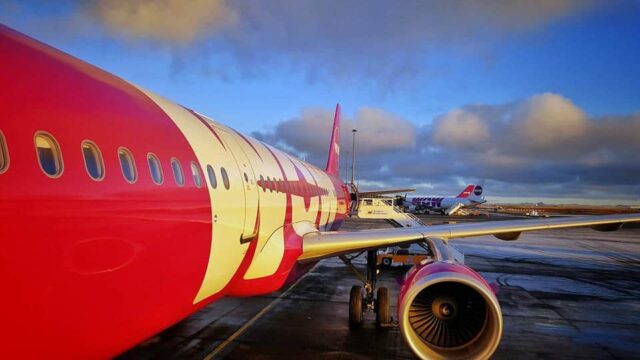 READ NEXT: Don't Go Out To Eat: 7 Tips For Visiting Iceland On A Budget
Editor's note: WOW air provided us with two tickets to Iceland in exchange for an honest review. All opinions expressed in this article are our own, and we have enjoyed WOW's cheap flights to Iceland many times in the past on our own dime so we really do love them. 
Pin this post: