Are you searching for where to stay in south Iceland? What if that location could accommodate up to 10 of your closest friends and family for one totally epic getaway? That is exactly the kind of lodging option we found at Katla House! We dream of taking both of our families with us on a trip and renting an entire guesthouse is exactly how we would go about it! Here's what you need to know about Katla House in south Iceland.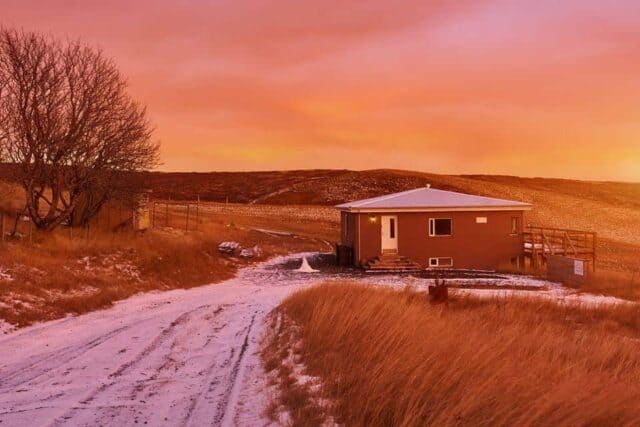 You can bring up to 10 guests
Katla House was HUGE! We could totally imagine it bustling and full of people and think it would be so fun! The house can accommodate up to 10 guests across 5 full bedrooms. We loved how the bedrooms were a mix of single, double, and split twin beds. There are rooms with one single bed for privacy. There are rooms with double beds for couples or close friends. There was a room with two twin beds split apart so you can stay with a sibling or friend without getting too close. The house also offered a full bathroom and a half bath. We loved the inclusion of the half bath because two toilets would be super useful with 10 guests!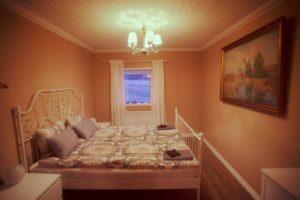 The house is isolated yet close to many "must see" locations
When looking for where to stay in South Iceland, many people choose the town of Vik. It is often overcrowded and expensive. Katla House is just 45 minutes from Vik and its surrounding area, 15 minutes away from Fjaðrárgljúfu Canyon [google this epicness!], an hour and a half from Skaftafell National Park, and 2 hours from the famous glacial lagoon. Looking for plush green lava fields as far as the eye can see? They are just steps away!
The house is a good 5 miles away from the main road. The isolated location was the perfect respite away from the bustle of other Icelandic tourists. Plus, we enjoyed going over the wooden one-way bridges and even saw an adorable fox!
The price is majorly affordable for lodging in south Iceland
Katla House costs $250 per night. Split between 10 guests, that comes out to just $25.00 a person. You can't even stay at the cheapest hostel for $25 night, yet you can stay in a private home with your friends and family in the heart of south Iceland! Not traveling in a group of 10? Even split between 4 people the cost is super affordable for a giant entire home, especially for expensive Iceland.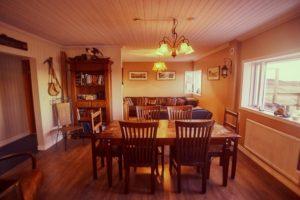 Not one detail is missed
Literally everything you could possibly think about is included at Katla House. There are tons of framed paper signs instructing you on how to use appliances, the wifi, bathroom facilities, kitchen and more. We found this extremely helpful! The kitchen is also fully stocked and guests are permitted to use anything! During our stay, we cooked some rice and enjoyed some cereal. At the end of our stay, we also paid it forward to the next guests by leaving some soup behind. Katla House also comes complete with games for the whole family, a washing machine, and television.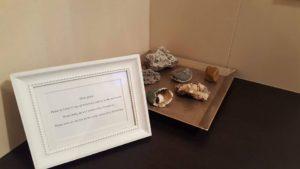 The fixtures are everything
We would never have expected the vintage-meets-modern beauty we found at Katla House when searching where to stay in south Iceland. Katla House expertly blended ultra modern fixtures with worn-out vintage originals. For example, the bathroom was very modern with lovely lighting but had a run-down wooden door which added a ton of rustic charm. An old brass handle ran along the stairs, and the ceilings were painted wood. In Iceland, modern is expected, but vintage chic was a nice homey surprise!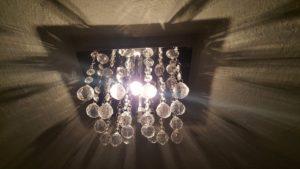 The location is perfect for viewing the Northern Lights/stargazing
Looking for the perfect place to see the Northern Lights when searching where to stay in south Iceland? Look no further! We have never seen a place so untouched by light pollution and we loved it. The stargazing was stellar [get it?] and the milky way was so vibrant it practically blinded us! We are lazy and don't drive far in search of darkness, so the fact that we could step outside into pitch black was awesome! If you are interested in photographing the Northern Lights, this is the perfect place for you!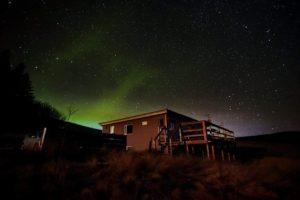 Quick response and instant book are a plus
Dora, Katla House's owner, made the booking and check-in process super easy. When booking through Airbnb, prompt response from the host takes a lot of confusion out of the booking process. Dora was very responsive and sent us a ton of helpful information. Getting in and out of the house was very easy and we appreciated that there were two keys. The fact that the listing is "instant book" also means that you can make a reservation at any time without waiting for host approval.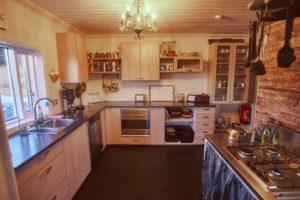 The final verdict:
Katla House is on the top of our list when figuring out where to stay in south Iceland, especially with a group! We cannot wait to head to Iceland in the future with our families and have all of us under one roof!
You can also find Katla house on Booking.com and Homeaway.com!
Read Next: The Ultimate 5 Day Iceland Road Trip Itinerary
Editor's Note: Dora provided us with a 2-night stay for the purpose of this review. Everything included in this review reflects our own opinions. 
Pin This Post: