With prices on the rise, it is no wonder every tourist is in search of a cheap car rental in Iceland. Who would have ever thought that renting a wreck would be the best budget-friendly option? We chose Rent-A-Wreck Iceland because of their super affordable prices in one of the most expensive countries on the planet.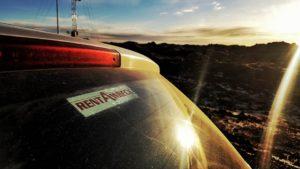 What the heck is Rent-A-Wreck Iceland and what does it entail?
Okay, so you literally aren't renting a wrecked car, but the prices sure seem like you will. Instead of being ultra new, rent-a-wreck cars are a couple years old and have a few dings and scratches. They are still checked by mechanics and are totally safe, but have a little wear and tear. For example, our car had a few dents on the outside, the windshield wipers made an odd noise, and the driver door needed a good slam to shut it. Did we care? No! All we cared about was the fact that our car got good gas mileage, was safe, and affordable for our drive around the Ring Road! 
The prices are very affordable….even for 4×4's
Rent-A-Wreck Iceland prices were honestly very affordable. We checked out over thirty companies in search of a cheap car rental in Iceland and Rent-A-Wreck won out. They offer both automatic and manual shift cars, but you can save even more money by choosing a manual! Looking for a 4×4? Rent-A-Wreck Iceland offers great deals on those as well.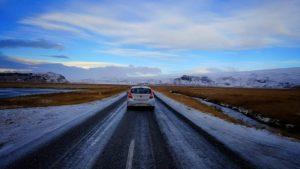 The booking process is easy and customer service is great
You have the ability to book your cheap car rental in Iceland straight from the Rent-A-Wreck website. If you have any problems or questions, customer service is quick and easy to get ahold of. If you are American, the phone number to the Icelandic rental location actually works without having to pay international fees! We called a few times and it was great to be able to speak to an employee to help answer all our questions.
Pick up/drop off is available from Keflavik Airport
Since the rental office is off of airport property, we were concerned how we would pick up our car. But just because we chose a cheap car rental in Iceland didn't mean the service was cheap by any means. Our pick up was very smooth. An employee left the shuttle car running and warm as he helped us load our backs. When it was time to drop off our vehicle, we didn't even have to get out of the car we were driving and proceeded straight to the airport. We loved that we didn't have to load/unload our bags multiple times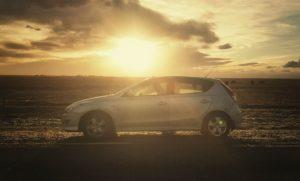 Tons of affordable add-ons
Looking for car insurance for your trip? A GPS? Rent-A-Wreck Iceland offers a ton of add-ons for an affordable price. Their base price even comes with basic car insurance which we appreciated.
Hours of operation are 5am-2am
We loved that Rent-A-Wreck was open when we arrived early at 5am. Instead of waiting around for hours or checking ourselves in, we were able to work with an employee to ready our car and send us on our way. When we called upon our arrival, the phone was instantly picked up and we were notified of our pickup time. When hiring a cheap car rental in Iceland, the long hours of operation were appreciated.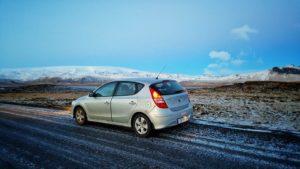 The Verdict:
We loved renting a wreck and we loved having a cheap car rental in Iceland. The fact that the car already had a few exterior dents and scratches didn't bother us one bit, and the inside was spotless. We are very open to hiring from Rent-A-Wreck Iceland in the future and from other rent-a-wreck properties!
READ NEXT: The Ultimate 5 Day Iceland Road Trip Itinerary
Editor's Note: Rent-A-Wreck Iceland provided us with our cheap car rental in Iceland. Everything in this review reflects our thoughts on the experience. We truly enjoyed renting a wreck for the duration of our trip. 
Pin This Post: