Beleive it or not, it is totally possible to visit Iceland on a budget! Although it is one of the most expensive countries in the world, it can be done with a little planning and preparation saving you thousands on your total Iceland trip cost. Instead of swearing off a trip to Iceland forever, there are more than a few ways that you can save money on travel to this far-flung arctic island.
If you want to check Iceland off your bucket lists it is important to figure out how to make your pennies stretch. Lucky for you, we did all the legwork including creating this handy Iceland packing list just for our readers! It is truly possible to visit Iceland on a budget and it has never been easier to make your Iceland dreams come true without breaking the bank!
7 Insider Tips For Visiting Iceland On A Budget
Fly WOW Air If You Want Cheap Flights To Iceland
Never heard of it? We hadn't either until we started getting down and dirty with our research and found out that WOW is a budget [but safe!] Icelandic airline. In all honesty, our first trip to Iceland came about strictly because we were searching for cheap flights to mainland Europe. WOW Air popped up with $99 fares from the USA>Iceland and then $99 from Iceland>Berlin, meaning we only spent $200 one way! Don't believe us? Check out our post about finding cheap flights using WOW air!
We know that many blogs suggest stopovers in Iceland through Icelandair, but we found them to be a little pricey for our blood and highly suggest you fly WOW if you are trying to visit Iceland on a budget. You don't even need to use Iceland as a stopover when you fly WOW because the options are so affordable, although WOW air does offer stopover options. Visiting Iceland on a budget has never been easier because airlines have recognized the demand! By booking international travel to Iceland with a budget airline, you will be saving hundreds of dollars off of your Iceland trip cost right off the bat!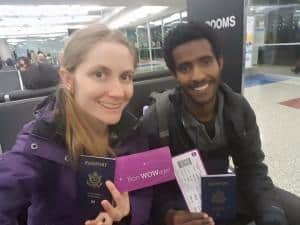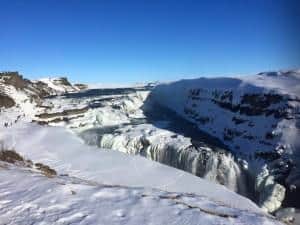 Airbnb Is The Way To Go If You Want To Travel Iceland On A Budget
Hotels are too expensive, hostels are alright if you want to share with a bunch of people, but Airbnb is the perfect marriage! That being said, there are a bunch of affordable hotels in Reykjavik under $80 if you are on the hunt, but we still prefer Airbnb for affordability and location.
In case you didn't know, Airbnb lets you rent a room in someone's house or the entire house itself and use all the good stuff that comes along with living in a home such as fully equipped kitchen facilities, Wifi, and a washing machine. It is the perfect way to see Iceland on a budget and get immersed in local culture. Check out our beginner's guide to Airbnb for more info on how to get started!
Most hosts are happy to direct you around town, but are more than pleased to leave you alone to do your own thing. You have the privacy of your own space and the convenience of living like a local and using Airbnb is hands down one of the easiest ways to help you see Iceland on a budget. Airbnb helped us save tons of money during our trip to Iceland on otherwise very expensive lodging and played a big part in helping us to see Iceland on a budget. If you are a first-time user, here is how to avoid scams on Airbnb.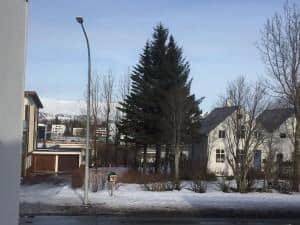 Don't You Dare Go Out To Eat If You Hope To Visit Iceland On A Budget
Going out to eat in Iceland gets mad expensive. A meal for two people can cost upwards of $50 USD for something a simple as burgers! Don't even think about alcohol because the prices and tax are insane. Whether you are spending 10 days in Iceland or just a few, you don't want to drink as it is expensive!
If you get an Airbnb or lodging with cooking facilities, make a grocery store run and cook everything at home. If you want to cook yourself, check out our helpful post on what to expect from grocery stores in Iceland. If you absolutely must go out to eat, gas stations have reasonably priced Icelandic hot dogs and other goodies, but we still suggest making all meals at home.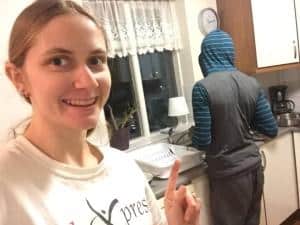 For our Iceland trip, we actually brought 20lbs of food that we bought at Aldi back in the states. Once we arrived in Iceland, we went to Bonus [Iceland's version of Aldi/budget store and purchased perishables to complement the food we packed. If you don't have the space to pack food, just head to your local Bonus, which is the cheapest grocery store, and pick up all your essentials. If you forget something, gas stations have drinks and snacks that aren't too pricey. This is one of our favorite tricks for visiting Iceland on a budget!
Rent A Manual Transmission Car To Save Money In Iceland
If you can drive a stick, now is the time to put that skill to use! In Iceland (and most of Europe), you can rent a stick shift car for a fraction of an automatic. Unfortunately, neither of us could drive stick, and we wanted to be safe, so we were forced to pay more money and rent an automatic transmission car. Diesel fuel is cheaper than unleaded, so if you can rent a manual AND diesel powered car, you are going to save boatloads of money! Even better, check out these tours in Iceland so you won't even have to rent a car at all!
Don't Drive The Entire Ring Road In Iceland
We know! What a sacrilegious thing to say. But here is the thing: gas in Iceland is expensive as all get out and can cost about $6-8 USD per gallon. We ended up paying $50+ to fill up the tank of our super tiny economy car with 1/4 of a tank still remaining. There is absolutely no way we can make the gas any less expensive, so you have to do your part by renting an eco-friendly car and keeping your driving to a minimum.
We know the Ring Road is the "it" thing to do in Iceland, but the truth of the matter is, many epic places can be found on the south/east side of the Island, from Reykjavik to Hofn. You can still drive a decent chunk of the ring road, while hitting awesome sites, and spending MUCH less on gas than you would if you drove the entire road. Check this 5 day Iceland Road Trip Itinerary for the perfect shorter driving route.
Just a few of the super sweet places you can see on the south/east side of the Island: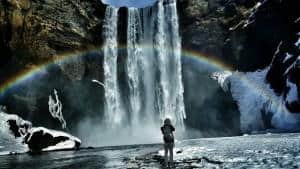 Visit Iceland In The Winter
It's pretty much a universal fact that epic destinations are much more expensive in the summer since the weather is nicer and people are off school. Don't fall for this trap! Here are at least 7 reasons why the off-season is the best time to visit Iceland! Iceland in winter is perfectly magical to visit in the winter, you have more options for lodging, crowds aren't as crazy, and best of all, prices are a lot cheaper! If you are a photographer, visiting Iceland in winter allows you to shoot different Icelandic landscapes than the droves of tourists who visit during warmer months.
Many people are scared away from Iceland in winter, thinking it will be extremely cold when in reality, it isn't all that bad! We traveled in winter and weathered temps that ranges from 28*-35*F during the day. We are from Florida, so if we can do it without freezing, we have faith you can too!
Bring A Water Bottle To Save Money On Water In Iceland
The water in Iceland is fantastically fresh and safe for Americans to drink. The water is so clean that travelers are often encouraged to drink straight from the source in order to save money! Don't spend money on bottled water, plus disposable stuff is ew, so bring your own bottle! We love our Bobble water bottles, and they come with a built-in filter for extra protection. Your local Walmart should carry them or you could easily order off of Amazon. Every dollar saved contributes to the overall cost of visiting Iceland on a budget. Get your own Bobble here for less that $9!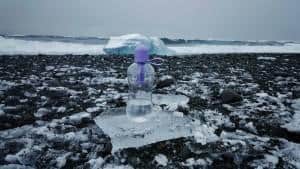 Sure, you are going to have to make a few sacrifices to make the dream work, but the second you step out of the plane it will all be worth it because you will be in Iceland! Oh, and your wallet will thank you for visiting Iceland on a budget.
READ NEXT: Exploring Iceland's Ring Road
Have you visited Iceland on a budget? Did these tips help you? Let us know!