If you're ready for your next trip to the Land Of Ice And Fire, here is where to stay in Vik Iceland! It can be incredibly challenging to choose where to stay just based upon a few pictures on a website, so we want to help give you a full understanding of where you will be staying. Not only will you get a feel for the ambiance of each place, but we will also list the amenities provided and local attractions you can visit.
Picking a location and buying airfare is relatively easy, but most of us encounter stress when planning where to stay. Well, stick with us and we will take all of the anxiety away with a systematic breakdown of the best hotels in Vik.
We will give you options including luxury, mid-range, and affordable hotels and hostels. By the end of this article, you will have no hesitations when selecting where to stay in Vik Iceland.
If you are still planning your trip, we have a 5 Day Iceland Itinerary, 4 Day Iceland Itinerary, and 3 Day Iceland Itinerary, depending on your needs. We have carefully crafted these itineraries to include the best of the best stops and things to do in Iceland!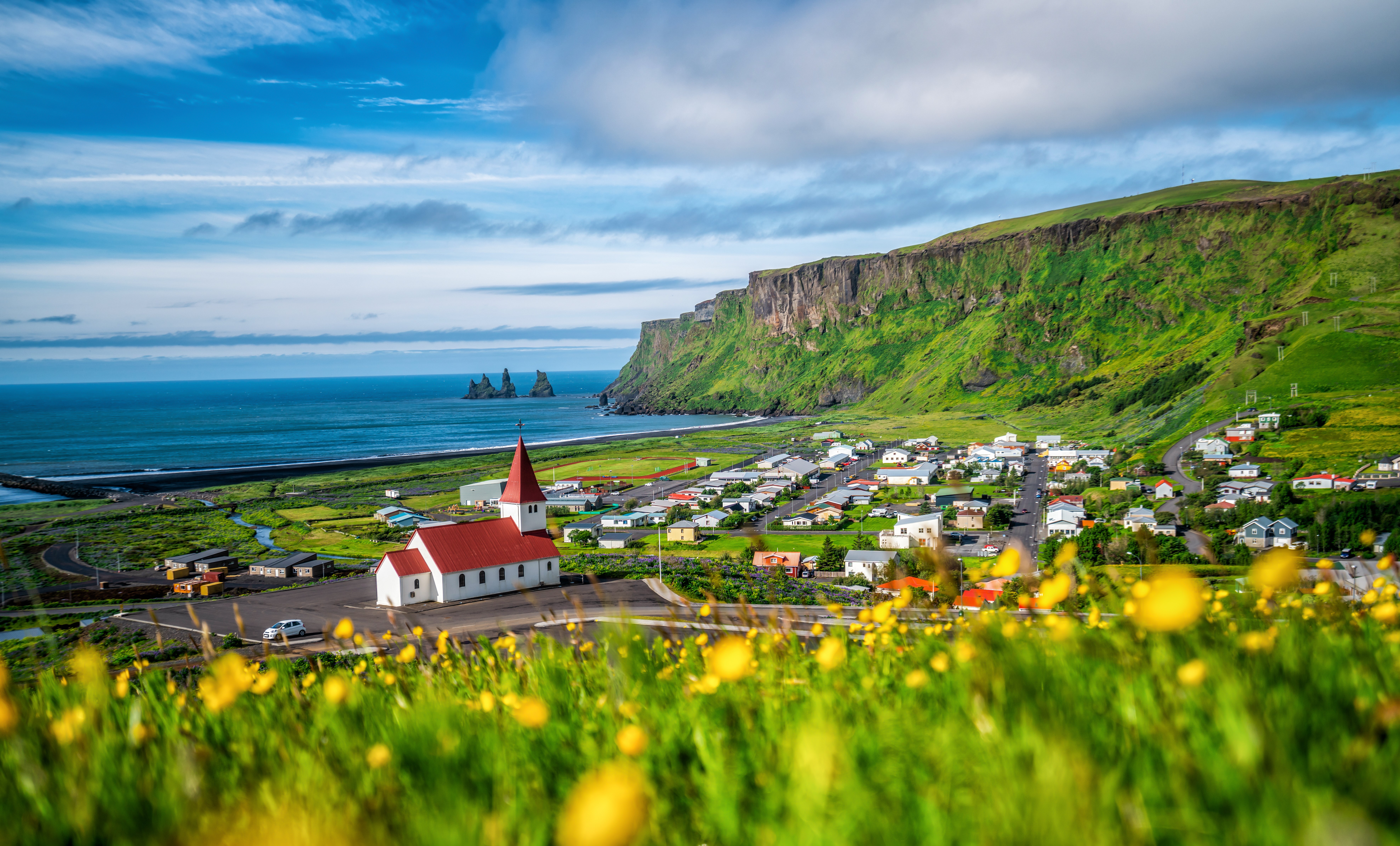 Where To Stay in Vik Iceland
Understanding Vik and the South Coast of Iceland
Vik is a small village located in southern Iceland. It is situated just south of the Katla Valcano and features a black pebbled beach, Reynifjara. The cliffs of Reynisfjall Mountain are the ultimate stunning backdrop to this beautiful village.
While you are exploring Vik, you will definitely want to have your camera ready to capture the gorgeous landscape. Local wildlife includes seals, whales, rabbits, arctic fox, mink, and reindeer. Puffins are an adorable seabird that can be seen around town. The most famous and most photographed landmark in Vik is the red-roofed church that was completed in 1934. Weddings are frequently held at this church, but it also uniquely doubles as an evacuation shelter.
This stop is in a great area and actually on our list of Best Places To Stay In Iceland. In this post, we offer suggestions for where to stay around the Ring Road!
Vik is approximately 110 miles from Reykjavík which is no more than a two and a half hour car ride. Reykjavík is the capital of Iceland and a very popular starting point on most itineraries. With Vik being so close by, it is the perfect addition to your Icelandic dream vacation. You might even consider making Vik your home based while you explore the surrounding southern coast of Iceland.
Vik is very easily accessible, so you will be more than able to venture out to the surrounding areas. The south coast of Iceland is surreal and brilliant with waterfalls, hot springs, Black Sand Beach, glacier lagoons, and Sólheimasandur Plane Wreck (an old navy plane wreck site). You will even be taken aback by the scenery as you travel to and from different destinations.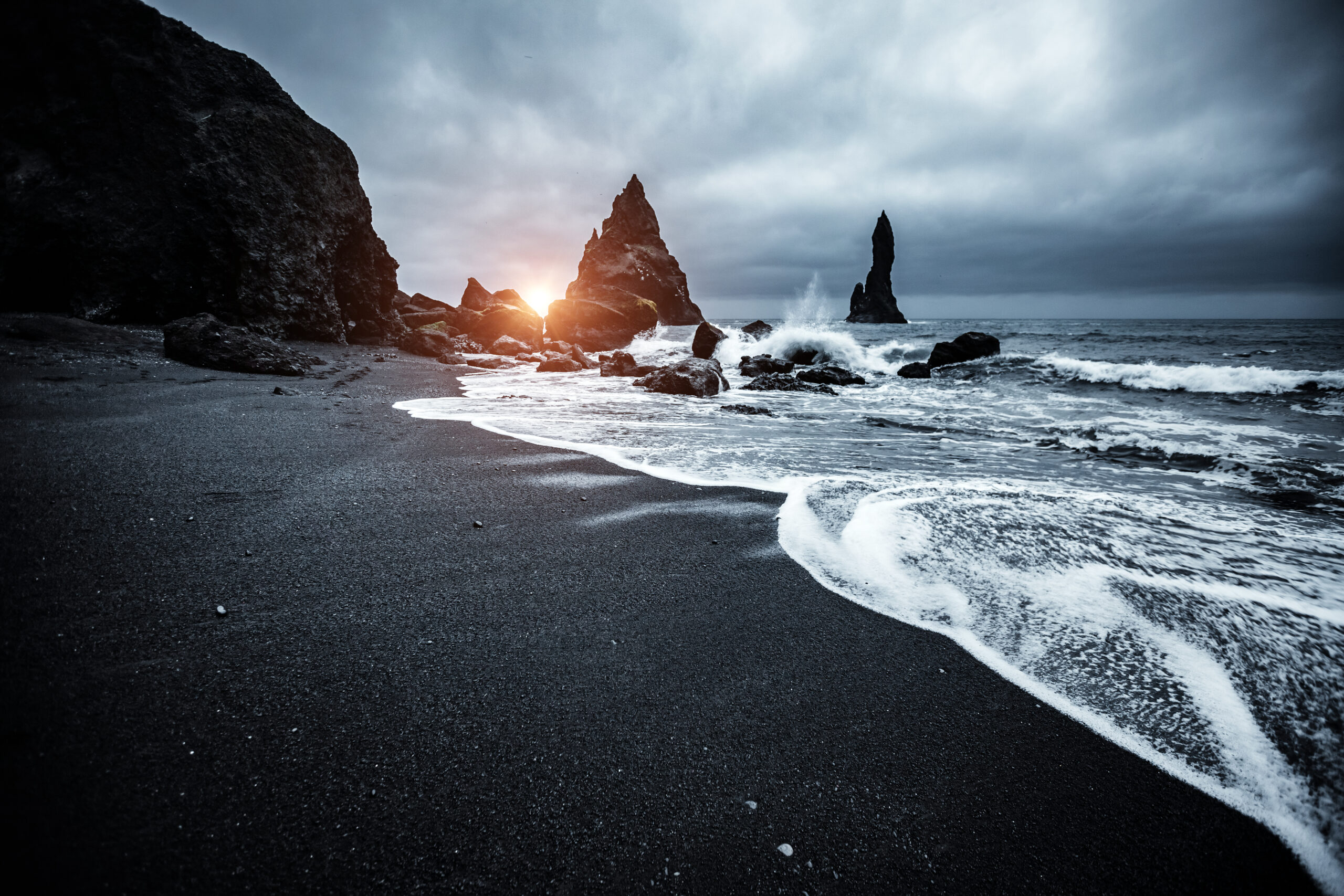 Best Hotels in Vik
Affordable: Puffin Hotel Vik
Are you more focused on exploring and would like to find a budget-friendly hotel? Then, Puffin Hotel is where to stay in Vik. You will save money, but you won't compromise on customer service with clean and comfortable accommodations. This hotel is understated and simply furnished, but it still has a lot to offer.
A daily buffet breakfast is included as well as free parking and guest wifi. The staff is very friendly and the environment has a quiet and cozy feel. There is a laundry service available for a small fee which includes washing, drying, and folding your items.
You can go horseback riding on Black Sand Beach which is just a 10-minute walk from the hotel. There is also an outdoor swimming pool within a 10-minute walking distance. Plus, staff can arrange Jeep tours of the scenic surrounding areas. For thrifty minded folks, Puffin Hotel is the best hotel in Vik.
Check Rates: Booking.com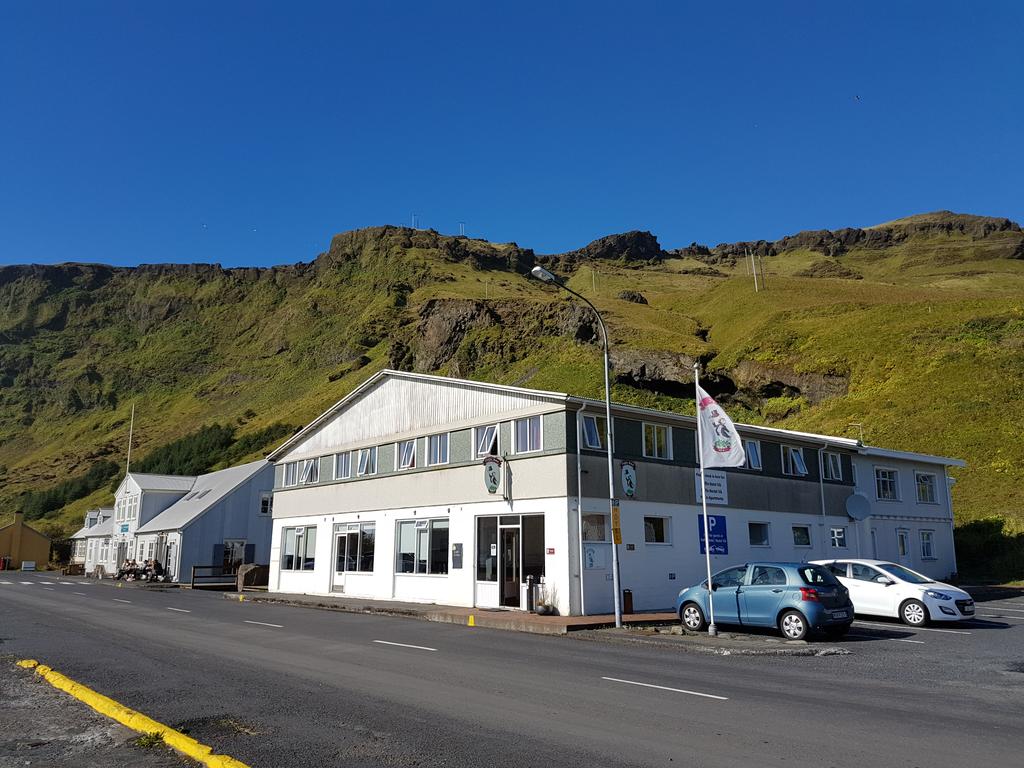 Mid-range: Hotel Vík í Mýrdal
Want to splurge, but just a little bit? Then, Hotel Vík í Mýrdal is where to stay in Vik. This hotel masterfully pulls off the warm cozy cottage vibe, but with strikingly modern architecture and decor. Hotel Vík í Mýrdal knows how to capitalize on the amazing views by having the main lobby that is fully comprised of windows.
On-site amenities include a fitness center, restaurant, bar, and free WiFi. Every room includes a spacious seating area. An exceptional breakfast buffet is included daily for all guests. Just a 5-minute walk to Black Sand Beach and a short 1.7 miles to Reynifjara Beach.
Check Rates: Booking.com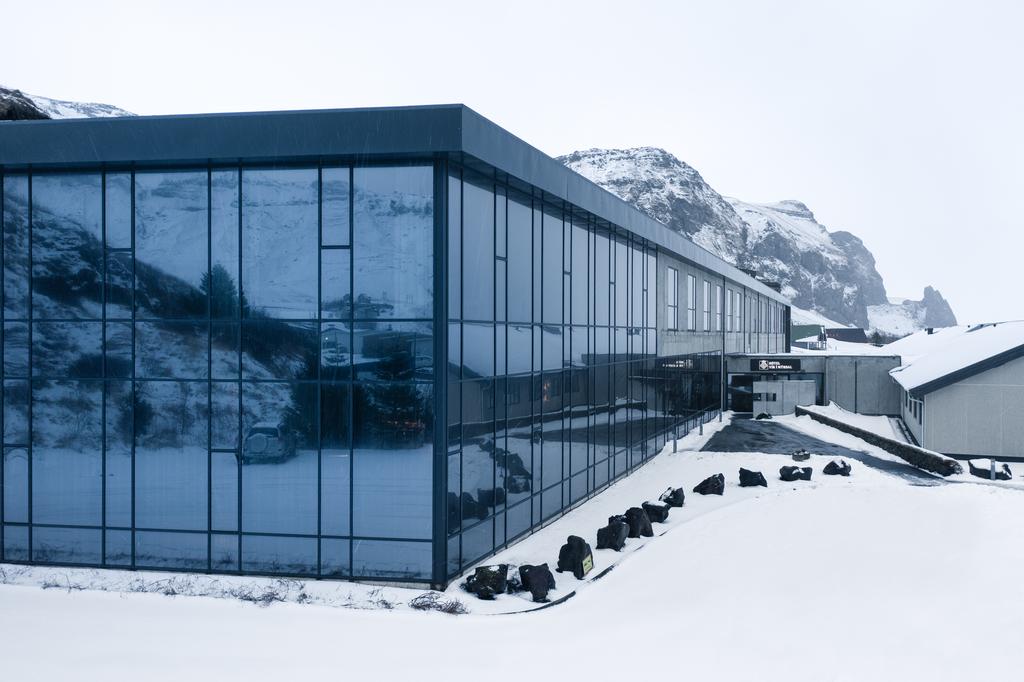 Luxury: Hótel Kría
Exceptionally modern and sophisticated, Hótel Kría is bound to please with breathtaking views and delicious food. The decor is an exquisite blend of stone, wood, and glass. It has 72 rooms and 1 suite. Dangar Restaurant is on-site and serves traditional Icelandic cuisine with a slight twist. Hótel Kría also features a cocktail bar and garden.
Breakfast is included daily for guests of Hótel Kría with options of a hot and cold buffet. Vegetarian options are available and consist of local produce. Dangar Restaurant has many mouth-watering options. You could start with a vibrant and fresh tomato salad, continue with the most tender braised lamb, and top off the evening with indulgent chocolate truffles and coffee.
Want to see the Northern Lights? Just notify the staff and they will set a special wake-up call for you! Black Sand Beach is located within walking distance of Hótel Kría approximately 5 minutes away. Horseback riding and hiking are enjoyed by most guests during their stay. There is even a golf course just 2 minutes away. The refined atmosphere, delightful food, and varied amenities make Hótel Kría one of the best hotels in Vik.
Check Rates: Booking.com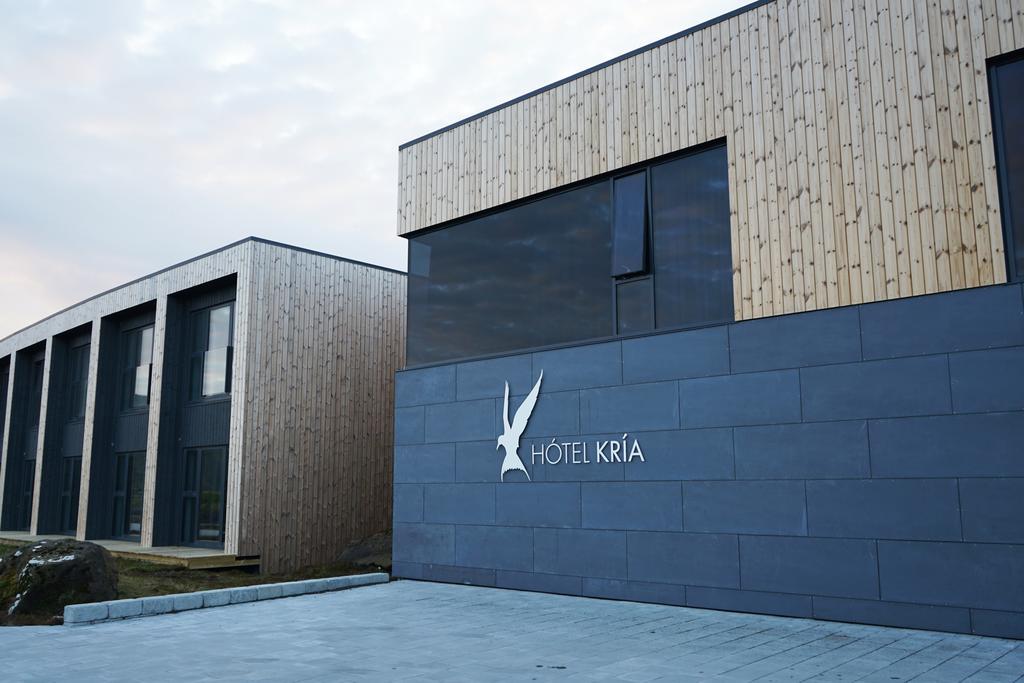 Best Hostels in Vik
Affordable: Puffin Hostel Vik
Puffin Hostel Vik is a historic century-old hostel located right in the center of Vik. For those looking for a money-saving option, this is the best hostel in Vik for you. Every bed includes a duvet, pillow, sheets, and towels.
There is a shared kitchen that is very well equipped as well as a shared seating area. As with most hostels, the guest bathrooms are also shared.
Check Rates: Booking.com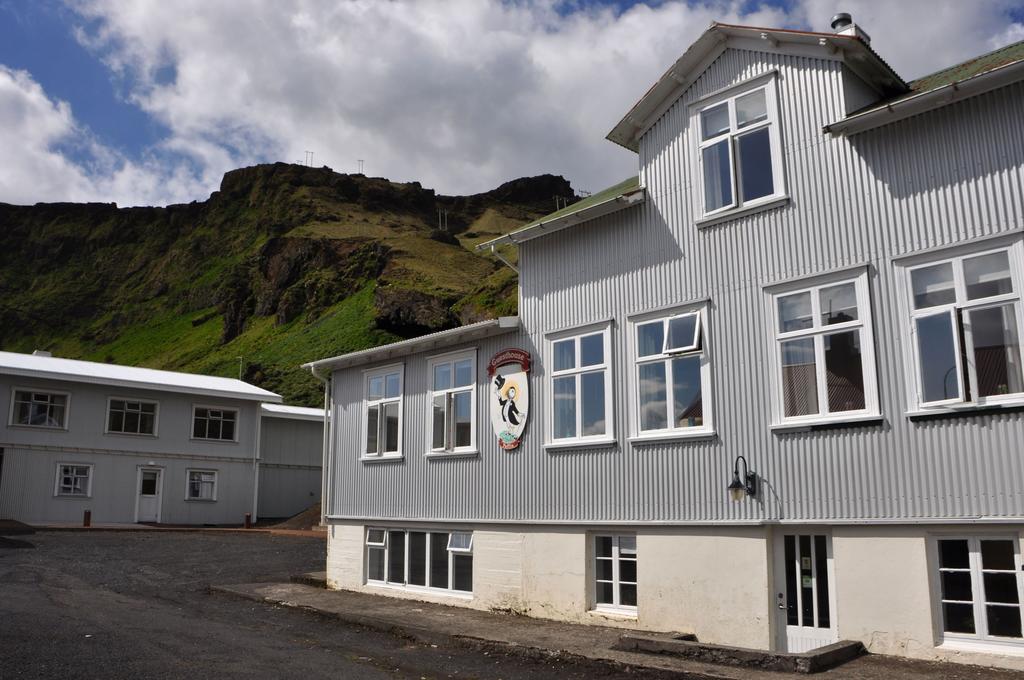 Mid-range: The Barn
Do you love the coffee shop vibe? Now, picture your favorite downtown bar mixed with a coffee lounge atmosphere. The Barn has such a unique and intriguing feel with stone and wood trimmings. Double rooms come with a shared bathroom and sometimes a mountain view. Dormitory beds are also offered and come with blackout curtains for ultimate comfort and privacy.
Guests are given lockers to secure their personal belongings. There is a shared kitchen and the bar is at your disposal. Black Sand Beach is 2.5 miles away and the closest village is 4.3 miles away. There are a few seating areas available for hanging out and possibly meeting some new friends.
Check Rates: Booking.com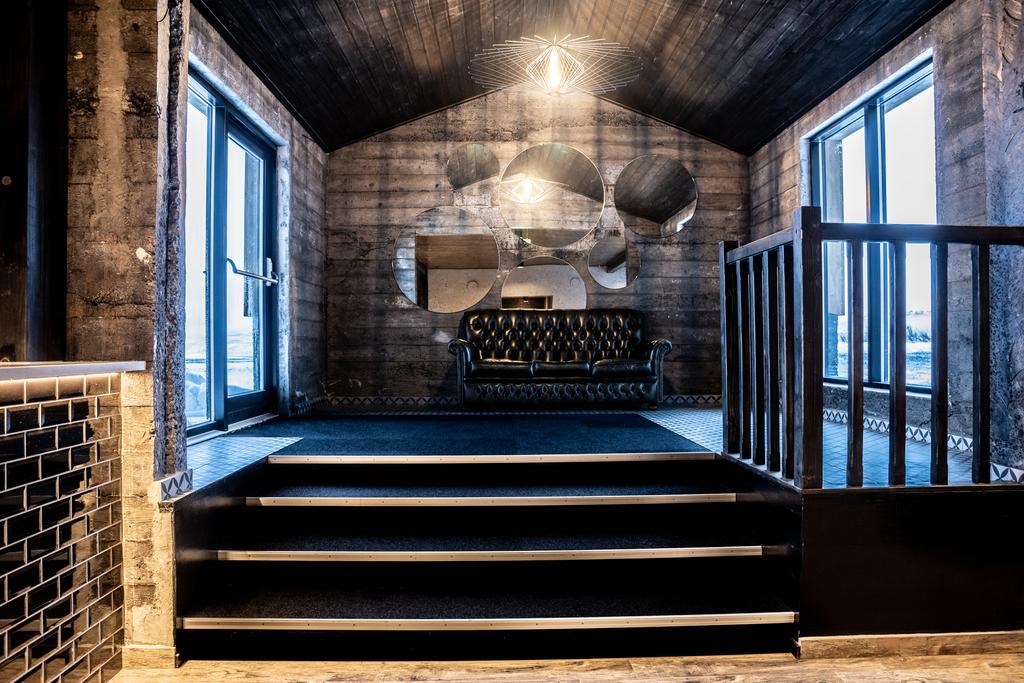 Luxury: Vik Hostel
Vik Hostel has a quaint countryside B&B feel which makes it incredibly charming and one of the best hostels in Vik. You will be enchanted by the farmhouse feel of the building, cute picnic tables, the resident chickens.
The shared lounge is a very cozy room that has windows on three sides. One of the big surprises at Vik hostel is that a buffet breakfast is included for guests! Many of the guests enjoy hiking in and around Vik. Reynifjara beach is located just 1.7 miles away.
Check Rates: Booking.com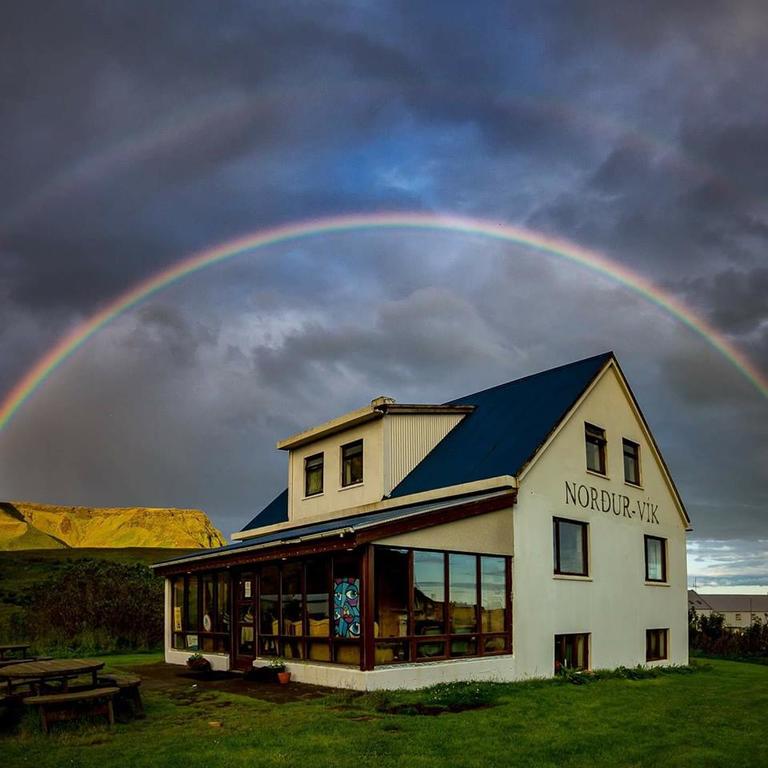 Where To Stay Near Vik Iceland
The south coast of Iceland is quite special and unlike any other location in the world. You will see waterfalls, volcanoes, nature preserves, small towns, glaciers, hot springs, and black sand beaches. The Golden Circle is a tourist route that registers just under 200 miles long. Using this route you can travel from Reykjavík into the southern uplands of Iceland and back. Many of the tourist attractions and activities are conveniently located throughout the route as well as dried lava fields, massive cliffs, and small fishing towns. Reykjadalur Valley (translates to Smoke Valley) is home to a hot river that flows through the area, a result of the region's geothermal nature.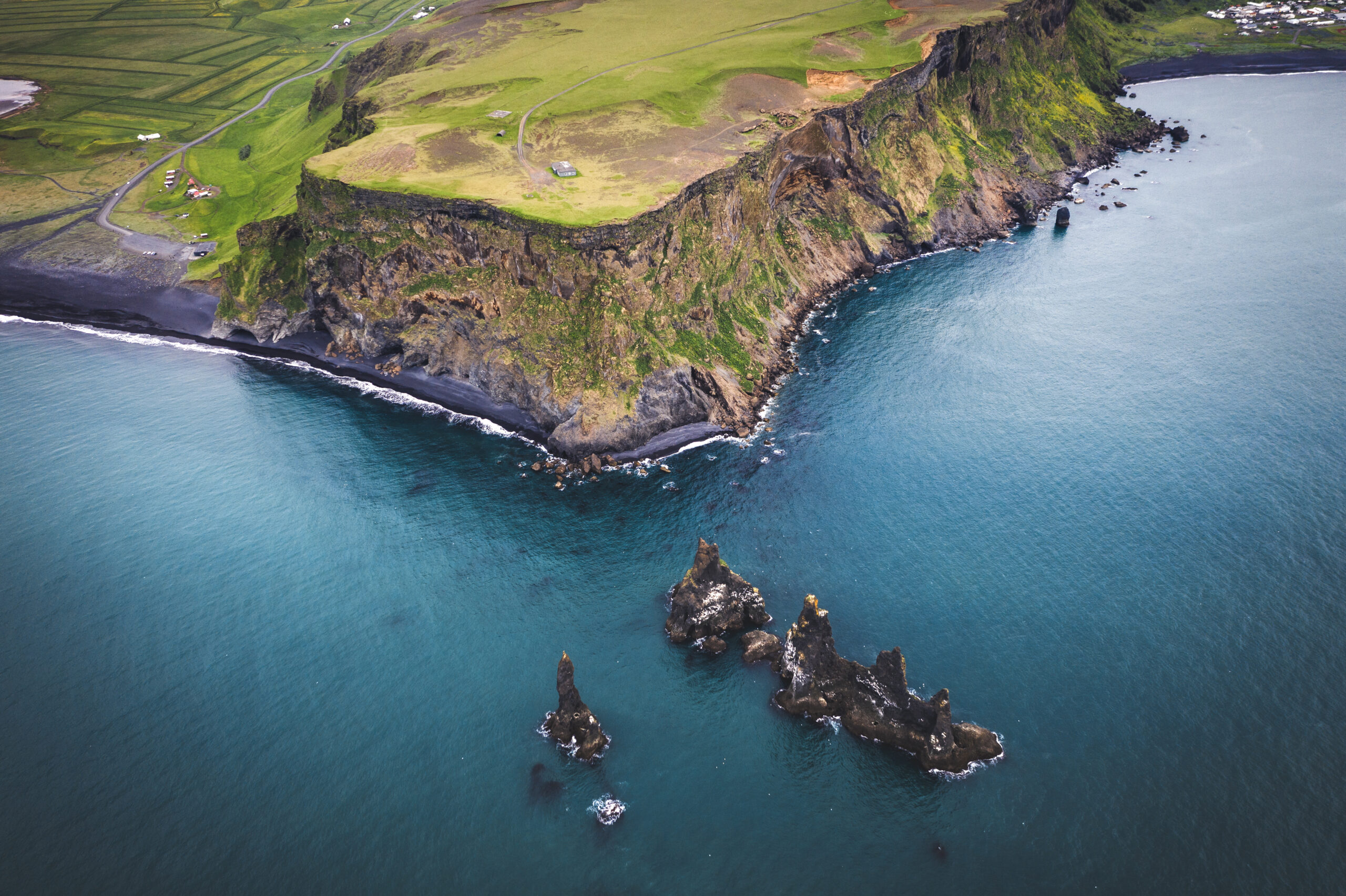 Best Hotels Near Vik Iceland
Affordable: Blue House B&B
Blue House B&B is the perfect option for those looking for the comforts of home with a warm and welcoming feel. It is located on the Seltjarnarnes Peninsula and is roughly a 5-minute drive from Reykjavík. The property consists of 3 buildings that allow guests to choose between self-catering apartments or guest rooms.
Netflix and Apple TV are included with the Blue House's guest rooms with the kitchen and bathroom being shared. If you select an apartment, these have private bathrooms and kitchens with the possibility of a garden view. A continental breakfast is served daily and included with the room cost. They even offer an airport shuttle service.
Check Rates: Booking.com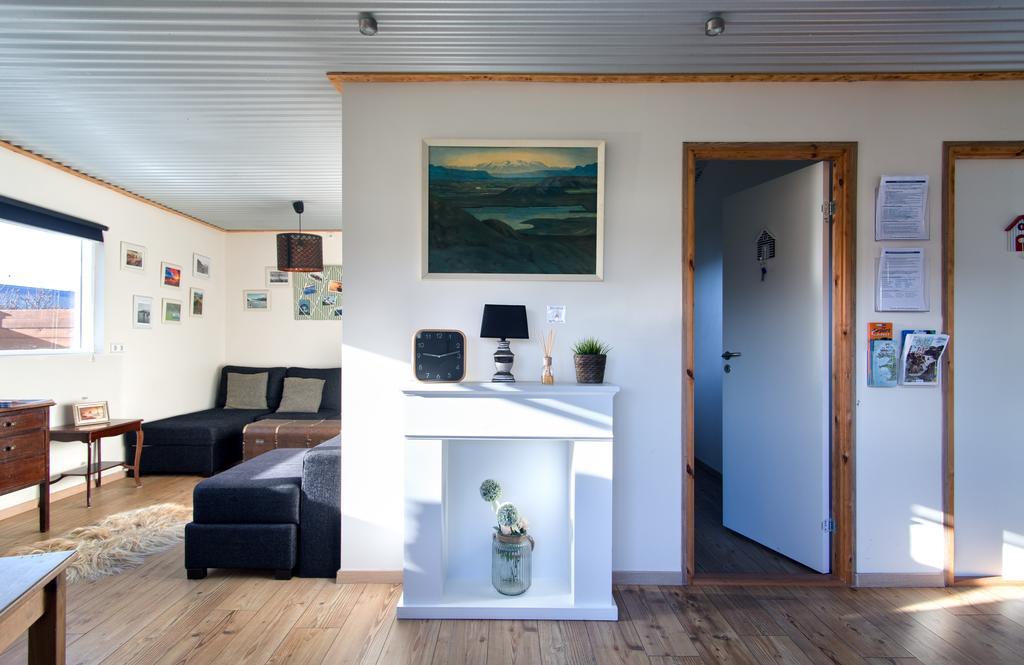 Mid-range: The Garage Apartments
Are you looking for a remote and secluded vibe, but don't want to lose the convenience of being centrally located to many attractions? Well, The Garage Apartments are ideal for you! Not only will you be blown away by the postcard-perfect mountain scenery, but you will fall in love with their graceful blend of rustic and chic elegance. Ever had a cup of tea or coffee that was just right and you didn't want it to ever end?! The Garage Apartments will give you that same feeling in cozy living accommodations.
If you choose to leave this beautiful property, you will be happy to know that there is plenty of sightseeing nearby. Situated directly in between the stunning waterfalls Skógafoss and Seljalandsfoss, and just down the road from the famous Eyjafjallajökull volcano. Many guests enjoy hiking in the surrounding areas. We thoroughly enjoyed our stay at The Garage Apartments, especially the kindness and attentiveness of Host Anna. We have already planned to return and we are counting down the days.
Check Rates: Booking.com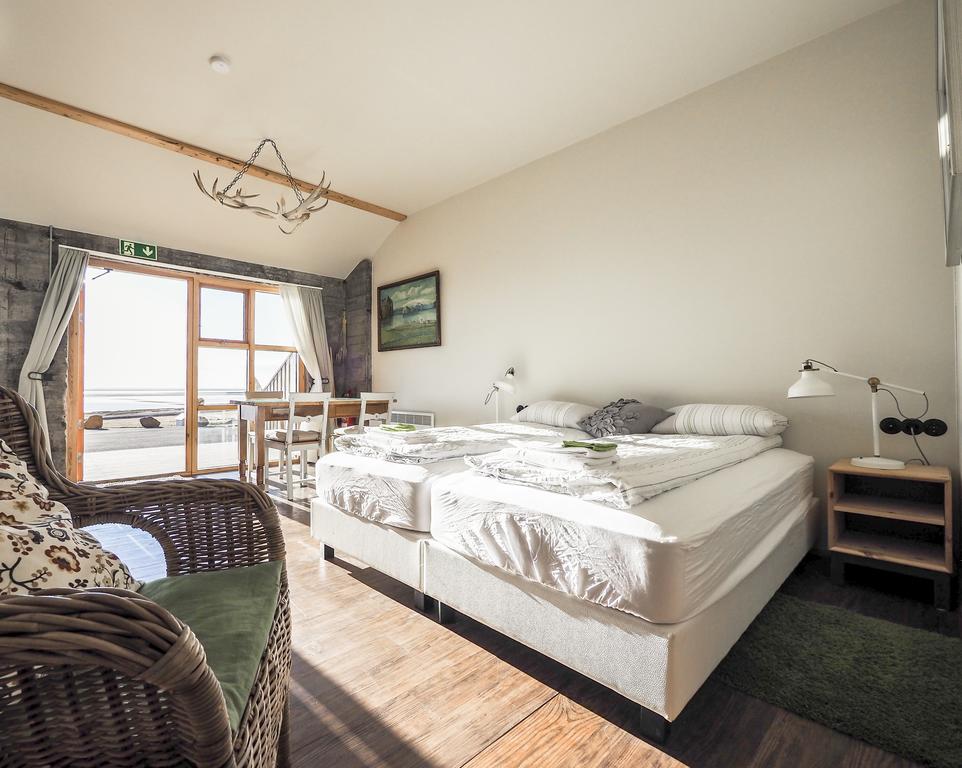 Luxury: Umi Hotel
Umi Hotel is a family-run hotel that consists of 28 elegant private guest rooms in a strikingly designed building. The small number of rooms allows the staff to provide first class service throughout your stay. The owners' daughter was responsible for the interior design and lighting. She states that inspiration for materials and the color pallet of the hotel is drawn from the surrounding nature, the beautiful colors of the Icelandic autumn and shapes and textures from the Icelandic nature.
The upscale restaurant places high importance on using fresh ingredients from the surrounding area to provide the most delectable dishes. The lobster and scallop soup and the smoked duck breast carpaccio are two of their popular items.
The lounge bar features a view of the volcano Eyjafjallajökull and rugged mountain terrain surrounding it. The on-site restaurant offers a brilliant view of the Westman Islands and the southern coastline. Ring Road is just 1.2 miles away, Hvolsvollur is 27 miles away, and Eyjafjallajökull Erupts museum is only a mere 1.9 miles from the hotel.
Check Rates: Booking.com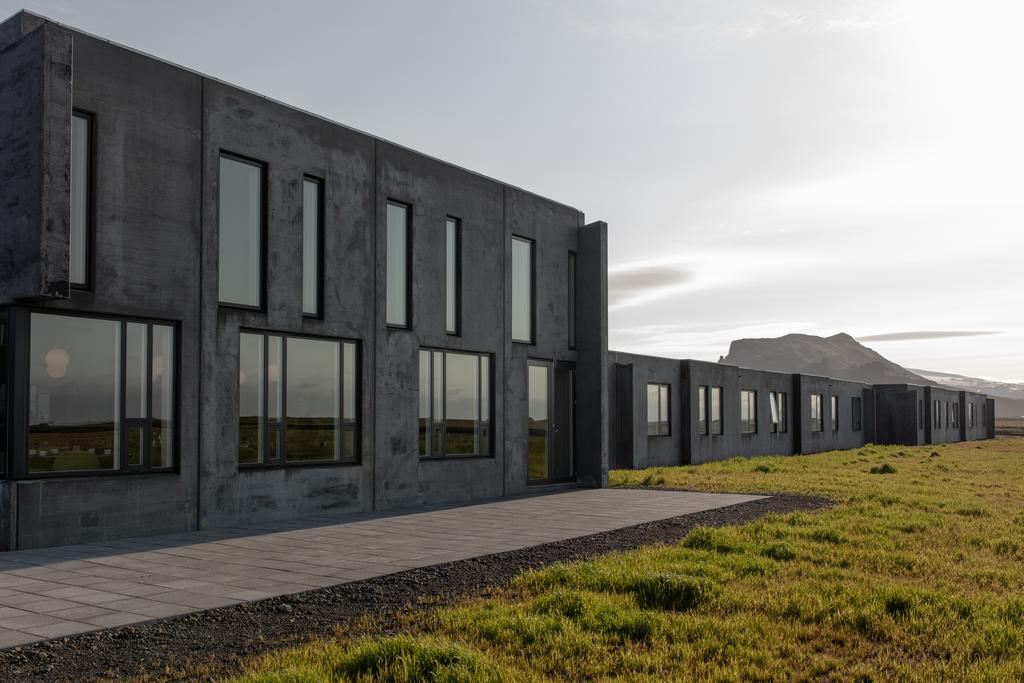 Best Hostels Near Vik
Affordable: Kex Hostel
Kex Hostel is located in Reykjavík and has such cool youthful energy to its decor. There is a playful mix of texture and color that get the feeling like you are studying abroad and staying in a hip dormitory. White subway tile, large world maps, industrial lighting fixtures, colorful classroom chairs, school lockers, and a heated wooden terrace are all combined to create a very unique atmosphere.
Multi-options are available including mixed dorms with 42, 16, 10, 8, and 4 beds. Guests have access to a communal kitchen, a buffet breakfast is available for purchase daily, and drinks can be enjoyed at the on-site Drinx Bar.
Want to go shopping? You're in luck! Located only a stone's throw from Laugarvegur, a shopping street in central Reykjavík. Whale watching trips depart from Reykjavík Harbor, just a 20-minute walk from the hostel. Hostel Kex offers complimentary luggage storage and bicycles can be rented on site.
Check Rates: Booking.com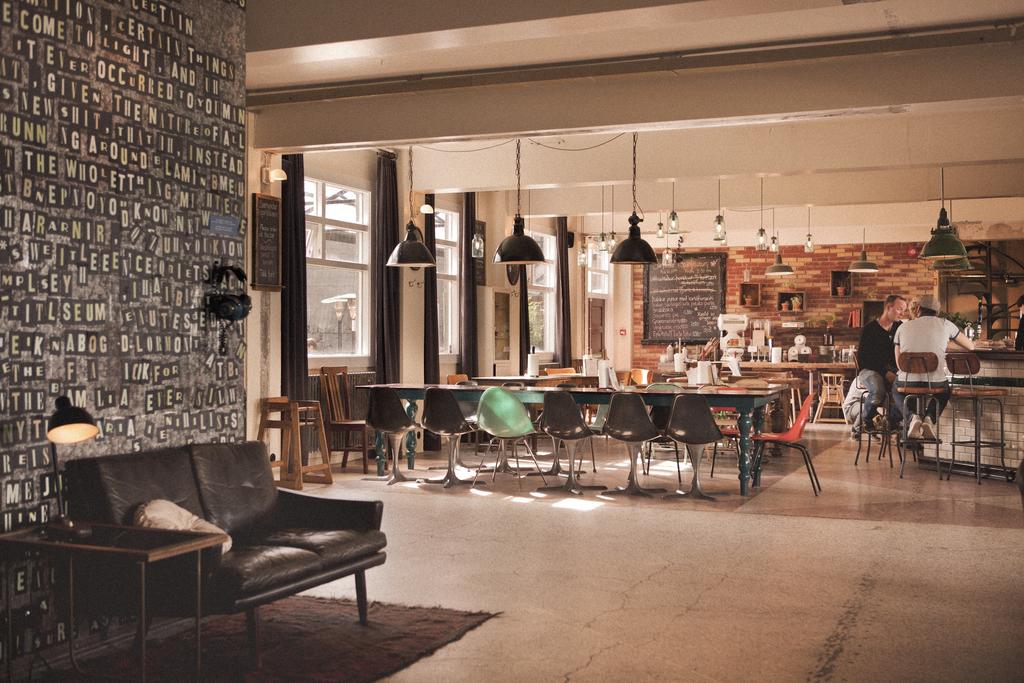 Mid-Range: B14 Hostel
Next, we have B14 Hostel which features a modern and refined decor and style. This hostel is very tidy and aesthetically pleasing. Guests have access to a well-stocked communal kitchen as well as a dining and lounge area. One of the features that really stands out to us is that a health food restaurant, ice cream shop, and a cafe are all conveniently found within the same building as the B14 hostel.
Feel like getting out a bit and socializing? Well, no worries at all because local shopping, restaurants, and bars are all easily accessible on foot. Travel a little bit further and soak in some history with the iconic Hallgrímskirkja Church and the National Museum of Iceland which are just a mere 3.1 miles from the hostel.
Check Rates: Booking.com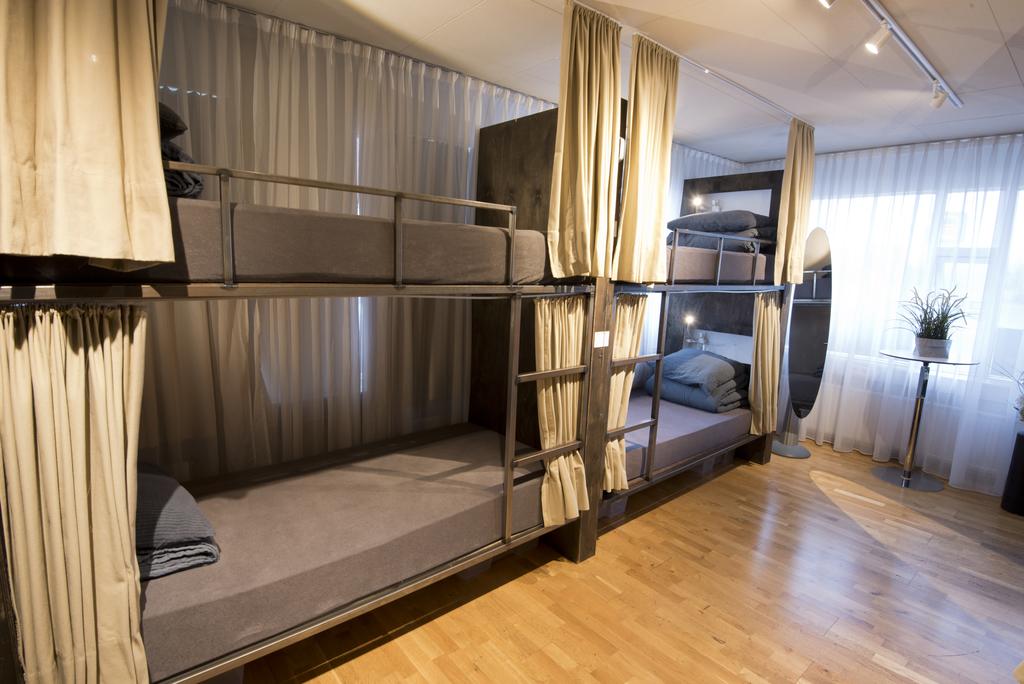 Luxury: Galaxy Pod Hostel
Okay, now we are very excited to share this next Hostel with you. Really looking for an out of this world experience? Galaxy Pod Hostel invites to stay in futuristic space pods. You didn't misread that last part, you really get to stay in private space pods! Each pod has a comfortable mattress with either a curtain or door, there is even a USB port located right inside of your pod. Galaxy Pod Hostel offers both mixed dorms and female dorms.
You get the perfect combination of privacy mixed with a very social environment. You will enjoy an on-site movie room, virtual reality gaming room, a fully stocked communal kitchen, and a Scandinavian style lounge with bar. Once again, you are centrally located in Reykjavik with plenty of attractions within walking and driving distance. The staff is available to book tours for all guests. Perlan Wonders of Iceland is 1.1 miles away and Reykjavík Domestic Airport is 1.7 miles from the property.
Check Rates: Booking.com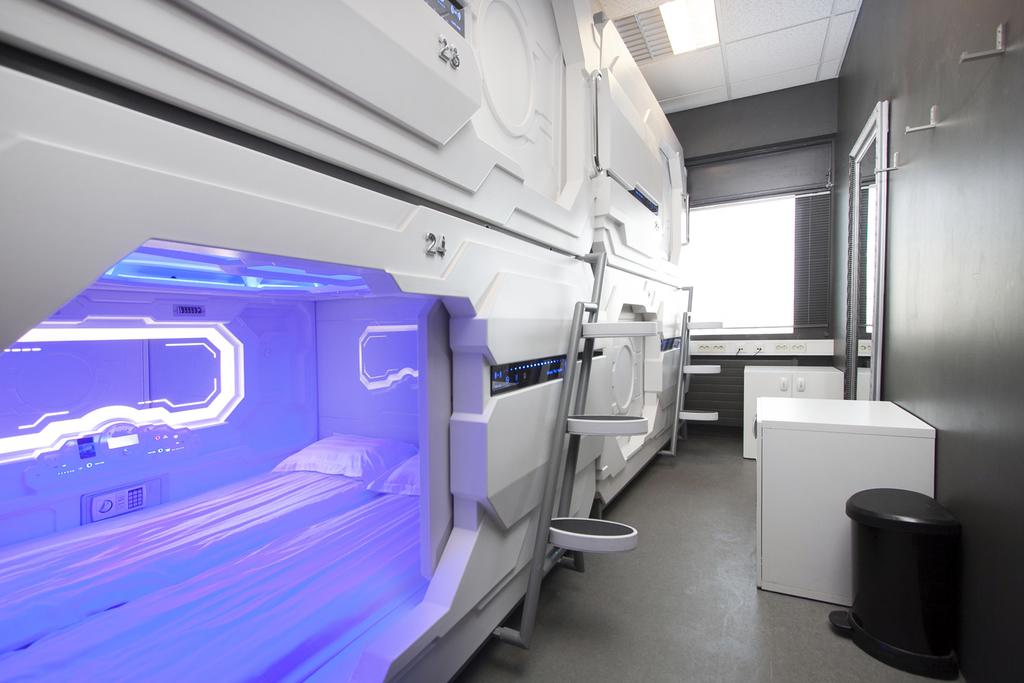 Rest assured that whether you are looking for the most affordable hotel or you really want to splurge, choosing from this list will place you in one of the best hotels in Vik.
Extroverts that really want to meet other travelers will absolutely adore all of the other options as they are some of the best hostels in Vik.
You simply can't go wrong with any of these housing accommodations, so let the anxiety melt away because where to stay in Vik has been checked off your list of things to do. We hope you have a fabulous time and enjoy your stay in Iceland. This is one of the best stops around Iceland's Ring Road. If you happen to be driving in Iceland, you will want to ensure that you make time to see it!