If Bahla Fort isn't on your list of top things to do in Oman, it really should be! When visiting this part of Oman, most people put the very popular [and more expensive] Nizwa Fort but skip over Bahla Fort which is only about 35 minutes away. Bahla Fort is Oman's only UNESCO World Heritage designated fort and it was added to the list in 1987. The fort is affordable and beautiful to visit.
Think about wandering around a giant fortress surrounded by mountains and date palms. You are almost completely alone or only with a few other people as it isn't that popular. You meander through the historic walls and up and down stairwells with stories to tell. This is exactly what it is like when you visit Bahla Fort in Oman. Below we include some tips about what you should know when planning your trip to Oman's Bahla Fort.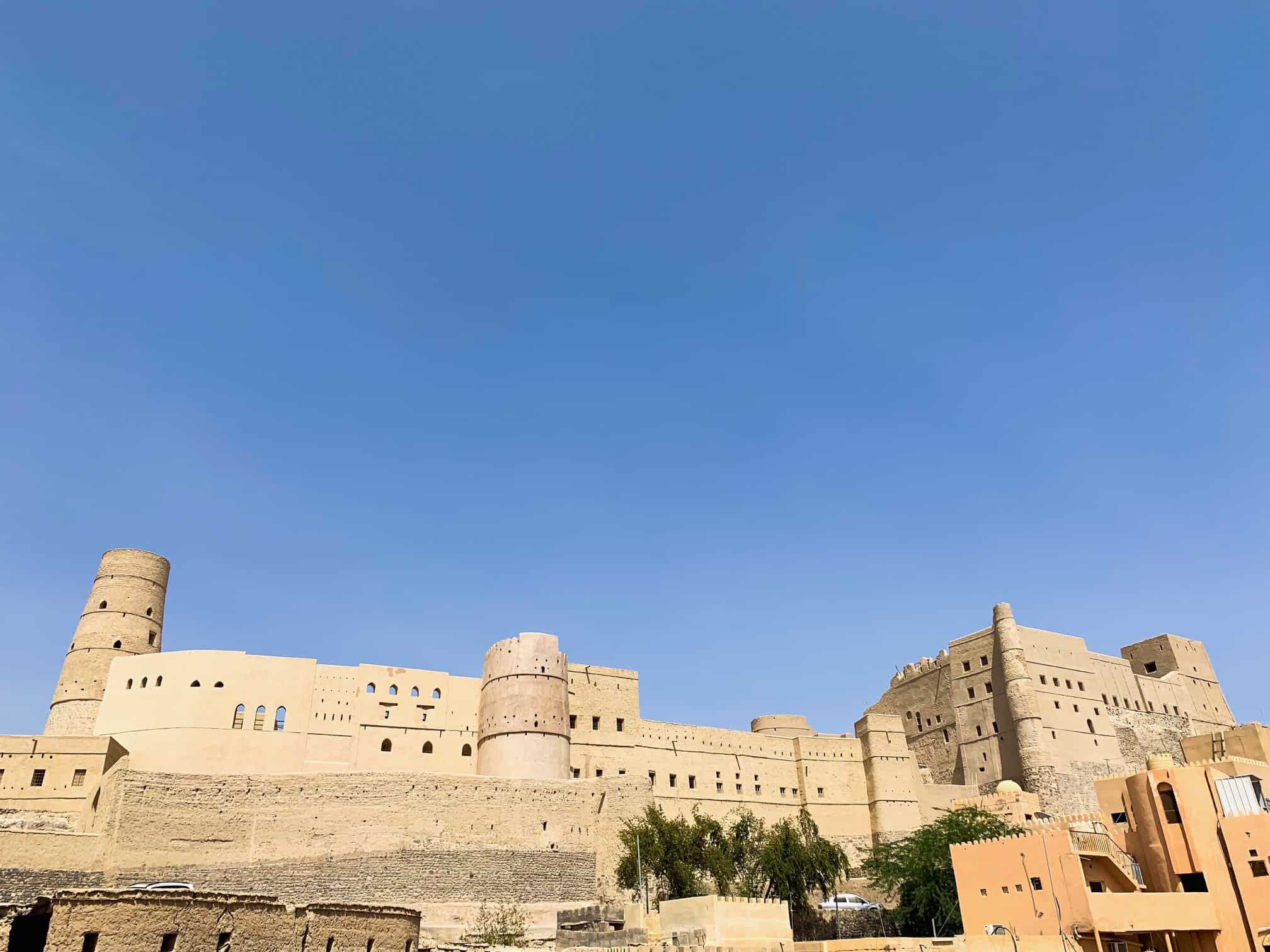 Everything You Need To Know Before Visiting Bahla Fort Oman
History Of Bahla Fort
Bahla Fort is one of four historic forts located at the foot of the Jebel Akhdar mountains. Bahla Fort is estimated to have been built by the Banu Nebhan tribe between the 12th and 15th centuries when they occupied this region of Oman and made Bahla their capital.
The fort was owned by subsequent tribes who added to the complexity and size of the fort. Bahla Fort is also considered to be the center for the region's paranormal sightings with many legends abounding. We have been in many haunted places but didn't feel anything particularly sketchy when visiting Bahla Fort.
The fort is constructed out of mud and straw bricks and is comprised of three parts, the fort, a citadel oasis, and the ancient city wall. The Bahla Fort complex is actually quite huge so make sure to factor in some time when visiting! This is truly one of the coolest places you should discover in Oman!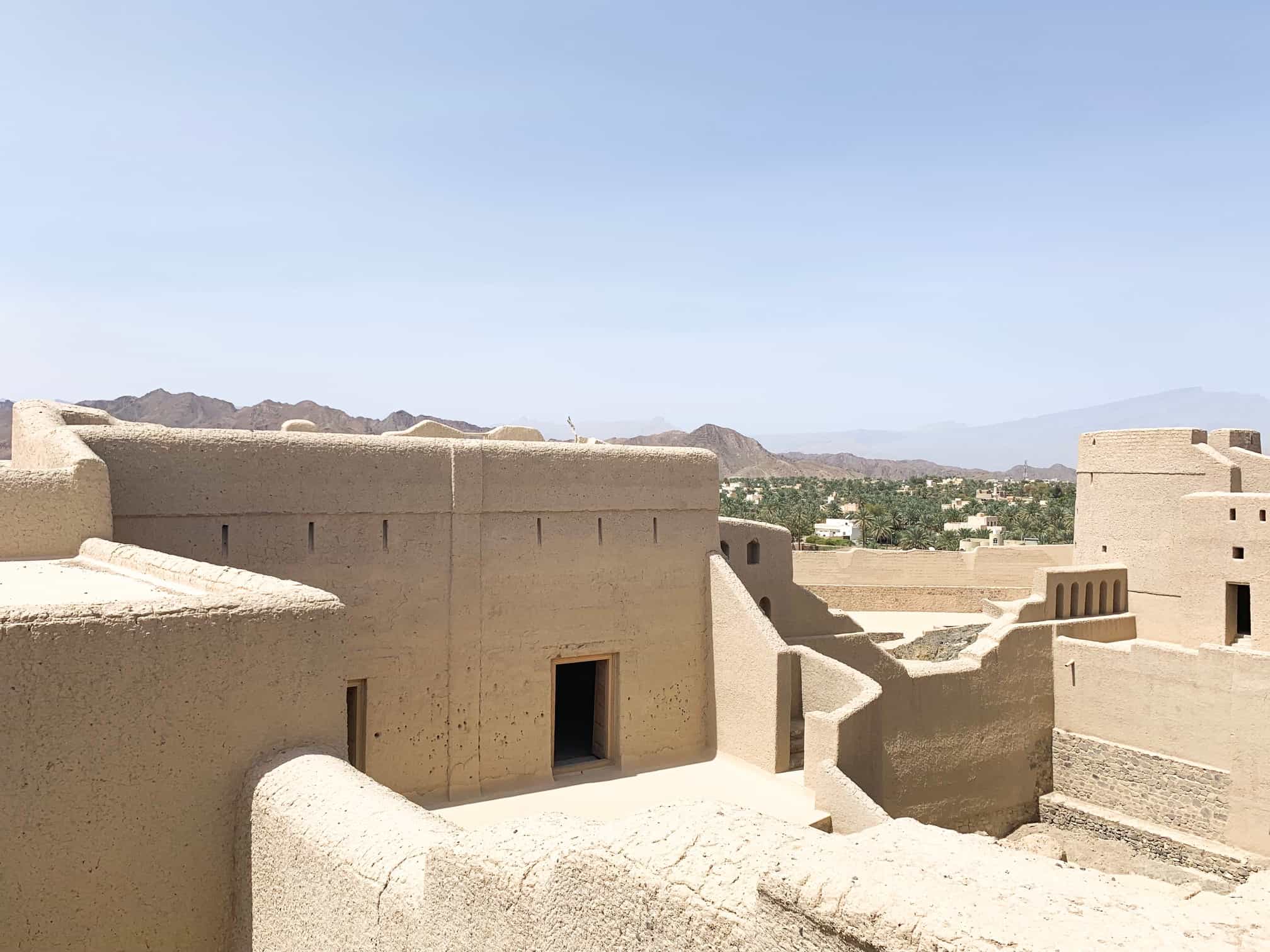 Getting To Bahla Fort
Getting to Bahla Fort is very easy! Bahla Fort is 1 hour and 50 minutes away from Muscat and around 30-35 minutes from Nizwa. If you are staying in Nizwa, we highly recommend a quick trip to Bahla Fort as it is so close by. You can get to Bahla Fort either via route 21 or route 15 which merges you into route 21.
The road is all highway as Bahla Fort is located in the heart of the city of Bahla. You can reach Bahla Fort with a 2×2/normal car and a 4×4 vehicle is not necessary. It is a perfect stop to add when you are road tripping Oman!
Click Here For Google Maps Location Of Bahla Fort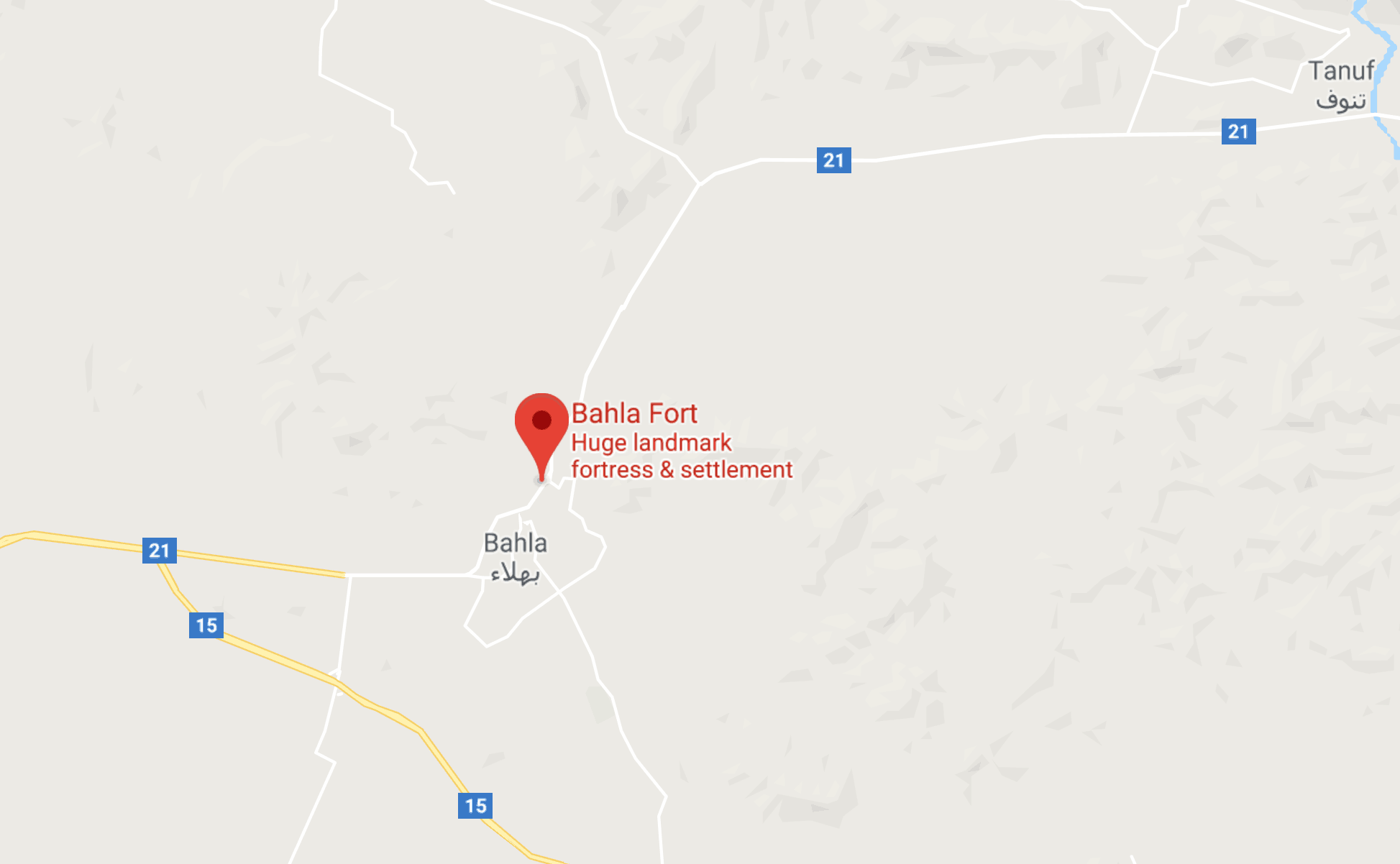 Parking At Bahla Fort
Parking is free at Bahla Fort. There is a large parking lot located at the base of the fort. This is where tourists and tour buses [if this is on their stop] park. There is a one-way in and one-way out drive to enter and exit the parking lot. Once you park your car, you must walk up the road where you came from and then up a short hill until you reach the entrance of the fort complex itself. Don't worry, parking at Bahla Fort is very easy and straightforward and the parking lot is very good. The walk to the fort is slightly uphill but nothing strenuous.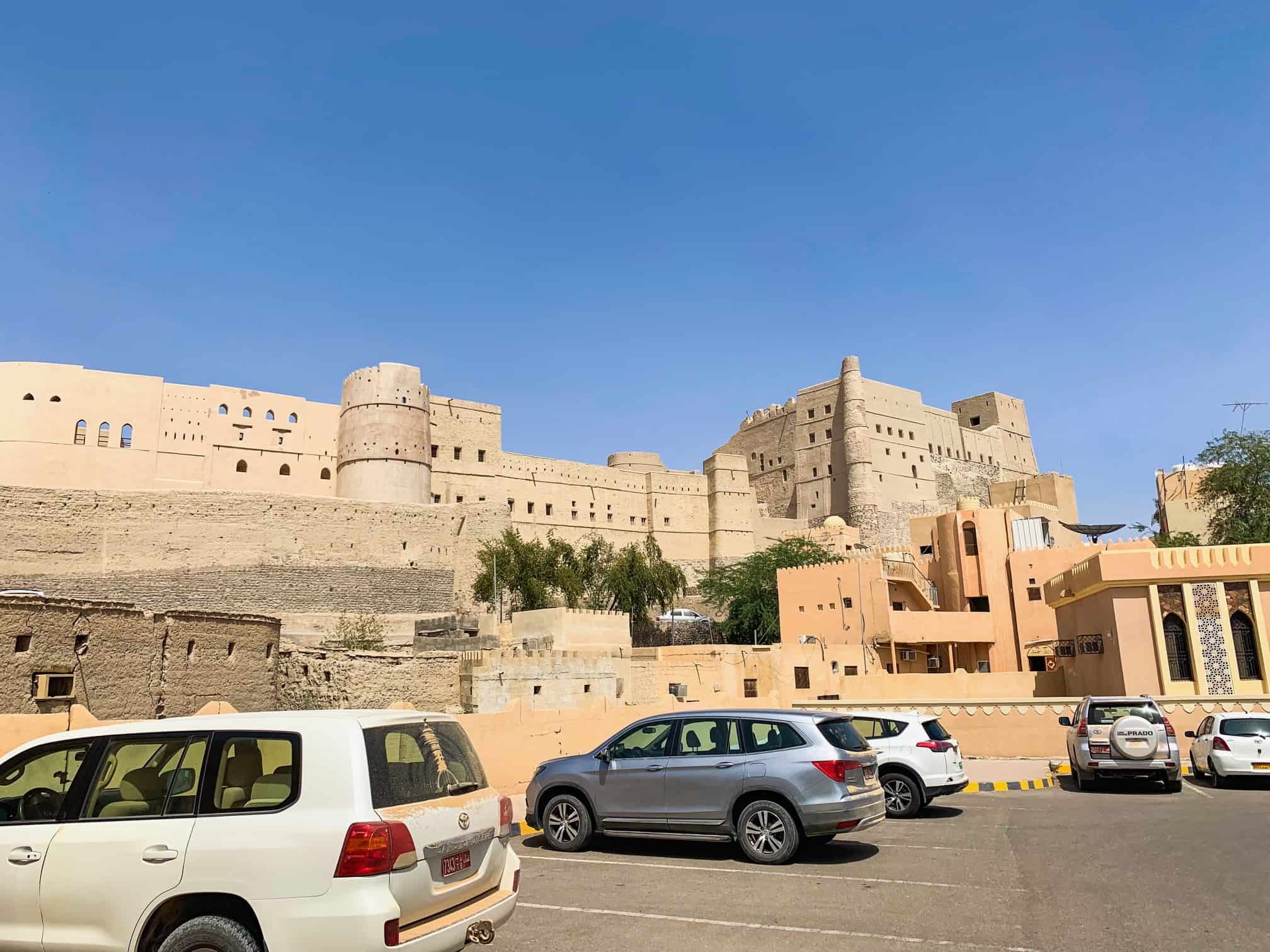 Bahla Fort Entry Fee
We were shocked and pleased that the entry fee to Bahla Fort was only 500 baisa or 1 rial for the two of us. This is SO CHEAP based on the relatively high entry fee for Nizwa Fort which was 5 rials per person. We couldn't believe that it only cost 1 rial for both of us to visit Bahla Fort when the day before we paid 10 rials for both of us at Nizwa Fort. It was quite a wonderful surprise and we can't believe this UNESCO World Heritage gem was priced so affordably. The price comes out to being about $1.30 per person to enter the fort.
When you pay, you will be given the option to take a small paper map. We highly recommend taking it as it was informative and showed the fort complex and what there was to see and do.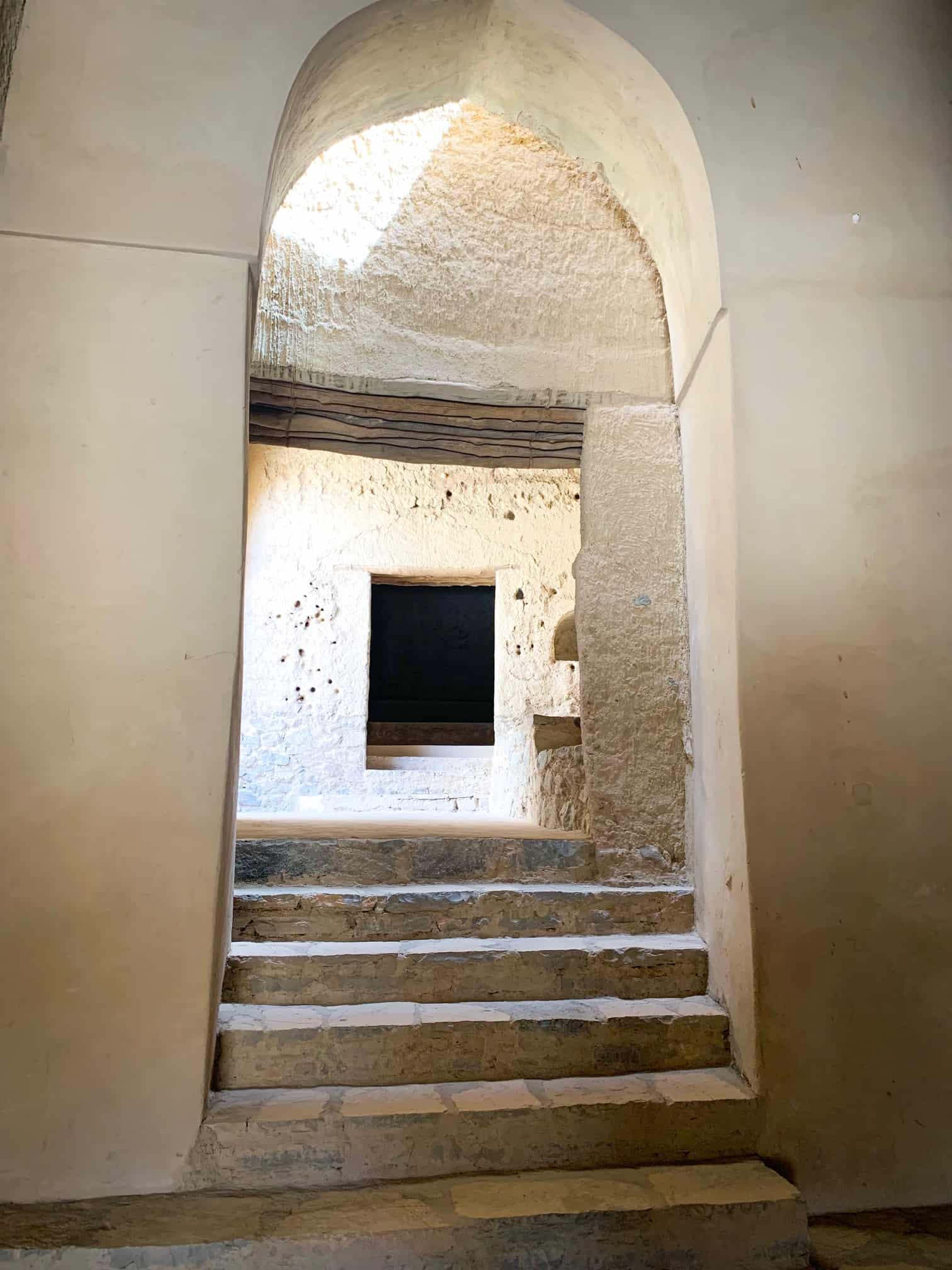 Exploring Bahla Fort
The Bahla Fort complex is actually quite massive, with lots of corridors and things to see, climb and do. After you pass the area where you pay your entry fee, you come to a giant courtyard area. This courtyard area is also home to the free on-site bathrooms. The bathrooms were quite good and clean so if you need to go you should take advantage.
The courtyard is surrounded by a giant wall and various turrets that you can climb and explore. There are also various rooms such as a prayer room, store room and more that are labeled and that are located around the courtyard. Take some time to wander around this area as there are many corners to see and explore.
During your time walking around Bahla Fort see if you can find various historical rooms including the stables, altar, library, bathhouse, prisons, water wells, prayer rooms and more. We were able to find many of these things during our exploration of Bahla Fort.
Once you are finished with the courtyard and surrounding area, you will walk through a small door into another upper part of Bahla Fort. While this area may look small initially, it is actually quite huge. It is from here that you can see the best views of Bahla Fort. There are various networks of doors and stairwells in this part of the fort. You can walk through almost every part of the stairwells.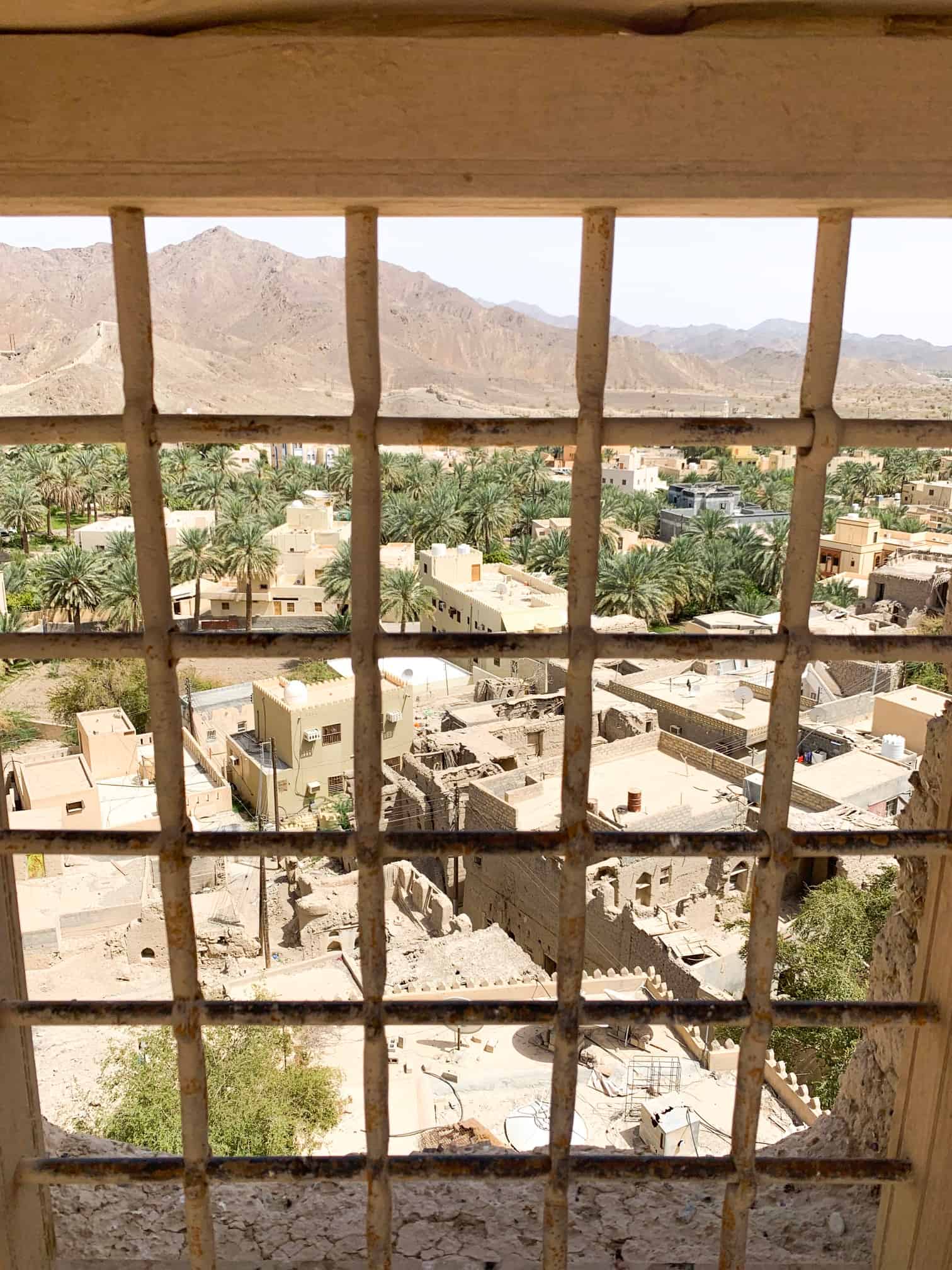 In this part of Bahla Fort, there are various parts of the original structure that are exposed in a dig-site manner in the middle of the complex. Parts of the fort were restored in 2012 for safety reasons so this was an interesting slice of history to behold.
The best part about exploring Bahla Fort is that you can see as little or as much as you want. If you aren't comfortable with climbing steep steps, stay on the ground level and explore within your comfort level. If you want to see every inch of the fort, walk among the turrets and upper walls of the fort at will. Just be careful you don't startle any nesting birds who will then cause a stir and scare the pants off you like we did!
When we were exploring Bahla Fort during high season, we came across probably 3 other tourists during our time there. It was a real treat to explore a UNESCO World Heritage Fort at will and without other people to contend with.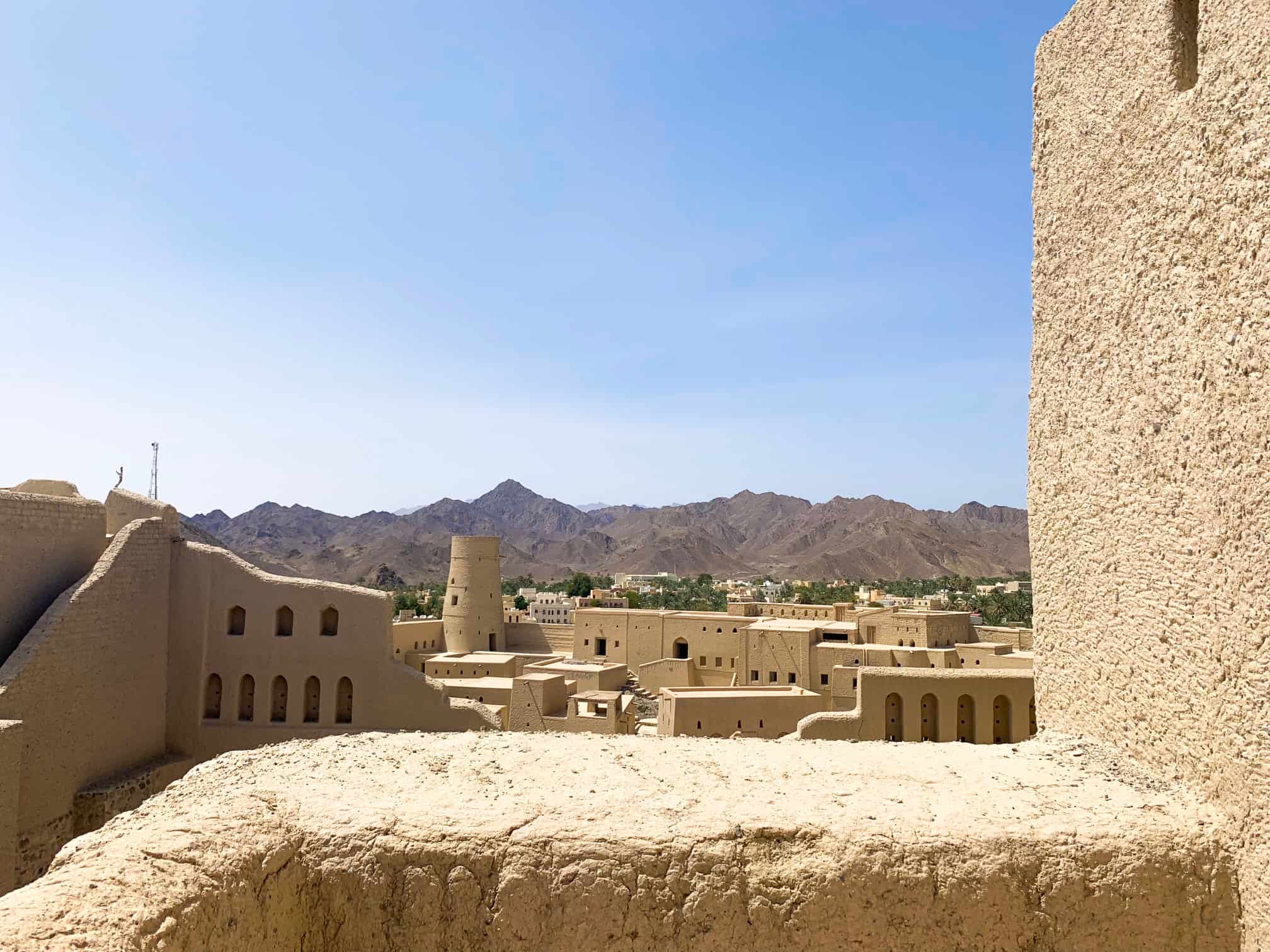 How Long To Spend At Bahla Fort
Bahla Fort is quite large but how long you spend depends on your interest. We visited Bahla Fort during the heat of the day and one of us wasn't feeling too well after a twisting mountain drive so we only ended up spending about 40 minutes. We recommend spending between 30 minutes to 1.5 hours exploring Bahla Fort depending on how much of it you want to see.
We honestly felt that 40 minutes was too short to spend at the fort but we were so hot and not feeling well that we left earlier than we had wanted to. If you only have a short time to devote to Bahla Fort, we still recommend visiting because it is an awesome place to see. If we had to do it again, you will honestly need at least an hour to scratch the surface of the complex. If you are a real history buff, you may want to budget even more time so you can explore all that Bahla Fort has to offer.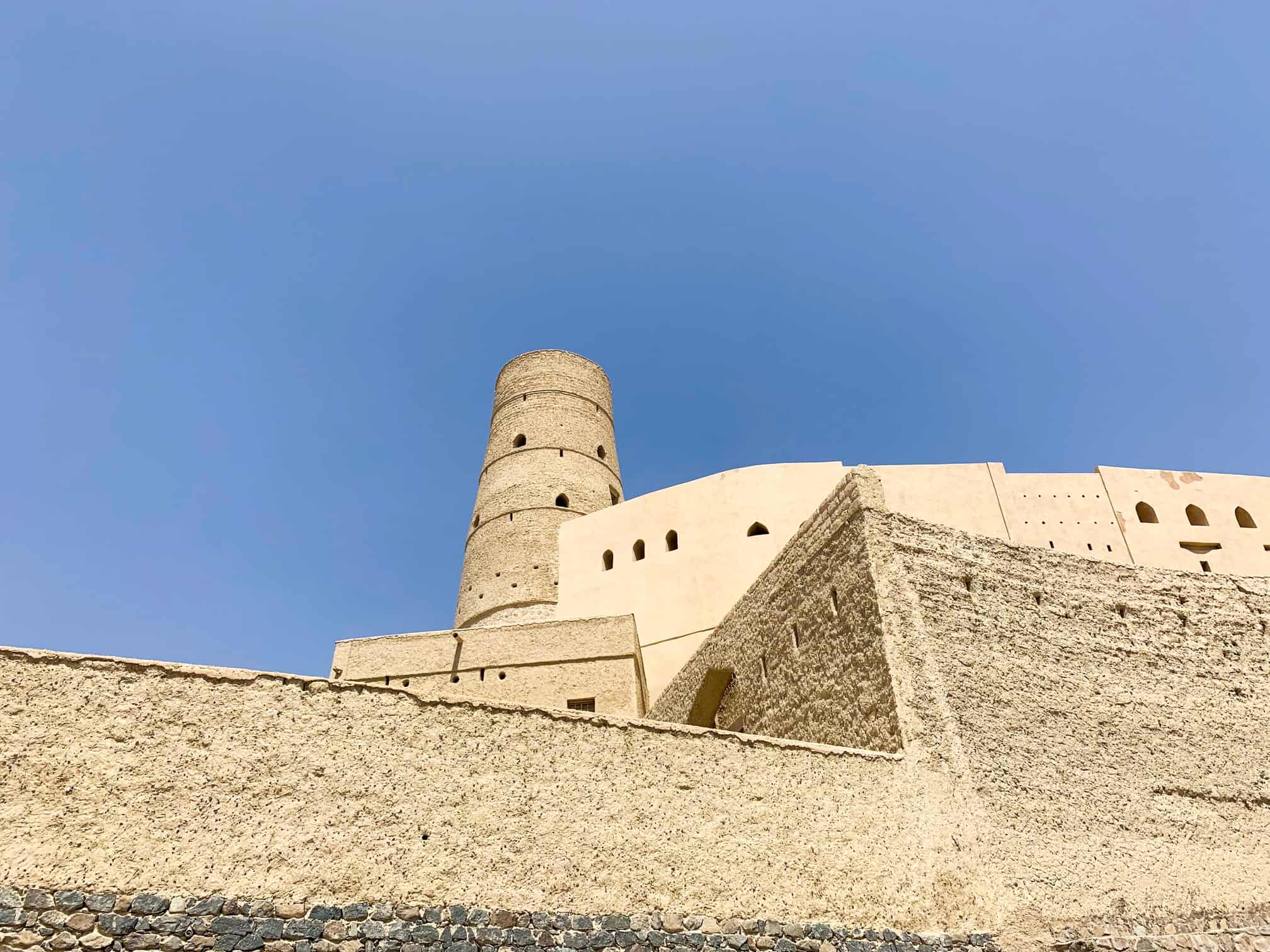 We hope that you take our advice to heart and put Bahla Fort on your list of things to do in Oman. It is really quite a spectacular place and to be able to visit a UNESCO site for only $1.30 and have it almost all to yourself is a real treat. Make sure to devote some time to Bahla Fort during your time in Oman and you won't be disappointed.