One of the most unique things you will ever do is visit the abandoned ruins in Al Hamra Oman. Think a completely abandoned town where you will wander along among crumbling buildings, decaying books, old doors, and dusty pathways. This is why the Al Hamra ruins top our list of the best things to do in Oman!
If you are planning your trip and you want to visit the ruins in Al Hamra Oman, we have got you covered in this post so you can easily find the abandoned village and have a good time. Keep in mind that there is something known as the "Al Hamra Village" which is another abandoned town and it is located in the United Arab Emirates, so when you are searching and planning, make sure you are specifically looking to visit Al Hamra Oman.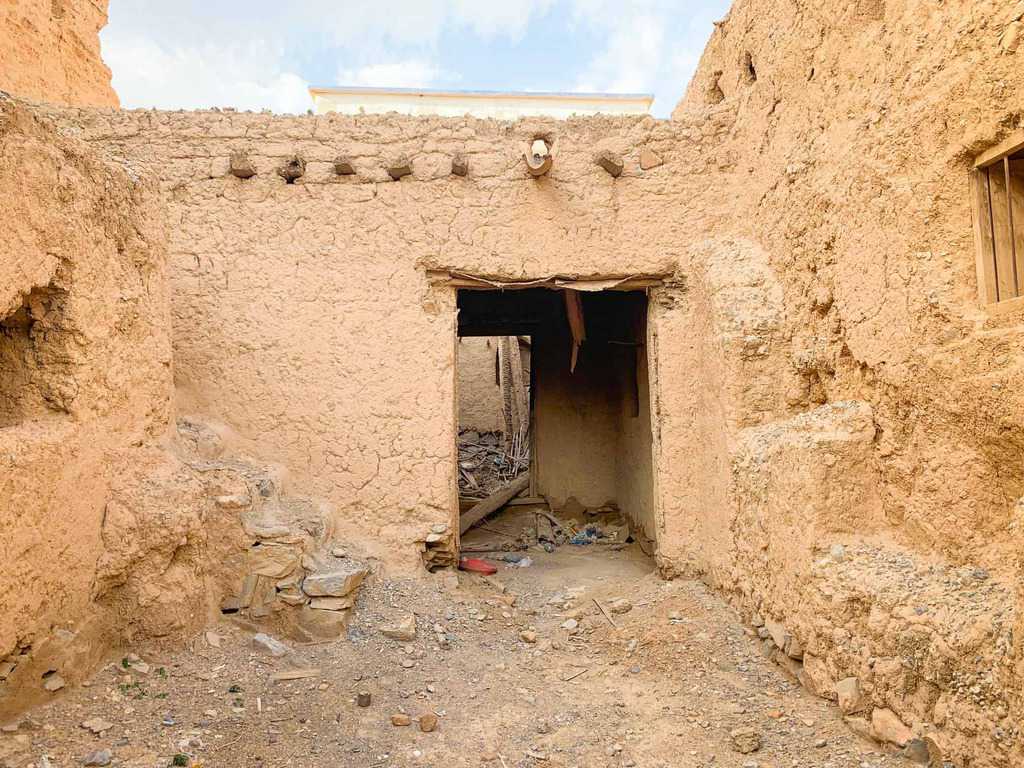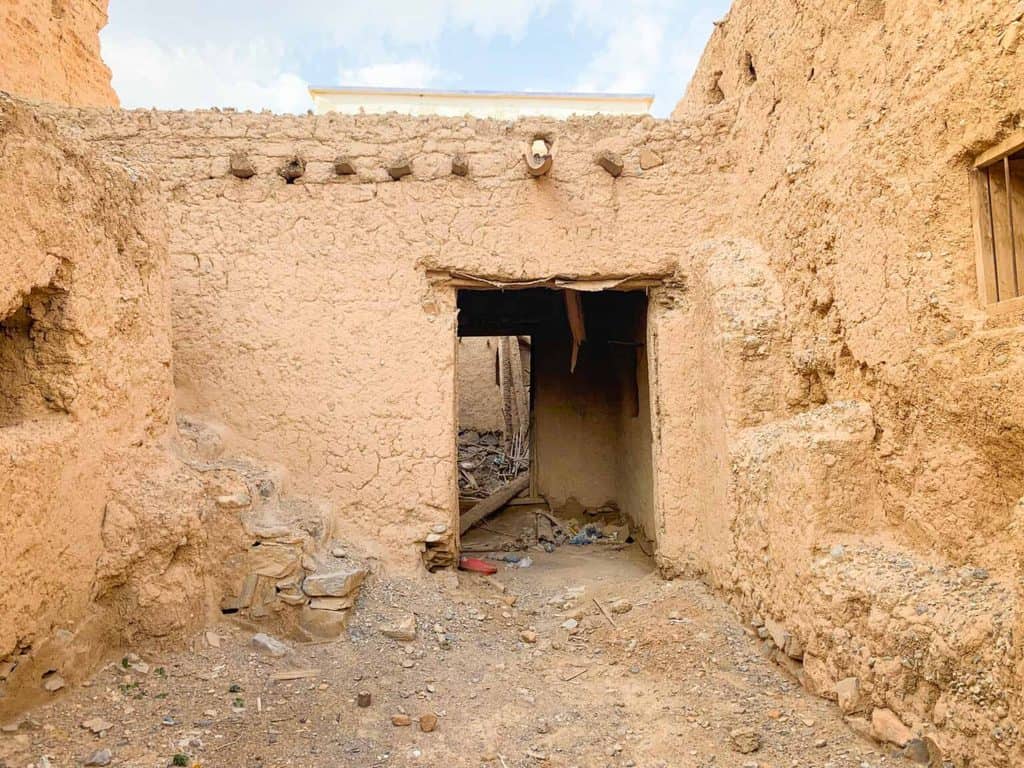 What Is The Al Hamra Village And Why It Was Abandoned
Al Hamra is a 400-year-old town in the region Ad Dakhiliyah, in northeastern Oman. The town is thriving and lively but holds a secret. The 400-year-old town popped up around an amazing abandoned village. The Al Hamra ruins are estimated to be between 700-1000 years old and are left completely untouched.
When we visited Al Hamra Oman, we scoured the internet and even asked the tourism board as to WHY the village had been abandoned and left to ruins. NO ONE responded and there are no answers on the internet. While we were exploring Al Hamra, we flagged down a local guide who was running a tour nearby and asked him because we still couldn't get an answer!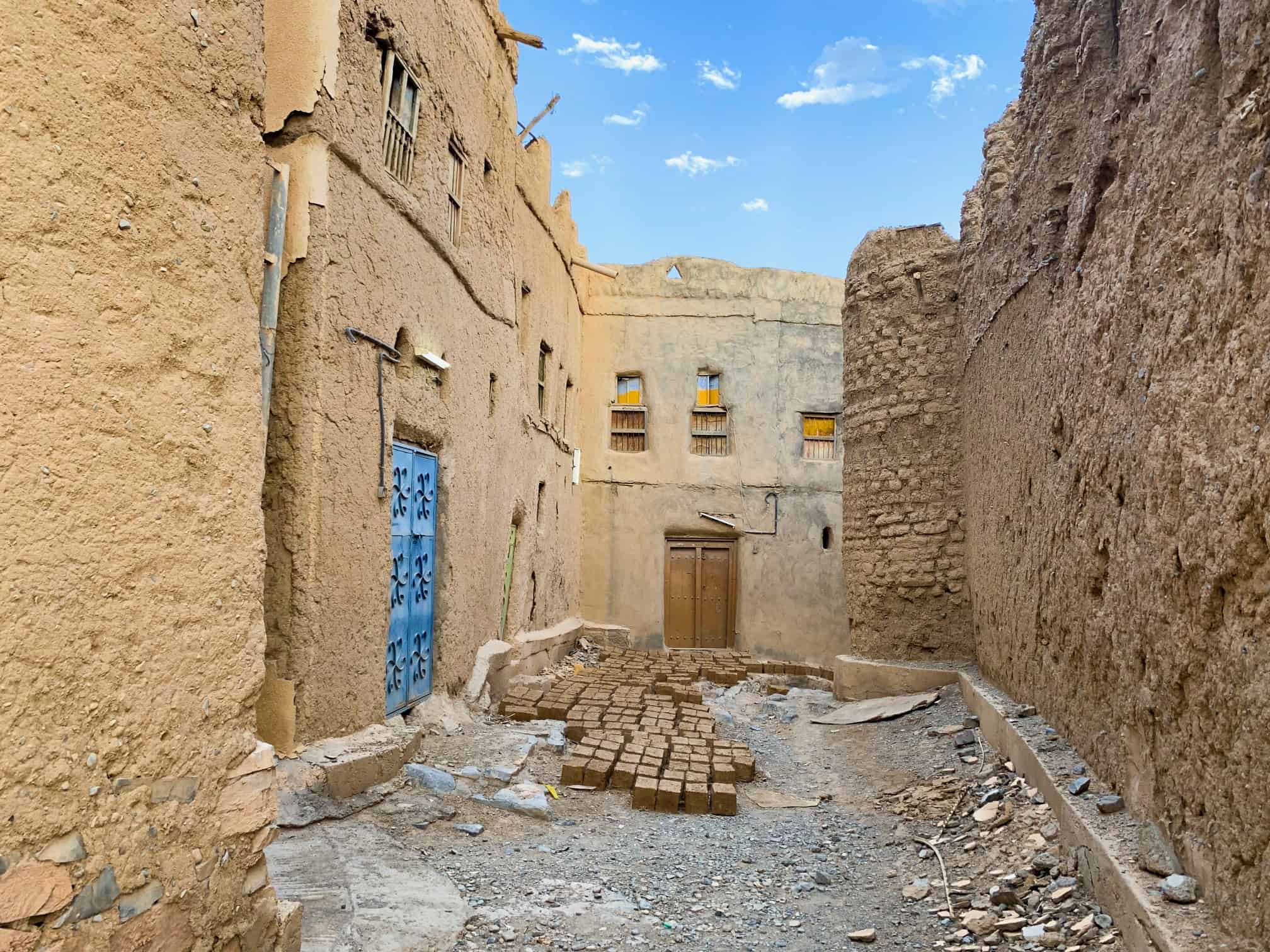 The guide said that the ruins were simply abandoned because the people living there wanted to start again with better infrastructure and better technology. Makes sense, right? There is no disastrous reason such as plague or disease that left the town in ruins. The people were simply done with living in outdated villages and wanted to start a new life.
So they built the 400-year-old Al Hamra town around the 700-1000-year-old village. So if you are wondering why the ruins in Al Hamra Oman were abandoned, you can rest assured that no nefarious reasons were at play and the locals just didn't want to live in wood and mud homes with little electricity or modern amenities any more.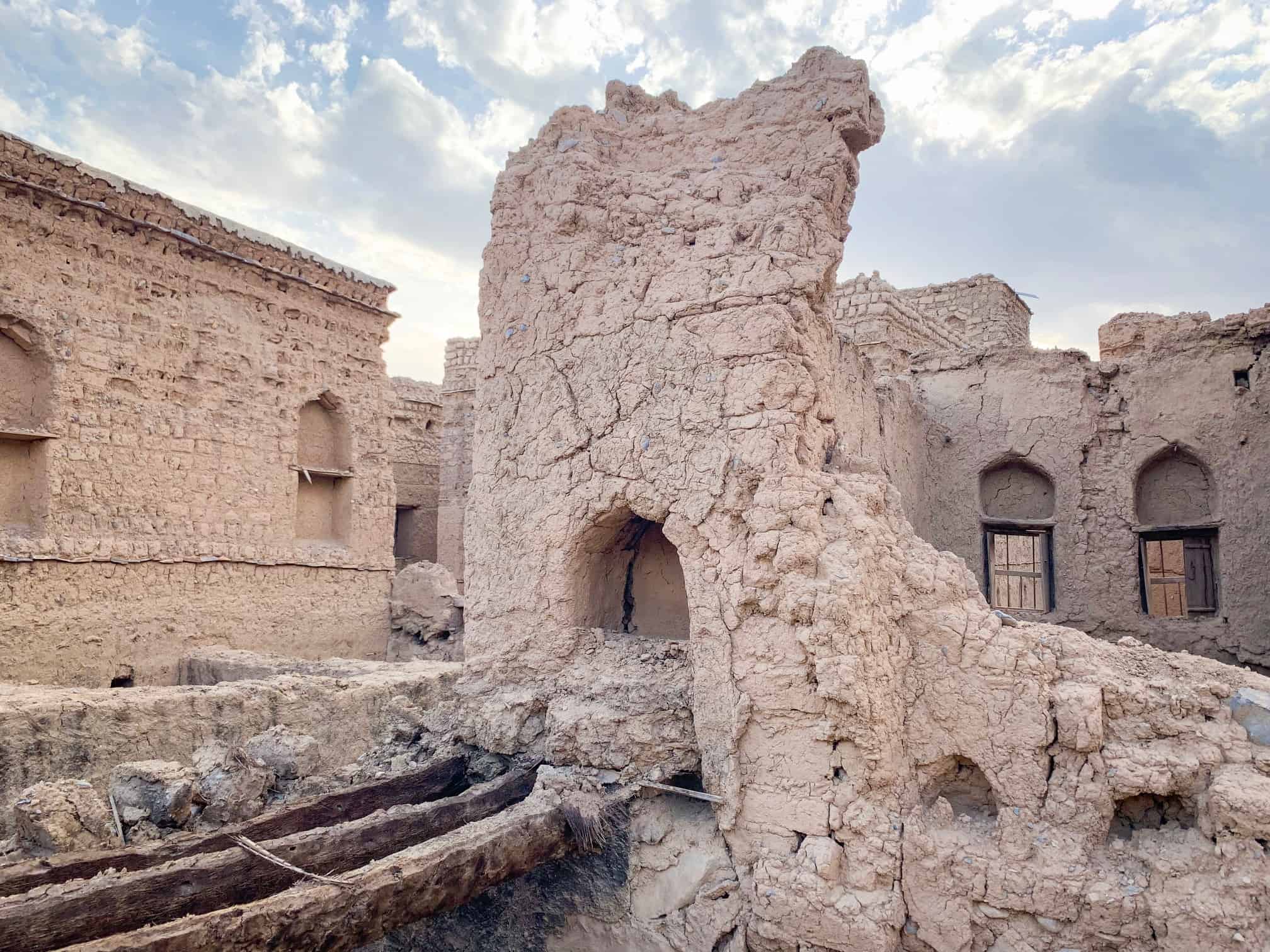 How To Get To Al Hamra Oman
Getting to the abandoned village in Al Hamra Oman is actually quite easy. Al Hamra is located 45 minutes from Nizwa on highway 21 and about 2 hours from Muscat. We would recommend Al Hamra as a day trip from Nizwa or as part of an entire day trip from Muscat where you include multiple sights.
The road to Al Hamra from Nizwa/Bahla is very good but there are some massive speed bumps making it impossible to drive very fast. Keep your eyes open when driving to Al Hamra Oman as the speed bumps come up quickly and some camouflage in with the cement.
Once you arrive, you will be in the town of Al Hamra which is a bustling village with shops, stores, homes, mosques and more. However, the town holds a hidden secret which will reveal the beautiful abandoned ruins.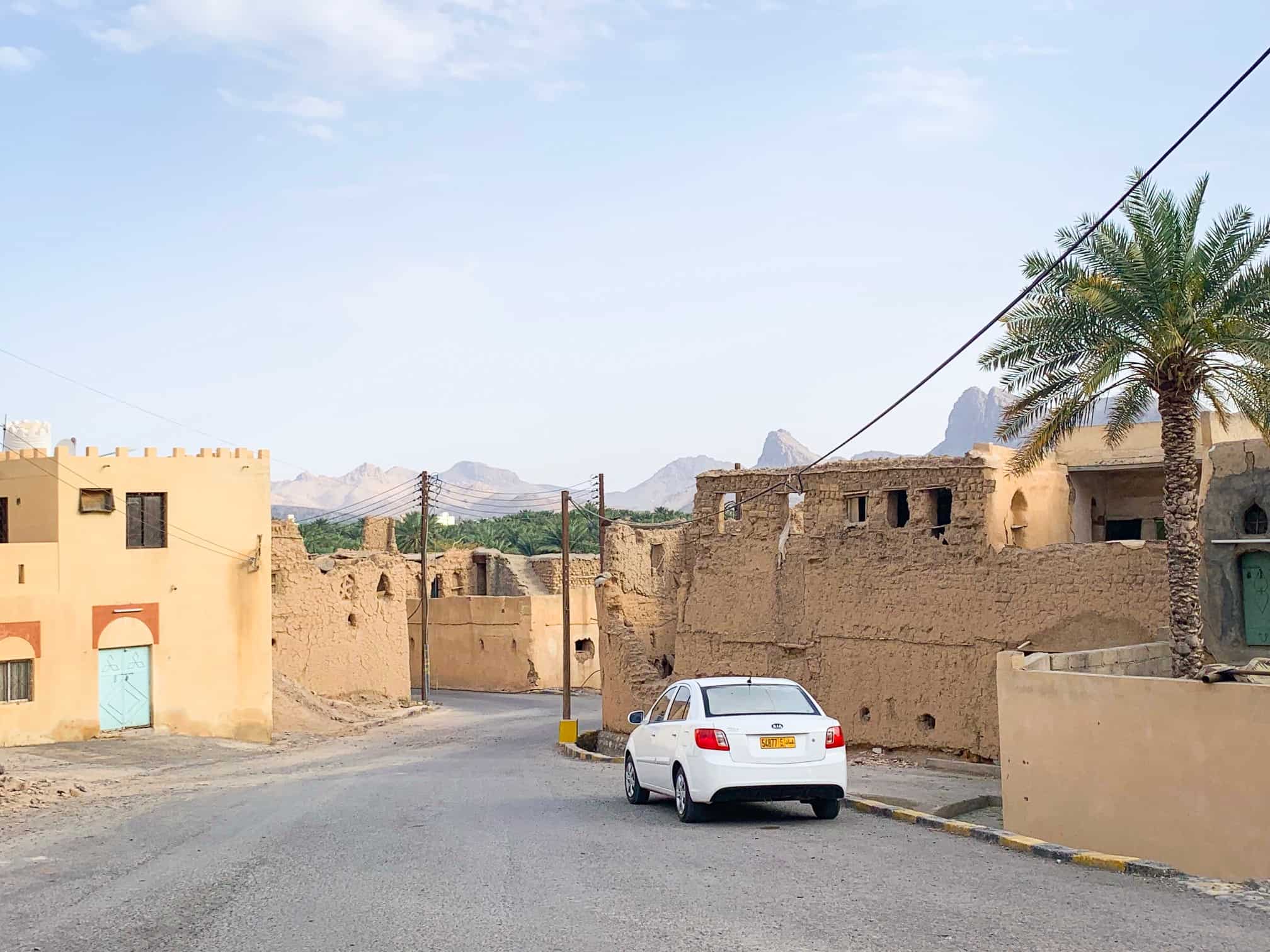 How To Find The Abandoned Al Hamra Ruins
At first glance, you WILL NEVER believe that right behind the facade of the town of Al Hamra is crumbling ruins as you see in the photos here and elsewhere online. You will think that you for sure went the wrong way and that your eyes are failing you. Don't fret, this is the correct place!
GPS location The Ruins In Al Hamra Oman: N23º 07' 14.542" E57º 16' 59.048"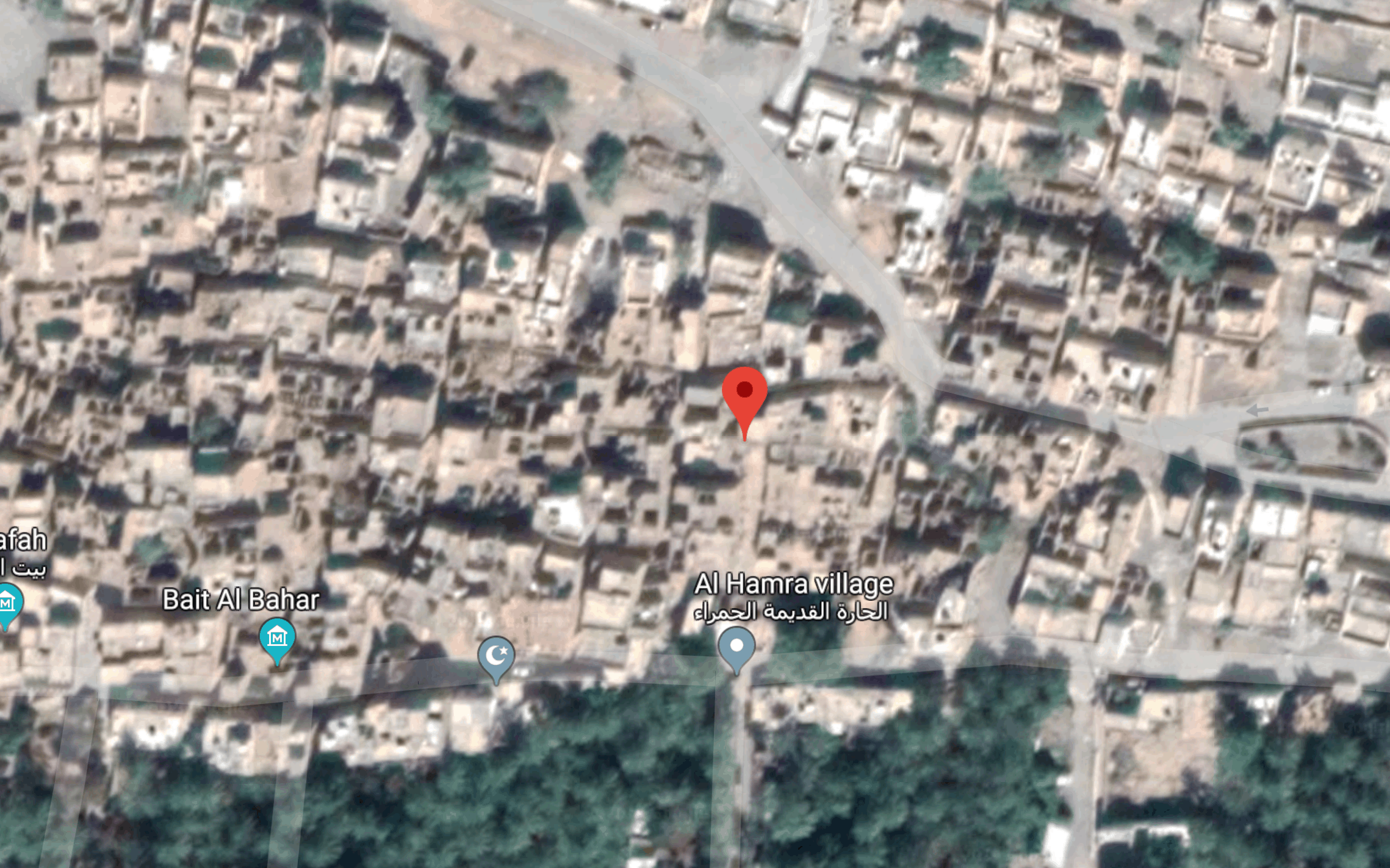 When you are planning your visit to Al Hamra Ruins, take the coordinates above a put them in your GPS. This will take you to a random street in Al Hamra that you will believe couldn't possibly be the place, but you are wrong! It is 100% the correct place. Park your car along a gentle slope going up the hill right where the GPS says that you have arrived.
Once you park your car, turn and walk down the hill toward the buildings in that direction. It will only be a few steps, less than 100, and you will come to an alleyway. There are many alleyways so just pick the first one and in less than one block you will enter another world.
Again, you won't trust that the ruins in Al Hamra Oman are right there behind buildings that look pretty new, but they are if you simply walk down the hill into the first alley that you see and continue until you see the abandoned village on the next block.
And just like that, you will have arrived into the abandoned village housed in Al Hamra Oman. You will be transported 700-1000 years ago and this is when your visit really begins.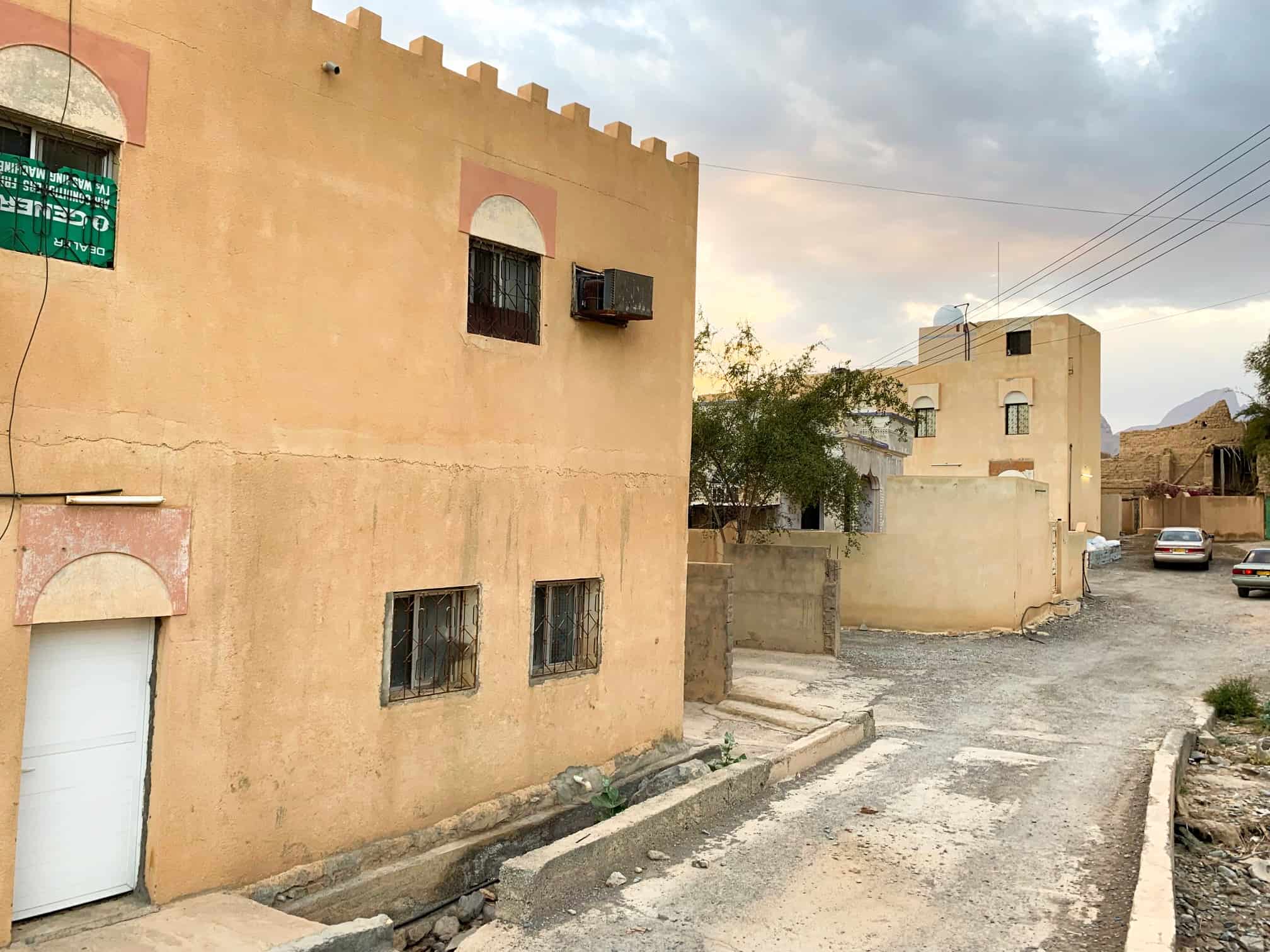 Exploring The Abandoned Al Hamra Ruins
The most unique part about the ruins in Al Hamra Oman is that there are still a few people left living among the abandoned homes. The homes have been updated and have electricity and running water. These homes are also mainly located along the outer edges of the ruined village. Even if you are traveling Oman as a woman or with a family, the Al Hamra Ruins are a safe and enjoyable experience when regular precautions are exercised. You may go your entire visit without seeing a single person!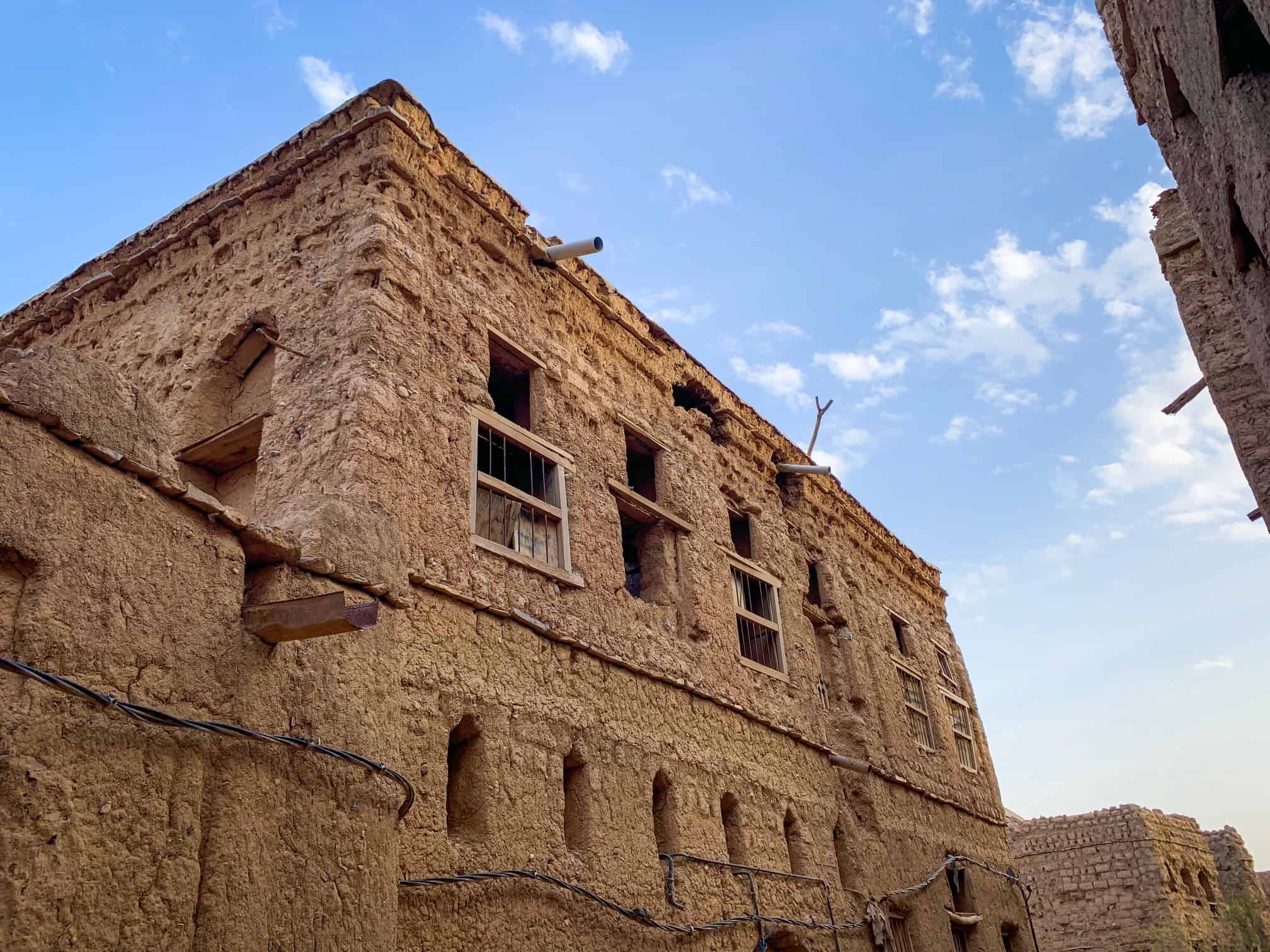 You can explore the Al Hamra ruins at will and you can go into the mudbrick homes, walk up the stairs [although we don't recommend it] climb up to the second story, walk through old doorways and more. Just be careful that you are only going into abandoned homes and not a working house that someone lives in. It is pretty easy to tell which homes are in use versus which ones are abandoned and there are really only a few that are still being used.
We did give walking up a stairway a try, but it is NOT recommended because the ruins are crumbling and dangerous and they are old and a piece of history. When we visited, we weren't sure how old the village was, but as soon as we learned, we didn't walk up another staircase. Although this town is abandoned and there is no one around, try and keep your exploration as minimal as possible, aka don't pull down beams, climb on things to make them crumble, etc.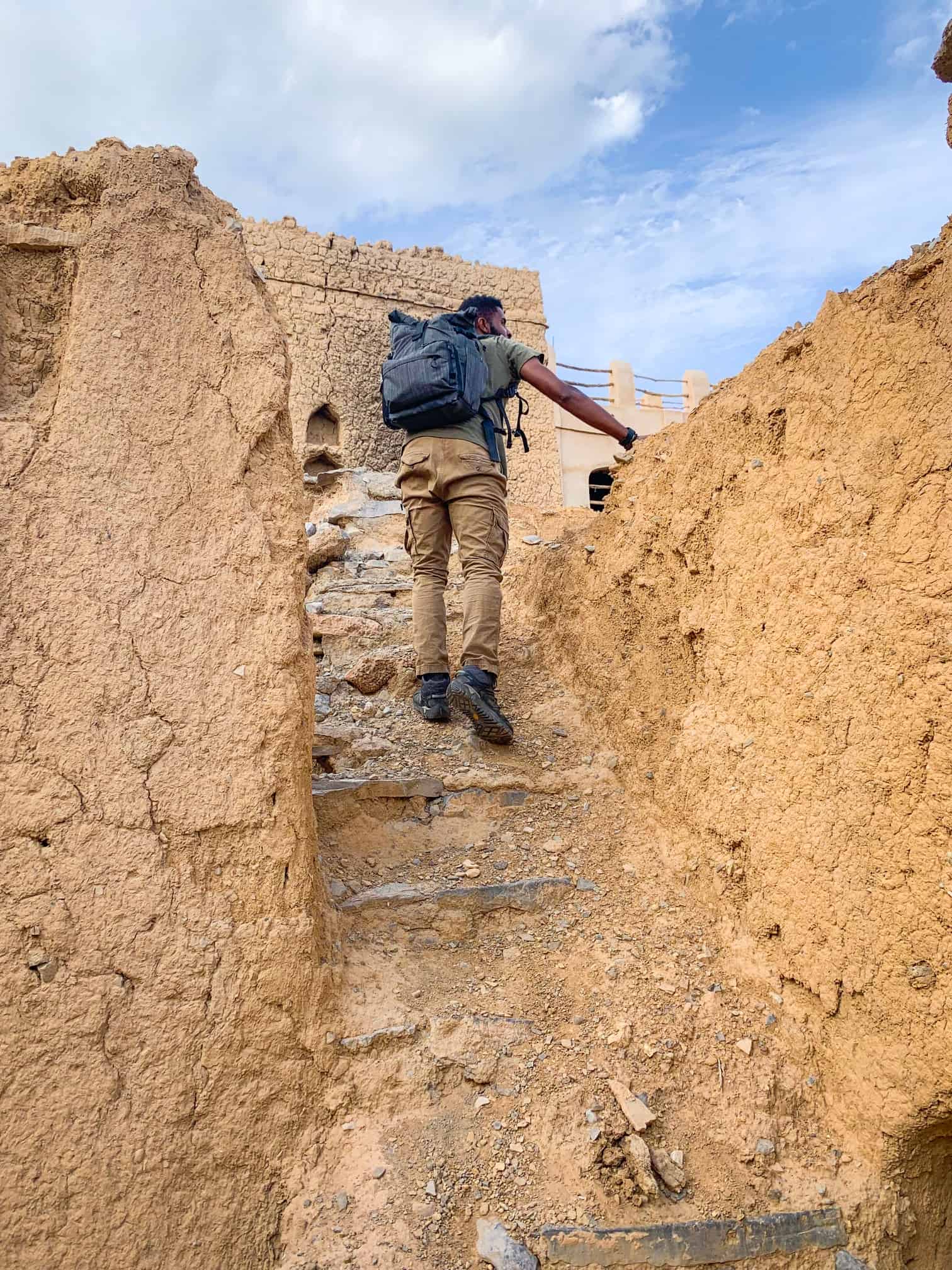 There is plenty to explore in the ruins of Al Hamra Oman without defacing the beautiful abandoned buildings. You can walk into gloomy rooms, through pretty doorways, and up onto second story buildings whose roofs have been gone for hundreds of years.
Some of the ruins have fallen down while others are still perfectly in-tact. We found books and doorways and beautifully painted interiors. There is so much to see and discover when visiting these ruins in Al Hamra Oman and it was easily one of our favorite parts of our entire trip.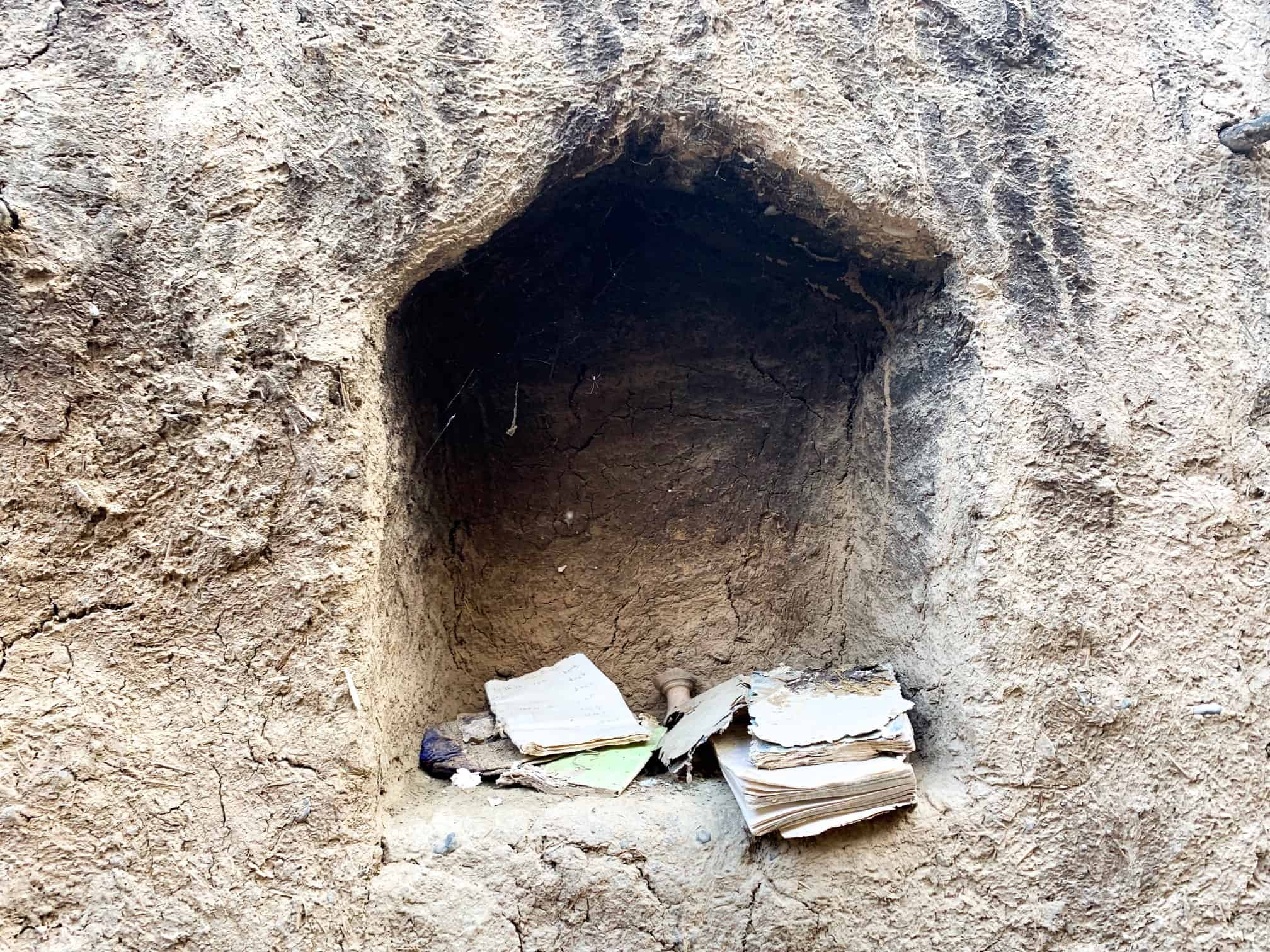 How Long To Spend At The Abandoned Al Hamra Village
We visited Al Hamra in the late afternoon and highly recommend this time for visiting. We spent about two hours exploring the abandoned village, but could have spent way longer! The only reason we left was because it was getting dark and we had had a long day. It was time to leave. But the abandoned village was so fascinating that you will truly want to budget more time than you think, especially if you love photography and exploring.
There aren't many places where you can walk among 700-1000-year-old ruins at will with no one to blow a whistle at you or shame you on the computer. Take advantage of this magical place. Respect it with everything you have. And take beautiful photographs and videos to share with others. If you think 30 minutes is enough at Al Hamra, think again. The area is quite huge and there is something new to explore at every turn. We recommend spending at least an hour if you can swing it!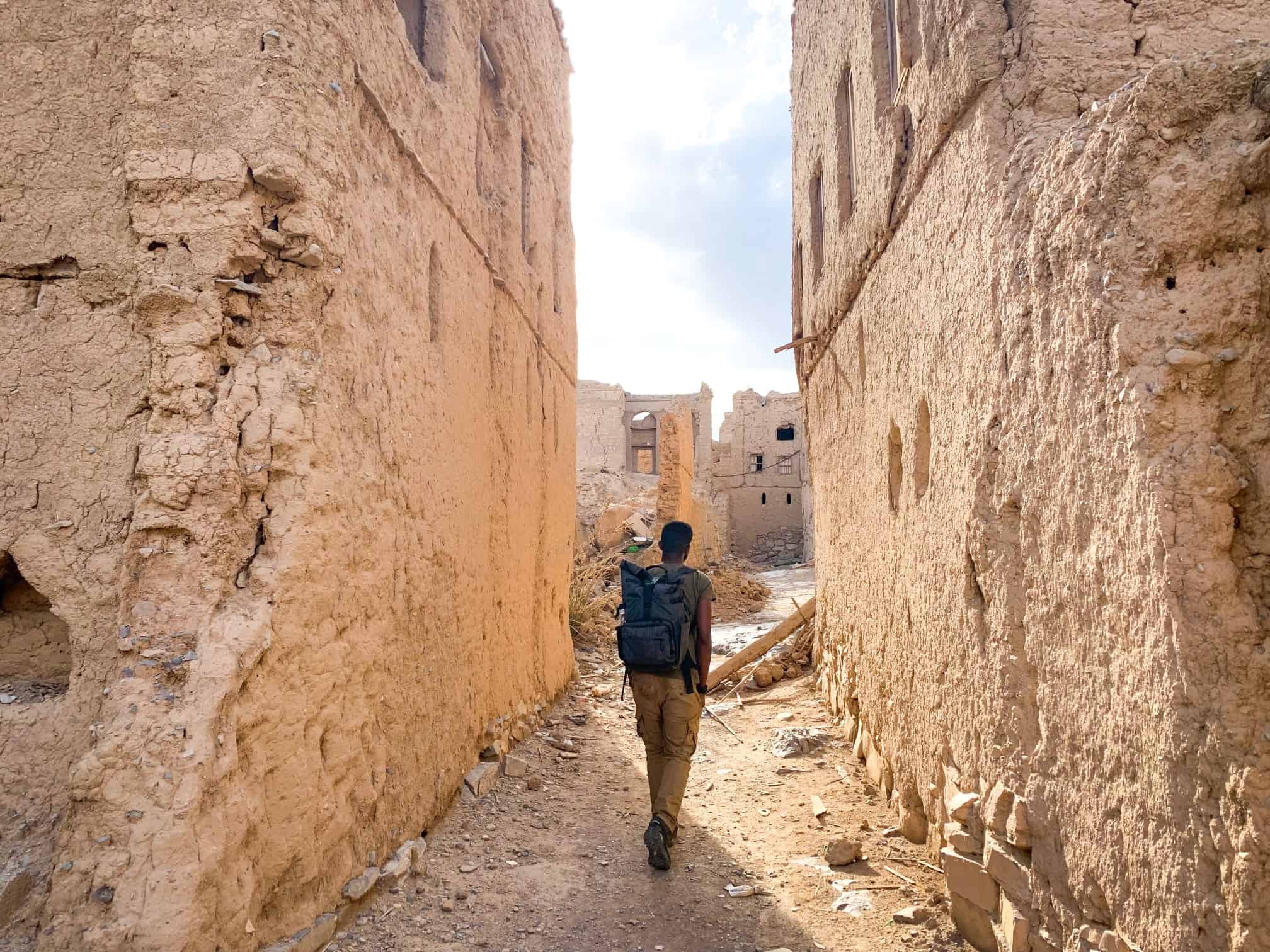 If you choose to visit the Al Hamra ruins in Oman, please let us know in the comments! We would love to hear your thoughts and if you liked this abandoned village as much as we did. You are in for a real treat when visiting Al Hamra Oman because it is unlike anything you have ever seen. We hope you have a great and safe visit.