Towns in Scotland are well known for their quaint, old-fashioned charm, and you've come to the right place for a guide on the best Scotland destinations for immersing yourself in this country's magical character! Are you looking for pretty towns in Scotland that embody its charm with an old-fashioned village atmosphere? Or for places to see in Scotland with magical, surreal landscapes that take your breath away? Good news, we have recommendations for everything!
No matter where you're going, being prepared and picking the right places to see in Scotland will absolutely make your visit more enjoyable and ensure you get to enjoy the experience of a lifetime. That's why we've compiled this list to help you decide ahead of time which Scotland destinations will give you exactly the experience you're searching for. We're confident that these towns in Scotland will charm you and take your breath away with their magical atmosphere, and we also include tips on where to stay and how best to spend your time while there to get the most out of your trip!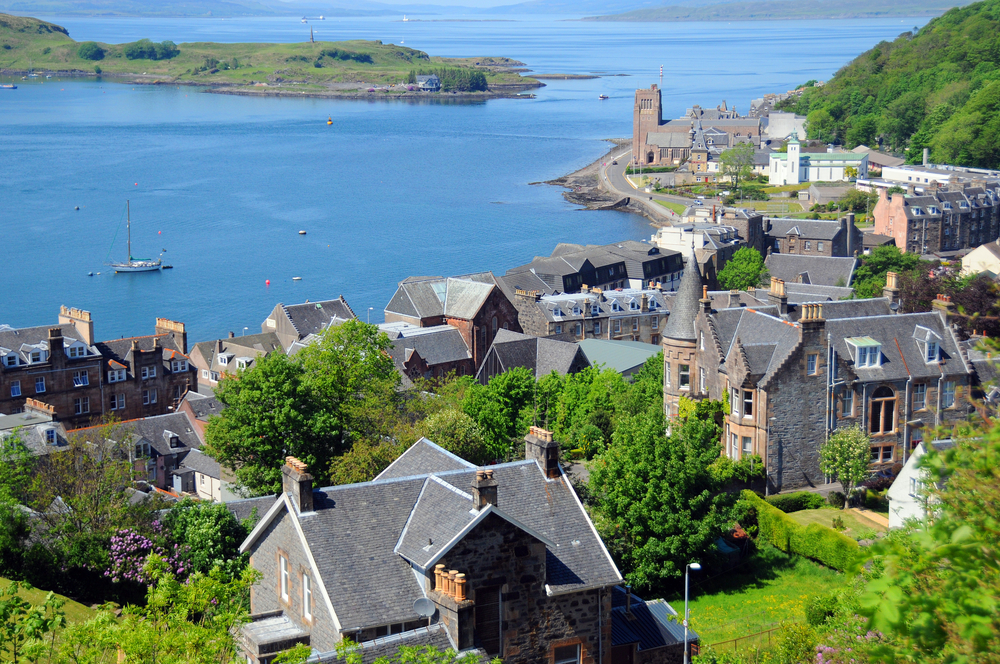 10 Prettiest Towns in Scotland with Magical Charm
Dundee is an amazing hub of culture and history, situated right on the water
Dundee has long been a largely underappreciated Scotland destination, but its popularity has been steadily increasing, and its easy to understand why! Dundee is a fantastic choice and the location is one of our favorite things about this Scotland destination. It's right on a channel of water, and it's only about an hour and a half drive from both Glasgow and Edinburgh. There's even an airport located just five minutes from the center of Dundee, so you can fly directly into the town if you want!
Our must-see places on a visit to Dundee are Discovery Point, Verdant Works Museum, and the McManus art gallery. The McManus art gallery is in a fantastic gothic-style museum that will magically whisk you back in time before you even step into the building! Verdant Works Museum, an old mill, is fascinating and appropriate for a visit to Scotland as it is the land of tartans. Due to its location on the water, Dundee has a rich naval history and Discovery Point is the place to see in Scotland to immerse yourself in that aspect of Scotland's fascinating history. Dundee is a great spot that offers a unique look into Scotland's unique and charming culture, whether you're interested in learning about mills, seafaring, or art history.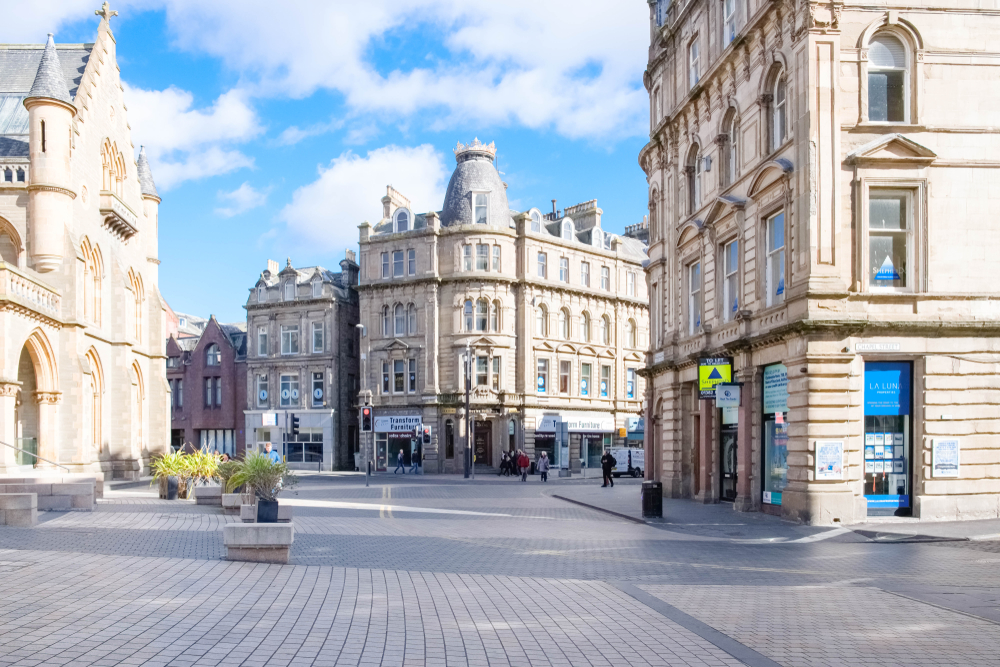 Falkirk is not only in a great central location, it has some stunning sights and wonders of its own for a small town
We love that Falkirk embodies Scotland's ancient charm while also stunning with magically surreal modern architecture and engineering that will leave your inner science nerd in awe! Falkirk was striking to us for its marriage of old and new culture, but it's also a good choice for convenience purposes. This Scotland destination is even closer to Edinburgh and Glasgow – less than an hour! – so it's the perfect place to plan for a long stay where you can easily travel between other must-see towns in Scotland during your trip.
If you go to Falkirk, we recommend opting staying at the Spoke 'n' Boot farm, a "glamping," otherwise known as "glamorous camping" site. This way, you can enjoy the charming landscapes Falkirk has to offer, including a view of the Kelpies, massive sculptures of horse heads that were finished in 2006, standing 300 meters tall! The Falkirk Wheel, a boat lift that connects the two canals and passes boats from on to the other, is another must-see. There is plenty of parking, and there is lots to do besides riding on the boat lift, including a kids play area, which is great for traveling families. Regardless of whether you're itching to explore the magical Scottish landscape or dying to view the one of a kind engineering and architectural masterpieces of modern Scotland, Falkirk is a great way to get the best of both worlds!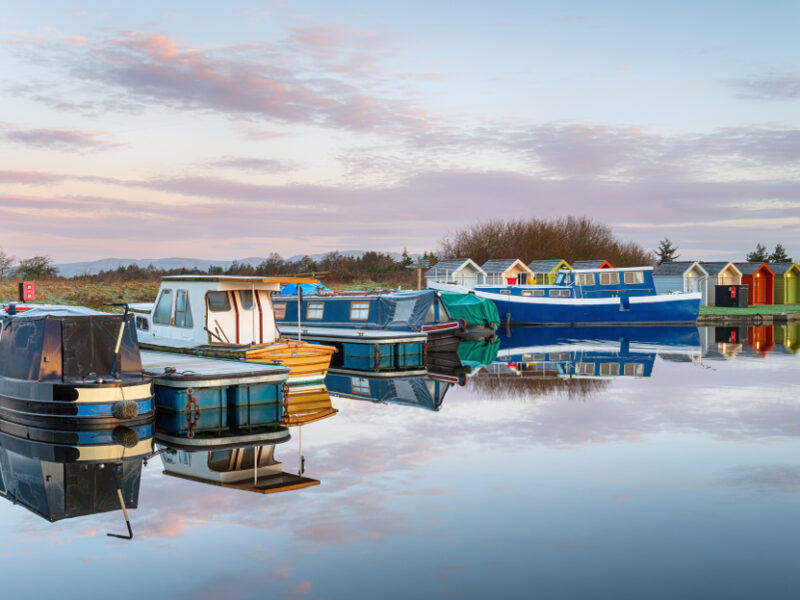 The city of Aberdeen, aka "The Granite City," is bursting with old architecture that will take your imagination back in time
This city makes our list for its extensive history and beautiful buildings. It is located on the water on the east side of the country like Dundee is, but the old buildings are responsible for this city's claim to fame, as you can tell by the nickname. Staying in town and using public transportation or walking is a great, hassle-free way to explore Aberdeen.
We love beautiful old churches, so we recommend stopping by St. Machar's cathedral. The oldest building in Aberdeen, it's been dated to the 1300's although some say it was used for worship hundreds of years before that. The University of Aberdeen is another stunning building that's totally worth it to see during your stay, and there are also many free cultural activities and museums to enjoy in addition to the architecture. We also suggest researching to see what kind of festivals you can attend during your stay, as they are frequent and would be easy to get to if you're staying in the city.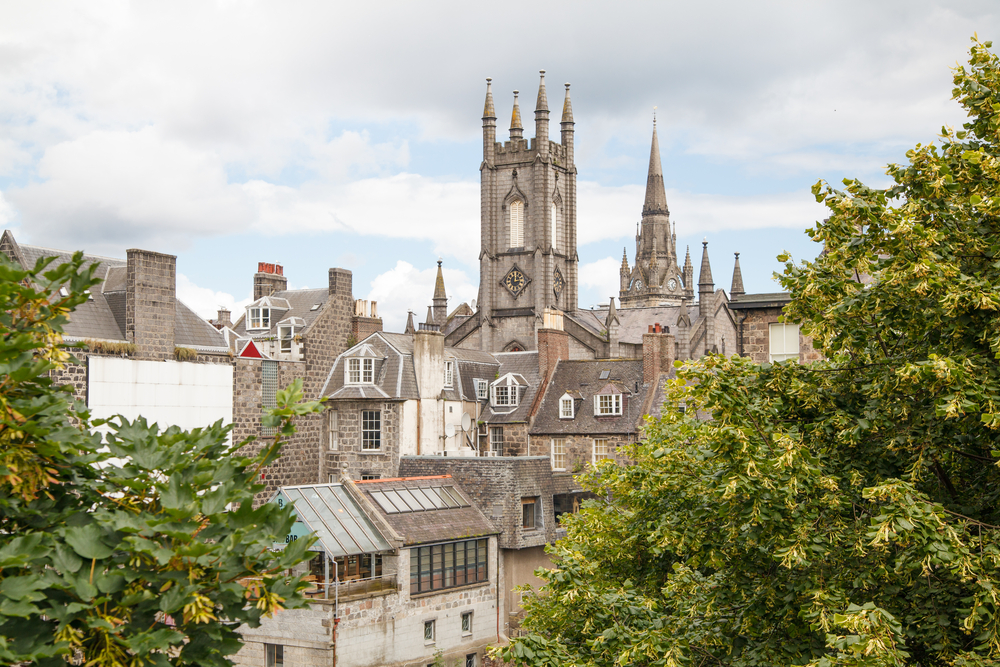 Of all the towns in Scotland, Anstruther captures the charm of Scotland perfectly as a picturesque harbor town
This quaint town will show you a different, more charming perspective of life by the sea! Before the herring shoals disappeared from the North Sea, this town was unbelievably busy with all the fishing boats that filled the harbor, and it's a pleasurable experience to wander the old town getting a glimpse of what it was like in its heyday.
Anstruther is packed with cute old shops to wander, and the Scottish Fisheries Museum walks you through the rich history of the fishing culture in this small town in Scotland, keeping alive the old fishermen's tall tales. Better yet, take the May Princess to the Isle of May to enjoy the stunning coastal waters and wildlife from offshore. After exploring the magical views and educating yourself on the city's fishing history, treat yourself to the award-winning cuisine: fish and chips! This Scotland destination is perfect if you're looking for a more quaint, laid back experience.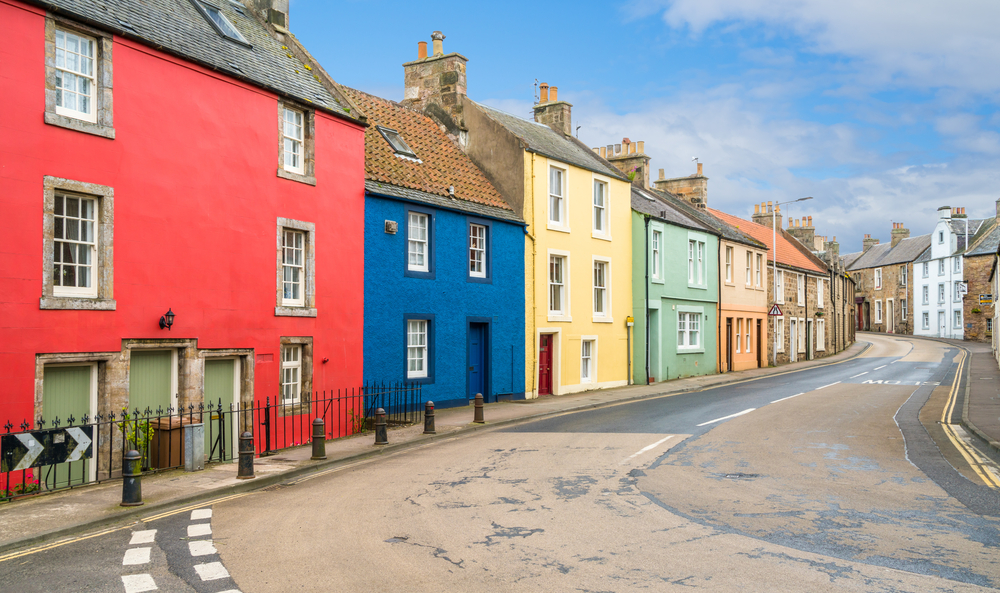 Edinburgh is the capital of Scotland, and is one of those towns that won't get old no matter how many times you visit
What makes this Scotland destination interesting is that it has two "sections": an Old Town that has preserved the charming medieval style of days long past, and a New Town that is the quintessential modern Scottish town, with countless things to do. Edinburgh is in the heart of Scotland and is packed with breathtaking history and magical experiences.
When you go to this town in Scotland, seeing Edinburgh Castle is a must! This castle not only sits on top of an inactive volcano, but also used to be the residence of some fascinating historical figures like Mary, Queen of Scots. After seeing the sites, the Royal Mile is a road that will take you down to the Holyrood Palace. Straight through the middle of town, this road has enough to see and do to keep you busy for hours on its own! Regardless of what season you visit or what you do, you're certain to have a good experience here.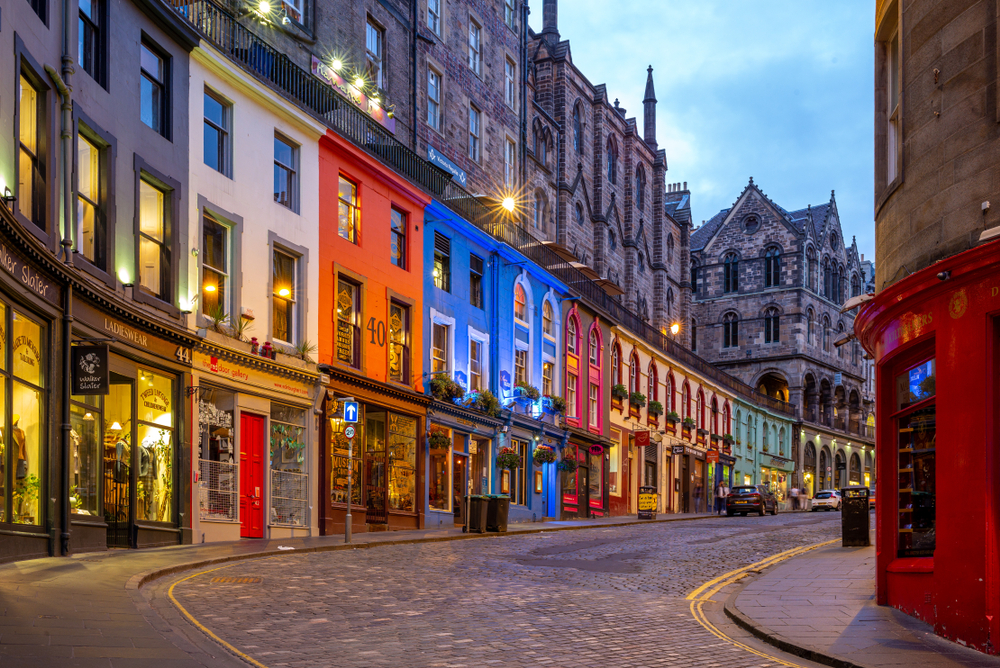 Ayr is the perfect town to visit to indulge your inner hopeless romantic
If you're a fan of literature, poetry, or history, this town in Scotland is a must-see for you! This town is the perfect example of old fashioned beauty. This town is not only charming with the many buildings that have stood the test of time, but also intriguing to the imagination as it is the home and inspiration for some of Robert Burn's most famous works.
You can stroll through the town and visit places such as where Robert Burns was born and the "Auld Kirk," or old church where he was baptized. We also recommend checking out the Tam O' Shanter Inn! It is one of the only thatched buildings left and is known from Robert Burn's poem "Tam O' Shanter. There are also a pair of old bridges that inspired their own poem, in which the bridges argue over which one would stand longer: the new bridge or the old one. While all the towns in Scotland have history to them, Ayr has a unique charm and it's feels magical to see in person the places that inspired renowned literature!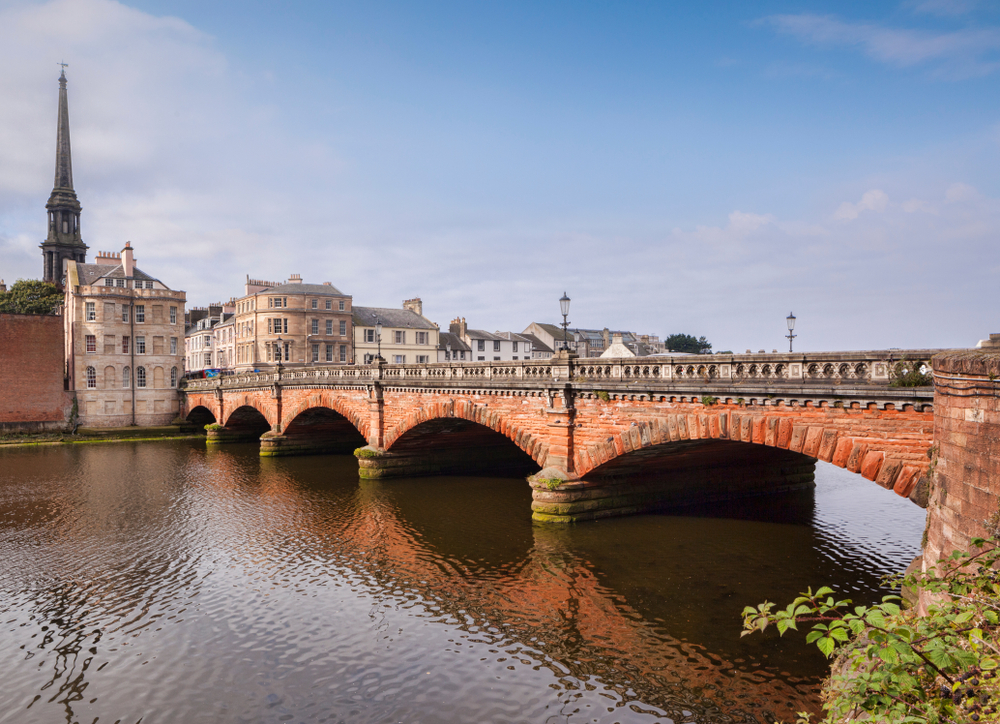 The largest town on the Isle of Skye, Portree is ideal for either exploring the charming town or the magical surrounding landscape
This town in Scotland is bursting with beautiful sights that would excite a traveling photographer! Not only is the town itself picturesque with both brightly painted, colorful buildings and traditional, white cottages, the land all around where the town is situated is stunning as well. Portree is the epitome of the Scottish highlands landscape, with towering cliffs and moody waters.
A suggestion for spending time here would be to get up early and spend the day exploring the countryside. There are many tours and activities you can do, and the Old Man of Stoor is a notable walk that takes you through the one of a kind rock formation of the same name. Later, you can come back to the harbor and watch from a local eatery as the sun sets over the town and the colors of the sky blend with the bright houses on the water.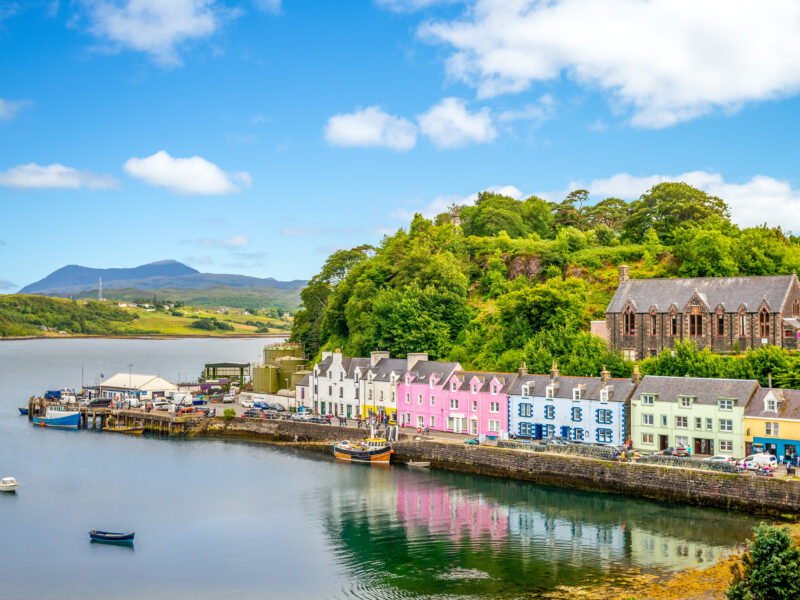 Oban, though relatively small, is a tourist hub and is known for being Scotland's seafood capital
Depending on whether you visit in winter or summer, the town could be either bustling or peaceful, but it has a magical charm either way. Oban is on the way out to the Hebrides islands, which is one of the reasons it is such a popular tourist stop in the summer, but you could easily spend a few days enjoying the sights and sounds – and seafood! – of Oban.
We think you should definitely take a hike to visit McCaig's Tower while in Oban. It is an unfinished monument begun by John Stuart McCaig before his passing that somewhat resembles the Roman Colosseum, and it offers a magnificent view of the countryside. And when you return from exploring, the harbor will await you with seafood you simply must try. If you enjoy a good drink, wash it down with malt whiskey from the Oban distillery. The food and drinks alone are worth it to come back for!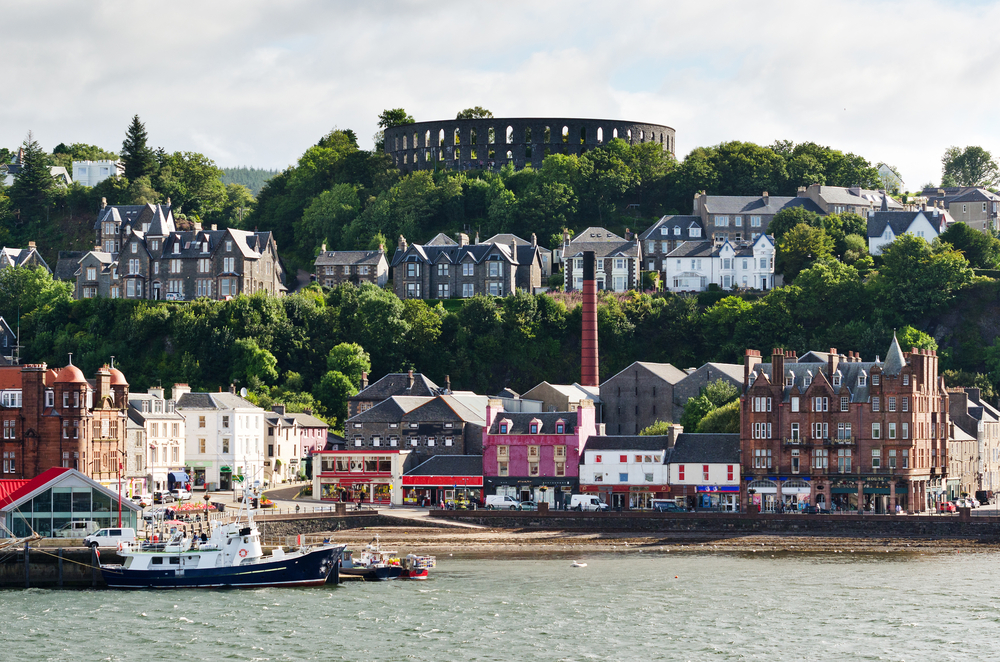 St. Andrews is a great Scotland destination for golf lovers, with beautiful golf courses and museums galore
Rich in history and culture while being adorably charming, of all the places to see in Scotland, St. Andrews is a must. As long as you don't visit during graduation seasons – St. Andrews University is a busy, world renowned school – the town is a great place to become more familiar with Scottish culture, especially golf.
Of course, St. Andrews is well known to golf fans because it is home to the oldest and most famous golf course in the world. While it's expensive to play there, you can always tour the course and learn about the fascinating history surrounding the sport. And naturally, many people love to visit St. Andrews University, the oldest in Scotland, and learn about the celebs who studied there such as Prince William and Kate. The school itself is beautiful, as are the St. Andrews cathedral and castle. Whether you're a golf fan or not, there are plenty of sights to see and activities to enjoy in St. Andrews!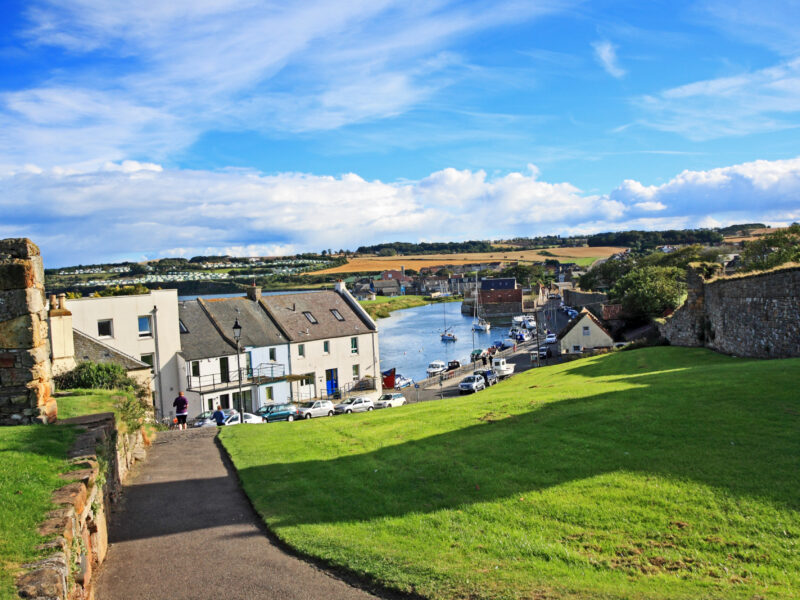 Set on the River Tay, Perth was once the capital of Scotland hundreds of years ago, and is chock full of royal history
This beautiful city is on the longest river in Scotland, the River Tay, and the views are certainly magical! The stunning views combined with the city's extensive history make it one of the best towns in Scotland to visit, and it's the kind of place that will make you want to come back over and over again. If you're a music lover, look into when the music festivals are so you can plan your trip accordingly.
If you're feeling outdoorsy, we think you should absolutely spend some time on the beautiful river. Instead of rushing around trying to tick off the boxes while on vacation, sit back and relax while fishing in the best spot for salmon in Scotland! Or you can spend time in the city checking out Concorde music, an old family music store with records and all different kinds of music. Then stroll down George Street where there is an abundance of quaint, local stores and places to eat; you could probably spend a whole day immersing yourself in the local culture there! It's safe to say you will always enjoy your stay no matter how many times you visit.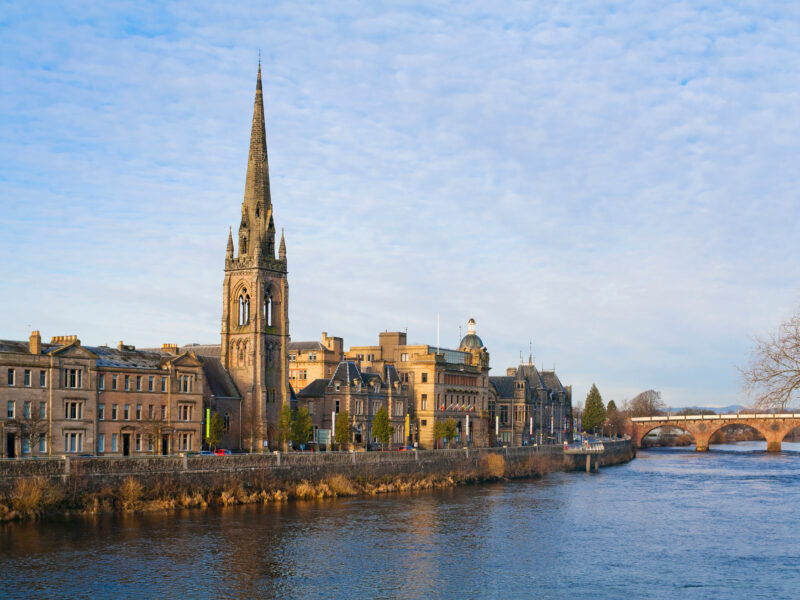 Scotland is truly a charming country full of rich history and magical culture. Immersing yourself in the moody landscapes and quaint towns is an amazing adventure, and we think all of the towns on this list will give you a memorable experience that will make you want to return no matter which you choose. Every one of the towns in Scotland on this list captures the charming personality we think you're looking for in a Scotland destination!