Looking for the best cabins in Arizona for your next stay in the 48th state? You're in luck, because we're here to help with these 15 suggestions.
Most people associate Arizona with fiery heat, towering saguaros, and dry desert landscape, but the snow-capped mountains, majestic pines, and lakes and rivers up north are just as much a part of this southwest paradise.
Snowbirds flock to Arizona in the winter for sunshine and unbeatable weather, while Phoenicians flee Phoenix in the summer to the cooler temperatures up north. Whether you're a local, a tourist, or a snowbird, you'll no doubt find yourself feeling right at home in any one of these excellent Arizona cabins.
If the idea of snuggling up by a fireplace or taking in spectacular views of forested landscapes sounds good to you, you'll enjoy these Arizona cabin rentals that allow you to escape to nature, connect with locals, and settle into a home away from home for a much needed reset.
Take a look at this list of our favorite cabin rentals in Arizona that will have you daydreaming of roasting s'mores around the fire and filling your lungs with crisp mountain air.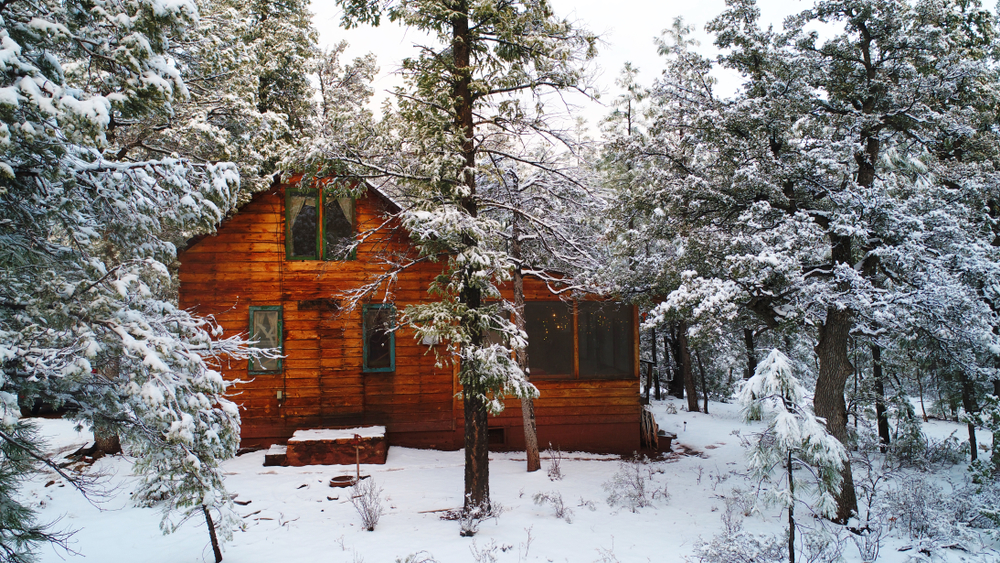 15 Cozy Cabins In Arizona You Must Visit
A-Frame Mountain View Cabin in a National Forest
This A-Frame cabin in Flagstaff is one of the most sought-after Arizona cabins, and for good reason. This charming cabin offers all the remoteness of being on a 1.5-acre property in a forest while still being only 10 minutes from Flagstaff's historic downtown.
A 15-minute drive will also take you to Walnut Canyon, Sunset Crater, and Wupatki National Monuments. It's rare to have three such unique national monuments all within close proximity of each other, so we suggest visiting all three if you have the time.
Prepare to disconnect completely while at the cabin. There's no Internet or TV available, though you'll hardly miss them when you're gazing up at the stars from the deck, watching elk wander the backyard, or sipping on hot chocolate by the fireplace.
The Airbnb comes with 3 mountain bikes for your use, a horseshoes pitch, and a BBQ grill to further enhance your stay. You should note that though the main bedroom is on the first floor, you'll have to climb a steep staircase with no guard rail to reach the loft.
Click Here To Check Rates On VRBO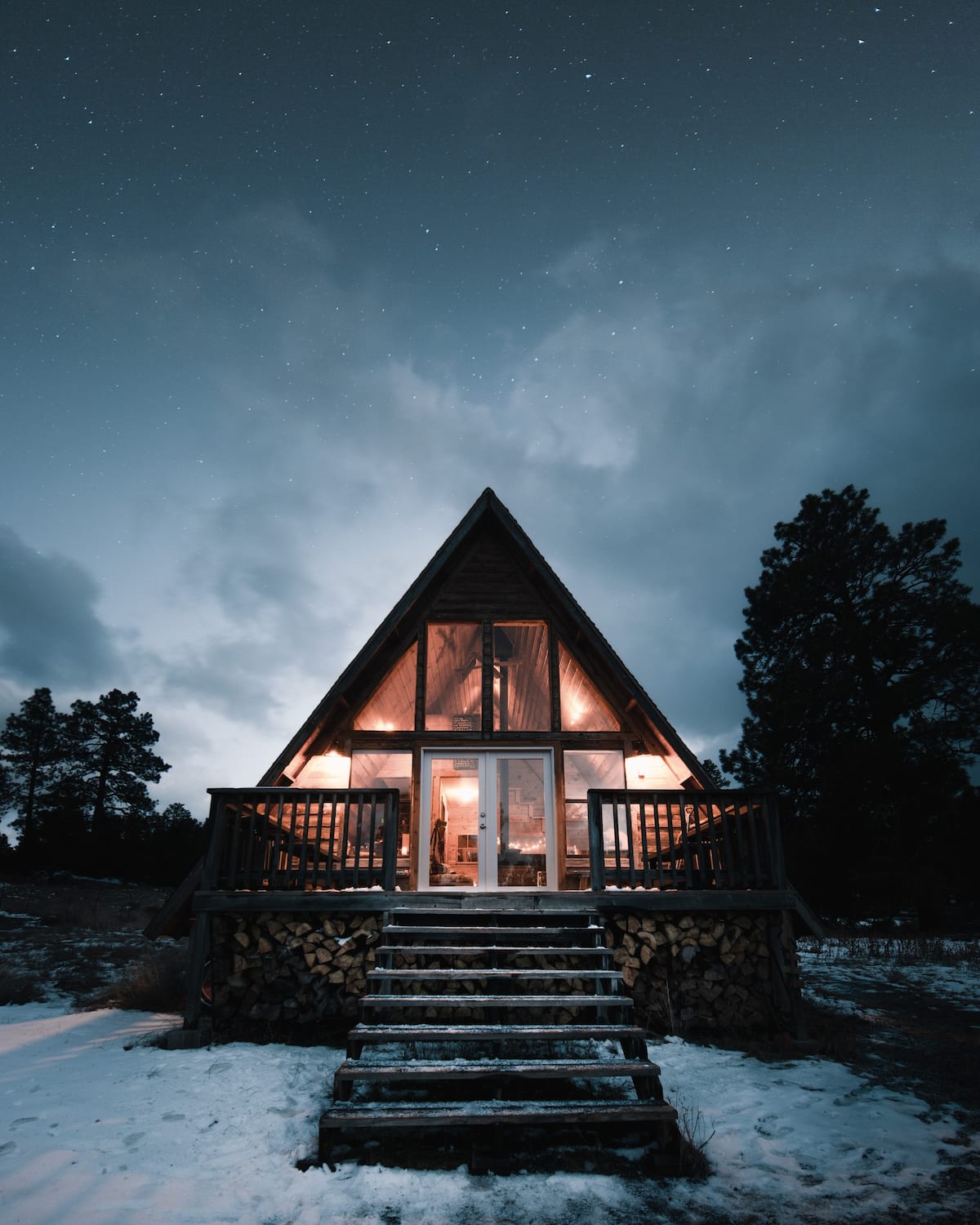 Lincoln Log Cabin
Flagstaff's Lincoln Log Cabin is among the more expensive cabin rentals in Arizona, however when you find out all it has to offer, gather up a group of your friends, and split the cost between as many as 10 guests, we have a feeling you'll be at peace with the money spent.
The Lincoln Log Cabin is relatively secluded in a small 12-home community while still being conveniently close to downtown Flagstaff. You'll be afforded plenty of privacy and serene beauty as you sip coffee on a wrap-around deck with 5 acres of forested land surrounding you.
While the adults relax on the deck, the kids (or adults!) can wander the property or play air hockey and ping pong in the well-appointed garage/game room. When evening hits and everyone is ready to gather and tell stories about their adventures of the day, a fireplace awaits you in the beautifully decorated living room.
Until you get to the point where you have to venture out for food, you could easily stay holed up in this charming cabin and be perfectly content never leaving.
Click Here To Check Rates On Airbnb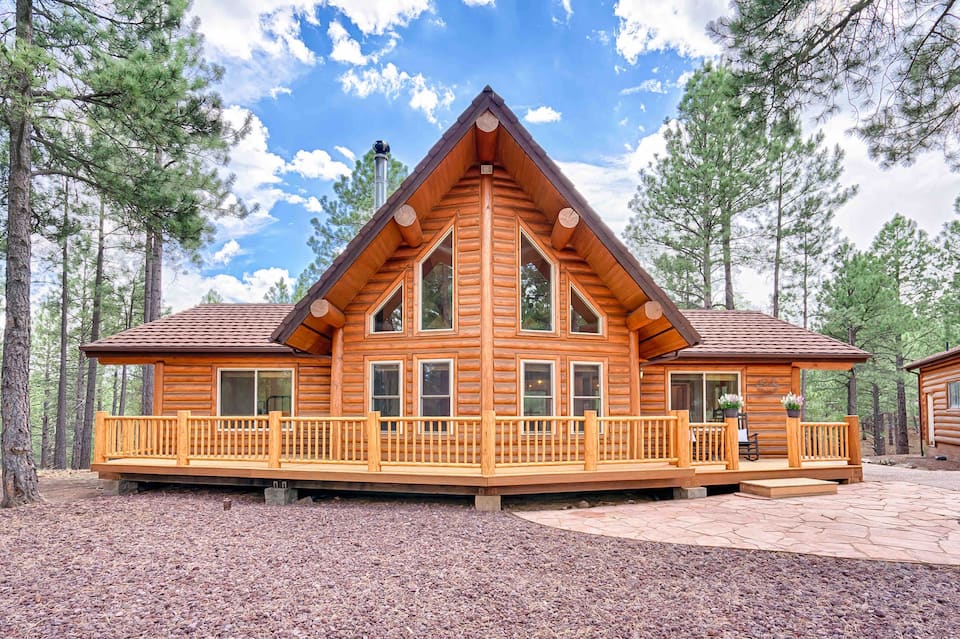 The Basecamp
The Basecamp in Flagstaff has to be one of the coziest cabins in Arizona. From the charming interior and wood-burning stove to the backyard hammock where you can stargaze at night, you'll feel right at home during your stay at this log cabin.
Coffee, tea, hot chocolate, oatmeal, granola bars, apples, and fresh baked muffins are provided to make sure your day starts the right way. When you're ready to venture out, you'll find you're extremely close to hiking trails and just 6 miles from downtown Flagstaff.
After a day of hiking through Flagstaff's beautiful natural landscape, you'll enjoy returning home to a grill and fire pit, the perfect recipe for a delicious dinner and lots and lots of s'mores. When it's not too cold, the patio is the perfect place to relax for an extended period of time, breathing in the fresh mountain air.
Dog owners will be pleased to know that the Basecamp is extremely dog friendly. Though there's a pet fee of $50.00, you'll have use of a pet bed, water bowl and treats, as well as a decent sized, enclosed backyard for your dog to run around in.
Click Here To Check Rates On VRBO
The Majestic Mountain Retreat
You'd be hard pressed to find Arizona cabin rentals more tastefully decorated than this beautiful, majestic mountain retreat in Prescott. At 6,500 feet in elevation, you'll need a four-wheel-drive to make it up the steep road, but you'll be stunned by the views that come with high elevation mountain living.
Privacy is a given at this quiet, peaceful retreat perfect for getting away from hectic every day life and just enjoying the tranquility of nature. An abundance of windows in the home also allows you to enjoy views of the sky and stars from your bed at night.
The best views though come from the outdoor patio where you'll find a gas grill and dining area perfect for having dinner while enjoying the blanket of trees stretching out before you. When you're looking to venture outside of the home, you can head just 6 miles away to Lynx Lake for fishing and boating or drive 15 minutes to town for shopping and dining.
Though the property isn't fenced in, you're welcome to bring along your dog(s). There are plenty of hiking and biking opportunities nearby perfect for you and your dogs alike!
Click Here To Check Rates On Airbnb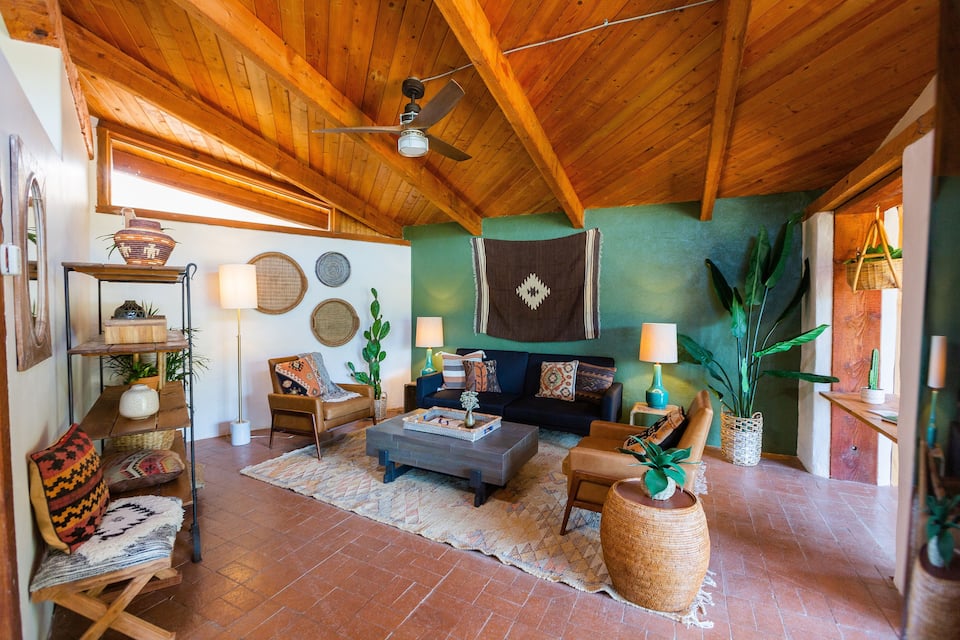 Windy Rock Lodge
Looking for Arizona cabins to cozy up in after a long day of adventures? Look no further than the Windy Rock Lodge, a beautiful cabin for up to 8 guests that is surrounded by Ponderosa pines in Oak Creek Canyon near Sedona.
Though the cabin is not located in the heart of Sedona it is just a 20-minute drive from both Sedona and Flagstaff making it a simultaneously convenient and secluded location.
With Oak Creek and the West Fork hiking area just a stone's throw away you'll never be wanting for outdoor activities. Sedona's famous red rock trails are well within reach too.
At the cabin you'll feel instantly at home with an impressive interior made of pine tree beams and river rock, large windows offering views of the forest outside, a fireplace to keep you warm in the winter, a magical garden for outdoor summer dining, and a deck to enjoy the peacefulness of your surroundings.
Whether you spend your vacation hiking, swimming in the creek, reading in the loft, or napping by the fire, you'll be glad you chose this cabin as your home away from home.
Click Here To Check Rates On VRBO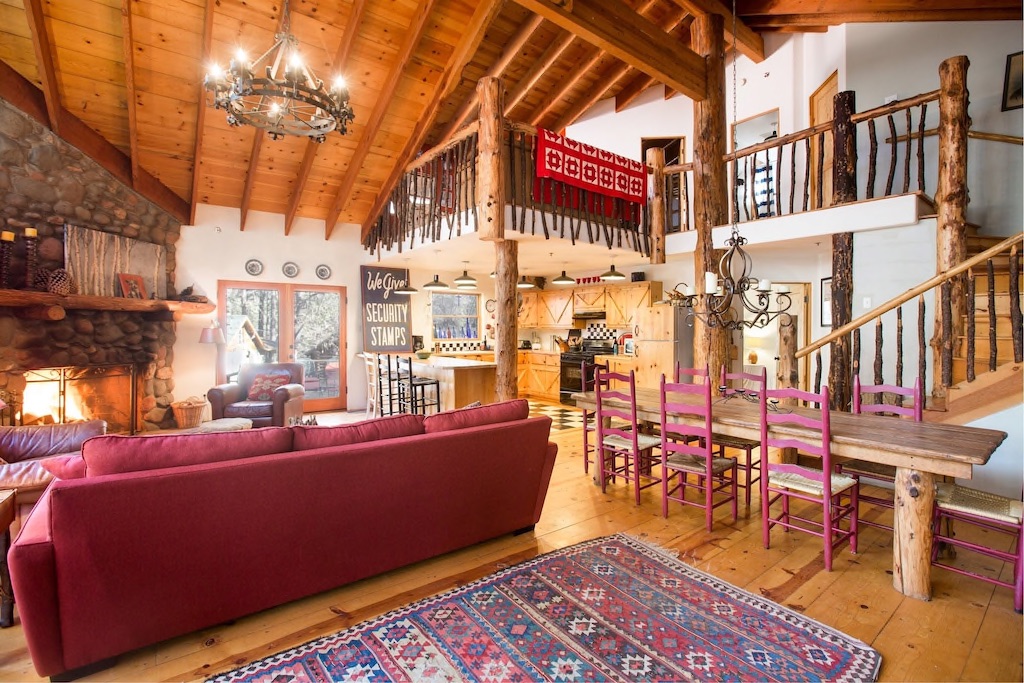 Get Some Social Distance Amongst The Saguaros
Tucson is home to a wide variety of architectural styles from New Modernist to Old Pueblo, and some of the most unique cabins in Arizona can be found there as well. The perfect retreat is waiting for you on 3 quiet and peaceful acres of beautiful desert land at the edge of the Saguaro National Park.
During your stay you'll have full range of the property and the pool perfect for hot summer days (the property and pool are shared with the main house), and just a short venture off the property will take you to hiking and biking trails in the Sweetwater Reserve. For all your necessities you'll find stores and restaurants just 5 minutes away and the University of Arizona just 15 minutes away.
The cabin itself is over 100 years old, but it is outfitted with all the modern amenities you'll need including a washer and dryer and a dishwasher. At night you can enjoy the coziness of this frontier cabin as you curl up next to the wood-burning fireplace while entertaining yourself with the provided books and board games.
If you're not curling up inside, you might try making dinner on the gas grill before hopping in the pool to watch the notoriously stunning Arizona sunset. Watch for rabbits, quail, javelina, (and yes it's possible you'll encounter a snake or scorpion that will remain harmless if you leave them alone), and listen for the coyotes howling at night.
Click Here To Check Rates On Airbnb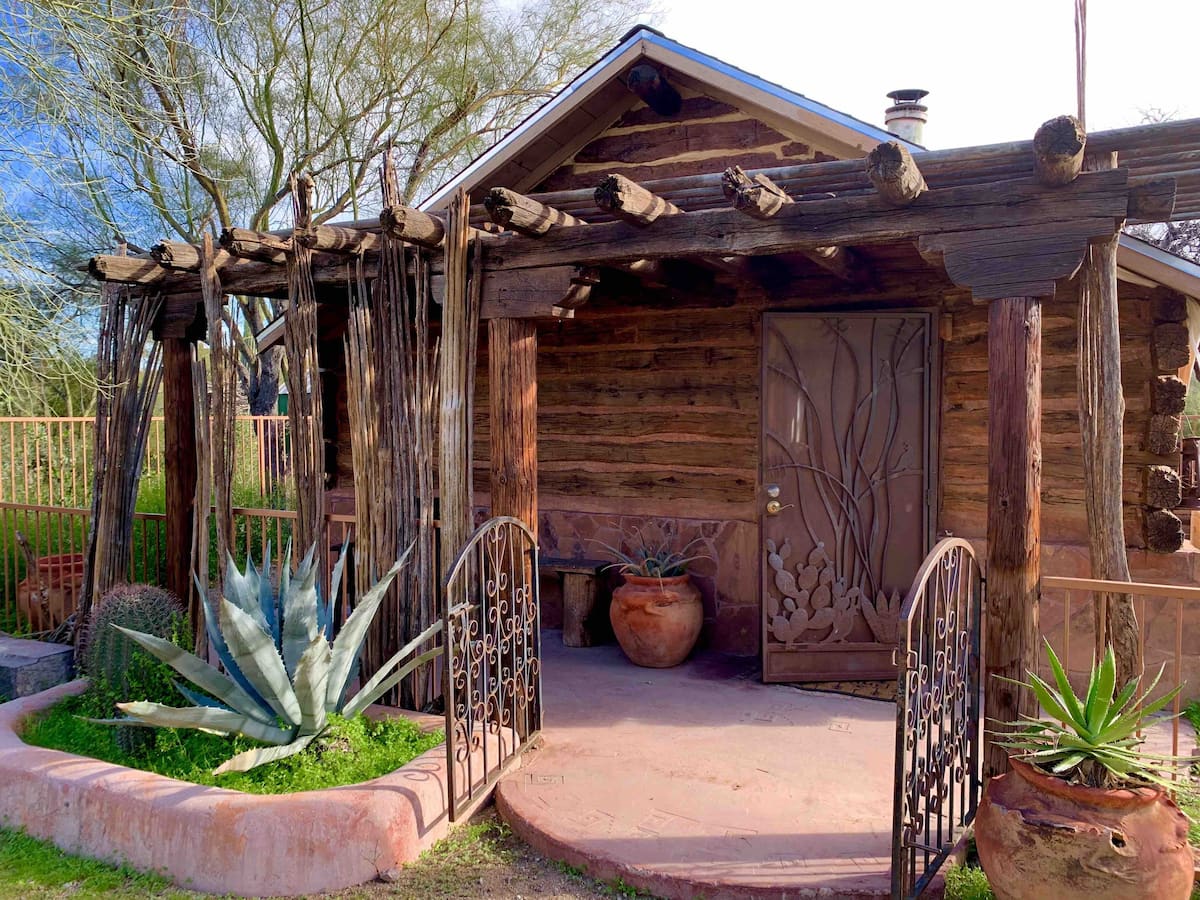 Cozy Cabin in the Pines
Up in the Prescott mountains you'll find some of the best Arizona cabin rentals. This cozy cabin in the pines feels like a remote retreat while still being 15 minutes from downtown.
The fenced in deck is ideal for pets and kids wanting to run around, and is appealing to adults with its views of Thumb Butte and its fire pit perfect for roasting s'mores. There's also a hammock hanging in the backyard where you can read or nap during the day and stargaze at night.
The interior of the cabin is cozy and offers two bedrooms, one with a queen bed and one with a bunk bed. For some quality family time, bring along some games, gather in the living room by the fireplace (firewood provided) and get ready to make cabin memories that will last a lifetime.
For all your adventure needs, the cabin is conveniently located by a number of excellent hiking trails and lakes. You might also enjoy just taking a stroll around the neighborhood where you're certain to come across a deer or two during your stay.
Click Here To Check Rates On Airbnb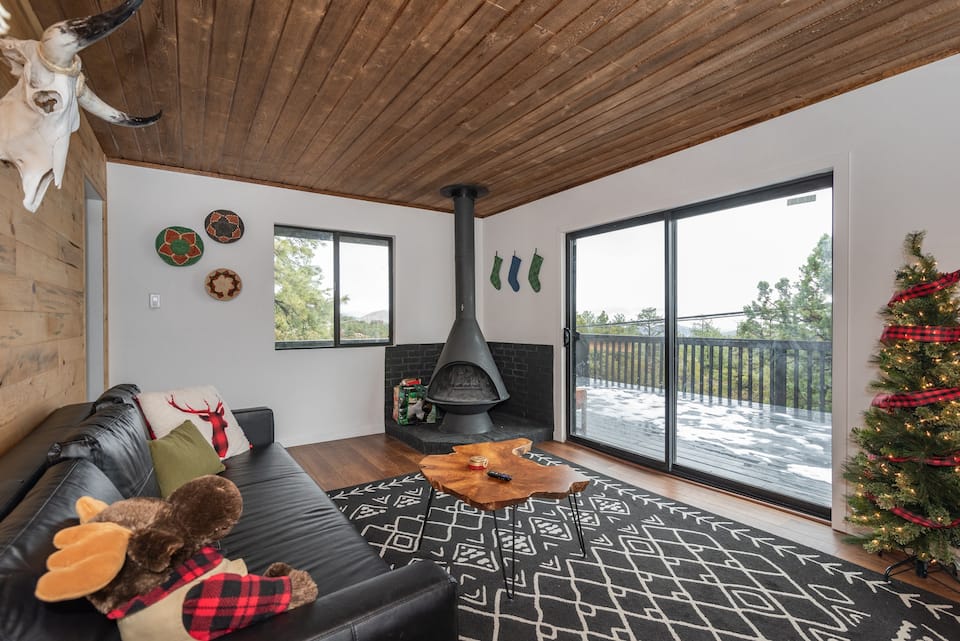 The 1975-Luxury Cabin
Grab the whole family and prepare to be wowed by The 1975, one of the most luxurious cabin getaways in Arizona. This beautiful cabin is located in the heart of Pinetop Country Club close to the center of Pinetop's town.
Though the home is close to lakes and is under an hour away from the Sunrise Ski Resort, you'll be reluctant to leave the cozy cabin. From the handy coat rack and shoe baskets in the entry area and a fully-equipped, large kitchen to the cookie dough provided for you in the freezer and gas fireplace in the living room, this home makes you feel welcome and wanting for nothing from the moment you enter it.
The sleeping arrangements include a bedroom with a queen bed and three twin bunk beds, a second bedroom with one extra long twin bed and three twin bunks, as well as the master bedroom upstairs. You'll no doubt love the master bedroom where the luxurious king bed is coupled with a walk in shower and soaking tub with a skylight perfect for stargazing.
The living room is a great place to gather as a family with floor to ceiling windows that let in ample light and allow you to enjoy the pines and the snowy wonderland in winter. Or you might choose to end the evening on the outdoor patio roasting s'mores around the fire as you try to keep warm in the crisp Pinetop air.
Click Here To Check Rates On Airbnb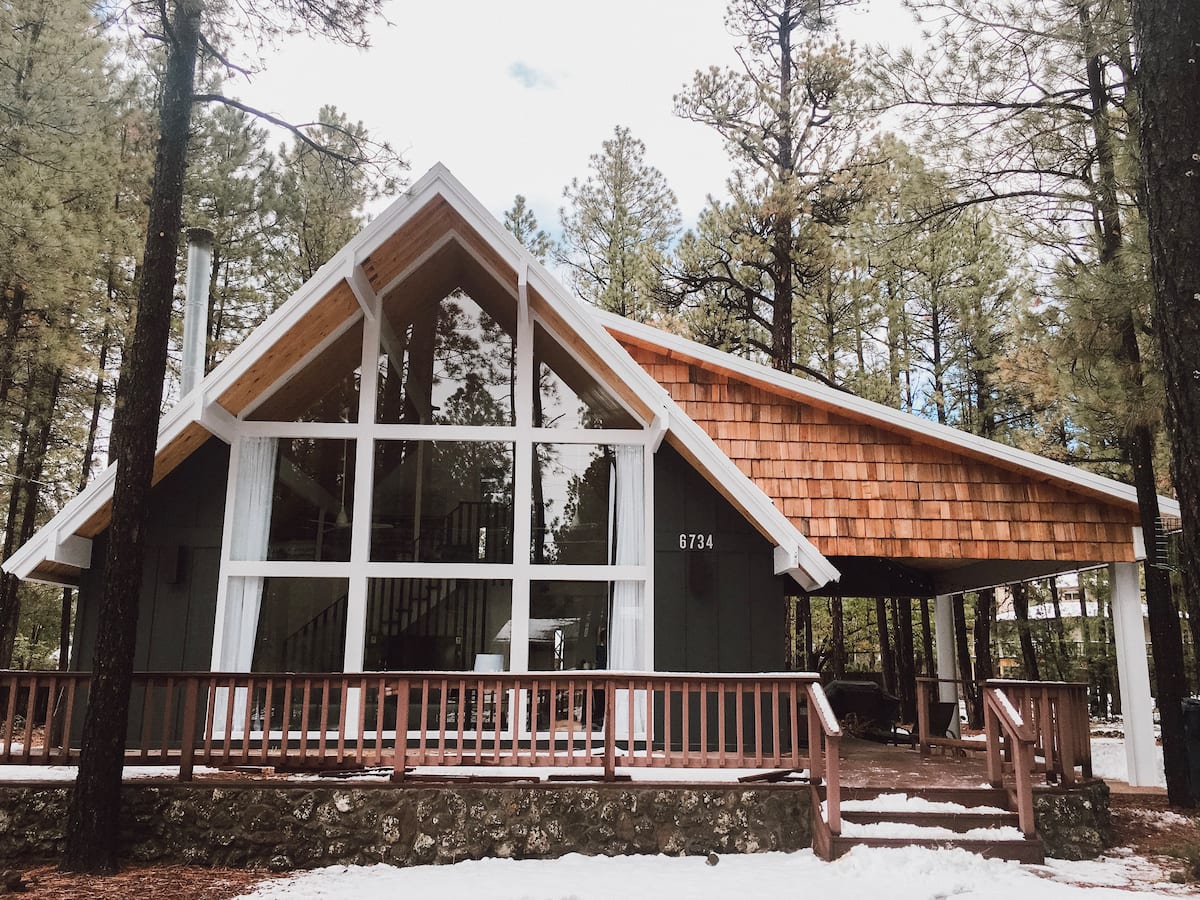 Waterfront Show Low Home on Private Lake w/ Deck
Are you looking for the best lake cabin rentals in Arizona to enjoy your days boating on the water? This Show Low cabin that backs up to a 300-acre private lake is the perfect getaway spot for you and your family.
The cabin's vaulted ceilings, exposed wooded beams, and ceiling to floor living room windows present you with a charmingly rustic living space. And after a long day of water activities you'll appreciate the three cozy bedrooms that are sure to give you a great night's sleep.
As wonderful as the cabin is however, the real show stealer is the private lake where you can fish, swim, or boat to your heart's content. During your stay you'll have access to a canoe, a rowboat, two kayaks, and one paddleboat.
To finish up the day, consider grilling on the gas grill, followed by roasting s'mores at the large stone fire pit as you trade stories, listen to the bullfrogs, and admire the starry skies. You likely won't feel the need to venture away from the cabin, but if you do, you're right nearby the Silver Creek Golf Club and are only 30 minutes from Pinetop.
Click Here To Check Rates On VRBO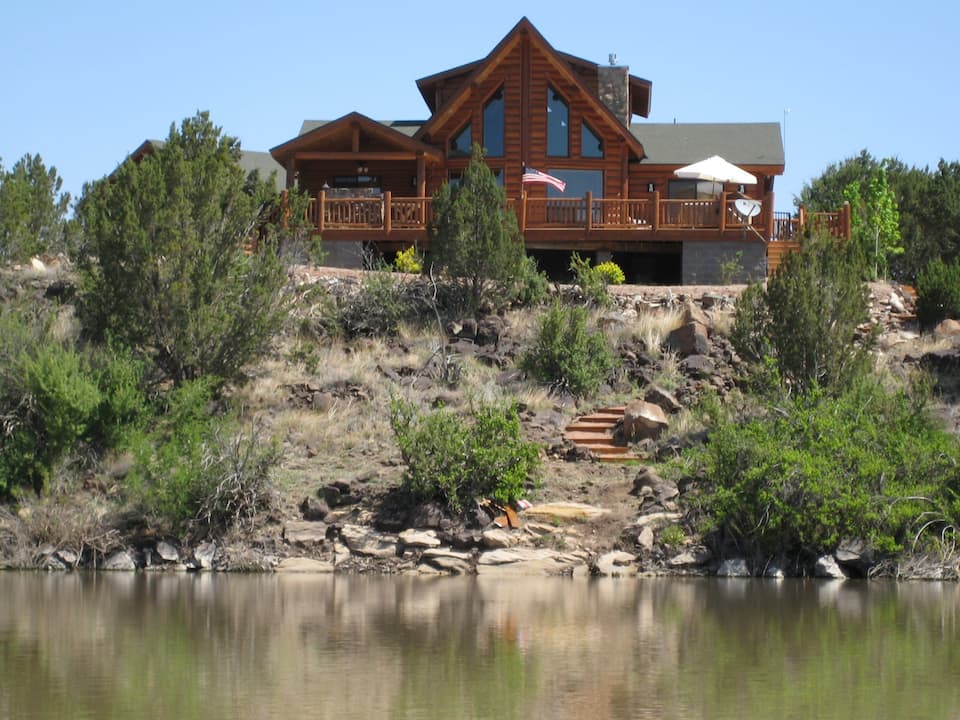 Modern A Frame
If you're looking for modern comfort among the pines, this modern A-frame is certainly one of the best cabin getaways in Arizona for you. This cozy Pinetop cabin is located within the Pinetop Lakes Country Club which means with an additional $75 per stay or per week you can have access to the full country club amenities package which includes the gym, hot tub, pool, tennis courts, basketball courts, billiards, foosball, yoga, zumba, and more.
You'll quickly fall in love with the cabin itself with its spacious, well-appointed interior, living room fireplace for a cozy night in, and bath salts to help you relax after a day of fun. Kids will love the loft space that has board games, Lincoln logs, kids toys, and crayons for coloring.
If you'd like to enjoy the fresh air of the outdoors you can head to the front porch where you'll find a gas grill perfect for making a hearty dinner, or the backyard with its fire pit and outdoor games. Grab a drink, roast some marshmallows, and let your dogs and/or kids run wild in the fully fenced in backyard as you wind down for the day.
The cabin is conveniently located nearby charming Pinetop restaurants and shops. Should you wish for more adventurous activities however you can head to the Sunrise Ski Resort, Woodland Lake Park, Porter Mountain Stables, or the White Mountain Family Fun Park.
Click Here To Check Rates On Airbnb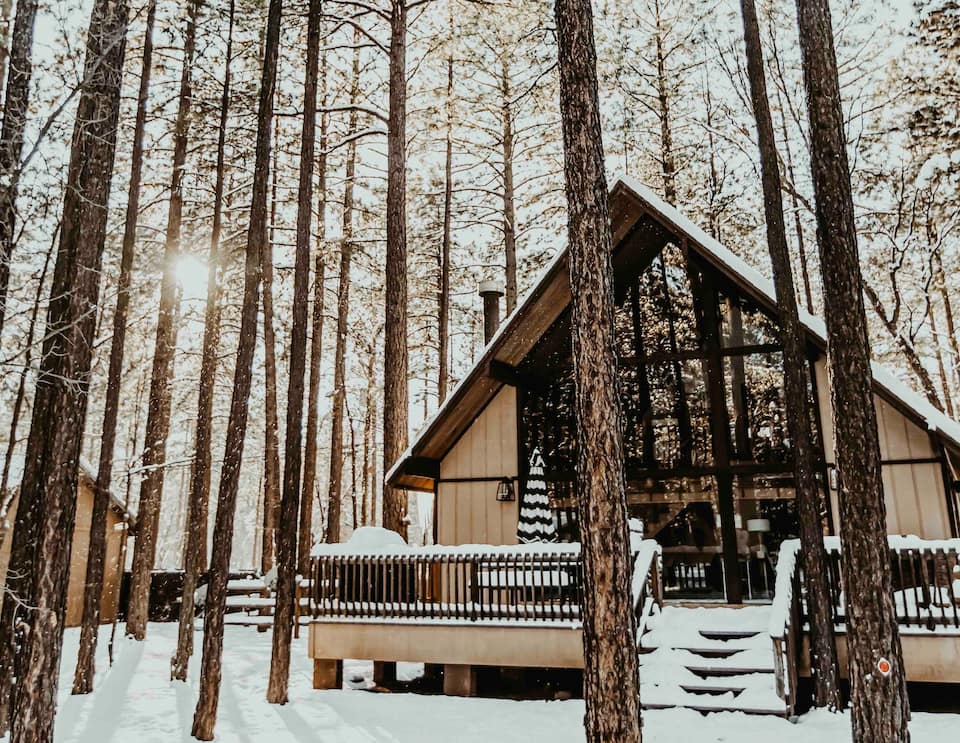 Rim Country Retreat
If you're looking for cabins in Arizona, look no farther than this cozy Rim Country Retreat in Payson. Surrounded by beautiful views and endless trees belonging to multiple national forests, the cabin is the perfect getaway spot to relax and reset.
The cabin can host up to seven guests split among three bedrooms and a loft making it ideal for extended family gatherings or trips with friends. Hang out around the living room fireplace while enjoying the views through the large windows or venture outdoors to the deck and cook dinner on the gas grill.
For the ultimate bonding time with your companions, head to the game room complete with a pool table, TV with a DVD player, card table, and a chessboard. The walls are creatively decorated with game boards creating the perfect atmosphere for a little friendly competition.
The cabin is conveniently located near hiking and biking trails and is under an hour away from the Tonto Natural Bridge State Park. You should note that a 4-wheel drive car is highly preferable for navigating the steep and uneven driveway to the cabin, particularly in the winter.
Click Here To Check Rates On VRBO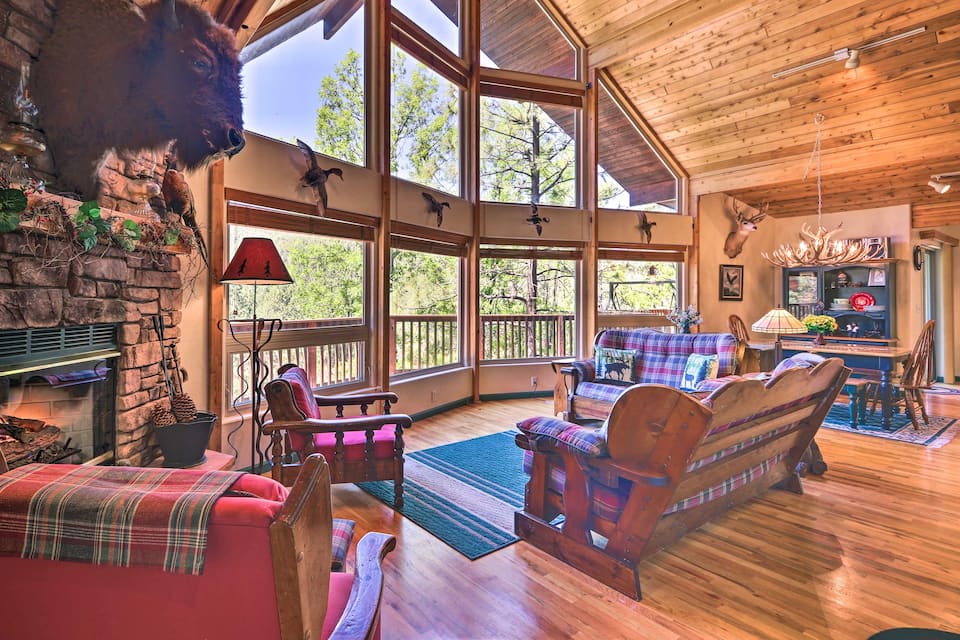 2 Bears Cabin
On Main Street in Greer, just a stone's throw from the Little Colorado River, you'll find one of the best cabins in Arizona. From this charming three-bed three-bath cabin, you merely have to take a stroll through the village to reach the town's restaurants and shops.
This cabin is the perfect nature retreat with the Little Colorado River, private trout ponds, and the beautiful Greer Valley practically in the backyard. In this little slice of natural paradise you're sure to get your fill of wildlife spottings too from deer and elk to eagles.
Just across the street from the cabin is the Greer Trail, a great walking/biking trail that leads you to shops as well as the West Fork of the Little Colorado River. And if you're feeling like getting out on the water in the summer, you have two free hours of kayak rentals available to you as part of your stay.
If you'd rather hang out at the cabin instead, you can people watch from the front porch and grill up dinner on the gas grill for some al fresco dining. To finish the day, head inside to enjoy the fireplace, take advantage of the free DVD rental, and then soak in the jetted tub in the master bathroom.
Click Here To Check Rates On VRBO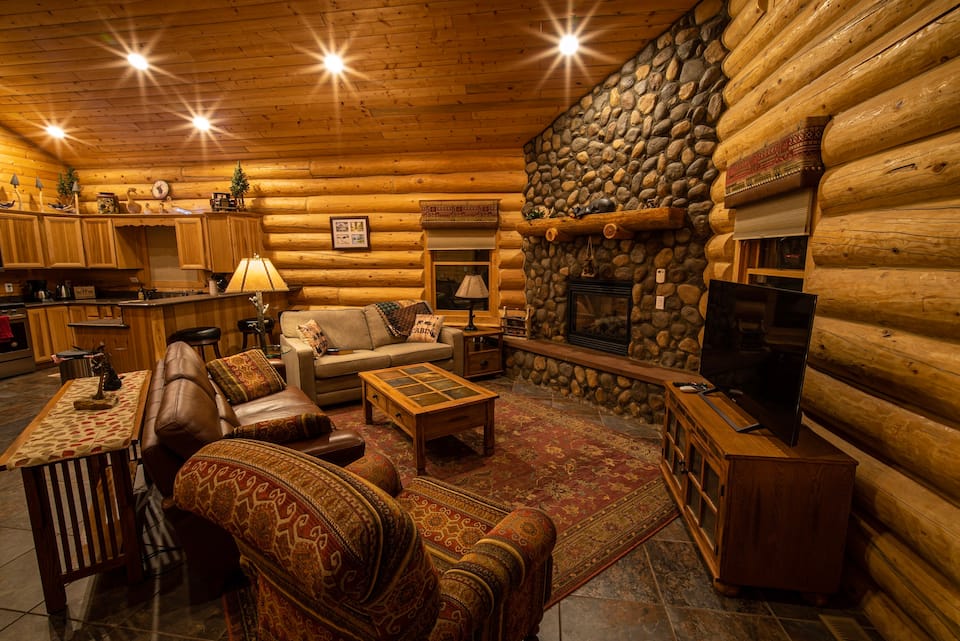 The Bunkhouse
This rustic studio in Elgin isn't as large or luxurious as many of the other Arizona cabin rentals on this list, but if you're looking for something more akin to cabin camping in Arizona, it'll provide you with the perfect home away from home. For your stay at this cozy bunkhouse, you'll be headed to the vast desert expanses of Southern Arizona's wine country.
The studio is located on horse ranch property so you can enjoy the horses roaming and the daily goings on of ranch life while enjoying the spectacular mountainous views surrounding the property. The sunsets are particularly memorable, so head to the back patio, grill yourself some dinner, and enjoy the beautiful and relaxing atmosphere of the evening.
As we mentioned, the studio is located in wine country and as a result is nearby vineyards and wineries in both Elgin and Sonoita such as Kief-Joshua Vineyards and Rune Wines. For your fix of outdoor adventuring you can head 30-45 minutes away to Parker Canyon Lake, Las Cienegas National Conservation Area, or Patagonia Lake State Park.
The bunkhouse itself is cozy and rustic with exposed beams and a wood-burning stove, perfect for two people to enjoy quiet evenings in surrounded by the beauty of nature. If you plan on eating in/cooking during your stay you might consider bringing groceries with you, as the nearest grocery store is roughly 30 minutes away.
Click Here To Check Rates On VRBO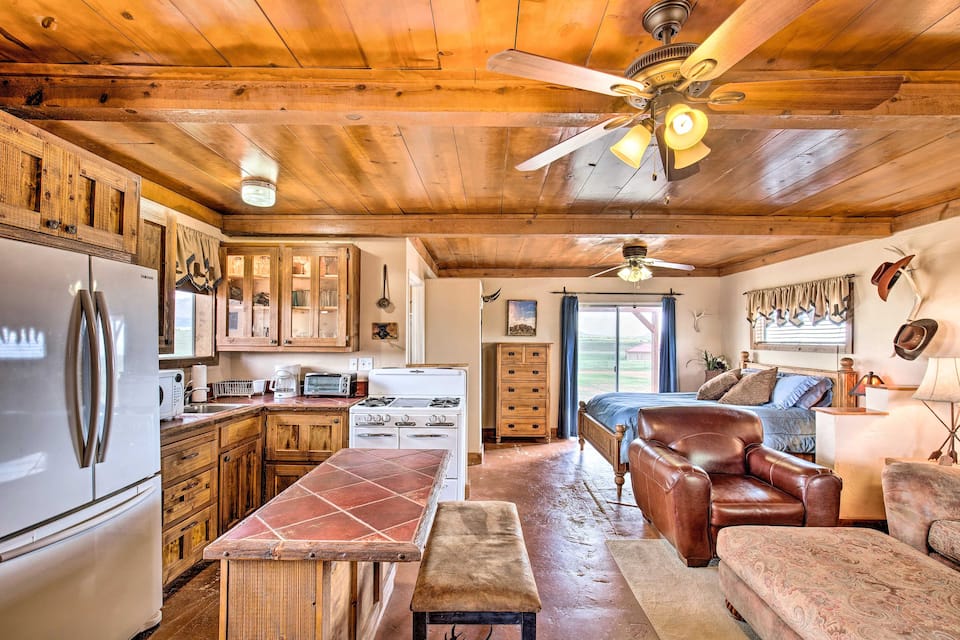 Buffalo Trail Treetop Retreat
Are you craving a getaway to one of the best cabins in Arizona? It doesn't get much better than the Buffalo Trail House in Flagstaff with its indoor sauna in the master bathroom, and outdoor deck for lounging, bird watching, and enjoying a nice hot cup of coffee.
In the winter, the sauna alone is enough of a selling point, however this cabin also offers snacks and coffee, comfortable beds in 3 separate bedrooms, and plenty of charming, cozy space for bonding with friends and family.
The cabin is conveniently located just 10 minutes from town and 30 minutes from Oak Creek Canyon and Sedona. With an abundance of nearby hiking trails and beautiful pines, mountains, and red rock, you'll never have a shortage of thrilling outdoor activities to take part in.
The house itself can host up to 7 guests making it perfect for larger groups. You should be aware however that as a three level cabin there are a lot of stairs, so make sure everyone in your group is comfortable with climbing stairs before booking.
Click Here To Check Rates On Airbnb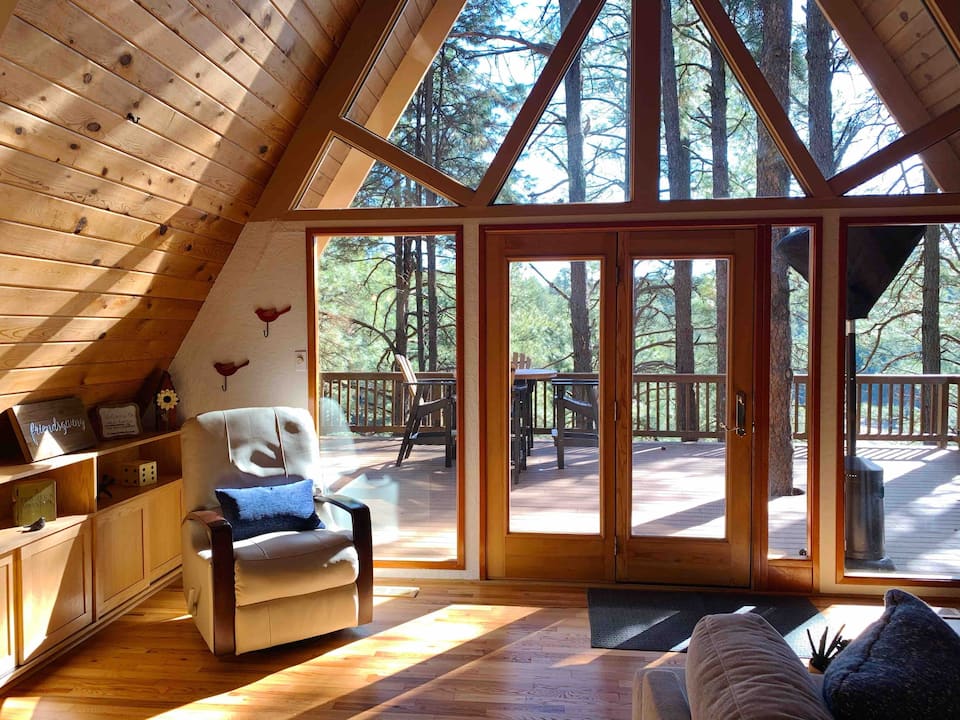 Sunset Ridge Log Cabin
It's hard to resist remote Arizona cabins where you can unplug, escape hectic city life, and enjoy the beauty of nature. The Sunset Ridge Log Cabin located near the Route 66 town of Williams offers all that and more.
This custom, hand built cabin is an inviting home away from home with its large fireplace, living room board games, and cathedral ceilings. Up to 8 guests can stay at the cabin with two bedrooms downstairs and an open loft upstairs for able-bodied guests that can scale the spiral staircase.
Perhaps the biggest draw of this home however is the outdoor deck and hot tub. There's nothing quite like dinner outside, followed by s'mores around the fire as the sun sets, and star gazing while soaking in the hot tub.
If you'd like to venture into town, you're just 15 minutes from restaurants, shops, and grocery stores. We suggest driving a 4-wheel drive car particularly in the winter to navigate potentially snowy or icy roads, and navigate the 2 miles of gravel and dirt road leading from highway 64 to the cabin.
Click Here To Check Rates On Airbnb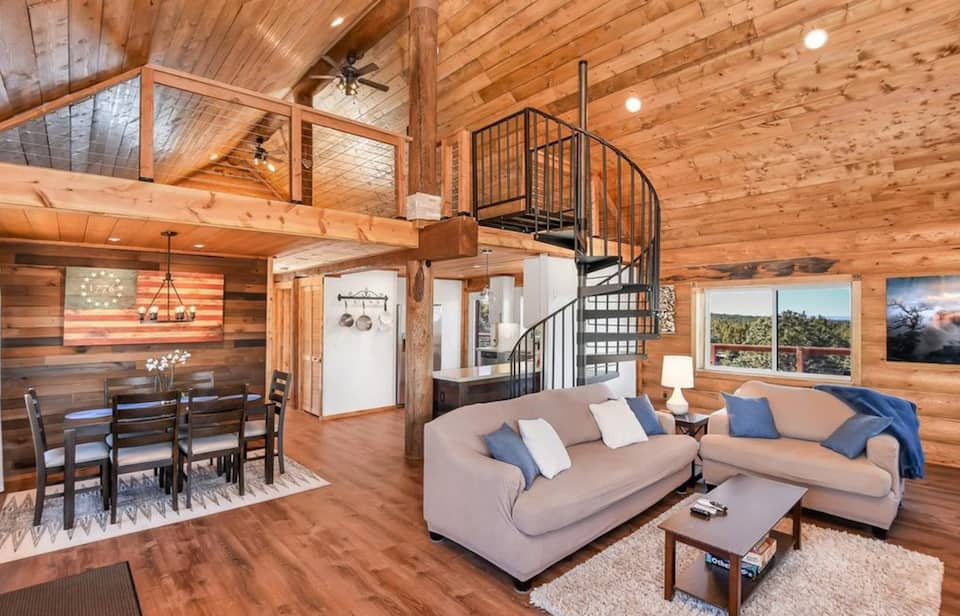 We're thrilled you've chosen to unwind and relax among the mountains, forests, and desert of Arizona for your next vacation. We hope one of these cozy Arizona cabins nestled in the beauty of nature will catch your eye.
Whether you're enjoying the cooler temperatures and forested landscapes in the Arizona cabins up north or are sipping wine and soaking up the desert sunsets down south, you're sure to fall in love with this beautiful state. If you have any questions or comments as you go about choosing one of these cabins in Arizona, please let us know.