There is a surprising amount of cute and rustic Airbnbs in Kansas! Found nearly smack in the middle of the country, Kansas is part of the Midwest, which many people consider "flyover states". However, to many people, this is home and Kansas should not be disregarded.
If you live in the Midwest and are searching for a nearby stay-cation or if you are traveling through Kansas and need a place to relax for a couple of nights, there are plenty of Airbnbs to chose from. Rustic cabins and historic buildings are just some of the Kansas stays you will find on this list. Whether you are looking for a romantic getaway or a family vacation, there is something for you!
Kansas might be known for being flat and full of farms, but there are plenty of fun outdoor things to do as well such as chilling at beautiful lakes and discovering historic sites. There are also a ton of cute small towns and lively cities to explore. Plus a lot of kitschy, roadside attractions in between. The Sunflower State is the perfect place to get away from city noise and skyscrapers to instead enjoy peaceful family time in the country.
Without further ado, let's look at some Airbnbs in Kansas!
Looking to save money on your trip to the Kansas? Get a FREE $55 Airbnb coupon by using our code when you book!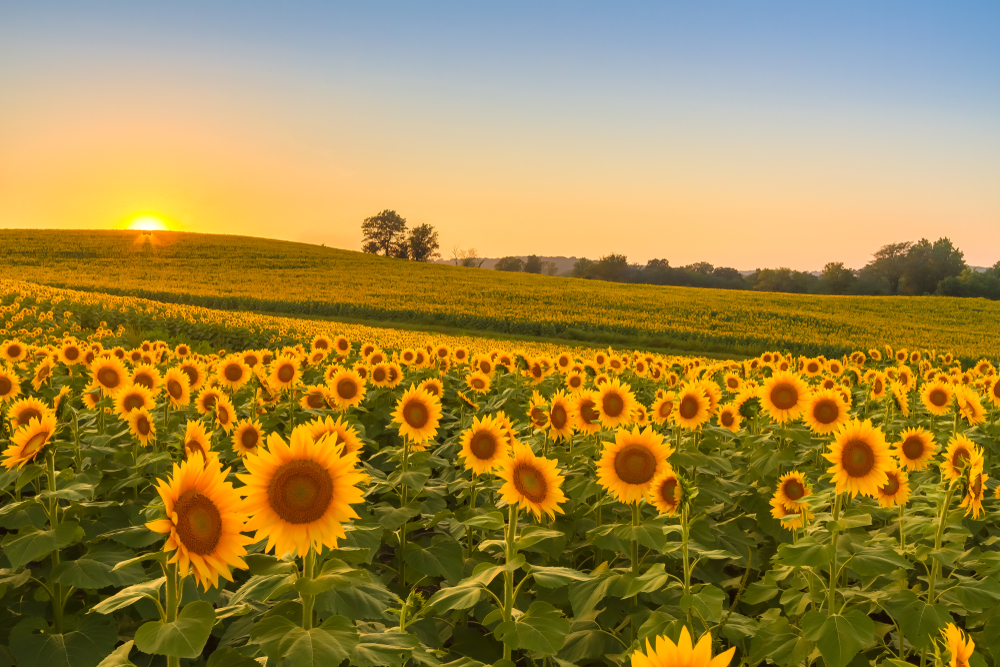 14 Best Airbnbs In Kansas (Cabins, Treehouses, & More!)
Konza Cabin
Konza Cabin, found in Manhattan, Kansas, is one of the most unique Airbnbs you could wish for! This house, if you can call it that, was crafted by connecting two metal grain bins with glass walls and was featured on the TV show "You Can't Turn That Into A House". They however proved that concept very wrong! Now it is the type of place people would happily travel to for the opportunity to stay here.
This Kansas Airbnb is found of a working farm with 100 acres of land free for visitors to explore. You can relax by watching the cow graze or feeding the horses. There is a pond to fish and hills to hike. When evening falls, build a fire in the fire pit. Up to four people can stay here, so it would be great for a small family to come experience farm life. There is a full kitchen and the water is spring fed.
Click Here To Check Rates On Airbnb!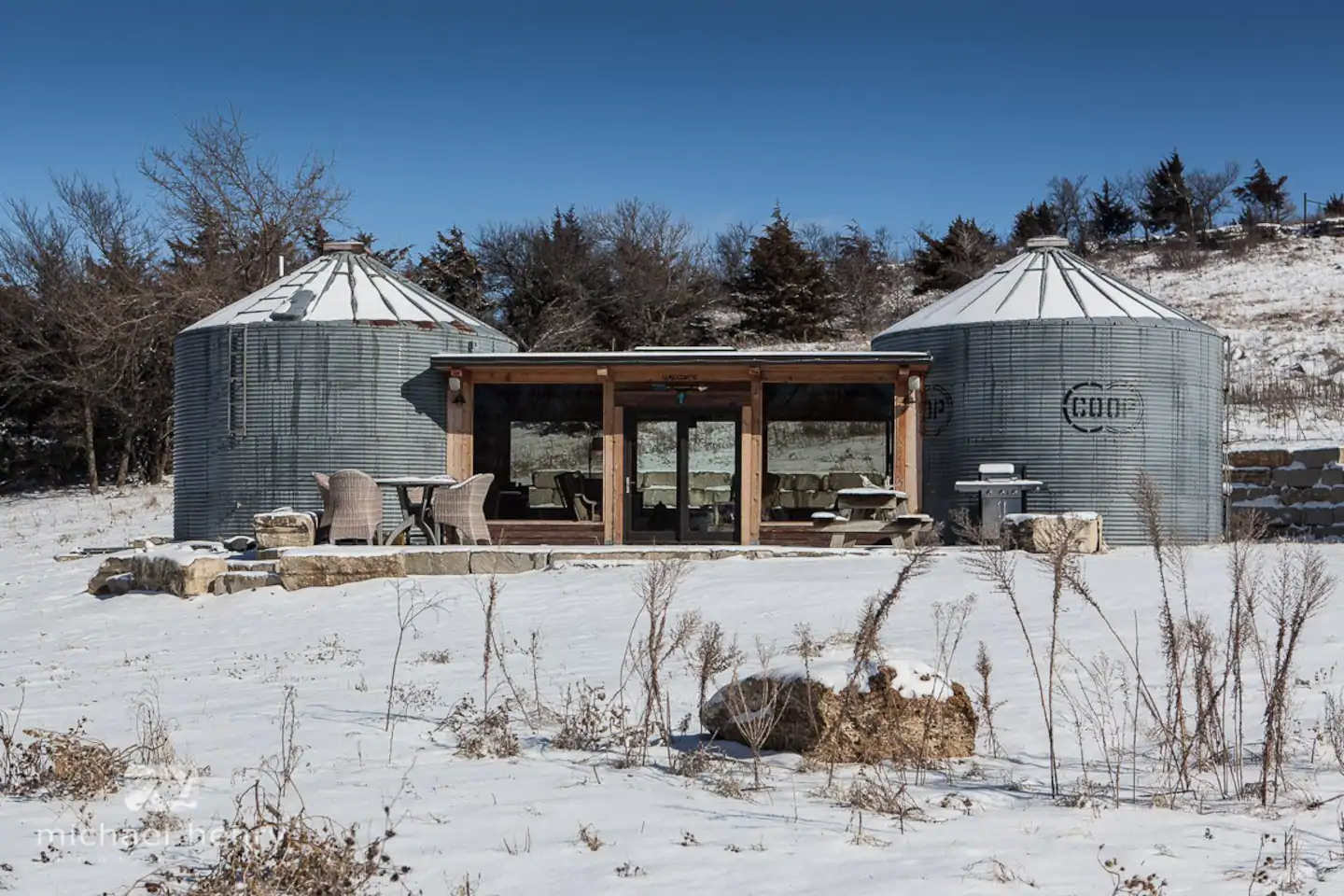 The Santa Fe Boxcar
Another one of the unique Airbnbs in Kansas is the Santa Fe Boxcar! This 1941 renovated train car is just too cool to pass up, especially if you have any little kids who are really into trains! This stay is cute inside and out with rustic details inside that tie together the train theme.
Like the last Airbnb, this one is found on a farm. While you sit outside sipping your morning coffee, you can watch the horses graze peacefully. There is a pool next to the boxcar to enjoy as well as a fire pit to roast marshmallows. When you aren't chilling at the Airbnb, you can venture out to the nearby small towns or head into Wichita, the state's largest city, which is about thirty minutes away.
Click Here To Check Rates On Airbnb!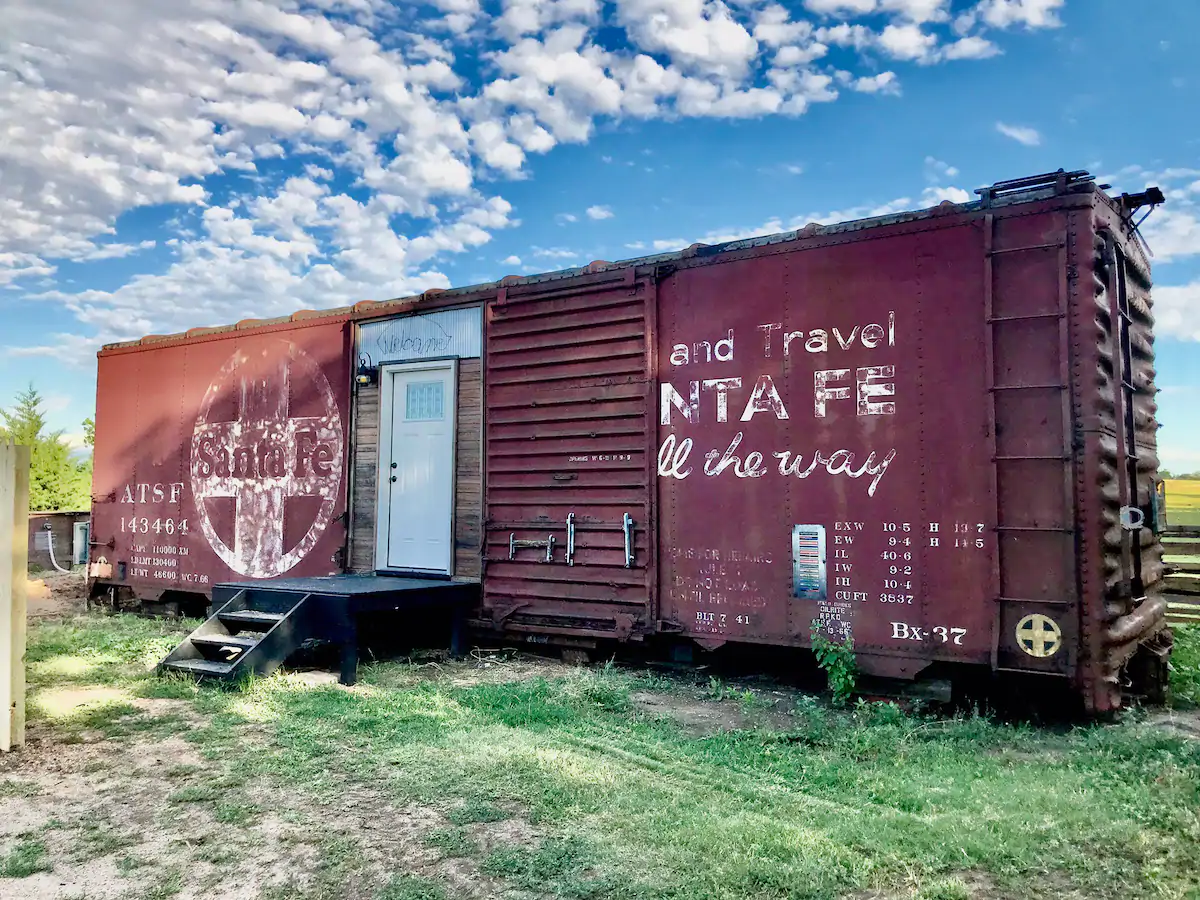 Cozy Cabin Retreat
The Cozy Cabin Retreat is found in Tonganoxie, about forty minutes from Kansas City, both the Kansas and Missouri side. The cabin is found on a fifteen acre property full of trees, wildflowers, hiking trails, and ponds. There are places to fish as well as an ax throwing area and horseshoe pit. A fire pit, picnic table, and hammocks will make it feel as if you are camping. Grinter's Sunflower Farm is right down the street and is worth a visit when the flowers are blooming.
The inside of the cabin is super beautiful with detailed wood crafting and sliding barn doors. You are guaranteed to feel really comfy here! This is a great place for a couple's retreat or a small family vacation. Four people can stay here, but it is recommended for only a max of two adults or space might get too tight. The owners host events occasionally which you can take part in, including a sweat lodge.
Chick Here To Check Rates On Airbnb!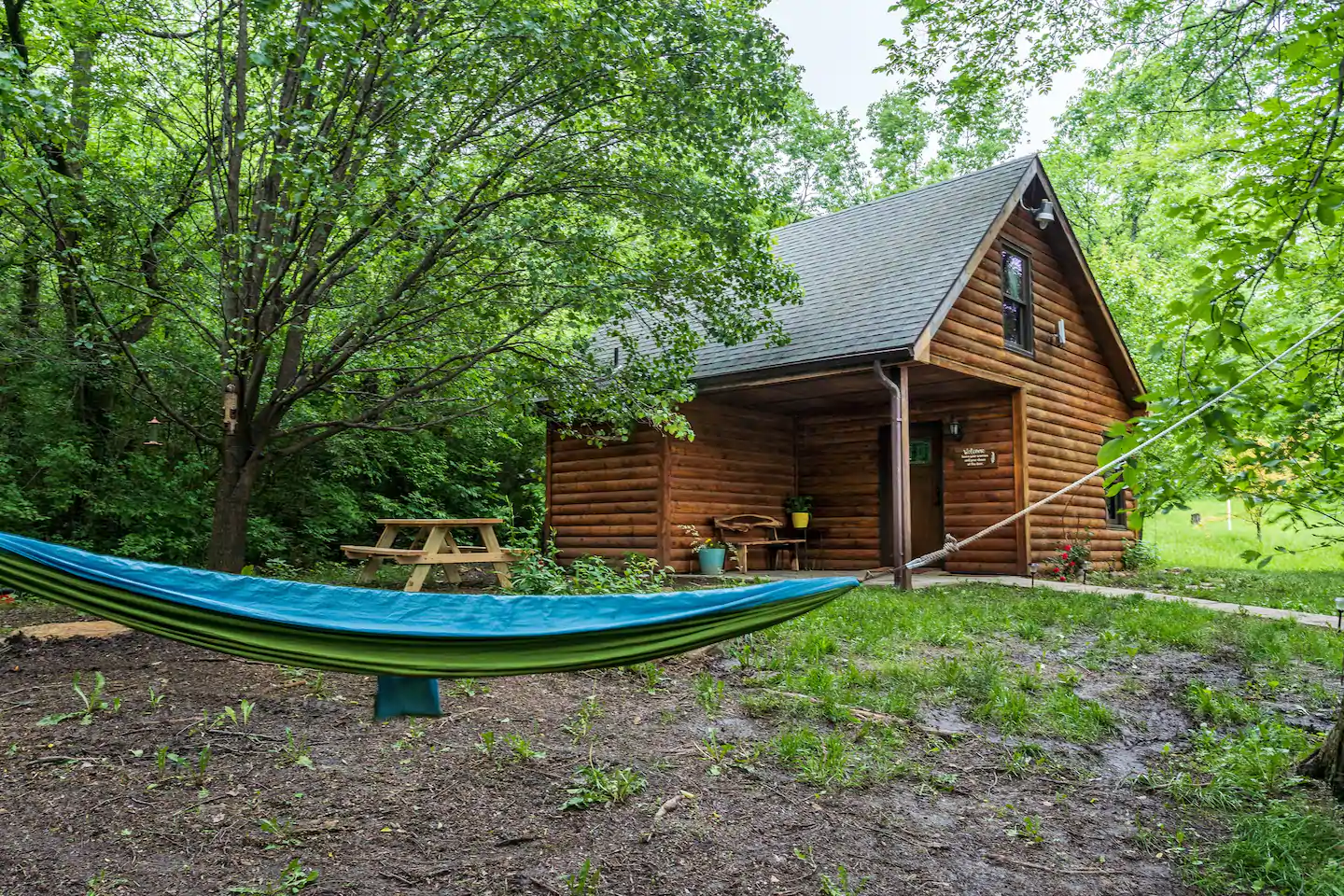 Historic Limestone Cabin
This next Kansas Airbnb is a historic limestone cabin that almost looks like it could be from the English Cotswolds, just imagine it has a thatched roof! Once an old farm building, it has been converted into a super rustic Airbnb. With a wood-burning stove and antique furniture, you will feel as if you have stepped back in time! There are even old photos of the property hanging on the wall.
This is a great place to stay in Kansas for couples who want to venture off the beaten path. When you are not curled up inside reading a book by the fire or cuddling in the loft bedroom, you can sit on the outside patio around a roaring fire. This home is found in a beautiful, natural setting right out of Little House on the Prairie!
Click Here To Check Rates On Airbnb!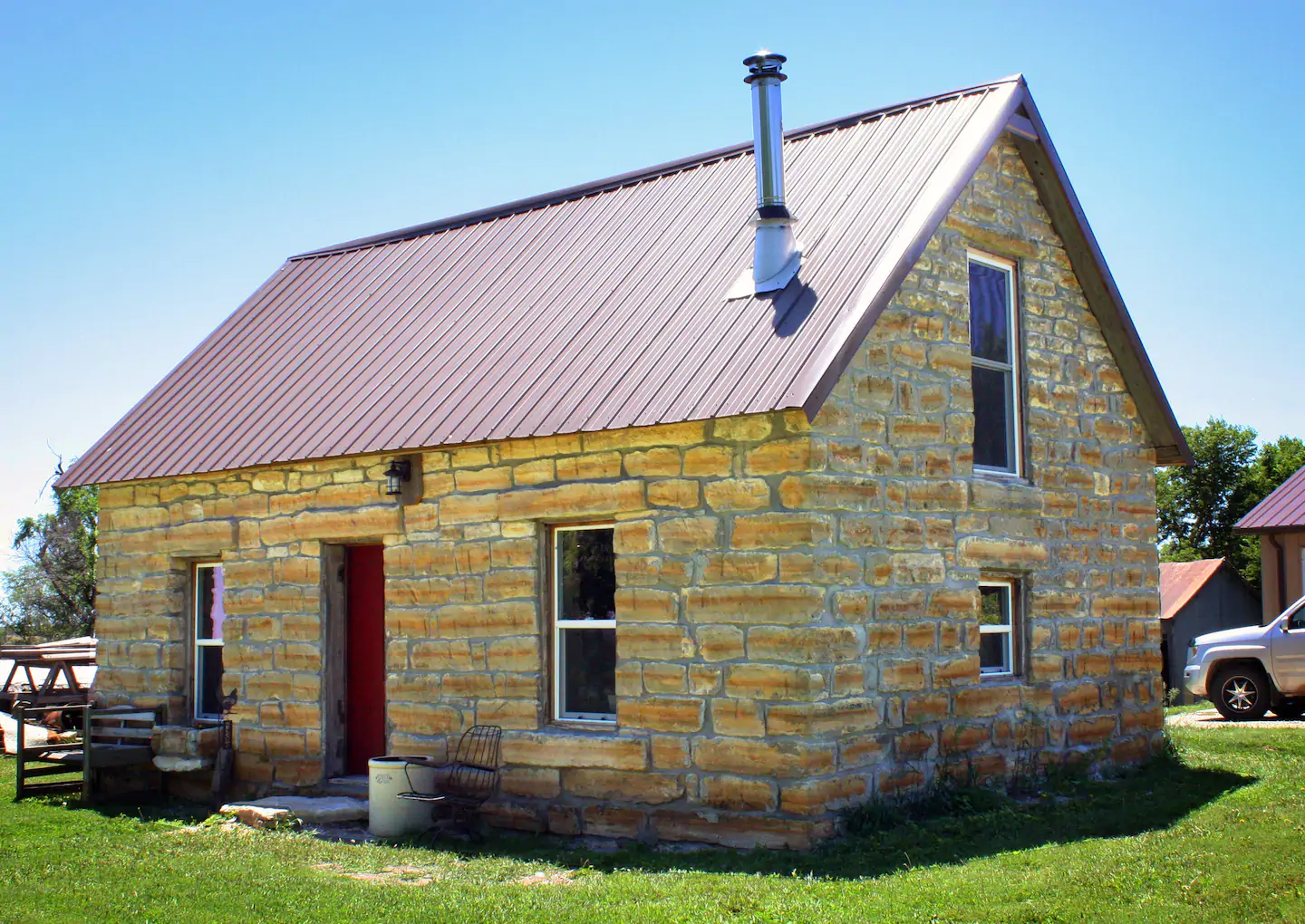 Queenie's Loft
If you thought this list was going to be all rustic, charming cabins in the woods, you were wrong! Queenie's Loft is a modern and chic apartment in downtown Leavenworth. The windows look out over the City Hall and a statue of Abraham Lincoln, who delivered his first presidential campaign speech in this city in 1859. The exposed, brick walls of this building hold a 165-year-old history.
This apartment is open and airy, full of modern furnishings, but not short on rustic details. When you aren't snuggled up on the couch watching the big screen TV, you can explore the city of Leavenworth. There are many restaurants, bars, and shops within walking distance and the Missouri River is not far either.
Click Here To Check Rates On Airbnb!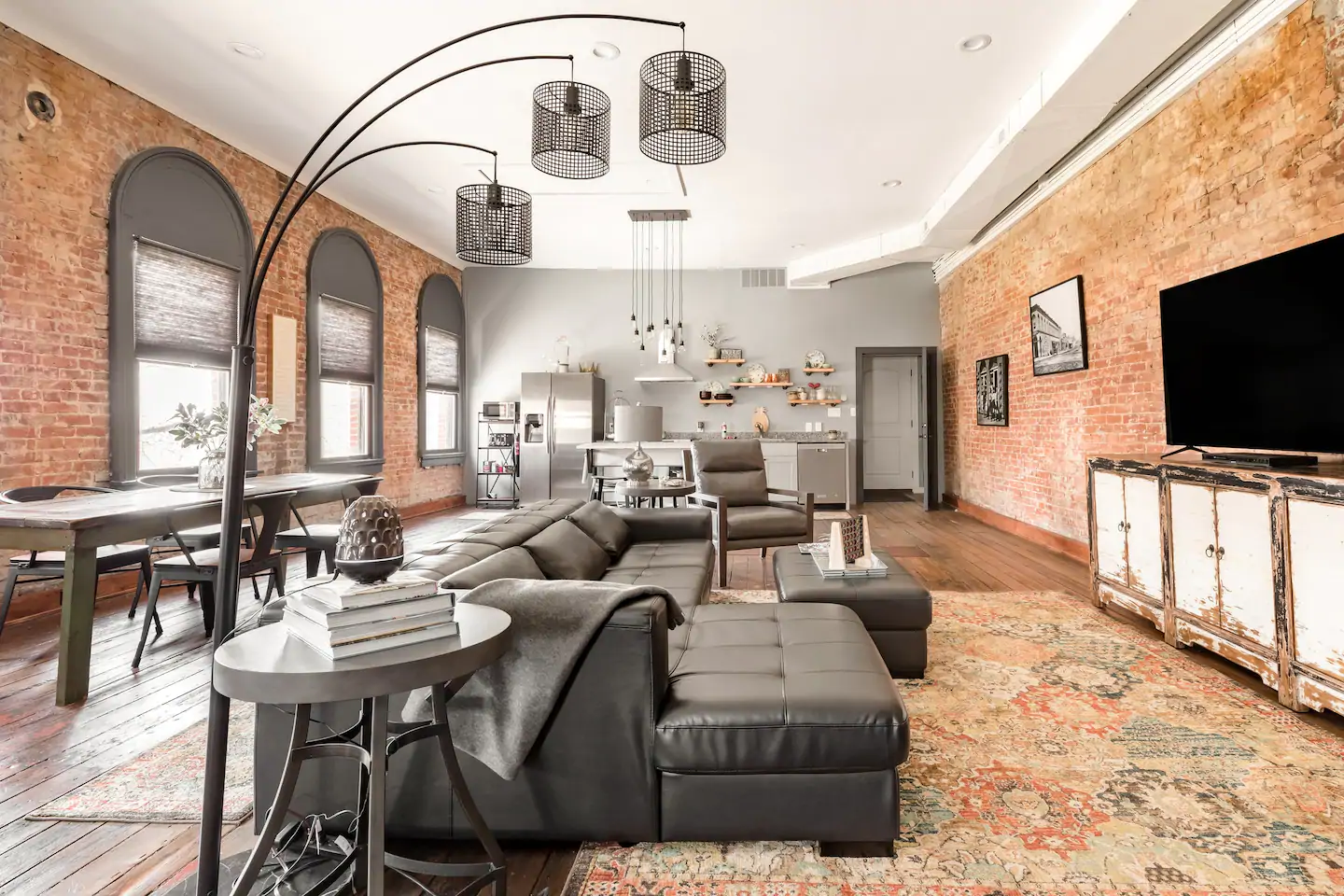 Sun & Moon Mongolian Yurt
The Sun & Moon Mongolian Yurt is an authentic Mongolian yurt and is definitely one of the best, most unique Airbnbs in Kansas. This is the place to stay for anyone who wants to spend time completely off-grid. There is no electricity or running water, so it provides a true roughing it experience. This is camping in style! There is an outhouse with a composting toilet and jugs of water for drinking or washing hands. A wood-burning stove will keep you warm in colder months and allow you to make tea.
Spend time here un-plugged from the world as you watch wildlife, walk scenic trails, stargazing, and sitting around the outdoor fire pit. Although this yurt is very isolated, it is only a short drive to downtown Lawrence. Head into town to stock up on snacks or check out the any museums there.
Click Here To Check Rates On Airbnb!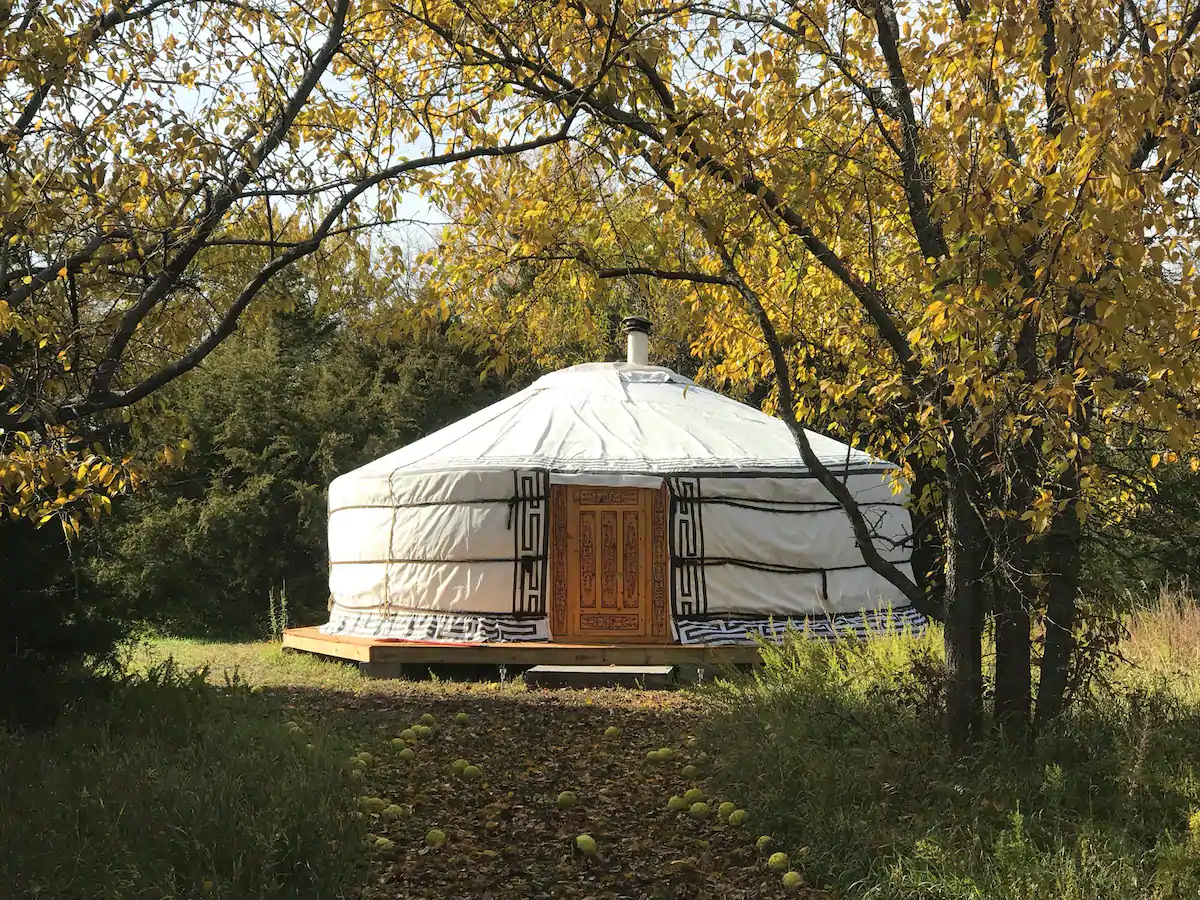 100% Off-Grid Cabin
If you are still looking for an off-grid experience but actually want running water and AC or just a bigger space, then this off-grid cabin is for you! Five people can stay here and it is great for a family! There are a swing set and trampoline to use. The cabin is located right next to a big pond where you can go boating, swimming, or fishing. In the evening, you can cook up a meal on the BBQ then roast marshmallows for dessert. There is a big, enclosed porch with plenty of seating to relax.
This cabin is a super idyllic and great place to stay in Kansas! It is not far from the small town of Junction City or Milford State Park. If you are wanting to get away from city life and people, this cabin is the perfect Kansas getaway. You can give your kids, or yourself, a taste of the country life.
Click Here To Check Rates On Airbnb!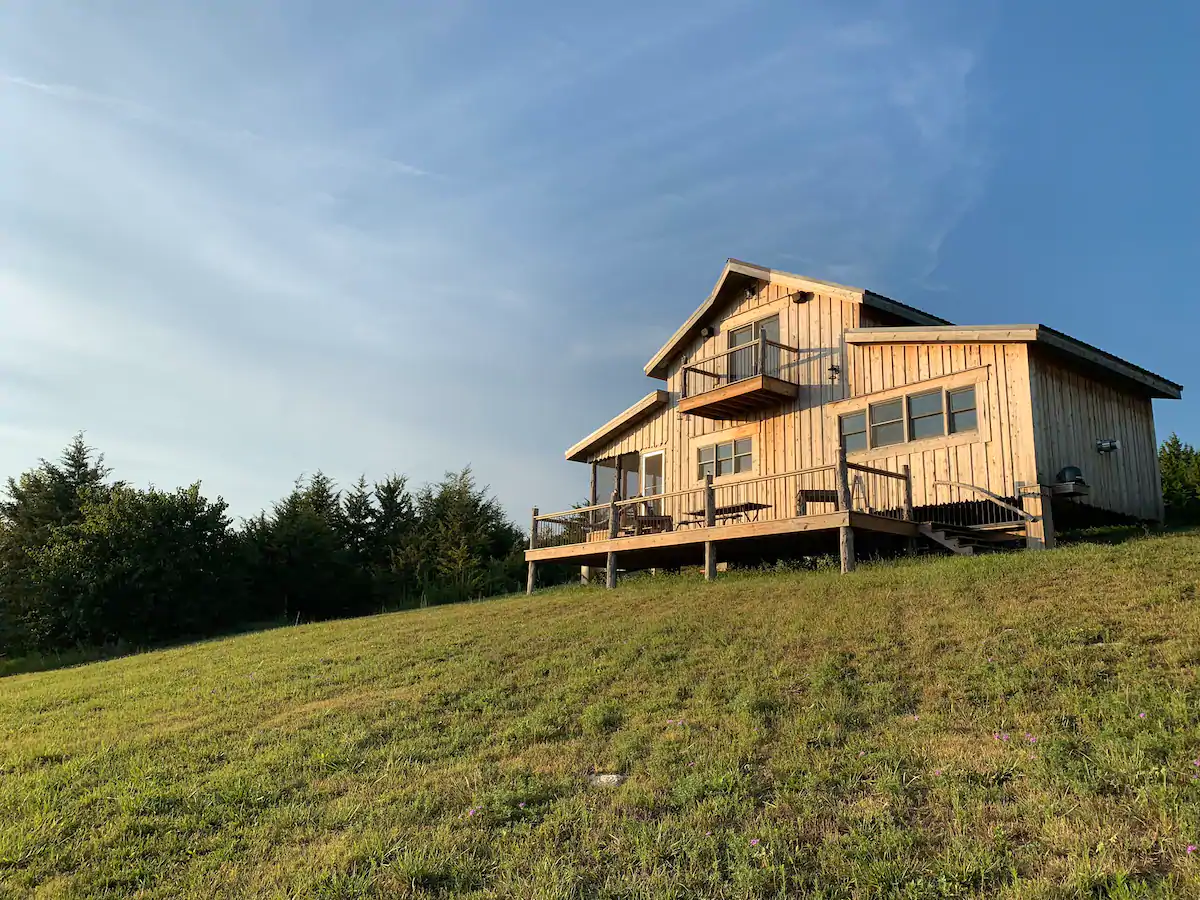 Carnahan A-Frame
This A-frame cabin might remind you of something you would see in the Swiss Alps, but it is found in the Flint Hills of Kansas. Located near Tuttle Creek Lake and the Carnahan Creek Recreation Area, you will have plenty of nature to explore when you stay here. The big deck provides amazing views of the surrounding green, hilly landscape.
This cabin can house eight people so it is pretty big and perfect for a family getaway! Let your kids run around on the fifteen-acre property while you relax and catch up on your Netflix shows. At night, gather everyone around the campfire. The city of Manhattan is about a twenty-minute drive away.
Click Here To Check Rates On Airbnb!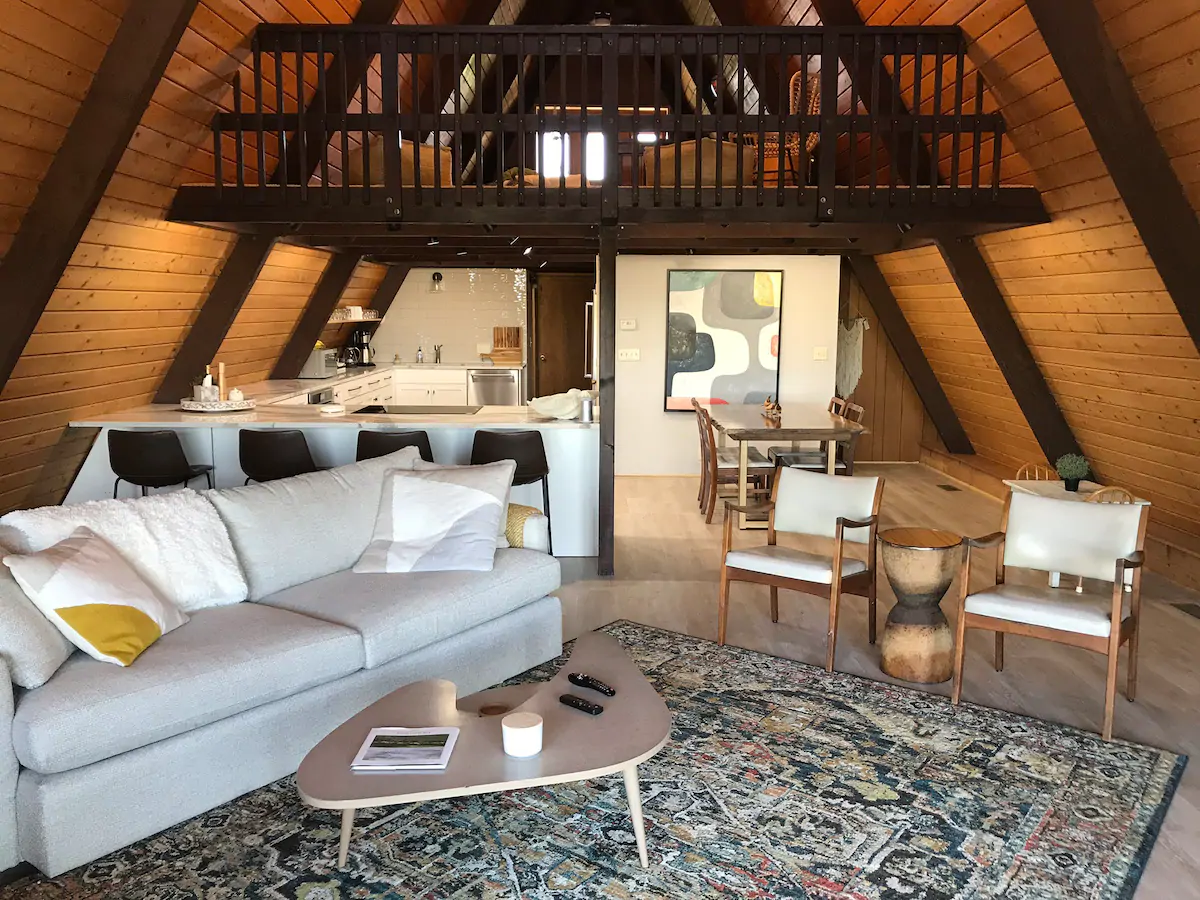 Woodland Suite
The rustic Woodland Suite is found in Wichita, not far from the city's downtown. It is also close to the Prairie Sunset Trail, which is perfect for a scenic walk or bike ride. Surrounded by trees and walking trails, this home is secluded but still near city life, so you will not feel super isolated. The owners live on the upper level of the house and are available to help you with anything as needed.
This cabin is very cute and cozy, with exposed wood beams and furniture that make it feel like a real home. A covered front porch gives you a place to sip your morning coffee while you look for wildlife in the trees. You are sure to feel right at home here, which really makes it one of the great Kansas retreats on this list!
Click Here To Check Rates On Airbnb!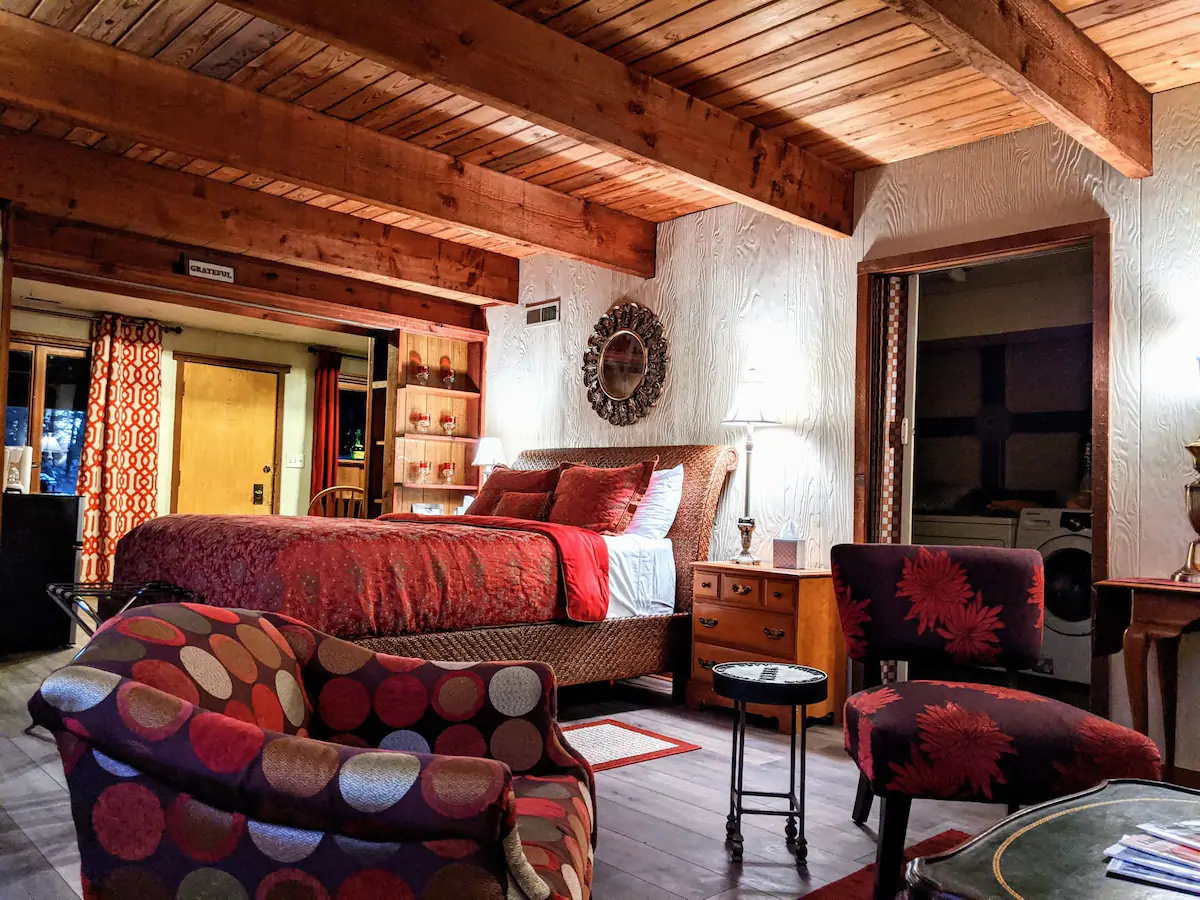 Old City Jail
Neodesha's old city jail has been transformed into a history-rich Airbnb! Learn about the 114-year history of this building by examining the many historical newspaper articles and photos throughout the rooms. A wall of graffiti and etching from real former prisoners has also been preserved. Isn't that so cool?!
You will be amazed at the detail that went into making this Airbnb! The jail theme is obvious throughout, from jail bars on the doors and walls to a fake mugshot photo spot. Though this building is old and historic, it has been remolded into a very modern Kansas stay. You will feel right at home with Netflix, a Keurig coffee maker, an Amazon Alexa, and a full kitchen. On or two people can stay here.
Click Here To Check Rates On Airbnb!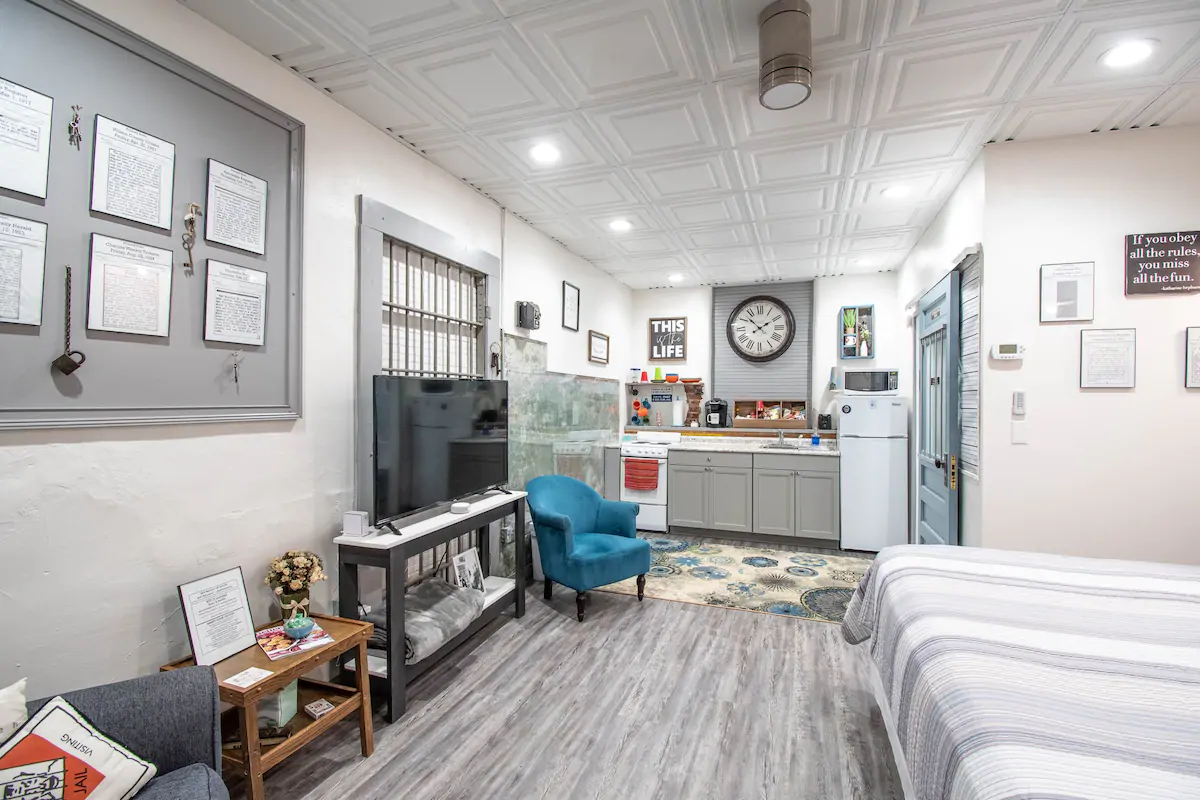 Hook & Ladder Guesthouse
The Hook & Ladder Guesthouse pairs with the last listing and is found right next door! This is Neodesha's original firehouse and like the jail, it has been completely remodeled into the perfect Kansas Airbnb! Come sleep where firemen slept a hundred years ago! You will be fascinated with the history depicted in photographs on the walls and the antique touches.
This home is open and airy with a king-sized bed in the main area and a twin-sized bed in a second room. A roll-away bed is available for an extra child. With board games provided and Netflix on the TV, this is a great place to stay in Kansas if you are traveling with kids, especially any obsessed with firefighters! Neodesha might be in the middle of nowhere, but it is a cute, small town.
Click Here To Check Rates On Airbnb!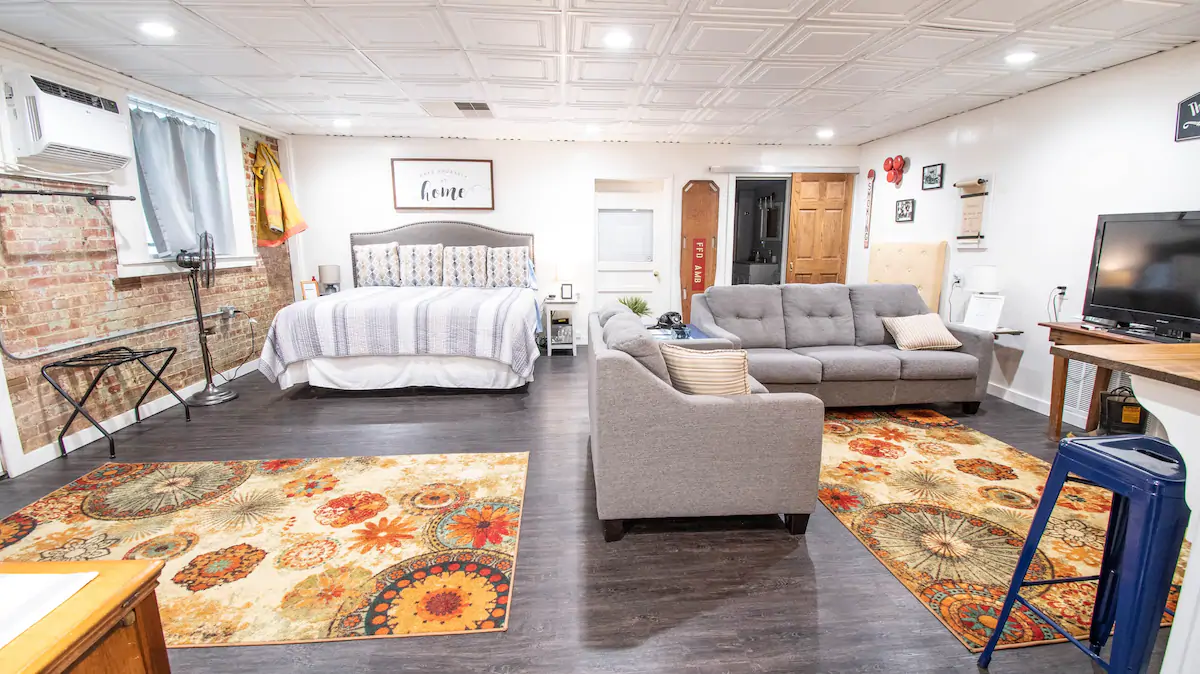 The Blue Door Cabin
Found outside of the small town of Chanute, the Blue Door Cabin is a place to get away from the real world and escape into nature and country living. There is no WiFi or TV here so you are truly able to disconnect and enjoy time with family or your significant other. There is a queen-sized bed on the main floor as well as a sleeping loft with a second queen-sized mattress. If you have kids with you, the loft gives them a place of their own.
This cabin is found on a pretty property with hiking trails and a serene pond where you can fish or just sit on the dock and soak in the peace and quiet. There is a fire pit with chairs were you can sit at night to roast marshmallows or tell ghost stories. There is a full kitchen or you can use the outdoor grill.
Click Here To Check Rates On Airbnb!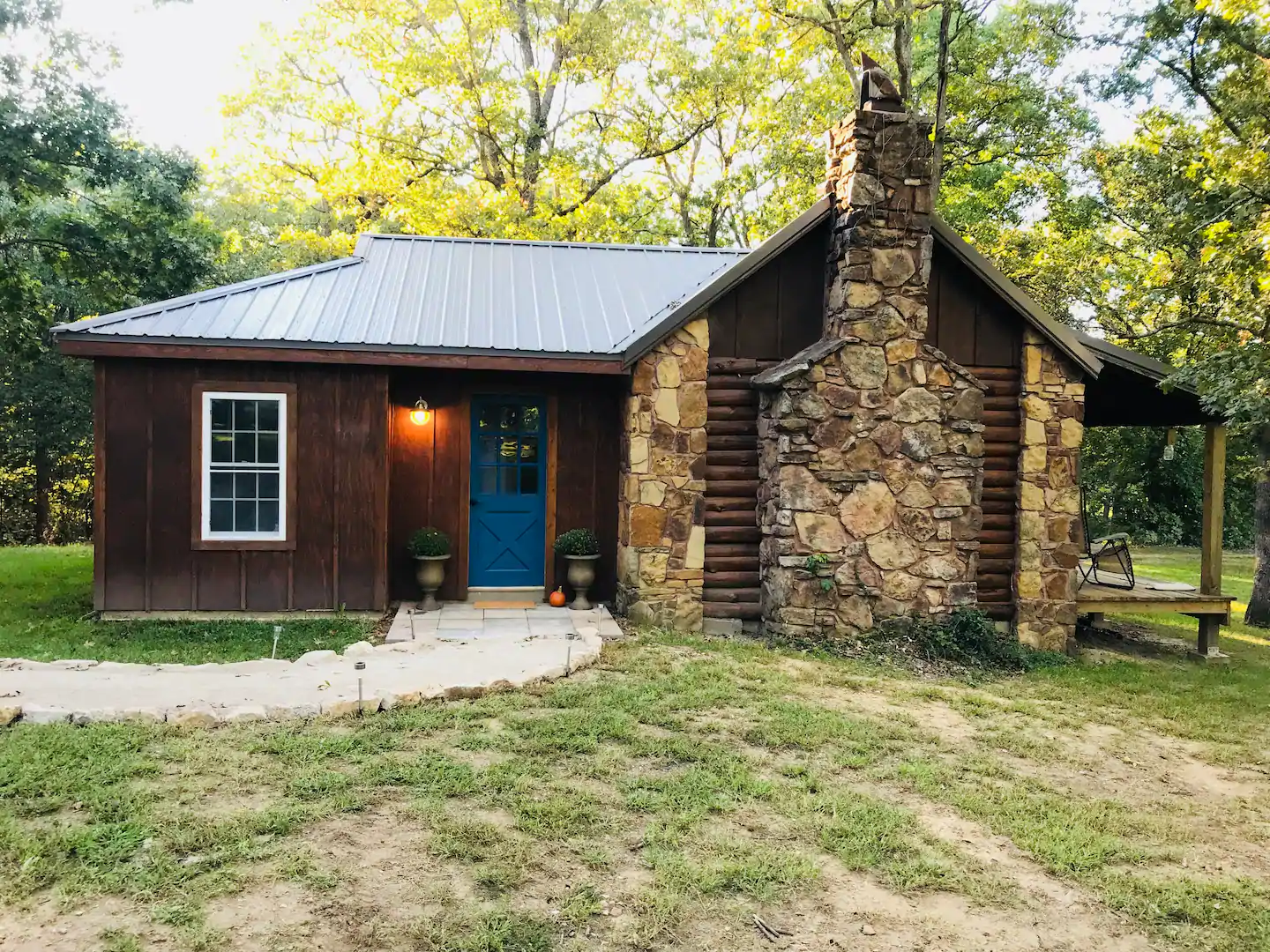 Serenity Creek Treehouse
We will end this list with a couple of treehouses, both of which are found at the Hidden Valley Wilderness Retreat, an adult-only nature getaway not far from Leavenworth. The 32-acre property has four rentals spaced out on it. This makes it a great place to meet fellow travelers or host a family reunion or friends' getaway.
The Serenity Creek Treehouse is one of the treehouse cabins found here. Made of two sections connected by an open-air walkway, this home is perfect for anyone who wants to stay in a unique place in a natural setting. There is a deck with seating and a BBQ as well as a screened-in porch. This is one of the best Airbnbs in Kansas for simply snuggling up and relaxing! Don't forget to check out the tranquil koi pond nearby.
Click Here To Check Rates On Airbnb!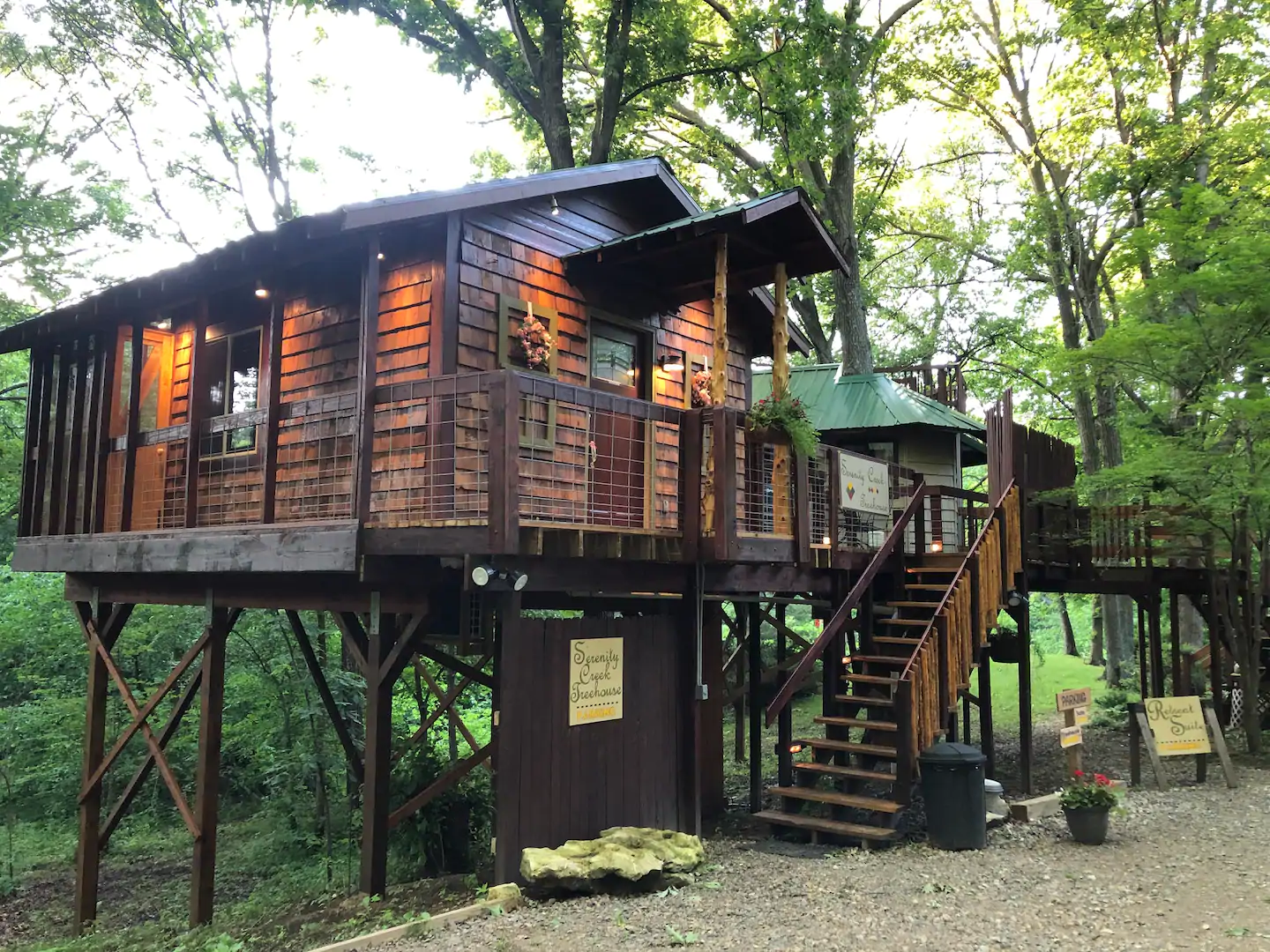 Graham's Treehouse
Graham's Treehouse is another romantic place to stay at the retreat. This home is found overlooking a creek and features large windows that let in a ton of natural light. There is a fire pit as well as a screened-in outdoor shower. The inside is full of comfy furniture and everything you would need to feel at home in the woods including a Keurig coffee maker and a TV. A screened-in porch allows you to look out into nature no matter the weather.
The Hidden Valley Wilderness Retreat is a large, beautiful property crisscrossed with hiking trails, streams, and ponds. There is also a shared hot tub where you can schedule a time for a calming soak. This area creates a little travel community while still providing a secluded atmosphere. You are sure to love it here and make some great memories!
Click Here To Check Rates On Airbnb!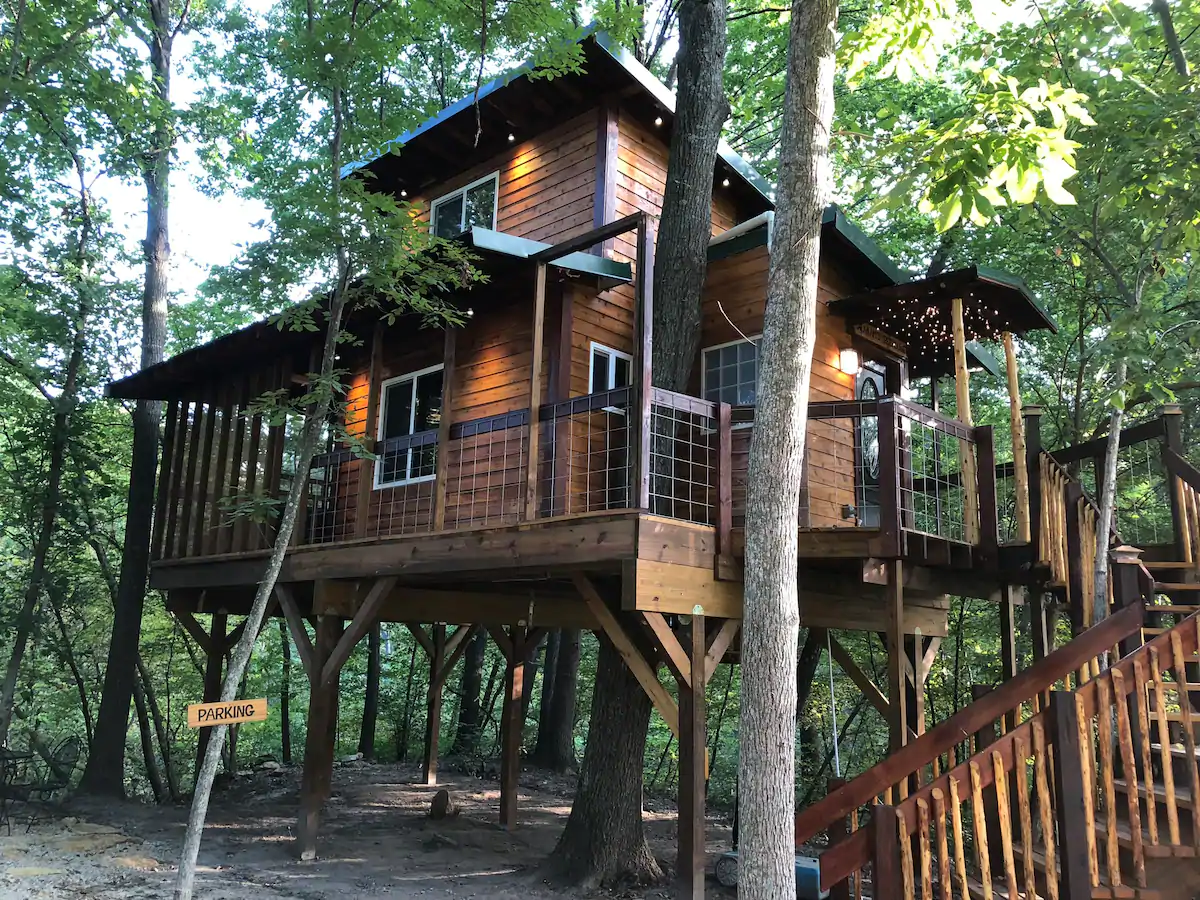 If Kansas was not on your radar, it should be now! Airbnbs in Kansas provide a great way to get away from real life for people living in the Midwest or anyone traveling through. Kansas is more than just a flyover state and has plenty of pretty nature areas to explore as well as cities to check out. If glamping or cabin stays are your ideas of a great time, then come to Kansas for the perfect, little vacation!