There are a surprising number of cute and rustic Airbnbs in Kansas! Found nearly smack in the middle of the country, Kansas is part of the Midwest, which many people consider to be "flyover states". However, to many people, this is home and Kansas should not be disregarded.
If you live in the Midwest and are searching for a nearby stay-cation or if you are traveling through Kansas and need a place to relax for a couple of nights, there are plenty of Kansas Airbnbs to choose from. Rustic cabins and historic buildings are just some of the accommodations you will find on this list. Whether you are looking for a romantic getaway or a family vacation, there is something for everyone!
Kansas might be known for being flat and full of farms, but there are plenty of fun outdoor things to do as well such as relaxing next to beautiful lakes and discovering historic sites. There are also many cute, small towns and lively cities to explore with kitschy, roadside attractions in between. The Sunflower State is the perfect place to get away from city noise and skyscrapers and enjoy peaceful family time in the country.
Without further ado, let's look at some Kansas getaways!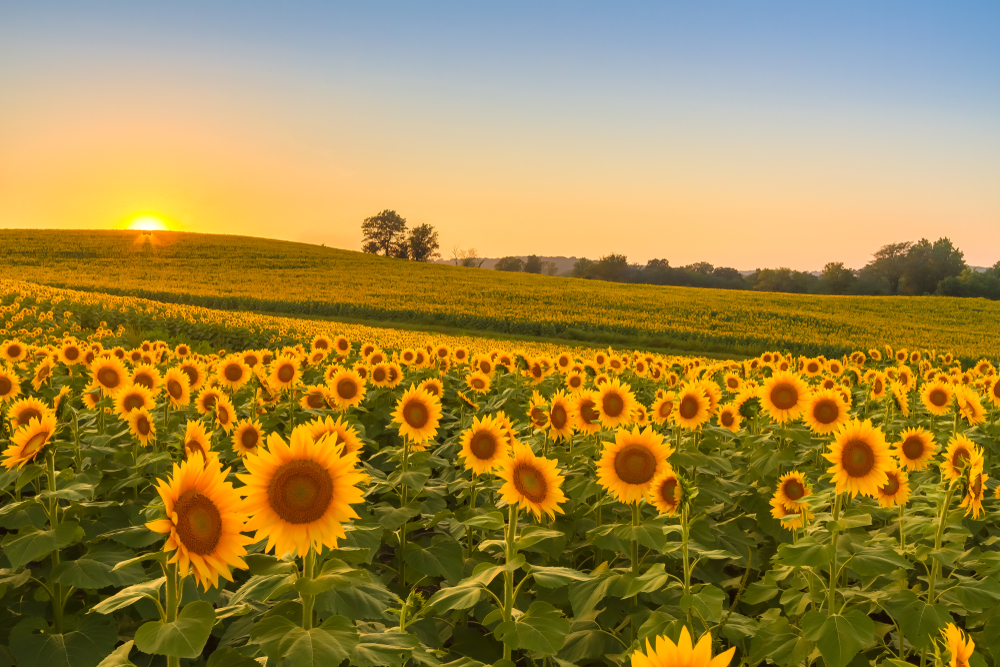 15 Best Airbnbs In Kansas (Cabins, VRBOs, And More!)
Stenhuset
Are you looking for cozy Kansas getaways you can call home for the duration of your trip? Stenhuset (which means "stone house" in Swedish) is a historic little haven that will be the perfect home away from home for a total of up to 6 guests.
Stenhuset's claim to fame is that it is the oldest standing house in Lindsborg, Kansas. By staying at this charming property you can embrace the history of the area while still enjoying the modern comforts of a recently renovated home.
The home in its current state features a combination of the original sandstone and wood. Pieces of the plaster have been removed throughout the interior of the home to expose the beautiful stone beneath. If you're seeking some fresh air, you can enjoy a meal or just simple relaxation under the outdoor pergola.
Stenhuset has a total of three levels with bedrooms on the upper and lower level, and a living room, kitchen, and dining area on the main floor. With stairs leading to every level of the house, this Kansas VRBO should only be booked by those who can comfortably navigate staircases.
Click Here To Check Rates On VRBO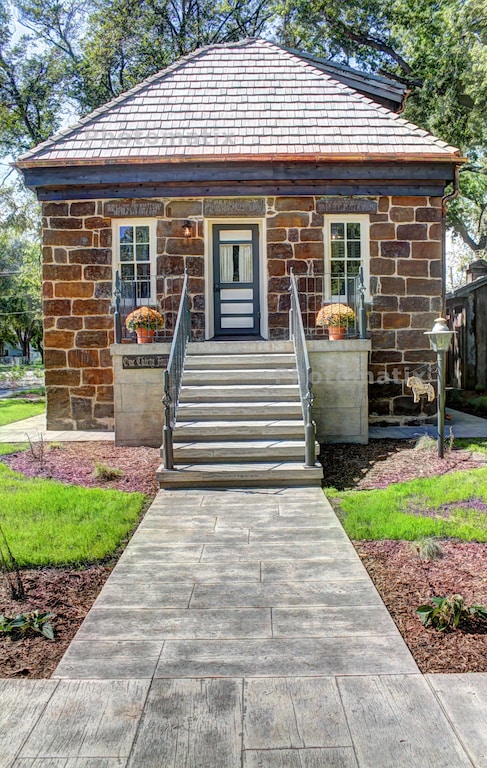 Herzog Haus
If you're looking for peaceful VRBOs in Kansas for a relaxing getaway, the historic Herzog Haus is waiting for you in Victoria, Kansas. Located across the street from Saint Fidelis Catholic Church (nicknamed Cathedral of the Plains), this house is also the perfect location for anyone getting married at the church.
This wonderfully unique property was once the town's general store. The façade of the home still resembles a storefront and the interior features much of the original hardwood floor. Add to all of that the exposed limestone walls and you have yourself a charming home away from home.
The home can accommodate up to six guests in 2 bedrooms. From the sunroom to the outdoor pergola, there is ample space to hang out and enjoy quality time with your friends and family. Whether you're firing up the grill outside for a delicious dinner or are curled up in the sunroom you're sure to have a memorable time in this home.
If you're looking to venture outside the house, the town of Hays, where you'll find the Fort Hays Historic Site, is just 10 miles away. You can also wander across the street to the church and explore the interior with its beautiful stained glass windows, paintings and more. There's a reason it's been named one of the 8 wonders of Kansas.
Click Here To Check Rates On VRBO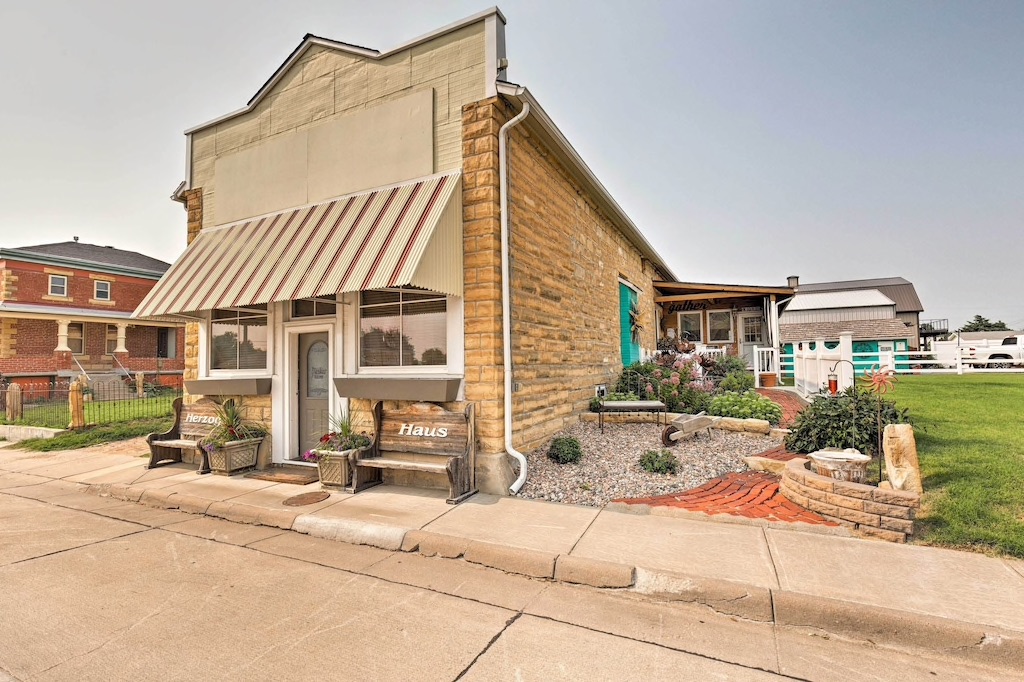 Cozy Cabin
You'll find one of the best cabin rentals in Kansas in Russell County where you'll enjoy your own little quiet retreat on the Kansas plains. This cozy cabin is the perfect getaway spot with a charming loft complete with string lights and a king bed, and a large couch for lounging in the living room downstairs.
This home, which has remained in the same family for over 100 years, was once an old milk barn. Depending on the time of year you might find yourself stepping outside to views of wheat or corn swaying in the breeze as you watch the sun set over the plains. Farm life can hardly get more peaceful than this.
As cozy as the interior of the cabin may be, there's plenty of opportunity for outdoor adventure nearby including watersports and fishing at Lake Wilson. When you're tuckered out and ready to return home you can swing by the grocery store just 7 minutes from the cabin to stock up on all you need to prepare a delicious dinner.
As previously mentioned, the king bed is located in the upstairs loft area. This is the only sleeping space so make sure you're up for the climb up to the loft space before booking.
Click Here To Check Rates On VRBO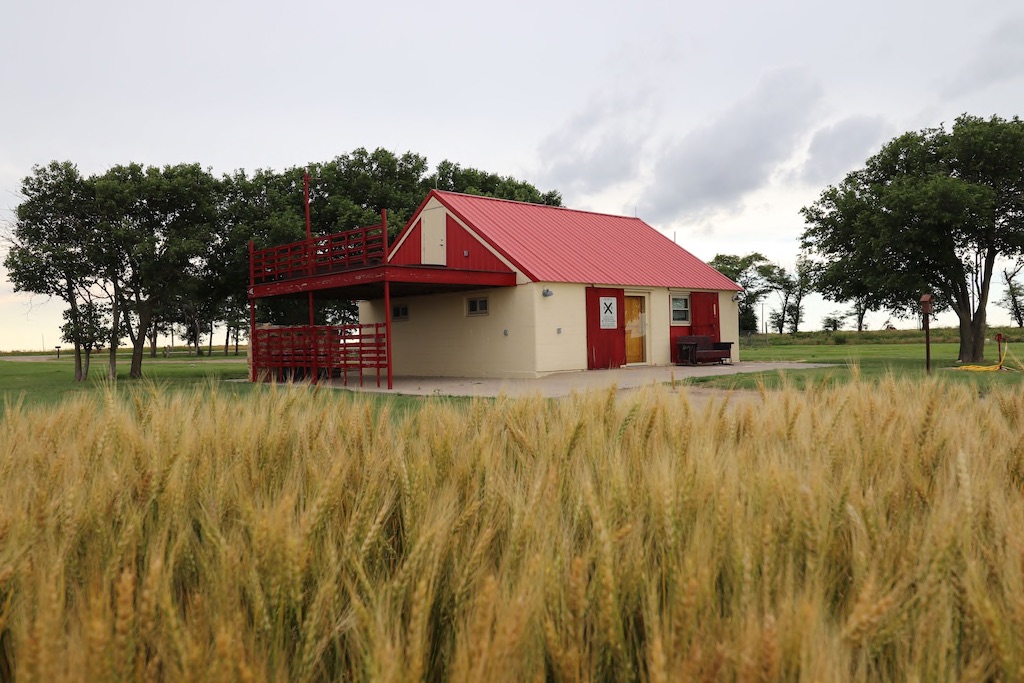 Sunset Cottage
If you're looking for Kansas getaways with historic charm and easy access to Kansas State University, then Sunset Cottage is the perfect location for you. In the quiet Thackrey neighborhood in Manhattan, Kansas lies this English Tudor-style home waiting to welcome you with its storybook-like exterior and modern interior.
The Sunset Cottage is conveniently located within walking distance of Kansas State University and is also ideally situated within Manhattan for easy access to everything you'll need during your stay. However, with its beautiful outdoor space and well-appointed interior you may not want to leave the cottage at all.
During your stay you can challenge your family and friends to a game of foosball, lounge in front of the TV on the large couch, or enjoy the warmth of the fireplace. The home can accommodate up to 6 guests with plenty of space to hang out and enjoy each other's company.
Though there's plenty of space to eat inside with a generously sized kitchen island and additional seating to the side, an enclosed patio space can also be the perfect spot to enjoy a relaxing dinner cooked on the outdoor grill. After dinner, you might consider gathering around the outdoor fire pit as you reminisce on the events of the day.
Click Here To Check Rates On VRBO
The Lodge
With a 12-acre lake in your backyard and all the secluded privacy you could hope for, you'd be hard-pressed to find better VRBOs in Kansas than The Lodge. This remote property is surrounded by 278 acres of forest and pasture in addition to the lake that is perfect for fishing, swimming, and boating.
The hosts provide a paddleboard, paddleboat, kayak, life jackets, and more meaning it's impossible to be bored during your stay at this charming lodge. Regardless of how you spend your time on the lake, you'll be thankful for its proximity to the lodge and the natural beauty it brings to the area.
Though much of your day will likely be spent outside enjoying the water or grilling up dinner on the patio, the lodge itself has plenty to offer including living room views of the lake that can be enjoyed while warming yourself by the fire, and an upstairs loft area for kicking back and watching a little TV. The exterior of the lodge, made from a combination of stone and wood, deserves recognition as well.
During your stay, you'll likely encounter some or all of the wildlife that roams the area including deer, turkeys, quail, and armadillos. There's nothing quite like waking up to a stunning sunrise, a handful of deer, and a beautiful natural backdrop.
Click Here To Check Rates On VRBO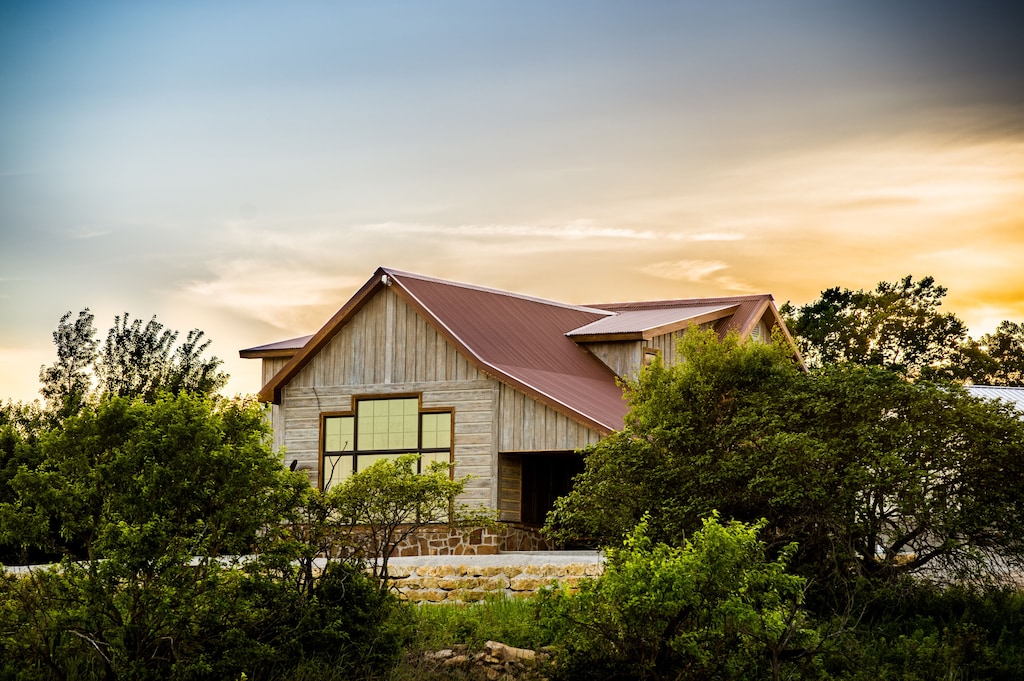 100% Off-Grid Cabin
If you're looking for an off-grid experience but would like the convenience of having running water and AC or just a bigger space, then this off-grid cabin is perfect for you! Up to five people can stay here, and it's a great location for vacationing with your children who will love having access to a swing set and trampoline.
The cabin is located right next to a big pond where you can go boating, swimming, or fishing. In the evening, you can cook up a meal on the BBQ and then roast marshmallows for dessert. There is a big, enclosed porch with plenty of seating to relax.
This is one of the most idyllic Kansas cabins you'll find. It is not far from the small town of Junction City or Milford State Park. If you are wanting to get away from city life and people, and experience a taste of life in the country, then this cabin is the perfect Kansas getaway for you.
Click Here To Check Rates On VRBO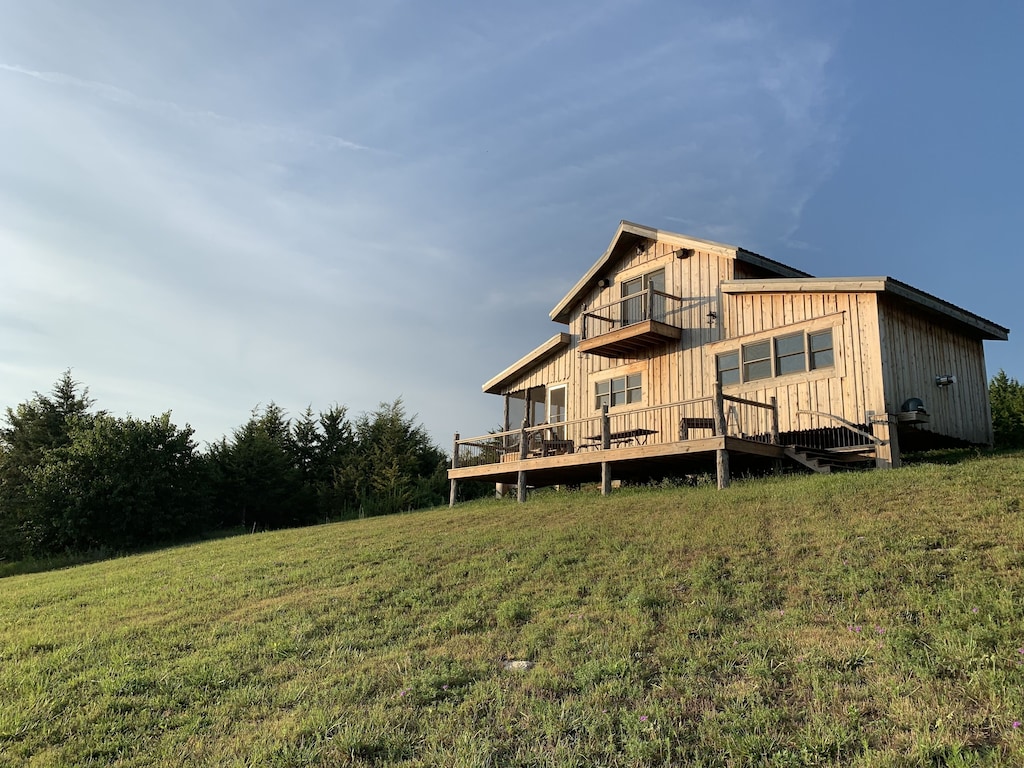 The StoneHouse at Prairiewood
The StoneHouse at Prairiewood is a luxurious Kansas VRBO that is worth booking. This Manhattan, Kansas estate was originally the farmstead of one of the earliest settlers of the town, and is now a stunning home that embraces its history.
Many of the original elements of the home remain including the hand-hewn timbers and limestone walls. Though it has retained some of its history, the house features many modern elements in its design. Old and new blend perfectly together to create a home away from home that you'll adore.
From the relaxing two-person soaker tub in the bathroom to the sunlit bedrooms, you'll feel completely pampered throughout your stay. As if the interior wasn't luxurious enough, the property's outdoor area is equally stunning.
A well-manicured lawn separates the home from a large salt-water hot tub that can be enjoyed all year round. You'll also find a wonderful patio nearby for relaxing and shooting the breeze. This country hillside home will surely have you dreaming of a return trip.
Click Here To Check Rates On VRBO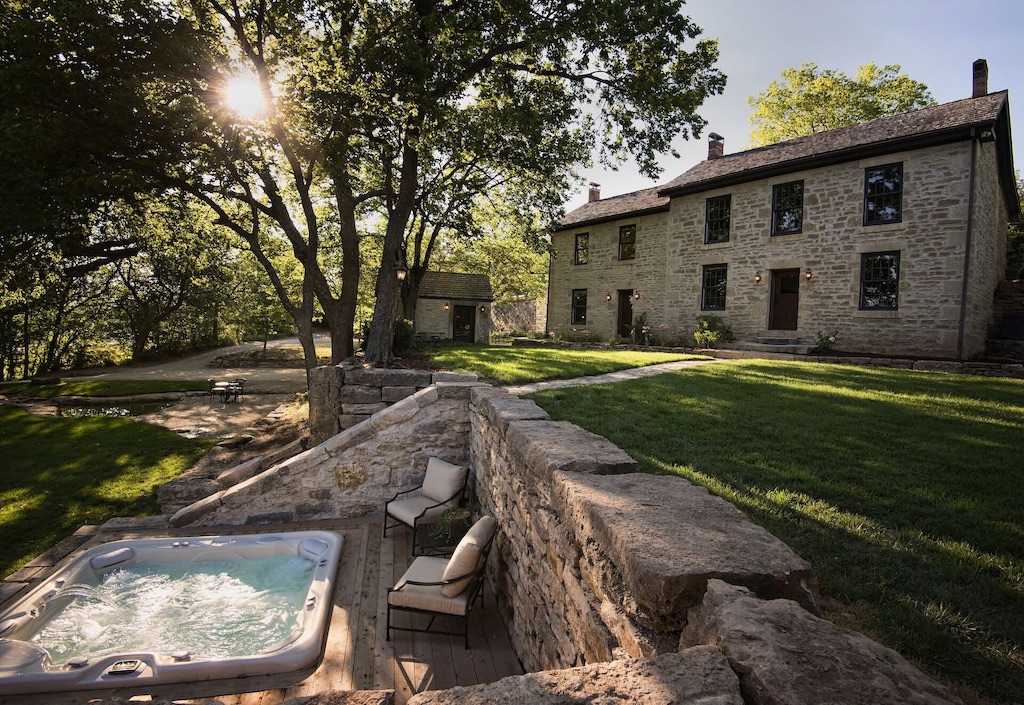 Paw Print Cabin
You'll find one of the best cabins in Kansas on 40 acres of land in Elmdale. Paw Print Cabin, a cozy paradise constructed from the remains of an abandoned farmstead, is surrounded by endless natural beauty.
This property is the perfect tranquil getaway for you and your family with acres upon acres of property to stroll around, and access to Middle Creek for fishing and cooling off. The hosts have also made it easy to enjoy the beautiful surroundings right from the cabin with an outdoor deck and a wonderful porch swing.
In addition to the outdoor seating on the covered, wrap-around porch, you'll find a grill perfect for whipping up dinner and dining al fresco, and a fire pit for warmth when nighttime hits. If you're lucky enough to get the master bedroom you'll have direct access to the porch from your room.
Full of gorgeous wood pieces, homey touches, and a fireplace to curl up next to, the interior of the house is welcoming and makes you feel right at home. Though the master bedroom is downstairs, two twin beds and a full-size bed are upstairs in the loft, so make sure anyone who will be staying in the loft is comfortable climbing stairs.
Click Here To Check Rates On VRBO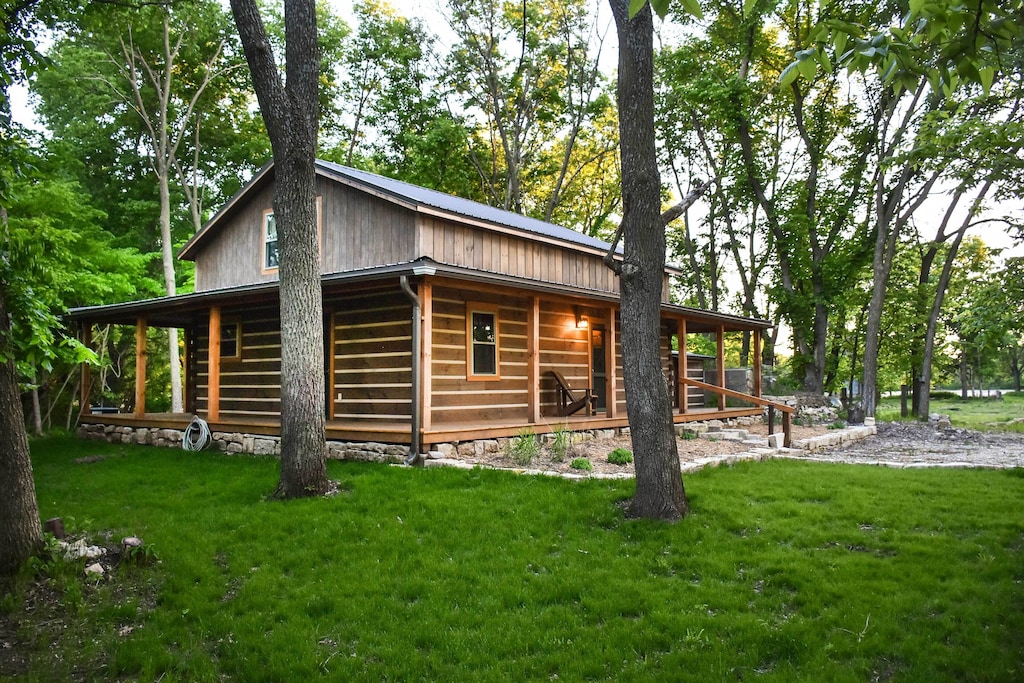 Woodward Cabin #2
Does the idea of Kansas cabins on the lake sound appealing to you and your 9 closest family and friends? Woodward Cabin #2 has everything you need for a summer of fun on Lake Wabaunsee near Alma, Kansas.
Though this property can be enjoyed at any time of the year, the summer is definitely the best time to go, as the lake access is the biggest draw of the property. When you book this location you also gain access to the boathouse for lounging around and catching the stunning sunsets reflected off the water, as well as some kayaks for exploring the lake.
Fishing is another great way to spend your time at the lake, and should you wish to cool off in the water yourself, there's a free swimming beach across from the property. If you'd prefer to stay closer to the house you can catch a view of the lake through the trees from the deck off the living room or stay inside to play a game of pool.
The cabin itself is perfect for large groups with three bedrooms upstairs, one bedroom downstairs, and living rooms and kitchens on both levels. It's the perfect space to enjoy each other's company while not stepping on each other's toes. There are a lot of stairs involved with this property, particularly the long and potentially challenging ones down to the lake and the boathouse. Make sure you are comfortable handling the staircases before booking this property.
Click Here To Check Rates On VRBO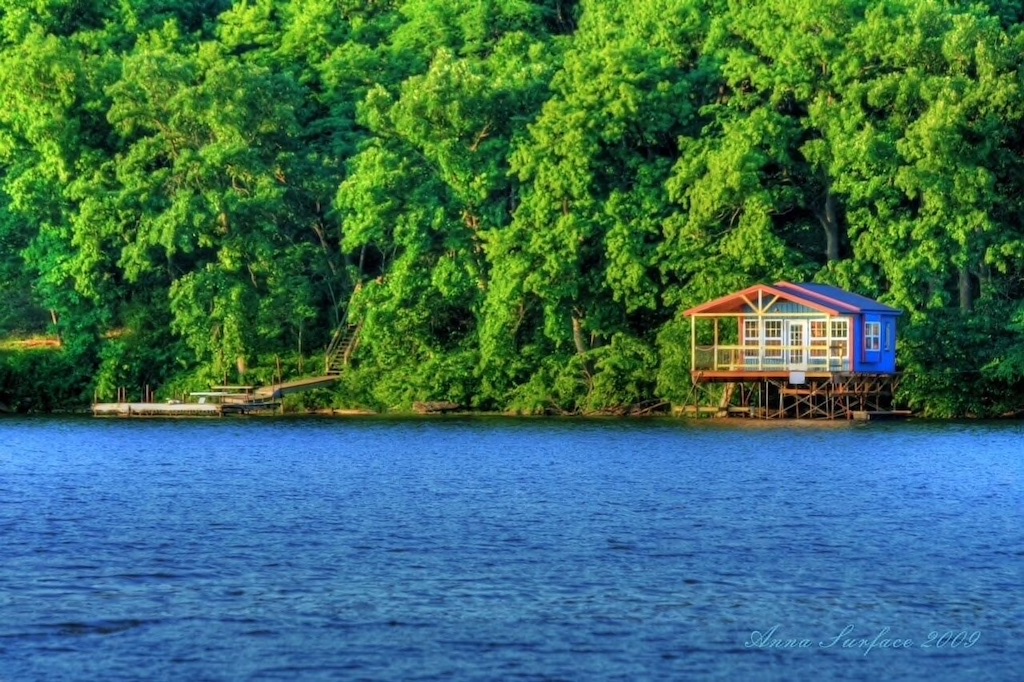 Rooster House
Many of the vacation rentals in Kansas on this list have been about finding peace and quiet in secluded locations, however the Rooster House places you right near the heart of downtown Lawrence. This home is the perfect location for enjoying the conveniences and attractions of the historic downtown area while staying in a quiet neighborhood.
The Rooster House is bright, colorful, and artsy with pops of blue throughout and artwork from local artists up on the walls. With plenty of windows throughout and skylights in the kitchen the home is filled with light brightening up the space even further. A pool table is also provided for your entertainment so you can enjoy a few games before heading downtown.
This location near downtown allows you to walk to restaurants and stores, easily visit the Arts Center, or take a stroll through the farmer's market from spring through fall. With free street parking and private alley parking, you'll never have to worry about finding a parking spot when the streets of downtown fill up and parking spots have to be battled for.
Like the neighborhood it resides in, the home itself is older and has many historic elements including the steep staircase leading to the two upstairs bedrooms. There is also no bathroom upstairs, so these are things to keep in mind when deciding whether to book the property.
Click Here To Check Rates On VRBO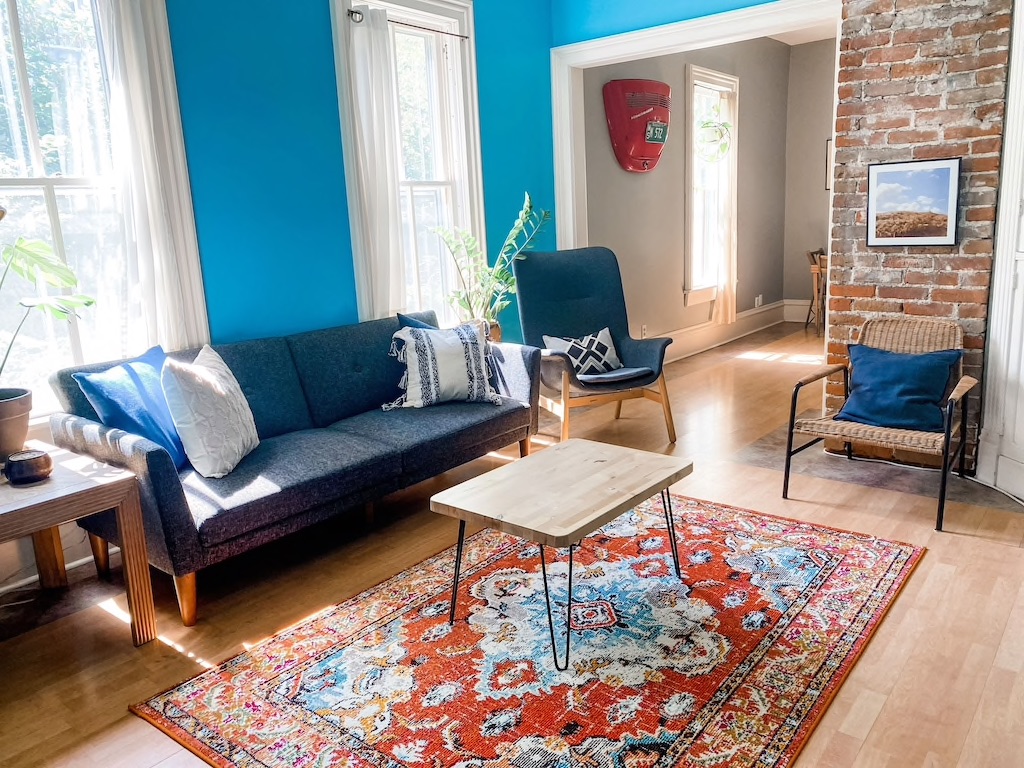 Bell Tent
If you're looking to go glamping in Kansas, the Bell Tent in Manhattan is the perfect place to do just that. This location has the convenience of being just under 3 miles from Kansas State University while being secluded enough to enjoy the thrills of glamping in a beautiful natural environment.
Oaks, hickory trees, and redbuds surround the tent along with a stream that makes this modest, but cozy Kansas VRBO an ideal getaway. The inside of the tent is relatively basic with just a queen sized bed, some chairs, and potable water, but being in the middle of nature, you'll want to spend most of your time outdoors anyway.
You'll find hiking trails nearby the tent, perfect for venturing out to explore. You might even catch glimpses of deer, turkey, owls, or hawks along the way. Don't be surprised if they make their way near the glamping site as well.
A wash area is provided outside for freshening up after your adventures. Follow that with dinner and s'mores by the fire pit with light from the outdoor lanterns guiding you back to the tent, and you have yourself the recipe for a perfect trip.
Click Here To Check Rates On VRBO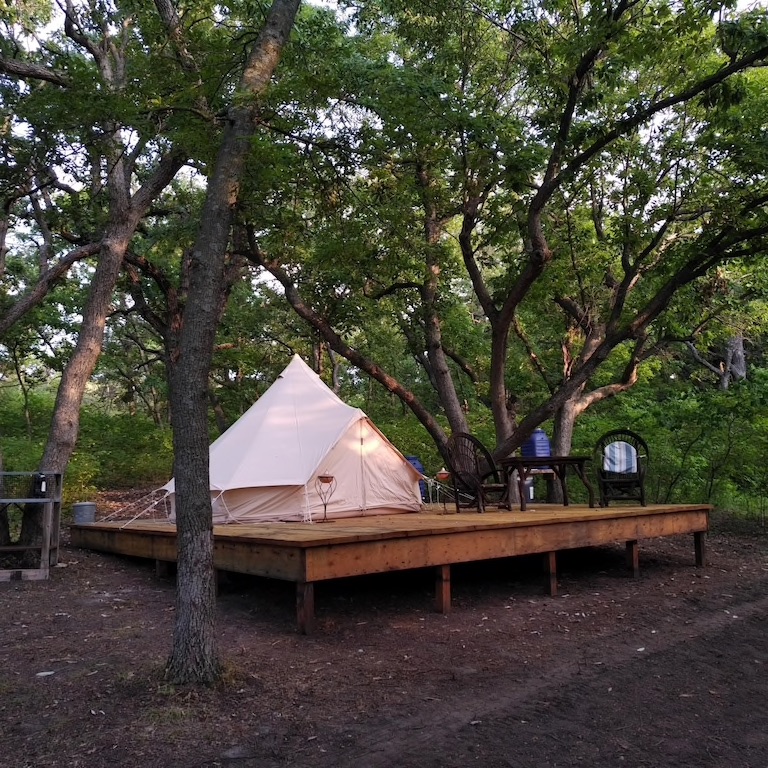 Konza Cabin
Konza Cabin in Manhattan is one of the most unique Kansas Airbnbs you'll experience. This house, if you can call it that, was crafted by connecting two metal grain bins with glass walls, and was featured on the TV show "You Can't Turn That Into A House". It turns out you very much can turn it into a house! Now people happily travel to this home for the opportunity to stay in such an unusual location.
This Kansas Airbnb is found on a working farm with 100 acres of land for visitors to explore. You can relax by watching the cow graze or by feeding the horses. There is also a pond to fish in and hills to hike.
When evening falls, build a fire in the fire pit to stay warm. Up to four people can stay here, so it's a great location for a small family to come experience farm life. There is a full kitchen and the water is spring-fed.
Click Here To Check Rates On Airbnb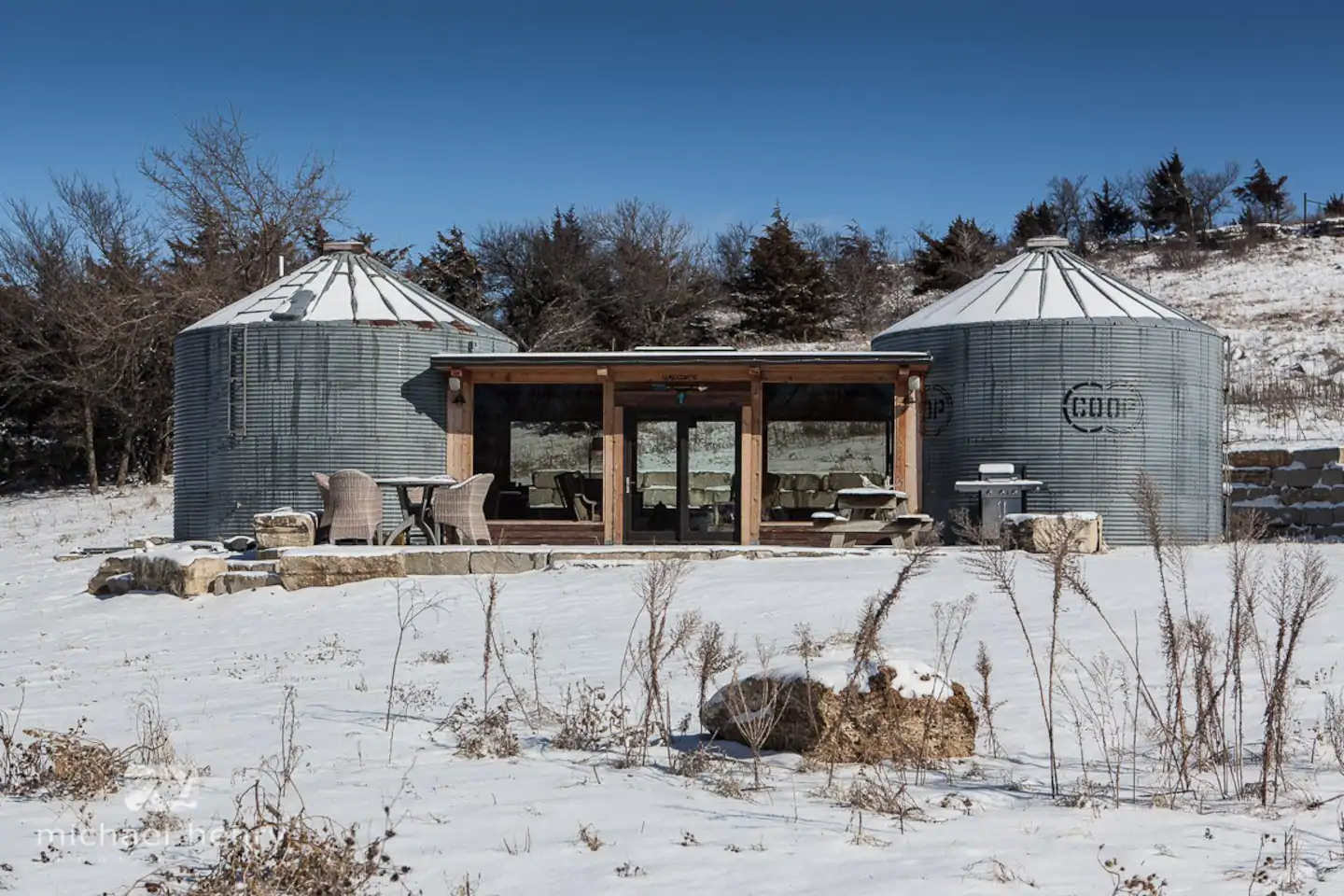 The Santa Fe Boxcar
Another one of the best Airbnbs in Kansas is the Santa Fe Boxcar. This 1941 renovated train car is just too cool to pass up, especially if you have any little kids who are really into trains! This accommodation is cute inside and out with rustic details inside that tie together the train theme.
Like the last Airbnb, this one is found on a farm. While you sit outside sipping your morning coffee, you can watch the horses graze peacefully.
There is a pool next to the boxcar as well as a fire pit to roast marshmallows. When you aren't relaxing at the Airbnb, you can venture out to the nearby small towns or head into Wichita, the state's largest city, which is about thirty minutes away.
Click Here To Check Rates On Airbnb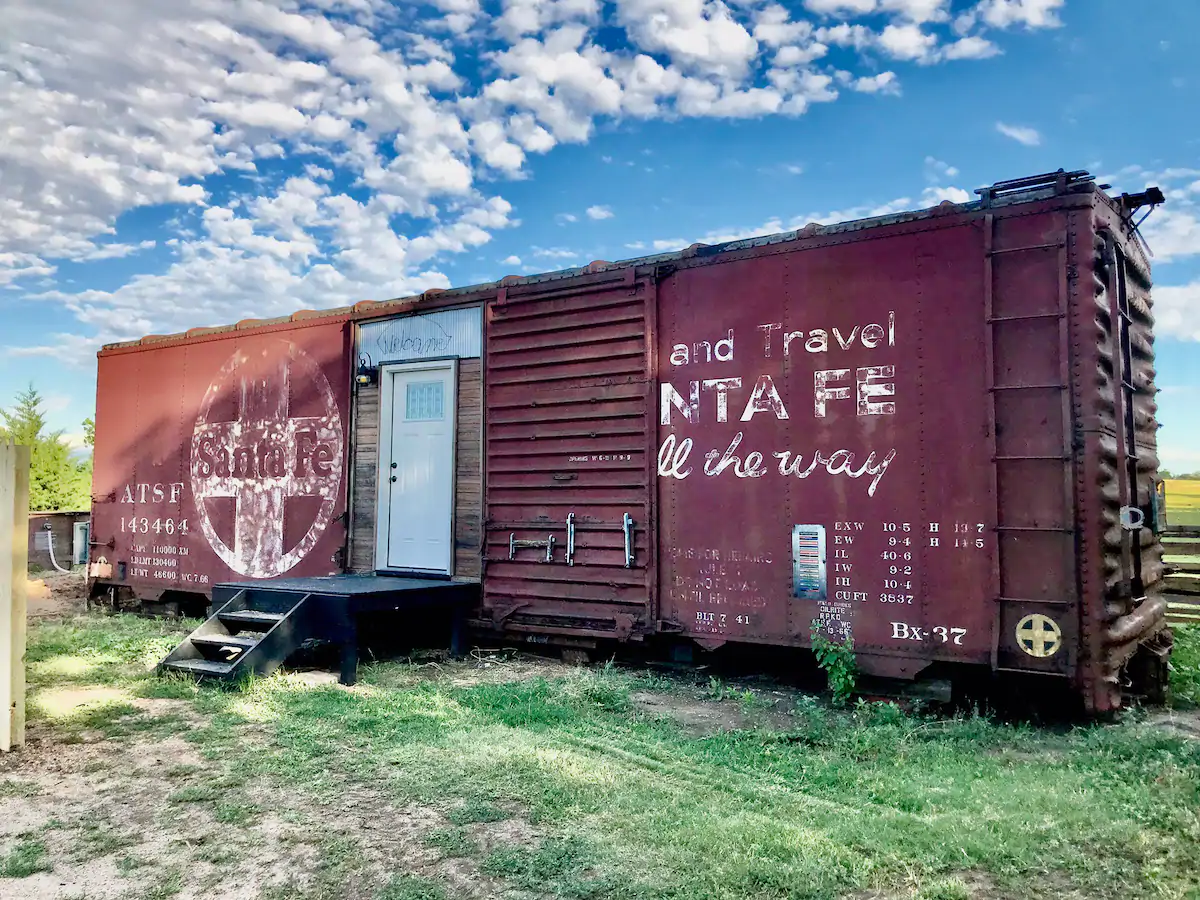 Queenie's Loft
If you thought this list was going to be all rustic, charming cabins in the woods, you were wrong! Queenie's Loft is a modern and chic apartment in downtown Leavenworth. The windows look out over the City Hall and a statue of Abraham Lincoln, who delivered his first presidential campaign speech in this city in 1859. The exposed, brick walls of this building hold a 165-year-old history.
This apartment is open and airy, full of modern furnishings, but not short on rustic details. When you aren't snuggled up on the couch watching the big screen TV, you can explore the city of Leavenworth. There are many restaurants, bars, and shops within walking distance, and the Missouri River is just a stone's throw away as well.
Click Here To Check Rates On Airbnb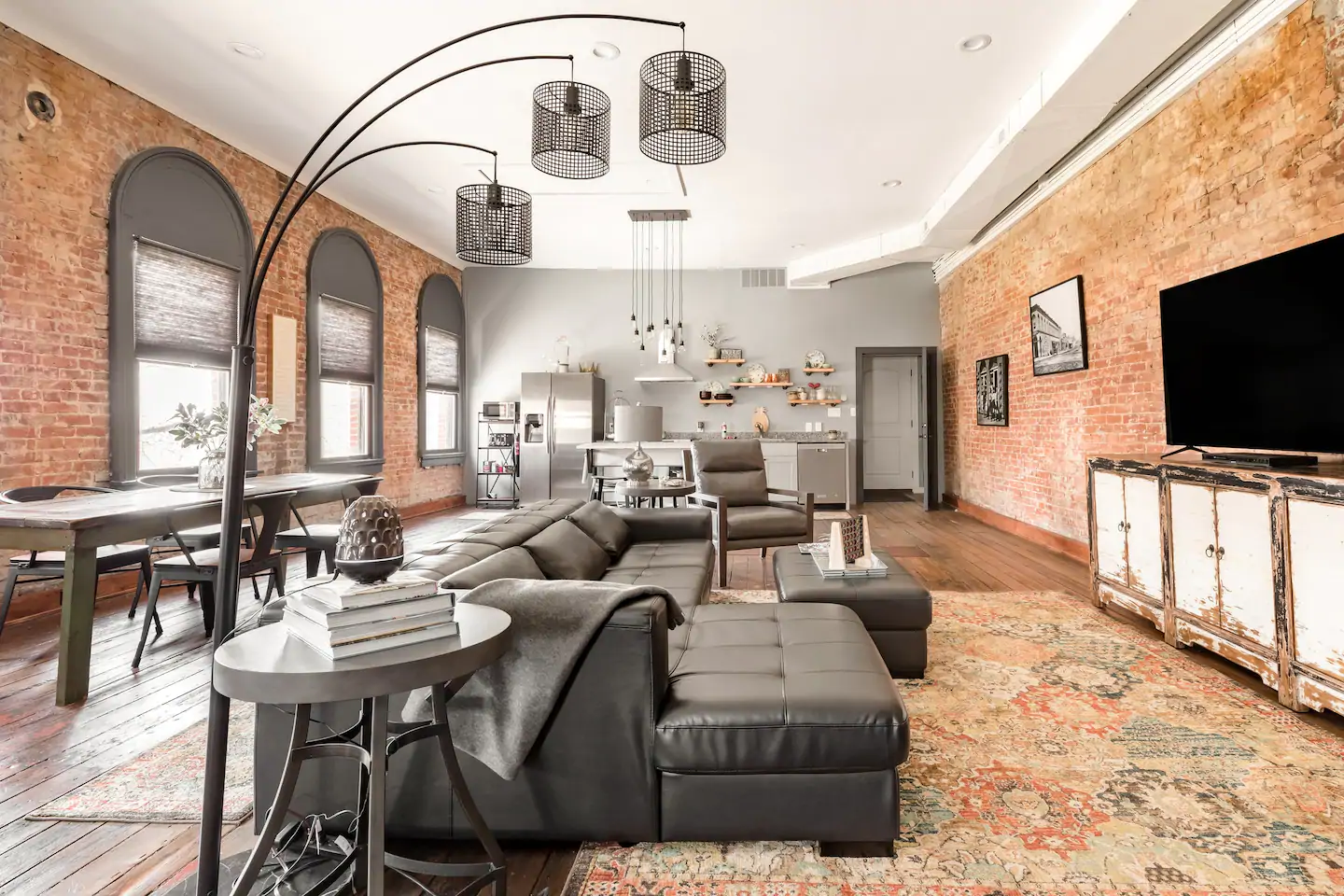 Serenity Creek Treehouse
Serenity Creek Treehouse is found at the Hidden Valley Wilderness Retreat, an adults-only nature getaway not far from Leavenworth. The 32-acre property has four rentals spaced out on it. This makes it a great place to meet fellow travelers or host a family reunion or getaway among friends.
The Serenity Creek Treehouse is one of the treehouse cabins found here. Made of two sections connected by an open-air walkway, this home is perfect for anyone who wants to stay in a unique place in a natural setting. There is a deck with seating and a BBQ, as well as a screened-in porch.
This is one of the best Airbnbs in Kansas for simply snuggling up and relaxing. Don't forget to check out the tranquil koi pond nearby.
Click Here To Check Rates On Airbnb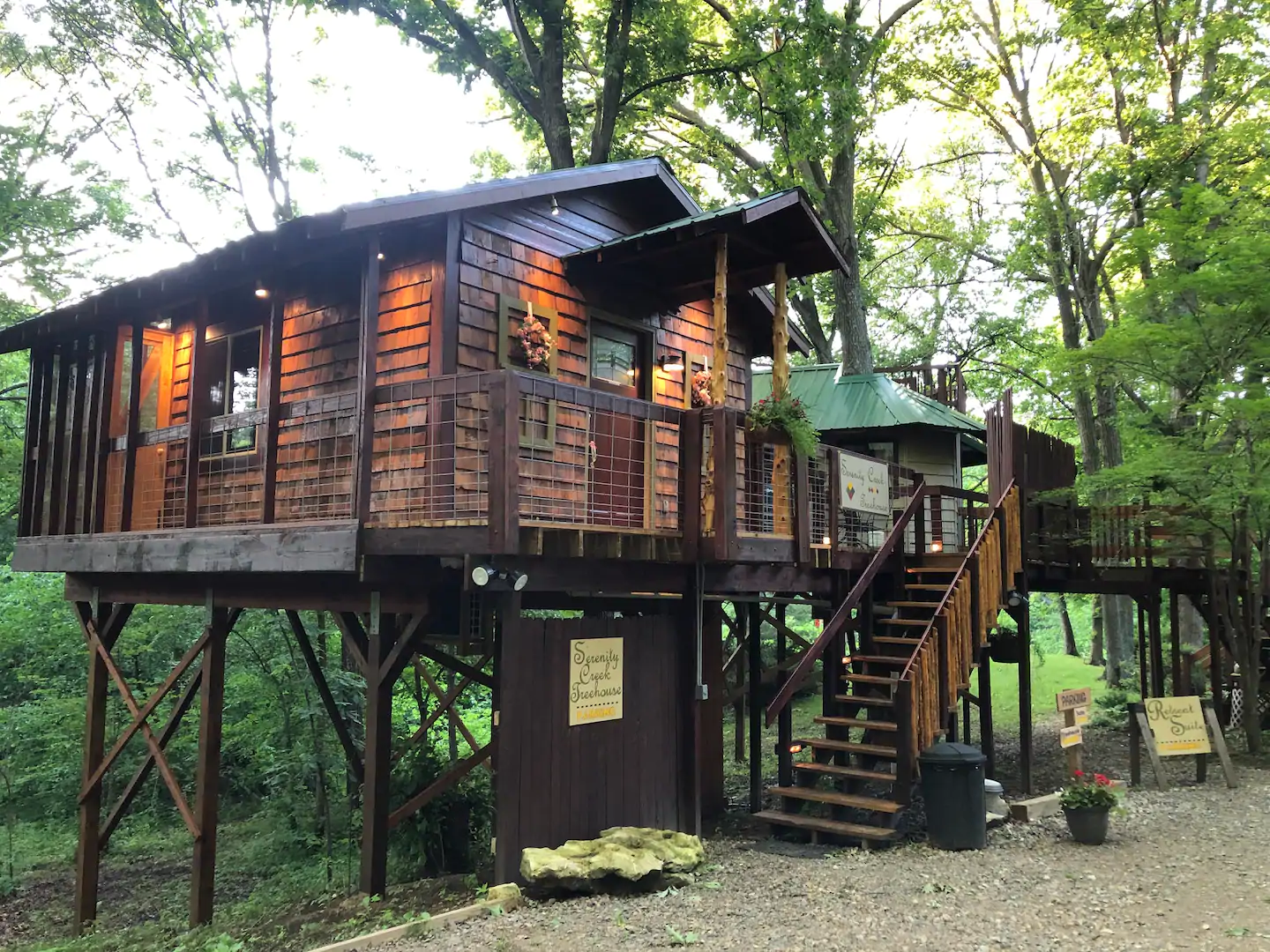 If Kansas was not on your radar, it should be now! Airbnbs in Kansas provide great getaways from real life for people living in the Midwest or anyone traveling through. Kansas is more than just a flyover state and has plenty of beautiful natural landscapes to enjoy as well as cities to explore.
If glamping or cabin stays are your ideas of a great time, then come to Kansas for the perfect little vacation! If you have any questions as you plan your trip, feel free to let us know in the comments section.