Are you planning a trip and wondering what crucial items should be included in your Iceland packing list? We're here to help. Iceland's climate is unstable with sudden changes, and usually includes combinations of rain, wind and cold. Even on days when you look out your window and see sunlight, more often than not it's not as pleasant outside as it might appear. If you are thinking of driving the Ring Road in Iceland, this is the post for you!
Icelander's call this "Gluggavedur," or "window weather." Despite the weather, the country is beautiful with natural wonders most people only dream about. It is absolutely worth exploring in all weather conditions, but it's essential that you come prepared to maximize your experience.
In addition to packing an appropriate wardrobe, be sure to bring all the necessities to allow you to capture Iceland's unique and spectacular natural landscape to show all your friends and family who weren't fortunate enough to join you on your trip.
Cameras and smartphones are not without their issues, and we've taken it upon ourselves to help ensure that all your photos of the Northern Lights, that video you took of the erupting geyser, and your underwater snorkeling shot at Thingvellir National Park, all make it back home with you.
To help you with your planning, we put together Where To Stay In Iceland where we break down all of the best lodging options around the Ring Road. We also have 3-Day Iceland Itinerary, 4-Day Iceland Itinerary, and 5-Day Iceland itinerary options to help you continue to plan your trip!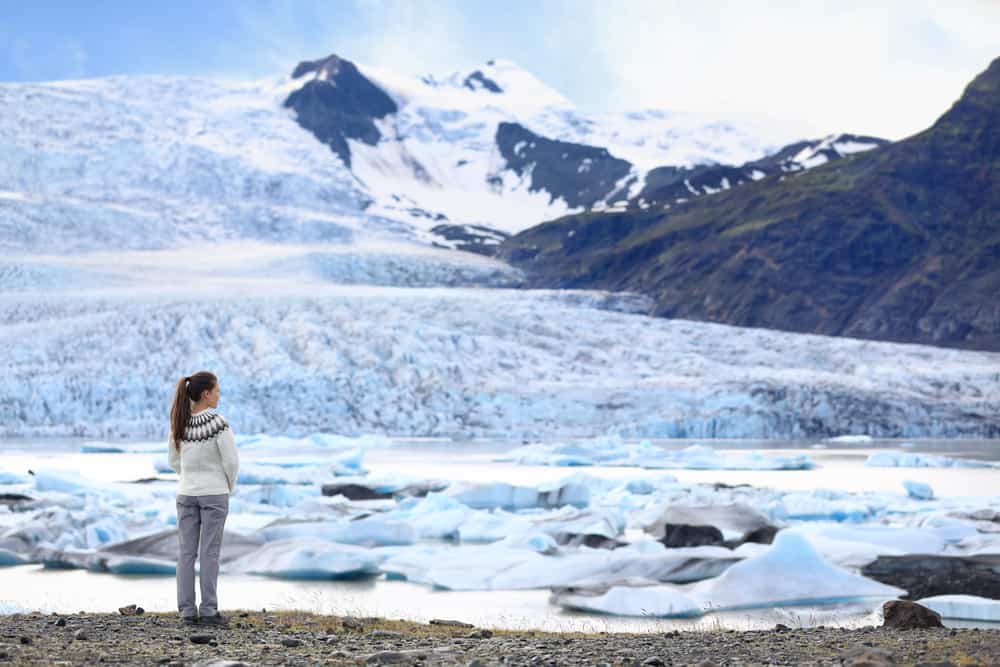 Iceland Packing List: 10 Things You Are Forgetting To Bring
#1. Add A Swimsuit To Your Iceland Packing List To Take Advantage Of Iceland's Hot Tubs and Hot Pots
It may seem counterintuitive to bring a swimsuit to a country called Iceland, and yet, adding a swimsuit to your Iceland packing list is essential. It's such an easy, small item to pack, and will undoubtedly come in handy frequently throughout your trip. Iceland is teeming with hot tubs at the public pools and natural hot pots right out in the middle of nature. Every town in Iceland has at least one swimming pool complex (Reykjavik has many). This usually includes a heated lap swimming pool, a heated kiddie pool, and multiple hot tubs of differing temperatures. Few things are more relaxing than sitting in a hot tub with the crisp Icelandic air blowing around you to cool you down as your body temperature rises.
If soaking in the middle of nature while gazing at glaciers, snow capped mountains, or waterfalls is more your style, Iceland has hot pots throughout the country for you to enjoy. The hot pots generally come with more privacy than their swimming pool hot tub counterparts, as they often take more commitment to get to and are less frequented as a result. The hot pots are filled with natural geothermal heated water, so the water temperature isn't as regulated as it would be in a pool, but many of the hot pots remain at comfortable temperatures.
The other alternatives to the hot tubs and hot pots include the popular Blue Lagoon, or its northern counterpart, the Mývatn nature baths. Both are impressive and relaxing experiences, however the increase in tourism has made them more expensive and at times overcrowded. The Blue Lagoon requires advanced booking to reserve a time slot, and at the Mývatn Nature Baths, it's encouraged to arrive when it opens to avoid navigating larger crowds. Despite the crowds and prices, both experiences are worthy of a visit at least once. As long as you've added a swimsuit to your Iceland packing list you won't miss out on any of these unbelievable bathing opportunities.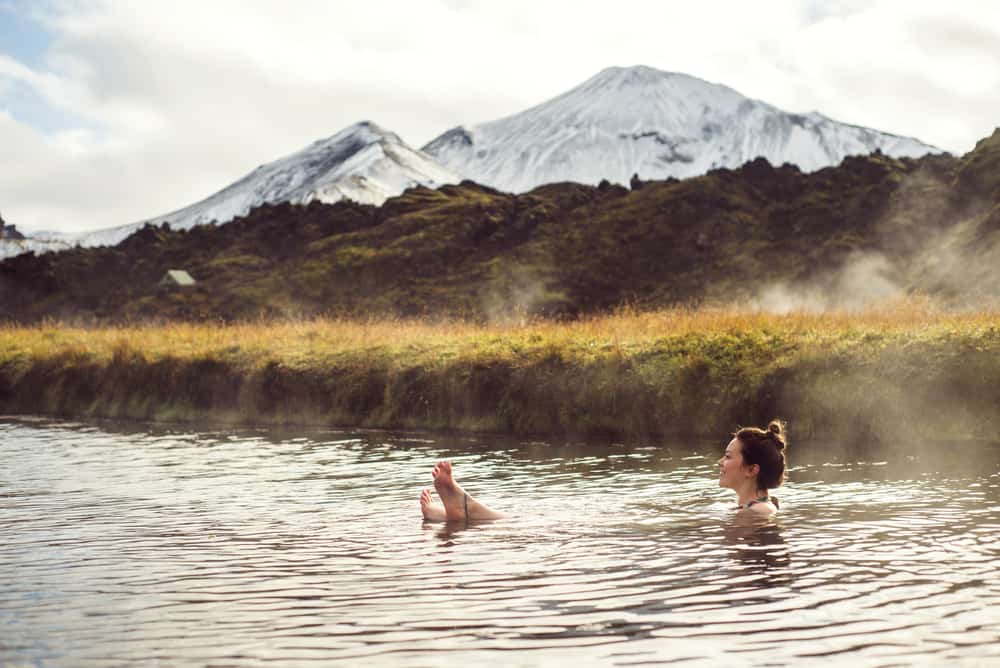 #2. When Packing For Iceland, Don't Forget A Portable Power Bank
Iceland's biggest draw is its natural beauty, so the majority of your trip will likely be spent out in the middle of nature rather than holed up in the city. With no place to plug your phone in while exploring, having a portable power bank becomes a necessary addition to your Iceland packing list. Even if you don't plan on using your phone for everyday uses such as texting and checking social media, having a charged phone is still critical.
Iceland is not always an easy country to navigate for tourists. People have attempted to cross rivers in unsuitable cars, or wind up injuring themselves on a long hike off the beaten path. Though you obviously hope you never find yourself in either of these situations, if you do happen to need help from Iceland search and rescue or even run out of gas and need the help of a friend, having a charged phone will get you that help when you're in a bind. You'll also want to have a charged phone to potentially get alerts from Icelandic authorities in the case of an emergency. If for example there was an impending volcanic eruption, they would alert all cellphones within range of the closest cell tower. Iceland is also full of picturesque photo opportunities at every turn. You'll be glad you were able to charge your phone to capture all the stunning landscapes to show your friends back home.
Portable power banks generally range from $10-$40 and will help you recharge your phone while out and about. So bring a small power bank along on your adventures and you will thank us later! We specifically love and recommend the Anker PowerCore 10000, and use it in all of our travels. We have used the suggestions listed above, but this is what we currently travel with. It is a little more expensive, but it is good quality and should be added to your Iceland packing list if you have a smartphone.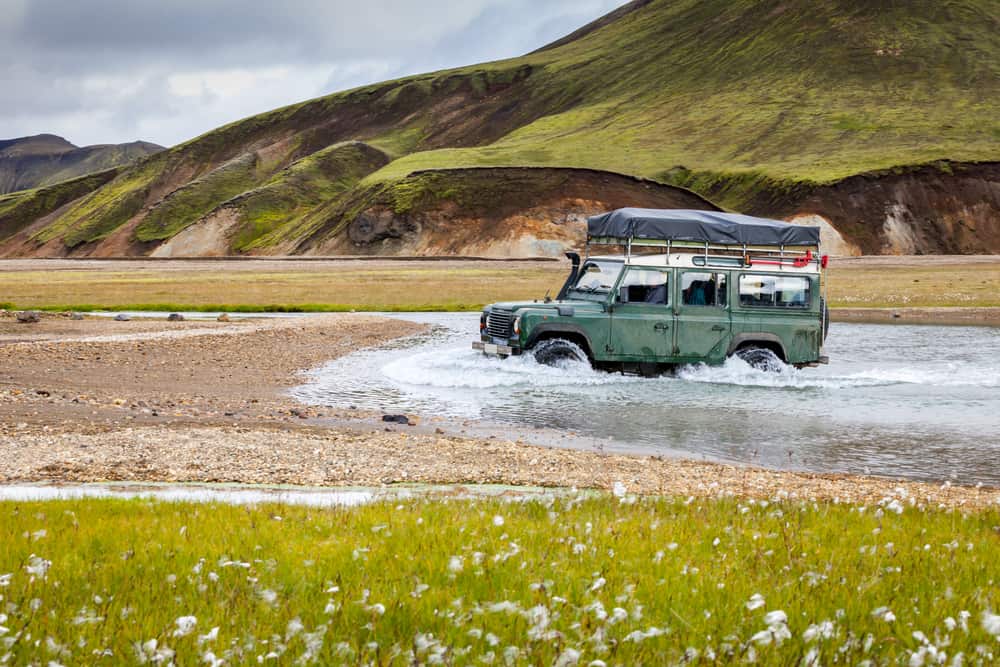 #3. Multiple Memory Cards So You Don't Have To Worry About Running Out Of Space
Iceland is a country of endless natural beauty. From floating icebergs and thundering waterfalls to lava tubes and volcanic craters, there's no shortage of stunning photo opportunities and memories you'll want to capture. If you've included a camera on your Iceland packing list, we suggest you add additional memory cards to your list as well. Unless you also plan to bring a computer to Iceland, you will have no way of uploading your photos to clear your existing memory card.
Purchasing additional memory cards costs under $20 and takes up no space in your luggage when packing for Iceland. Having a backup can potentially save you a lot of heartache if something goes wrong and your memory card fills up or malfunctions. There is nothing worse than finding yourself in the perfect moment, reaching for your camera and discovering you don't have enough space on your card to capture the photo. We have been here before, and it is really disappointing to be out and about and unable to capture beautiful photos and memories of your travels simply because you forgot to delete photos to clear up space. We hope that by adding this to your Iceland packing list you can avoid finding yourself in frustrating situations like ours.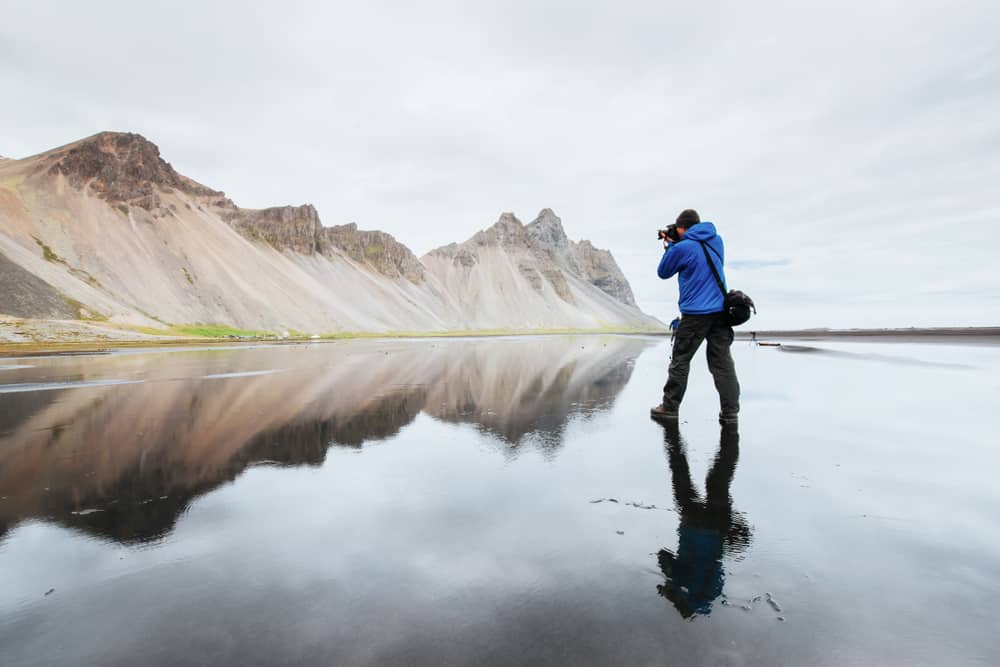 #4. Don't Forget A Portable Smartphone Flash Drive For Your Photos
Smartphones are so advanced these days that you may even decide to leave your camera off your Iceland packing list to save some room. If you decide that capturing your experiences on your smartphone is the way to go, we implore you to back up your memories. The best way to do this is with a portable smartphone flash drive. A flash drive is a small storage device that you connect to your smartphone to safely and easily download photos from your phone to the device.
It is the worst feeling in the world to lose your photos and memories from a trip. We have done it before, which is why we always make sure to back up our photos to a mobile flash drive. It is quite easy to do and if your phone was to be stolen, or you accidentally delete photos from your phone, you will still be able to recover them if you uploaded them to this device!
We recommend the iDiskk USB 3.0 128GB as it is a certified device. More people of all ages are documenting their vacations on smartphones, so we encourage you to invest in this device to store photos during your trip. You should add this to your Iceland packing list even if you traditionally utilize cloud storage to back up your photos. Internet access has the potential to be limited in places you might be traveling throughout Iceland, and we don't want you to have to rely on a fast and secure connection to save your memories.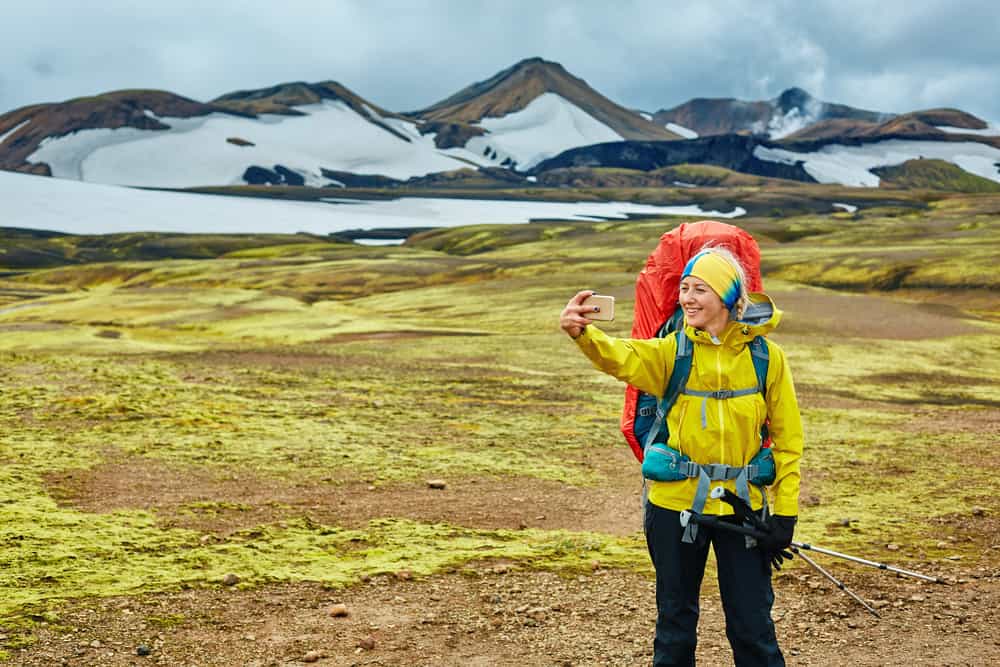 #5. Add A Rain Jacket To Your Iceland Packing List To Stay Dry
Leave your travel umbrella at home and add a sturdy rain jacket to your Iceland packing list for a lightweight, easy to pack alternative. Visiting Iceland is a lot about outdoor adventure rather than casual city walks. You'll therefore usually find that in addition to saving space, a rain jacket is more practical than an umbrella as you hike and explore the island. Your hands will already be full rock scrambling or holding your camera to take those coveted photos of Iceland's unbelievable natural wonders. Given that a rain jacket is so convenient to pack, there's no reason not to bring it along to make your outdoor experience more pleasant.
There are very few calm, sunny days in Iceland, and if it happens, it rarely lasts an entire day. You should always be prepared for rain in Iceland. Rain flows in abundance on the island and can often be unrelenting. It's often paired with wind too, creating fierce horizontal showers. Though it may not be the ideal weather situation, rain should never deter you from exploring Iceland. The island is beautiful when it rains. The waterfalls thunder, the rivers sparkle, and the country is no less stunning than on a sunny day. In addition to rainy weather, rain jackets prove particularly useful when visiting waterfalls. The bigger waterfalls release a lot of spray at the bottom, especially on windy days. It can be thrilling to be that close to such a powerful force of nature, and if you're wearing a rain jacket you'll worry less about becoming drenched and focus more on the awe-inspiring moment.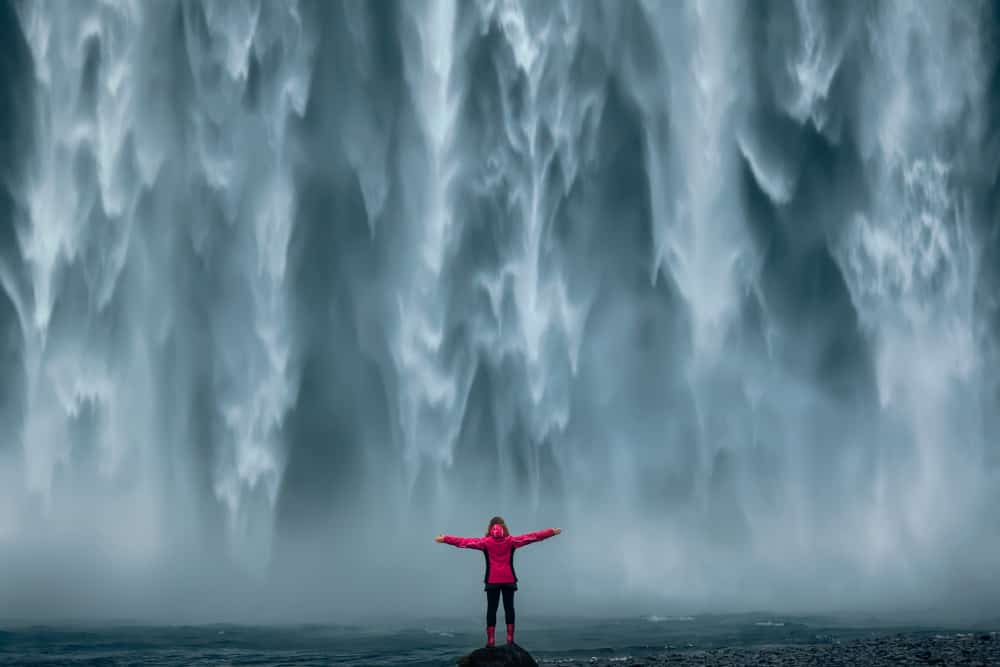 #6. When Packing For Iceland, Don't Forget A Parka For Winter Adventures
If you're visiting Iceland in the winter, a weatherproof parka will likely become your best friend. As the name of the country suggests, Iceland is cold. Surprisingly, there are many places in the United States that are colder than Iceland in the winter, but Iceland weather should still not be taken lightly. Not only is it cold, but the additional fierce winds that sweep through add significantly to the chill. The weather also varies by region, so the highlands and north of Iceland reach colder temperatures than Reykjavik for example. As mentioned before, Iceland's weather is unpredictable, not just day to day, but year to year. Some winters are harsh, and some are mild and pleasant. Not even native Icelanders can tell you what one particular winter might bring. It's best to prepare for the harshest conditions and be pleasantly surprised if you end up not needing your parka after all.
Because Iceland is mostly explored outdoors, staying warm is crucial. When you're standing outside for hours in the middle of the night, trying to catch a glimpse of the elusive Northern Lights, you'll be thankful you added a parka to your Iceland packing list. Unlike hiking that involves constant movement and keeps the blood flowing, Northern Lights viewing is a stationary activity. Seeing the Northern Lights dancing across the sky in brilliant colors is a memory you won't soon forget, but your experience has the potential to be heavily tainted if you don't dress appropriately. Your parka will also be particularly useful if you choose to take a glacier or ice cave tour, or if you plan to visit the colder more remote parts of Iceland in the winter. Though high quality parkas tend to be expensive, they will last you a long time and will keep you warm in the land of fire and ice, and for that they'll be worth every penny.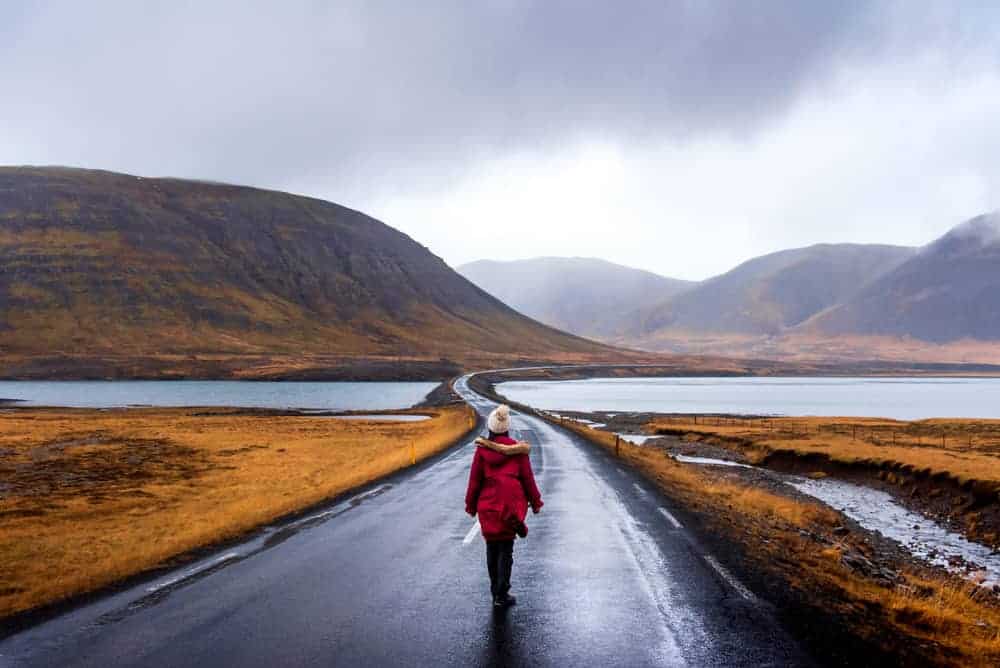 #7. Add a Waterproof Phone Case To Your Iceland Packing List To Avoid Phone Damage
You'll start to see a common thread among many of the items we're suggesting you add to your Iceland packing list. WATERPROOF is key when traveling in Iceland. Packing a waterproof phone case can be particularly important if you intend on taking pictures with your phone. Iceland presents one incredible photo opportunity after the next. From glacier lagoons to unusual black sand beaches, you'll want to capture every moment of your adventures. The only problem is, as we've expressed frequently throughout this article, it rains a lot in Iceland. What happens when the Strokkur geyser erupts, and it's raining outside? If you remembered your waterproof case when packing for Iceland you've got nothing to worry about.
Having a waterproof phone case is also necessary if you plan on taking pictures when visiting hot springs or the famous Blue Lagoon. At the Blue Lagoon they actually have a staff member with an iPad stationed on the side of the lagoon who will take your picture for free and email it to you. But more likely than not, you'll want to take your own photos…hundreds of them.
The last thing you want to worry about when you're sipping on a drink and relaxing in the beautiful healing waters is whether you're going to damage your phone. With a waterproof case you can bring your phone along, capture the stunning moments as they happen, and never have to worry about the safety of your phone. The same goes for the natural hot pots located all around Iceland. How often can you say you've relaxed in natural geothermal heated water surrounded by the uniquely spectacular nature of Iceland? With a waterproof phone case you can easily take pictures to remember your experience for years to come.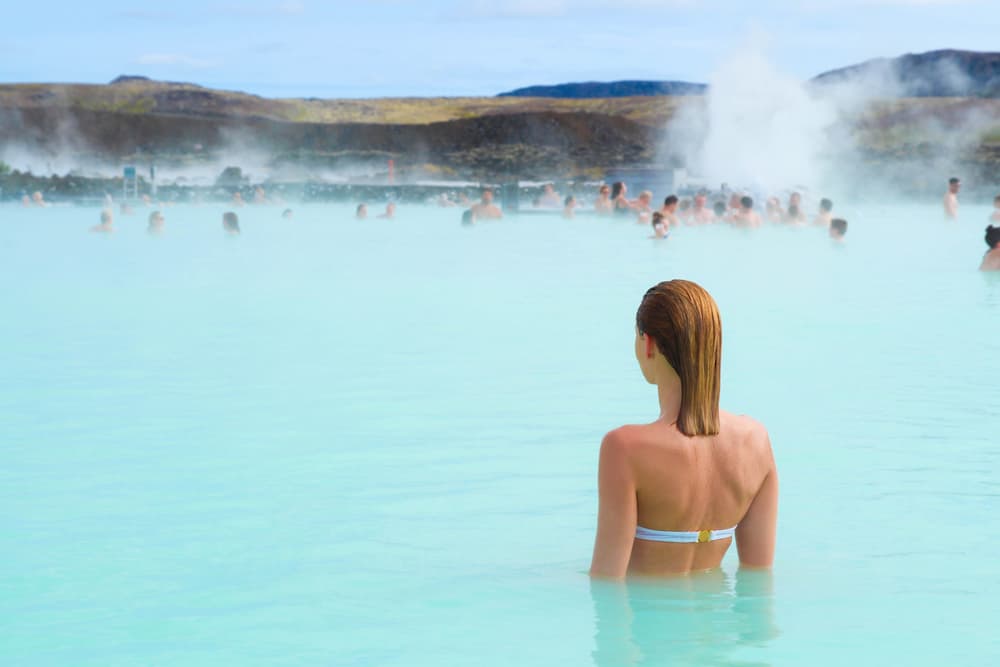 #8. Bring A Reusable Water Bottle To Refill With Iceland's Delicious Drinking Water
Good news, Iceland's drinking water is plentiful and delicious! If there's any country where drinking the tap water is not only safe but encouraged, it is Iceland. The hot and cold water in the sink comes from two completely different sources. The cold drinking water is the freshest you'll find as it comes straight from nature's springs. The hot water often comes straight from the ground, and in newer areas cold water gets heated at the geothermal power plants.
Many tourists are initially turned off by the traces of sulfur in the hot water, and the accompanying rotten egg smell. You may notice it when you shower or bathe in the natural hot springs around the country. There's no sulfur in the cold drinking water, but the hot and cold water share the same pipe to the faucet. All you have to do is turn the tap to cold as far as it will go, let it run for a moment, and you'll be rewarded with fresh, clean drinking water. The quality of the water is continually monitored to ensure it remains safe. Icelander's are proud of their uniquely exceptional drinking water, and once you taste it you'll know why.
As we mentioned, Iceland's water is pure and clean, therefore there's no need to filter it as you might be inclined to do in other countries. And if you have access to a sink (kitchen, bathroom or wherever), you'll never need to buy water from the store. We strongly encourage you to add a reusable water bottle to your Iceland packing list. You'll save money and help the environment while filling up on your naturally delicious tap water.
The bottled water in the store is the same as what you're drinking from the tap. It essentially exists purely for skeptical tourists who don't feel comfortable drinking the tap water. Unlike places like Croatia or Italy, tap water is always free and readily available at restaurants as well. You'll never have to pay for water when you go out. There are usually full water pitchers you can bring to your table and you're welcome to keep grabbing as many pitchers as you like. At restaurants without pitchers, the waiters and waitresses are attentive and happy to continuously refill your glass. So get ready to fall in love with Iceland's fresh and delicious drinking water.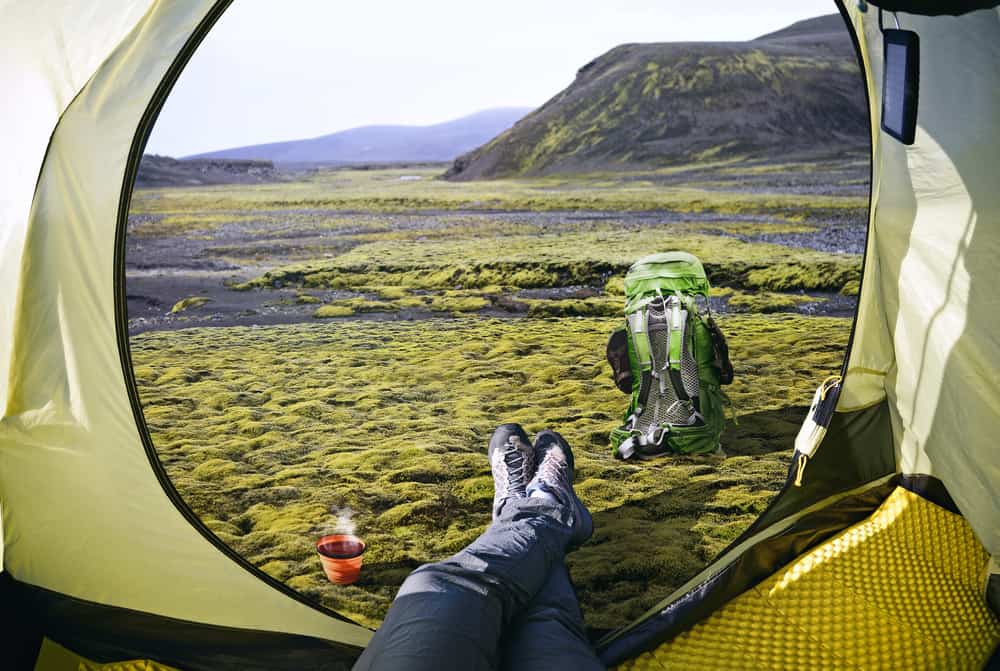 #9. Don't Forget To Bring Earplugs When Packing For Iceland
While much of Iceland is peaceful and remote, downtown Reykjavik is full of the hustle and bustle of locals and tourists alike. We suggest adding earplugs to your Iceland packing list, particularly if you plan on staying in downtown Reykjavik. Especially on the weekends, the city comes to life at night. The bars and clubs are open well into the early morning and Icelander's tend to start their evening late and party until 4am or beyond. This can be great if you're in the party mood as well, but if you're trying to sleep and rest up for your adventures the following day, having earplugs will help block out the city noise. These are the earplugs we travel with.
As a general rule of thumb, accommodations in Iceland are expensive. If you're looking to save a few bucks, you'll likely be checking out hostels and shared Airbnbs as the most practical accommodation options. Some people have a hard time sleeping in a hotel or unfamiliar places to begin with, and if you add groups of strangers with their own sleeping habits (snoring, sleep talking, restless movement, etc.) to the mix, having earplugs may be the only way to get quality sleep. As a bonus, earplugs are great for sleeping on a plane on your flight to and from Iceland.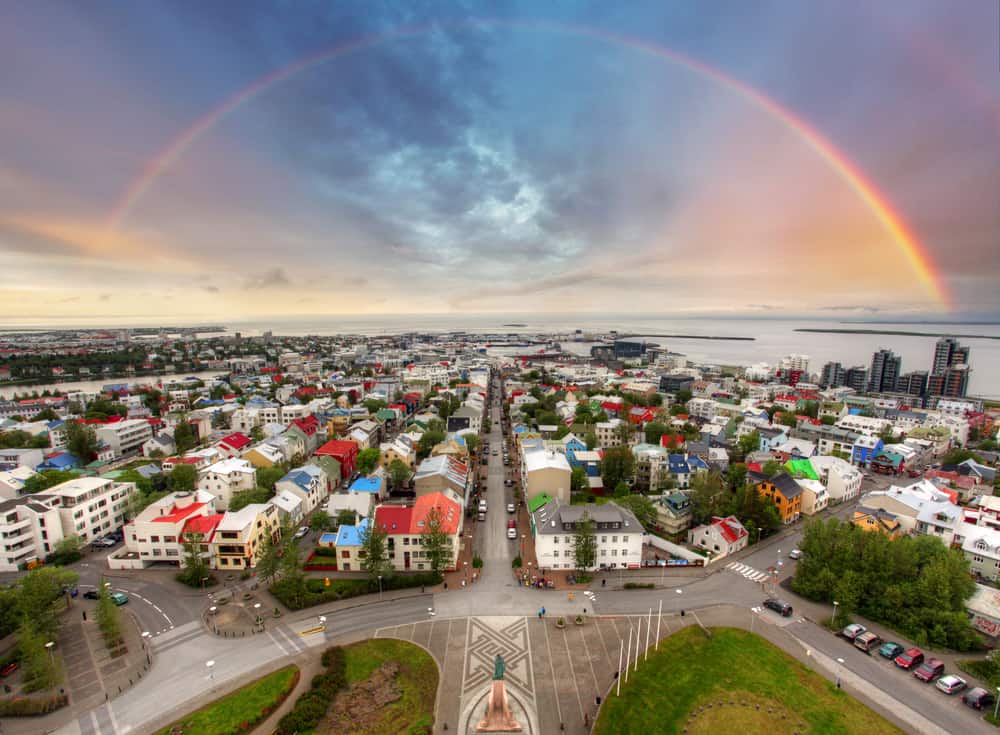 #10. Bring A Pair Of Waterproof Hiking Boots In Anticipation Of Rain and River Crossings
Iceland is a beautiful country full of some of the most stunning natural wonders you may have ever seen. But because the majority of the beauty of Iceland lies outdoors, having waterproof hiking boots is essential. There are endless hiking possibilities of all difficulty levels in Iceland from walking extended distances on a black sand beach to reach the Solheimasandur Plane Wreck, to a more challenging hike to the top of Glymur Waterfall. And as we continue to mention, Iceland gets a lot of rain all year long. In order to ensure you don't miss out on all that Iceland has to offer due to rainfall, you'll want to add waterproof hiking boots to your Iceland packing list to keep your feet as dry as possible as you tackle Iceland's varying terrains. Waterproof hiking boots are also great for walking through mud and shallow puddles on the hiking trails right after a heavy rainfall.
You'll want to wear your waterproof hiking boots if you plan on crossing any rivers or streams using stepping stones. There are a number of places throughout the country that require getting your shoes a little wet. The water levels in Iceland are constantly rising and falling depending on recent rainfall, so it's hard to predict how wet you're likely to get at any given time. If you don't want to end up with wet feet, we suggest playing it safe and sticking to waterproof shoes. An example of one such location is the hidden waterfall, Gljufrabui. To access this waterfall you enter a gorge and wade through the river up to the waterfall. There are stepping stones you can walk over all the way in to the waterfall, but if the water level is particularly high, parts of the stone may be covered. While hiking boots are often preferred, for an activity like this that doesn't involve hiking, it might be enough to just wear rain boots.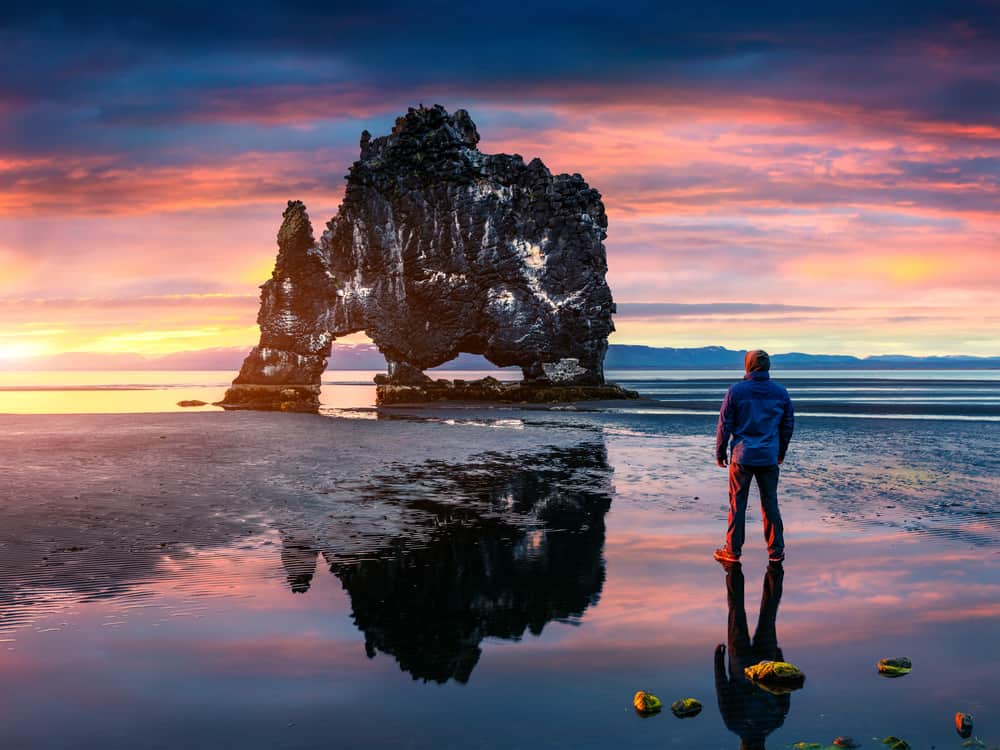 Other Items To Add To Your Iceland Packing List
Planning your Iceland packing list doesn't need to be a difficult task. While packing for Iceland, your priorities should be staying dry and warm, and ensuring all your photographed memories make it back home with you to be reminisced over and shared. It's easy to forget things when planning an extended trip, but we hope this guide will help you remember the essentials. Buying items in Iceland that you've forgotten to pack will be expensive, and if you're in a remote area outside of the capital region, it might be impossible. Plan carefully using our list as a starting point, and you're sure to have a trip you'll be talking about long after it's over!