Finding cheap flights to anywhere is a valuable skill to have in your bag of tricks, especially if you travel a lot or need to fly somewhere last minute. One of the most popular questions we are asked over and over again  is "how can you possibly afford it" or "aren't flights to <insert destination here> expensive?" The answer is a resounding YES!! Flights to Europe are SUPER expensive if you run a simple Travelocity/Expedia check and go no further.
If you were to head over to one of these sites right now, a round trip flight from the United States to Europe will cost roughly $1200, regardless of the time of year. For people who try to travel on a budget, you may expect our entire trip to cost $1200, not just the flight! Learning how to find cheap flights from you to anywhere is super useful and way easier than it seems.
7 Easy Ways To Find Cheap Flights To Anywhere
#1: Do your research
You have probably heard this a bazillion times, but it is worth hearing again. Do. Your. Research. Perform searches like "cheap flights to anywhere" "budget <insert country name> airline," or "cheap places to travel." Search towns that are a short drive away from your hometown. It may cost $1200 to fly to round trip (RT) to Dublin from Tampa. However, it may cost $500 to fly RT to Dublin from New York City's JFK Airport and $200 to fly RT from Tampa to NYC. Boom…now our total is $700, a $500 saving!
#2: Check one-way instead of round-trip
 We have experienced thousands of dollars in savings strictly by flying two one-way legs instead of purchasing a round-trip flight. By choosing two one-way flights, you have the flexibility to choose the cheapest price and best flight time for you, regardless of airline. If you fly round-trip, you are beholden to the schedule and price of just one airline. Going back to our first point, just do your research. Savings come to those who search hard for them!
#3: Be flexible with your schedule
Does the cheapest flight takes off at 6am? 3 hour layover in a random city? You gotta do what it takes in order to save! Did we really want that 3 hour layover in Denver? No. Did it shave $250 off our total flight price? You bet. Building a bit of flexibility into your travel schedule will help you find cheap flights to anywhere!
#4: Book on a budget airline
Looking to fly abroad but wondering how to find cheap flights? Check out budget European airlines such aswondering how to find cheap flights? Check out budget European airlines such as WOW air and Norwegian Airlines. We have found flights to Paris for $300-$400 round trip from various American airports on WOW air and flights to Iceland can be as little as $90 onAlternativelyatively, if you are looking to fly in America or to Central/South America on the cheap, airlines such as Spirit Airlines fly at a fraction of the cost of competitors. Simply search for budget airlines in your country or where you are looking to travel.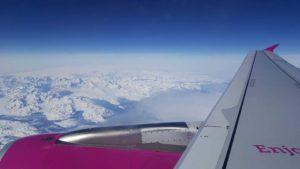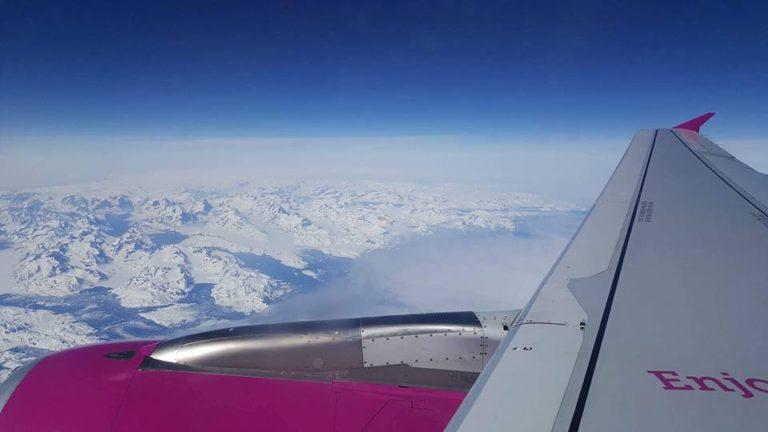 #5: Use the monthly calendar/flexible dates feature
 When performing a search, always check the "flexible" date option, if available, and if your schedule permits. As you can see in the image below, if we flew on April 7, the cost for a one way flight to Paris would be $475. If we fly just 8 days earlier, our cost is now $245. Sometimes, even just one or two days before or after your date can save you hundreds of dollars! The "flexible dates" feature/calendar is useful for seeing everything in one area. This is one of the best tricks for finding cheap flights to anywhere at the best rate.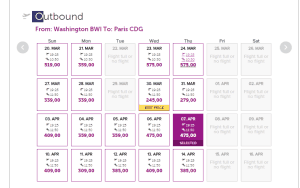 #6: Keep checking back
Go to book your flight and the price went up? Don't fret. Keep checking back every day, or even multiple times a day. Airlines constantly readjust their pricing. Price still wont' go down? Start searching for other carriers as a second option.
#7: Don't book through aggregaters
Use sites such as Kayak and Expedia to find out which airlines fly to your destination, but continue research and make your actual booking from the Airline's direct website for optimal savings, rewards, and customer service. If something goes wrong and you booked through a third party, many businesses aren't as willing to help you figure it out. Our number one favorite place to search for cheap flights to anywhere is Google Flights. Google Flights does the best job of curating from the majority of airlines and has gotten better showcasing budget airlines in their prices.
Pretty basic stuff, right? To recap, do tons of focused searches, discover and book on budget airlines, check one-way flights, have a flexible schedule, check up on different departure cities, and continue to search on a daily basis!
What are some of your favorite tricks for finding cheap flights to anywhere? Let us know in the comments!
Pin this post: