When searching for cheap flights, we discovered the best rates were with U.S. based, ultra low-cost carrier Spirit Airlines from TPA To BWI. Prior to our flight, neither of us had ever flown with Spirit, but we sure had heard enough about them from fellow travelers and from the news.
We had heard from coworkers who traveled often to Central America and the Carribean about the many international destinations Spirit Airlines flies to for a very low cost, but we had also heard a ton of complaints. Most complaints surrounded the supposed "hidden" costs and fees that Spirit tacks on to their uber low prices.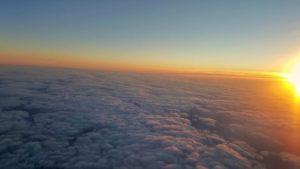 The time worked, the price more than worked, and our curiosity was high as we booked our flight on Spirit Airlines from TPA To BWI. We set out to discover what this airline was really about and if the complaints were founded.
The Spirit Airlines Booking Experience
Yes, the savings really are huge
Flying round trip on Spirit Airlines from TPA To BWI has the potential to cost a grand total of $81. This is a whopping $121 less than the next cheapest flight when performing a Google Flights search [research as of November 2016]. Looking to only travel one way? The price rings in at an average of $40. Even with the price of luggage, which we will discuss later, Spirit Airlines still rings in much cheaper than its competition. According to U.S. Department of Transportation statistics, on average Spirit's total price including paying extra for bags and seat assignments is 30% less than other U.S. based carriers.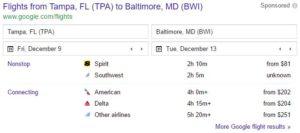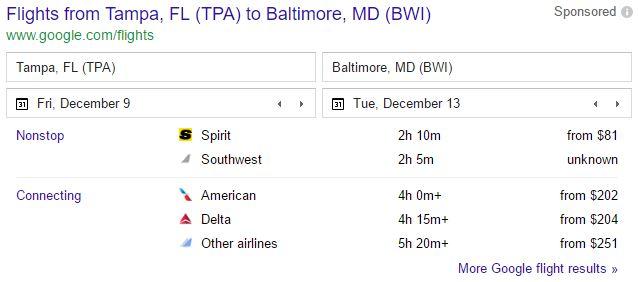 You only have to pay for what you want with a "Bare Fare"
We totally love budget carriers for this exact reason. Instead of being forced to pay for snacks which you honestly don't need or the cost of a checked bag built into your base fare, Spirit Airlines allows you to pay for what you want and only what you want. Spirit includes a 16″x14″x12″ "personal item" in your bare fare price. We know tons of people who survive for weeks living out of a small backpack and wearing the same two pairs of clothes. If this person is you, you don't have to pay anything extra for baggage.
In addition, you have the choice between selecting your seat for a small fee [between $1-$25 per seat] or receiving a pre-selected seat for free. For longer flights, we would choose to pay a fee to choose our seats. For a shorter flight, a randomly selected seat works totally fine.
A budget airline that offers a version of "first class?" Yes!
Spirit offers what they call "Big Front Seats" as an upgradeable option to passengers. This is their version of "first-class" and we are so glad we decided to go for this option! For those of you who just can't bear to sit in "coach" but still want to enjoy the Spirit Airlines savings, the big front seats cost between $12-$100 per seat (depending upon the length of the flight) and are so worth it. They are arranged in rows of two instead of three and are oversized, wide, and come complete with a ton of leg room. This upgrade does not afford you any other freebies such as drinks when onboard.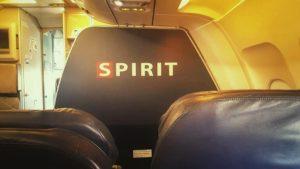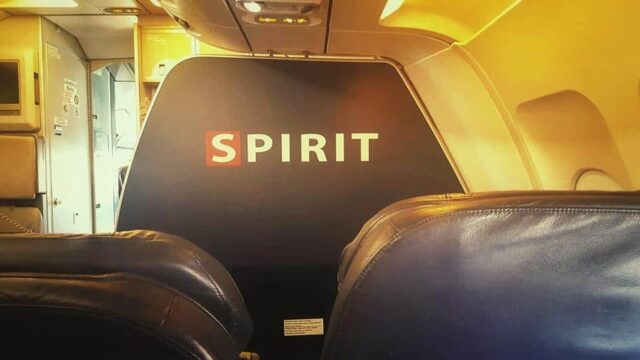 Stop complaining about "hidden" baggage fees and book in advance
We really hate to read complaints about "hidden" baggage fees that Spirit Airlines supposedly forces on their customers. In reality, the airline's baggage fees aren't hidden at all. Spirit's website is a noticeable black and yellow and their extra fees/baggage calculator is easy to spot. During the booking process, customers are asked numerous times if they want to add a bag and how many. Fees are right there before your eyes and the decision is up to you. The people who complain the fees are hidden are probably booking on a third party, online travel site.  They show you the fares, but don't tell you about bags.  Those people should be mad at the travel site, not Spirit.
Spirit charges for checked bags ($25) and Carry-on bags ($35) that go in the overhead bin.  Charging for carryon bags may sound punitive, but every airline charges for carryon bags, they just hide the price in the ticket.  At least with Spirit we have the choice and we know exactly what it costs me.  Oh, and there was plenty of space for our carry ons, and because fewer people bring carry-ons, the boarding and deplaning process goes a lot faster.  Buy your bags when you are booking for the utmost savings. If you wait, checking a bag costs more online after your booking but in advance of your flight, at the airport, and finally, at the gate. If you don't add baggage with your original booking don't blame Spirit, don't blame us, only blame yourself!
Our In-Flight Experience On Spirit Airlines From TPA To BWI
Check-in and boarding
Our at-home, online check-in was very smooth. We also printed out our own boarding passes and we suggest you do the same. Printing at the airport costs $2 per pass and $10 per pass if you use an agent. If you forget, $2 really isn't that big of a deal.
Because of traffic, we arrived at the airport very late. We thought that boarding would be a stressful cluster, but we arrived at a party instead. No really, Spirit Airlines and Tampa International Airlines were throwing a literal customer appreciation party right next to our gate. The party was complete with cake [at 10am!] a reusable Spirit/TPA bags. We thought this was a seriously fun way to pump up the crowd before flying Spirit Airlines from TPA to BWI. And, who doesn't love freebies?!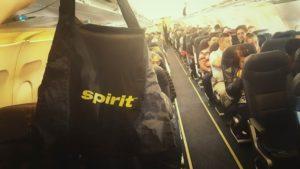 Early departure/landing
We also were concerned about leaving and arriving on time. Spirit was once rated the worst on-time performance, but according to the DOT they're now fourth or fifth best depending on the month.  According to the DOT stats, Spirit now arrives within 15 minutes of their scheduled time 85% of the time, which is in line with the best airlines, when it comes to on-time performance. We were shocked and pleased when our plane pulled away from the gate early (probably because the crew didn't have to deal with more carry-on bags than there was room).
We were shocked and pleased when our plane pulled away from the gate early. Boarding had finished and we were on our way. Because of this, we also arrived at our destination early as well. When you strip everything down, the single most important thing about flying is an on-time arrival. With Spirit, we arrived early and very satisfied!
Crew kindness
The flight crew was kind and knowledgeable. They were able to discuss where we would arrive at BWI, how to get to our next gate, explain the in-flight menu, and answer any other questions we had during the trip. A crew that serves with a smile and a friendly attitude makes every flight better.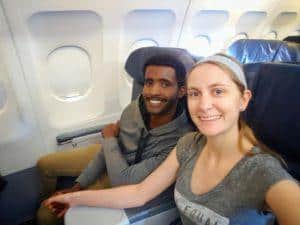 Those "big comfy seats" were all that
Sitting in what we called "first class" was so fantastic! We were in the second row and Terrence was able to relax by the window [his favorite] and Victoria on the aisle [her favorite]. The seats were massive, leg room abounded, and there were little tables that folded out for our use. We had never flown in comfy airline seats before, so it was an enjoyable experience.
Let's talk about the food
Another way Spirit Airlines cuts costs is by charging customers for snacks and drinks during the flight. And honestly? The prices weren't all that bad! Terrence loves picking up a soda in the airport before any flight, and we were happy to see that the in-flight soda prices were cheaper than what he would have spent at the airport. If you aren't looking to buy any snacks or drinks, buy snacks at your local grocery store and pack them and bring a reusable water bottle and fill it before your flight. Budget airline doesn't mean liquor-free! Spirit offers liquor for purchase on flights for the ultimate relaxation.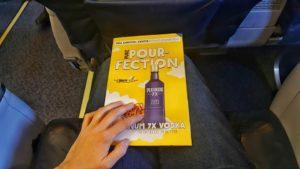 Aircraft cleanliness
We have flown on regular [not budget] carriers where the seats were falling apart, there was chocolate and residue left behind that got on our clothes, the bathrooms smelled awful, and more. One would think that a "budget airline" would skimp on cleaning costs but that is far from the truth. When flying Spirit Airlines from TPA To BWI, our plane was spotless. The bathrooms were as fresh as airplane bathrooms could ever get, toilet paper/paper towels were stocked, seats were clean, and crumbs were nowhere to be found.
What about coach?
Of course, we couldn't leave you hanging! When the seatbelt sign was off, we got up to explore some of the coach seats. The amount of leg room was a little less than what you might find on other airlines, but this allows Spirit to put more seats on the plane.  A Spirit employee told us this is one of the main reasons Spirit's costs are so low.  They call it the "car pool effect."  And it makes sense, the more people in a car pool the less money each person pays for gas.  The more people on a plane the less money everyone pays for their share of jet fuel.
There is certainly enough room to stretch out but if you are taller, an aisle seat always works wonders. The only negative about coach was the uber small tray tables. If you are looking to set your drink down, they are totally fine, but if you are looking to write or work on a larger laptop, they leave a lot to be desired. For us, the lack of table space is a small price to pay for the major savings the airline offers customers. We are totally willing to eat on our lap if it means money off!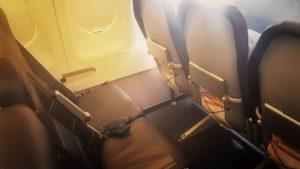 Would we fly Spirit Airlines again?
Yes, yes we would. We totally love low-cost carriers for their dirt cheap fares and no-frills business model. After flying Spirit Airlines from TPA to BWI, they have solidified their spot as a viable national/international airline in our book. We love that Spirit Airlines has a ton of destinations including the Carribean (they just added Havana), Central, and South America. We plan to travel to destinations in this part of the world a lot more in the near future and know right where we will be heading. Machu Picchu or Costa Rica, anyone?
READ NEXT: 7 Tips For Finding Cheap Flights
Editor's Note: Spirit Airlines provided us with 2 one way tickets for the purpose of this review. Unlike many other customers, we have flown budget carriers in the past and understand the added fees/lack of perks. All opinions represented reflect our own. 
Pin this post: