Visiting the Blue Lagoon in Iceland is a wonderful and romantic experience for couples to enjoy together. After all, who wouldn't want to float in the warm water of the Blue Lagoon in Iceland under the midnight sun or winter stars while sipping a yummy beverage? Our guide for couples [or anyone!] visiting the Blue Lagoon will ensure that you have everything you need to know about managing crowds, choosing a time to visit, proper etiquette, and more!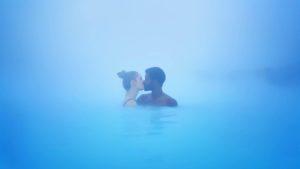 The Couple's Guide To Visiting The Blue Lagoon In Iceland
What is the Blue Lagoon and why is it blue?
The Blue Lagoon was created by accident by the nearby Svartsengi Power Plant in 1976 and has since become one of best places to visit in Iceland. The water is heated naturally by geothermal activity and the milky color is a result of a mixture of algae, silica, and minerals. The water is actually chalky white in color but the sun makes it appear blue. It is so unique making the Blue Lagoon one of the ultimate bucket list experiences in Iceland!
Choosing a time to visit the Blue Lagoon
In order to manage the number of people who want to spend time in Iceland visiting the Blue Lagoon, availability is limited and pre-booking is required. As a couple, it is important to decide which time is best for the two of you to visit. If one of you loves early mornings and the other is a late riser, it is time to compromise. The Blue Lagoon is busiest during mid-day, with crowds slowing down during the beginning and end of the day. Depending on what time your flight leaves from Iceland, you may choose to plan on visiting the Blue Lagoon before your flight. No matter what, pre-book your entry time to avoid stress!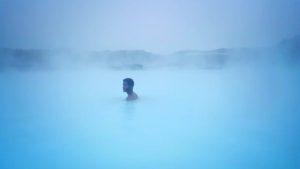 The best weather for visiting the Blue Lagoon
Weather in Iceland is highly unpredictable and that is part of the charm. The wonderful thing about visiting the Blue Lagoon is that it is relaxing no matter the weather. We visited during a very cold and rainy winter day. The steam coming off the lagoon mixed with fog and rain made the experience extra romantic and cozy! Don't let "bad" weather put you off. The best weather for visiting the Blue Lagoon is all weather.
Buying your Blue Lagoon Ticket Package
If there is one thing to splurge on during your romantic Iceland getaway, it is visiting the Blue Lagoon. This is by far the best package deal for visiting the Blue Lagoon we have found. The Blue Lagoon offers four price packages that start at around $50. The "standard" package includes your entry and a silica mud mask. Most people opts for the "comfort; package as it includes a drink, algae mask, and towel. If you choose the cheapest package, you will not receive a towel.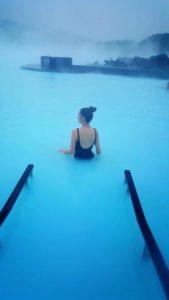 In an effort to save money, we borrowed towels and robes from our hotel room. If you go this route, make sure you return them so you don't get charged by the hotel. You will also receive a locker and access to saunas and showers with all packages.
Getting to the Blue Lagoon
The Blue Lagoon is roughly a 45-minute drive from Reykjavik and a 20-minute drive from Keflavik Airport. Shuttle transfers are available from both the airport and city and airlines such as WOW air allow you to pre-book your shuttle directly through them. If you choose to drive yourself, the route is well signed and parking is free.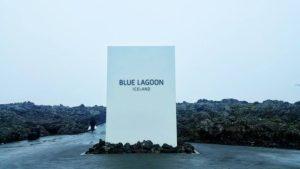 Blue Lagoon lockers and showers
This was the one bad part about visiting the Blue Lagoon as a couple. As soon as you enter the facility, women are ushered to their locker room and men are ushered upstairs to theirs. The only way to enter the Blue Lagoon is through these gender specific locker rooms. If you are a straight couple, this can be confusing as you have absolutely no way to contact your partner. Before you arrive at the Blue Lagoon, be sure that you and your partner each have the items you need in your specific bag because you won't be able to change together or share a bag.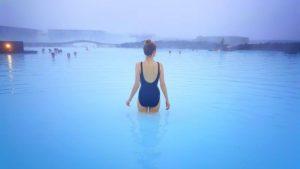 Lockers are free and easy to use. They come in different sizes and are opened with a chip inside your entry bracelet. The locker rooms are beautiful and modern and have private toilets, long counters, and hair dryers for guest use. The Blue Lagoon requires everyone to shower naked before entering. Locker rooms are lined with private showers so fulfilling this request is fairly easy.
Choosing how to enter the Blue Lagoon
There are two ways to enter the Blue Lagoon. Depending on your preference, you can enter the water indoors and then proceed outside once you are already in the lagoon or you can enter outside. We chose to enter from outside because we felt it was more fun! As we ran the short distance from the building to the water, the cold Icelandic air and rain hit our bodies followed immediately by the warm lagoon water.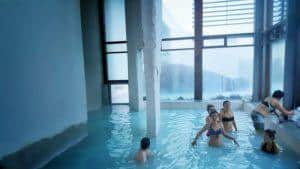 Blue Lagoon water temperature
The lagoon water is "pretty warm" but we wouldn't go so far as to consider it "hot." Water ranges in temperature between 98*F-104*F and changes temperature around the lagoon as well. When visiting the Blue Lagoon as a couple, the water temperature is perfect for relaxing, talking, and sneaking a few kisses without being too hot.
Soaking in the Blue Lagoon
We use the term "soaking" instead of "swimming" because rigorous physical activity is frowned upon in the lagoon. Instead, you will spend time slowly making your way around the enormous lagoon. For couples, the Blue Lagoon offers something for everyone. If you love exploring, there are plenty of bridges, twists, turns, and lava rocks to explore. Looking to truly relax? The lagoon walls slope gently down so you have the perfect place to sit or recline near many of the lagoons edges.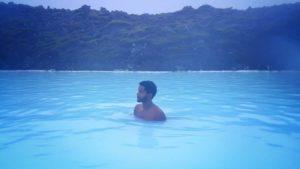 The best place in the Blue Lagoon for couples
As a couple, we know that a quiet(ish) place away from crowds is important for an intimate experience. The majority of people congregate around the spa entrance or swim-up bar when visiting the Blue Lagoon. Once you have had enough of the crowds, head out of the main lagoon area and under a small footbridge.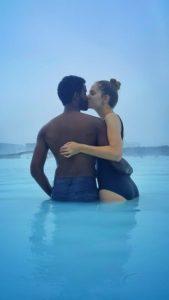 At this point, the Blue Lagoon opens up and becomes quite large. If you proceed further, you will see a variety of small mini lagoons on the left. The Blue Lagoon is truly one of the most romantic places in Iceland!
To make the most out of visiting the Blue Lagoon as a couple, head into one of these mini lagoons or as far to the right as you can possibly go and enjoy your quiet time with just the two of you and the surrounding lava rocks.
Drinking in the Blue Lagoon
Although alcohol in Iceland is expensive, many couples choose to splurge on it when visiting the Blue Lagoon. We chose to save our pennies but were surprised that prices ranged from about $8-$10 per drink. This is pretty average at any spa, let alone one in pricey Iceland! You are permitted to purchase and consume your drink all while in the lagoon via swim up bar.
Taking photos at the Blue Lagoon
If you have already made time for visiting the Blue Lagoon, you are certainly going to want to take photos of your experience! We brought along both a GoPro and a cell phone in a waterproof case. You can find inexpensive waterproof cases online for $8-$10. If you forget or decide to visit the Blue Lagoon in a pinch, ask for a regular plastic zip lock baggie or purchase one from the store. You won't be able to submerge your phone but at least it will be safe from splashes or, worst case scenario, a fall!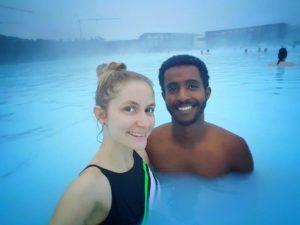 How much time to spend at the Blue Lagoon
If you just plan on soaking in the lagoon, most visitors stay an average of 2 hours. We ended up staying in the lagoon for about that time and then spending 30 minutes total between coming and leaving. If you plan to eat at the on-site cafe or shop, allow at least 3-4 hours for the experience. If you are looking to spend more time at the Blue Lagoon then check out the adjacent Silica Hotel which is right on property!
Is visiting the Blue Lagoon worth it for couples?
We highly recommend that everyone, couples included, make sure that visiting the Blue Lagoon is on the top of their Iceland bucket list. We can't recommend it enough. If you are worried if the high price is worth it, it truly is! Spend all day visiting the Blue Lagoon, bring your own towel, and pack a snack and drink to make the most out of your experience. That being said, before you drop money it IS necessary to decide if the Blue Lagoon is right for you! There is no right or wrong answer, we can only share from experience!
Have you visited the Blue Lagoon or do you want to? What did you think about the experience?
Pin this post by hovering over an image: