Dating back to the 7th century, castles in Germany are one of the main drivers of why people today travel to visit the country. It is easy to see why, with thousands of castles in Germany, it is quite the experience to be transported into the country's rich history. A quick note on the topic of history, some of the castles are actually still owned by the original families! The ownership of the castles goes back generations. Whether it is fairytale-esque, gothic, neo-gothic, baroque or renaissance there are a variety of options to choose from. Basically, there is a castle for everyone to see and you will not be disappointed.
Germany is home to some of the best castles in Europe and you really won't be disappointed by your options. Determining which castles in Germany to go to though can be a bit overwhelming since there are just so many to choose from. Some castles are immersed in the woods and isolated while others are an integral part of a town. That being said, have no fear! Below is a compiled list of the top 10 stunningly beautiful castles In Germany you must see.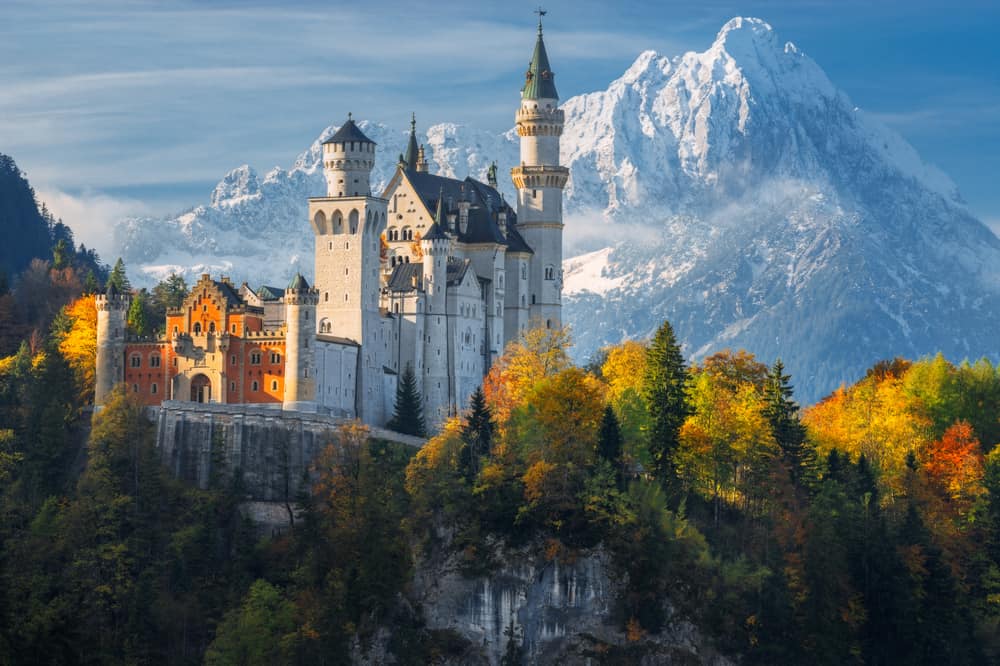 10 Stunningly Beautiful Castles in Germany You Must See
Burghausen Castle
Standing out from the rest of the castles in Germany, this castle is famous for being the longest in the country and ALL of Europe! This castle is actually fortified with six courtyards and became over 1000 meters long because of Duke George the RIch, a Duke of the Middle Ages. He combined the courtyards to protect the area so that royals could hide their riches. To this day it is still considered one of the strongest fortresses in Europe.
The sheer size from the combined fortified courtyards is something that can't be replicated in any of the other castles in Germany. Burghausen Castle is about two hours away from Munich which is perfect a day trip out and back. If you do not have a rental car there is an option to visit via public transportation. For guests who do visit this gargantuan space, there is a viewing platform at the top of one of the roofs to see the magnificent view in every direction. Also unlike many of the other castles in Germany, Burghausen Castle does not have guided tours but it is recommended to definitely see the panoramic view of the town. The town of Burghausen itself is made up of colorfully painted houses and buildings so the view is very much worth it!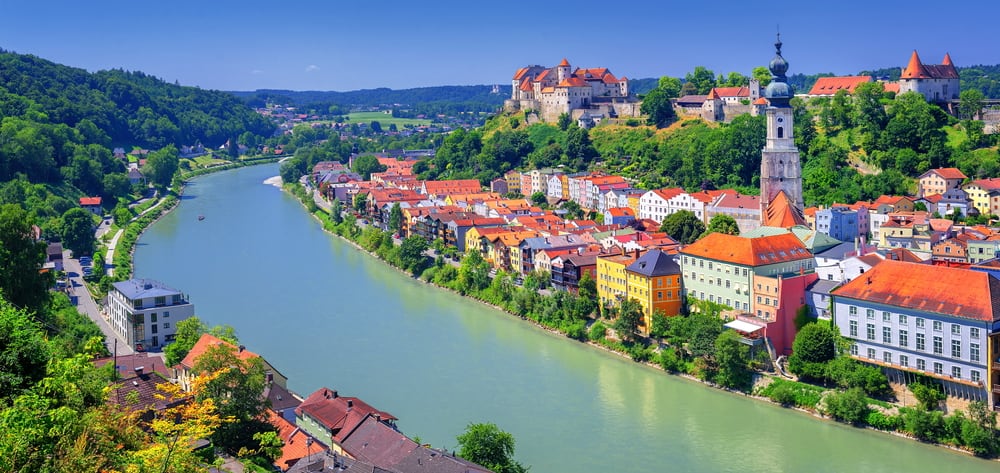 Burg Eltz
Also known as Castle Eltz (this is a direct translation as burg in German means Castle). Construction of this castle began in the 12th century which makes it over 850 years old now! One of the more epic and instagrammable fairy tale looking castles in Germany, it is a beautiful structure seeded in the Eltz Forest and is just so breathtaking that pictures alone do not do it justice. The Count and Countess Eltz (direct descendants of the original castle owners) recommend coming to the castle before 11:00 am or after 3:00 pm in order to avoid the touristy crowds and have a quieter time.
Upon first laying my eyes on the Burg Eltz I immediately thought of some of the castles shown in the movie Shrek but actually, this castle was supposedly the blueprint for Cinderella! Disney fans – note this down next time you visit Disneyworld or watch the movie! Take a moment to review and compare some pictures between the Burg Eltz and the Cinderella Castle at Walt Disney and the similarities are uncanny. Seriously mind blown. With castles in Germany like this being around for almost a millennium though it makes sense that so many people have drawn inspiration from them over the years.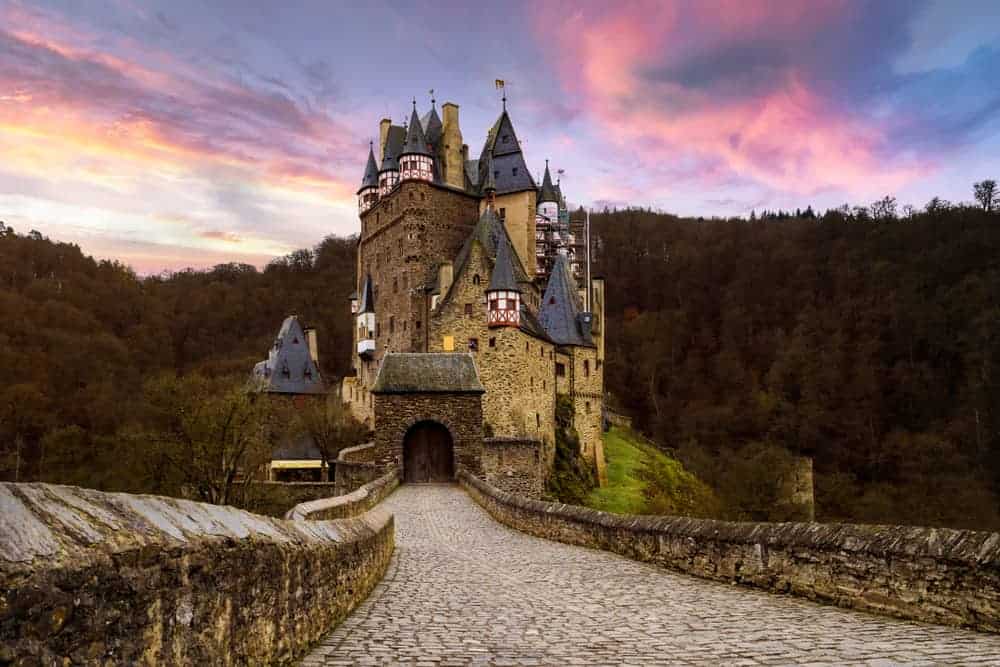 Burg Frankenstein
Yes, as in that Frankenstein! While this is one of the castles in Germany that is not as impressive as the rest listed here in terms of grandeur, it is one with a lot of rich history. It used to be a hospital and a jail at two different points in time. This castle specifically is rumored to be the castle that inspired author Mary Shelley to write her famed novel.
Exploring magical, and haunted, castles is one of the best things to do with kids in Germany and shouldn't be missed if you are taking a family vacation!
More recently in the past twenty years, Burg Frankenstein has apparently had accounts of paranormal activity and there was even a Ghost Hunters episode filmed there. Now the castle is used for an annual haunted Halloween party every year. For those not easily scared of spooky things – this castle is for you! Act fast though if you want to go because there are only a limited amount of tickets every year and they sell out fast. Who doesn't want an opportunity to say they experienced where Frankenstein originated?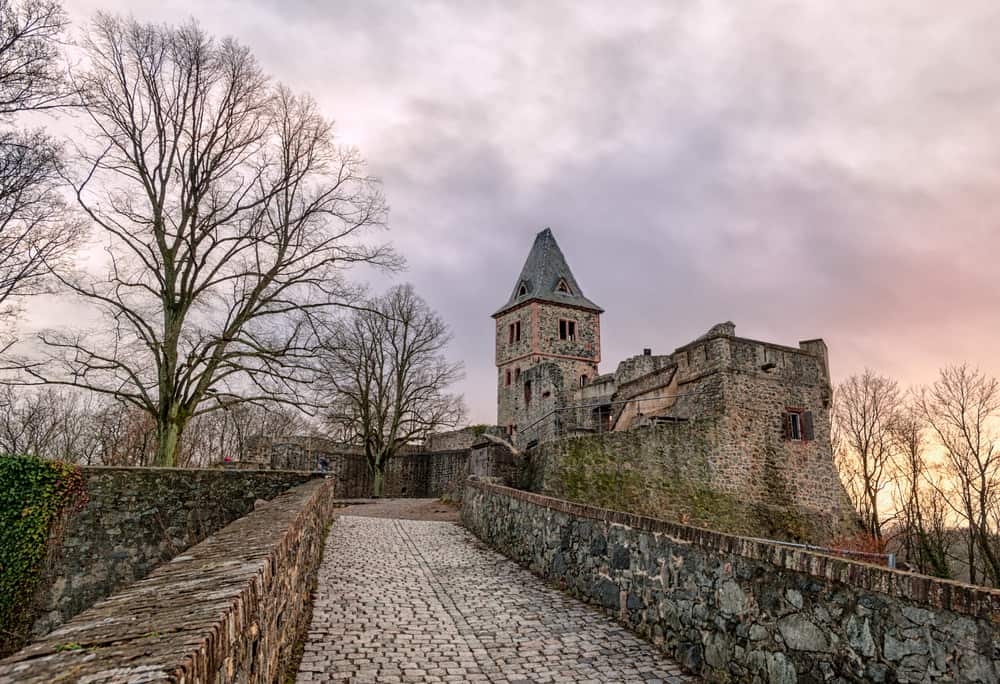 Burg Rheinstein
If you happen to be renting a car and driving out of Frankfurt, a stop to consider is at the Burg Rheinstein. The architecture itself elicits a true medieval feel for anyone that takes the time to walk around the castle. This is one of the castles in Germany that sparks a romantic feeling when looking at it and being inside the walls. Burg Rheinstein overlooks the Rhine river and is home to a functional drawbridge and its famous courtyard, the Burgunder Garden. The garden has grape vines that are hundreds of years old and produces grapes to this day! Spend some time enjoying the wine produced there at the Little Wine Prince restaurant and visit the museum too at the Burg Rheinstein.
The castle owners really play up the romantic-ness of the landscape with various types of experiences, including a cable car, hikes and boat trips. There is even a romantic night tour offered to guests who want to try something different since most tours are usually held in the daytime.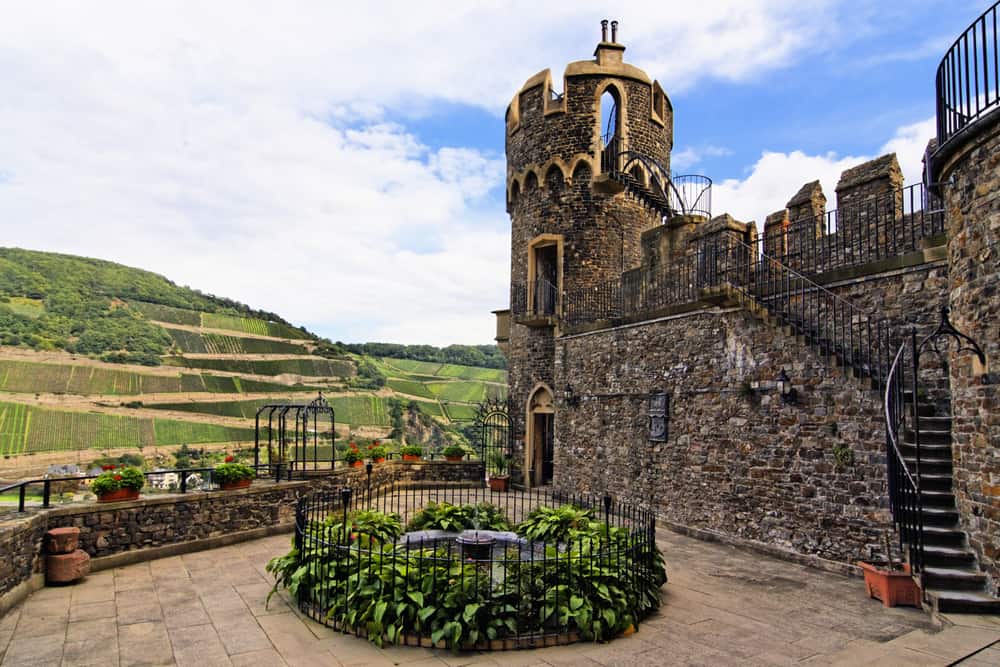 Burg Satsvey
Who has ever wanted to experience a watery moat outside of their room? Shop at a medieval market? Or watch the spectacle of a jousting tournament? If so, this is one of the castles in Germany you absolutely MUST visit! Seemingly one of the lesser known, but still relatively popular castles, the property managers at the Burg Satsvey really emphasize the medieval history by hosting events from Easter to Christmas time. Each of the events is specific and allows visitors to get a sense of what life was like back during the dark ages. Particularly their Christman Market. Burg Satsvey has rooms listed to stay at on Airbnb so anyone can feel like a medieval citizen for a night or two (or more).

Cochem Castle
Standing high up on a hilltop is the Cochem Castle (also known as Reichsburg Cochem) which overlooks the serene Moselle River and quaint town of Cochem – a winemaking region of Germany. With cottages and winding streets at every turn, Cochem itself is a photo friendly and a cute location to walk around and get lost in the romantic nostalgia of Germany.
In contrast to the previous two, this is one of the castles in Germany that is not the same one that was built back in the 12th century. Originally constructed in a Romanesque style, it was destroyed by Louis XIV (the famous Louis, or Leonardo DiCaprio if anyone has watched The Man in the Iron Mask) in war during the 17th century and left in ruins until the 19th century. During reconstruction, the vision for the new architecture became more of a neo-Gothic style and that is what we see today.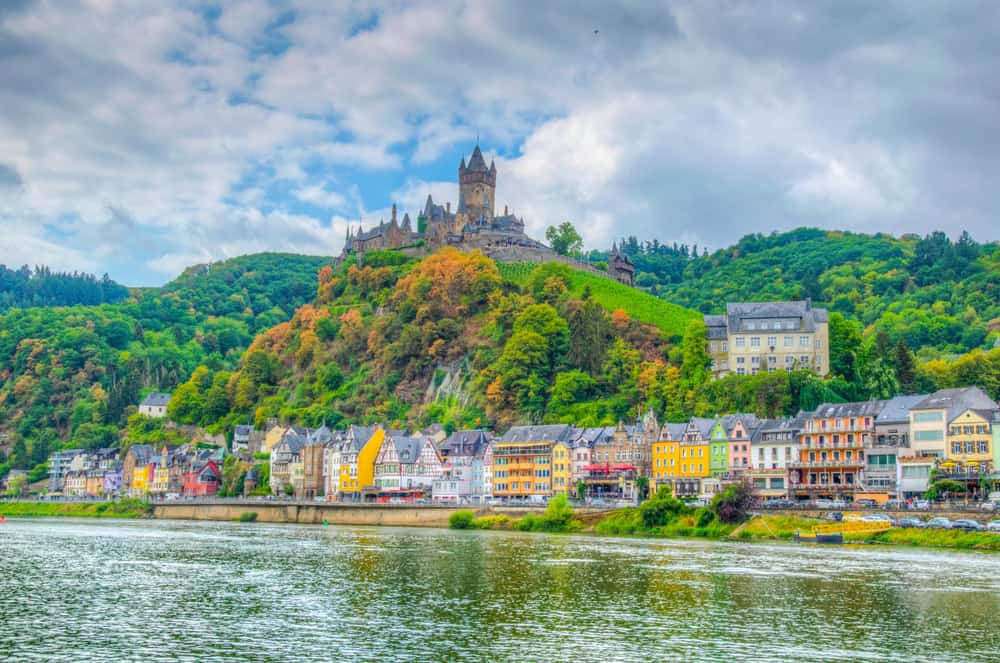 Hohenzollern Castle
Did you know that Germany was not always called Germany? For the non-European history buffs out there, Germany used to be called Prussia and Hohenzollern Castle was one of the castles in Germany that was considered the protector of the ancestral seats for many royals. If you would like to get a taste of the royal treatment it is recommended to check out this castle. Hohenzollern Castle is pretty much open all year round except on Chrismas Eve (December 24) and there are numerous guided tours every day. On the tour, visitors will be able to see items such as knights armor in the armory, a queens dress, and even the royal crown! The most famous item visitors really want to see is King Frederick's Table Snuff Box. It is a box with thousands of diamonds and precious stones encompassed with gold and silver foliage.
Being able to see old school splendor is not something that really exists anymore so it is a real treat to see the famed snuff box. Besides that though, the view of Hohenzollern Castle itself is a sight to behold. As on trend with many castles in Germany, this castle also sits on top of a hill and is surrounded by the picturesque land in which it oversees.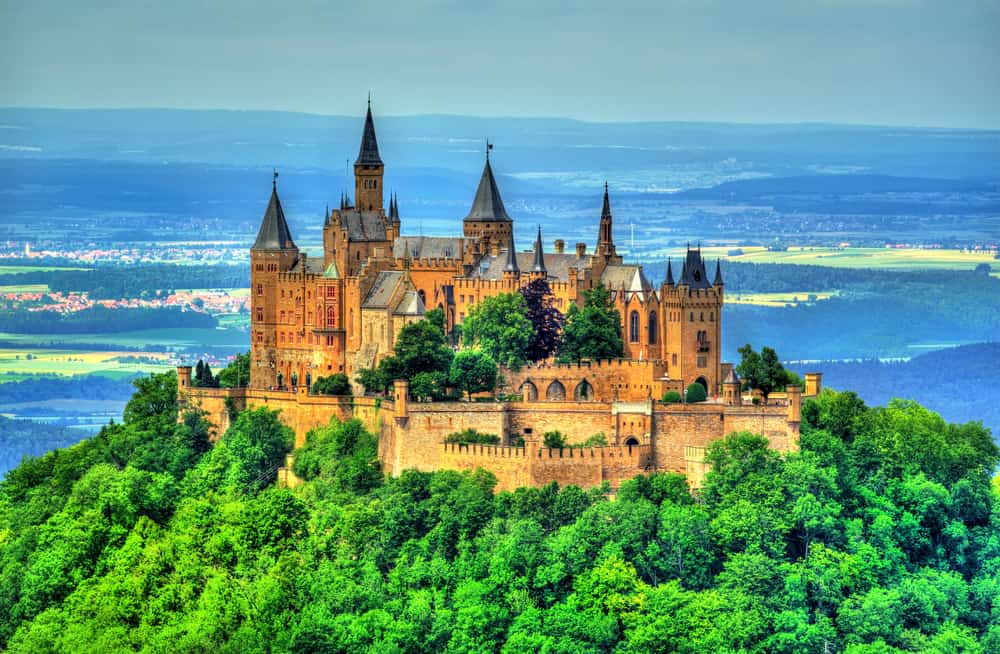 Lichtenstein Castle
Have you ever wanted to visit a castle that sits on the edge of the alps? One that looks like a dragon should sit on top of the tallest tower, guarding an encaptured princess? If so, Lichtenstein Castle is one of the castles in Germany you need to check out. In contrast to the previously mentioned Burg Frankenstein, this castle was inspired by a book, rather than being the inspiration for the book. Outside of Germany, this castle is not as popular as a castle such as Burg Eltz or other massive castles in Germany but within the country, it is the epitome of a fairytale castle. As a result of not being internationally popular like other castles in Germany, a pro of visiting is that there are not as many tourists walking around the grounds. A con though is the tour of the castle is only spoken in German – for anyone that speaks German, you are all set to go! That being said, for all the English and other non-German speaking languages, do not let that stop you from visiting this beautiful location and seeing the amazing architecture. The views from the grounds are absolutely worth it.
The castle is open from February to October with different seasonal hours. Visiting the grounds itself during a day trip allows for the opportunity to see the Swabian Alps and the surrounding landscape. Since there is so much foliage around Lichtenstein Castle it is definitely a sight to see during the autumn months. Another pro, if you are doing a road trip in the area, is that there are a few other castles within 30 miles. If you have the time budgeted, definitely check out one of these other castles in Germany: Hohenzollern Castle.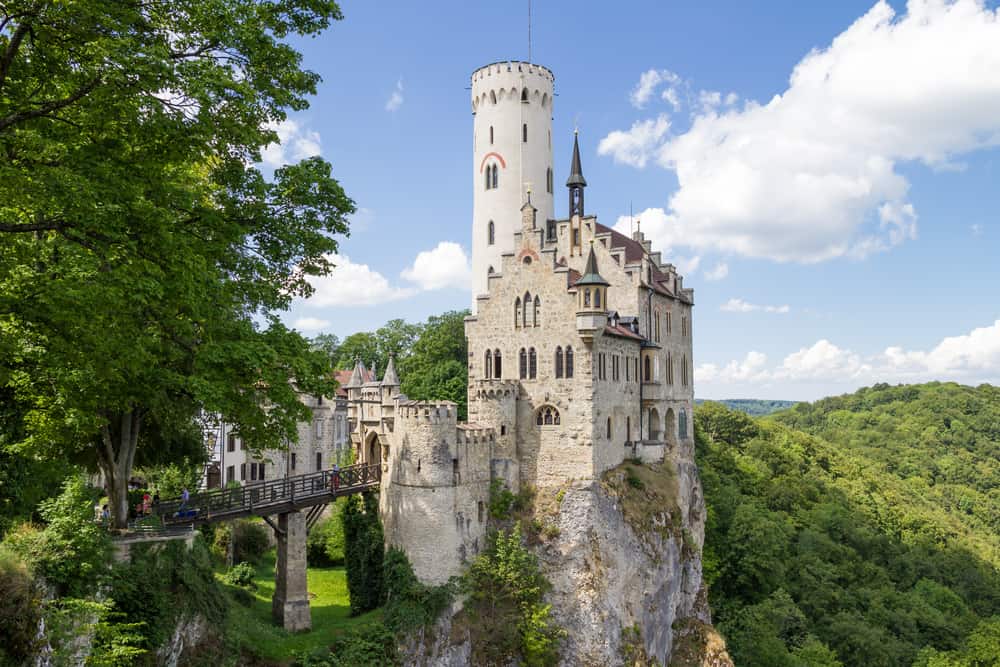 Mespelbrunn Castle
One of the lesser-known castles in Germany but it still has its own character and is another castle with a moat going around it (starting to sense a trend with these castles in Germany). The namesake town in which the castle is located in is about an hour from Frankfurt and is a small and charming place. That being said if you are looking for a spot that is not as crowded as the other castles in Germany this is the spot to check out. Most websites recommend sticking to the main roads when driving as Google will try to send you on a path of small dirt roads. Best to adhere to those recommendations so that finding the castle is easy and seamless. Mespelbrunn Castle is a Renaissance style castle but only the tower is still the original from the 15th century. Due to the location of Mespelbrunn Castle where it is far removed from main areas, it was able to survive The Thiry Years War and left untouched. The rest of the castle beside the tower had gone through reconstruction in order for the castle to fit in more with the houses in the town surrounding it. I don't know about you but when I look at Mespelbrunn Castle I definitely get the sense to wear a Renessaince inspired outfit and walk around the grounds with my hair down, swaying from side to side.
Like many castles in Germany, a tour of the interior is only available by purchasing tickets. If you only wish to see just the exterior then that works too but if you drove all the way to see Mespelbrunn Castle you should just see the whole thing!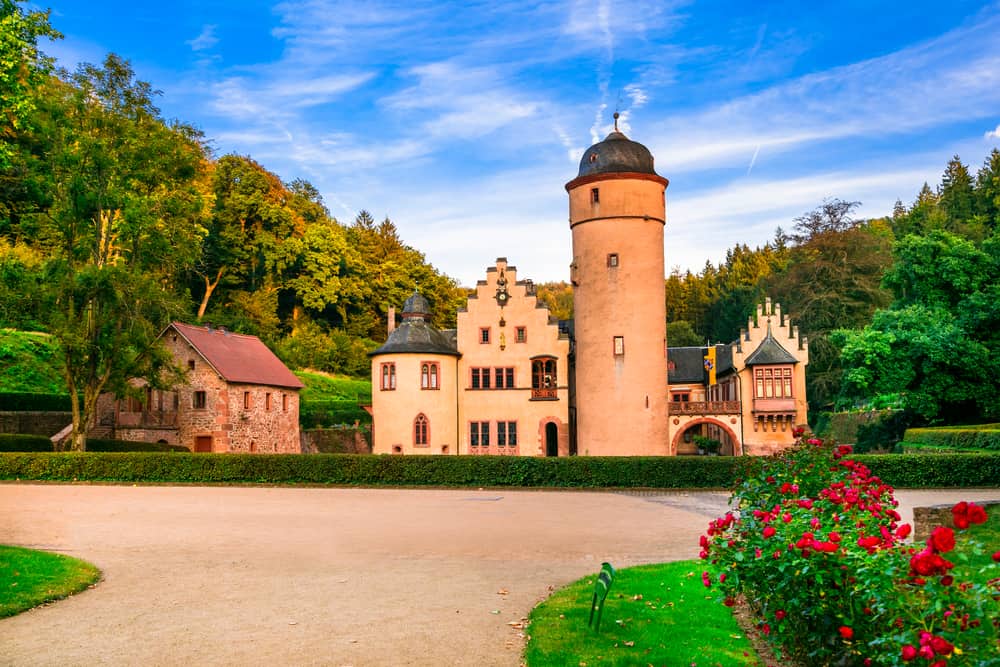 Neuschwanstein Castle
It would be impossible to go through castles in Germany without mentioning Neuschwanstein Castle. There are contrasting reports that this castle was actually the blueprint for the Cinderella castle, but take a look between Neuschwanstein and Burg Eltz for yourself and make a determination. Neuschwanstein Castle is arguably THE MOST famous castle in Germany, if not the world, it has millions of visitors every year and literally thousands daily in the summer months. If you visit make sure to grab a ticket at the ticket center in Hohenschwangau village as early as possible as they sell out fast. Luckily, it is possible to reserve online. Be prepared for a wait though when visiting, especially during peak season. It is easy to see why this amazingly picturesque castle is so popular – it is massive and can be seen from miles away. Sitting on top of a hill, the backdrop to Neuschwanstein Castle is the white tipped Bavarian Alps and tons of trees which makes the view just like a picture out of a fairy tale book.
At this time the castle is going through restoration work so there is scaffolding everywhere but that should not stop you from checking it out. All rooms are still accessible and the interior is just as beautiful as the exterior.