Have you ever dreamed of visiting the best castles in Europe? Whether your dreams stem from childhood fairytales like The Tales of King Arthur, The Princess and the Pea, and Cinderella or the history books you are going to want to check out these otherworldly castles. In our modern era, castles are not common homes or often built, they are romanticized and historical reminders of our past. Their stories, unique architecture, and beautiful locations are what make these European castles bucket list items.
With so much variety the experience at each castle is different and there is something for everyone's tastes. From 12-century Medieval to 19th-century Romanticism, from ruins to fully furnished homes, on rivers and lakes to mountains and forests, these castles in Europe run the gamut. Options, options, options! how will you decide? It might be a tough choice but this article will help you get to know some of the most fairytale castles in Europe. No matter if you're looking to travel to several European castles, spend one magical night sleeping in a castle, or to add a castle tour onto a trip you are going to want to see these.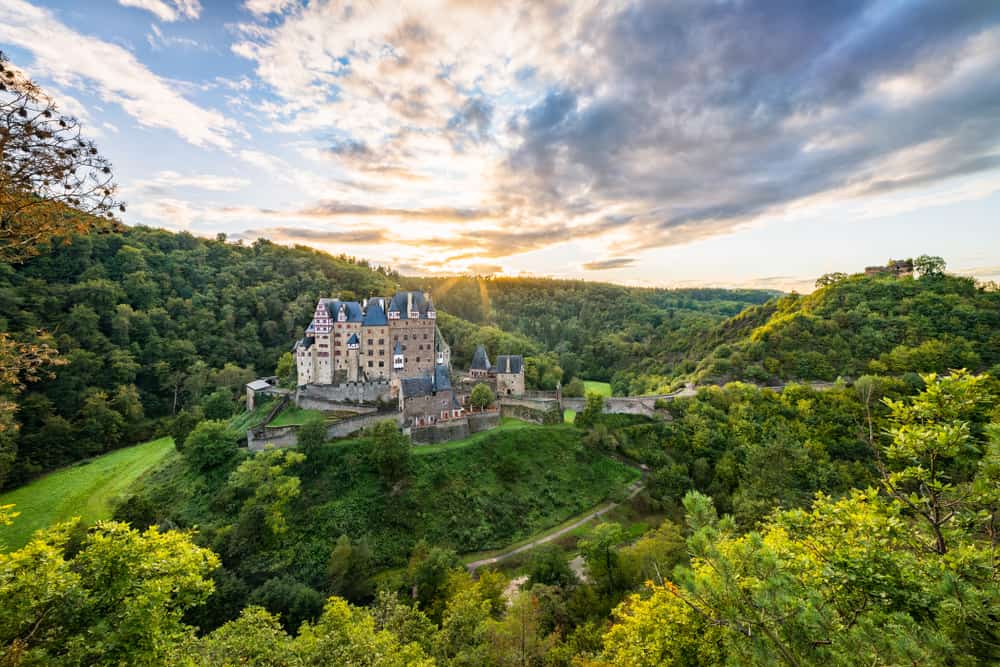 10 Fairytale Castles In Europe You Can't Miss
Burg Eltz Castle, Wierschem, Germany
This is one of the luckiest castles in Europe! It has remained completely untouched by war for 850 years. The location was chosen to secure a trade route and there are the remains of Celtic and Roman fortifications on the property. Anyone interested in a trip into medieval times will fall in love with this European castle, with it's well cared for architecture and furnishings it feels untouched by the passing years. Those interested in hiking will find several options, with trails ranging from 10 minutes to 5 hours. Don't forget to pack water and snacks if you decide to hike.
The same family has owned this European castle since the 12th-century and still live there to this day. For 33 generations 3 branches of the Eltz family has lived within the castle, today they open two-thirds of their home to the public through guided tours from April through early November for €10 per adult. They are the busiest midday so it's better to go before or after if you want to avoid crowds.
Guided tours, usually available in either German or English, begin every 10-15 minutes and take 35-40 minutes. You will encounter original furnishings, suits of armor, jester's masks, a mostly untouched medieval kitchen, and more. Visiting the exhibit in the treasury and armory including many gold and silver pieces is included with the ticket. The family does ask that you respect their privacy and not take any photos while inside their home. When you start to get the hungry there is a restaurant on site that serves both lunch and snacks. Burg Eltz is one of the best castles in Europe if you're headed to Germany stop by and see for yourself.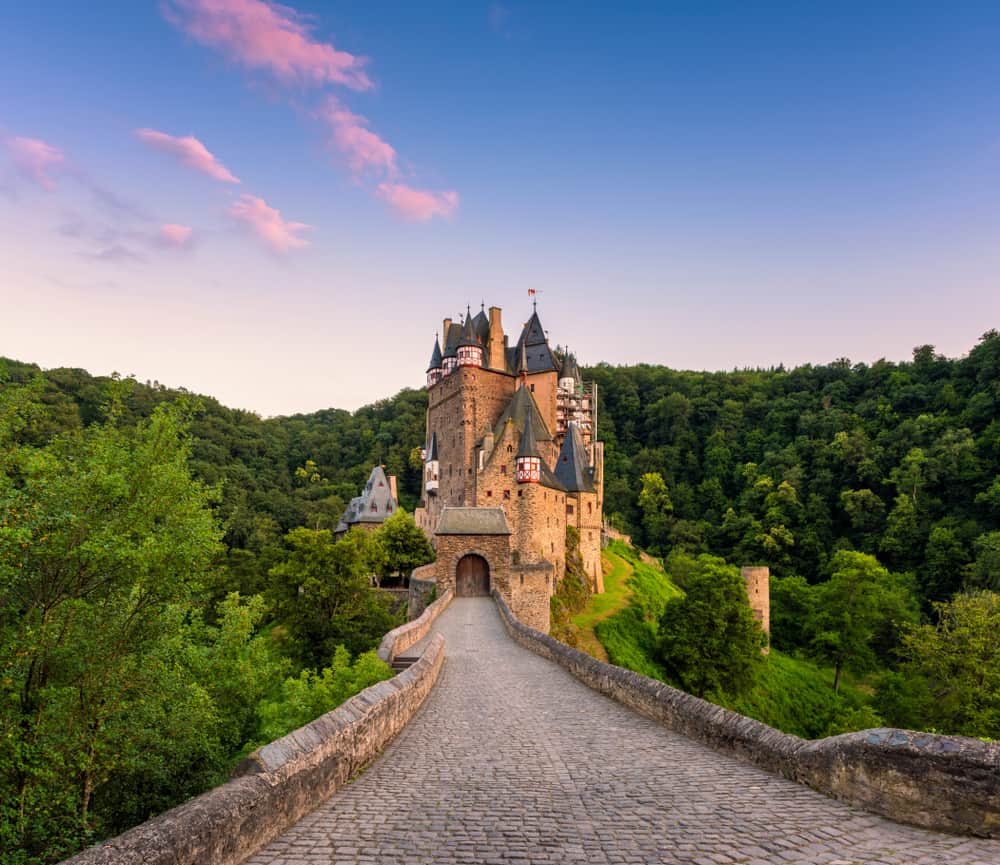 Dunluce Castle, Northern Ireland
Who doesn't love beautiful old ruins? This European Castle fits firmly in that category. Built in the beginning of the 16th-century on the edge of a cliff on the Antrim coast local legends suggest it was abandoned by the McDonnell family after the kitchen and their staff fell into the ocean while cooking! However, when you visit you'll notice the kitchen is intact. In the 18th-century the north wall of the manor house fell and today it is maintained and preserved as a National Monument. If you're interested in visiting the craggy cliffs of Northern Ireland's coast this is one of the castles in Europe that is a must-see stop.
Open year round, there is a small fee to enter this castle of Europe, then you can wander around to any open areas. They also offer guided tours, best booked in advance, and the welcome center has an informative video that can be viewed. Below the castle grounds is a large cavern that opens onto the sea called Mermaid's Cove when there is no maintenance going on it is also open for exploration. Other archeological finds and ruins can be visited nearby as the town was also abandoned. Dunluce Castle is truly one of the most rugged castles in Europe and once you visit you will see why.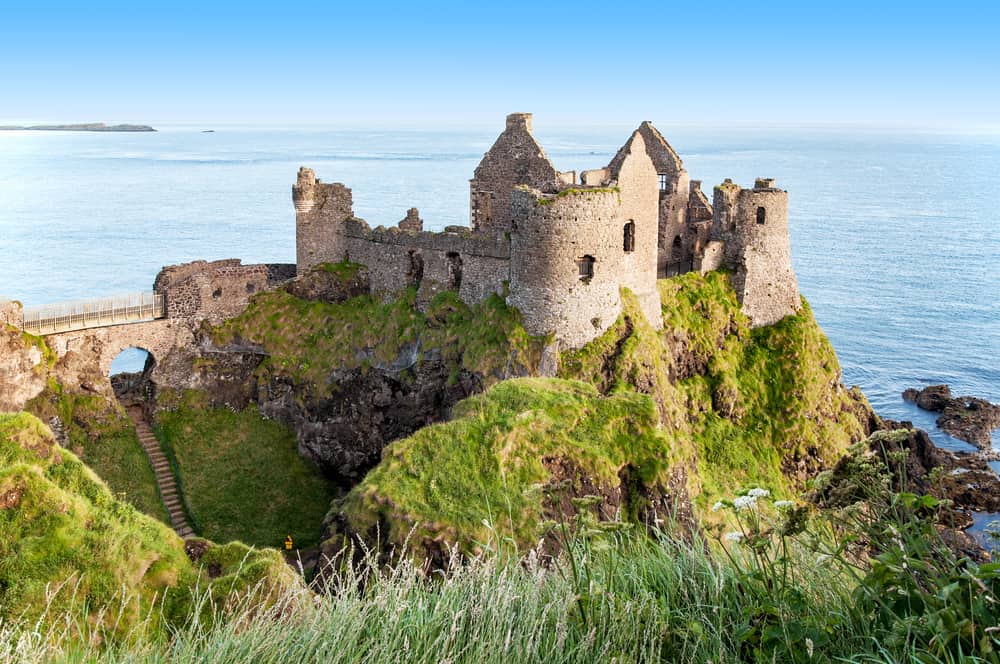 Quinta da Regaleira, Sintra, Portugal
Out of the best castles in Europe, this magical gothic 20th-century UNESCO World Heritage Site fits "fairytale" to a T. The gothic architecture is very ornate with turrets, gargoyles, and an octagonal tower but the real draw here are the enchanting gardens. Work on the property was commissioned from an Italian set-designer and architect with the request that the design reflects the mythologies and ideologies that interested the owner.
The gardens were created with hidden symbolism and tunnels. Likeminded individuals can spend the day discovering references to the Knights Templar, Masonry, and alchemy. One of the most well-known features in this European castle are the two wells which resemble underground towers or a spiraling staircase. They are also known as initiation wells because of their connection to the Knights Templar initiation ceremony. Descending the wells brings you to the tunnels that run under the gardens.
This castle in Europe is open to the public April 1 until September 30th for a small entrance fee. You can explore the palace and grounds on your own until closing, chose to rent an audio tour available in several languages, or book a guided tour (which includes the entrance fee). If you'd like to do a guided tour it is best to book in advance. The palace has five floors to explore, a chapel, the park, tunnels, two initiation wells, two lakes, and several fountains. Food, tripods, and drones are not allowed, however, there is a cafe and restaurant on location so you can enjoy something to eat when visiting one of the most magical castles in Europe.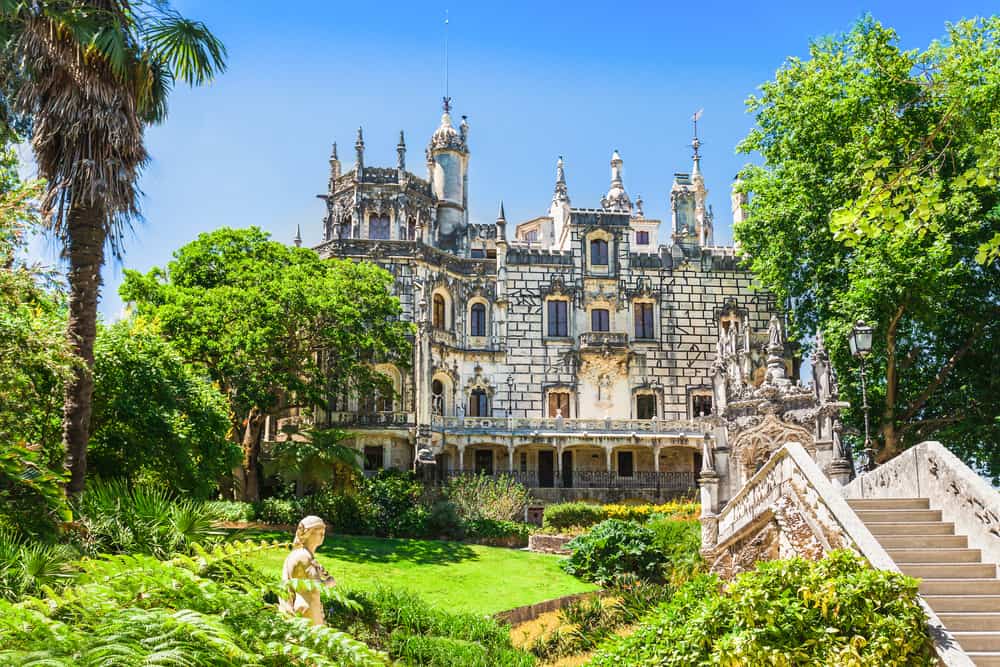 Malbork Castle, Malbork, Poland
Did you know that the castles in Europe can also be named as palaces, fortresses, citadels, and more? The Teutonic Knights built Malbork Castle as their headquarters and as a fortified monastery in the 13th-century. The Teutonic Knights were a German Catholic religious order of crusaders. While height and a feeling of the structure towering over is expected when picturing a castle at Malbork Castle you get breadth. A UNESCO World Heritage Site, Malbork Castle is the largest castle by land area in the world and the largest brick castle in the world.
An easy day trip for Gdansk, Malbork Castle is open year round Tuesday–Sunday except for some holidays. To avoid crowds it is best to visit in the mornings and on weekdays. The cost of admission includes a 38 stop self-guided audio tour of the grounds, to see everything takes about three hours. While it is hard to select just a few some highlights of the tour include the Grand Master's Palace, the Knights' Hall with the original ceiling, an armor collection, amber collection, stained glass exhibit, St Anne's Chapel, and so much more. With so much to see and do Malbork Castle is one of the castles in Europe you should set aside a good amount of time for your visit.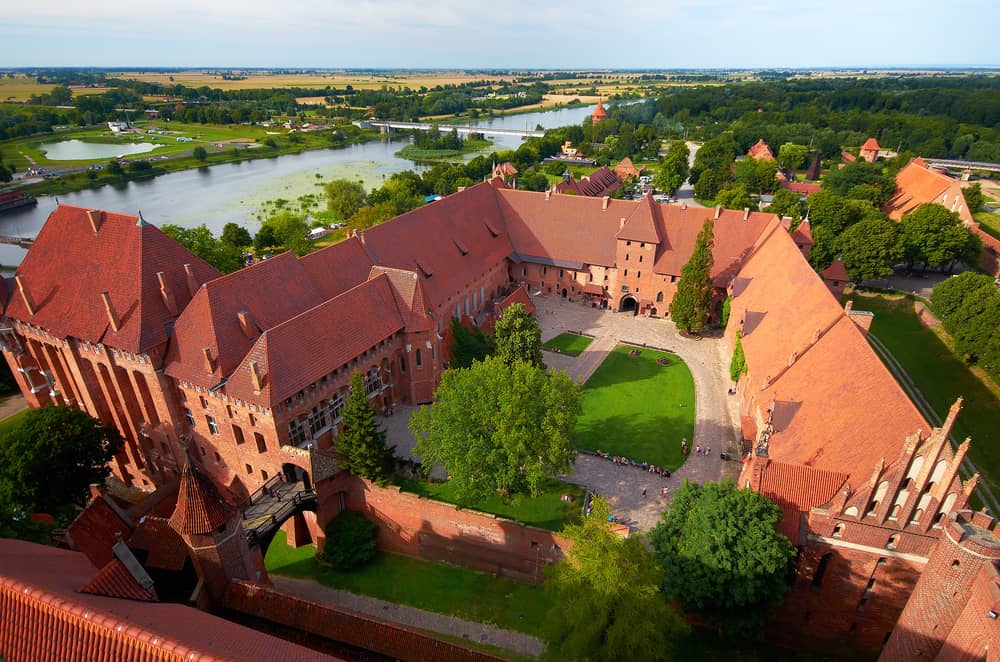 Orava Castle, Oravský Podzámok, Slovakia
European castles really follow the saying of taking the high ground. Orava castle is built on rocky cliffs above the Orava River. Before the castle existed the land was used for wooden forts, in the 13th-century the current structure began to take shape and grow through the centuries. Its long period of growth means the architecture reflects a variety of styles including Romanesque, Gothic, Renaissance, and Baroque. Some unique features of the castle include an entrance of three connected doorways, underground tunnels, a dungeon, and exhibitions on ethnographies, natural history, history, and archeology.
The castles in Europe have often been featured in films and Orava Castle is no exception, the 1912 movie Nosferatu was filmed here. For a spooky experience, there are night tours available during high season with theater performances. To visit the castle you can purchase a tour ticket with three different options based on what you'd like to see or how long you'd like to visit. Once the tour starts there is no way to turn around or end early so make any bathroom stops first. When you purchase your ticket be sure to also pay the small fee to take photos if you'd like to do so. English tours are only offered in July and August but you can download an audio guide in English year round.
Chillon Castle, Veytaux, Switzerland
Located on a rocky inlet on Lake Geneva this 12th-century castle was a medieval fortress and like many of the castles in Europe Chillon Castle expanded over time. Its design was influenced by the time periods, particularly the Savoy, Bernese, and Vaudois periods. Due to its location, it was a prime spot for a trade route between France, Germany, and Italy.
Lord Byron memorialized the castle in his poem "The Prisoner of Chillon," fans can also search for where he carved his name in the dungeons. The castle is open year round to visitors who receive a brochure with their small entrance fee, audio guides can also be rented, or a guided tour can be booked in advance. Along with exploring the property, there are also several exhibits available in the museum. Stop by to visit one of the castles in Europe that inspired so many writers.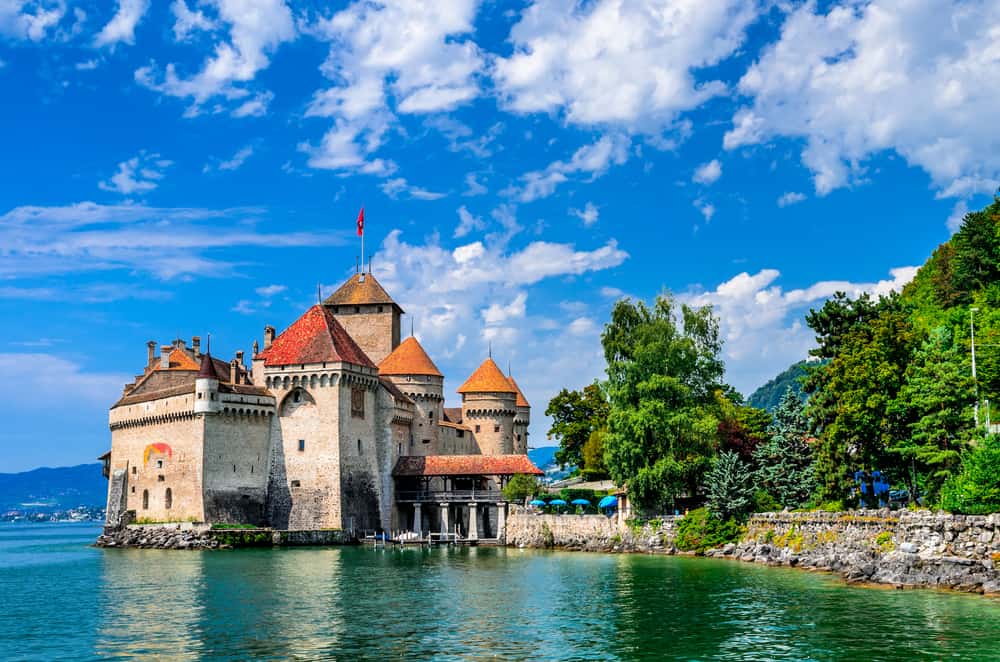 The Castle of Ravadinovo, Ravadinovo, Bulgaria
For a perfectly surreal castle built not as a fortress or palace but to fulfill fairytale dreams look no further. The best castles in Europe typically have historical significance and long life spans, however, the Castle of Ravadinovo is still under construction and the construction began just 20 years ago. Since the interior is still under construction you can only visit the outdoor area for the most part. There are many gardens, a man-made lake, black and white swans, a small zoo, a wishing well, kinetic sculpture, winery, chapel, and art gallery. Before traveling its always good to do your due diligence and make sure any activities with animals are at places where they are well cared for, that does not mean you shouldn't visit but avoid funding those specific attractions.
Located just next door to a water park a joint ticket can be purchased to visit both. Tickets are available just to enter the castle grounds as well for a reasonable fee. For more family fun tickets for the summer cinema, horse riding centre, art gallery, treasure seekers game, and escape room games can be purchased. Hoping to keep the kids entertained all day? Stop by one of the most family-oriented castles in Europe.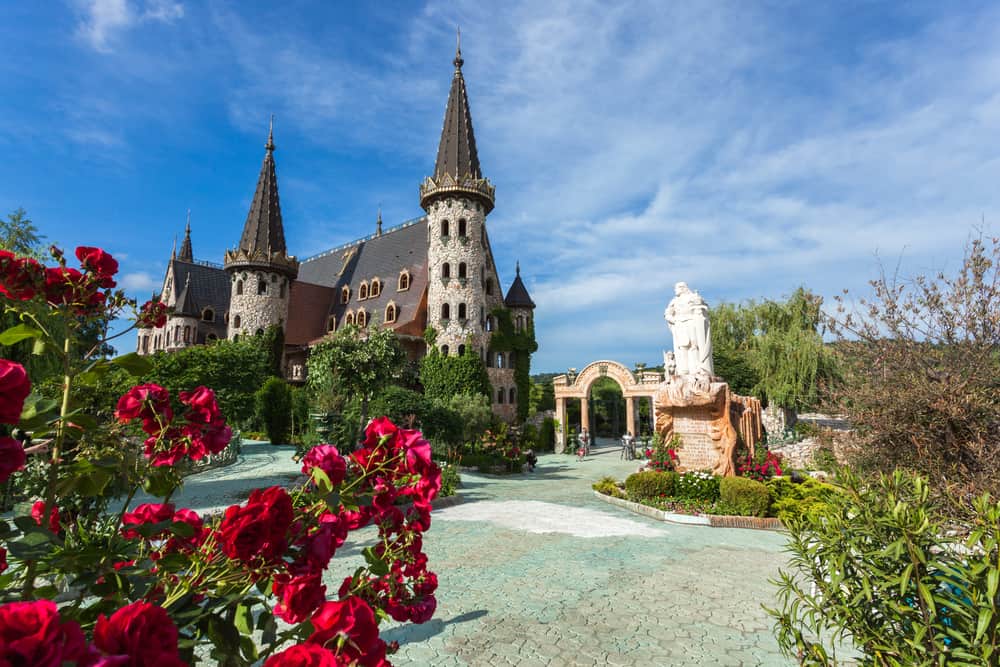 Alhambra, Granada, Spain
Castles in Europe may not call to mind the ornate and decorative calligraphic style of Islamic architecture but that is exactly what Alhambra has. Renovated and rebuilt in the mid-13th century and named "Alhambra" which means Red Castle in Arabic for its reddish walls, because Granada was one of the last parts of Spain to remain under Muslin rule until 1492. A UNESCO World Heritage site this castle boasts several palaces, halls, courts, gardens, a monastery, a promenade, and so much more. There is so much to see and do a visit can take over three hours.
There are several ways to visit and they're pretty specific as they limit the number of visitors per day so take a close look at what's available and book ahead if you can. Guided tours are also available but they suggest you book a month in advance. Alhambra is open April 1st through October 14th. With so much detail wherever it can fit and even arches that are just for looks of the best castles in Europe this one might require binoculars if you'd like to get a closer look.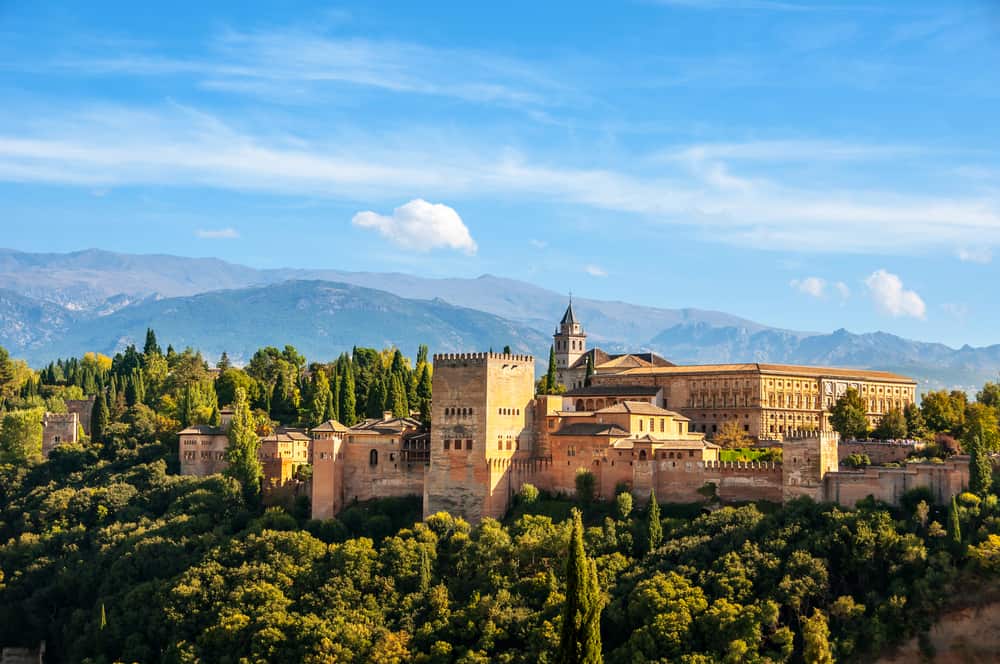 Neuschwanstein Castle, Schwangau, Germany
Often nicknamed "the Fairytale Castle" Neuschwanstein Castle cannot be left off of a list of fairytale castles in Europe. Construction began in 1868 commissioned by King Ludwig II as a homage to Richard Wagner and the middle ages. While the style is purposefully medieval the building had all the modern amenities of its times as well: running water, toilets, heating, telephones, and more.
The castle is open for visits year round and very popular so it's best to book tickets in advance online if you don't want to wait in long lines. The ticket gets you a tour (in German or English) of the inside that is about 20-30 minutes of the 3rd and 4th floors and ends at the public store and cafeteria on the 2nd floor. There is also ongoing restoration work inside so while those rooms aren't closed you will see scaffolding. No photos are allowed while on the tour but there are different trails that be explored around the castle for exterior photos. To visit a real-life Cinderella castle look no further than this castle of Europe.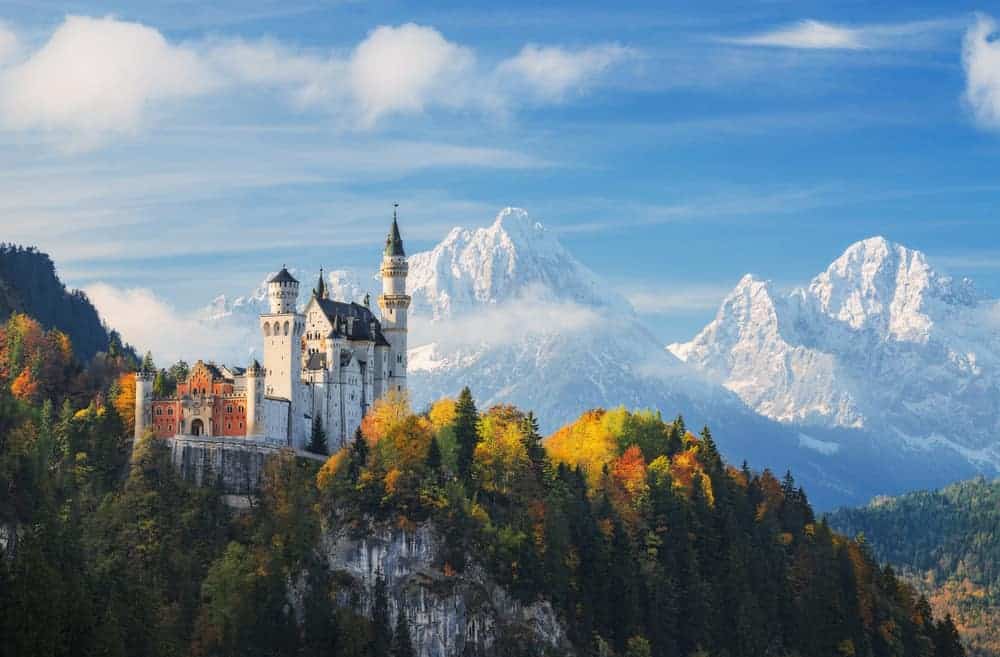 Predjama Castle, Predjama, Slovenia
Predjama Castle is the worlds largest cave castle! Of all the varied locations for the best castles in Europe, this is the most unique. This 12th-century man-made structure feels like it grew right out of the natural elements it is such a part of the landscape. Having been built as a fortress this castle helped a robber baron survive a full year while under siege before a servant betrayed him. Unlike other European castles, this doesn't have the ornate decoration and furnishings of palace like castles but is a more practical beast.
Given the practicality of this castle visitors usually enjoy also visiting the caves under the castle and nearby. Tickets can be purchased that group different attractions together. At Predjama Castle you can roam at your own pace and use an audio guide in the language of your choice. While it may not be one of the most over-the-top castles in Europe, Predjama Castle offers something different.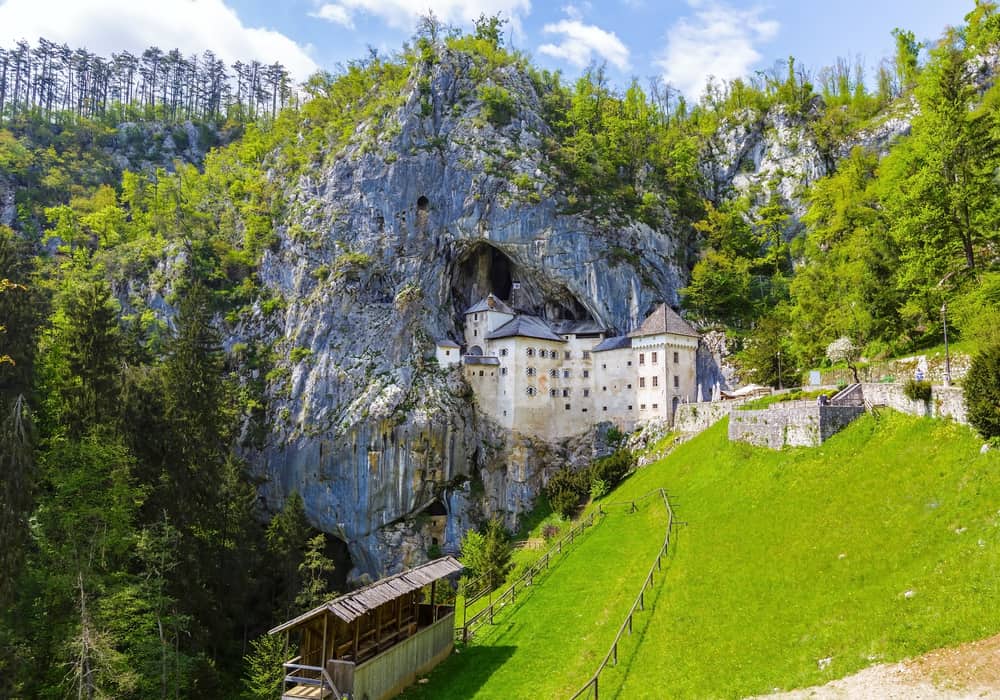 However you define fairytale there are castles in Europe that will fit your style. We've seen fortresses, preserved medieval castles, a cave castle, palaces, and more. WIth different ways to visit, architectural styles, activities, and locations I hope you found somewhere you would love to visit.
Pin this post if you loved it!