Looking for the best Airbnb in Sedona for your next vacation among the red rocks? We've got you covered with 10 suggestions to make the most out of your stay.
Sedona's landscape lures in tourists from around the country with its iconic red rocks and sweeping vistas. For Phoenicians braving 100+ degree summer heat, it's also the perfect escape up north to cooler weather.
With a refreshing creek for summer dips, top-notch hiking trails, art galleries, and vortexes to tap into your spiritual side, there's never a dull moment in this charming town. To make your vacation out west even more memorable, you'll want to book the perfect Sedona Airbnb.
The best part about Sedona Airbnbs tends to be their exceptional views and proximity to hiking trails. We've also suggested a number of Airbnbs that accommodate large groups of people in case you're traveling with friends or extended family and are looking to split the cost of a larger place.
It's truly hard to go wrong when choosing an Airbnb in Sedona because with that much natural beauty right outside your door you'll hardly be spending any time indoors anyway.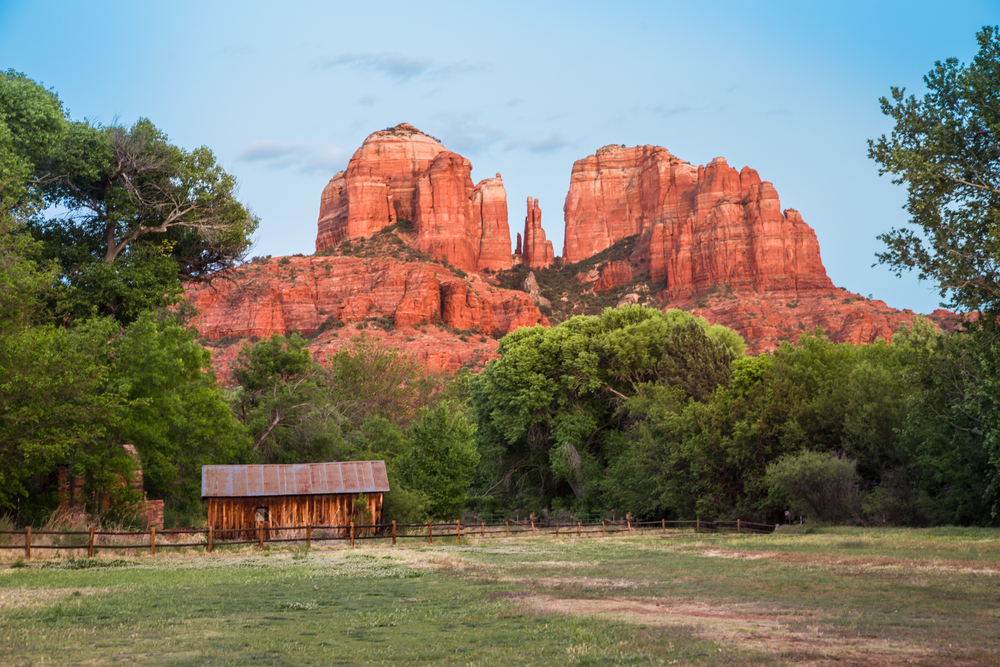 10 Best Airbnbs In Sedona (Cabins, Domes, & More)
Expansive Home Near The Chapel
This expansive home near the Chapel of the Holy Cross is the best Airbnb in Sedona for large families or groups traveling together. The Airbnb can host up to 10 guests in 4 separate bedrooms, so although on first look it's not an inexpensive option, when split among groups it becomes very affordable.
This home has a unique Southwestern contemporary exterior and a crisp, modern interior. An abundance of light streaming through the windows creates a warm, homey feel.
Within walking distance of the home, you'll find a number of hiking trails as well as the iconic Chapel of the Holy Cross built into the beautiful Sedona red rock. When you're done with the day's adventures you can return to the home to soak and recharge in the newly installed hot tub.
Whether you're taking a nap on the curved window seat in the perfect sun spot or are relaxing on the back patio, you'll be vacationing in style and comfort at this Sedona Airbnb.
Click Here To Check Rates On Airbnb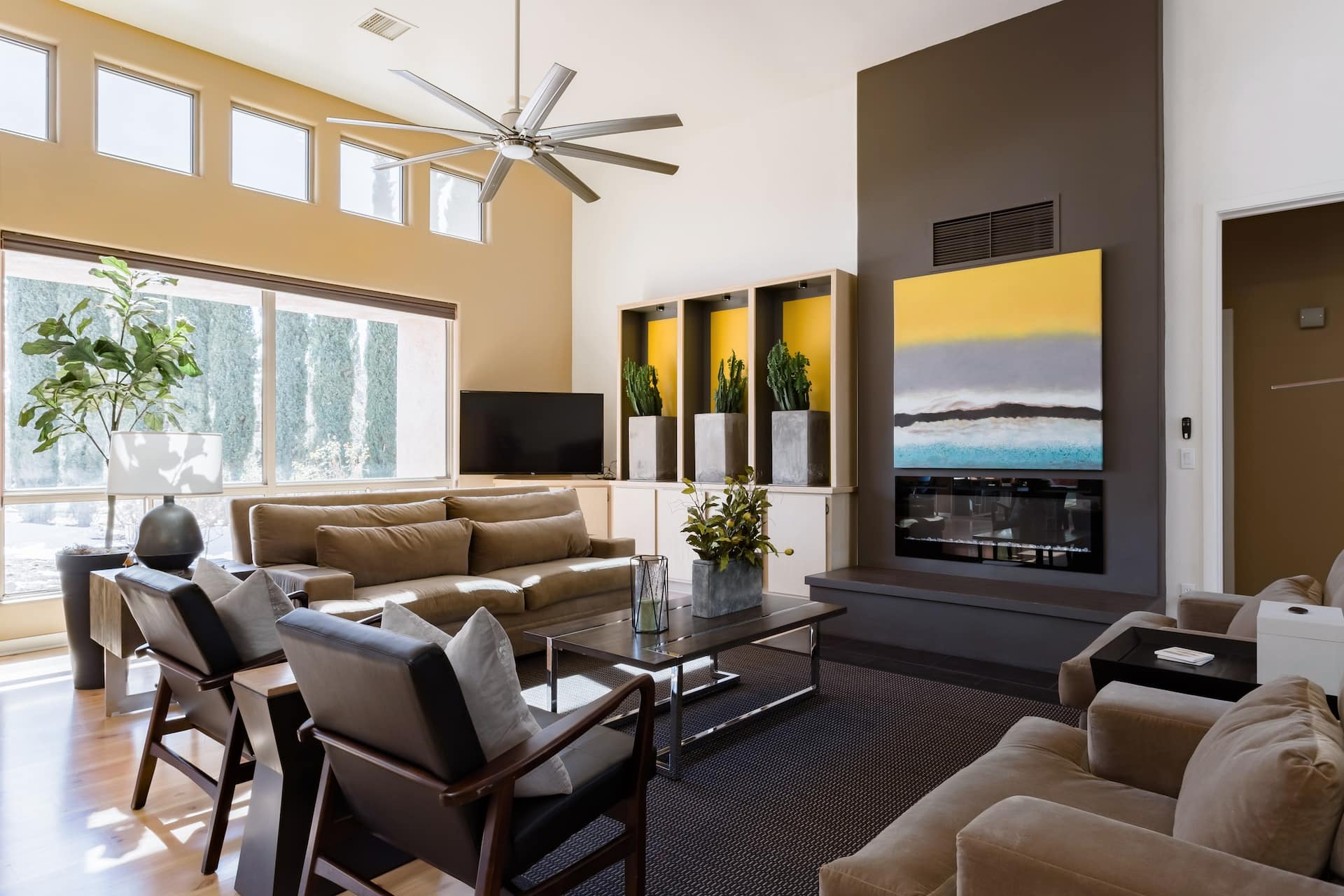 Sedona's Best Casita
Our next suggestion is also pricey, but you'll be so absorbed in the spectacular views you won't notice the impact it's having on your wallet. The best part of taking in these views…you can do it all while relaxing in the beautiful infinity pool on the property.
When you've had your fill of the pool you can migrate to the hot tub, grill up something on the BBQ, or just hang out on the wraparound deck. Sedona is all about engaging with the outdoors, and this Airbnb allows you to do just that while still enjoying the comforts of a home.
The views from inside the casita are no slouch either. With floor to ceiling windows, the red rocks are always within sight beckoning you to come outside.
You'll have plenty of privacy at this location in West Sedona while still being close to the town's top bucket list items when you're ready to venture beyond the Airbnb. However, we understand that it would be tempting to swim to the edge of the pool, soak in the dreamy views, and never want to leave.
Click Here To Check Rates On Airbnb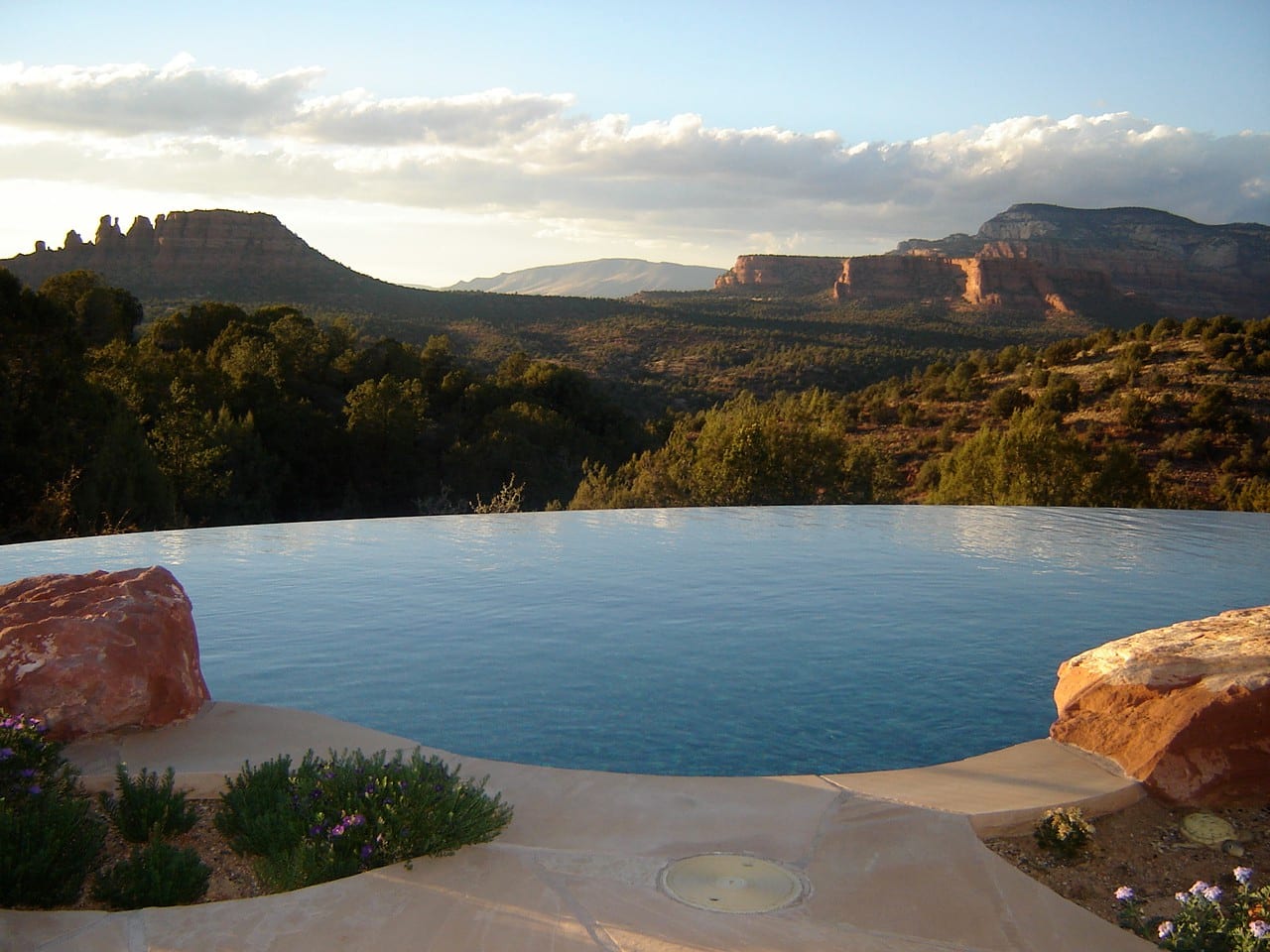 Windy Rock Lodge
Looking for Sedona cabins to cozy up in after a long day of adventures? Look no further than the Windy Rock Lodge, a beautiful cabin for up to 8 guests that is surrounded by Ponderosa pines in Oak Creek Canyon.
Though the cabin is not located in the heart of Sedona it is just a 20-minute drive from both Sedona and Flagstaff making it a simultaneously convenient and secluded location.
With Oak Creek and the West Fork hiking area just a stone's through away you'll never be wanting for outdoor activities. Sedona's famous red rock trails are well within reach too.
At the cabin, you'll feel instantly at home with an impressive interior made of pine tree beams and river rock, large windows offering views of the forest outside, a fireplace to keep you warm in the winter, a magical garden for outdoor summer dining, and a deck to enjoy the peacefulness of your surroundings.
Whether you spend your vacation hiking, swimming in the creek, reading in the loft, or napping by the fire you'll be glad you chose this cabin as your home away from home.
Click Here To Check Rates On Airbnb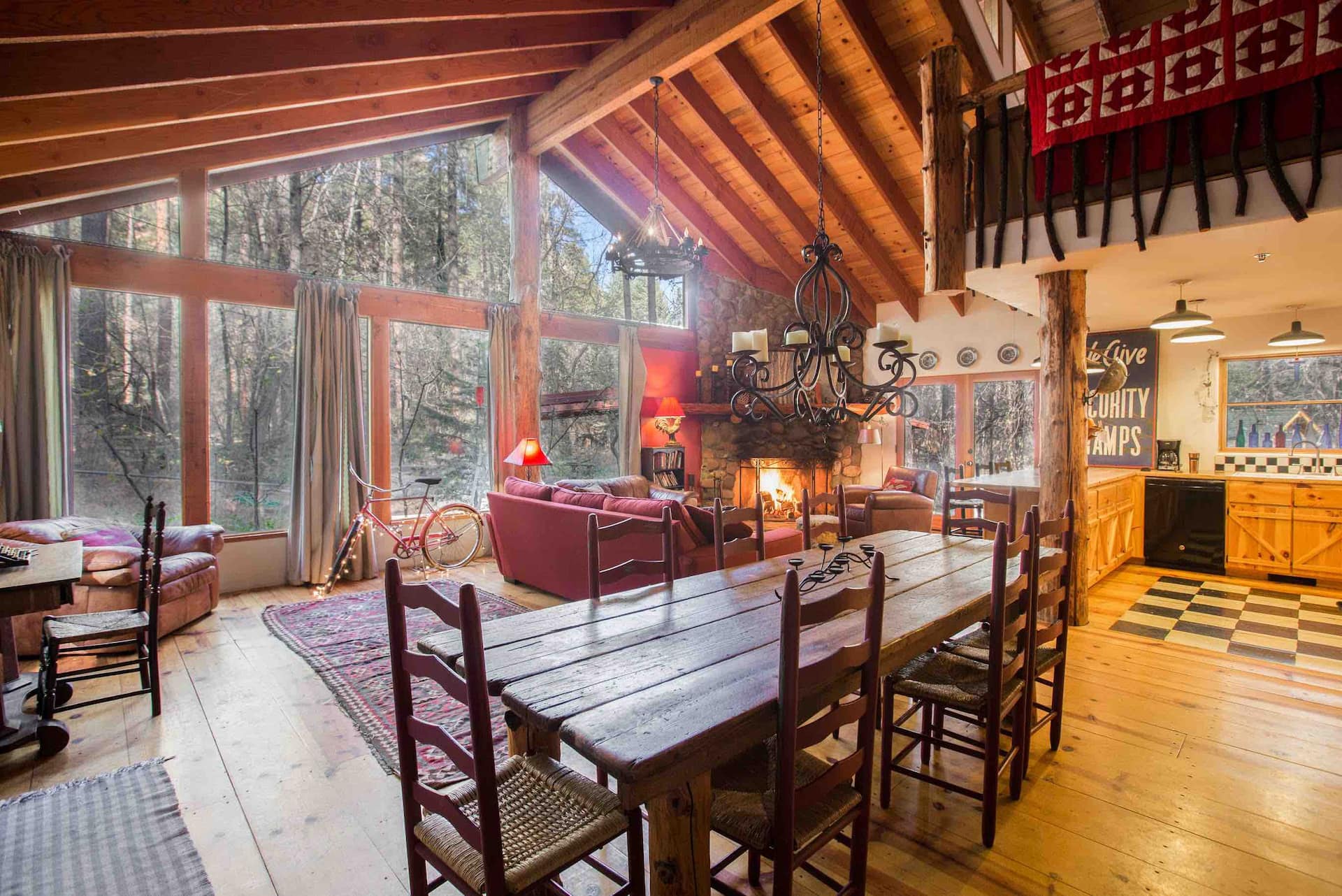 Sunrise Studio
The Sunrise Studio Airbnb in Sedona has everything you need for a relaxing stay among the red rocks.
As silly as it may seem, the bathroom is arguably one of the highlights of the studio. With a large freestanding bathtub, natural light streaming through the windows, earth-toned walls, and a cactus beside the tub for good measure, the bathroom becomes your own little slice of paradise to decompress after a full day.
The rest of the studio is charmingly decorated and a private patio gives you wonderful views of the nearby Thunder Mountain. You can even enjoy the fruits of fig, apple, and peach tree on the property when they're in season.
Though you share the property with the main house and a tiny home, you'll be granted plenty of privacy during your stay. So go ahead and book this solar-powered, ideally located studio and let your exciting Sedona adventure begin!
Click Here To Check Rates On Airbnb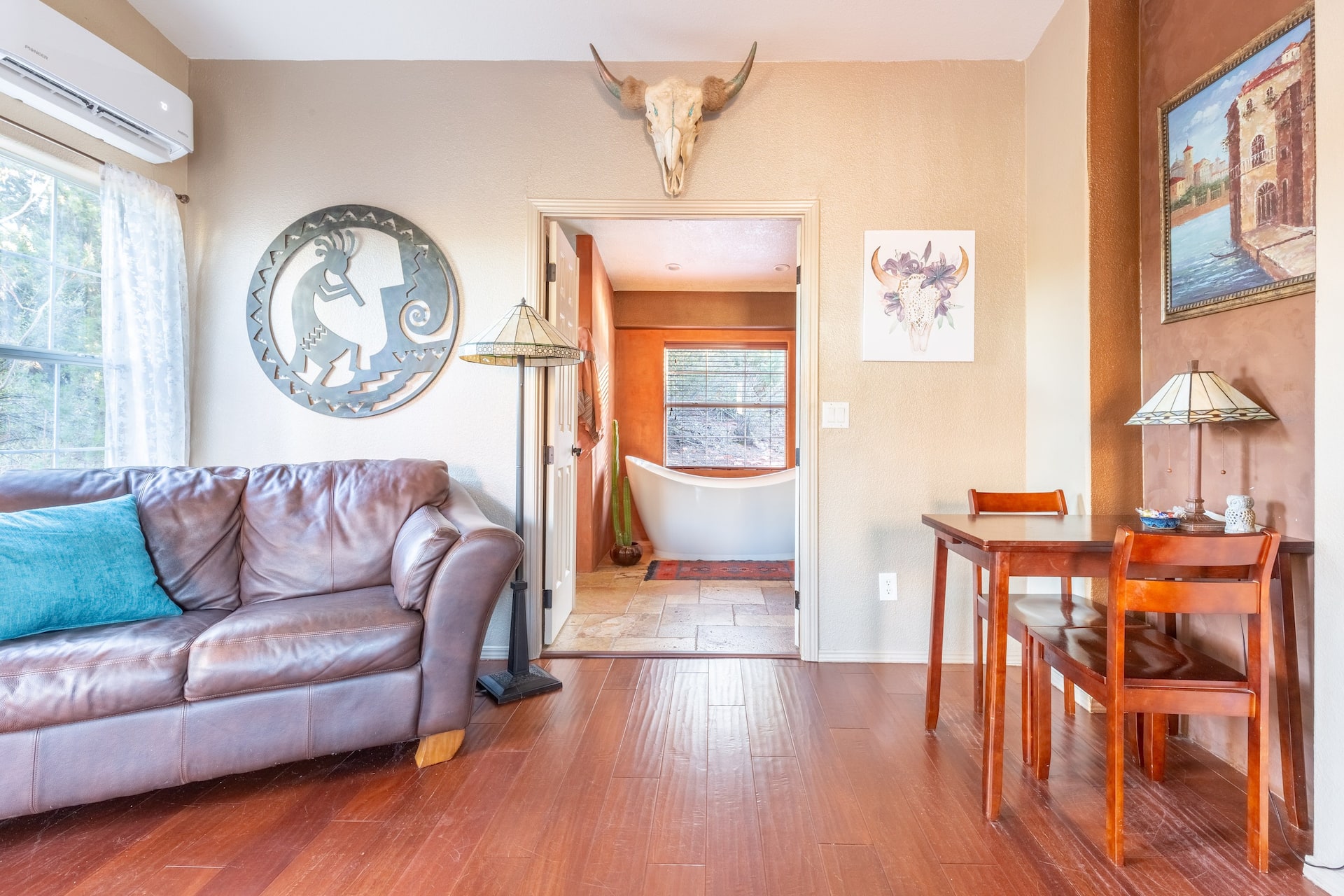 My Sedona Place – Home Sweet Dome!
If you can appreciate bold design choices and unusual building structures then My Sedona Place might just be the best Airbnb in Sedona for you. For the duration of your stay, you'll be living inside a spacious geodesic dome with bright white walls and a checkerboard floor.
Uniquely shaped skylights and windows let in an ample amount of natural light as you relax inside the home. And with three bedrooms and four beds, the dome provides the perfect extended weekend getaway for a large family or a group of friends looking to stay together.
An outdoor patio with views of Cathedral Rock and Thunder Mountain is definitely a bonus. You might also try stargazing at night or enjoying your morning coffee at sunrise from the patio as well.
You'll find you are conveniently close to many hiking trails and only 3 miles from the heart of Sedona, yet your stay will be private and quiet in this peaceful West Sedona neighborhood. A perfect combination!
Click Here To Check Rates On Airbnb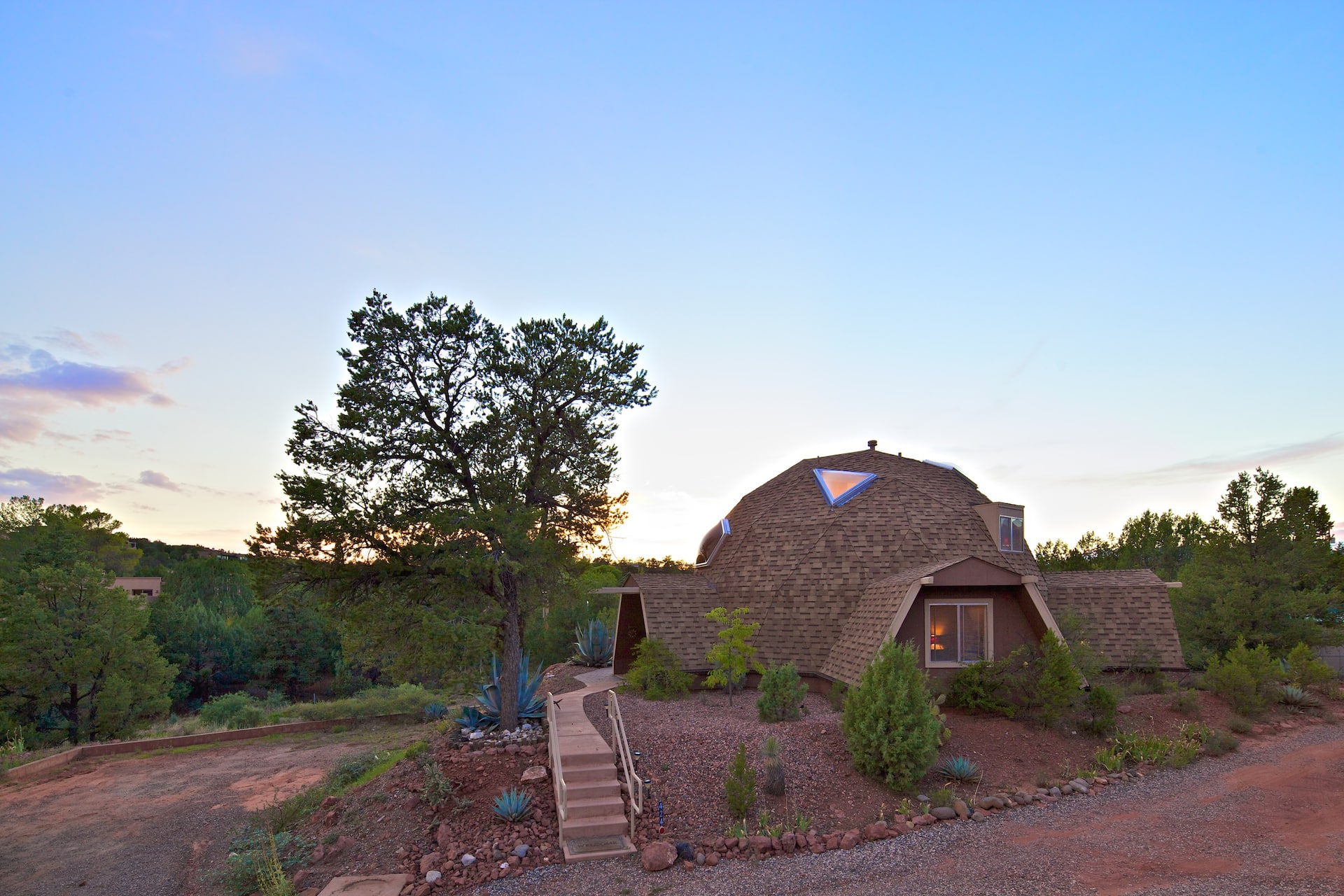 Forest Bathing Bubble
If you're looking for a unique, adventurous experience, the Forest Bathing Bubble is the best Airbnb in Sedona for you. Pack your bags and get ready for a peaceful night under the stars.
We're not kidding when we say adventurous. To get to this Sedona Airbnb you'll be driving in on a bumpy dirt road that is certainly made easier in a 4 wheel drive vehicle. You'll then be led by the host on a short hike to your actual bubble accommodation.
Though you'll have access to the bathroom in the main house during your stay, it's a 3-minute walk/hike over rough terrain so middle of the night bathroom breaks aren't quite ideal. That being said, having access to a real bathroom is certainly a luxury in a glamping situation like this one.
All the challenges aside, being able to sleep under the stars in a secluded location while being in a bubble that protects you from the wildlife and potentially unpleasant weather conditions is an experience you won't soon forget.
Click Here To Check Rates On Airbnb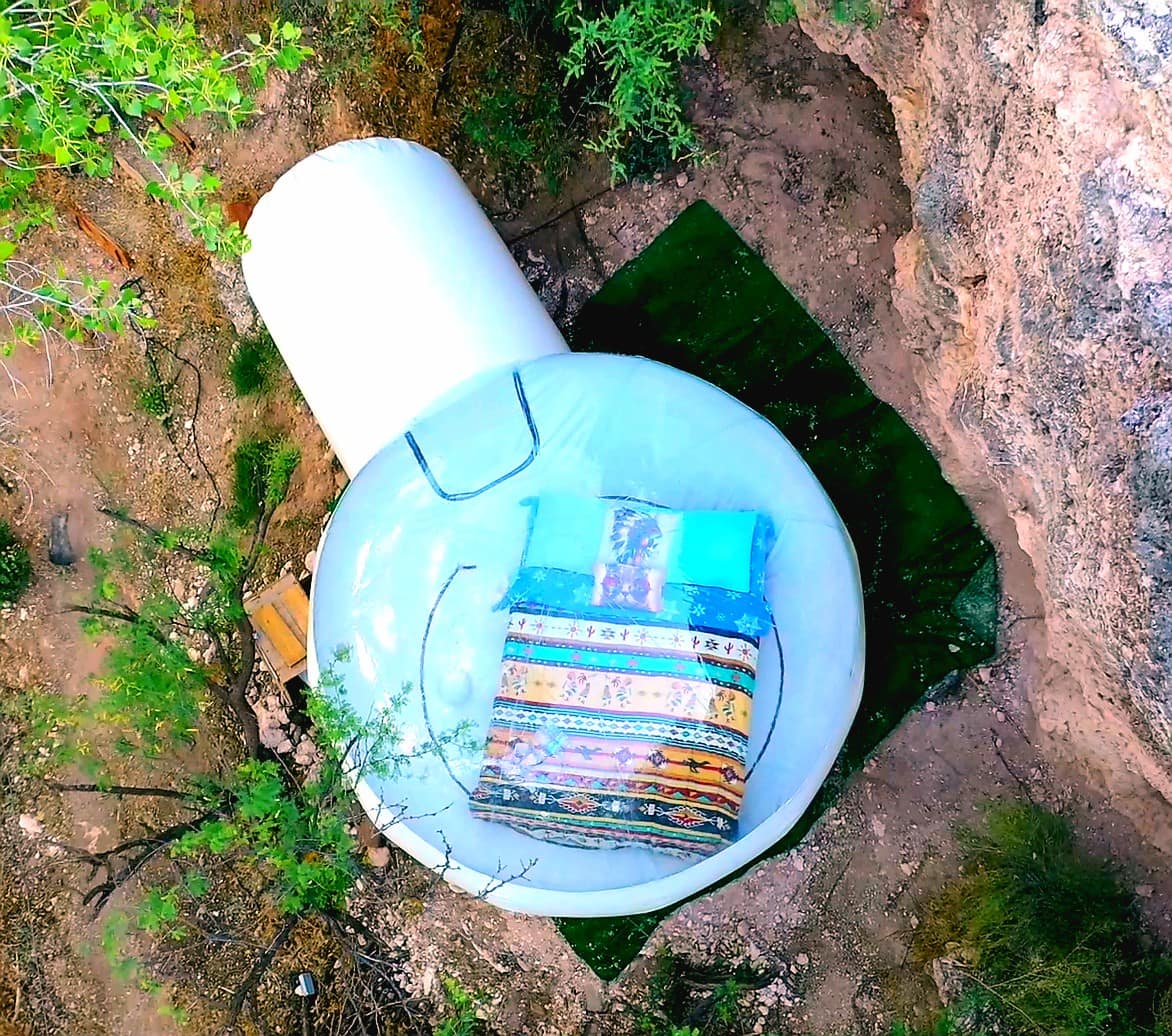 Unique Cave On the Creek
This unique cave on the creek is another listing by the host of the Forest Bathing Bubble, and it's an equally adventurous Sedona Airbnb.
Like the bubble, you'll be driving in on a dirt road and briefly hiking to your "room." You'll also have access to the bathroom in the main house but a portable toilet is provided for you down by the cave.
The cave is remarkably cooler in the summer than the rest of the outdoors and warmer in the winter. When you're not enjoying the unique cave setting you can take a dip in the creek, make a reservation to visit the wolf sanctuary next door, or drive outside the area to hike through the Sedona red rock, visit Montezuma's Castle or see the animals at the Out of Africa Wildlife Park.
As long as you understand that this is a real glamping experience in the middle of an Arizona desert, you're sure to have a great time at this Sedona Airbnb roughing it in style.
Click Here To Check Rates On Airbnb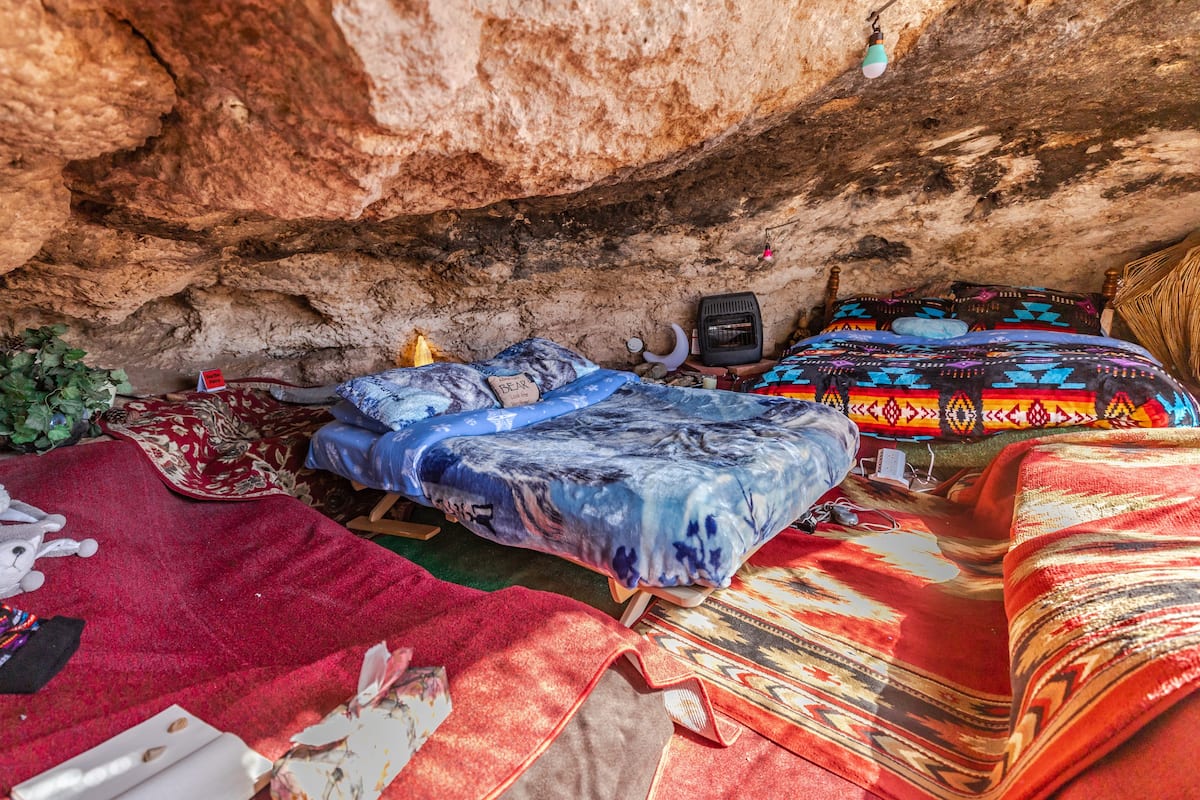 Hiker's Haven
Call up your friends and family and tell them it's time to book a group trip to Hiker's Haven, a charmingly decorated Airbnb in Sedona just half a mile from the famous Chapel of the Holy Cross.
Wood furniture and blue accents adorn this mid-century modern home that you can call your own for the duration of your time in Sedona. The house can accommodate up to 6 guests with 3 bedrooms and 4 beds.
The backdoor patio and BBQ make for the perfect outdoor dinner situation and a morning coffee on the patio isn't half bad either. You're also amazingly close to Sedona's red rocks so you not only have a great view from the house, but you have convenient access for hiking.
This Sedona Airbnb has all the comfort you need in an incredible setting. The makings of a perfect trip!
Click Here To Check Rates On Airbnb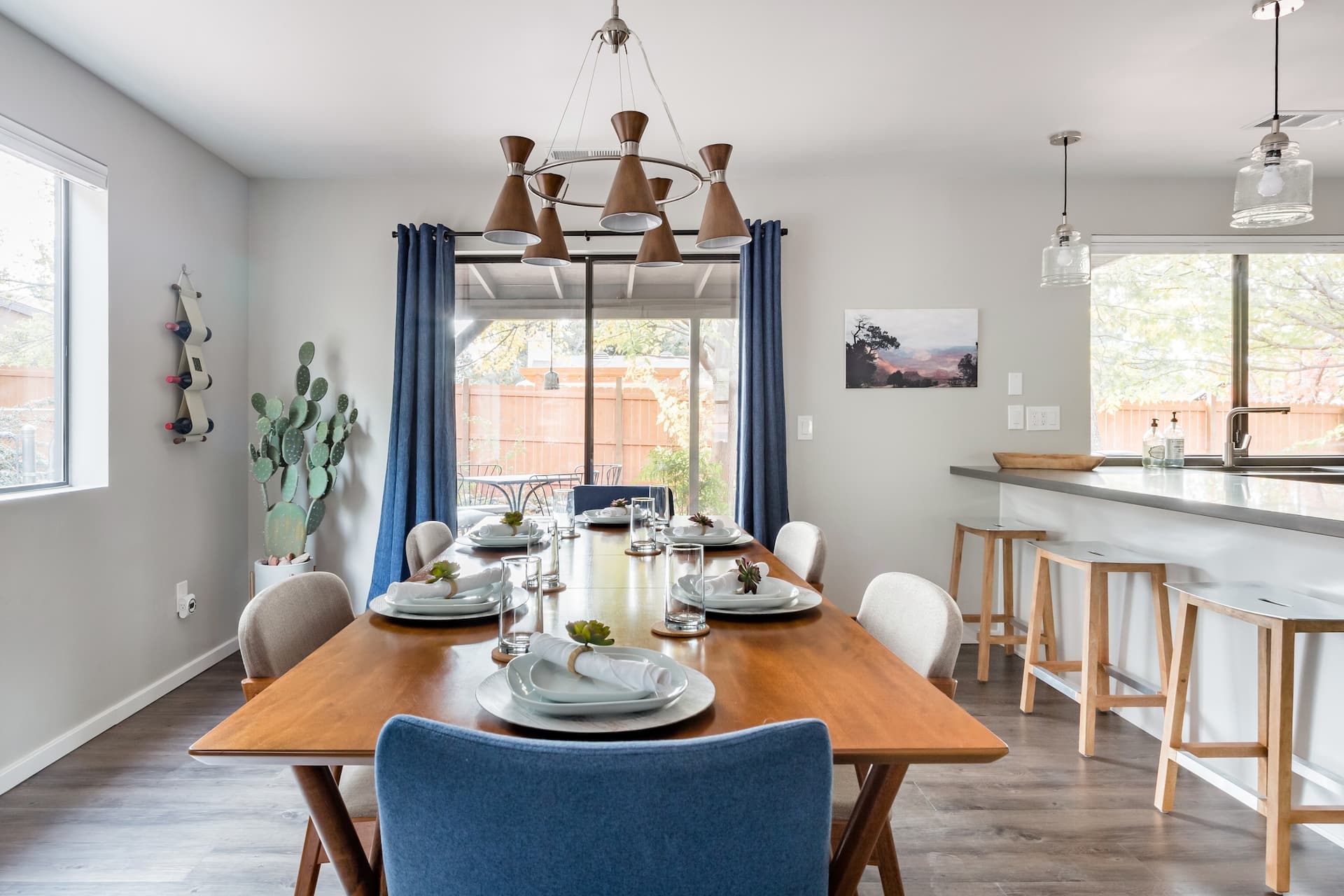 Yoga Retreat Room Near Cathedral Rock
If you're looking for a place to stay where the focus is intentionally on peace and relaxation, the Yoga Retreat Room is the best Airbnb in Sedona for you. At this suite, you'll have access to yoga equipment which can be used in the studio or even outside among the red rocks if you so desire.
If it's of any interest to you, you can also join in daily meditation sessions with the hosts, though sitting outside on your own immersed in Sedona's natural landscape can be a pretty spectacular meditation environment as well.
Though this Sedona Airbnb is part of a two-story house, your suite has a private entrance and bathroom. Beyond the charming interior of the Airbnb, you're also in close proximity to Sedona's best hiking trails including Cathedral Rock, which is only a 5-minute walk away.
Lay in the backyard hammock, stretch on the yoga mat, or read a book on the futon and enjoy this Sedona Airbnb that truly allows you to escape the rigors of life and recharge.
Click Here To Check Rates On Airbnb
Brand New Remodeled Home
If you're looking for an Airbnb with spectacular views, this is it. You'll never be more thankful for an abundance of windows than when staying at this newly remodeled Sedona Airbnb.
The interior of the home is beautifully decorated with splashes of color throughout, beautiful wood furniture, and floor to ceiling windows. It has a warm, modern feel to it, and you can tell a lot of thought was put into creating an inviting environment.
This Airbnb is great for large families or groups of friends as it accommodates up to 6 guests. Two bedrooms are in the main house and a third bedroom is in an adjacent detached apartment.
You'll find the home on a small dirt road with only 3 other homes along the lane, but it's also only 1 mile to town where you'll find shops, restaurants, grocery stores, etc. So crash on the couch after a long day of hiking, stare out the windows as the sun goes down, and enjoy what is sure to be a trip to remember.
Click Here To Check Rates On Airbnb
We're thrilled you've chosen the unique Sedona red rocks as your next vacation spot. We hope you'll find the best Airbnb in Sedona for you from our list.
Whether you're hiking Devil's Bridge or cooling off in the creek, we have no doubt you'll enjoy yourself in this wonderful town. If you have any questions or comments as you go about choosing your next Sedona Airbnb, please don't hesitate to let us know.