Are you looking for vacation rentals in Montana and want to find the best ones out there? Well, you're in luck because we are going to share with you some of the real standouts. We will include a wide variety in style, price range, and location.
Montana is known as "Big Sky Country" and once you visit this gorgeous land, you will immediately understand why it received such a title. The vast and sweeping prairies are contrasted by the majestic snow capped mountains.
All we can say is that you better have lots of storage for all of the incredible photo opportunities! If you're not in a hurry and you have plenty of time to explore, you should check out this Perfect Montana Road Trip Itinerary.
Choosing to stay at one of these Montana rentals will give you the opportunity to have a more intimate and personalized stay. All of these Montana Airbnbs have different vibes, so you really can pick the one the syncs up perfectly with your personality.
A huge benefit of staying at an Airbnb versus a hotel chain is that you tend to have more privacy, more space, and feel more at home too. Okay, so let's get to it! We just can't wait for you to see all that these Montana Airbnbs have to offer you!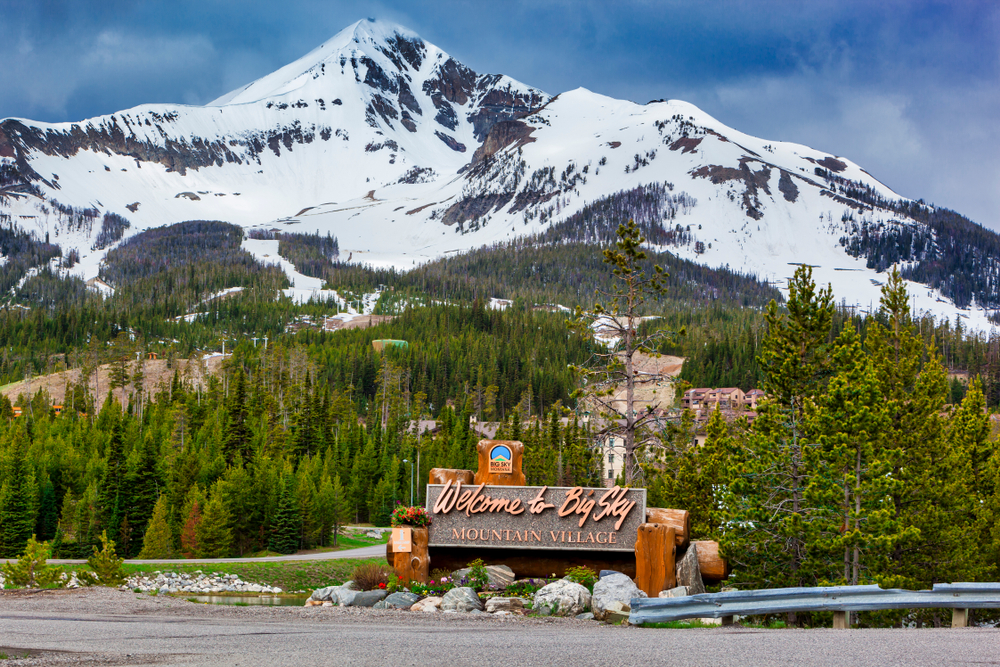 15 Best Airbnbs In Montana [Cabins, VRBOs and more!)
Meadowlark Treehouse
We are going to jump right into a real treat! Meadowlark Treehouse is one of the Montana VRBOs that offers a very unique experience. Your inner child will be jumping for joy when you book this amazing treehouse! 
It is located in Columbia Falls on 5 wooded acres of land. The Meadowlark Treehouse can accommodate up to 4 guests with 1 bedroom, 1 bed, and 1.5 baths. Other features include a full kitchen, private deck with seating, and an outdoor fire pit.
Meadowlark Treehouse is a bit of a splurge, but it pays out in location, style, and seclusion. Just wait until you see the grand entrance which is a spiral staircase custom crafted around a massive Douglas fir tree. Local attractions include Glacier National Park, Whitefish Mountain Ski Resort, and Big Sky Water Park.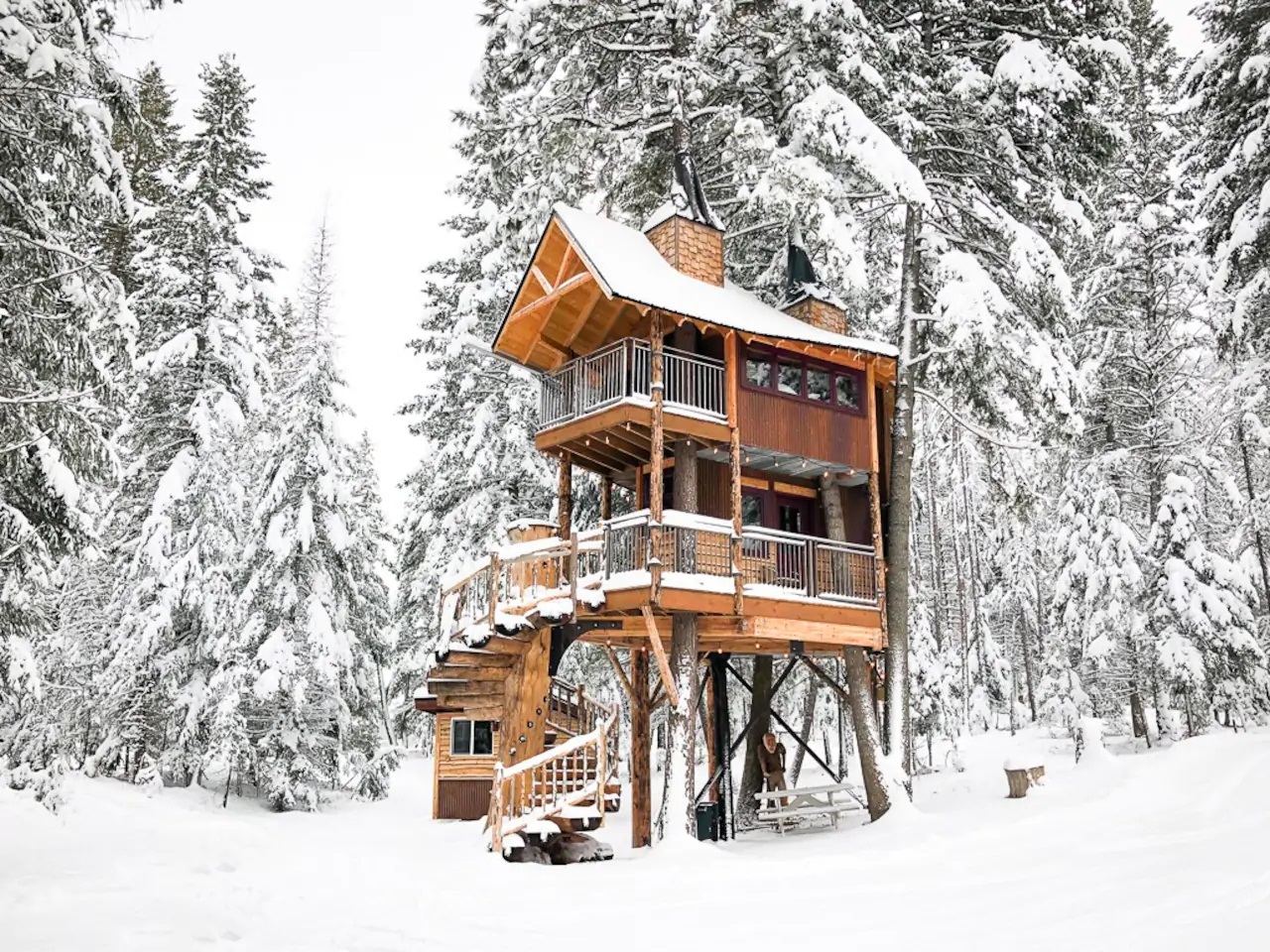 Honey's Silo Retreat
Want to enjoy a unique Montana VRBO? Then take a look at Honey's Silo Retreat. This 1950's grain silo was converted into a fun rental for you to enjoy!
This little getaway spot can accommodate 2 guests. So it is the perfect getaway for couples. It is only about 40 minutes to get to Glacier National Park, so you can go out for the day and come back to enjoy your little getaway.
Amenities are kept streamlined and simple so that you can enjoy the surrounding nature. You will have access to wifi and TV if you so desire. Otherwise you can sit outside and enjoy the beauty of nature!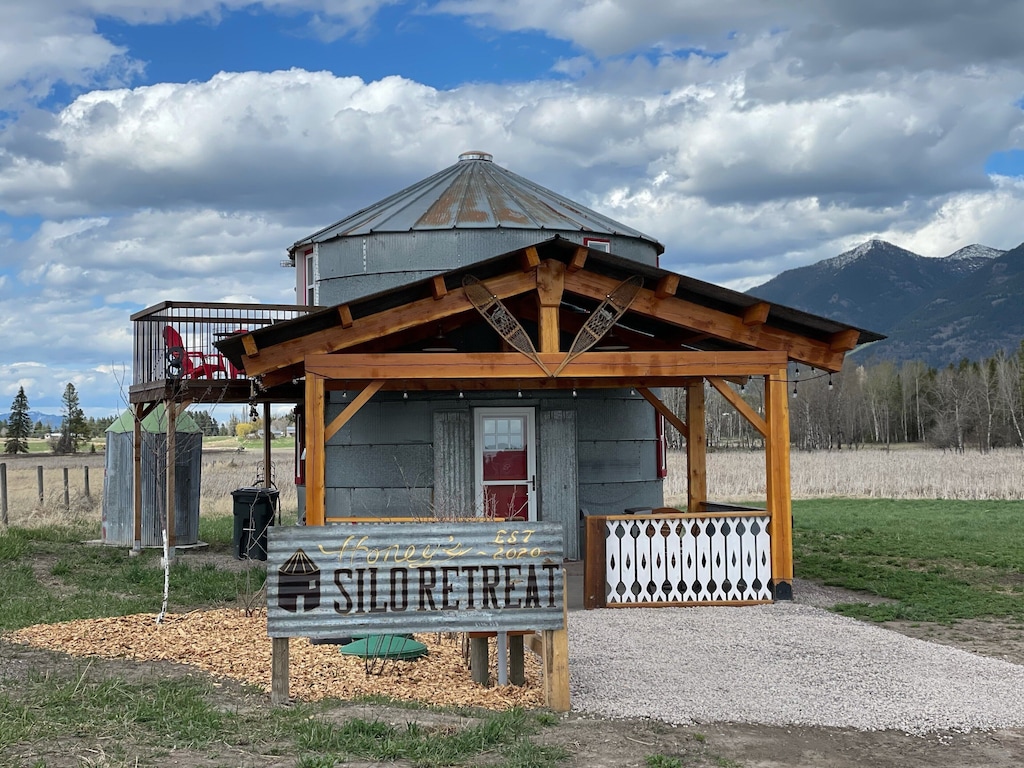 Cozy traditional A-frame Cabin
Now, we travel to Whitefish to see a very Cozy traditional A-frame Cabin. Enjoy a cozy cabin in Montana with a vintage homey feel to it!
This comfy cabin can sleep up to 8 people, so you can enjoy it with a small group if you like. If you go in winter you will have easy access to skiing. If you go in summer you will have plenty of hiking trails to choose from. You cannot go wrong with this comfortable cabin in Montana!
Local attractions include Whitefish State Park, Flathead Lake, and Baker Park.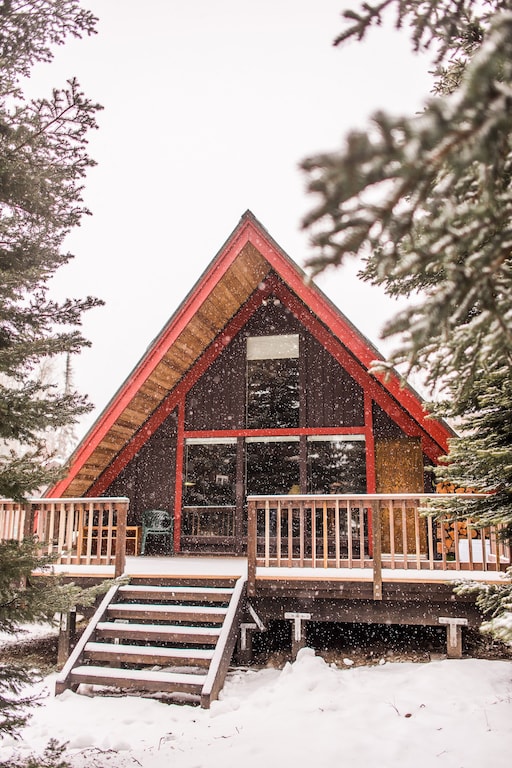 Creekside Hideaway
Now, we thought it could not get more exciting than staying in a treehouse, but we were wrong! The Creekside Hideaway is one of the most interesting Montana Airbnbs because it is an Earth Home.
If you think of the most adorable and cozy hobbit home, then you will be right on track with the vibe at the Creekside Hideaway. Great for large gatherings as it can accommodate up to 12 guests. It has 2 bedrooms, 10 beds, and 1 bath. Other amenities include a full kitchen, washer and dryer, and an indoor fireplace.
The Creekside Hideaway is located in Clancy at a very affordable rate considering its size. Some local attractions include Mount Ascension Park, Tizer Botanic Garden and Arboretum, and Cox Lake.
>>>Check Rates: Airbnb.com

Photo credit: Airbnb.com
Creekside Hideaway
Modern Farmhouse
Our next stop is in Bozeman, Montana. This little Modern Farmhouse is modern and sleek with a nod to the old farmhouse feel.
This house can accommodate up to 4 people with its two bedrooms. You are given access to the whole downstairs, but do note that the upstairs is locked off. However the space you get to use is about 2,000 square feet, so you still have a lot of room!
With easy access to Main Street, the local University, and hiking trails, this is one of the best spots in Bozeman!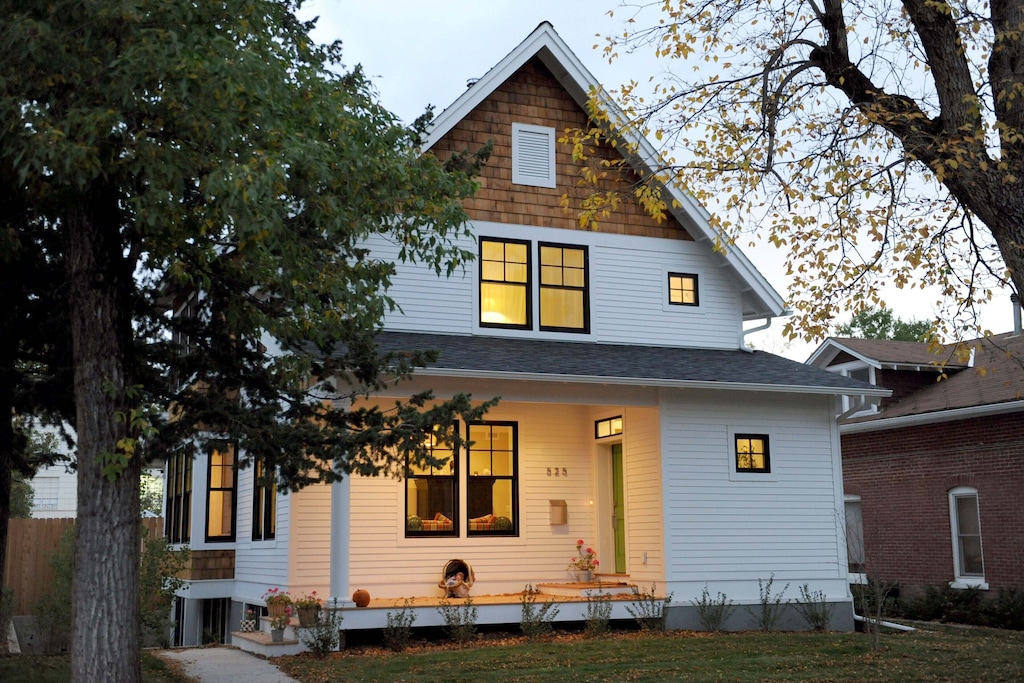 Cutest Cabin on Big Mountain
Located in White Fish, Montana is the Cutest Cabin. This Montana VRBO is in a little village of sorts. So you have access to a lot of fun amenities!
This cabin has been recently updated, so you get to enjoy a more modern feel. It can sleep up to 8 people! So you can go with your family or a group of friends if you like.
You will have so much to do at this rental! There is wifi, a hot tub, a swimming pool, and many easy to access trails. You have plenty of activities in the area like zip lining, the lake, and the gondola.
Electric Peak Cabin
Now we go just five miles outside of Yellowstone's North Gate. Here you will find Electric Peak Cabin. If you want to stay in a seclusive place with easy access to Yellowstone Park, then look no further!
This Montana cabin has all the modern amenities with the rustic feel that can only be found with natural hardwood. Located on 26 acres of private property you are guaranteed to enjoy the peace and quiet of nature. It is also conveniently only about 5 minutes from the North Gate of Yellowstone.
Ideal for couples or small groups because it can fit up to 6 guests. Amenities include a kitchen, deck with seating and fire pit, and wifi.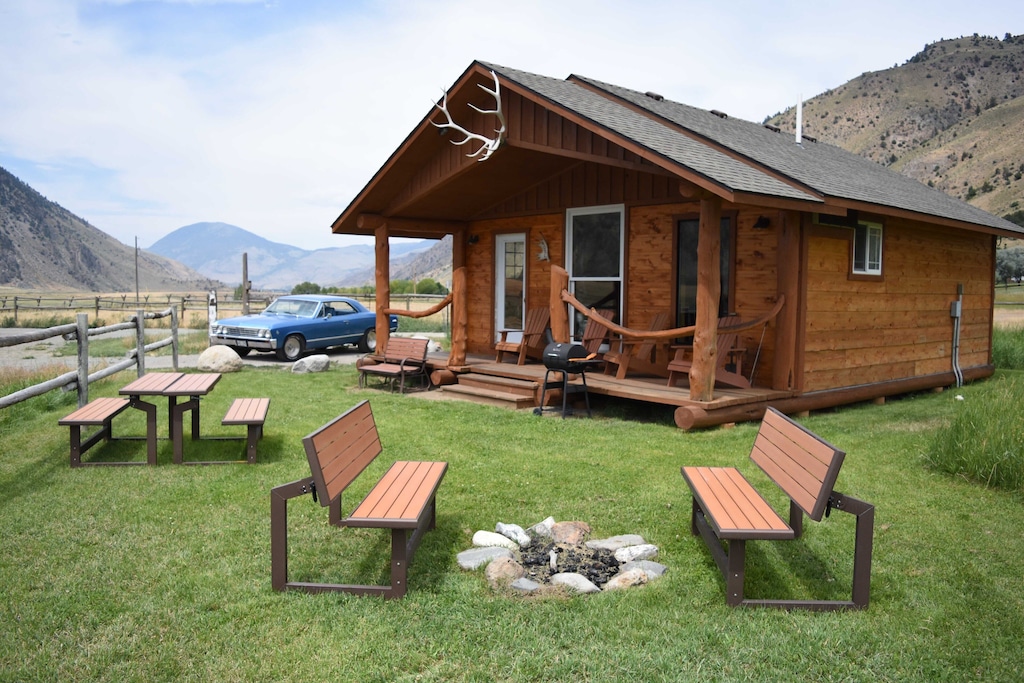 Luxury Yurt on Flathead Lake
Okay, let's check out this Luxury Yurt on Flathead Lake that is located in Polson. Choosing to stay in a yurt is a great way to feel connected to nature while still having the comforts of home and protection from the elements. This is a comfortable yurt that can accommodate up to 4 guests.
The Luxury Yurt is affordable and features 2 beds, 1 bath, and a washer and dryer. The best part is the 360 degree views on the fully circled deck. You can enjoy all the mountain views around you.
The yurt gives you the chance to try out a form of glamping with all the ease of a home. Wake up to mountain views and star gaze at night! Plenty of hiking in the immediate area with lakes and waterfalls.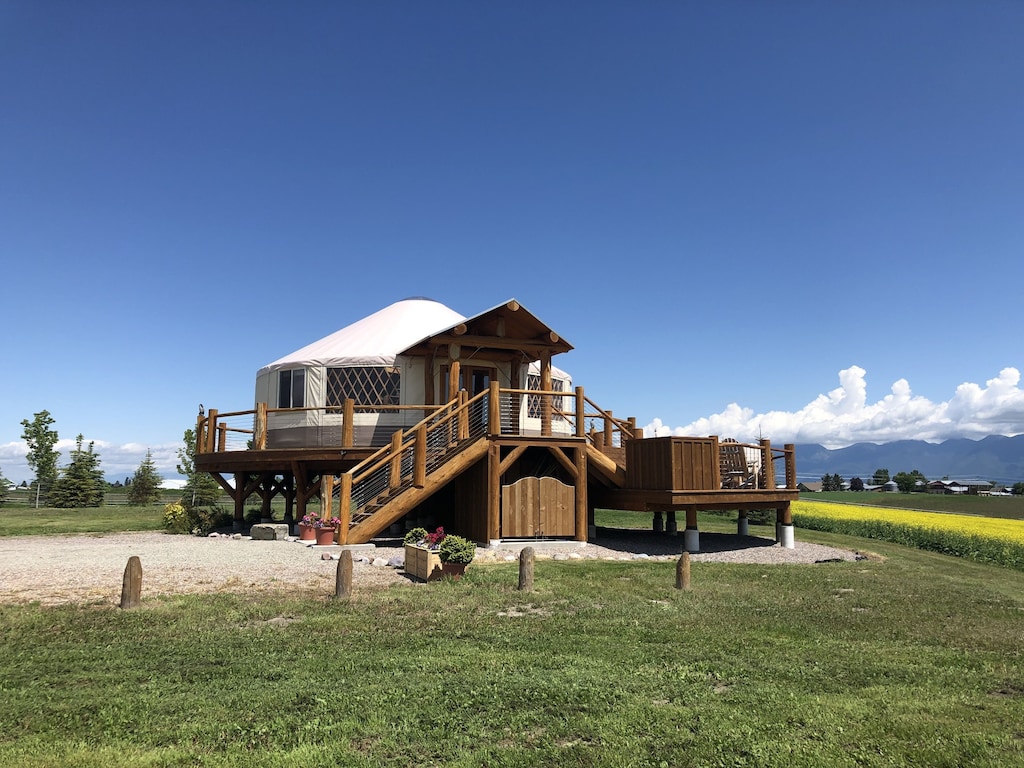 Ross Creek Cabin
Ross Creek Cabin is one of the Montana VRBOs that is located in Belgrade and features views of the Bridger Mountains and the Gallatin Range. Ross Creek Cabin excels in providing a very home-like feel with tons of special touches. 
You will notice the extra attention to detail in its pretty landscaping filled with potted flowers and delightful shrubs. Step inside and you will discover unique artwork, colorful throws and pillows, a sliding barn door, and really cute area rugs.
The cabin is moderately priced and can accommodate up to 4 guests with 1 bedroom, 2 beds, and 1 bath. Other amenities include a full kitchen, indoor fireplace, hot tub access, a deck with seating, and a washer and dryer.
Local attractions include River Rock Pond, Rocky Mountain Helicopter Tours, and the Montana Raptor Conservation Center.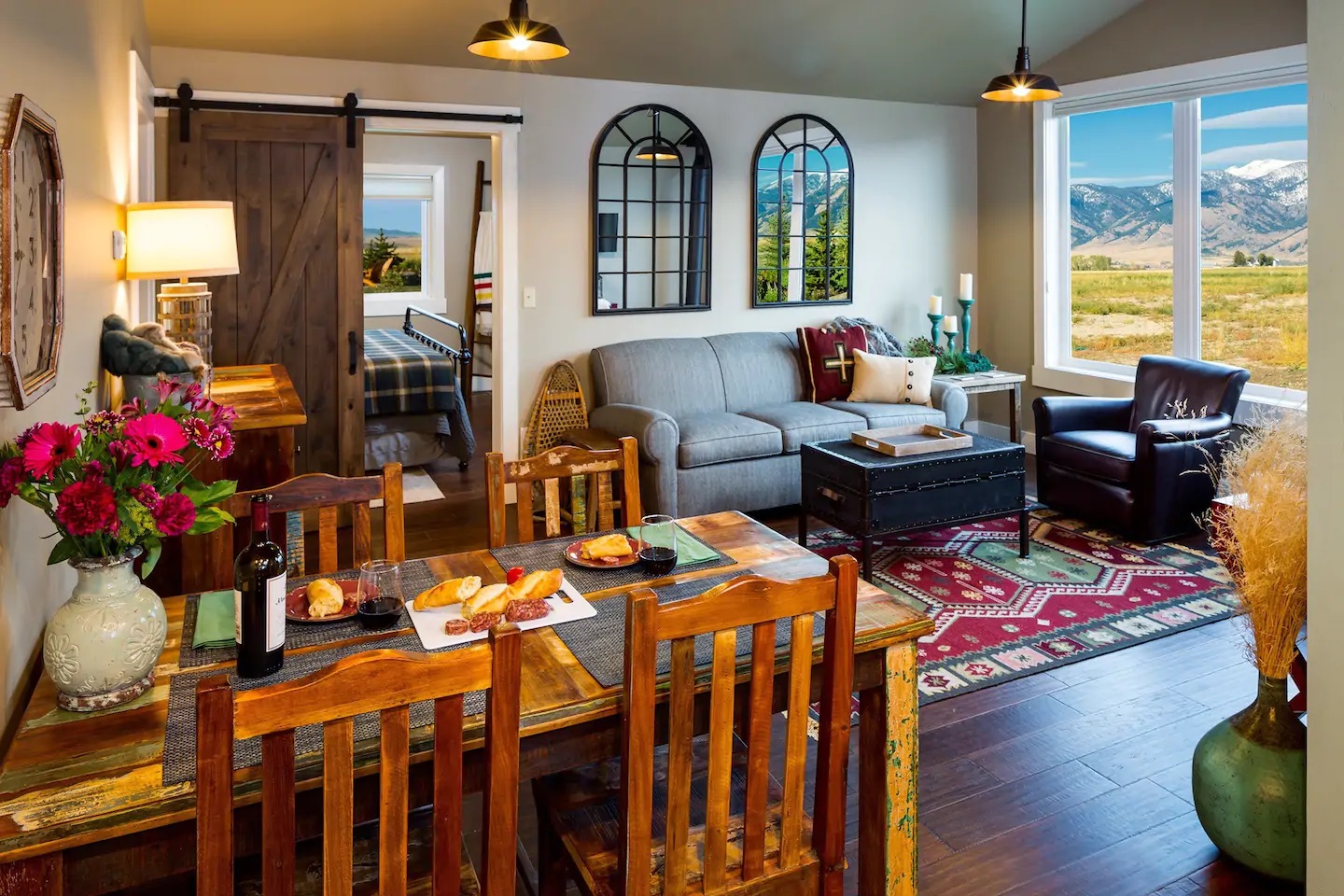 Lakefront Artist's Studio
Most of the cabins in Montana have pretty spectacular views, but this next one really stands out for being directly on a lake. Located in West Glacier, this lakefront artist's studio offers guests the opportunity to enjoy their dinner on the porch and then go for a relaxing kayak paddle as the sunsets.
Built in the 1940s and recently remodeled, the studio can accommodate up to 4 guests with 3 beds and 1 bath. Other amenities include a washer and dryer and a full kitchen.
Conveniently located only 10-15 minutes from Glacier National Park. Other local attractions include Hidden Lake Overlook, Highline Trail, and Trail of the Cedars Nature Trail.
>>>Check Rates: Airbnb.com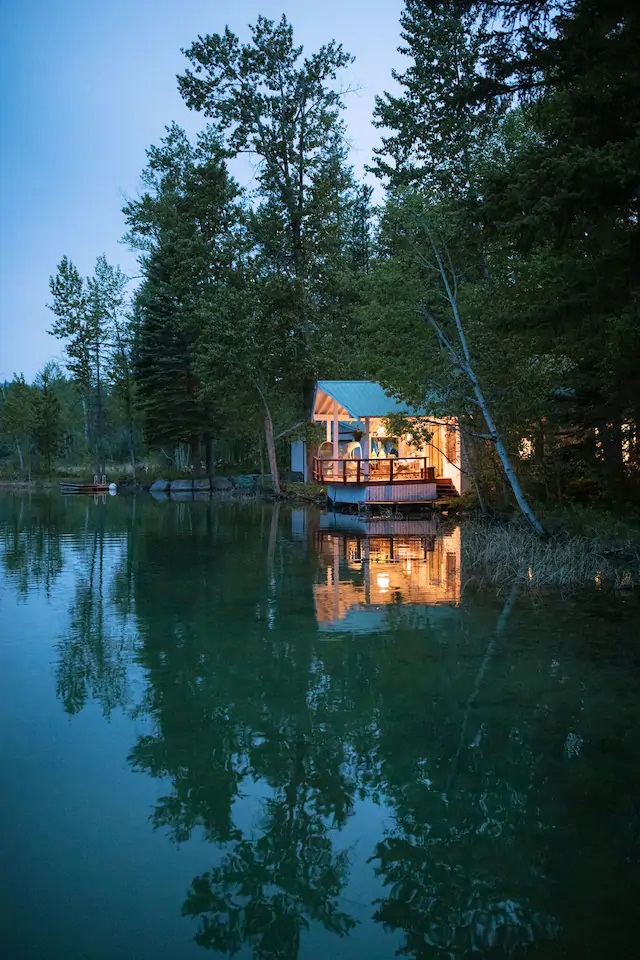 Mountain Chalet
Looking for the perfect place to meet up with friends or extended family? Well, this mountain chalet is absolutely ideal for such an occasion! Located in Big Sky at a scenic ski lodge, this mountain chalet can accommodate up to 12 guests with 5 bedrooms, 8 beds, and 4.5 baths.
Mountain views from 4 of the bedrooms and king size beds in 2 of the bedrooms. Indoor amenities include a Sonos sound system, boot warmers, a fireplace, shuffleboard, a large kitchen, living room, and dining room. In addition, outdoor amenities include a fire pit, alfresco dining, hot tub, lounge chairs, and BBQ.
Points of interest include Big Sky Ski Resort, Big Sky Golf Course, and Ousel Falls Park. Also, only 60 miles from Yellowstone National Park. Might be considered a splurge, but it just depends on if you are splitting the cost. In conclusion, this mountain chalet is a dream come true for the ultimate getaway for bonding and relaxation.
>>>Check Rates: Airbnb.com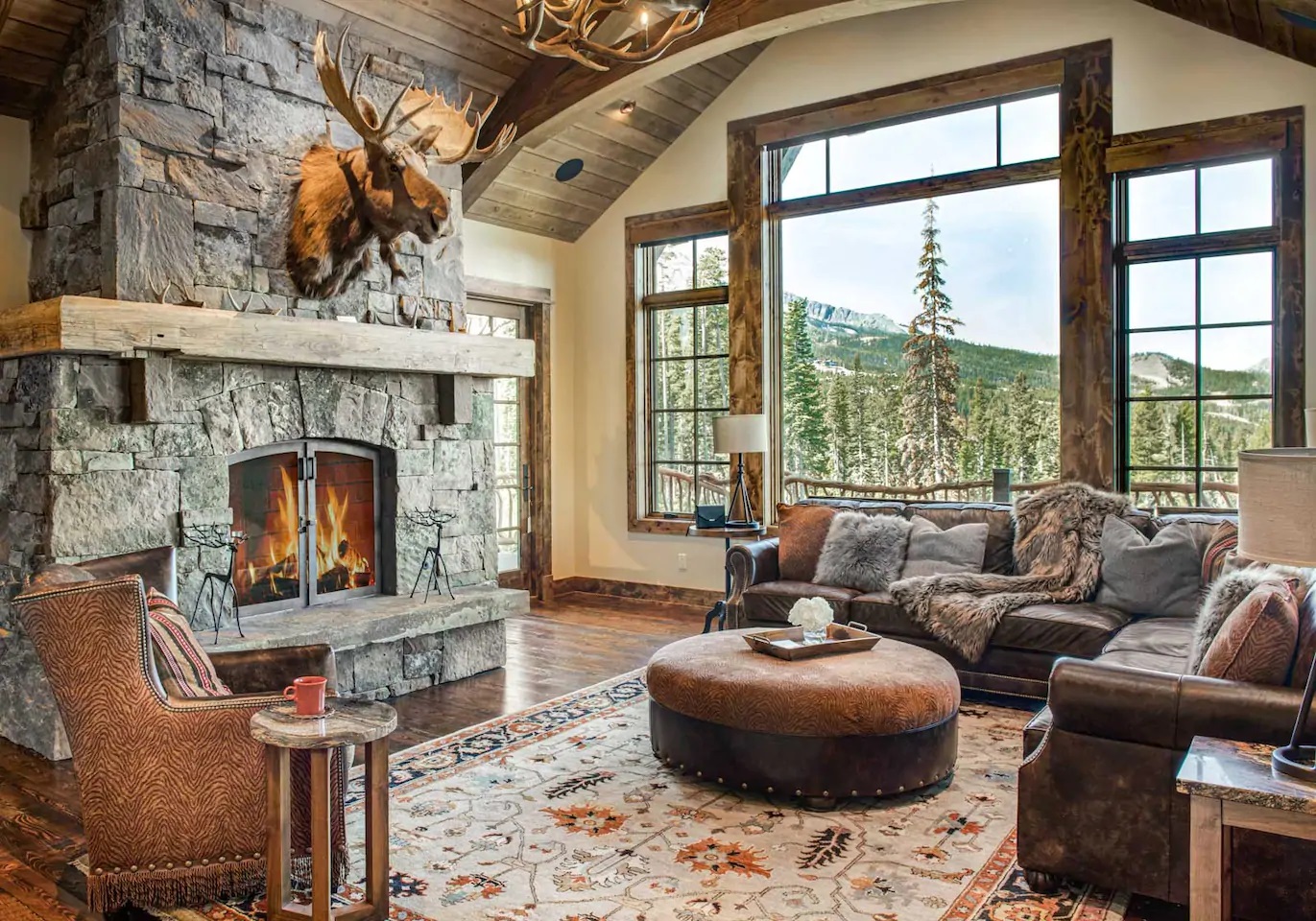 Artfully Furnished Cabin
Now, we will head over to Gardiner to see this Artfully Furnished Cabin. This VRBO near Yellowstone is a perfect option to stay near the park with a group of friends.
This homey cabin is just the spot to go to relax away from it all. Take the chance to enjoy nature and all the animals. Or simply go the short ten minute trip to Yellowstone and enjoy the park!
This cabin can sleep up to 8 guests with its 3 bedrooms and 1 bathroom. It also has wifi, TV, a wash and dryer, and also allows pets. With hiking, fishing, and the Yellowstone Park nearby, there will be plenty to do!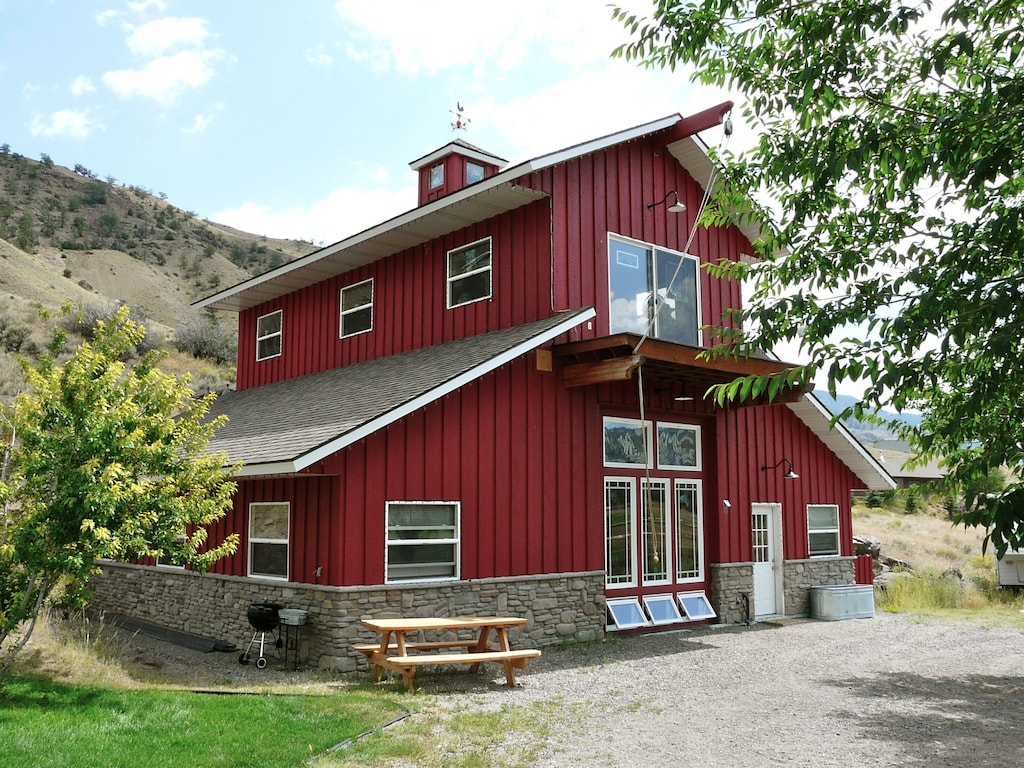 Living In The Past Log Home
As featured in Log Home Living Magazine, this living in the past log home takes everything old and finds a way to breathe new life into it. Miraculously constructed from rescuing and reusing two different century-old log barns, preserving the history, and starting a new chapter. 
All of the new additions were carefully selected to refresh the home while still honoring its past. You will notice the detail in the craftsmanship of the cabinets, style of the door handles, and the salvaged wood in the floors.
The living in the past log home can accommodate up to 7 guests with 4 bedrooms, 4 beds, and 3 baths. The price range is moderate to luxury, however, this depends on whether or not you are splitting costs. Conveniently located only 20 minutes from Glacier National Park, under 10 minutes to the closest supermarket and downtown Columbia Falls, and under 20 minutes to the Glacier Park International Airport.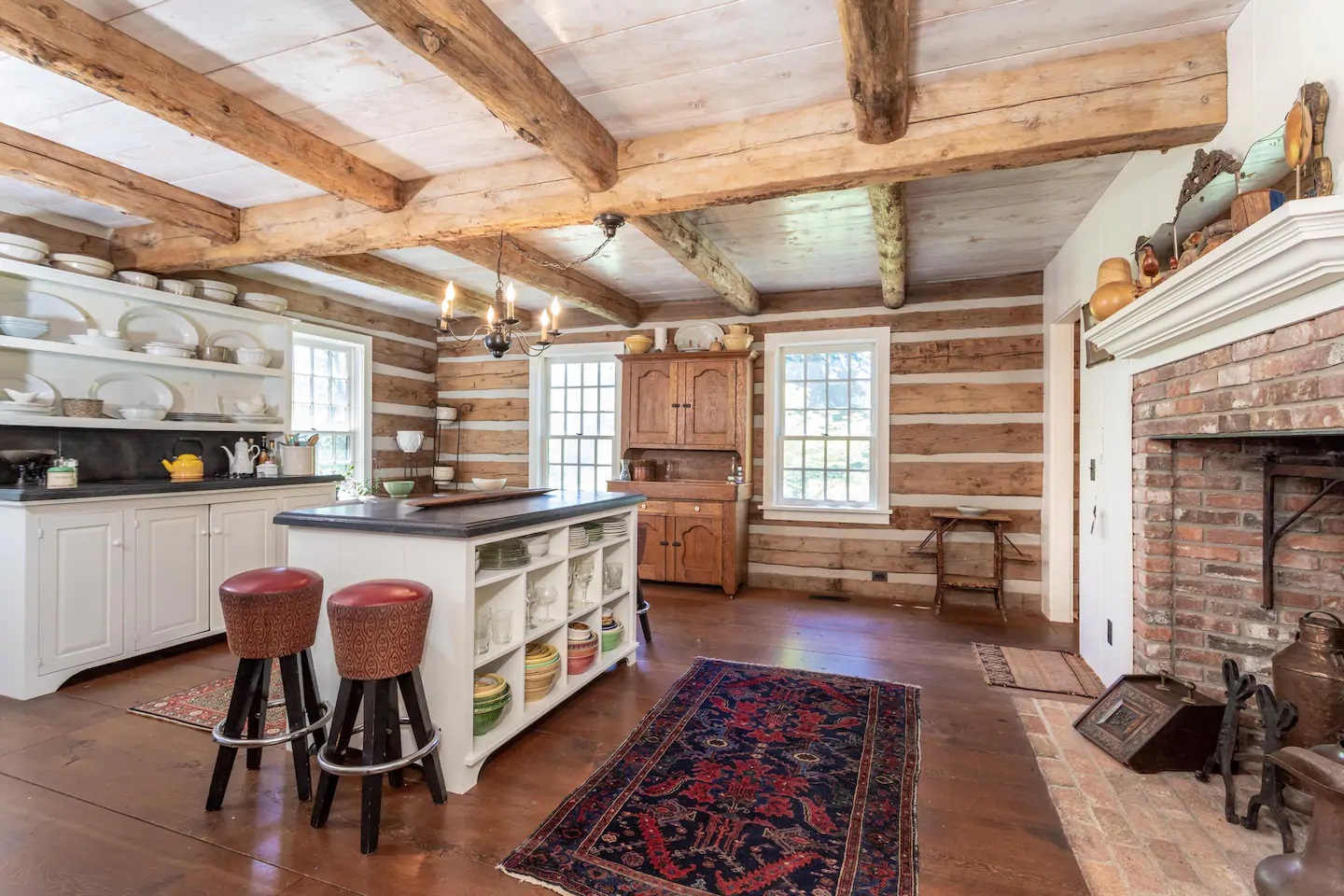 Transforming Tiny House
Get ready for the most amazing "glamping" experience of your life! We just had to end on a high note and show you this funky transforming tiny house. The tiny house features one main wall that completely opens up and provides an open-air experience.
Other unique amenities include a solar outdoor shower and an enclosed outdoor bathroom. Guests will have access to a Commons Area that provides a shared kitchen, fridge, stove, microwave, WiFi, books, and games.
The moderately priced tiny house is located in Bonner which is very close to Mount Sentinel, Milltown State Park, and Rattlesnake Trailhead.
>>>Check Rates: Airbnb.com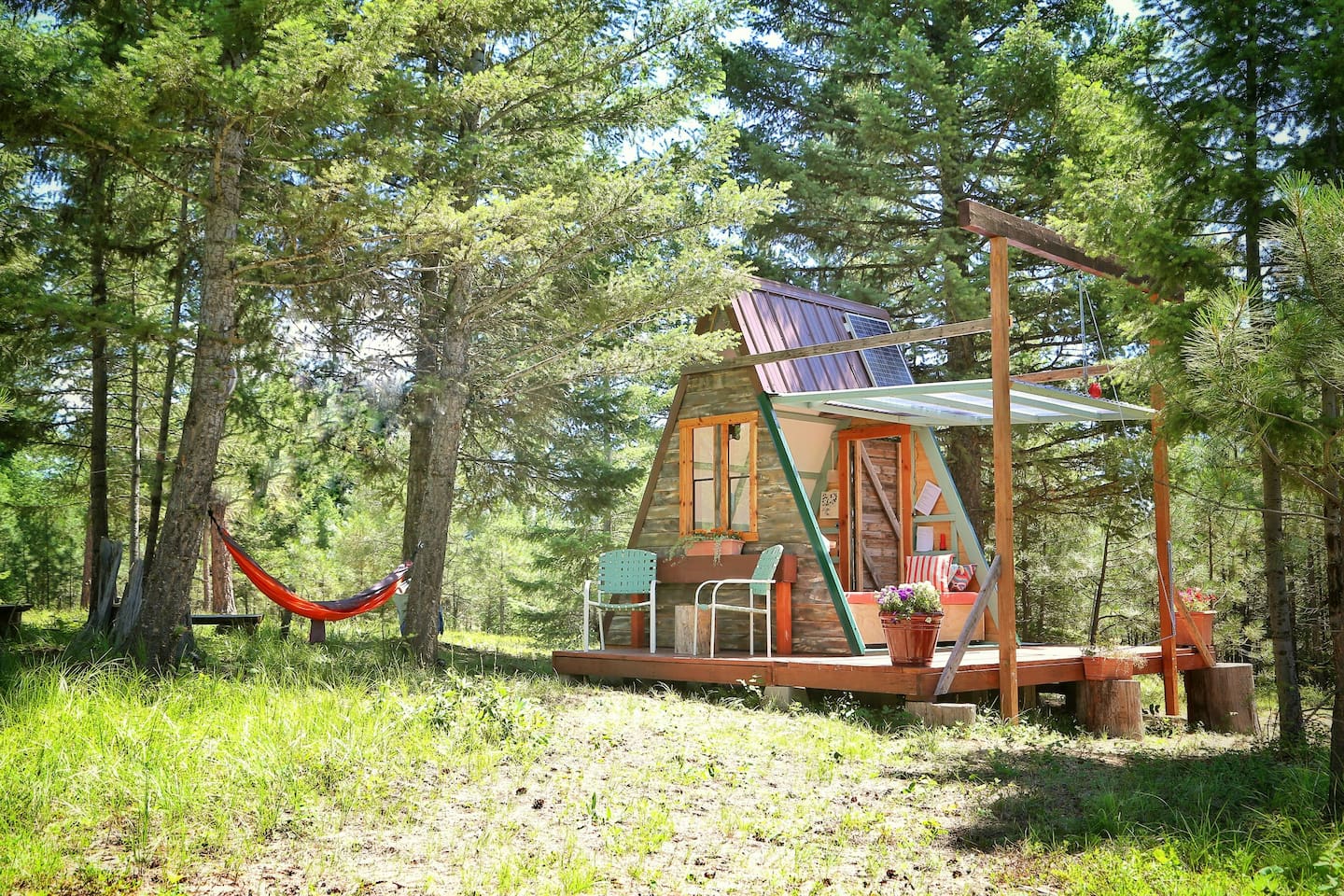 Condo in Missoula's Historic Wilma Theater
Are you looking for a beautiful VRBO in Missoula, Montana? Then look no further than this amazing Condo in Missoula's Historic Wilma Theater!
If you are looking to stay in the heart of Missoula, then this spot is for you. It gives easy access to everything in Missoula! But if you want to go enjoy nature it is not a far trek.
This studio was built in 1921, so enjoy a bit of history with your partner or with another couple. This place can accommodate up to 4 people. It is fully remodeled and ready for you to enjoy!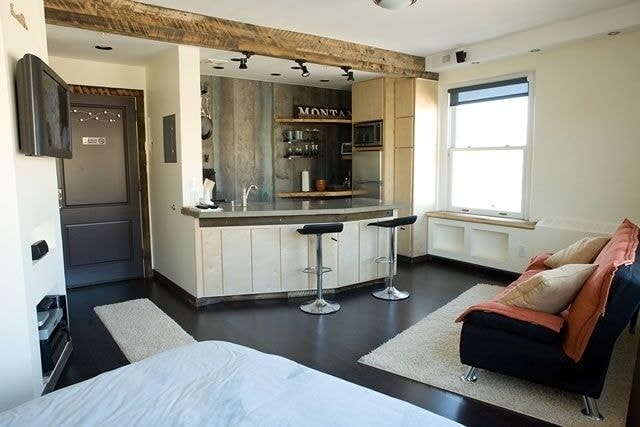 We hope you have enjoyed taking this tour with us. As you can see, there is a lot of variety in style, location, and price when it comes to vacation rentals in Montana. You really can't go wrong with anyone of these options, but we hope you find the perfect one for you and your traveling needs. So, go pack your bags and get ready for a fabulous trip to Montana where you can hike, fish, explore, and unwind!