If you are looking to visit Bimmah Sinkhole in Oman you have come to the right place. Bimmah Sinkhole is at the top of our list of things to do in Oman and once you visit you will see why! Before we visited Bimmah Sinkhole, we didn't find much information about the experience and ran into a few surprises when we visited. We created this guide to answer all the questions we wish we had answered when we were planning our trip to Oman.
If you haven't heard much about Bimmah Sinkhole, think one of the most beautiful natural swimming holes that you have ever seen. We knew Bimmah Sinkhole would be amazing, but we were truly blown away by the scale and epic nature of this place. We ended up spending way longer here than we at first anticipated exploring all the hidden nooks and crannies we hadn't seen online. If you are looking to visit one of the best natural wonders in Oman, make sure to put Bimmah Sinkhole at the top of your bucket list!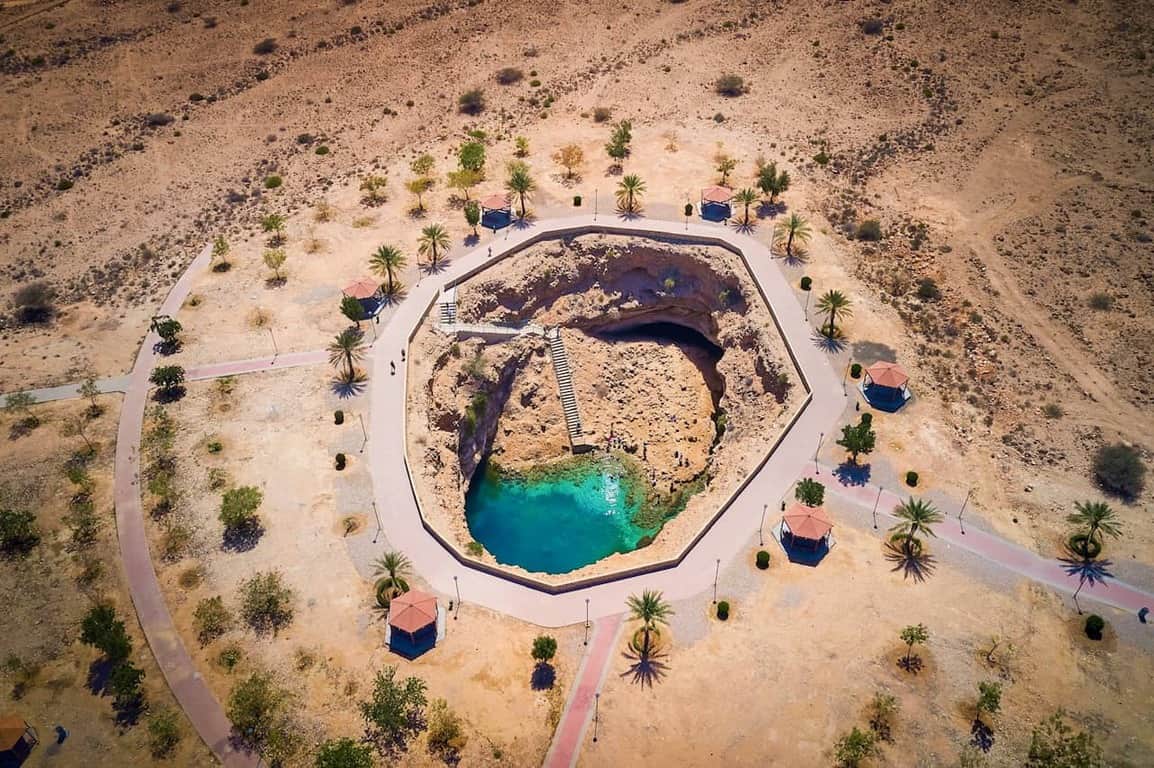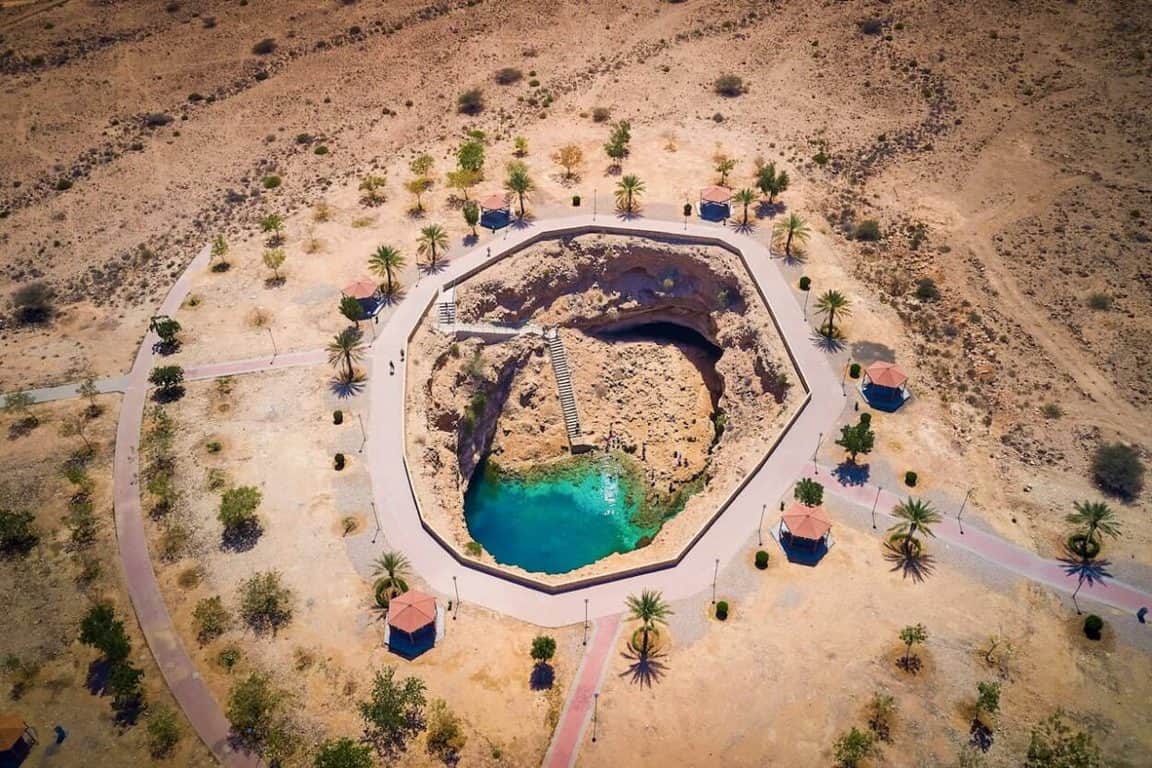 Everything You Need To Know Before Visiting Bimmah Sinkhole
Getting To Bimmah Sinkhole
Bimmah Sinkhole is one of the easiest natural wonders in Oman to get to! Bimmah Sinkhole is just 1.5 hours from Muscat and 55 minutes from the town of Sur. If you are visiting Muscat then a day trip here is just perfect! Unlike other things to do in Oman, Bimmah Sinkhole is incredibly easy to get to because there is no hiking or long drives. It is located right off the main highway and is easy to walk to. As soon as you turn off the highway, you have a less than 5-minute drive until you arrive at the Bimmah Sinkhole parking lot.
It is close enough to Muscat that many people drive as a day trip. We stayed about 30 minutes away during our time in Oman, but we agree that Bimmah Sinkhole is a great day trip from Muscat if you can't afford to stay along on the east coast.
Click Here For Google Maps Location For Bimmah Sinkhole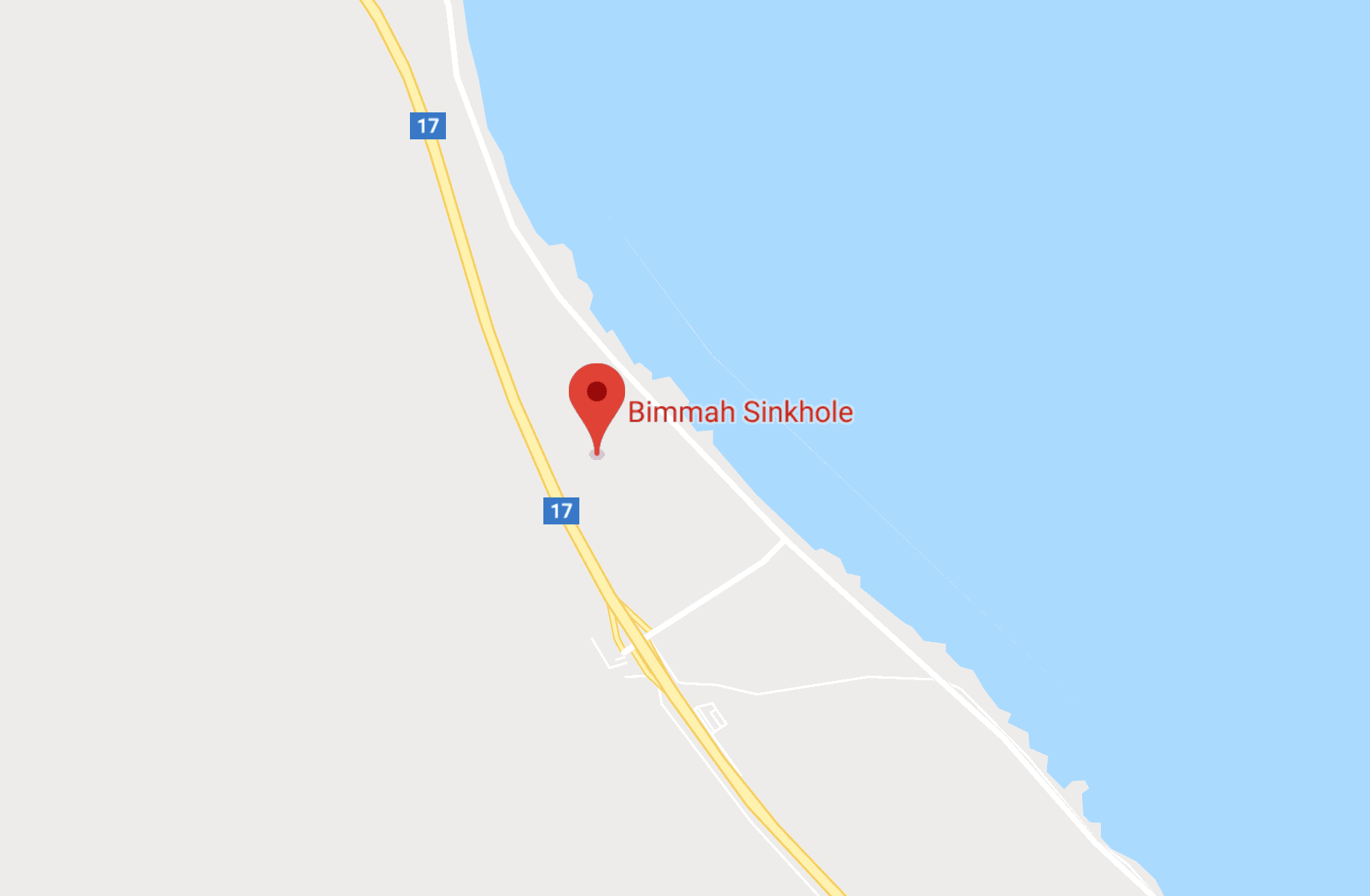 Parking At Bimmah Sinkhole
Parking is FREE when visiting Bimmah Sinkhole. Even though it was a little busy when we visited, the parking lot is large enough to handle a decent number of visitors including tour buses. If you visit on a weekend [Friday or Saturday] it will be busy with both locals and tourists so come in with an open mind.
As you leave the parking lot to enter the Bimmah Sinkhole complex there is a group of men sitting in front of a small gate and there are signs that ask you to please dress modestly and respectfully. Don't wear any crop tops, booty shorts, mini skirts, thong bikinis or anything of that sort. You may not be allowed to pass. Please respect local culture!
Bathrooms At Bimmah Sinkhole
There are free bathrooms at Bimmah Sinkhole which make a great place for changing. We changed inside the bathroom for modesty before walking to the swimming hole area. The bathrooms are quite clean compared to many places we traveled. Although there is no toilet paper [like many other places in Oman, there is a bidet and also plenty of soap for you to wash your hands after the fact.
Instead of changing into your swimwear in the car, we highly recommend changing in the bathrooms just inside the Bimmah Sinkhole complex.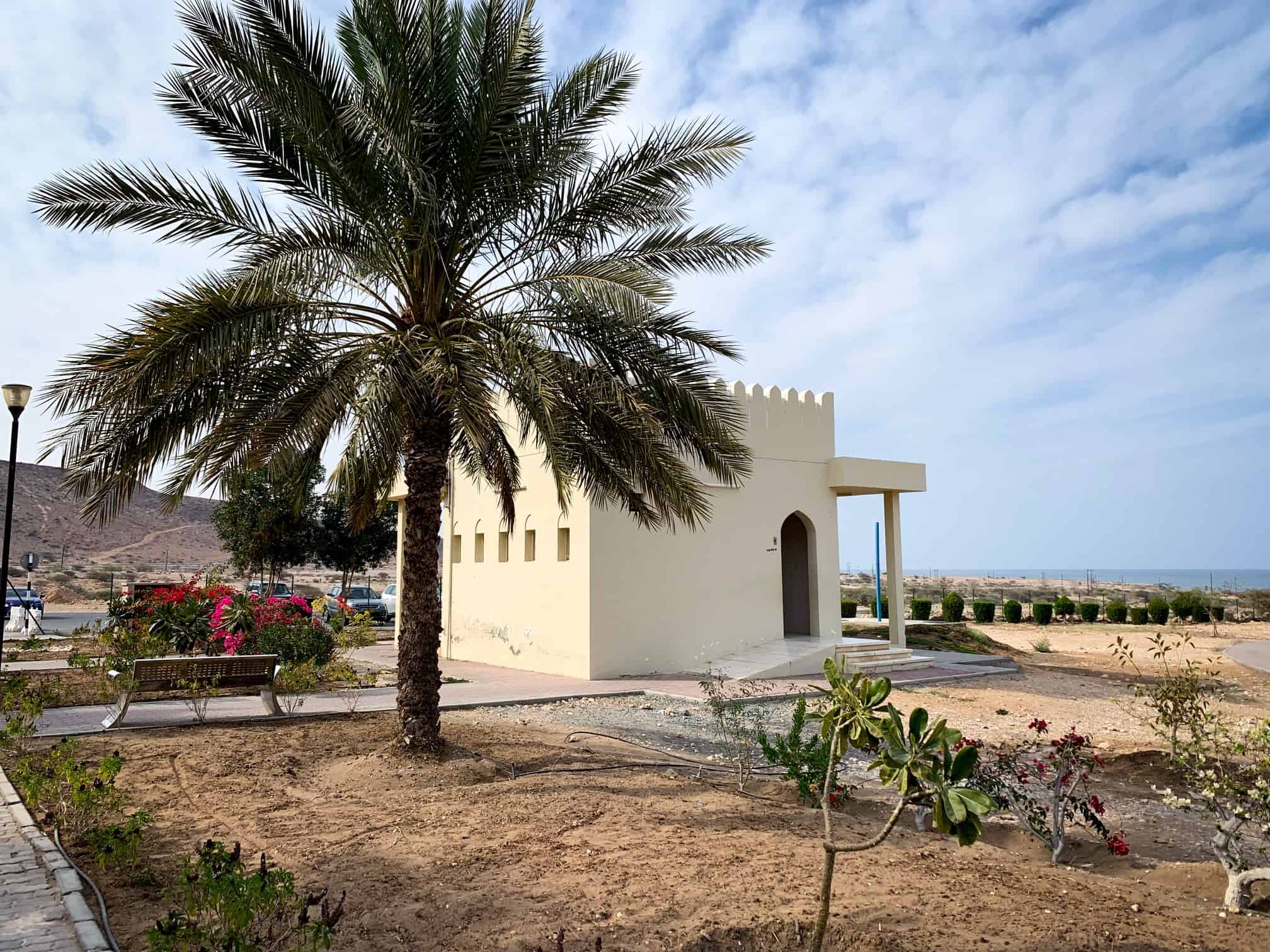 The Bimmah Sinkhole Grounds
The Bimmah Sinkhole grounds are beautifully curated and a wonderful spot for both locals and tourists to enjoy themselves. If you have small children, there are multiple playgrounds all around the area where the sinkhole itself sits. Many people brought their children to play on the playgrounds but didn't go swimming in the actual sinkhole. If you are trying to keep the kids dry but still see this beautiful natural wonder for yourself, this is a great distraction and option.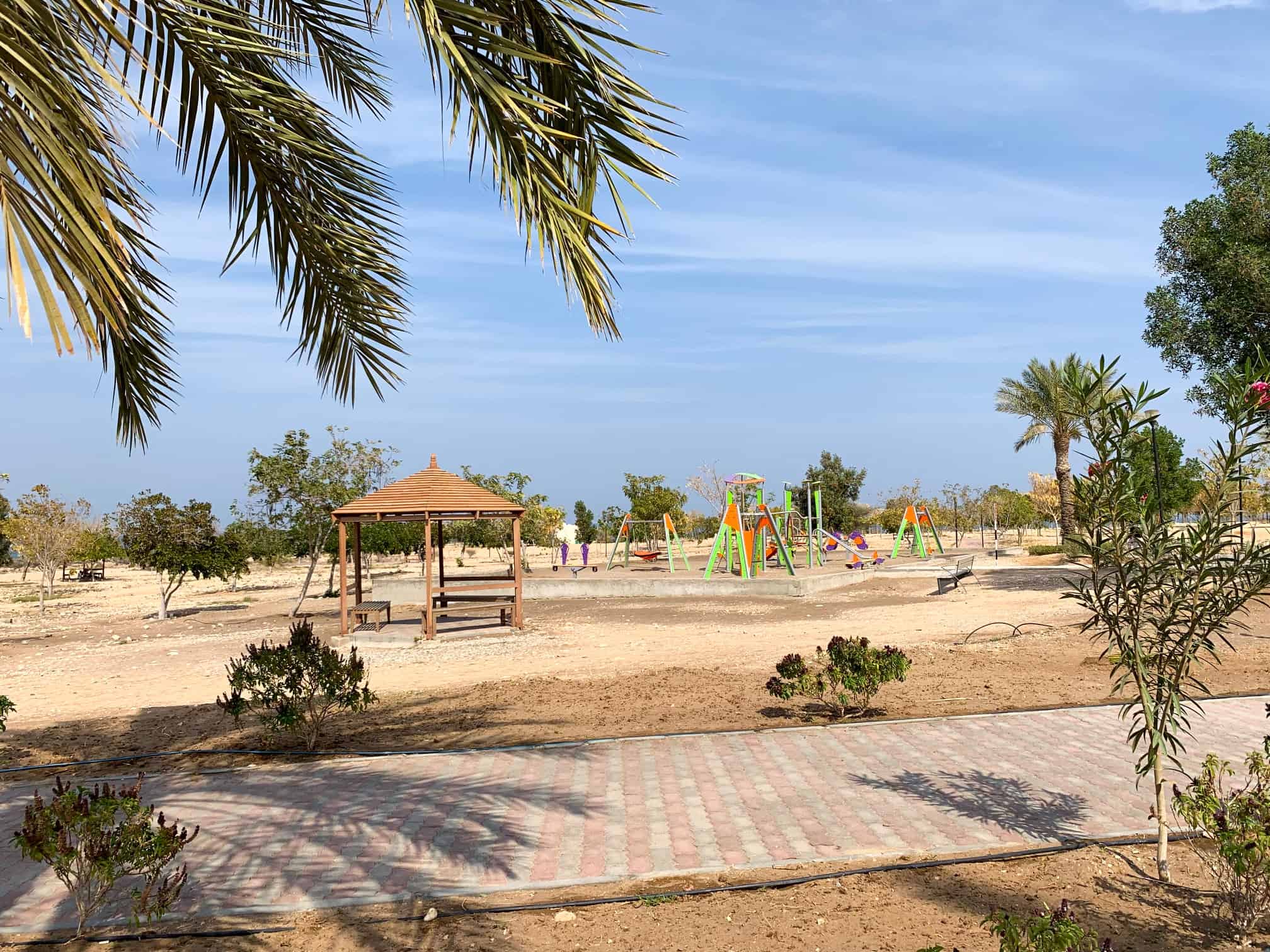 If you are visiting Bimmah Sinkhole during lunch, there are numerous picnic tables dotted around the grounds. We saw many people enjoying a picnic lunch either before or after swimming. If you do want to eat, it is recommended that you eat on top at a picnic table and not down in the actual sinkhole itself.
We were surprised at how nice the grounds surrounding the Bimmah Sinkhole itself was. We just didn't know the property had more to offer for a fun day relaxing than just swimming in the sinkhole and wanted to share with you in case you wanted to build in some family fun or a nice picnic lunch during your visit in Oman.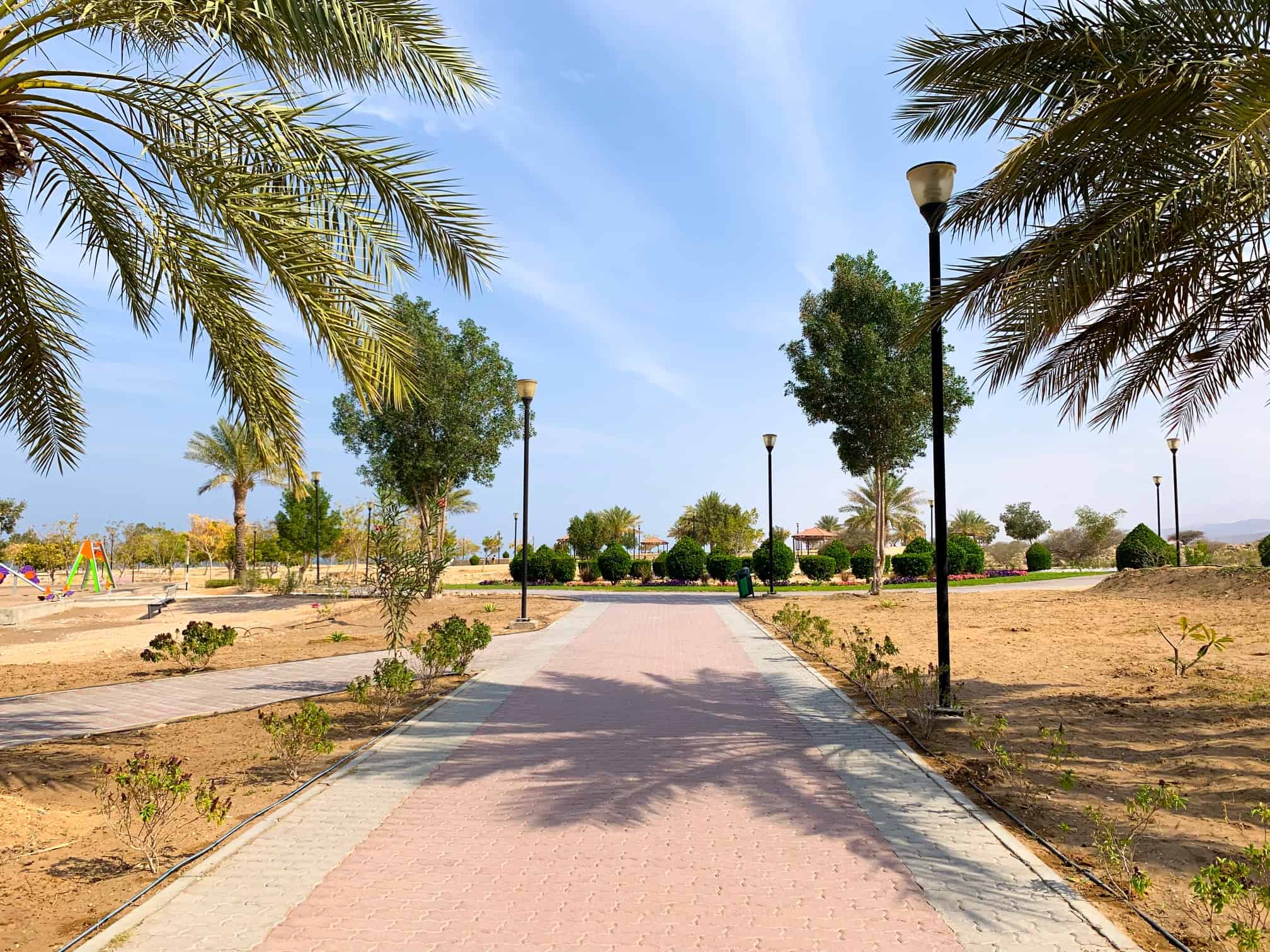 Viewing Bimmah Sinkhole From The Top
Once you walk from the parking lot, you will come across the very obvious wall that surrounds the top of the Bimmah Sinkhole. If you are like us, you have seen a few photos from people on Instagram sitting at the top of Bimmah Sinkhole and looking down into the hole. We have no idea that these photos required jumping over the large wall that surrounds the top of the hole in order to take the photo. We want to be straight up and let you know that is the only way to take photos such as the one you see below at Bimmah Sinkhole.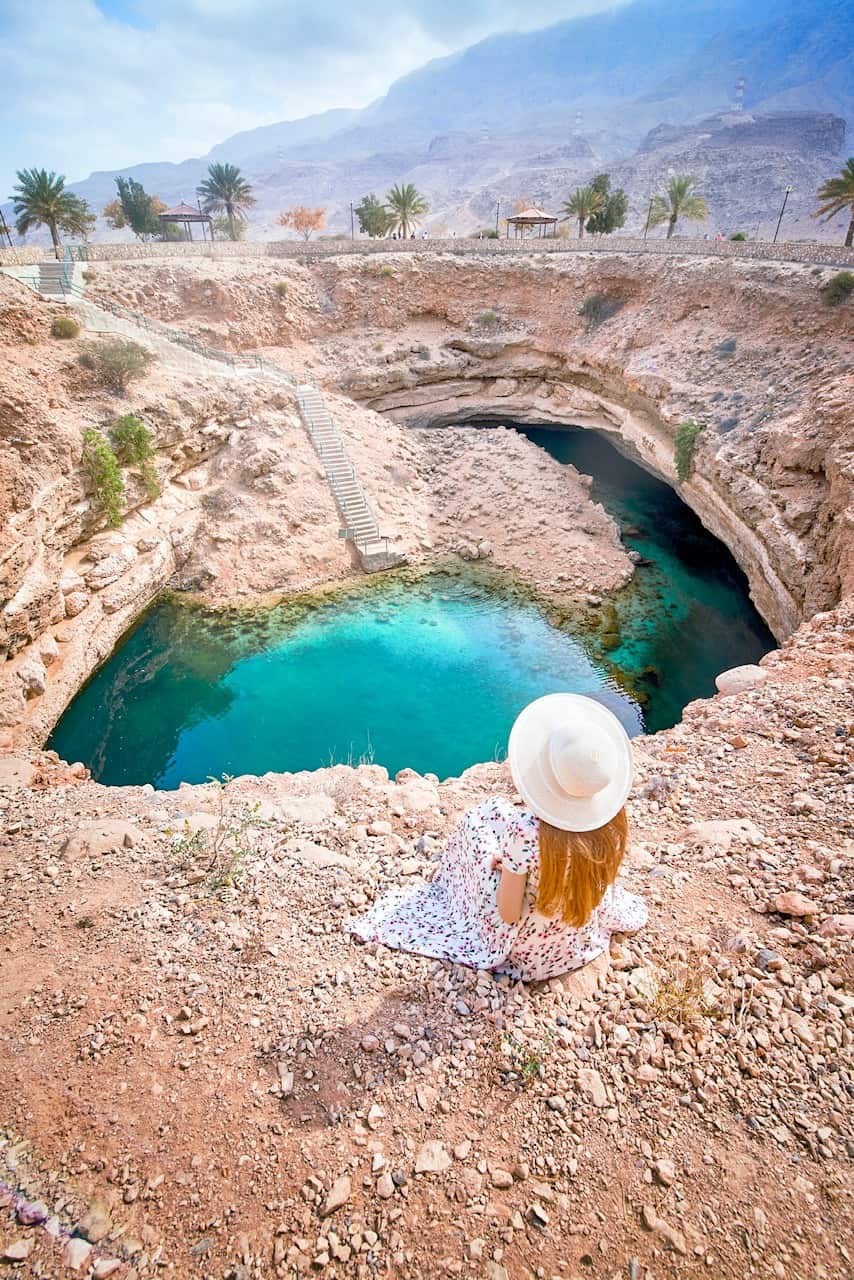 That being said, locals hop the wall all the time so they can jump from the top into the sinkhole itself. It isn't something that's not allowed but it isn't for the faint of heart either and we had no idea that this had to happen in order to get the shot that we all have seen online.
Finally, when viewing Bimmah Sinkhole from the top, make sure to never throw anything into the hole as there are people bathing below!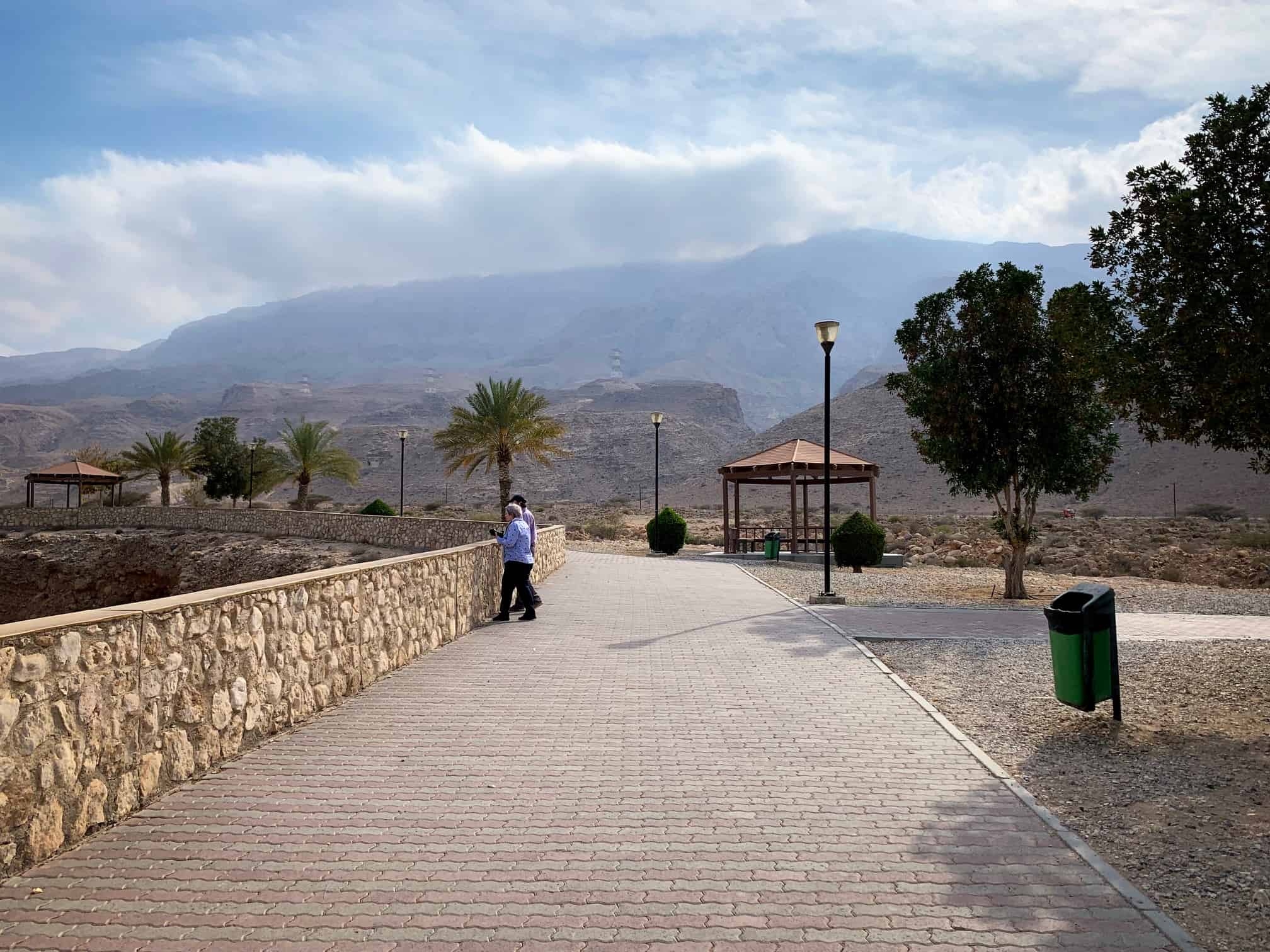 Swimming In Bimmah Sinkhole
Once you are done viewing Bimmah Sinkhole from the top, you can climb down a long staircase until you are inside the sinkhole itself. It is here that you can go swimming in perfectly crystal blue waters. When we were researching about Bimmah Sinkhole in Oman, we didn't see too much information about swimming, and we are here to say that it is a must-do and was one of our favorite things to do in Oman.
When swimming at Bimmah Sinkhole, you are doing so at your own risk. There are signs posted and you must be careful. Exercise caution and you should be totally fine.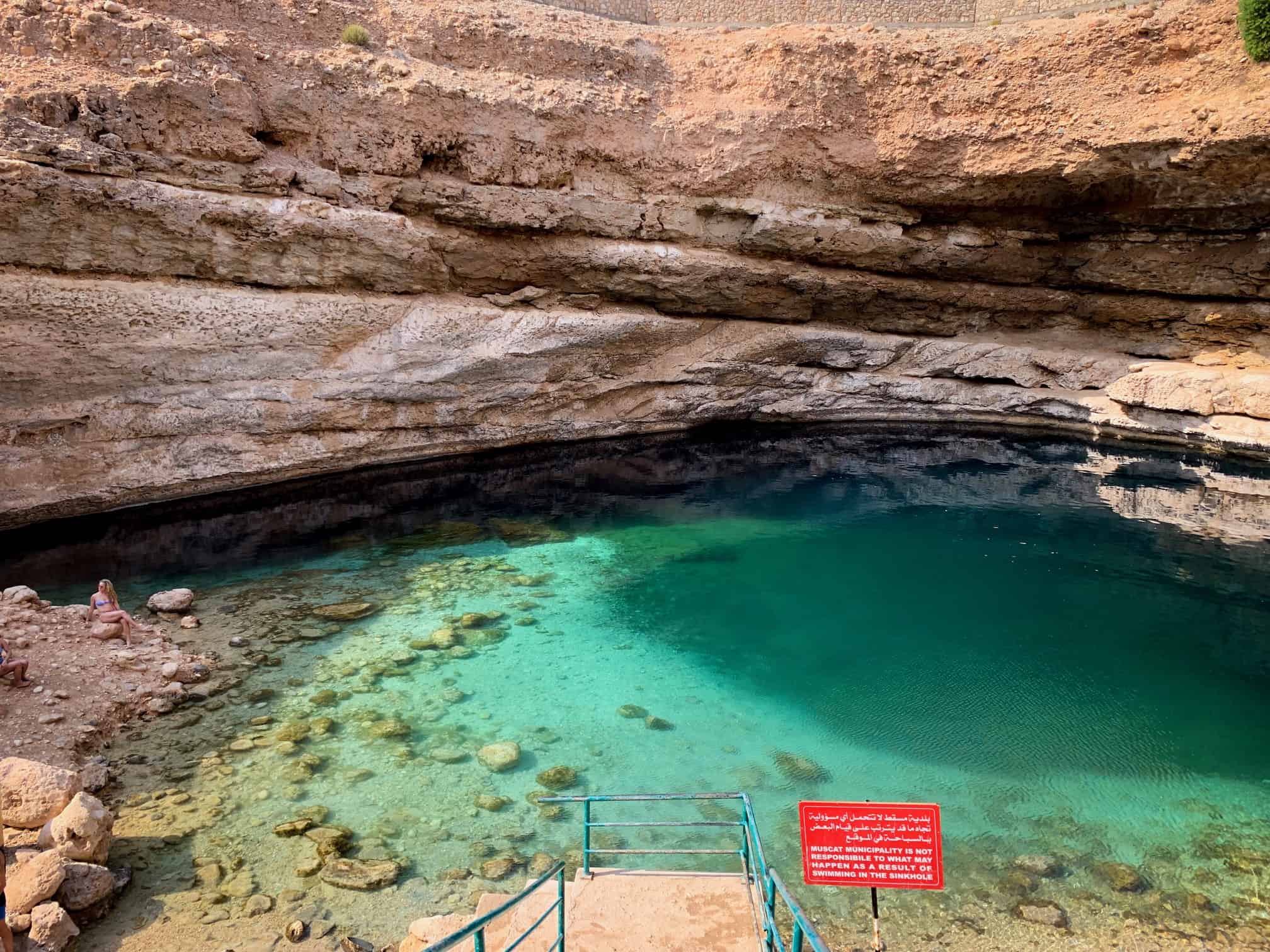 First off, as soon as you walk down the stairs you will see the main pool in the sinkhole. This is where everyone swims. But what the internet doesn't show you is that there is an amazing little secret cove for swimming that no one was even thinking of swimming in when we visited. When you enter the bottom of the sinkhole, instead of turning right to see the actual large pool, climb over a small hill and then there is a wonderful "channel" like an area that feeds the main sinkhole.
It is all part of the same area, but this little side area that goes into its own private cave didn't have any people in it and we had never seen a photo of this area of Bimmah Sinkhole online during our research. If you are visiting Bimmah Sinkhole on a busy day, consider that this area is so fantastic and unique and less busy than the main swimming area.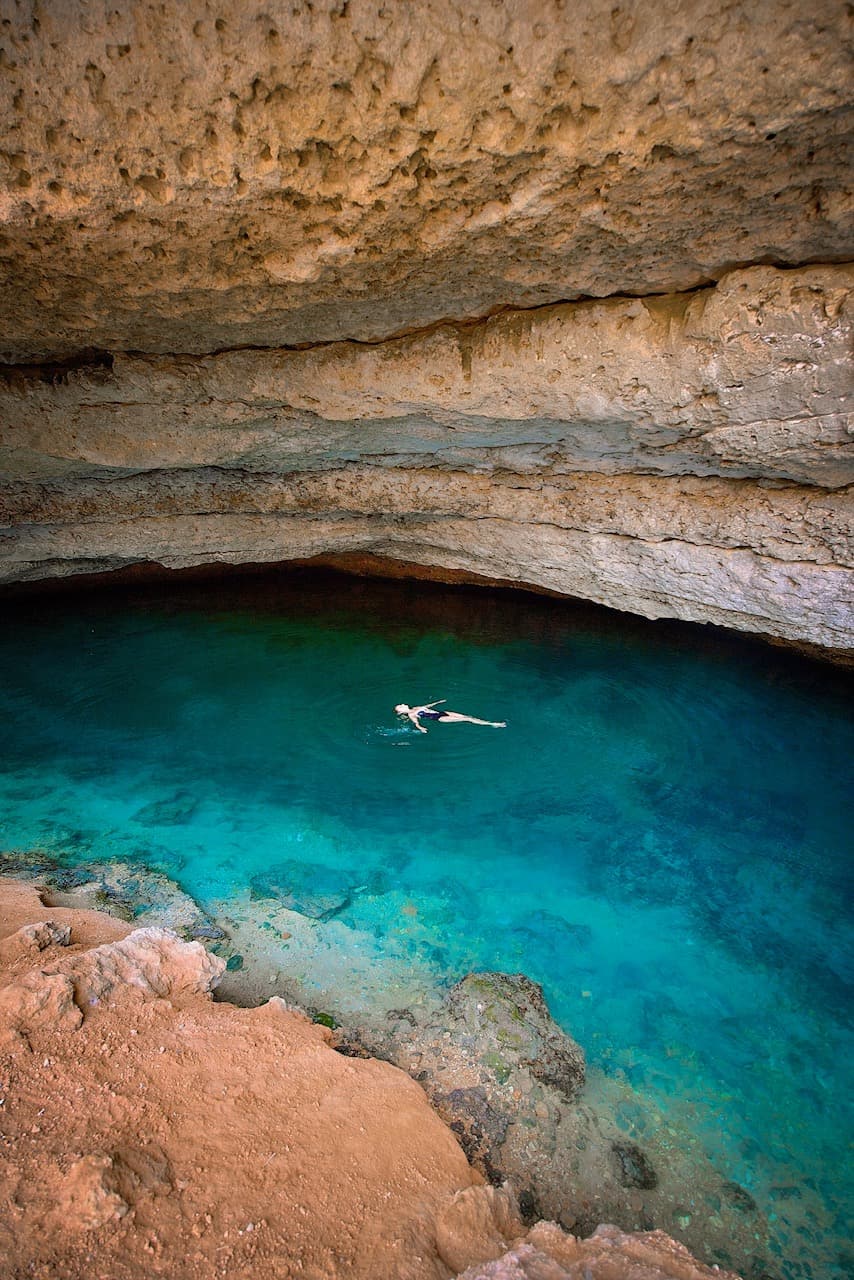 Bimmah Sinkhole is fed by both fresh water from the mountains [that comes out in the little cave we mentioned above] and seawater that flows in from underneath the deepest part of the sinkhole. This means that swimming in Bimmah Sinkhole will indeed leave your skin feeling a little salty as the water is brackish [mixed with both salt and fresh].
Bimmah Sinkhole ranges in depth from only a few feet [for kids to splash around in or for you to dip your toes in] to over 300+ feet in the deepest part. If you look at photos of Oman's Bimmah Sinkhole you will see an area where the sinkhole water gets a very dark blue/black. This is the part that is over 300+ feet deep. We were shocked to learn this fact as we had no clue the water got that deep! If you are afraid of deep water, don't worry, there are plenty of shallow parts for you to swim in during your visit.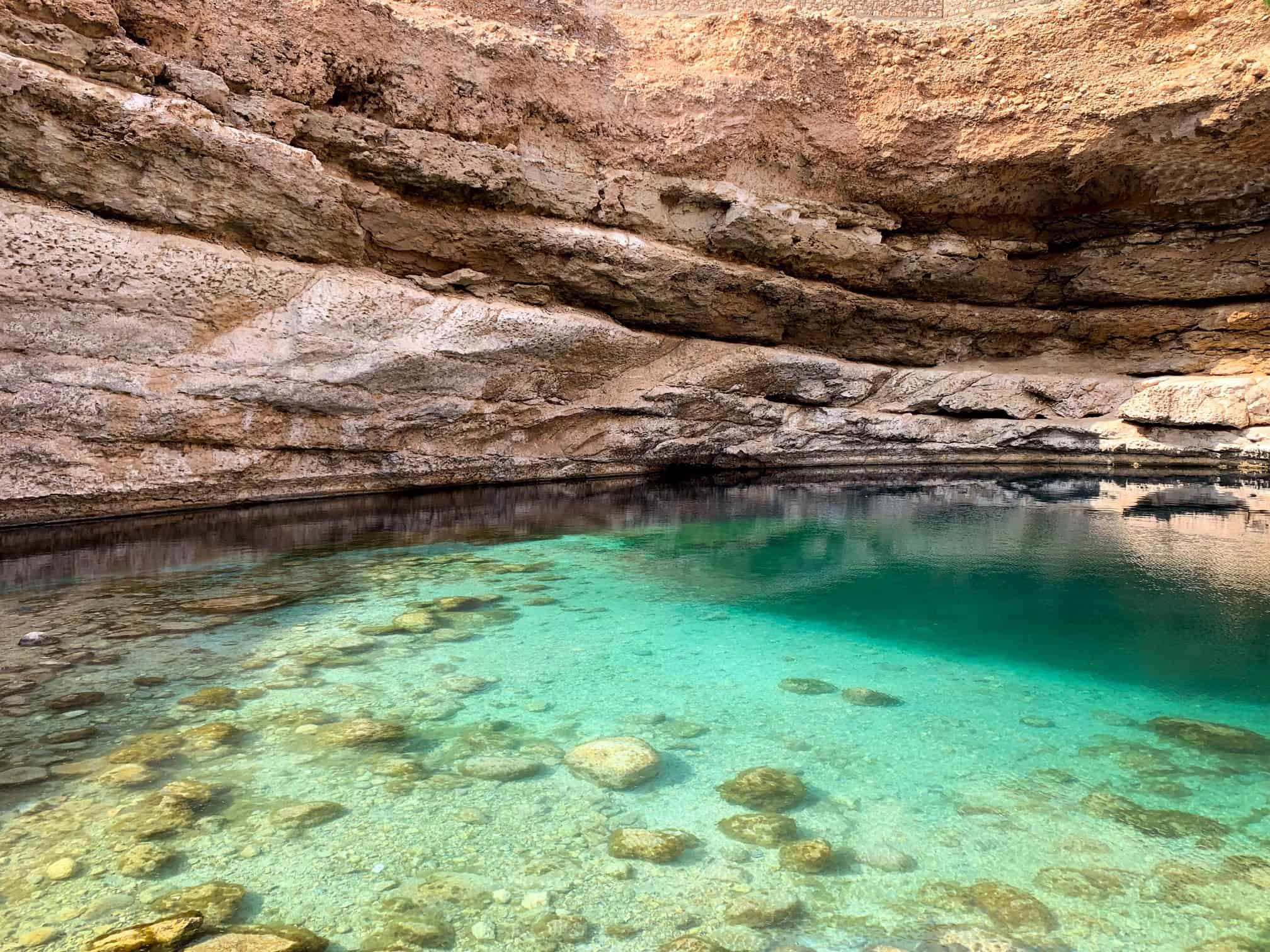 Cliff Jumping At Bimmah Sinkhole
Cliff jumping is a popular activity at Bimmah Sinkhole. Locals will jump from the top, but the jump is over 30 meters or 90 feet. A traveler posted on Instagram that they tried this jump and dislocated their shoulder. Unless you are experienced from jumping from this height, we highly recommend NOT jumping from the top of Bimmah Sinkhole.
Otherwise, cliff jumping at Bimmah Sinkhole is such a fun activity. You can easily walk around the side of the sinkhole that overhangs the 300 foot deep part so it is safe enough to jump in at your will. If you aren't comfortable jumping high, you can jump from lower points that are only 5-10 feet off the water. If you want to jump higher, you can simply climb higher and jump from 20+ feet.
Cliff jumping at Bimmah Sinkhole was so much fun and we wish we could have stayed even longer. Since you probably won't have a life jacket with you, it is important to know your limits. Don't jump from too high so you won't be knocked unconscious if you hit the water at a weird angle. This isn't to scare you but to keep you safe during your visit to the beautiful Bimmah Sinkhole in Oman.
The Free Fish Spa At Bimmah Sinkhole
Did you know that you can get a FREE fish spa at Bimmah Sinkhole? What do we mean by this? The fish in Bimmah Sinkhole will come nibble at the dead skin on your feet [or anywhere else on your body if you let them] leaving them perfectly smooth and soft when you remove your feet from the water.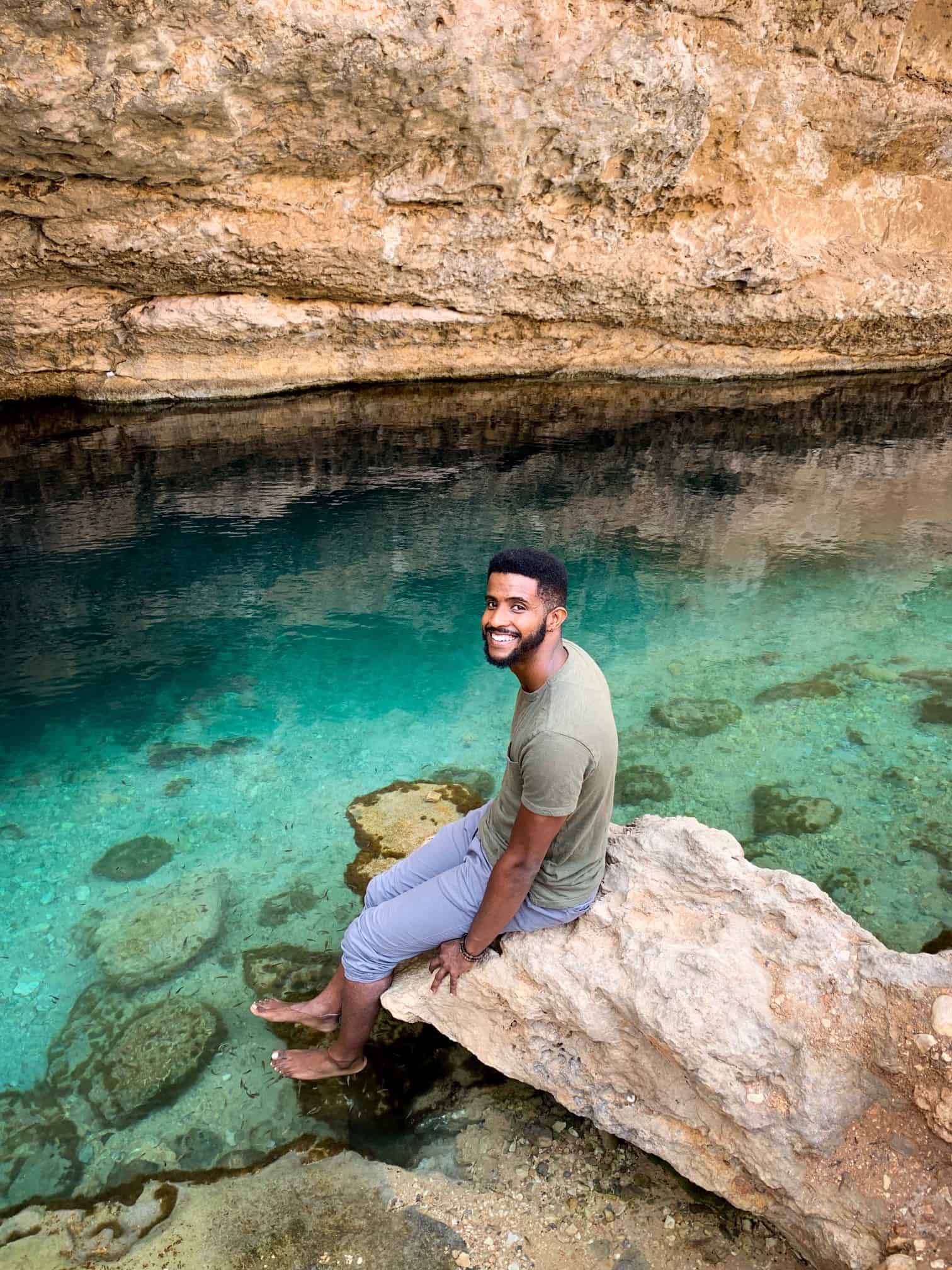 In malls around the world [including the USA!] and in many countries, especially in Asia, fish pedicures are extremely popular. The fish are usually kept in tanks and you sit in a chair with your feet in the tank and the fish eat your dead skin off your feet. At Bimmah Sinkhole, you can experience this for free as the wild fish make your feet smooth as silk.
It felt super weird but was an awesome experience. Keep in mind that when you are standing in Bimmah Sinkhole the fish will start to nibble at your legs too. If you are actively swimming then you won't feel them but the moment you stop they will come and gather. It was a little weird at first but we quickly got used to the ticklish sensation. After a while, we didn't notice it at all!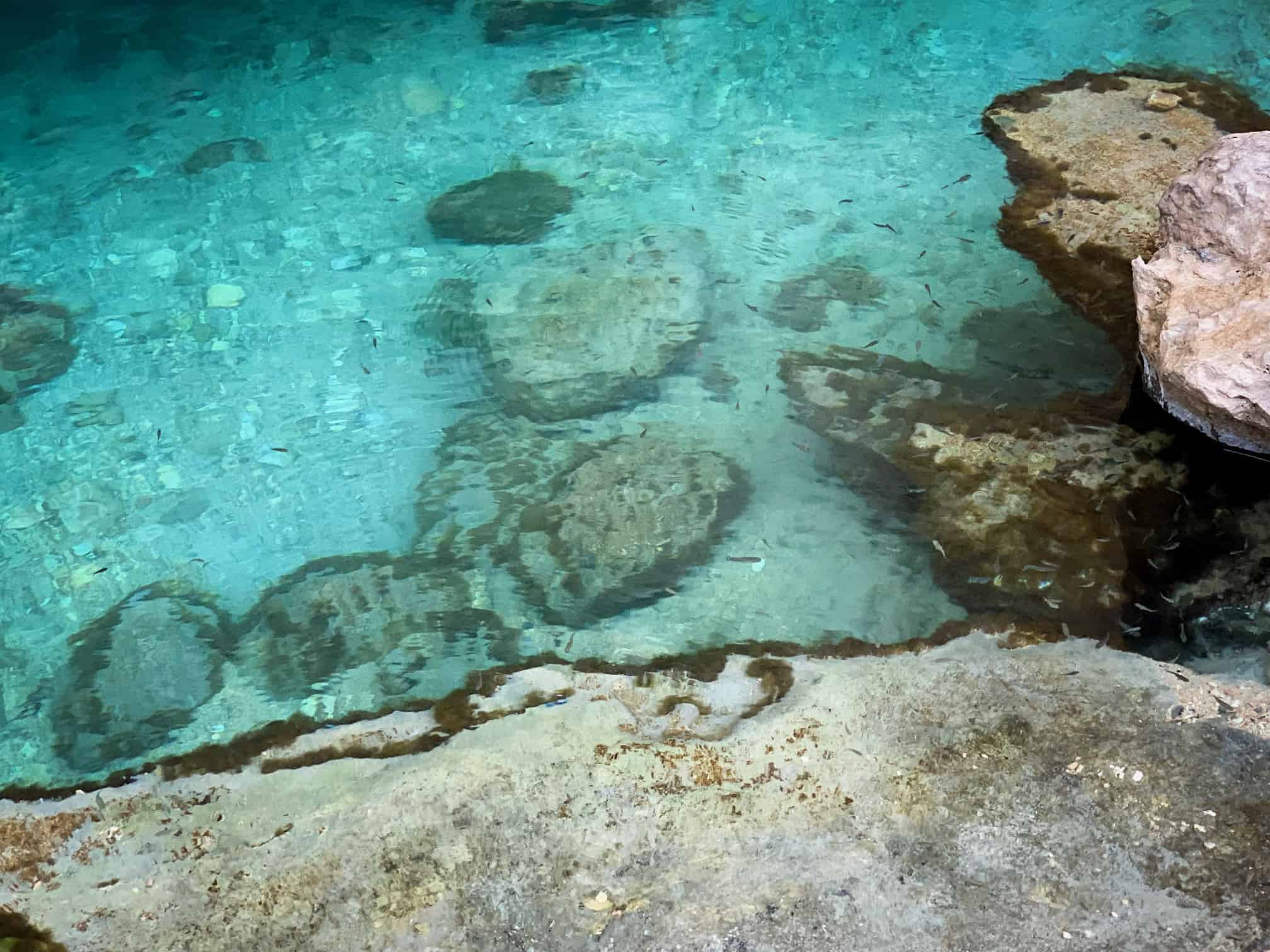 What To Pack For Bimmah Sinkhole
When visiting Bimmah Sinkhole we highly recommend dressing modestly if you are visiting during the weekend. Don't change into a swimsuit until you are ready to swim in the sinkhole itself. People were wearing bikinis and if you do want to wear one, make sure it is a modest one NOT a thong bikini. If Bimmah Sinkhole was more crowded with locals instead of just tourists, we would have worn a t-shirt over our swimsuits. If you visit during the week, feel free to wear a one-piece swimsuit or something of that nature, but if you visit during the weekend, dressing modestly is essential.
What To Bring To Bimmah Sinkhole: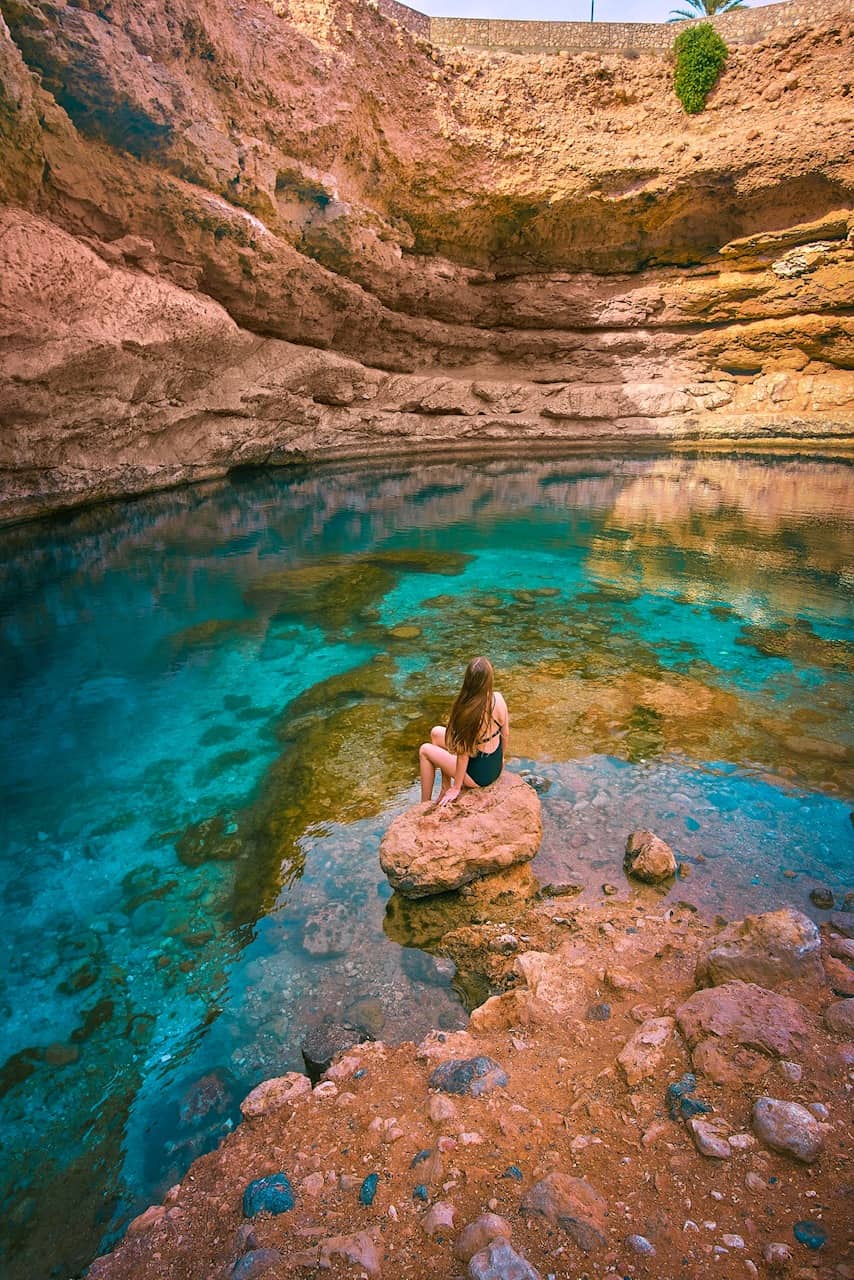 How Long To Spend At Bimmah Sinkhole
We spent about 3 hours at Bimmah Sinkhole and only left because we wanted to catch the sunset somewhere else. This wasn't nearly enough time and we could have spent up to five hours. If you are looking to swim, enjoy the fish spa, jump off the walls and take photos, we highly recommend spending at LEAST 3 hours at Bimmah Sinkhole to get the full experience.
Build this time into your day and relax when you get there. Don't rush to another thing to do in Oman and soak in all that Bimmah Sinkhole has to offer. Most people do NOT spend a long amount of time and during our stay, we saw people come and go after only 15-20 minutes. Bimmah Sinkhole has so much to offer and explore if you only keep an open mind and let it show you everything there is to see and do.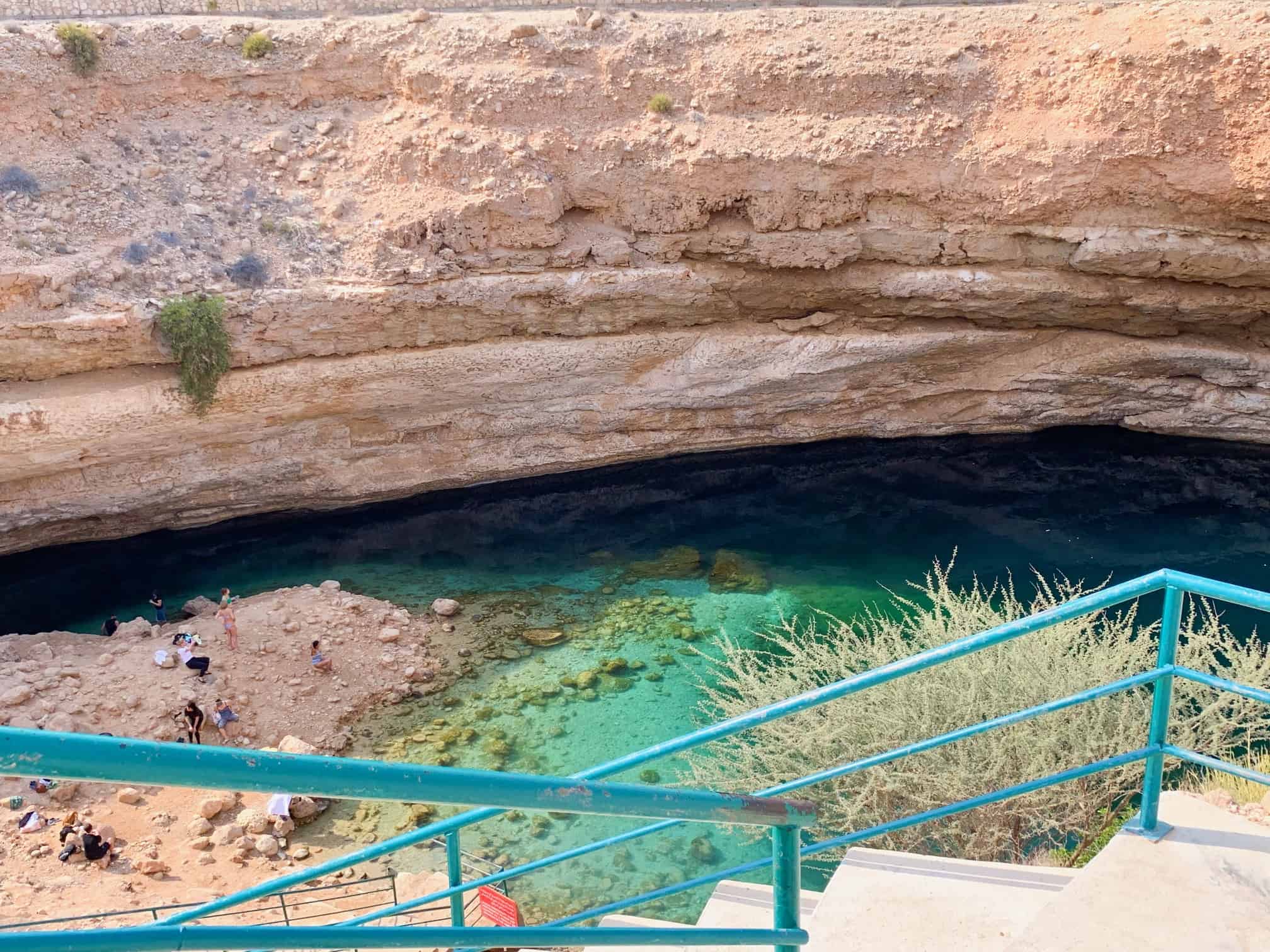 Bimmah Sinkhole is one of Oman's crown jewels and was one of our favorite things to do. We went in with low expectations and had no idea that the swimming and cliff jumping could be so fun and have so much to explore. When you visit, we strongly urge you to build in enough time to have a slow and relaxed visit to Bimmah Sinkhole. Of course, if you can't afford hours, you should still stop as it is completely free, but it really is a place in Oman that deserves a longer stay.