Looking to make sure your winter packing list is complete before you head to your dream winter vacation? If you are looking for a detailed list of what to wear in winter, you have come to the wrong place. Instead, we are here to make sure you did not forget the most important things when packing for a winter trip.
We have traveled countless times in the winter and cold-weather places. Somehow, the arctic always calls to us and visiting places during colder times of the year means fewer tourists. From Iceland and Nunavut to the Dolomites and the Canadian Rockies we will help you with what not to forget on your winter packing list. If you are going to be visiting a city or urban area in the winter such as Paris or New York City [or anywhere] these packing tips for Winter will apply there too!
Gathering your clothing together and checking off your winter packing list can be a little stressful. We are here to make sure you have packed every little detail so that you have the best time on your winter vacation. Whether you are traveling to a big city, small town, or mountain during the winter, there are a few things you need to check and make sure you bring along for the ride!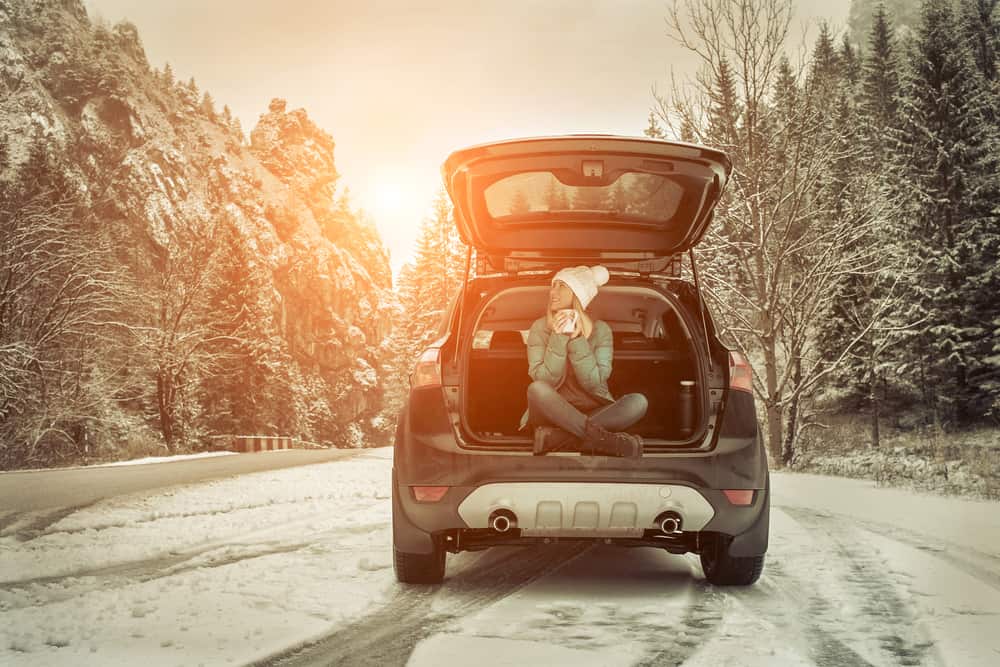 Winter Packing List: 10 Things You Are Forgetting To Bring
#1. A Balaclava Is A "Must" For Any Winter Packing List
Never heard of a balaclava before? You are in for a real treat! Balaclavas are like a scarf that you don't have to wrap or hold in place. You can buy a half balaclava that only covers the neck [recommended depending on ] or you can purchase a full balaclava that covers your head too. A balaclava is a must-pack article of clothing for winter because it has many functions and holds up well against the potentially windy or rainy weather you may also experience during the winter along with the usual snow.
We recommend packing one, just in case, even if you are traveling to a city. They are NOT just something to pack for hiking in winter weather and can be used for all different kinds of trips. The wind in winter can have a habit of "unwrapping" a scarf from your neck. So instead of dealing with that, simply pack a balaclava. It does dual purpose as a hat too! If we could recommend just one thing to add to your winter clothing list, it is hands down a Balaclava and we have used them everywhere in our travels! Such a good little item to have on hand and it packs small.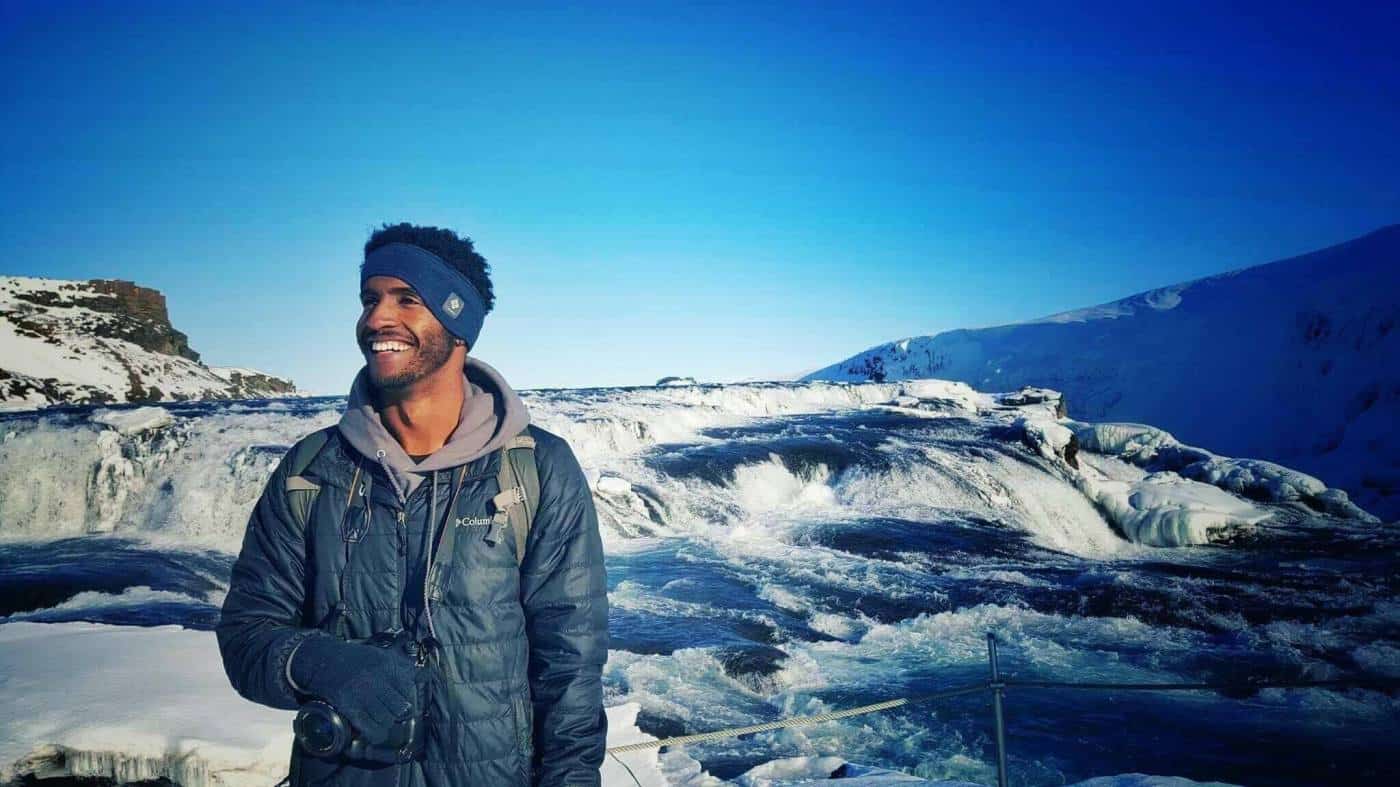 #2. Reusable Filtered Water Bottle To Save Time And Money
Getting dehydrated is a huge problem when traveling in winter. When it is cold, our minds don't want to drink water as much but our bodies crave it. As a result, you may feel dehydrated. We never leave this Bobble Water Bottle off our winter packing list, no matter if we are planning a city, ski, hiking, or spa vacation.
Staying hydrated, especially during the winter, is very important and people think just because it isn't hot means they don't have to drink as many liquids. This is completely untrue! The dry air makes it even more dehydrating than it would normally be during warmer weather.
Here is another hard truth: you may get sick from drinking the water of other places. No, we don't mean places like Mexico or India. We mean anywhere, even on a winter vacation. In order for your stomach to get upset by local water, all it needs is bacteria that is different than your home water.
For example, we are from Flordia but the water in Chicago or Denver is different so we could potentially get sick if our stomach doesn't agree with the local water. If you want to avoid this and stay hydrated, simply bring a reusable filtered water bottle and drink that while you dine and explore.
Even if you don't have a sensitive stomach, you should still add a filtered water bottle to your winter packing list simply to help reduce waste and save the earth. Instead of buying disposable water bottles, you can simply refill your filtered bottle at sinks or fountains in each city you visit during your winter vacation. This is a cheap and simple thing that you are probably forgetting to add to your winter packing list and will really change your vacation.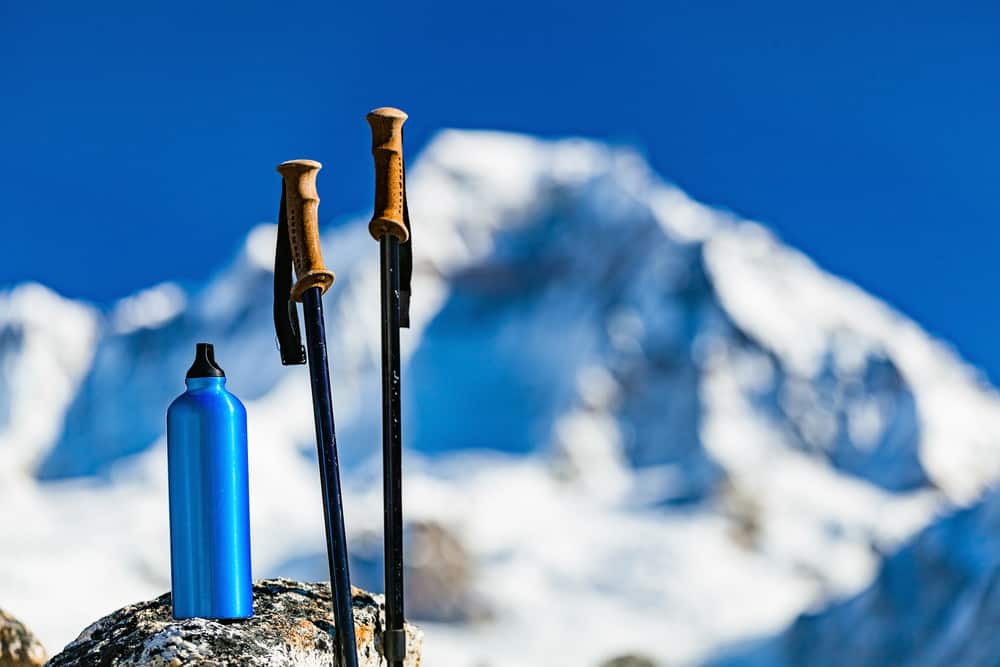 #3. A Swimsuit Is One Of The More Unexpected Things To Pack For Winter
Didn't think a swimsuit would make your winter packing list, did you? Spas in winter are fantastic and if you are staying in a hotel, you will probably get to have access to one. Make sure to add a swimsuit to your winter packing list so you can join in on the fun!
No matter where you are planning your vacation, a swimsuit should make your winter clothing list because there will usually be a chance to wear it! This may be surprising and unexpected, but there is honestly no better way to unwind than to get into a warm pool of water. Highly recommend this swimsuit when packing for a winter vacation!
For example, if your winter vacation is in a ski town, many resorts have lovely spa facilities as well as hot tubs and indoor/outdoor pools. You can ski all day and then relax in the spa all night as you watch the stars and maybe even the Northern Lights depending on where you are located in the world.
Additionally, if you are looking for a winter packing list for a city getaway, a swimsuit should STILL make your list because lots of hotels in cities also have their own spa facilities. Even if you are heading to a place like Iceland in winter, there are plenty of hot springs in Iceland or even places like Italy, Budapest, Turkey and more to enjoy, even in winter.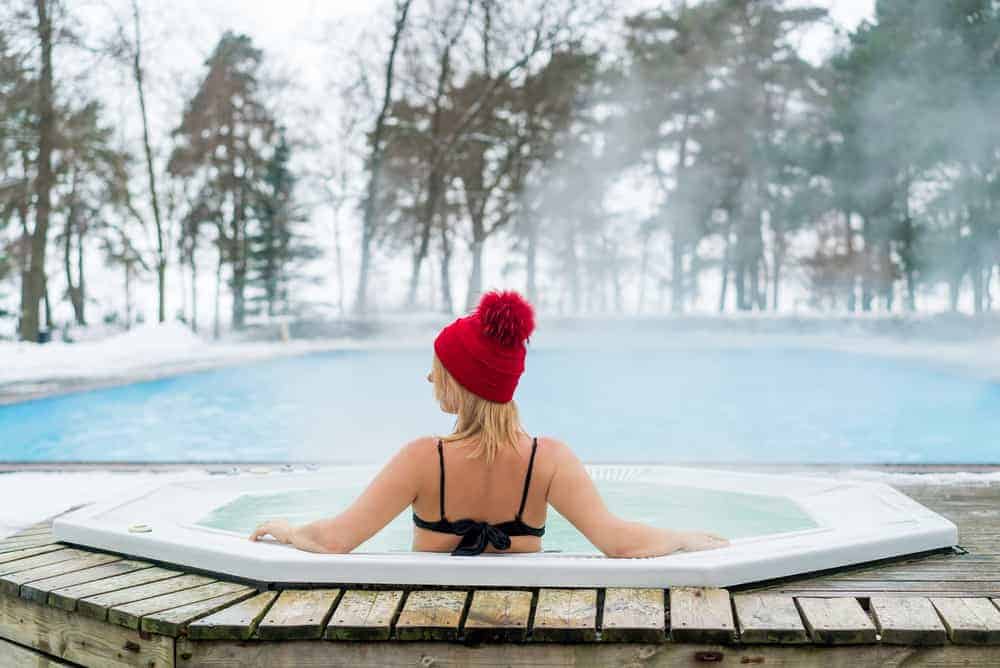 #4. A Rechargeable Electric Hand Warmer Is A Must On Any Winter Packing List
Like many of you, we used very wasteful and expensive disposable hand warmers like HotHands Body & Hand Super Warmers on our winter packing list for years. That is until we discovered electric hand warmers and our world was changed!! We get cold limbs quickly and this is especially important if you are skiing or hiking in the winter. We use and recommend the ThreeLeaf Rechargeable Hand Warmer and it is a total lifesaver when packing for winter! We have used it everywhere from big cities to remote destinations in winter and it is strong and works wonders.
Why do we recommend this for your winter packing list? First, it is a one-time investment of money and it isn't even that expensive. Second, it works for a long time and you can recharge in your car if you have multiple devices. Third, it isn't as wasteful and doesn't harm the earth when you toss it out after each and every use. The disposable kind are harmful and carry harmful chemicals. Reusable hand warmers such as OCOOPA Hand Warmers Rechargeable which is recommended as an Amazon Favorite warm up VERY quickly and get VERY hot.
You can change how hot you want the product do be simply by pressing a button. It can go from warm to scalding, depending on what you are looking for. You can recharge it and then use it again the next day. Besides the Balaclava which is mentioned first on this list, an electric hand warmer is an absolute must that you shouldn't forget on any winter packing list.
#5. Sunglasses and Winter Sunscreen Are Almost Always Forgotten
Yep, sunscreen and sunglasses are 100% almost always forgotten when planning your winter packing list. These are two things, like water bottles, that people often associate with packing for a warm-weather vacation. This couldn't be further from the truth! First off, if you are going to be visiting somewhere with snow, you are going to want to wear sunglasses. You should wear sunglasses anyway, but especially during the winter. The sun reflects off of the snow, ice, and winter atmosphere and is very harmful to your eyes.
A simple pair of sunglasses like these RIVBOS Polarized Sports Sunglasses for winter sports and these WOWSUN Polarized Sunglasses for city exploration are a must to add to your winter packing list. Even if you don't wear sunglasses normally, you are going to want to add them when packing for a winter trip because the glare and bright light from the white snow will damage your eyes. We beg you to consider investing in a pair of polarized sunglasses for maximum strength.
Finally, there are still parts of your body such as your face which are exposed to the harmful elements during winter vacation. When packing for winter, we highly recommend Joshua Tree Winter Stick for sunscreen. Not only is this product light on your skin, it helps protect your face and body from windburn! Usually, winter weather is quite windy, no matter where you are going. So this amazing sunscreen protects you from both windburn and sunburn all at the same time! Both sunscreen and sunglasses are commonly forgotten on your winter packing list but are totally essential for a good trip.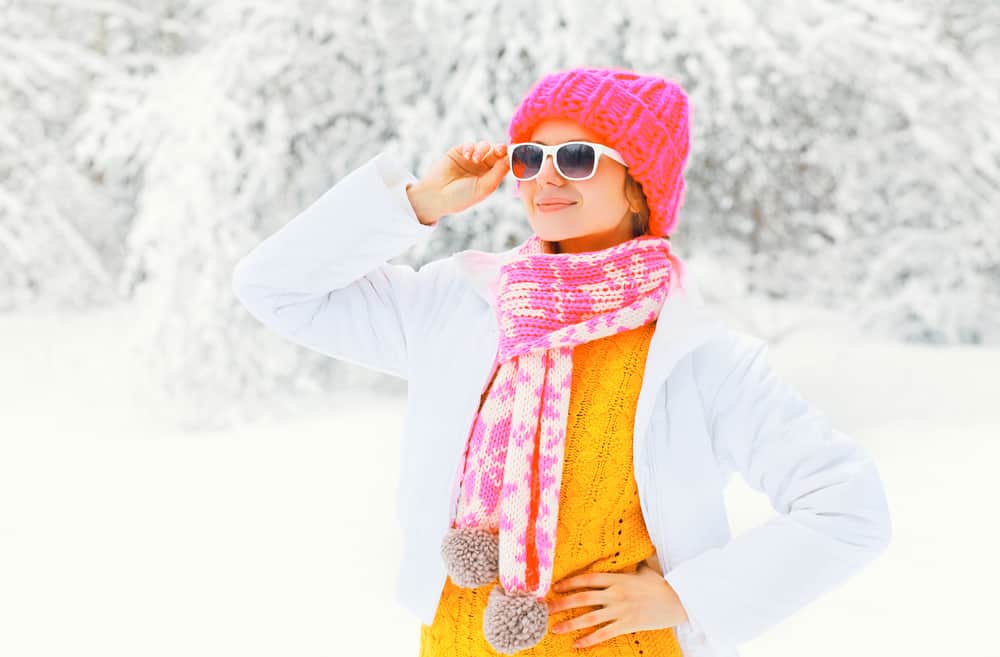 #6. When Packing For Winter, Don't Forget A Portable Power Bank
Whether you are going skiing, on a city vacation, or snowshoeing, your phone is probably going to die quickly. When planning your winter packing list, make sure to purchase a portable power bank to bring along for the trip. Portable power banks generally cost from $10-$40 and will help you recharge your phone on the go. Please do not forget to add this to your winter packing list, even if you aren't usually on your phone!
You will be using your phone a lot during your winter vacation because you will be taking lots of photos and using social media apps to share your fun with friends back home. Avoid your phone dying by bringing a small power bank and you will thank us later! If there is one thing to add to your winter packing list, this is it!
This is FOR YOUR SAFETY!!! Winter is a potentially dangerous time. What if you are driving and you slide out and get into an accident and your phone dies and you can't call for help? Simply purchasing an affordable and small power bank has the potential to save you in an emergency situation. This is more than just uploading a selfie. This could aid you in calling for help in a dire circumstance!
We specifically love and recommend Anker PowerCore 10000 and use it in all of our travels. We have used the suggestions listed above but this is what we currently travel with. It is a little more expensive but it is good quality and should be added to your winter packing list if you have a smartphone!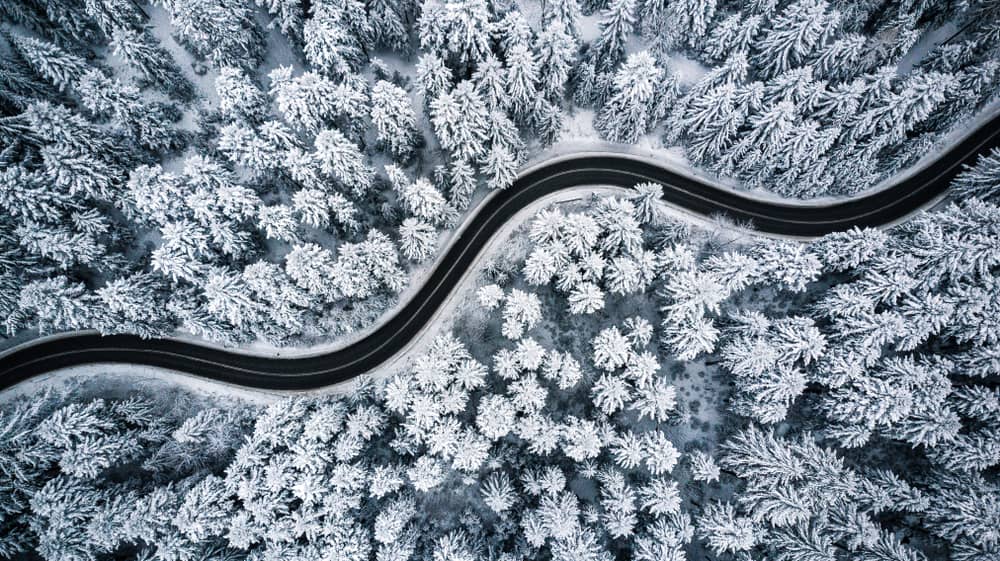 #7. Pack Fleece Lined Leggings Over Long Underwear
Fleece lined leggings should never be left off any winter clothing list! They are unisex for both men and women and are a godsend on any winter trip. Many people think their basic long underwear will suffice. You know the kind with the waffle fabric? No! Fleece lined leggings are pretty much the best invention to ever come out of the fashion industry. They are affordable, soft, warm, and make a fantastic base layer.
Ladies, these Premium Women's Fleece Lined Leggings are so warm and exactly what you should put on your winter packing list. They make the perfect base layer under your hiking pants or jeans if you so choose to wear them, and can even double as pants themselves if you put two layers of leggings together. These leggings are affordable and can be ordered on Amazon and come in 20+ colors. Victoria has these leggings in black, brown, white, and beige. We see people selling fleece lined leggings for $90 a pop and are here to tell you to NOT spend that price because it isn't worth it when you can get the same thing for a lower price.
Men, if there is one piece of clothing that you should consider when choosing what to wear in winter, this is it! Fleece lined thermal leggings are the barrier between your legs and the freezing winter wind. Whether you are wearing ski pants, hiking pants, or just normal jeans, you are going to want thermal leggings underneath. Guys, you are going to want to add this to your winter clothing list and thank us later! Terrence initially didn't want to wear any thermals but was converted quickly on his first winter trip!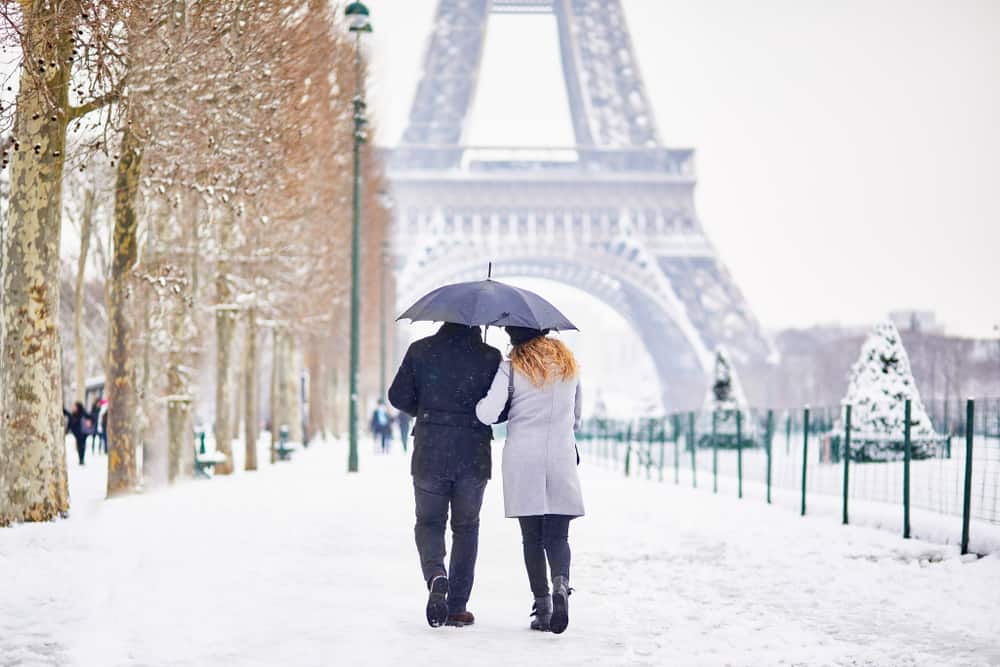 #8. Don't Forget A Portable Smartphone Flashdrive For Your Photos
If you are planning to capture your winter vacation on a smartphone, we beg you to bring some way to back up your memories. The best way to do this is with a portable smartphone flash drive. A flash drive is a small storage device that you can connect up to your smartphone and then safely and easily download the photos onto this device. This is such a small thing many people forget to add to their winter packing list.
It is the worst feeling in the world to lose your photos and memories from a trip, and we have done it before, which is why we always back up our photos to a mobile flash drive. It is quite easy to do and if, say, your phone gets stolen, you will still be able to recover the photos you took on your trip if you uploaded them to this device!
We recommend the iDiskk USB 3.0 128GB as it is a certified device. People of all ages are documenting their winter vacations on smartphones and we do highly recommend investing in one of these devices to store your photos during your trip. You should add this to your winter packing list even if you traditionally utilize cloud storage to back up your photos as internet may be limited where you will be traveling for your winter vacation and we wouldn't want you to have to rely on a fast and secure connection to save your memories.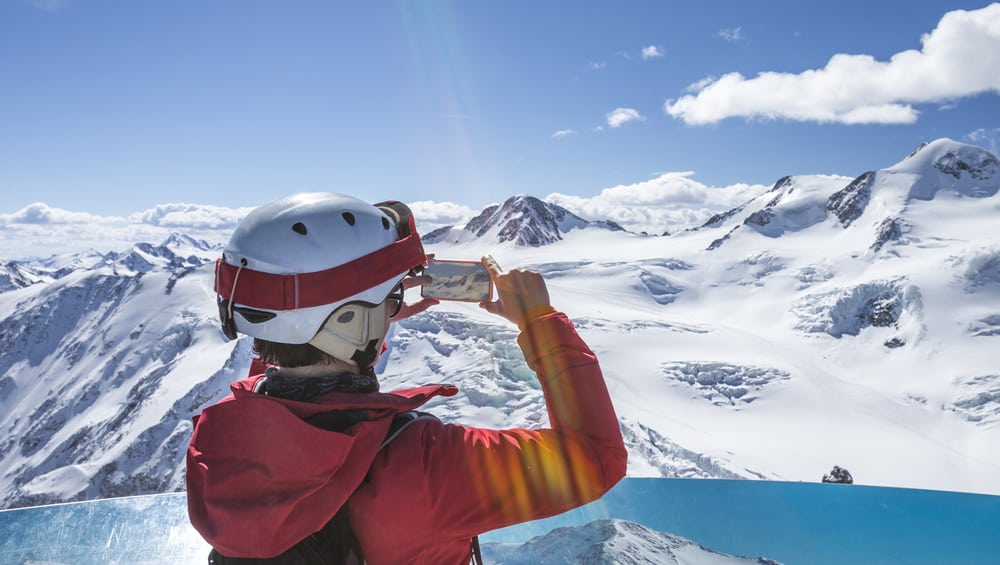 #9. Packing Cubes/Compression Bags To Maximize Space In Your Luggage
There are so many fantastic places you could be traveling to for winter! You may be driving, flying, or taking the train or bus. Compression bags or packing cubes make a huge difference and are often forgotten on your winter packing list. Why? They will help compress some of the bulky items on your winter clothing list to ensure that they fit in your suitcase. You may be struggling with space or weight limitations with your luggage and compression bags will suck all the air out of your winter clothing so that it squishes down to a tiny size!
If you want to go the quick and easy route, we recommend and use 12 Travel Storage Bags for Clothes. Instead of using a vacuum to suck the air out of these bags, you simply roll them tightly and a special valve releases all of the air. We have used these compression bags to help us pack for winter travel in just a carry-on only and they are fantastic at compressing things like down coats and ski pants into a really tiny size!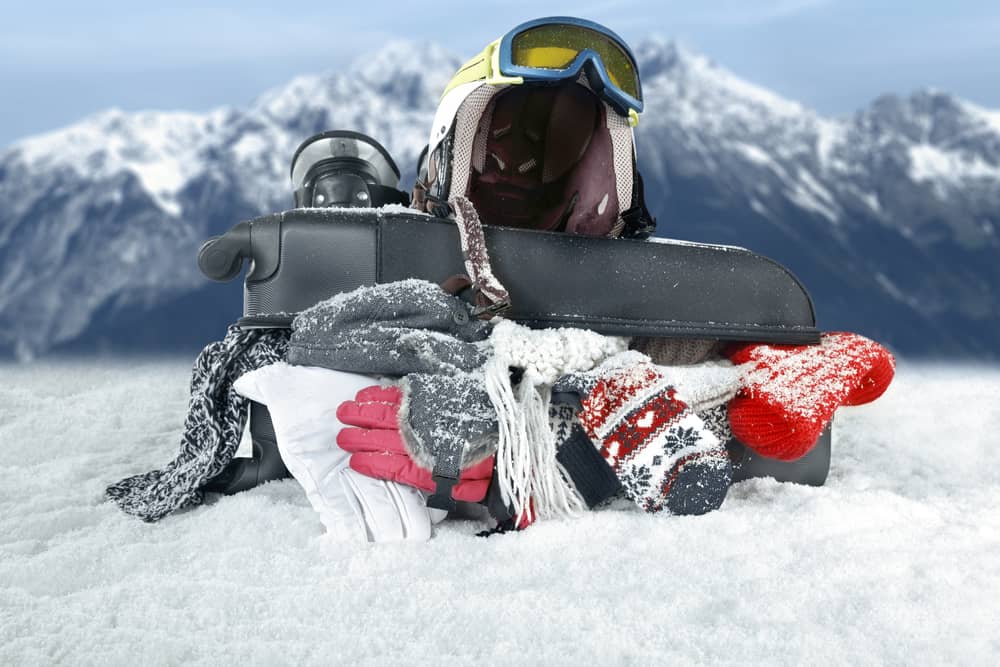 #10. Don't Forget To Put Earplugs On Your Winter Packing List
Please, take it from us and thousands of other travelers and add earplugs to your winter packing list. They are essential! Many people book a homeshare or hostel for their winter vacation. Even if you don't, your hotel could be in the middle of a ski village or city. This will result in you not being able to sleep, especially if you are staying in a larger city-center type area and there are restaurants and bars nearby.
For example, during one winter trip to Jasper in Canada, our hotel was overrun with a school group who would run up and down the hallways at all hours of the night. This was not a hostel or Airbnb, this was a nice hotel! Even if you are staying at a nice hotel, you have no clue the potential noise that may ensue. Earplugs are absolutely necessary to add to your winter packing list and these are the earplugs we travel with.
In addition, if you plan to travel around Italy by staying in hostels or shared Airbnbs, you should totally add earplugs to your winter packing list. Sleeping in a hotel or unfamiliar space may cause you to stay awake and have a hard time sleeping. Adding earplugs to your list of what to pack for winter will help you focus on quiet and get some much-needed shuteye after a long day on the slopes or exploring. Bonus: You can use your earplugs if you are hoping to sleep on the plane on your way to/from your vacation as well.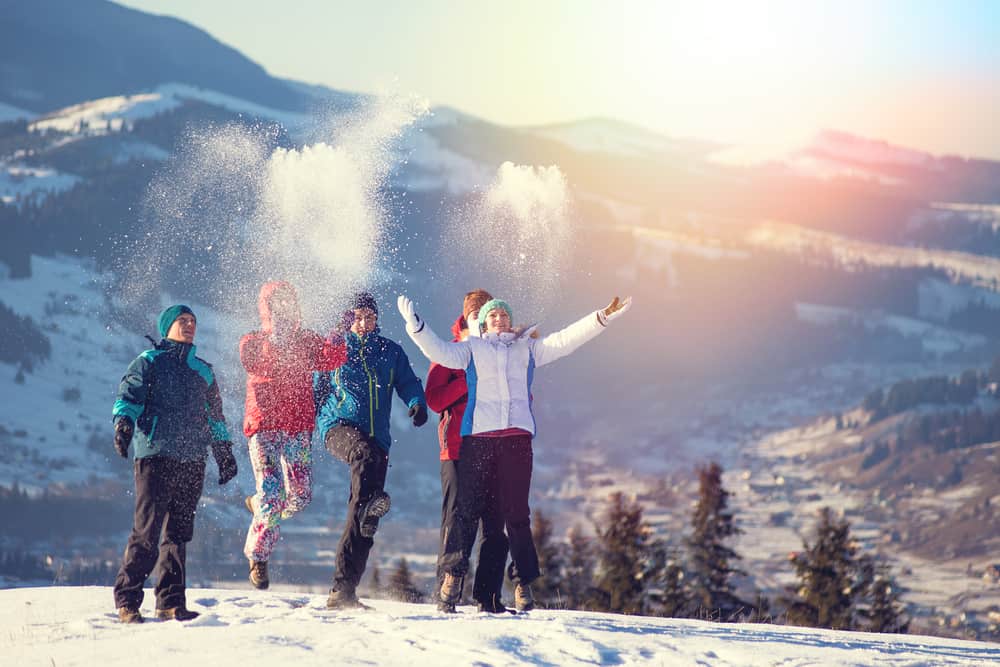 Other Items To Add To Your Winter Packing List:
Planning your winter packing list isn't as stressful as it sounds. By following these simple tips, you will be well on your way to packing like a pro for your winter vacation. These items are often forgotten by people planning their travels in winter and we want to save you from the same fate. Of course, any destination has stores and you can buy things you forgot, but the stores may or may not be open and you may not remember you need something until you are far away from all stores. Do yourself a favor and add these affordable and small things to your winter packing list and thank yourself later!