If you wait all year and plan the most epic Halloween season than get ready for this years Universal Orlando's Halloween Horror Nights 2019! This annual event opens up on September 6thand runs until November 2nd! If you are familiar with what we love than you know we love Halloween Horror Nights and plan to go every year! We have been for the past 8 years in a row. There are quite a few different options for tickets to attend so make sure you look ahead and plan to get the right package for you and your budget.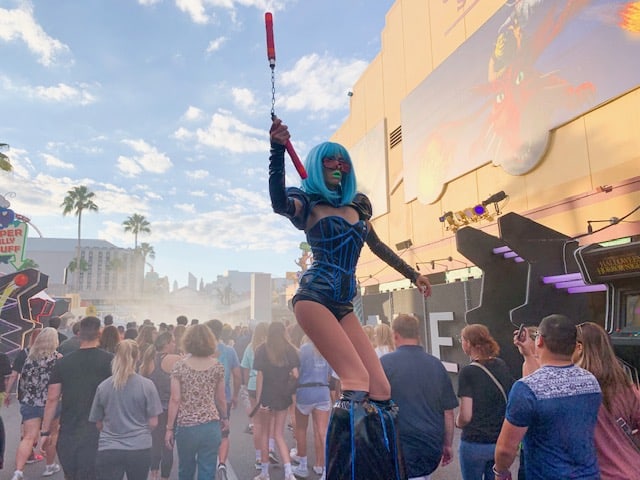 There are a lot of houses to see and if you can't swing the Express Pass, we put together a list for the MUST sees. Your HHN 2019 would not be complete without this list. If you can't wait and want a sneak peek review, just keep reading and we will give you our top six picks and why you should put them in your plans. Download the event map for HHN 2019 and plot your course, just make sure you plot these houses on that plan!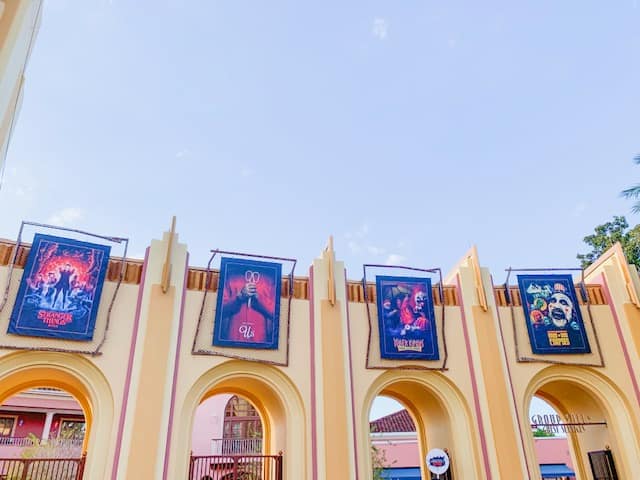 Halloween Horror Nights Orlando 2019: Best Houses You Shouldn't Miss
US
If you want to start your Halloween Horror Nights off right, how can anyone miss this epic house inspired by Jordan Peele's movie "Us"? We got the opportunity to see this film when we were in Oman and we were shocked by the ending. The ending is what made it and we can't wait for the house! In this experience, you will walk the Wilson Family beach house and experience the movie through the eyes of the characters. Explore the underground tunnels and meet your own worst enemy…yourself. If you loved the movie, you're sure to love this house!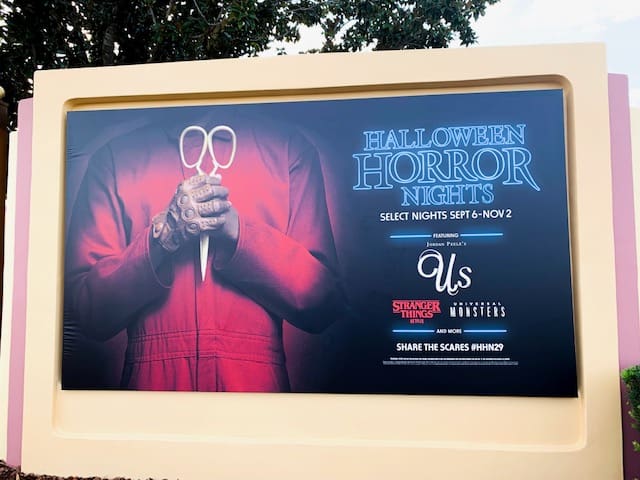 It was WAY creepier than we thought! A minimalistic house compared to others but incredibly creepy with the music and the characters running throughout! You truly feel like you are walking through the movie!! It was very impressive.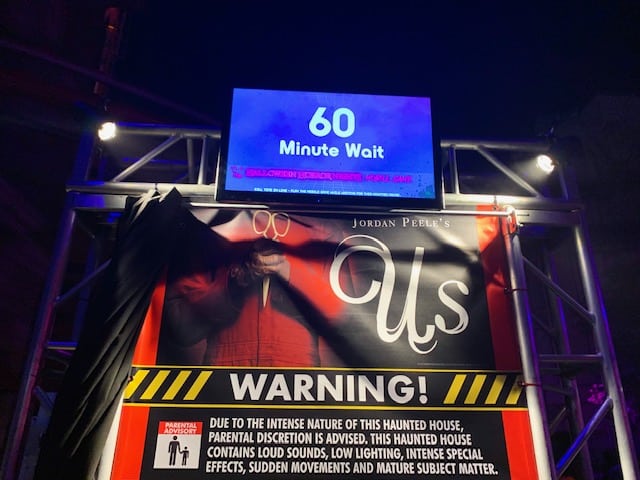 Stranger Things
This is the second year that Halloween Horror Nights Orlando has done Stranger Things, after its debut last year, we are not surprised to see it back again this year. We thought Seasons 3 was the best yet and we know there are going to be some incredible things. The Stranger Things house from 2018 was amazing but this year took the cake! When visiting this house, you're transported all the way to Indiana and its iconic Hawkins locations. While you're there, you are sure to be scared out of your wits and not only from the Demodogs!
It was the best Halloween Horror Nights house we have EVER been to! We were shocked at how EPIC it was! It takes you through Seasons 1-3 in a quick fashion but the set was incredibly well done. We cannot stress enough how much you NEED to make time for this house. It is well worth the wait.
Ghostbusters
We love classic houses and this one is no different. Celebrating its 35thanniversary, this is the first time that this house will be featured and Halloween Horror Nights Orlando. Walk the 30 year old streets of NYC and see the Temple of Gozer with Gozer the Gozerian, view Slimer the ghost, and be terrorized by the Stay-Puft Marshmallow Man.
It was SO MUCH FUN! We didn't think it was scary but we thought it was pure FUN! You walk through the movie and it was very lifelike! You may get startled here and there, but it is a good time!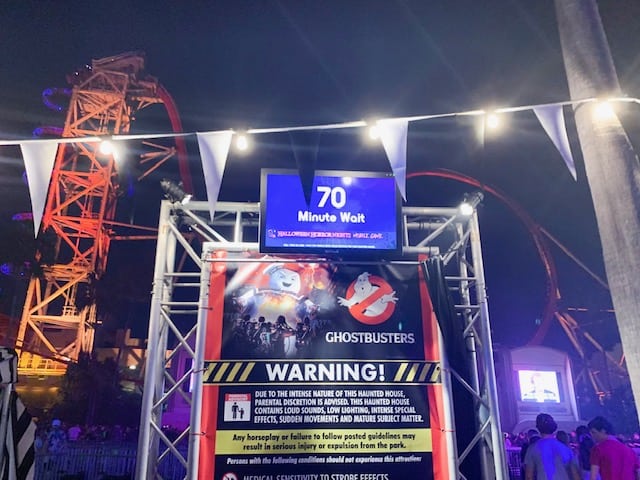 Depths of Fear
Depths of Fear is a Halloween Horror Nights Original. We LOVE original ones and this one is underwater themed. We love unique houses and an underwater theme was so fun and unexpected! If you're like us and enjoy the original scary scary, this story is for you. The underwater miners have unearthed a race of deadly creatures and are fighting for their lives. These slithering beasts shoot acidic, flesh-eating eggs at their human hosts. You will be drawn into their chaos and the inevitable ending of their underground mining facility. Can you escape fast enough?
The details in this house were incredible! There was actual water flowing throughout it, not just a prop. The decor was well done and really transformed you!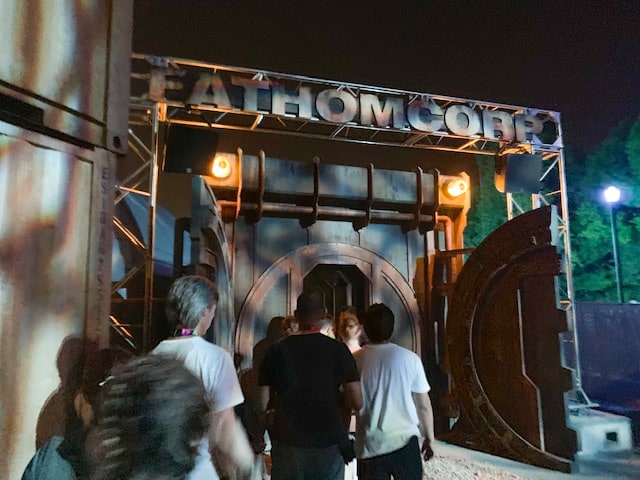 Yeti
Yet is another HHN Original and as I said, we like unique things so a winter theme with a huge Yeti will be interesting. Halloween usually marks the middle of autumn, so it is an exhilarating change to have a house be themed around a cold winter. This Halloween Horror Nights story starts in Alaska in the Yukon. Winter loggers and trappers are looking for freedom from the freezing arctic blizzard.
In their attempt to seek refuge they come across something more terrifying than the blizzard, the Yeti's. These beasts will rip the Alaskans limb for limb, the thirst for blood will push the Yeti's to hunt down every last one of them. Will you be able to make it out of the ice caved labyrinth? Will you get to see the light ever again? The Yeti's in this house were WAY scarier and creepier than we thought going in!!! Be prepared for a real scare!
Universal: Monsters
This house was also one of the best we have ever been to! Universal: Monsters features all the classic monsters that you are used to! Each room or section features a different monster which is awesome as you get to experience different scares throughout the entire house! We were pretty surprised to see favorites such as Phantom Of The Opera which was really unexpected.
Keep your eyes open for Dracula, Werewolves, Frankenstein and more. Make sure to stay aware that each section features a different unique movie so keep your eyes wide open the entire time. You don't want to miss the decor in this house!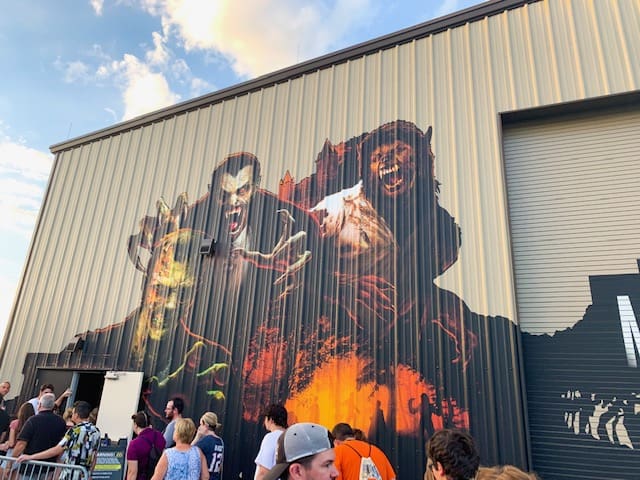 Nightingales: Blood Pit
If you like Roman and Greek history, make sure you check out Blood Pit. A Roman-themed house is unique and different. My sister went on her own twice and this was her favorite house both times! The details and designs will be sure to shake things up from a traditional Halloween Horror Nights scare. This house may be last in our list, but that doesn't not make it a runner up for scares.
Ancient Rome is suffering a horrific and record-breaking drought and the only way the emperor sees to resolve this, is to have never-ending gladiatorial games. While the gladiators destroy each other in massive blood baths, out come the Nightingales. The Nightingales feed on death and the blood soaking into the arena is their wake up call. As you venture through this murderous sport, you will witness the massacre that the Nightingales inflict on the human combatants. Will your fresh blood entice them? Will you now be the sport?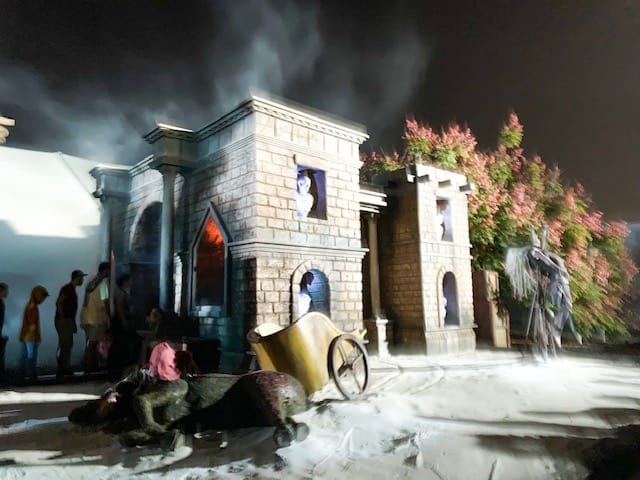 Do you plan on attending Halloween Horror Nights this year? If so, we would love to hear your plans for navigating this amazing event. Share your favorites scares, houses, tips and tricks
Special thanks to Universal Orlando for providing us with HHN19 tickets in exchange for our review!