Have you ever wondered how much you can buy for $20 at grocery stores in Europe? The results are pretty interesting and in some places, $20 in groceries bought us a good haul and in other cities, we left the store with only a few items. Although grocery shopping in Europe can be stressful at times, we had fun lining up all of the food after we arrived back from the store to see how much $20 measured up.
For all you ready to chastise us for "bad" eating, keep in mind that we may have spent more than $20 on a few shopping trips! Not to worry, we kept our receipts and made sure our total added up to $20! Now it is your turn to see what $20 of groceries looks like!
This is What $20 Buys At European Grocery Stores
Reykjavik, Iceland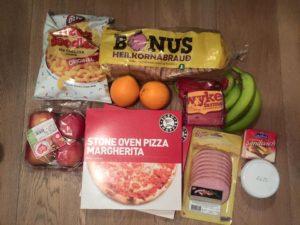 We knew Iceland was going to be pricey going in, but $20 was able to get us a decent amount of groceries. We were able to make the fruit and cheese last the entire 8 days we were on the island. While you are at it, why not check out 5 things to know about grocery stores in Iceland? 
Berlin, Germany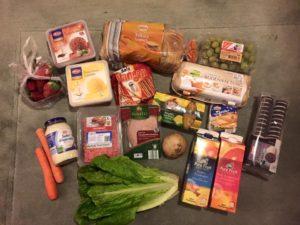 Compared to other grocery stores in Europe, Berlin provided us with a fantastic haul! Dare we say, we got the best bang for our buck on European groceries in Berlin? Some items we purchased, such as the mayonnaise, stayed with us for almost  3 months. It is a miracle neither of us got sick from the amount of times it warmed up to room temperature during travel days.
Prague, Czech Republic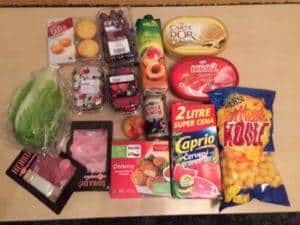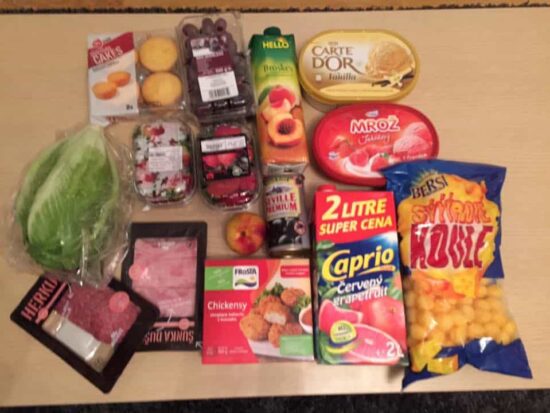 This Caprio juice was the nastiest stuff we have ever tasted. I'm pretty sure we returned it for store credit. We also got ingenious and made homemade strawberry shortcake and it was fantastic.
Bunbeg, co. Donegal, Ireland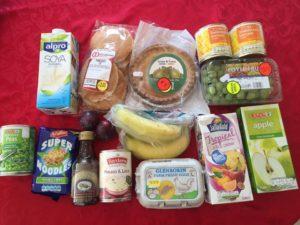 $20 of groceries in Donegal actually doesn't seem as bad now as it did back then. We felt like we drained our wallets at that tiny and expensive Eurospar, one of the more expensive grocery stores in Europe.
Vienna, Austria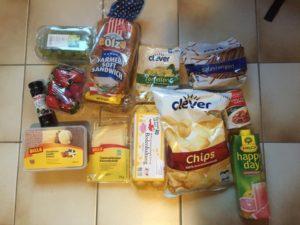 Overall, Austria ended up being the most expensive country for buying groceries. Some cities were more expensive individually, but as a whole, Austria was certainly the priciest! On another note, those pretzels lasted for like an entire month.
Modane, French Alps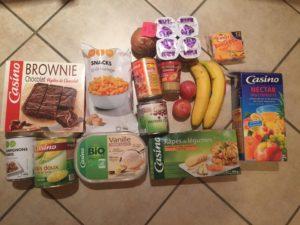 These brownies were the BEST DESSERT EVER. We should have bought like 3 boxes! Those zucchini latkes were spot on as well. Have to say we got a little over-zealous with the huge container of corn.
Imperia, Italy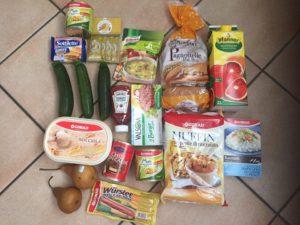 Those muffins tasted good even after being squished in the bottom of our backpack for 3 weeks. We also learned to love blood orange juice. Have you tried it? It is pretty magical.
Innsbruck, Austria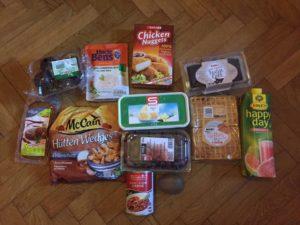 These waffles were an excuse for a breakfast item and were far too sweet. Also, Innsbruck is the place we discovered the magic of pear juice. We have also discovered that pear juice isn't readily available at grocery stores in America so it will be a special treat when we head to Europe.
Vaduz, Liechtenstein
Confession: we didn't actually buy this because $10 for ice cream is insane, but we had to take a photo anyway! $20 USD would get you like 2-3 items in Vaduz! If you want to visit, we suggest saving your pennies!
Dalkey, Ireland 
In Dalkey, we were able to purchase a massive box of veggie spring rolls on the cheap! The box was so big that we had spring rolls with each meal for almost two weeks! Grocery stores in Ireland can be on the pricey side so planning what you want to eat is important.
Trento, Italy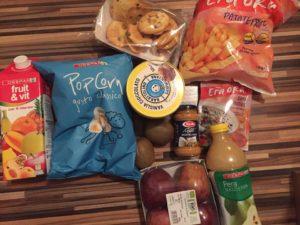 These cookies were such a huge letdown! They looked like chocolate chip but they definitely were NOT! We took them back to the store and it was a huge ordeal. We could have bought a house easier. We learned that taking things back in Italy is certainly not as painless as taking something back in America! Also, take note of the pear juice! 😉
Allerscheim, Germany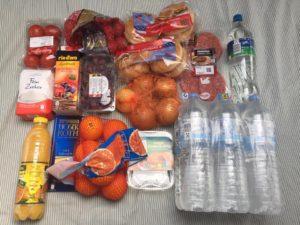 Out of all the countries we visited, $20 stretched the furthest when purchasing groceries in Germany. That chocolate cost under $1 and we should have bought like 15 of them! Fruits, veggies, and meats were all the most affordable in Germany.
Lyon, France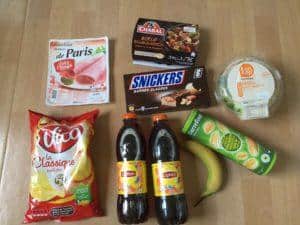 We visited 33 cities and Lyon was the worst price wise when it comes to grocery stores in Europe. We ate out every day in Paris but the groceries were still cheaper, which is surprising. That was the best salad we have ever had and the dressing was on point.
Budapest, Hungary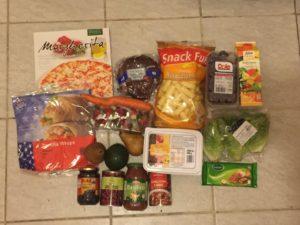 We have never eaten such gross cheese puffs in our lives. Also, did you know that black beans virtually don't exist in Europe and we were stuck eating kidney beans with every dish? Kidney beans don't make for the best tacos, in case you were wondering!
Dublin, Ireland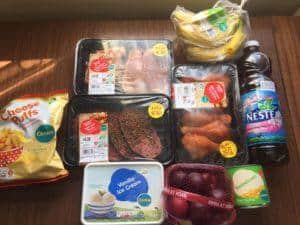 3 for $10? That was a pretty good price for that much meat! These cheese puffs were actually decent tasting but nothing beats the highly processed American kind!
Bogliasco, Italy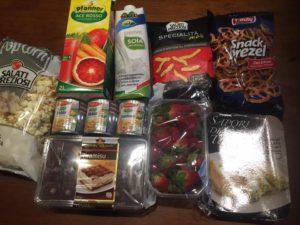 We couldn't even make $20 of groceries because everything was so cheap! This small Mediterranean town gave us some fantastic bang for our buck. Plus, that tiramisu was freaking delicious.
Salzburg, Austria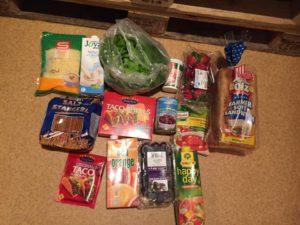 This cheese was actually disgusting and the tacos we made didn't taste the best either. We can blame the kidney beans and lack of black beans. Also, liter containers are beyond small and are used up in like two days!
Taking pictures of $20 worth of groceries in Europe for 3 months was so fun! Here are our conclusions:
Best city: Berlin
Worst City: Lyon
Best country: Germany
Worst country: Austria
Which European country gives you the best bang for your buck? Is there food from a specific country you are just waiting to try? Tell us in the comments! 
Pin this post: