Urban Famer Portland really surprised us with its mouthwatering steaks and plethora of vegetarian options. After all, how often do you get to dine at an upscale restaurant on the top floor of a hotel atrium?
When we heard that Urban Farmer was located on the 8th floor of the Nines Hotel in downtown Portland, we were concerned that we wouldn't have nice enough clothing. We were wrong and our "good" pair of jeans, button down top, sparkly sweater, and cute scarf totally fit the bill.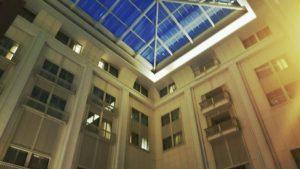 When seated, we were greeted by a friendly server and warm, house made corn bread. We loved receiving corn bread as an option as opposed to plain rolls typically served at steakhouses. Wanting to add something healthy to our dinner, we both ordered salads.
Victoria ordered a vegetarian version of the Farmer Chop and Terrence decided upon the yummy Ceasar Salad. The Cobb Salad came in a cute mason jar and our server dumped the entire thing onto a plate. It was a really cool presentation. The Ceasar came with giant chunky croutons and crisp romaine leaves.
At any meat-heavy restaurant, we wondered what options there would be for Victoria. We were thrilled to discover that Urban Farmer Portland offers a variety of off-menu vegetarian dishes and will happily take the meat out of any dishes or sides.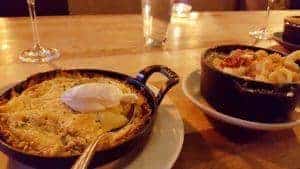 Although cautioned regarding their size, Victoria decided to order two side dishes, Twice Baked Fingerling Potato Tart, and the Baked Mac N' Cheese and Terrence went with the 14 oz Brandt Prime. The Steak was sourced locally from California corn-fed livestock.
Our eyes were way too big for our stomachs as portion sizes were generous, and corn bread, a salad, and two sides ended up being too much food for Victoria. One side would certainly have sufficed for vegetarians if a salad was ordered.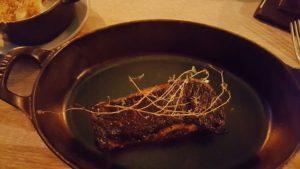 Terrence was quick to declare that his steak was the best one he had ever eaten. We loved that Urban Farmer sources their meat from local farmers and ranchers around the state of Oregon. Tons of items on the menu can be traced back to locally sourced artisans and really brought together the farm-to-table feel.
Even though we were super full, we just had to order the warm butterscotch sundae, which was served in a jar. We thought the way Urban Farmer Portland served food in jars throughout the meal was a super cute nod to a home-cooked tradition.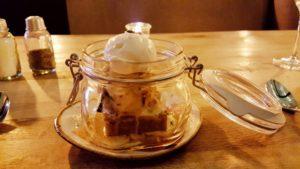 In all, we thoroughly enjoyed the vibe, decor, service, and of course, the fantastic food. Urban Farmer Portland is the perfect place to visit for a night out with your significant other, family, or for special occasions or celebrations!
Special thanks to Urban Farmer Portland for hosting us for dinner. As always, all opinions are our own. 
Pin This Post: