Going on vacation for a fraction of the going rate is a travel lovers dream. When Sears Vacations approached us to check out their Select Access option, we were immediately stoked! First of all, this is Sears, like the department store, so we already knew they were a trusted company. Second of all, who doesn't love deeply discounted travel?

We learned that first and most importantly, Sears Vacations offers FREE travel savings membership to save time and money on travel! Sears Vacations guarantees that you will always pay the lowest market price when booking through their free engine. If you find a hotel room cheaper on another booking engine, Sears will beat that price. This means you can be 100% sure you aren't going to find a cheaper booking process anywhere on the web!
If you want to give it a try, Sears Vacations is giving Follow Me Away readers 150 FREE travel savings credits to use to book travel on Hotel, Resorts, Cruises, Air, and Car. You can claim your free credits here!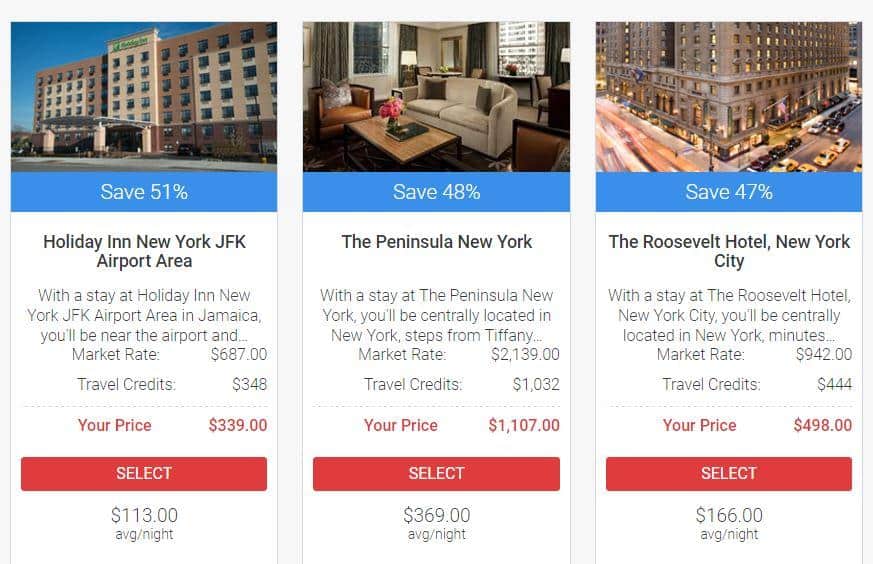 After successfully trying the free booking agent, we signed up for a premium membership to see what all the buzz was about. After getting to know the system, we put together the list below to help you discover how you can save a ton of money on exotic vacations around the world.
5 Ways Sears Vacations Select Access Provides Travel Discounts 
#1: Travel Savings Credits will save you hundreds of dollars off of travel
No matter what, Sears Vacations will get you the lowest price guaranteed. Savings Credits are a form of payment, that you can use to buy down the cost of your vacation by eliminating the markup other retailers place on travel. That means that travel savings credits enable you to eliminate the travel industry markup by 20% or more, thus saving you more money. Savings credits can save from $600-$800 or more depending on the time of year, the type of vacation you choose and more. Sears Vacations free option will indeed help you save money on travel, but the premium membership will give you insider access to undeniable "savings opportunities" submitted by travel agents and will take off the maximum possible amount from your booking.

#2: The amount of benefits members receive are incredible
We knew that signing up for Sears Vacation Select Access would come with benefits, but we were not prepared for the true amount of savings and credits you actually receive. First off, Sears Vacations will give you five reward points for every dollar you spend. These select access points help you save money on future trips and gain points on the money you do spend out of pocket. We love that unlike other rewards points, these never expire.
As your points add up, you are allowed to redeem them for trips. This is the exciting part! For example, a 7-night resort stay in turkey costs 35,000 points. You can also convert your points to discount the cost you pay out of pocket for flights. If you add family or friends to your account, they earn five points for every dollar you spend as well. This is really popular for people with a family member in the military or who travel often for work. As a select access member, you receive $500-$1000 travel savings credits per year!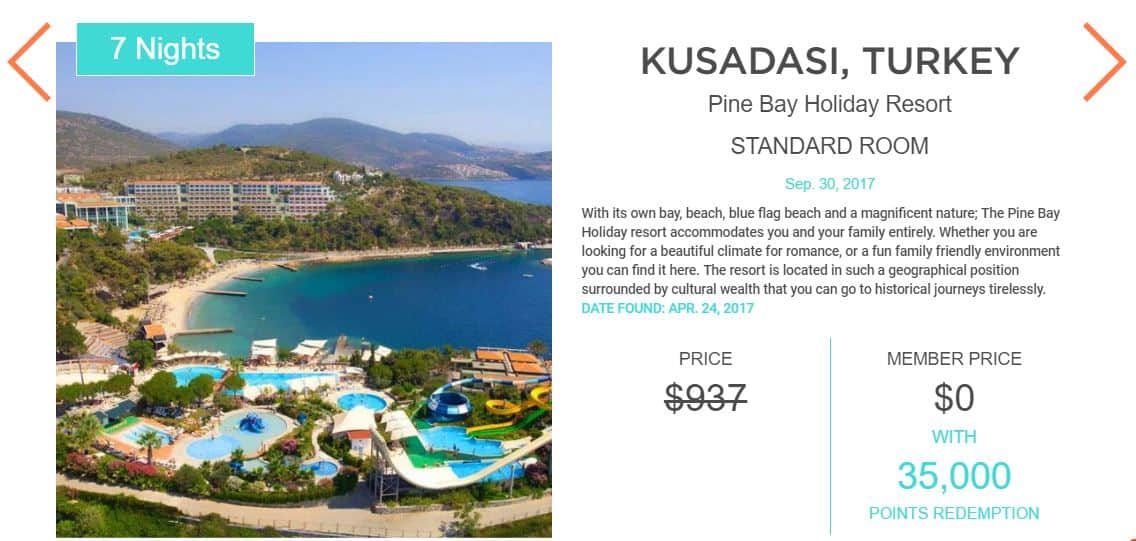 #3:  You gain access to locked benefits and quarterly specials
We were sure Sears Vacations had some great deals on getaways, but we weren't prepared for the fact that trips start at $49 a night for a 7-night stay. That means the most you will spend is anywhere from $49-$399 for a week stay and that includes as many people as the resort can accommodate, not the per person price! These benefits are "locked" and can only be accessed with a Sears Vacations Select Access. They are updated weekly so if you have a flexible travel schedule you can more easily take advantage of these deals. In addition, Sears Vacations offers upgraded members access to quarterly specials four times a year. This means that you will have the ability to book deeply discounted travel such as resort stays and cruise vacations up to 12 months out.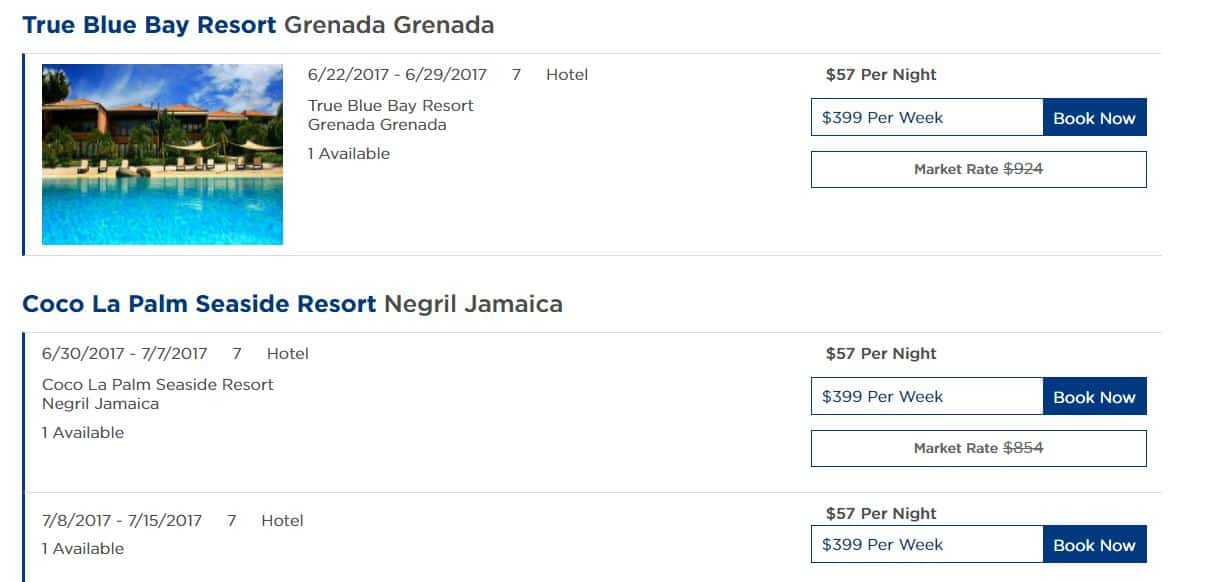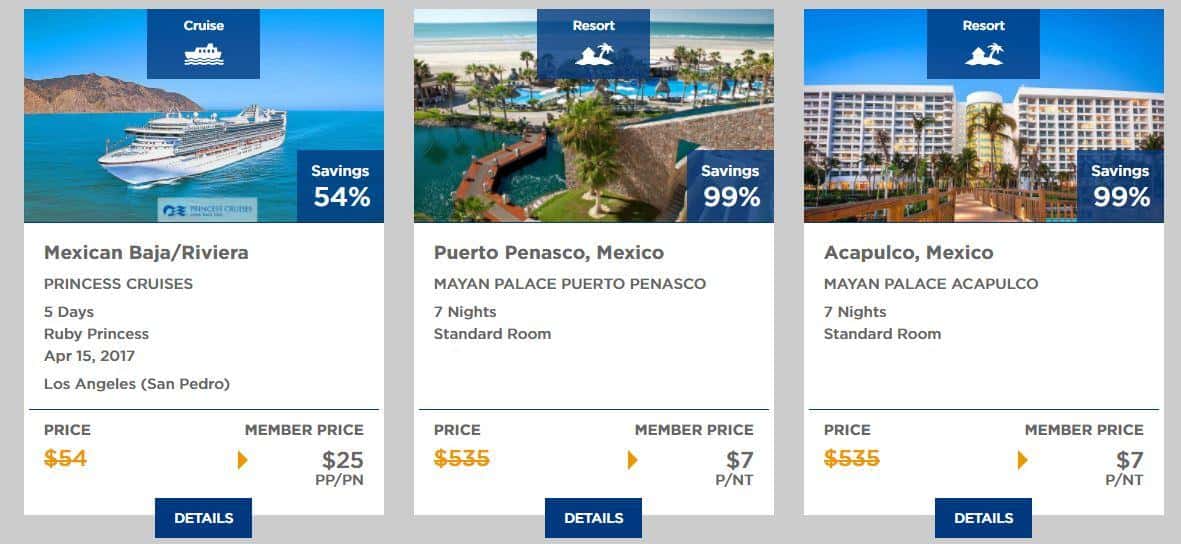 #4: Sears Vacations offers a variety of upgrade options
If you want to upgrade to Select Access, Sears Vacations offers three levels to choose from. What determines what level you choose really depends on what comes up front and what fits best with your travel plans and budget. For example, their middle option comes with the below benefits:
100,000 reward points to begin with two years to book/schedule a trip [not necessarily travel, just book]
Great getaways
Quarterly specials
Friends and Family deals
The ability earn 5 points to every dollar spent on cruises, resorts , tours , car rental , air
A one time fee of $2699 total. If paid in full you will receive $200 vacation cash if four payments you will receive $100 vacation cash
The ability to match you dollar for dollar in savings credits
An ultra-affordable $29 per year renewal rate
An automatic 500 travel savings credits upon renewal
No additional fees if you need to break it up the $2699
The ability to easily book online with travel savings credits
If you want to peek into the next level, the cost is  $3,199 and you receive 125,000 points versus the 100,000 points you received with the alternative listed above. That being said, both of these package options would allow you the freedom to book luxury trips such as the cruise below based on points alone! Determining what benefits come up front for the price you pay is important when considering which tier you would like to upgrade to.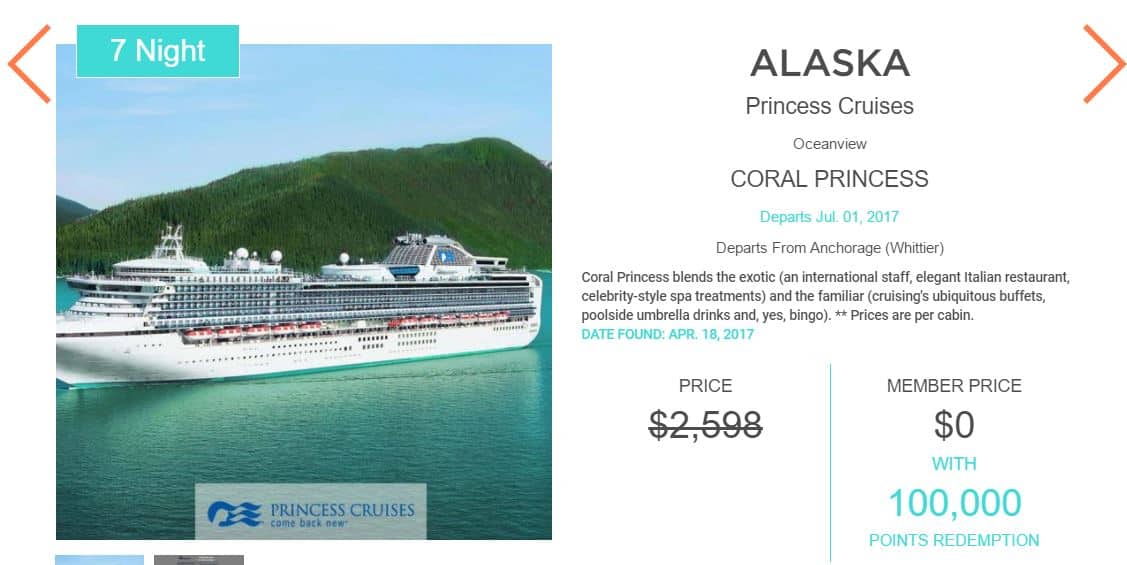 #5: Sears Vacations offers flexible payment options to fit your budgetary needs
One thing we loved about Sears Vacations was their flexibility when it comes to paying for your membership package. For example, they offer $599 down and then four monthly payments of $525. If this doesn't work for you, you can break it up into 8, 12, or 16 month periods. If you choose the 16 month period, your payments now drop to $299 down and $150 a month for 16 months which is way more doable for many people. If you are afraid you won't be approved, don't worry! Sears Vacations believes everyone should have access to affordable travel deals which is why they do not do credit checks. If you can't afford a month, you are able to skip it, change the withdraw date to suit your needs, or even pay off faster if you want.
The catch is that you must pay off your membership 90 days before your trip if you want to use the points you received with your membership package. That being said, any points you yourself earn from travel can be used right away and however you want.
If you are looking for a fantastic way to save money on travel, receive insider pricing, and go on exotic trips for the fraction of the going rate, don't hesitate to check out Sears Vacations Select Access options!
Pin this post: