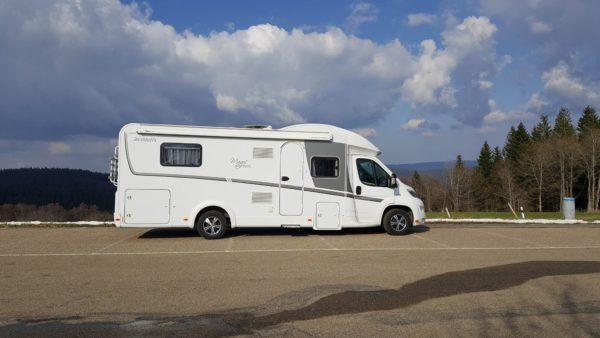 Renting an RV In Europe sounds like a dream and on our last trip, we gave it a try. We are going to be up front with you all: Victoria is no stranger to the RV life. Throughout her childhood and teen years, she traveled the United States and Canada for 4 months out of the year for 6+ years via RV, so she isn't exactly new at this. Terrence has never traveled by RV so this experience was very different for him. We were able to hit 8 countries in 7 days with our perfect road trip itinerary but there are a few things we wish we knew in advance!
7 Things They Don't Tell You About Renting An RV In Europe
1. It is NOT like renting an RV in America
Okay, this sounds completely obvious but it is so true! We know that Europe is different, but we weren't expecting this much of a difference when it came to renting an RV in Europe vs. the United States. If you have never been around RV's or used them in America, you won't know the difference. If you have rented RV's in the United States, go into this experience with a super open mind. Everything, from the amenities to the sewage, is going to be different. Actually, you shouldn't even think about it as RVing at all. Just think about it as something completely new and foreign because that's what it will be.
2. European RV's don't come with towels/bed linen/anything
You read that right. Your European rental RV will not come complete with towels, toiletries, soap, dish washing liquid, bed linen, or pillows. Of course, you have the option to add each and every one of these for an extremely steep price. For example, bed linen could cost around $70 USD for one set of sheets. If your RV comes equipped with 3 sleeping spaces, you just added an extra $210 to your bill. Of course, we decided to purchase all of our necessities from thrift stores [towels, pillows, bed linen] and buy soaps and shampoos on our own. This saved a minimum of $500 on our final bill.
3. You are going to have to dump sewage by hand
In the United States, you dump RV sewage by connecting one end of a hose to the tank in your RV and the other end to a tank under the ground. Then you pull a lever and the sewage empties and you are all good. When you are renting an RV in Europe you are going to have to dump by hand. That means that under the toilet there is a tank where all the waste goes. You are going to have to take out this container, carry it to a dump site which is most likely a grate in the ground, and then watch all that fun stuff drop into the earth. Bring gloves so your hands stay sanitary and start mentally preparing now.
4. You can kiss space and privacy goodbye
We all know that Americans like things bigger, and that includes our RVs. The vast majority of American RV's are equipped with one or more slides. Slides are essentially sides of the RV wall that move out and make more space in the rooms when the RV is parked. Slides are also something that European RVs just don't have. Victoria has traveled for years and knows that both space and privacy are easily achievable in an RV. When renting an RV in Europe, keep in mind that, even in larger rigs, space is extremely limited.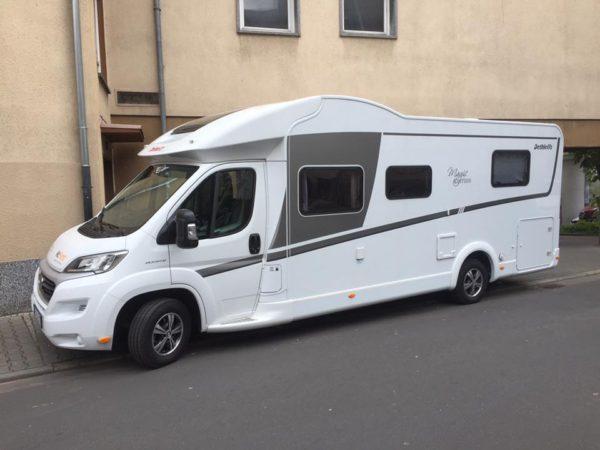 5. Microwaves and ovens are nowhere to be found
Renting an RV in Europe means getting really good at figuring out how many meals you can cook on a stove top. We were a little shocked to learn that an oven and microwave did not come standard in European RVs! Even the largest/most expensive RVs you could rent didn't have them! At the bare minimum we expected an oven but instead, we were left with a two burner stove. [Fun fact: you have to light the stove by hand with a lighter!] If you decide to rent an RV in Europe, think up a few meal plans ahead of time that can be cooked on a stove. Some inspiration to get you started: pasta, burgers, hot dogs, falafel, soup, and tofu!
6. Water and sewage tanks are much smaller than in the United States
This means that you are going to have to dump out your sewage [by hand, as stated above], and your gray water [used sink water] more frequently than you would in an American RV. This also means that fresh water will be used up a lot more quickly. In America, washing dishes in the RV is second nature. In Europe, it may be better to tote them to the campground kitchen to save on water. Don't take forever washing your hands and don't waste any water if you don't have to.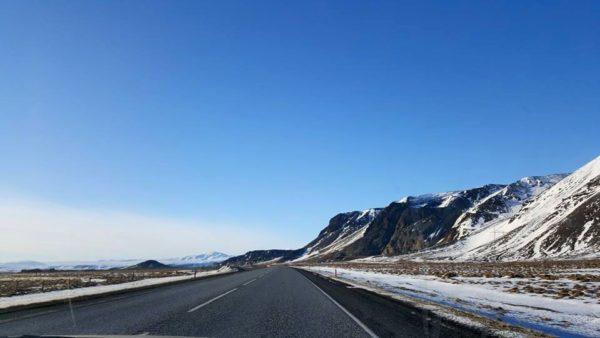 7. Hot water doesn't stay hot for long
As with everything all-Europe, the hot water tank is tiny and can be used up in a flash. If you hope to shower in your RV, you better make that shower under 5 minutes long or you will go from fire to ice in the blink of an eye. Although the idea was foreign to us, and especially Victoria, a seasoned RVer, we ended up showering in the campground facilities so we wouldn't have to rush and could actually enjoy a little hot water. Renting an RV in Europe means that you really won't be able to wash dishes or your face with hot water if you ever hope to shower.
READ NEXT: The Perfect European Road Trip Route: 8 Countries in 7 Days
We don't regret renting an RV in Europe at all, but we sure to wish we were prepared for everything it involved! Have you rented an RV in Europe? What did you think?
Sharing is caring! [Hold your mouse over the photo and a Pinterest button will appear!]