Heading to Las Vegas and looking for a wonderful resort and spa to stay at for your getaway? Look no further than the JW Marriott Las Vegas. The JW Marriott is Marriott's luxury hotel brand with many properties around the world, including one right in the heart of the Nevada desert. Whether you are visiting Las Vegas as the start of your southwest road trip, celebrating your bachelor or bachelorette party, or simply looking to get away from it all, the JW Marriot Las Vegas has something to offer for everyone!
5 Reasons To Stay At The JW Marriott Las Vegas For Your Next Getaway
#1: The off-strip location is actually quite perfect
Wait…..what? YES, you can actually go to Las Vegas and not stay on the strip and love it! The JW Marriot Las Vegas is located less than 20 minutes away from the heart of the strip. Many rooms, including ours, actually faced the strip! Check out the view from our room in the photo below. There are so many things to do in Las Vegas but not every single one involves being right on the strip!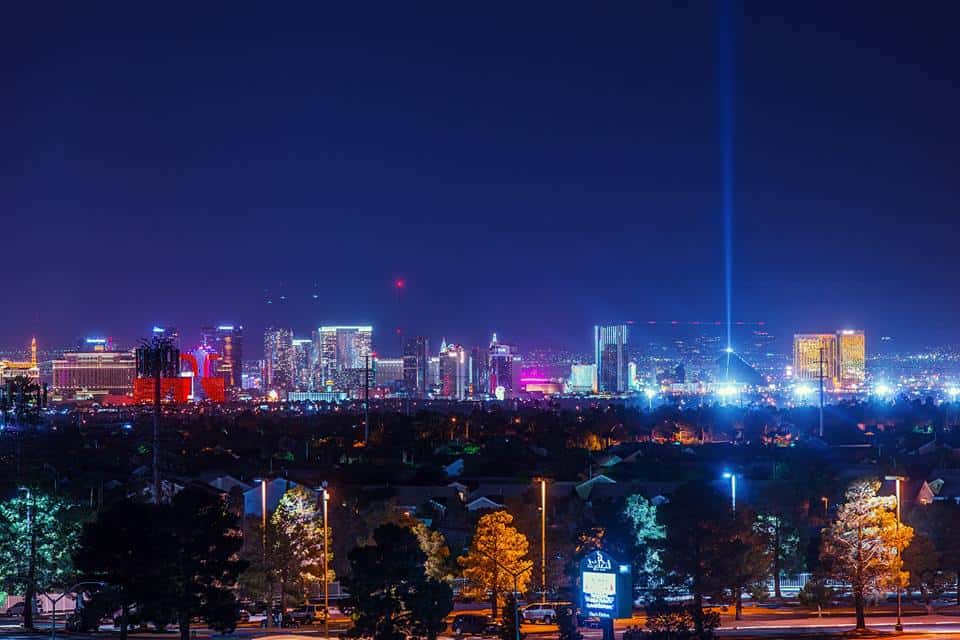 We went out to the strip for an evening of food and fun and didn't get back to the Marriott until after 1am. The drive was very short and after spending 6 hours in the crazed frenzy that is the Las Vegas strip and attractions such as the Las Vegas Stratosphere, we were overjoyed to return to our quiet haven of luxury. If you love a good time but want to retreat into the peace and quiet of a luxury hotel, you will love the off-strip location of the JW Marriot Las Vegas. In addition, the JW Marriott is all that much closer to the beautiful deserts of southern Nevada in case you wanted to day trip! Although visiting the strip is one of the things you must do in Las Vegas, you don't have to stay on it to have a good time!
#2: The rooms are large and luxurious
Everyone knows that Las Vegas hotels have a knack for making rooms that are fit for kings and queens. The JW Marriott Las Vegas does not sacrifice a thing in the amenities or comfort of their rooms. All rooms are very large, but if you book a corner room, a suite, or anything higher, you will not be disappointed in the sprawling size of the rooms. We stayed in a corner room and it was the largest hotel room we have ever stayed in and it wasn't even considered a suite! If details are your thing, the JW Marriott spared no expense in creating a luxurious atmosphere in each and every room with chandeliers, crown molding, lovely photos and more.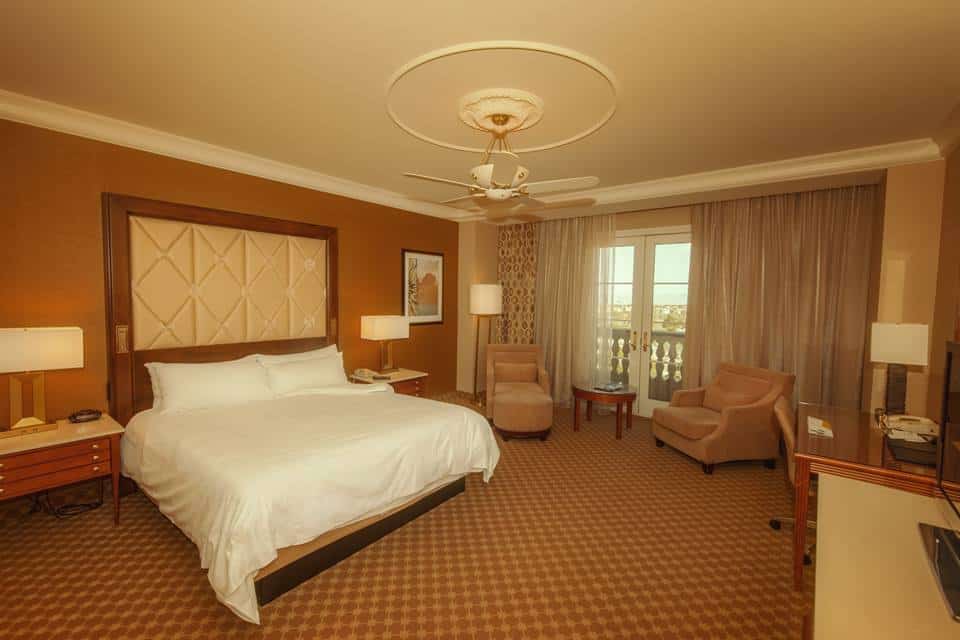 #3: The 7 onsite restaurants mean you don't have to leave if you don't want to
Imagine that you just got back from a day exploring all that Las Vegas has to offer. You shower and relax, and now you have to leave again to go grab dinner. Doesn't sound so relaxing now, does it? The JW Marriott Las Vegas offers 7 on-site restaurants and a Starbucks so you don't ever have to leave the hotel property if you don't want to.
We ate breakfast and dinner at the Hawthorne Grill. We loved how the entire restaurant was surrounded by little waterfalls, tropical plants, and fish swimming in ponds. The atmosphere is lovely and the food was moderately priced considering the JW Marriott is a 5-star luxury resort.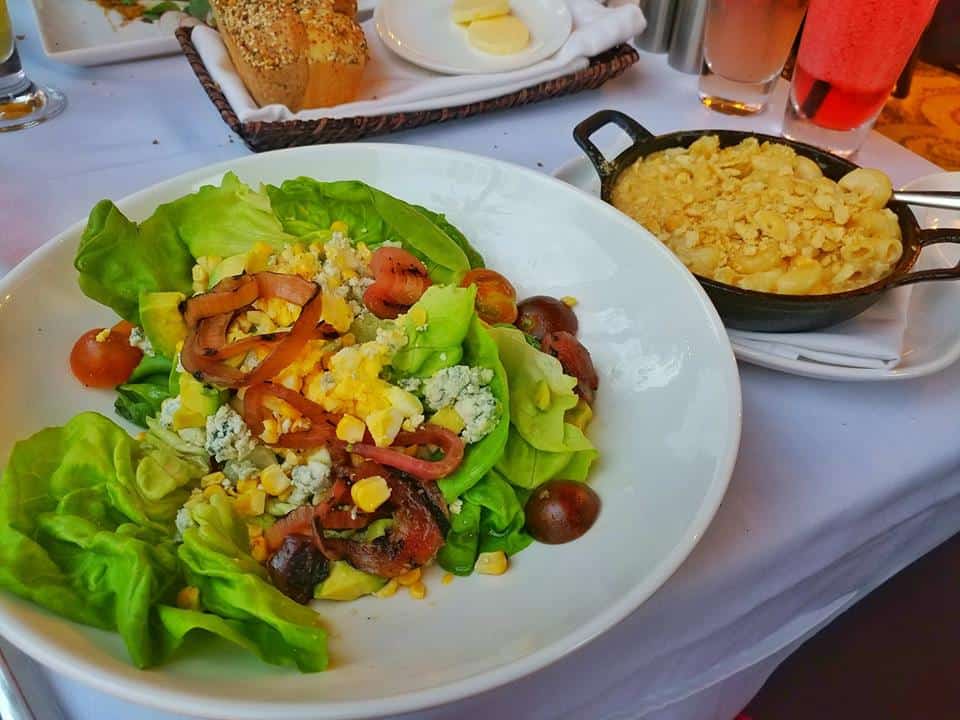 #4: The on-site spa is perfect for ultimate relaxation
During our stay at the JW Marriott, we found out that many Las Vegas locals actually frequent their hotel spa. We decided to find out why and booked a couples massage. It was wonderfully relaxing and the staff was great, but the additional amenities were the best! The gym and locker room amenities are free to resort guests so if you stay you should pay the spa a visit.
We spent over four hours luxuriating in the mini-thermal circuit that consisted of a hot tub, a warm pool, and a cold plunge pool, as well as a waterfall massager, and a wet and dry sauna. There are gendered areas for privacy as well as a co-ed area if you want to hang out with your sweetheart. After a night out on the strip, this was the perfect way to spend the day!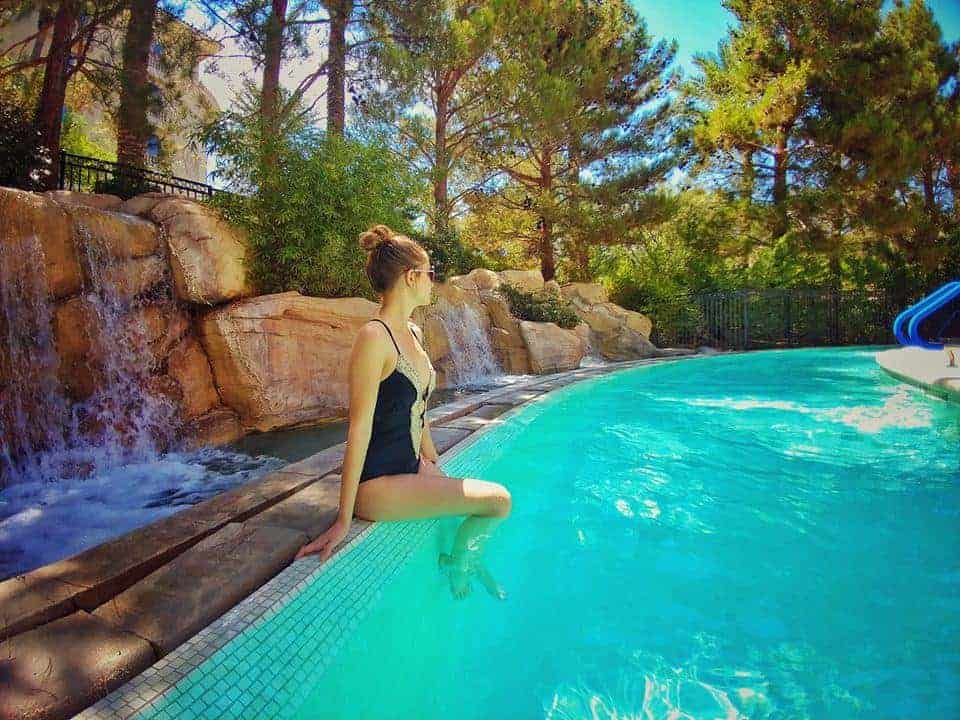 #5: The JW Marriott's massive casino means gambling is never far away
Of course, you can't have a Las Vegas hotel without having a casino! The JW Marriott Las Vegas' casino is attached to the hotel via an indoor walkway so you have access to the games at all times. Depending on what type of room you book, you may receive a booklet that offers you four free drinks at a casino bar. If not, it is open for purchase for $20 to any hotel guest. The casino was large and popular, but far enough away from all the other guest spaces so you would never realize it was there. If you are like us, a quick trip to the strip is plenty and in-house gambling is perfect if we want to get a fix closer to home.
Have you ever stayed at a JW Marriott hotel property? Would you consider staying off-strip in Las Vegas? Let us know in the comments!
Special thanks to JW Marriott Las Vegas for hosting us for two nights for the purpose of this review. All opinions are our own and do not reflect those of Marriott.