Looking to make sure your Ireland packing list is complete before you head to the Emerald Isle? If you are looking for a detailed list of what to wear in Ireland, you have come to the wrong place.
Instead, we are here to make sure you did not forget the most important things when packing for Ireland. We have been to Ireland countless times.
In fact, it was the very first country we visited abroad, where we took our most famous photograph, and one of our most beloved countries to travel to.
Planning your trip to Ireland last minute?
Make sure to book your hotels and tours in Ireland in advance to ensure availability! Here are our top picks for your trip!
Top experiences and tours in Ireland:
Top Hotels In Ireland:
Ireland is a land of moderate extremes. It is not as extreme as the weather in Iceland, but not as mild as a trip to Florida. Instead, Ireland is moderate but unpredictable. The rain in Ireland is unlike the rain in the Pacific Northwest or the rain in the Caribbean.
What we mean by all this jabbering on is that when you are looking for what to pack for Ireland, you need to be prepared for anything.
Gathering your clothing together and checking off your Ireland packing list can be a little stressful. We are here to make sure you have packed every little detail so that you have the best time on your Ireland itinerary as possible! Whether you are traveling to Ireland in winter or summer, there are a few things you need to check and make sure you bring along for the ride!
Save even more money on accommodations in Ireland! Get a FREE $55 Airbnb coupon by using our code when you book!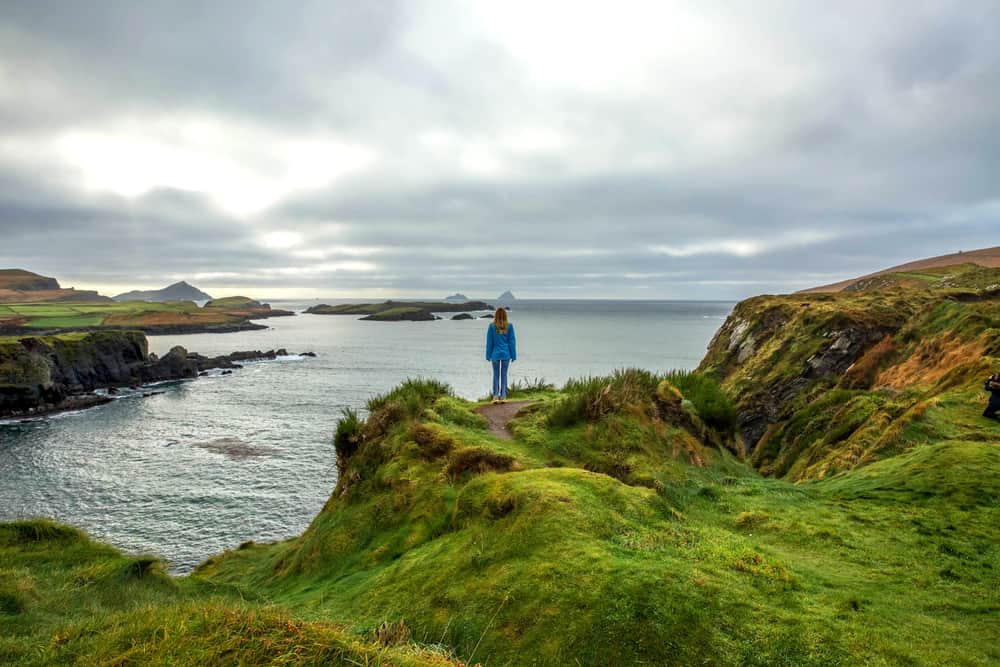 11 Things To Not Forget On Your Ireland Packing List
#1. A Balaclava Is A "Must" For Any Ireland Packing List
Ever heard of a balaclava before? You are in for a real treat! Balaclavas are like a scarf that you don't have to wrap or hold in place. You can buy a half balaclava that only covers the neck [recommended for summer travel to Ireland] or you can purchase a full balaclava that covers your head too. A balaclava is a must-pack article of clothing for Ireland because it has many functions and holds up well against Ireland's potentially windy or rainy weather.
We recommend packing one, just in case, even if you are traveling to Ireland during the summer. We have visited Ireland in the summer and we didn't pack warm enough clothing and ended up being quite cold! If you are looking for what to wear in Ireland during the off-season or winter, a balaclava will be your best friend!
The wind in Ireland, especially along the coast, can have a habit of "unwrapping" a scarf from your neck. So instead of dealing with that, simply pack a balaclava. It does dual purpose as a hat too!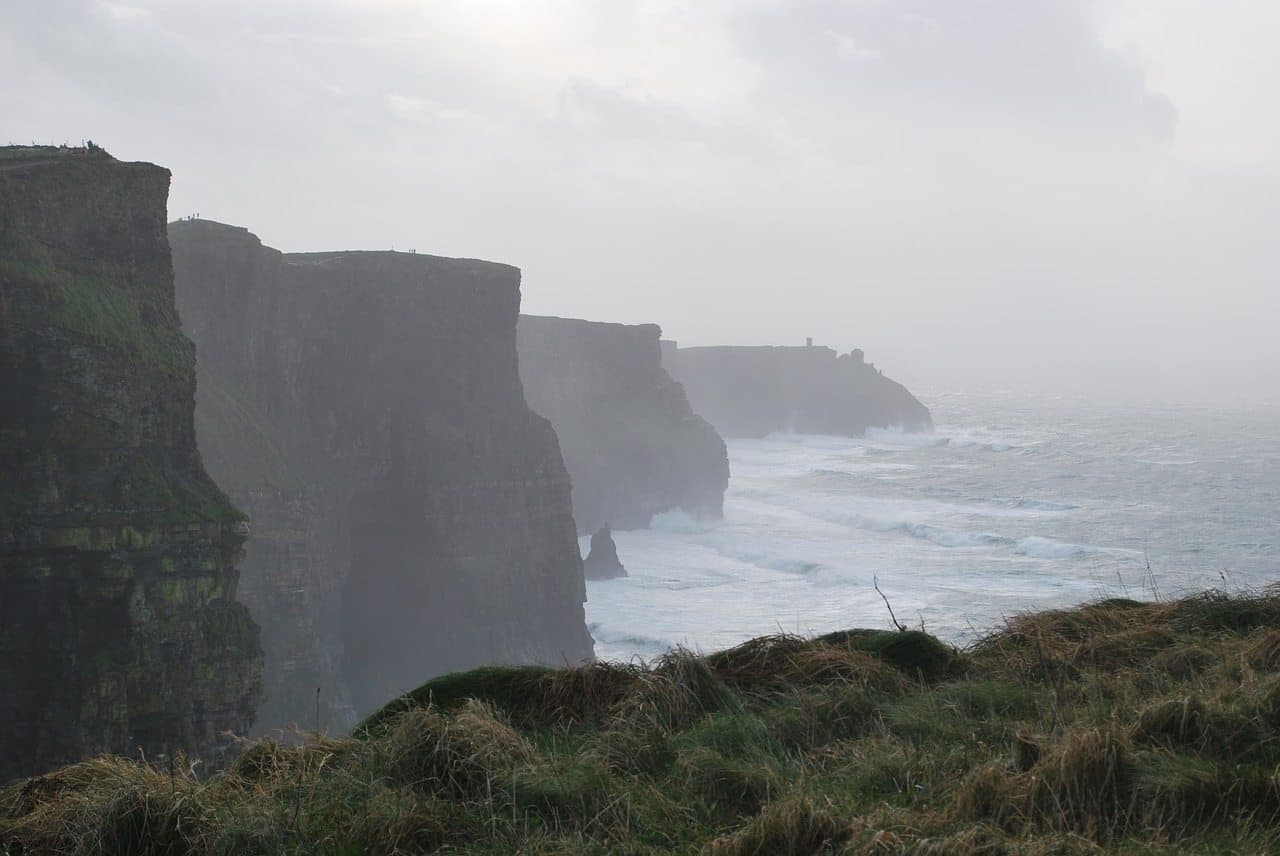 #2. A Travel Adaptor Specifically Designed For Irish Outlets
Listen up folks: If you think your European plug adaptor [or European plugs, if you are from Europe] will work in Ireland you are mistaken. Make sure to add a travel adaptor specifically designed for Irish outlets to your Ireland packing list.
This is an essential item to pack for Ireland because American AND European plugs do not work in Irish outlets. Many people travel to Ireland without considering what to pack for Ireland down to the smallest detail and are left having to buy expensive adaptors or not being able to charge their devices. Don't make this mistake and think ahead by throwing one of these little guys on your Ireland packing list.
If you don't add a travel adaptor to your Ireland packing list and you arrive and you can't plugin, you will have to go out and purchase an adaptor at a store. Stores may not be open when you arrive which may make your gear die quickly and you may have no way to communicate if and when your cell phone dies too.
It is so easy and affordable to quickly throw this into your Ireland packing list. You will thank yourself later!
#3. A Swimsuit Is One Of The More Unexpected Things To Pack For Ireland
Didn't think a swimsuit would make your Ireland packing list, did you? Spas in Ireland are fantastic and if you are staying in a hotel, you will probably get to have access to one. Unlike spas in other parts of the world, spas in Ireland usually do not let you go to the spa in the nude. If you are hoping to take advantage of the spa facilities in your hotel, make sure to add a swimsuit to your Ireland packing list so you don't end up breaking a rule you may not have known existed.
In addition, there are many outdoor swimming pools that you can enjoy while traveling to Ireland in the summer or warmer months. This is a wonderful way to spend time in local areas and get off the main tourist trail. You may even get roped into jumping off cliffs in Ireland, so be sure to add your bathing suit to your Ireland packing list! You never know what sort of fun you may get into!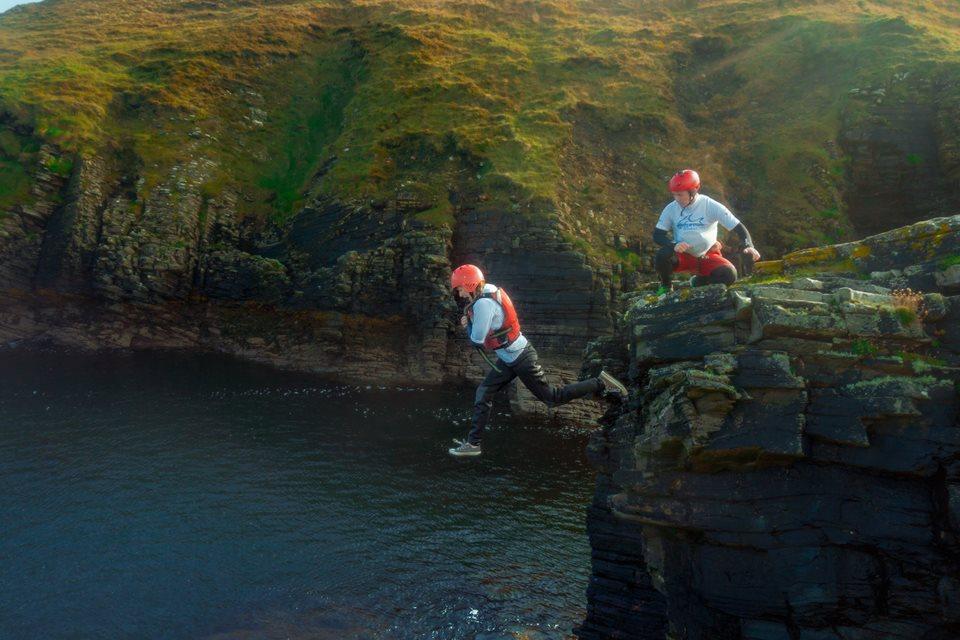 #4. Waterproof Rainboots So Your Feet Stay 100% Dry
We had never worn waterproof rainboots until we went to Ireland. Now we are obsessed and have brought them on countless trips! Sure, waterproof shoes are okay when looking for what to wear in Ireland, but they usually only cover up to your ankle.
Waterproof rainboots generally cover up to the knee. We are obsessed with these Hunter Rainboots and they are the best money we have ever spent on shoes. If you don't want to spend the money on Hutner Boots, check out this more affordable option. Add rain boots to your Ireland packing list if you especially hate wet feet.
Waterproof rain boots go from the streets of Dublin to hiking in the soggy ground to walking along the coast like nobody's business. Your feet won't get remotely wet and a pair of warm socks keep your feet feeling cozy. You can dress them up or down and they wipe clean easily.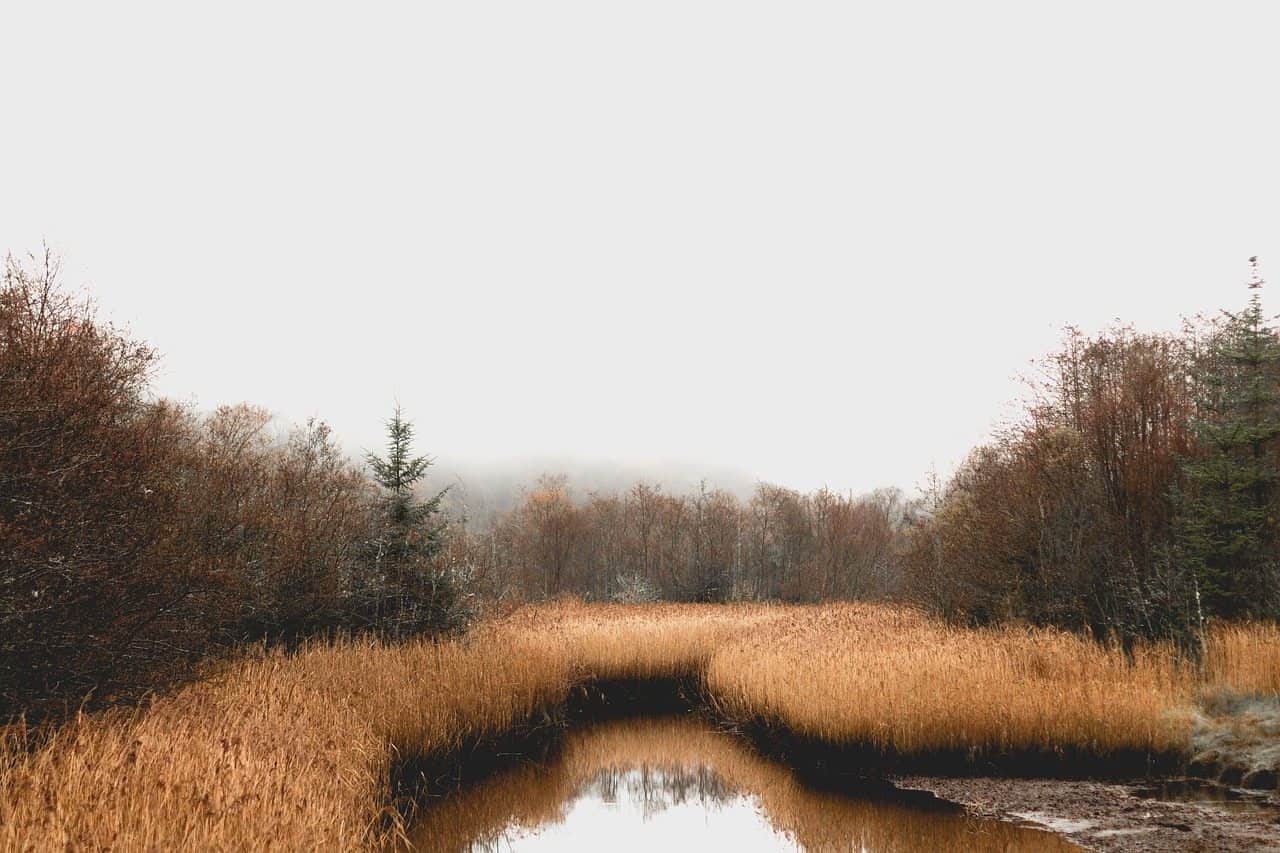 #5. A Drone, In Case You Want To Capture Ireland From Above
Sure, we have all heard about bringing a GoPro and a camera to capture your travels to Ireland, but what about adding a drone to your Ireland packing list? Drones are rising in popularity and it is no surprise! It is just so much fun to capture the world from above! Drones are more affordable and easier to fly than ever before. If you are looking for what to bring to Ireland to capture your trip in a unique way, a drone is perfect!
We always suggest buying from DJI and recommend the DJI Spark if you are looking to spend a little less money or the DJI Mavic Pro or Mavic Air if you are looking to invest a little more money. Drones are such a fun way to capture your travels and Ireland is the perfect place to fly.
Be careful when flying along the coast if it is windy! You don't want your new drone to get taken away into the sea! Finally, never fly your drone over people or in crowded areas such as cities, and beware of no-drone zones. There is usually a sign such as at the Cliffs Of Moher.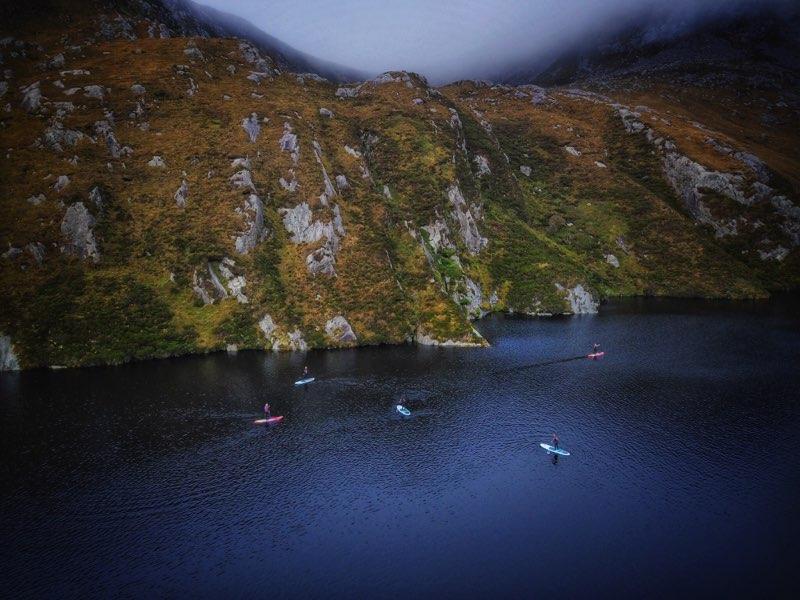 #6. Multiple Memory Cards So You Don't Have To Worry About Running Out Of Space
Ireland is such a stunning country! From the rugged coastline to castles and green pastures to ancient cities, there will always be something to take a photo of! If you have a camera on your Ireland packing list, you need to add additional memory cards to your list of what to pack for Ireland as well. Unless you are packing a computer for Ireland, you will not be able to upload photos and clear your existing memory card.
Purchasing additional memory cards cost under $20 and take up no space in your luggage when packing for Ireland. Having a backup can have the potential to save you a lot of heartaches if something goes awry! There is nothing worse than coming across that perfect moment and then finding out you don't have enough space to capture it on your camera!
We have been here before and it is really disappointing to be out and about and unable to capture beautiful photos and memories of your travels simply because you forgot to delete photos and space. We have this item on your Ireland packing list because we have been here and we don't want you to experience this too!
#7. Don't Forget To Bring Earplugs When Considering What To Pack For Ireland
Please, take it from us and thousands of other travelers and add earplugs to your Ireland packing list. They are essential! Many apartments in Ireland may not have air conditioning because they don't need it. At the same time, the Irish love to have fun and go to the local pub.
This may result in you not being able to sleep, especially if you are staying in a larger city-center type area and there are restaurants and bars nearby. Earplugs are absolutely necessary to add to your Ireland packing list and these are the earplugs we travel with.
In addition, if you plan to travel around Ireland by staying in hostels or shared Airbnbs, you should totally add earplugs to your Ireland packing list. Sleeping in a hotel or unfamiliar space may cause you to stay awake and have a hard time sleeping.
Adding earplugs to your list of what to pack for Ireland will help you focus on quiet and get some much-needed shuteye. Bonus: You can use your earplugs if you are hoping to sleep on the plane on your way to/from Ireland as well.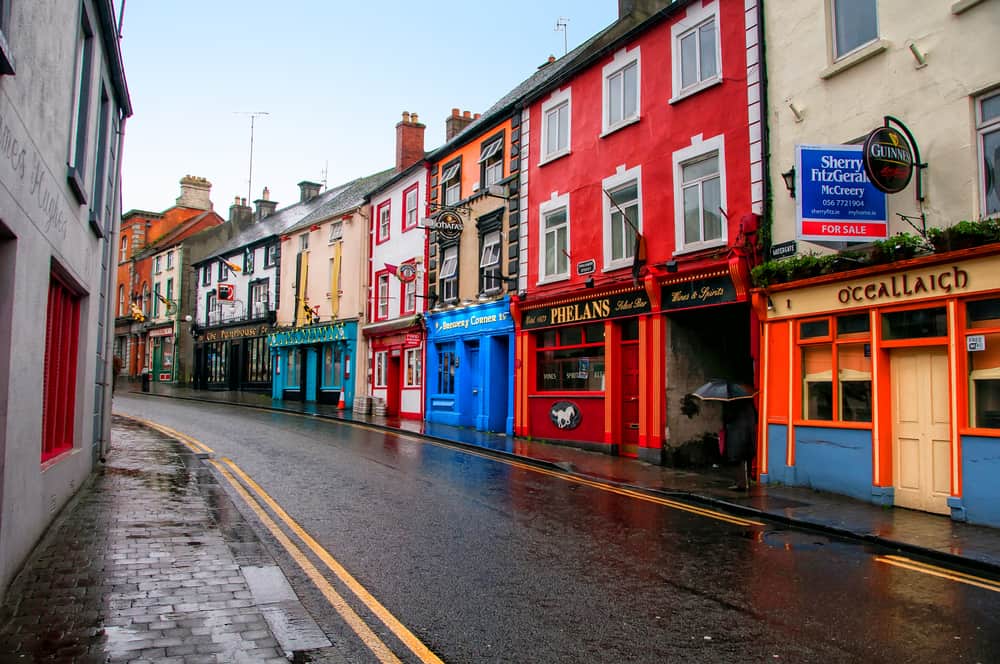 #8. Packing A Windproof Jacket Will Save You In Ireland
Yes, we are sure that all posts that talk about what to pack for Ireland tell you to bring a waterproof and windproof jacket. That being said, we have actually done to Ireland multiple times without bringing anything heavier than a sweater and we have been sorry.
Yes, even traveling to Ireland during the summer can be chilly, especially when you are from Florida like us. Do not make the same mistake we did when thinking about what to pack for a trip to Ireland.
Bring a windproof jacket so that you stay warm and dry. Windproof jackets fold up small so they don't take up much space in your luggage, but they will save you when needed. We have gone to Ireland with nothing more than a cardigan and it was not enough, even during a summer trip!
A windproof jacket doesn't have to be expensive or bulky and the best kind folds up quite small in your suitcase. Don't make our mistake and add a windbreaker to your Ireland packing list.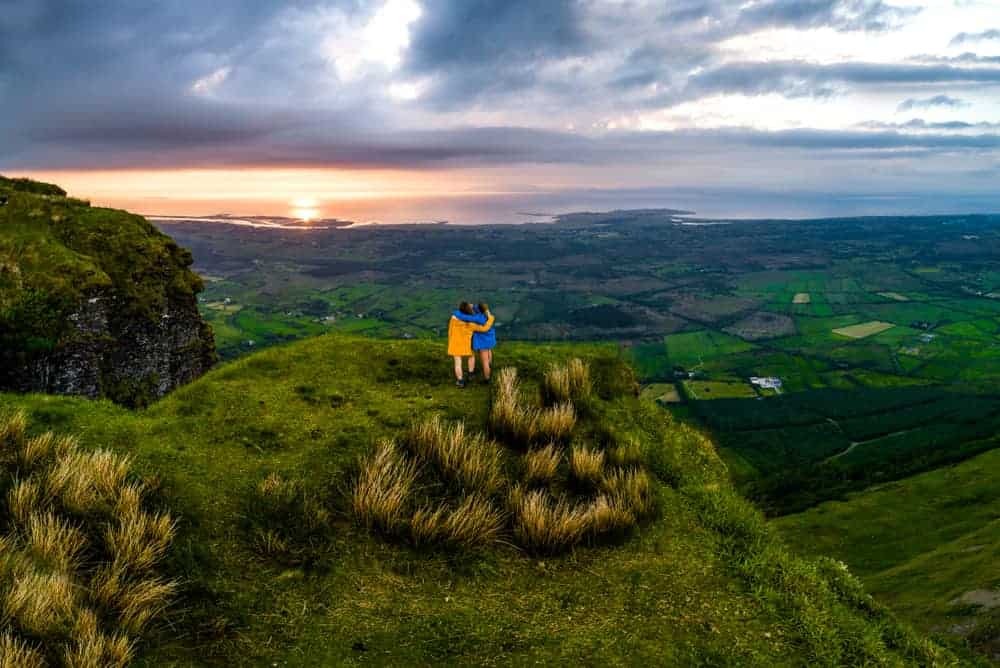 #9. When Packing For Ireland, Don't Forget A Portable Power Bank
Whether you are going on one of the many tours in Ireland, walking around Dublin for the day, or doing an Ireland road trip, your phone is probably going to die quickly. When planning your Ireland packing list, make sure to purchase a portable power bank to bring along for the trip.
Portable power banks generally cost from $10-$40 and will help you recharge your phone on the go. Please do not forget to add this to your Ireland packing list, even if you aren't usually on your phone!
You will be using your phone a lot during your trip to Ireland because you will be taking lots of photos and using social media apps to share your fun with friends back home. Avoid your phone dying by bringing a small power bank and you will thank us later! If there is one thing to add to your Ireland packing list, this is it!
We specifically love and recommend Anker PowerCore 10000 and use it in all of our travels. We have used the suggestions listed above but this is what we currently travel with. It is a little more expensive but it is good quality and should be added to your Ireland packing list if you have a smartphone!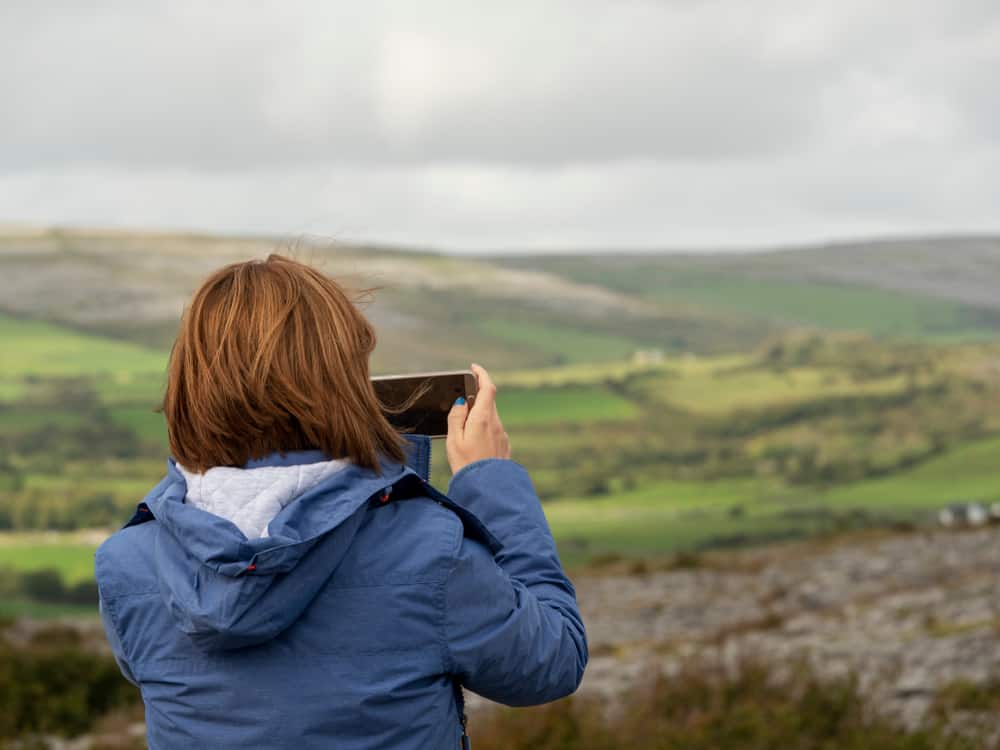 #10. Add A Poncho, Instead Of An Umbrella, To Your Ireland Packing List
Oh my, this is one of the biggest things people forget on their Ireland packing list! Looking to save space but still stay dry when choosing what to wear in Ireland? Add a poncho to your Ireland packing list instead of a travel umbrella!
Unless you are outfitted in a waterproof jacket, pants, and shoes, you are going to need something to stay dry in the event of an Irish squall. A poncho folds up teeny tiny in your suitcase and is easy to throw into a backpack when you're are sightseeing.
It is quick to whip out and put on and keeps you more covered than an umbrella. When considering what to wear in Ireland, make sure you pick a poncho that is made of quality material so it doesn't rip when you put it on.
You may think of misty rain when you think of Ireland and you would be partly correct! If you are planning to visit Ireland in the spring, summer, and parts of fall, you should be prepared for potential rain. In Ireland, sometimes it rains for weeks at a time and sometimes it doesn't rain at all.
It may rain a few days of your trip or your entire trip. Either way, there is no sense in burdening down your luggage with an umbrella when you can simply throw in a poncho which does the job and takes up a fraction of the space and weight. This is a huge thing people forget when planning their Ireland packing list and we want to help you not make the same mistake.
#11. Don't Forget A Portable Smartphone Flashdrive For Your Photos
As we mentioned above, smartphones are so good these days you hardly need to add a camera to your Ireland packing list. If you are planning to capture your trip to Ireland on a smartphone, we beg you to bring some way to back up your memories.
The best way to do this is with a portable smartphone flash drive. A flash drive is a small storage device that you can connect up to your smartphone and then safely and easily download the photos onto this device.
It is the worst feeling in the world to lose your photos and memories from a trip, and we have done it before, which is why we always back up our photos to a mobile flash drive. It is quite easy to do and if, say, your phone gets stolen, you will still be able to recover the photos you took on your trip if you uploaded them to this device!
We recommend the iDiskk USB 3.0 128GB as it is a certified device. People of all ages are documenting their vacations on smartphones and we do highly recommend investing in one of these devices to store your photos during your trip.
You should add this to your Ireland packing list even if you traditionally utilize cloud storage to back up your photos as the internet may be limited where you will be traveling in Ireland and we wouldn't want you to have to rely on a fast and secure connection to save your memories.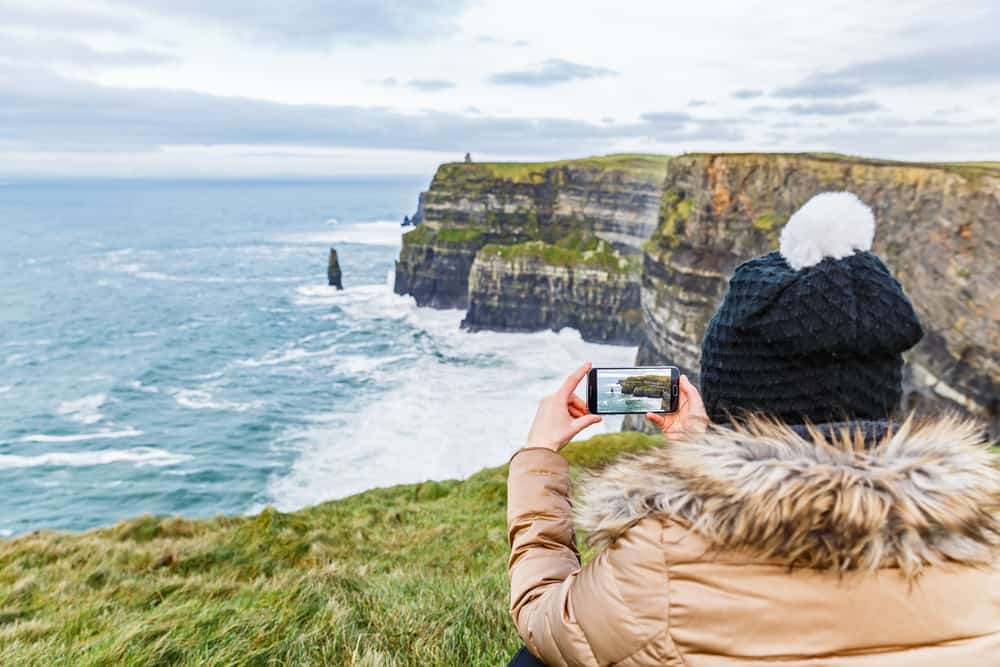 Other Items To Add To Your Ireland Packing List:
Planning your Ireland packing list isn't as stressful as it sounds. By following these simple tips, you will be well on your way to packing like a pro for Ireland. These items are often forgotten by people planning their travels to Ireland and we want to save you from the same fate.
Of course, Ireland has stores and you can buy things you forgot, but the stores may or may not be open and you may not remember you need something until you are far away from all stores. Do yourself a favor and add these affordable and small things to you Ireland packing list and thank yourself later!
Pin this post: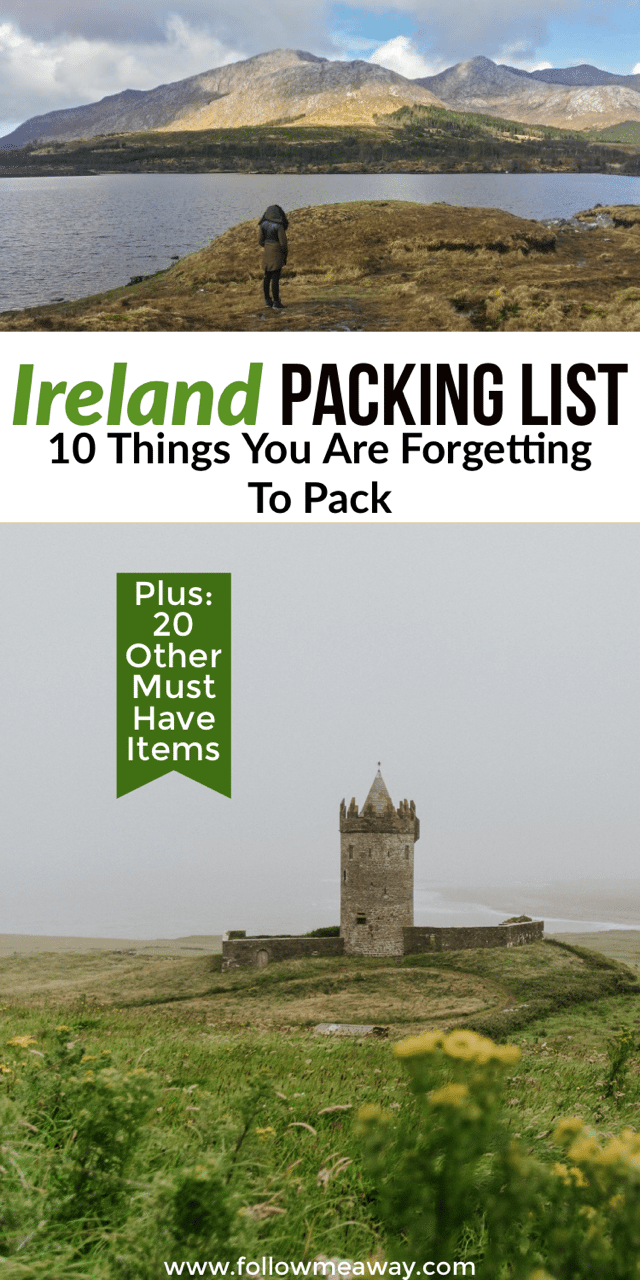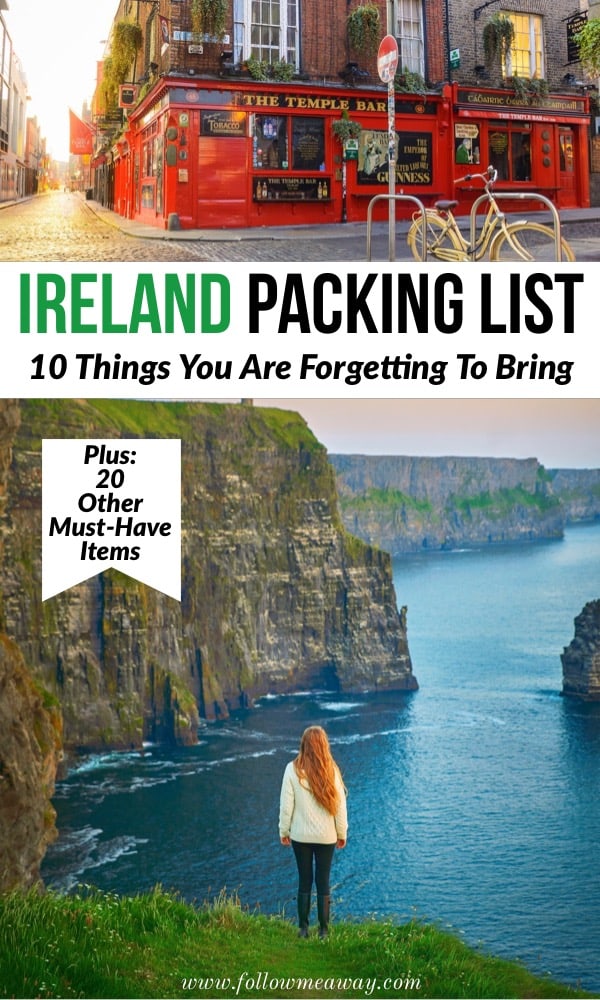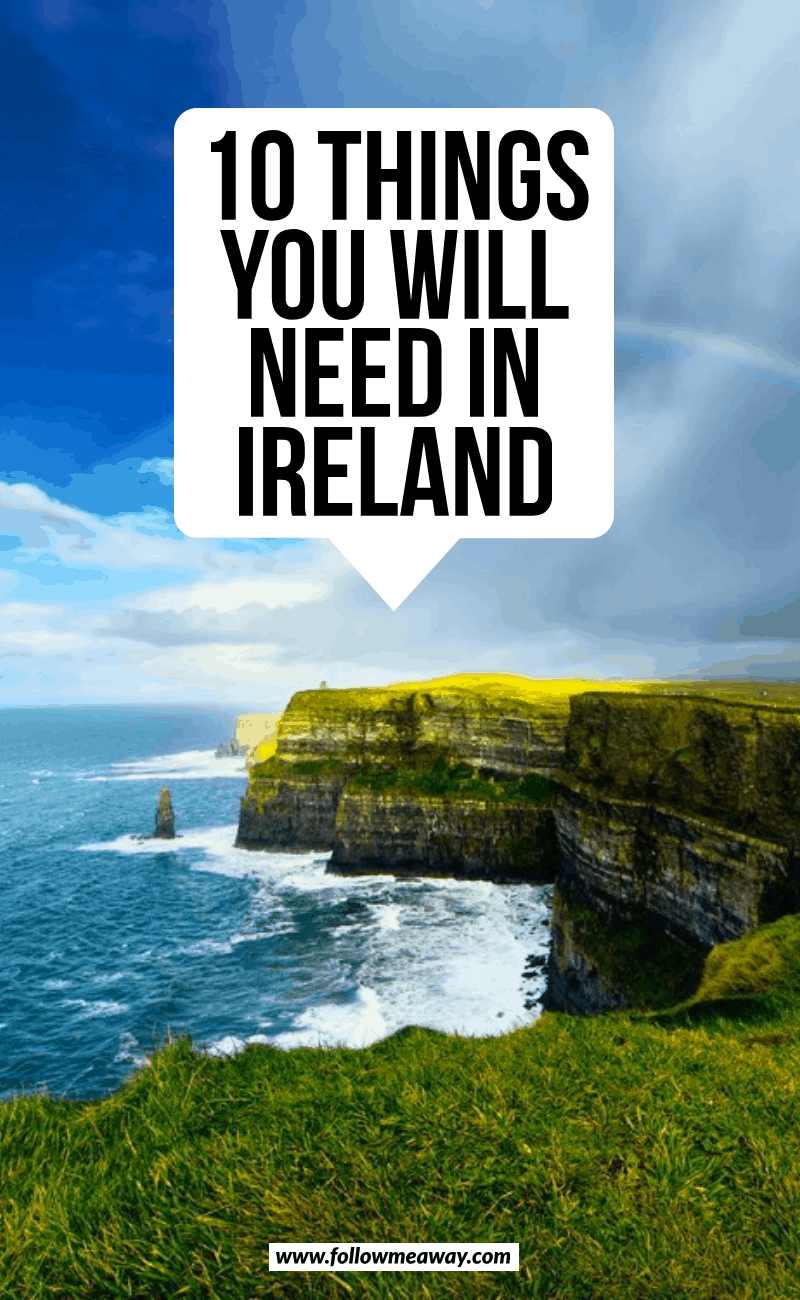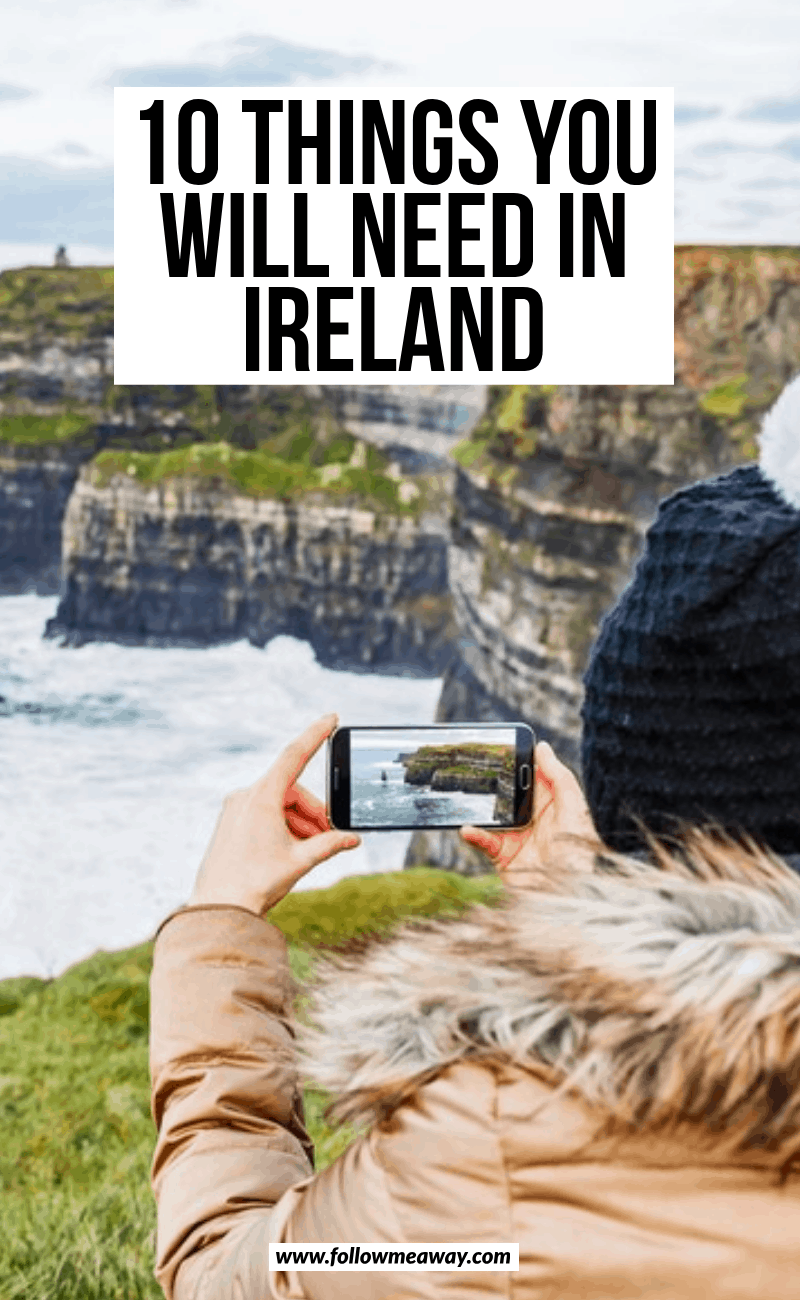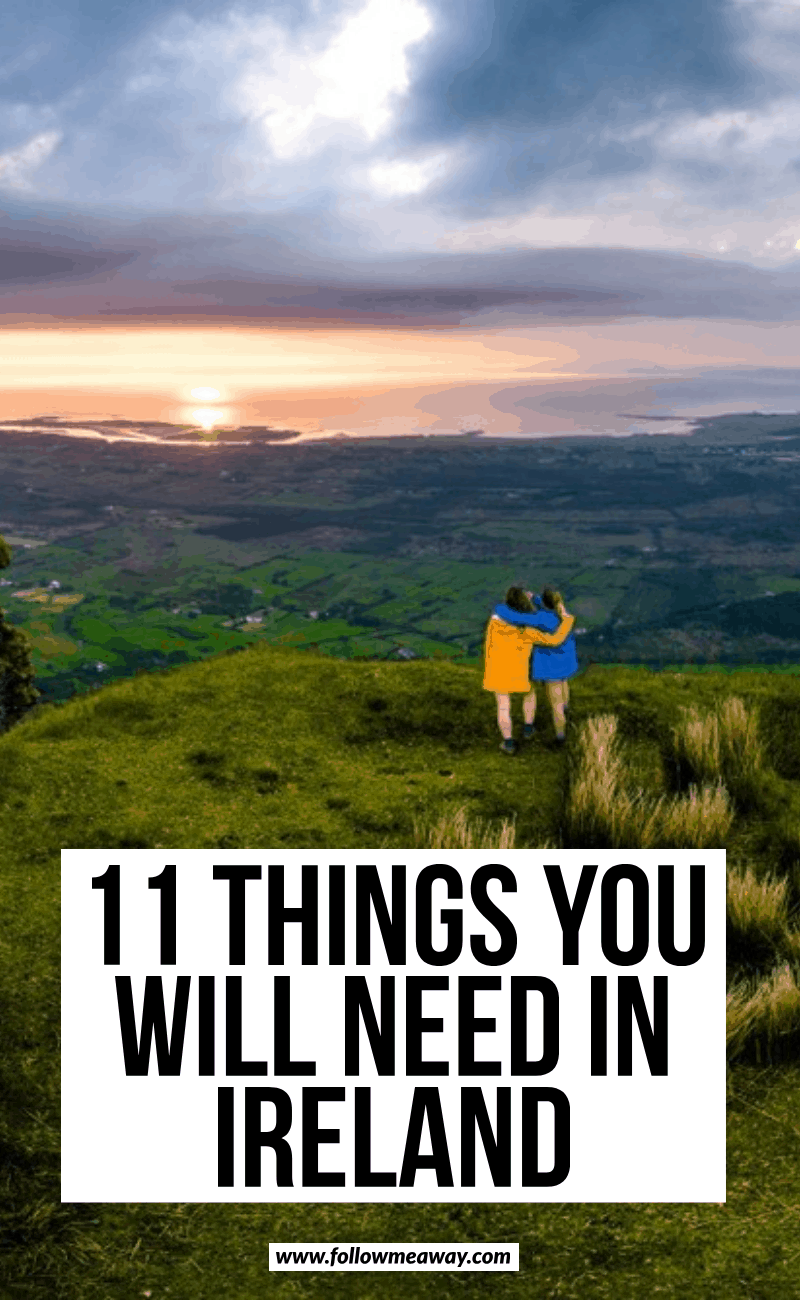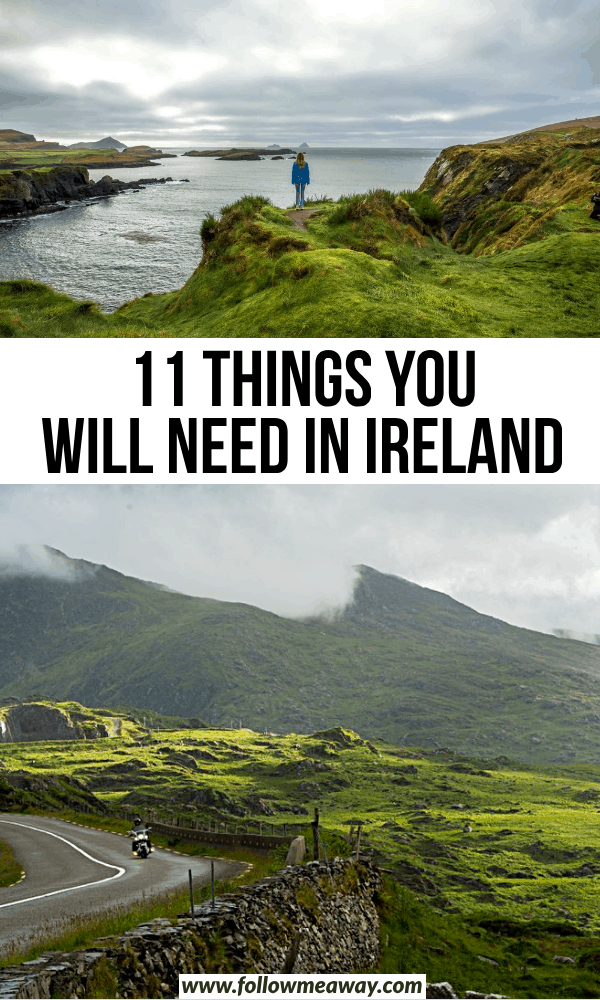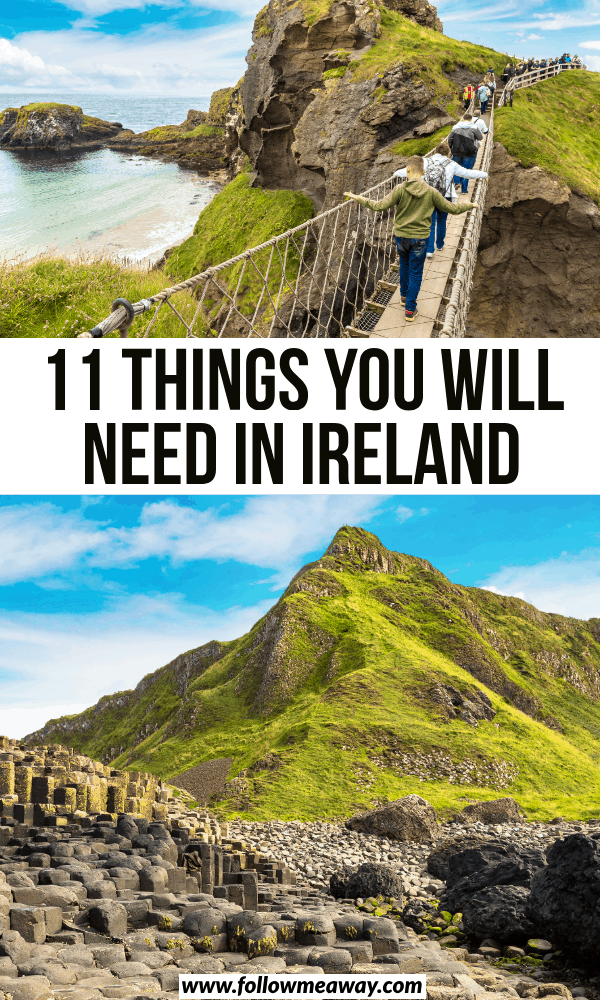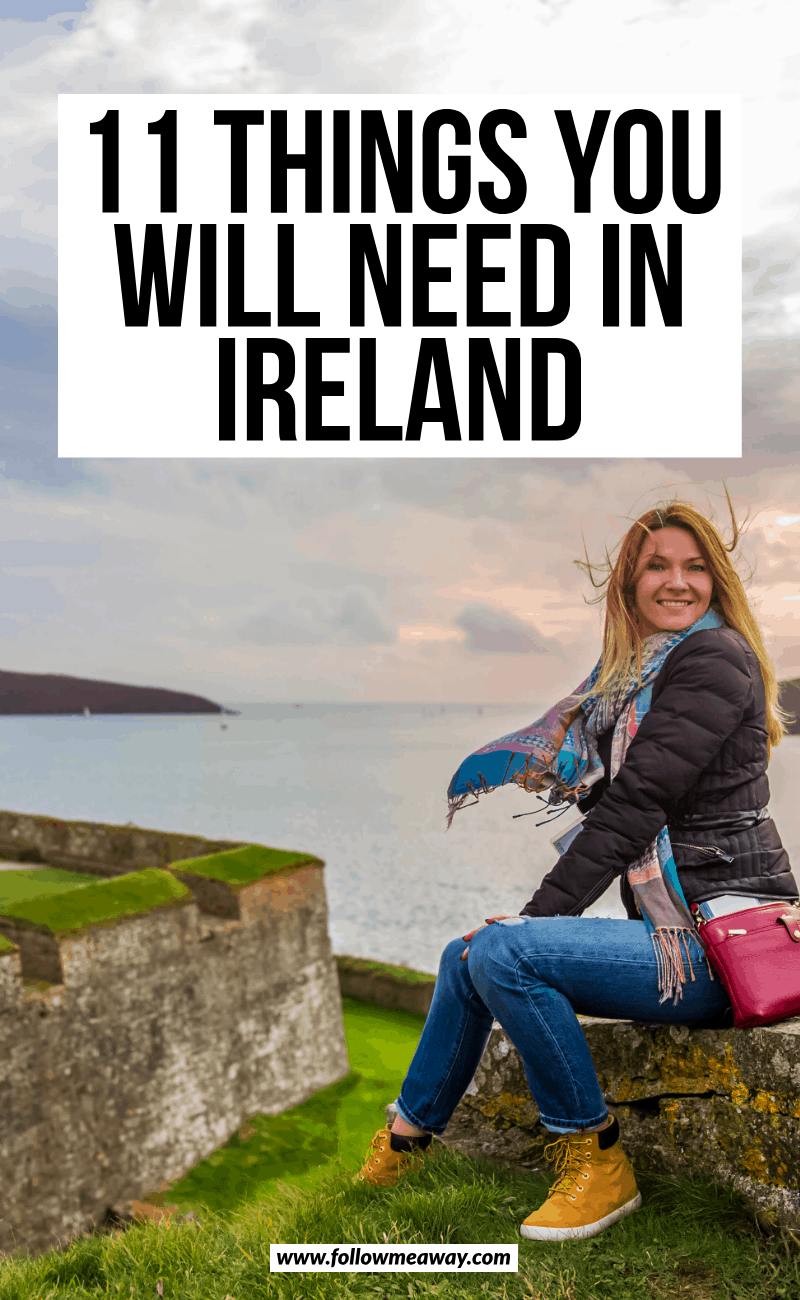 Disclaimer: This post may contain affiliate links which means we may make a small commission at no cost to you.