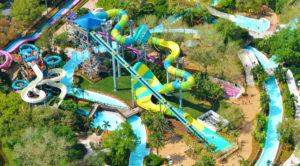 Like most couples, we love to do things together! Water slides are super fun, but they are even better when you get to slide with your sweetheart. Adventure Island Tampa offers plenty of attractions, and we rode them all to discover the top five for couples!
5 Adventure Island Water Slides To Enjoy With Your Sweetheart
#1: Colossal Curl
Colossal Curl ranks #1 for us because it is equal parts thrilling, fun, and a little bit scary. It makes for the perfect slide for couples  at Adventure Island because you get to ride on a tube big enough to hold two people. You are also required to sit opposite your sliding partner. Although this position is for safety purposes, it allows you to hold your sweetheart's hand [if you aren't too busy hanging on for dear life!] and also watch their expression as you both plunge down this crazy slide.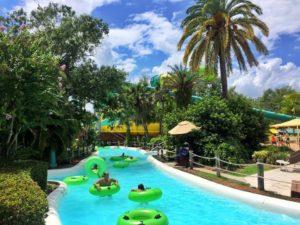 #2: Wahoo Run
As a couple, we love "family style" rides that fit 2-4 people. Unlike Colossal Curl where we had to sit in our own section of the tube, we were able to sit right next to each other because of the way the Wahoo Run tubes were set up. We could snuggle next to each other and enjoy the entire ride together. Don't forget to sneak a kiss during the part of the ride that is pitch black!
#3: Riptide
In our relationship, we always love a little friendly competition! Riptide allows you to race your significant other all while laying face down on a mat. We loved diving head first into a dark tube and then shooting out the other end to see who the big winner would be. This unique slide was one of our favorites at Adventure Island.
#4: Aruba Tuba
Aruba Tuba offers a true two person sliding experience that other attractions don't offer. The tube is much smaller than a large family size one which makes for a more intimate ride. Like Wahoo Run, this slide had a few dark parts as well as openings in the roof of the tube so the experience was completely private. On Aruba Tuba, we worked together as a team to see just how fast we could make our tube whip around corners.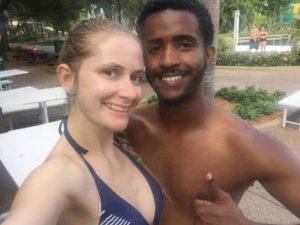 #5: Carribean Corkscrew
Like Riptide, Carribean Corkscrew offers the perfect environment for couples to race down to the splash pool. The two interlaced tubes are completely enclosed so you can't see your partner and you don't know who won until the very end. Play "best 3 out of 5 rides" to see which of you is the true slide king/queen!
READ NEXT: You Don't Need Kids To Have Fun At The Florida Aquarium
Huge thanks to Adventure Island for hosting us for the day! We had a wonderful time and think the park offers tons of fun especially since it is almost always summer in Florida! As always, all views and opinions are our own!
What is your favorite slide at Adventure Island? Let's chat in the comments! 
Pin it: