Germany is a gorgeous country full of famous places, but if you are looking for hidden gems in Germany then you have come to the right place. Exploring Germany off the beaten path and avoiding the crowds of more well known places is easy if you know where to look. It can be a little daunting at first, because it is a fairly large country with so much to offer. From fairytale castles to Roman Ruins; lush forests to dreamy lakes; incredible festivals to quaint towns, there is truly something for everyone in Germany.
If you are going to travel all the way to Germany then you will definitely want to hit some of the more popular spots. Neuschwanstein Castle, the Black Forest, Berlin art, and Oktoberfest are all worth the crowds and definitely live up to their hype. For more of these famous places that you can look into this Germany Road Trip, but make sure you are leaving plenty of time for these incredible hidden gems in Germany, you will not regret it!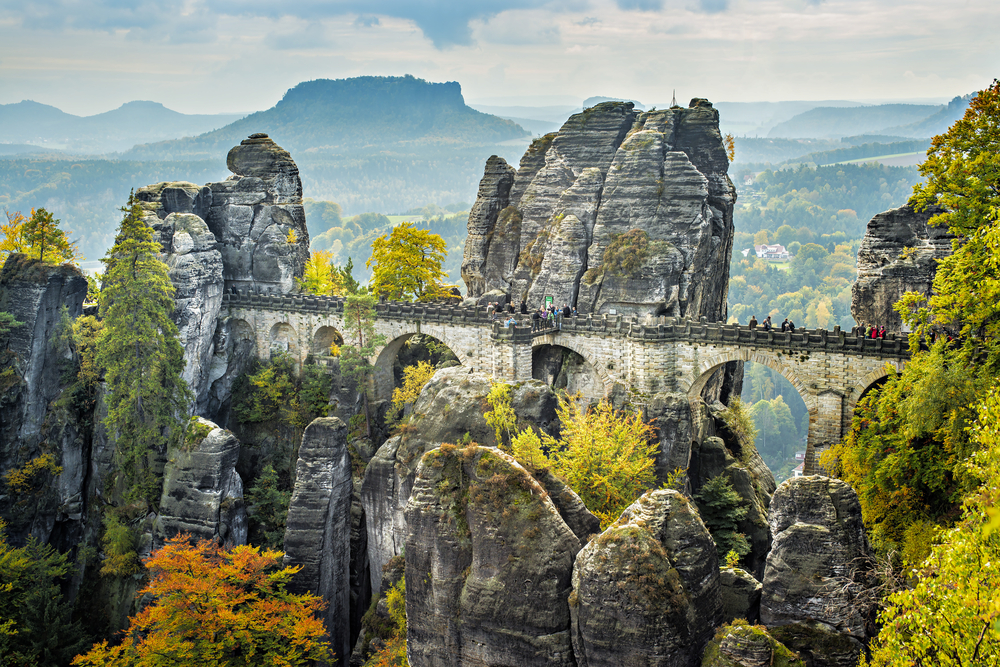 10 Magical Secret Spots and Hidden Gems in Germany
Geierlay Suspension Bridge
This picturesque suspension bridge is located in the gorgeous Hunstrück Mountains, right between Mörsdorf and Sosberg. This 360 meter long bridge was completed in 2015 and took only 130 days to build. As far as hidden gems in Germany go this one is starting to become more popular for people staying in the area near Eltz Castle. Because of that it can get crowded during the days, especially in the summer. We suggest arriving early in the morning or late in the evening to avoid any crowds.
It is free to visit the bridge and it is open 24/7, but there is a visitor center open from 10am-4pm daily if you would like more information or a map. There are several inexpensive parking lots to park in and easily walk to the bridge, they run between 1-2 euros for the whole day. If you go any time other than the summer (and we highly suggest the Fall to enjoy the gorgeous foliage in the forests below) you will want to bring plenty of water and a snack with you. Although there is one restaurant in Mörsdorf, and often food and ice cream stands in the summer, it is best to be prepared.
Remember, this is a suspension bridge, and it is roughly 100 feet above the forest below. This spot is not for the faint of heart and if you are afraid of heights you might was to be wary, and maybe even skip out on this particular spot.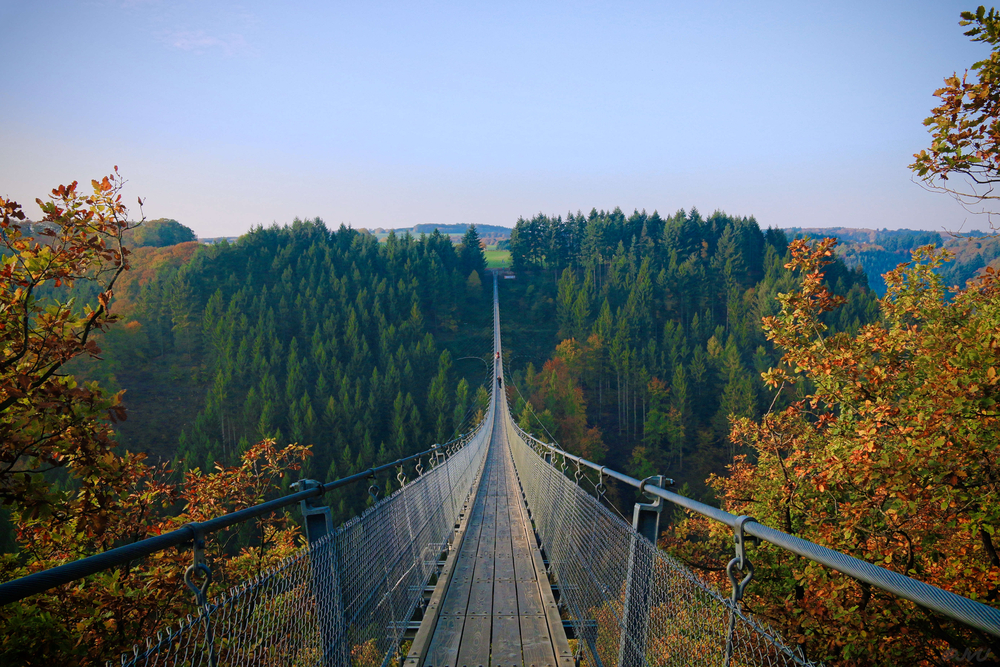 Pilgrimage Church Maria Gern
If all you do at this next location is snap a few pictures, it will still be WELL worth it. One of the most idyllic and picturesque churches in Germany is this lovely pilgrimage church, called Wallfahrtskirche Maria Gern in German. It is situated at the top of a small hill near the foot of the gorgeous Kneifelspitze mountain in Bavaria. Actually getting to the church is simple enough if you follow the road up to it, but getting that perfect picture may lead you to wander off the road. Just be careful, there is a lot of private property in the area and you do not want to trespass, even for an incredible picture.
The stunning views are not the ONLY reason to visit though, part of what makes this one of the most amazing hidden gems in Germany is the history and architecture. This area has been a pilgrimage location since the early 1600s, when there was a much smaller church a little further down the valley. The current location first housed a church by the late 1600's and has been built up and renovated over the centuries. The interior is full of ornate alters and iron railing and it truly spectacular to see.
If you are planning to spend a longer portion of the day in the area you can also hike up the mountain from a trail starting at the church. It is a fairly easy hike, although it gets pretty steep in some places. The view of the valley below is incredible and makes the hike well worth it.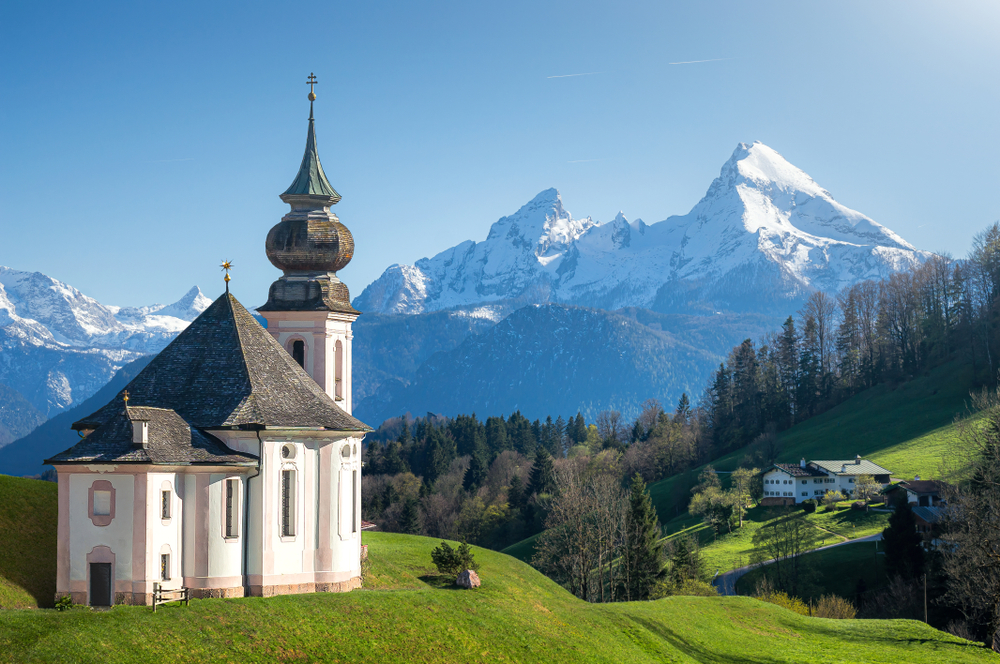 Lake Königssee
Most of this crystal clear lake is within the Berchtesgaden National Park in the very south of Germany, almost on the border of Austria. It is often advertised as Germany's cleanest lake, and only certain watercraft is permitted on the water to insure it remains clean. You can take boat tours of the lake through local business and enjoy the clear waters, sheer rock faces, and reverberating echoes that are hard to find anywhere else.
There is some dark history in the area as there were concentration camps nearby during World War II, and Heinrich Himmler had a house built in the area for his mistress. But there is also fascinating history, like the Königssee Railway that served the lake for until 1965. The paths where the tracks used to be are mostly walking trails now, and the old railway station was turned into a restaurant where you can still eat today. Königssee is truly a dreamy lake and well worth the visit.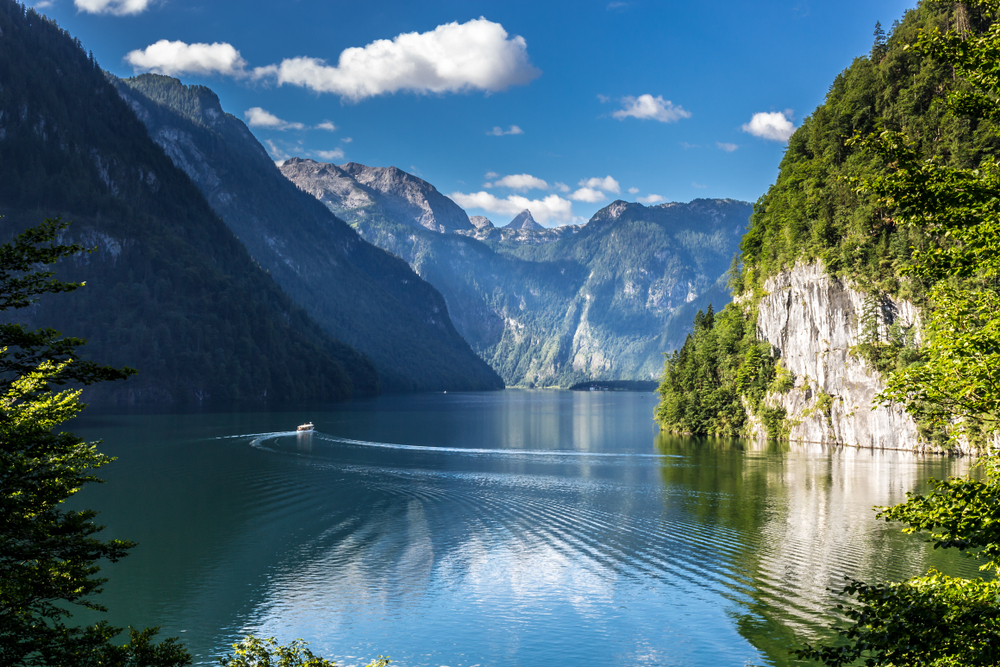 Rakotzbrücke Devil's Bridge
The story behind this devil's bridge is quite interesting, and part of what makes it a must see for hidden gems in Germany. There are actually many medieval devil's bridges in Europe, and they are called that because they are either so spectacular or such difficult works of masonry that it was said that only the devil himself could have built them. There are a lot of legends and folklore surrounding these bridges, usually along the lines of making a deal with the devil that he would keep the first soul who crossed the finished bridge.
This particular bridge earned this title for its incredibly delicate arch, which was very rare and difficult in medieval times. It is an must see and makes the perfect stop on a day trip from Berlin. It can be a little difficult to find because it is truly Germany off the beaten path. The best way to get here it to enter the parking lot coordinates into your GPS and follow those directions (here they are: 51.537472, 14.635447). The reflection of the bridge in the lake beneath makes an almost perfect circle and makes it look almost like a portal into a fairy tale or passage back in time. You do not want to miss the magical setting of this bridge.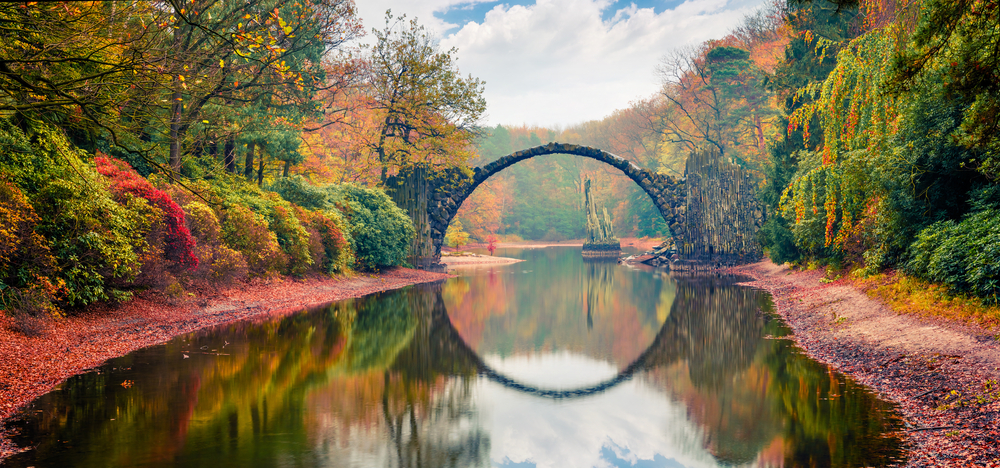 Lake Obersee
This lake is also in Berchtesgaden National Park, like Lake Königssee mentioned above, but it is a smaller and a little more secluded. It is often said that a huge rockfall separated the two lakes in 1172, but it is unlikely that these lakes were ever actually connected as one lake. This small natural lake is situated at the bottom of Mt. Watzmann and is breathtakingly beautiful! Most days the water is so still that it seems like a mirror, and so clear you can see the rocks at the bottom.
Getting to Lake Obersee is a bit more difficult as you can only get to it on foot. The easiest way is to cross Königssee by boat and then walk along a well kept path for about a mile and a half. After that you will take a rockier more challenging trail until you get to Fischunkelalm, a lodge where you can stop for a break and refreshments. After that point you will continue walking until you reach the lake.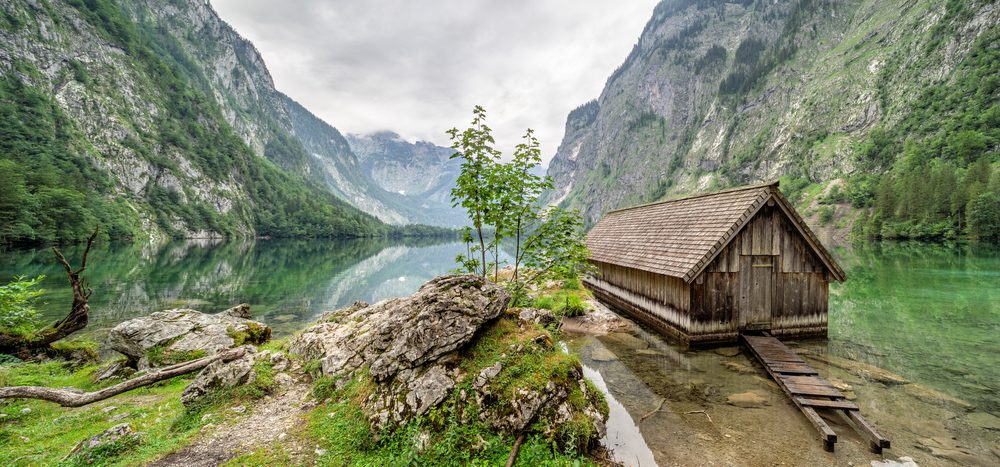 Burg Frankenstein
This castle may not seem as exciting as some of the larger more magnificent looking castles in Germany, but this is one of the hidden gems in Germany that you absolutely do not want to miss. You maybe be wondering if there is any connection to Mary Shelley's famous book, and the answer is yes! It is thought to be the inspiration and setting that inspired Frankenstein. But that is not all, there are countless tales and folklore surrounding this ancient fortress (built in the 11th century!) and the surrounding grounds and forest. And it isn't just ancient stories and myths, as recently as the past 20 years there have been ghost stories still popping up about it.
You will want to carve out plenty of time to spend at this one because as far as hidden gems in Germany go there is just SO much to learn and take in. At one point it was a hospital, at one point it was a jail, at some points it was actually more than one castle! And sitting up next to the Odenwald mountains makes this a truly a magical and spooky setting, especially for the annual haunted Halloween party hosted there.
If you are traveling with kids they will especially enjoy all the fun ghost stories, myths, and legends they can explore here at Frankenstein's Castle!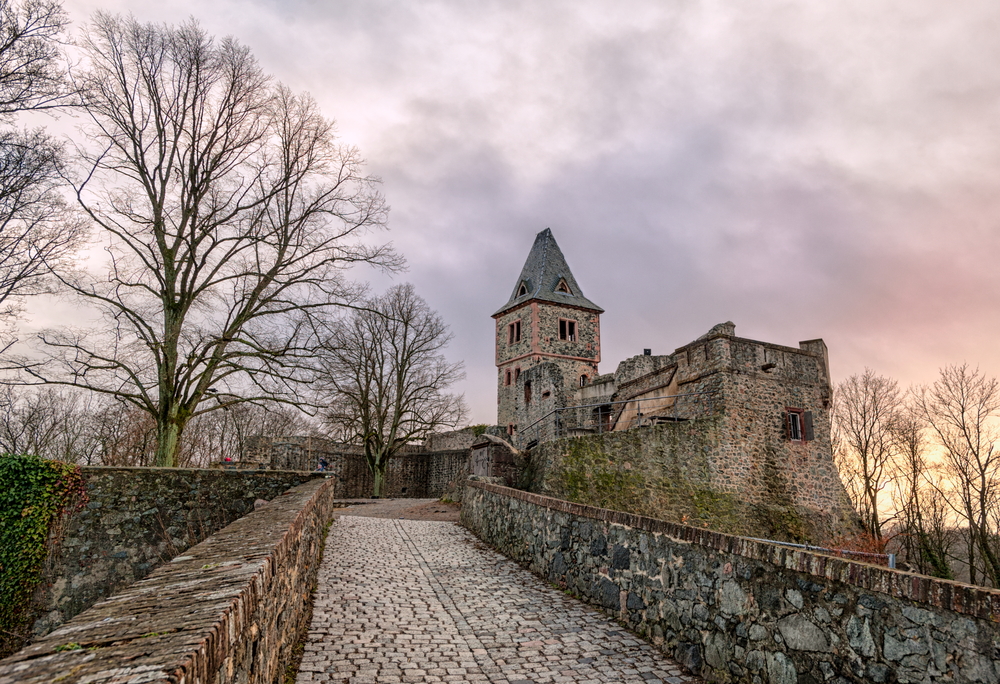 Geraldsee
This gorgeous valley and lake in southern Germany is also sometimes called Wagenbrüchsee and it is the best place for landscape photography of all the hidden gems in Germany. This incredible landscape is very reminiscent of some of the beautiful alpine valleys in the Italian Dolomites, but without the crowds!
The idyllic valley is dotted with many little alpine cabins along the rolling hills. It is especially magical in the mornings when there is often mist rolling off the mountains making the forests surrounding the valley look even more mystical and beautiful. This is a perfect area for hiking, or if you want to learn a little bit more about the region there are guided tours that include all 3 lakes in the vicinity.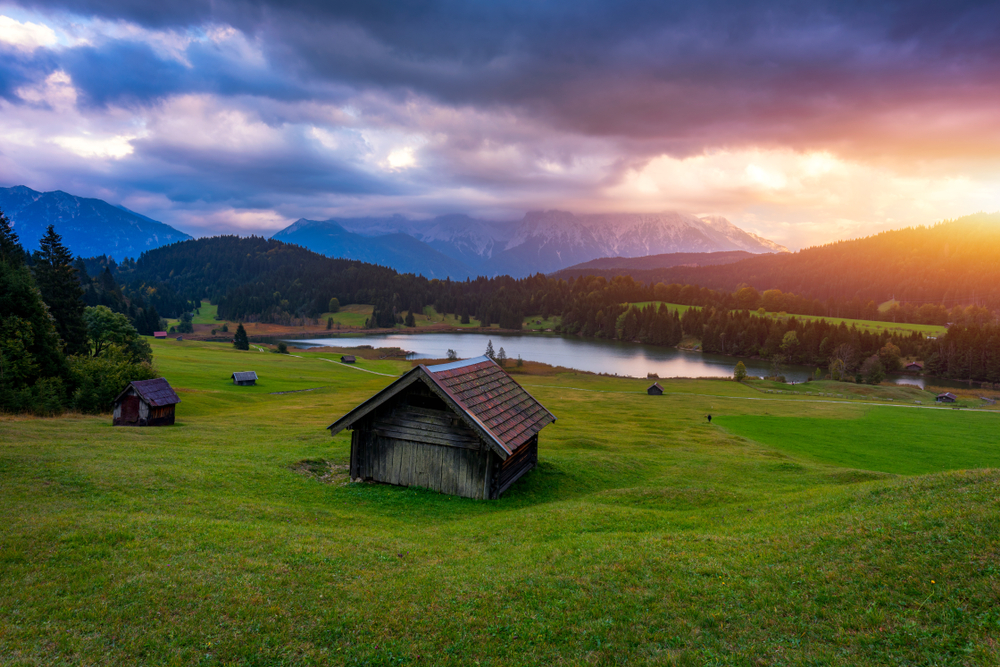 Kamnitz Gorge
This gorge was cut out by the Kamnitz River and is located in Saxony Switzerland National Park, which is a little misleading, but rest assured is really is in Germany. These rocky sandstone Gorge is in Elbe Sandstone mountains and the sheer cliffs reach up on either side of the river. It is an awe inspiring view to behold and you can take it all in along the railed in hiking path right up against the jutting cliffs.
Along this path there are a couple of small cabins perched right up along the edge. Set in the lush greenery against the stark contrast of the rocks it is such a unique place to explore and enjoyable for the entire family. While you are in Saxony Switzerland National Park you will also want to check out the next one of these hidden gems in Germany.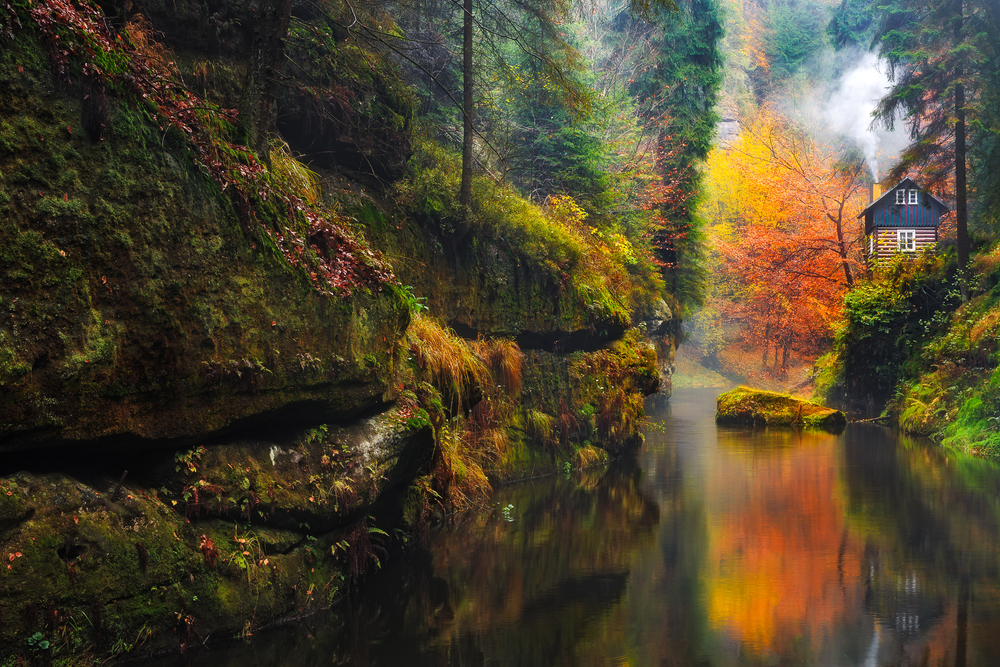 Bastei Bridge
As previously mentioned Bastei Bridge is also located in Saxony Switzerland National Park. The Bastei are towering sandstone pinnacles reaching up above the rest of the green and mountainous landscape. Build into and along these incredible spires is an expansive stone bridge. It is build up between the Bastei and above the Elbe River far beneath. From afar it looks as though this bridge leads to nowhere, and is magically floating among the rocks. It feels like you have entered a magical castle in the sky with views of the rest of the park below stretching on for miles around.
Hundreds of years ago there was a castle built on top of these jagged formations, Neurathen Castle, but the bridge is all the remains. It is the main attraction in the part of the park, and even if you are not an outdoor enthusiast this bridge is worth visiting. It is always free to enter the park and always open. Getting to the actual bridge will require only a short walk along one of the paths leading to it. There are a few that or more trail like, but also there is a paved pathway that is doable for any skill level.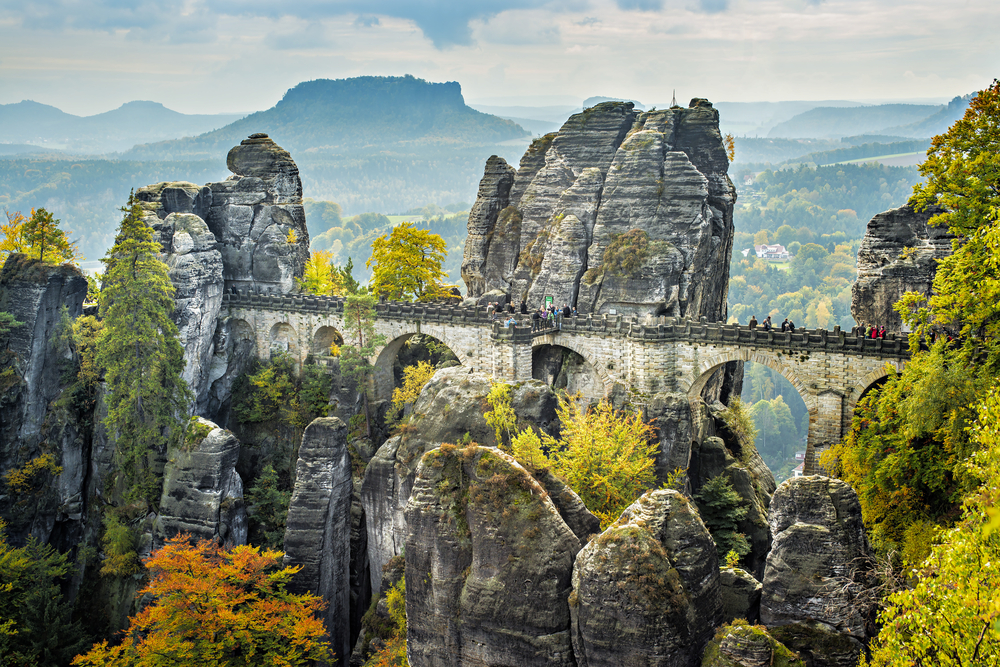 Lichtenstein Castle
This whimsical castle, sitting right on the edge of the alps, looks like it jumped right out of a storybook – and honestly that is pretty much what happened as it WAS inspired by a book! Looking across the bridge leading up to the castle it is easy to imagine a dragon perching atop the highest spire blowing fire at a knight below. Of all the hidden gems in Germany this is one of the must see castles and will have some of the least crowds!
Before you head out to this magical location there are a few things you will want to know. First off the tours are only given in German, as this castle is really only popular withing the country. But do not let that stop you, is is still such an incredible place to see and explore. Second, although this castle is fairly new, as far as castles go (built in the mid 1800's), it was built on the location of a former castle from the 1200's and was designed to feel medieval. Finally, you WILL want to take a lot of pictures, so be prepared!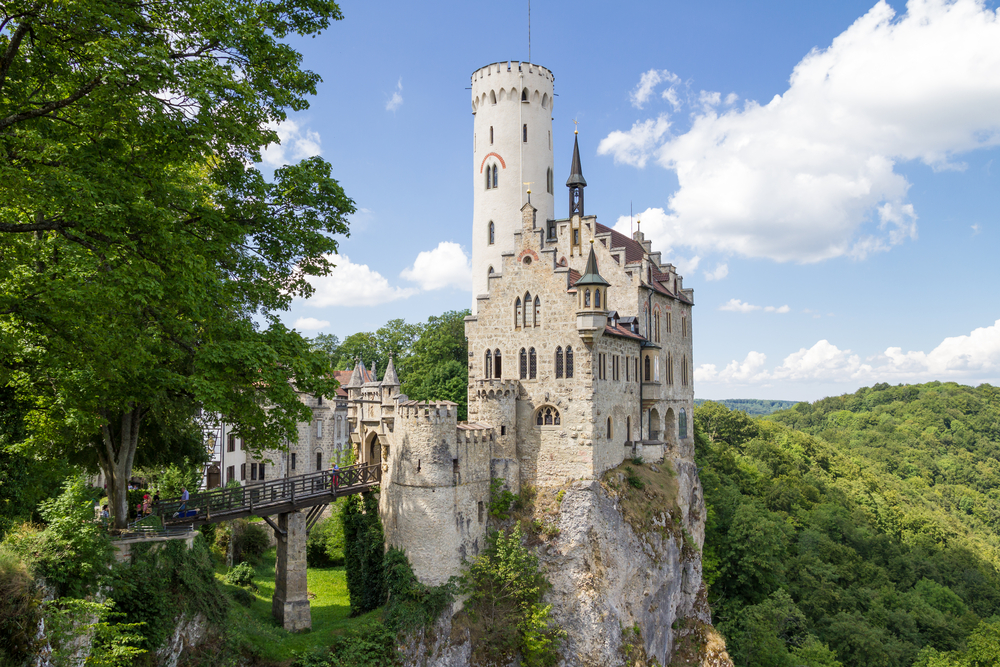 Germany is always such a magical country to visit, and with these hidden gems in Germany you will feel like you stepped back in time, or through the cover of your favorite fairy tales. Whether you are more interested in bridges, castles, lakes, or mountain scenery you will find what you are looking for in Germany.