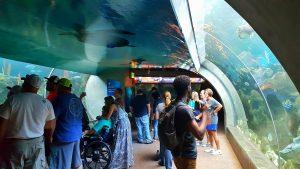 Are you under the impression that you need to have kids in tow in order to have fun at the Florida Aquarium? You are wrong! We are a young childless couple and we had a splendid time during our visit! There is tons to do and never a dull moment! If you don't believe us and think the aquarium is just boring kid stuff….ready on:
First up, we headed to the Florida Aquarium's Dolphin Cruise. We were a bit skeptical as to whether or not an additional $19 per person was worth it or if we would even see any dolphins. The cruise is all about being eco-friendly and doesn't bait, feed, or lure dolphins in any way so there is no way to be sure what you would see. Guess what? It was fantastic and well worth the additional cost!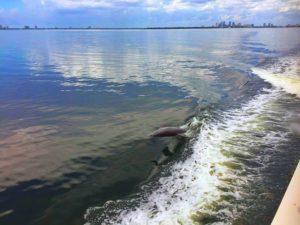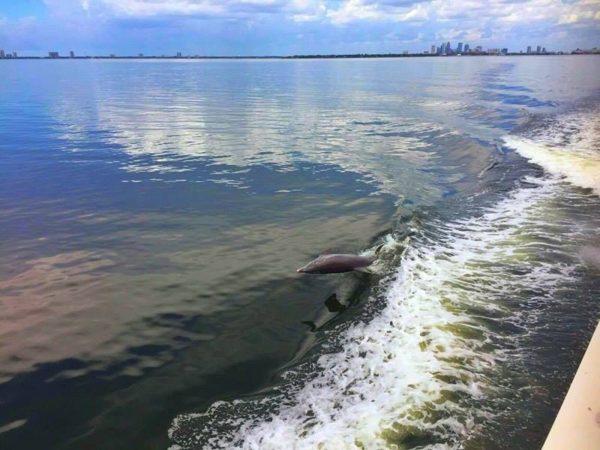 Not only did we see many dolphins, some even swam along our boat and jumped out of the water! What a treat! When we weren't watching dolphins, the staff kept us entertained by pointing out other notable marine animals and telling stories about the surrounding buildings and ships we saw along the way. They were funny and entertaining and it was nice to see Tampa Bay from the water. Refreshments were available for an extra charge onboard the watercraft and even included alcoholic beverages…if that is your thing!
When we arrived back at the Florida Aquarium, we headed upstairs to stop 1 on our map. We loved The Wetlands exhibit and how it was created to look like different ecosystems around Florida. As a photographer, Terrence loved that we could get up close and personal with the wildlife, including the free flying birds. The large atrium window made us feel like we were outdoors in the everglades when we were really on the third story of a building!
Our favorite part was the Journey to Madagascar exhibit and the lemurs! We arrived just in time to watch their feeding and examination. It was fascinating to watch their keepers interact with them and check their bodies for any injuries etc. As adults, we really appreciated this behind-the-scenes peek. The lemurs even gave their caretakers high fives! We think these employees have the best job ever because these little guys were so cute!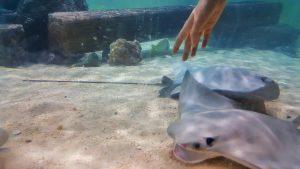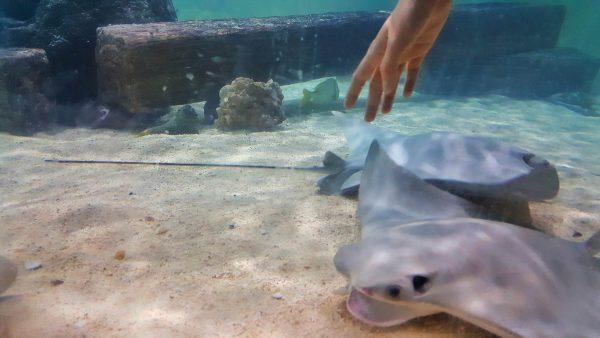 Next, we headed back indoors and made our way to Stingray Beach, the stingray touch tank! What human doesn't love petting cute stingrays? We enjoyed touching them and trying to convince them to come over. The water wasn't too cold and we were able to have fun for a while.
We moved on to the No Bones Zone which was another touch tank filled with sea cucumbers, starfish, anemones and more. The water in this tank was in the low 50's so we couldn't keep our hands in for long! Although the water was freezing, this exhibit was more fun for adults because it isn't something you get to do every day! Plus, sea anemones are squishy!
The last stop of the day for us was the enormous coral reef. We were excited that we arrived in time for a presentation, but didn't stay long because it was very kid-focused [the only truly kid-focused thing we came across]. Instead, we wandered around surrounding exhibits that showcased jellyfish, an octopus, seahorses etc. until the presentation was done, and then went back to the main viewing window.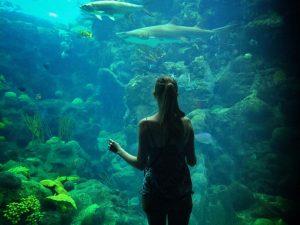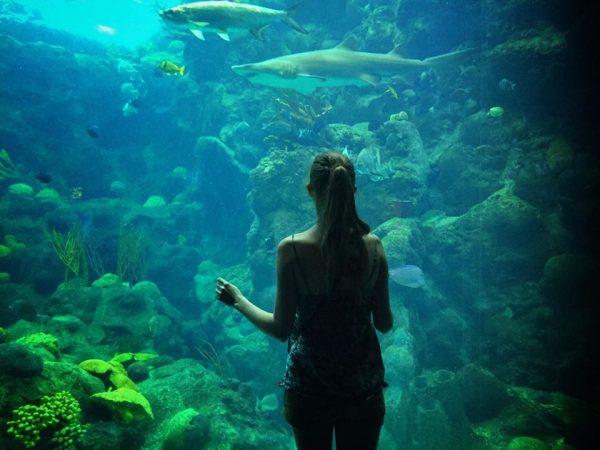 We were pleased with our decision to wait because now we could sit and take in the beauty of the large saltwater tank and the sea life it includes. All of the sea creatures were very active and even the eels were swimming around. We spent some time relaxing at the Florida Aquarium and taking photos of the sharks swimming by, the colorful fish, and the pretty light streaming in from above.
We had a lovely time at the Florida Aquarium and ended up spending the entire afternoon there! The Aquarium could make for a fun date day or a great way to bond with your friends over some aquatic animals and fun presentations. Of course, if you want to take the kids too, we won't judge you!
READ NEXT: 4 Things To Know Before Going To A Tampa Bay Ray's Game
Disclaimer: The Florida Aquarium provided us with tickets for our visit but all opinions are our own.
Have you ever been to the Florida Aquarium? Why do you think it makes the perfect adult excursion?
Pin it: