Here's the thing….Terrence looooooooves baseball and Victoria has never been to a professional game! That being said, we were super excited to head out to the Tampa Bay Rays vs. Seattle Mariners game during our summer in the Tampa Bay Area. Although the name of the team is the "Tampa Bay Rays," they don't really play in the City of Tampa but in the lovely neighboring city of Saint Petersburg.
Terrence had a fantastic time watching baseball and Victoria found the sport to be a lot more interesting in person.  That being said, there are a few things we wish we knew before heading to the game.
4 things you should know before going to a Tampa Bay Rays' Game
1. No seat is a bad seat
Thanks to the media department for the Tampa Bay Rays, we were able to score some pretty sweet seats. That being said, we took the time to walk around the stadium and were thrilled to discover that there really weren't any "bad seats" at Tropicana Field! Each and every seating area provides fans with a great view of the game. If you can't afford a lot but still want to head to a Tampa Bay Rays' game, you will be able to score a cheaper seat and still have a fantastic view of the action.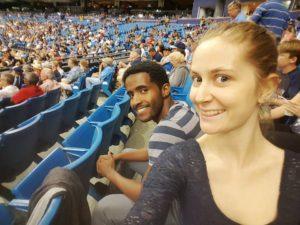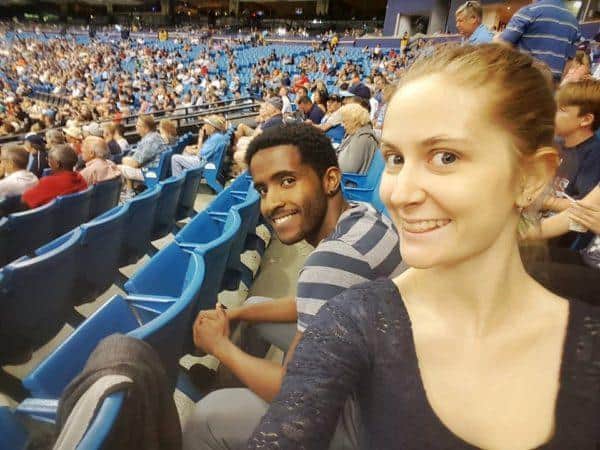 2. Stadium parking costs $15
We went into the experience thinking that on-site parking was going to cost $20+ and were thrilled to find out it only costs $15! [It truly is the little things!] Although we saw some off-site lots offering parking for $10-$12, they were much further away and certainly not as safe as parking directly on Tropicana Field property. We decided that it was worth spending a few extra bucks for the close proximity and security of our vehicle.
3. You can bring your own food
We were also super excited to find out you can bring your own food! We have been trying to eat extremely healthy as of late and didn't want to sacrifice that for game day. Fans are allowed to bring food that is wrapped, bagged, or in a soft-sided container that is no bigger than 16x16x8 inches. We were also allowed to bring single serving juice or water bottles. Security was very nice and we were happy that we were able to bring in our water/salads/chocolate without any issues!
4. Tampa Bay Rays' staff members are friendly and helpful
We really felt welcomed by the Rays' employees that were ever-present during our time at Tropicana Field. They wore yellow baseball shirts and were easy to find. We had a variety of questions and each person we asked either knew the answer immediately or directed us to the correct yellow-shirted person that could help us. We really appreciated that the staff knew what they were talking about and were able to quickly answer questions. We have had one-too-many run-ins with employees who have no idea what is going on.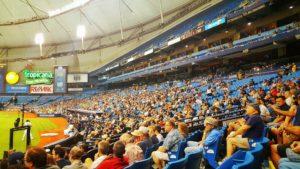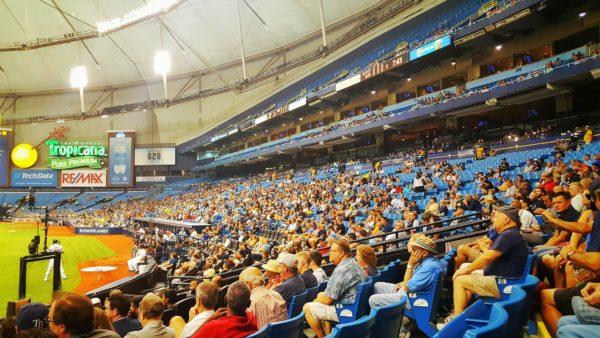 Overall, we had a wonderful time at the Tampa Bay Rays' game and can't wait to head back sometime soon!
(Disclaimer: We were provided complementary seats by the Tampa Bay Rays' media department but all thoughts are our own. If we hated it we would tell you!)
Have you ever been to a baseball game or a Rays' game? What is your favorite stadium in baseball? 
Pin it: