The best way to experience Music City, USA is with an Airbnb in Nashville! Rather than wasting your money on expensive hotels, you can get a homey and comfortable stay in these amazing Airbnbs for a fraction of the cost.
There are amazing options for anything you're looking for. From downtown condos for big parties to tiny houses for a cozy southern stay, this list includes all of the best Airbnbs in Nashville.
There's so much to do and see in Nashville and these Airbnbs offer close proximity to all of the action, plus many of them come with impeccable customer service from the locals who can offer you some tips and tricks to enjoy all there is to do in the city.
Whether you're in Nashville on a Tennessee road trip, an extended stay, a weekend getaway, or a celebration for birthdays or bridal parties, these Airbnbs in Nashville will take your trip to another level.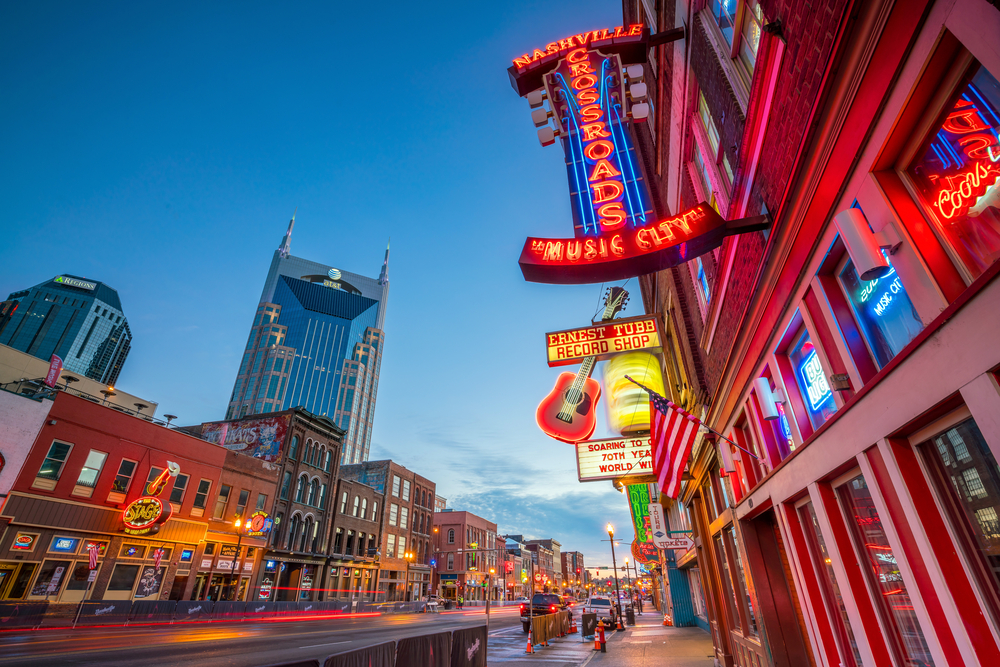 15 Best Airbnbs In Nashville (Tiny Houses, Cabins, & More!)
Famous HGTV Modern Tiny Home
If you've ever wanted to experience a tiny house, this Airbnb in East Nashville is the best way to do it. The modern tiny home was featured on the TV show "Modern Tiny Living".
Not only is it unbelievably charming at just 20 ft. long, but it's also in an ideal location close to everything you need. Only minutes from shopping and restaurants and just 10 minutes from downtown and the airport.
It's nestled into the woods on a 5-acre property so you'll enjoy the secluded county feel of Nashville with quiet mornings after a night on the town. This tiny home sleeps up to 4 guests and features a kitchen, full bathroom, 1 lofted queen bed, 1 pullout queen bed, and a lounge area.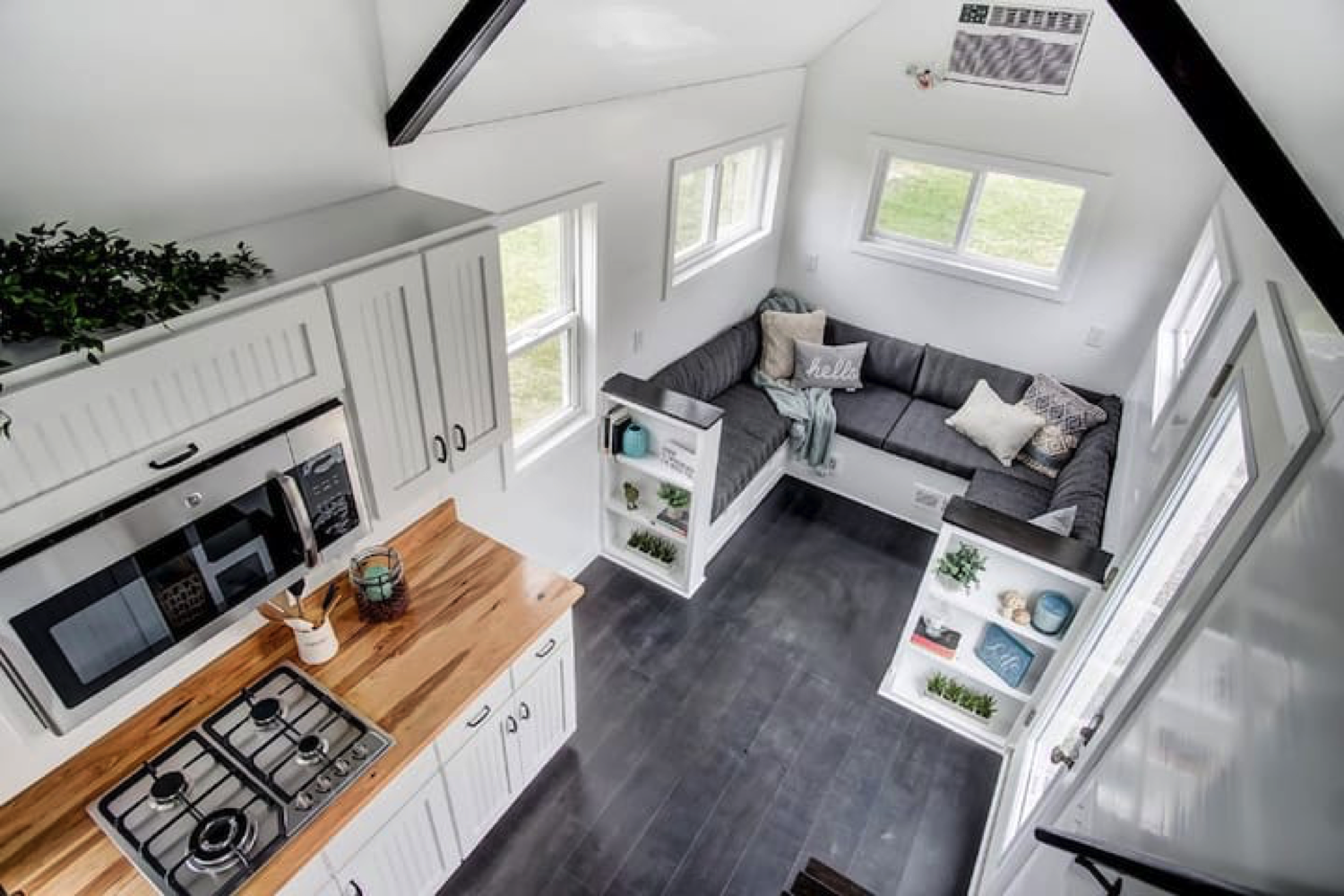 Cute Nashville apartment!
This quaint apartment is part of a 1940s craftsman style home, but totally private from the rest of the house. It features a room with a queen bed and lounge area, a small kitchen, and a bathroom.
The apartment features cozy decor with a beautiful view of Sevier Park. This space is perfect for 2 people on a weekend getaway or a stop on a road trip. Plus, the owners are natives to Nashville and willing to offer lots of suggestions for things to do and places to eat.
Check Rates: Airbnb.com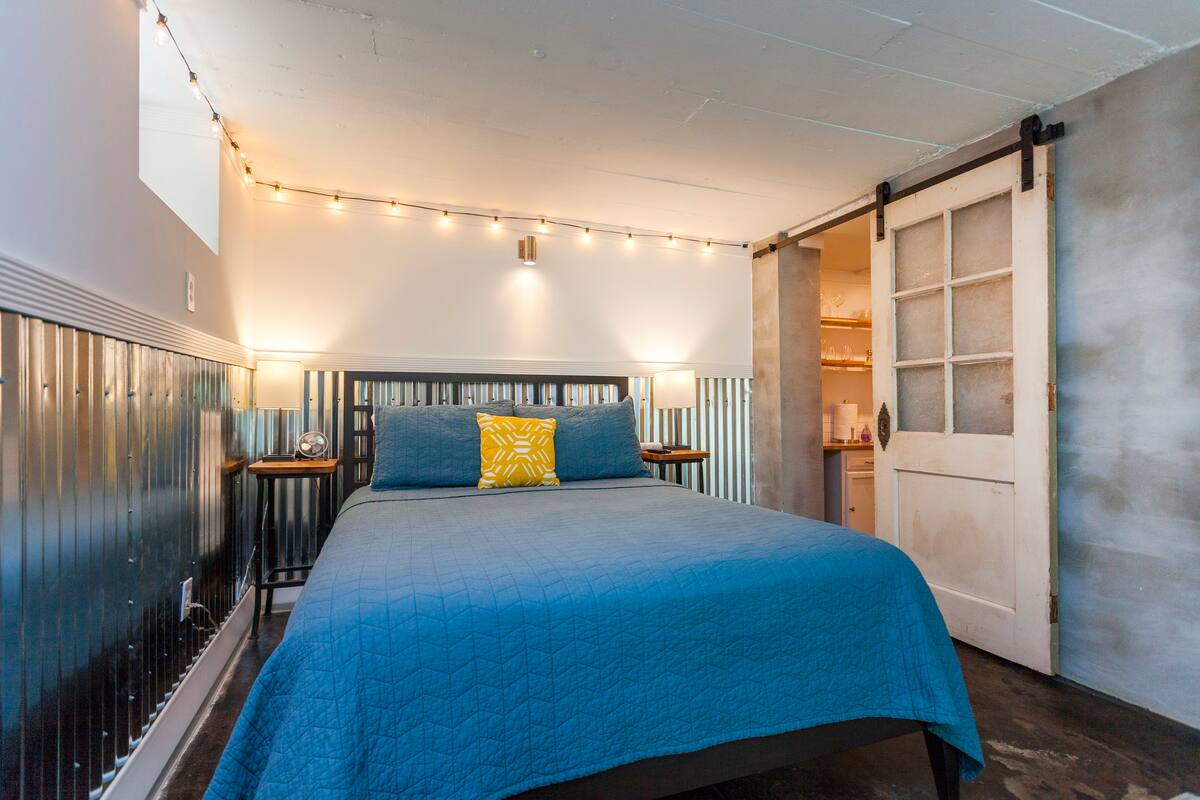 JURNY | Vanderbilt | Large Loft West End
This large loft is perfect for a large group. Rather than paying for multiple hotels, your group can stay together and enjoy this Airbnb in Nashville. It features a mid-century modern style with an open concept and lots of natural light. It's only an 8-minute drive to downtown Nashville and within walking distance from shops and restaurants.
This Nashville Airbnb offers 4 bedrooms with 5 beds, sleeping a total of 10 guests, or 12 with an optional air mattress. It also offers 4 bathrooms and a fully equipped kitchen.
Check rates: Airbnb.com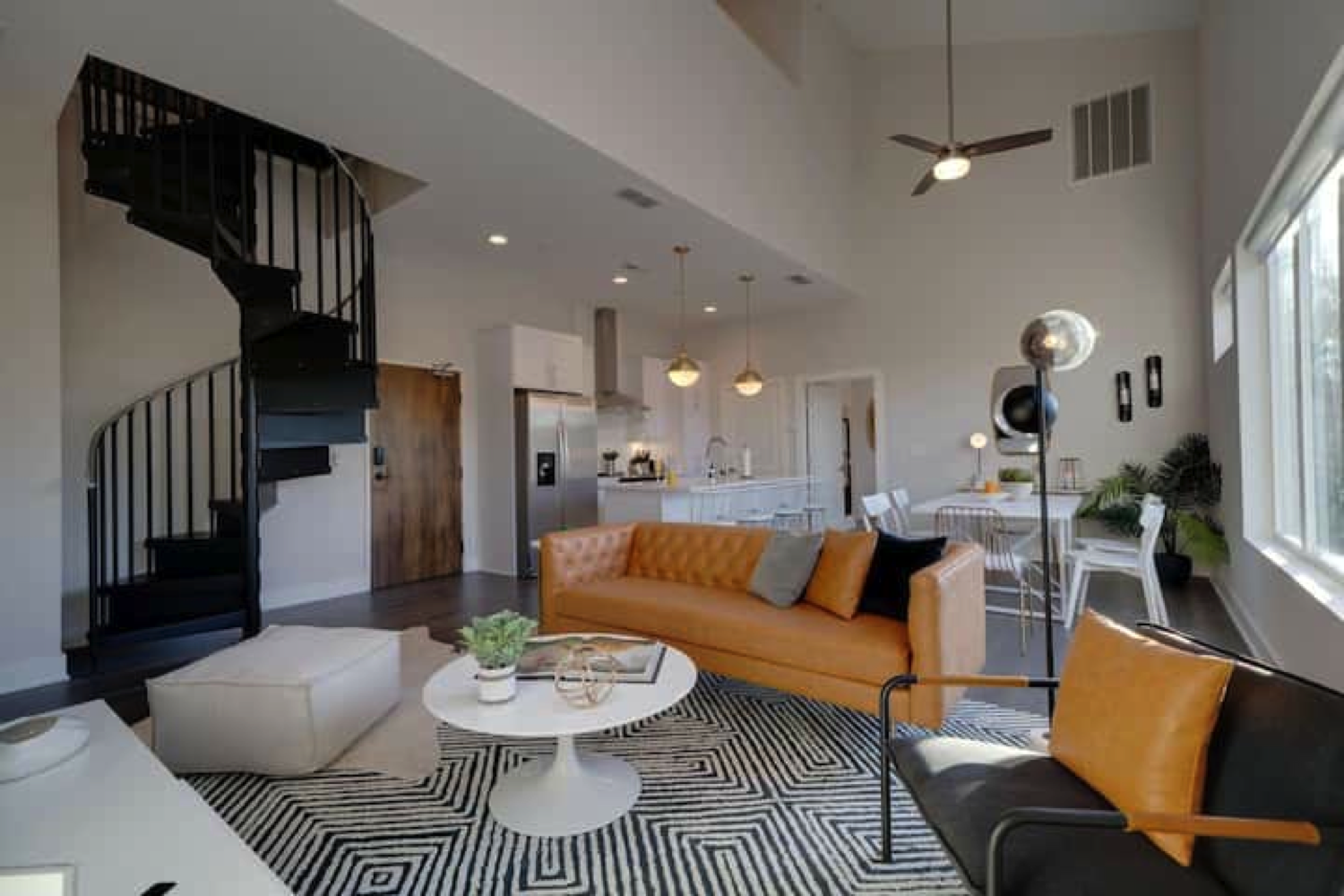 JURNY | Close To Music Row | Charming 4bd
Another fabulous JURNY Airbnb in Nashville is their Music Row home. This home is just 2-5 minutes from Downtown Nashville and close to the action.
Due to it's close proximity to neighbors, it restricts parties and has quiet hours from 10 p.m. to 8 a.m. you also must be 21 or old to stay. However, it's perfect for a group of friends looking to enjoy Nashville.
This Airbnb features a full kitchen, dining area, living room, and 4 bedrooms with 7 beds and 2 bathrooms. It sleeps a total of 12 people. The owners are also happy to provide recommendations for things to do and see in the area.
Check rates: Airbnb.com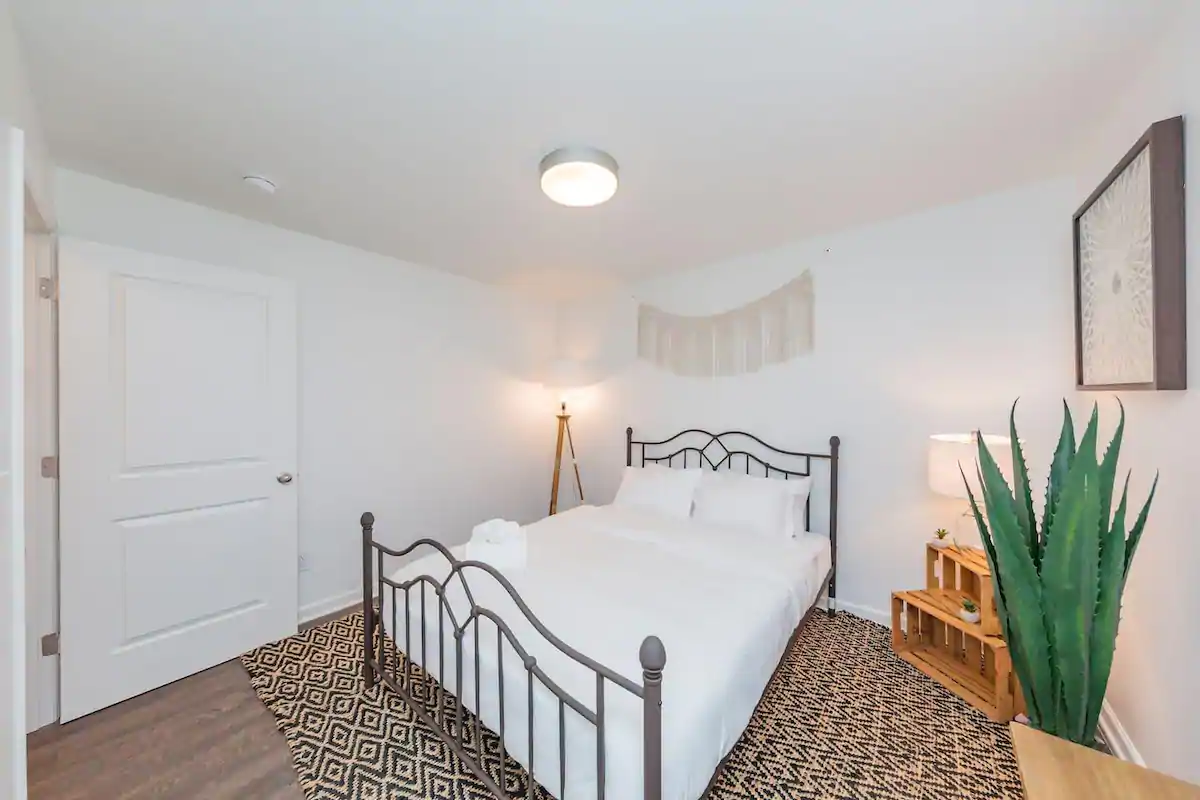 Rooftop Oasis★3 Suites★8Beds★600sqft Rooftop Deck
This Airbnb in Nashville is dreamy for a girl's weekend getaway or your next bridal party celebration. It's just a 5-minute drive to Downtown Nashville Downtown, Germantown, or The Gulch and only a few miles from many more restaurants and attractions in the area.
It's four floors including the 600 sq. ft. rooftop deck with views of downtown and gorgeous sunsets, a dining area, lounge, bar, and angel wings for the perfect photo opt. Inside there are 3 bedrooms each with their own full bathrooms, a living room, a full kitchen, dining room, and a half bath.
Check rates: Airbnb.com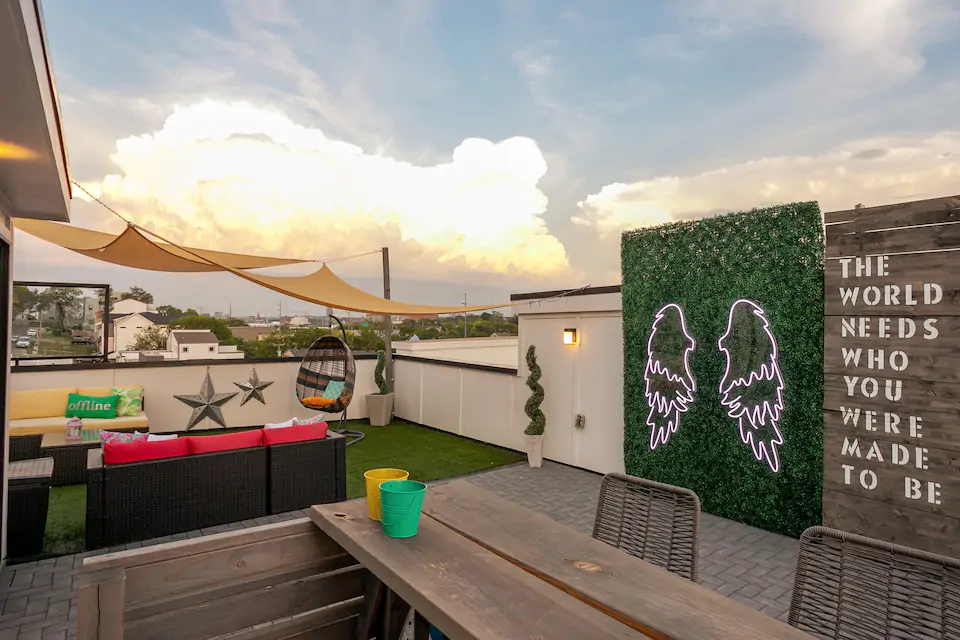 7 min ride 2 Dtown w/ free parking and fire pit
This cozy cottage is a perfect stay for your family and it's even pet friendly with a fenced backyard. The charming farmhouse decor will have you feeling right at home, and the backyard fire-pit is the perfect gathering place to unwind for the evening.
It's just a few miles from fun Nashville attractions like lower Broadway, Titans stadium, Top Golf, and Five Points. In just a 7 minute drive you can be in downtown Nashville.
This home has 2 bedrooms with 3 beds and 2 bathrooms and can sleep up to 8 guests.
Check rates: Airbnb.com
Nashville Living at Shelby Ave Suites #103
If you're looking for an extended stay East Nashville Airbnbs, make sure to keep this one on your list. You'll have the place to yourself in the heart of the city.
Located on a main road you'll have easy access to the interstate and downtown Nashville. You can live like the locals and imerse yourself in the many dining and shopping areas nearby.
This beautiful condo has been professionally decorated and fully furnished, so all you have to do is pack your bags for your extended stay. It offers one bedroom, one bathroom, a living room, dining space and a kitchen. This Airbnb requires a 15 night minimum.
Check rates: Airbnb.com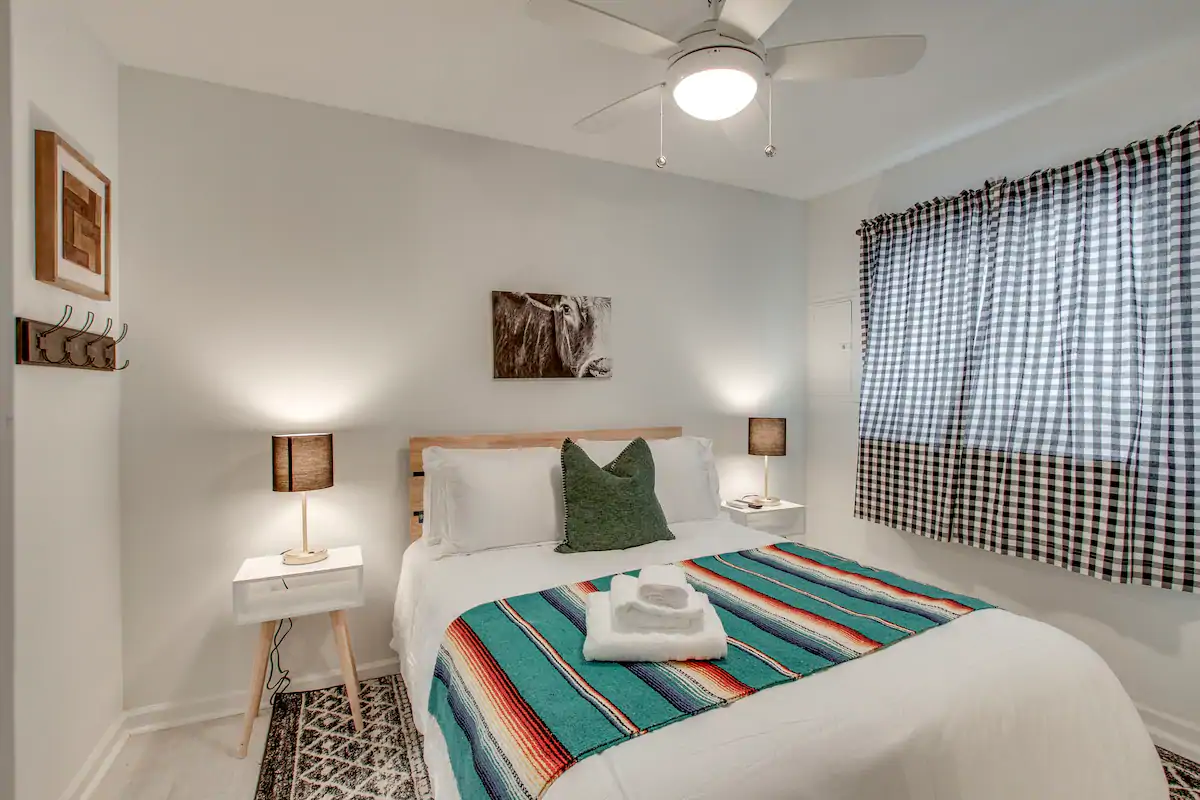 Nice Huge Studio Monthly! Downtown/Buc/Germantown
Another great option for Airbnbs in East Nashville is this gorgeous studio guest suite. The decor is bright and airy and the 950 sq. ft. will give you plenty of space. Plus, it's just 2 miles from Downtown Nashville.
An interesting feature of this stay is its outdoor shower that guests have raved about in the reviews. However, in the colder months, the host offers an indoor option that's attached to the rest of the home.
This home is one studio with a kitchen, lounge area, fireplace, and a king bed.
Check rates: Airbnb.com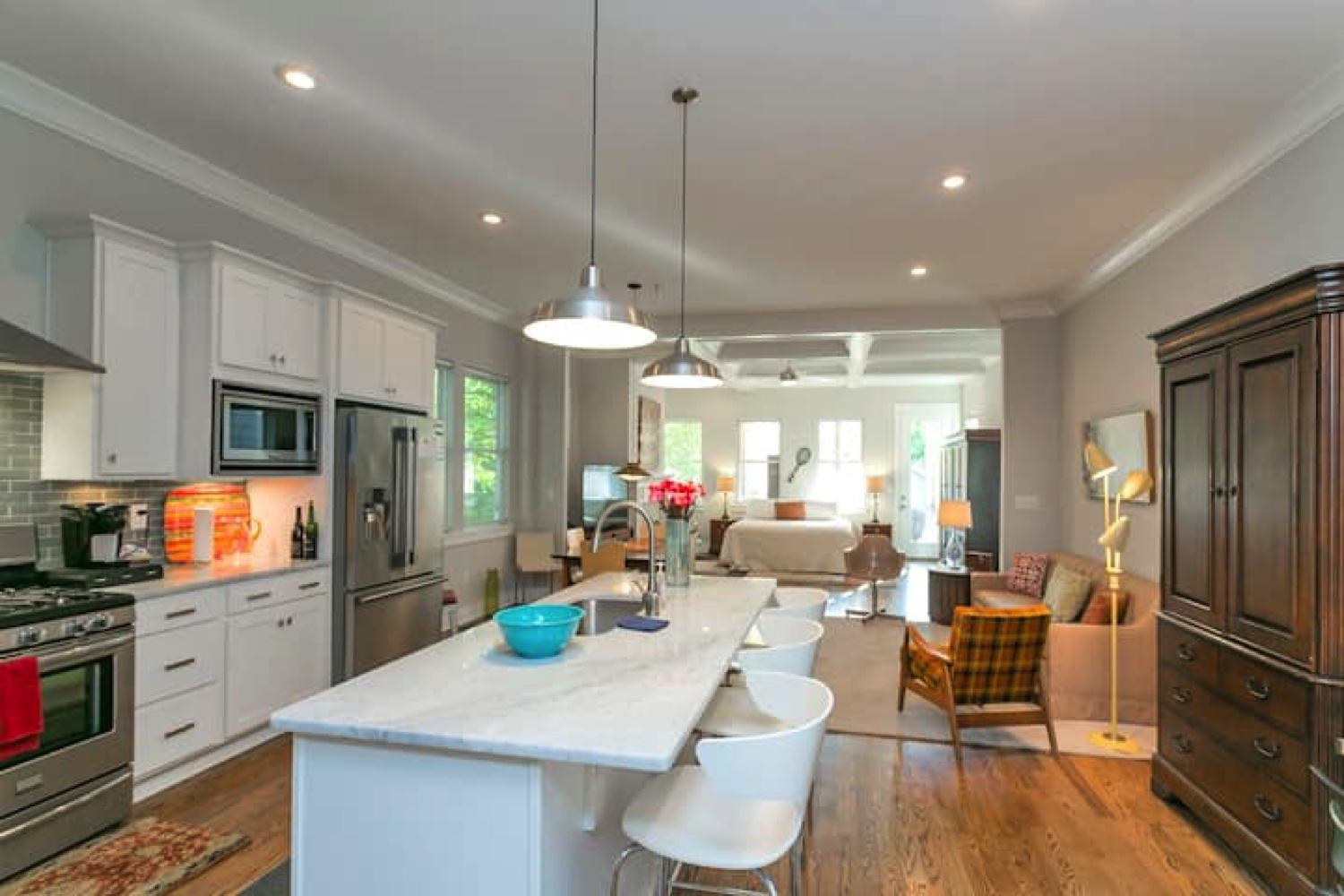 STUNNING CITY TOWNHOME ★ MINS TO BROADWAY
When looking for Airbnbs in downtown Nashville, make sure you add this one to your list. It has close proximity to almost everything in Nashville and nearly walking distance to the Gulch, 12 South, Edgehill, and Music Row. And if you're in town for a big game or college grad celebration, it's just blocks from Belmont University and a very short drive to Vanderbilt.
This 3-story townhome is perfect for groups or large families. It offers 3 bedrooms with a total of 6 beds, 3.5 bathrooms, and can sleep up to 10 people. You'll also enjoy a large kitchen, a spacious open lounge area, and a balcony.
With a modern farmhouse style, the details of the decor are also impressive. There are little touches of Music City all over the home from the photography of the city to the large Johnny Cash mural.
Check rates: Airbnb.com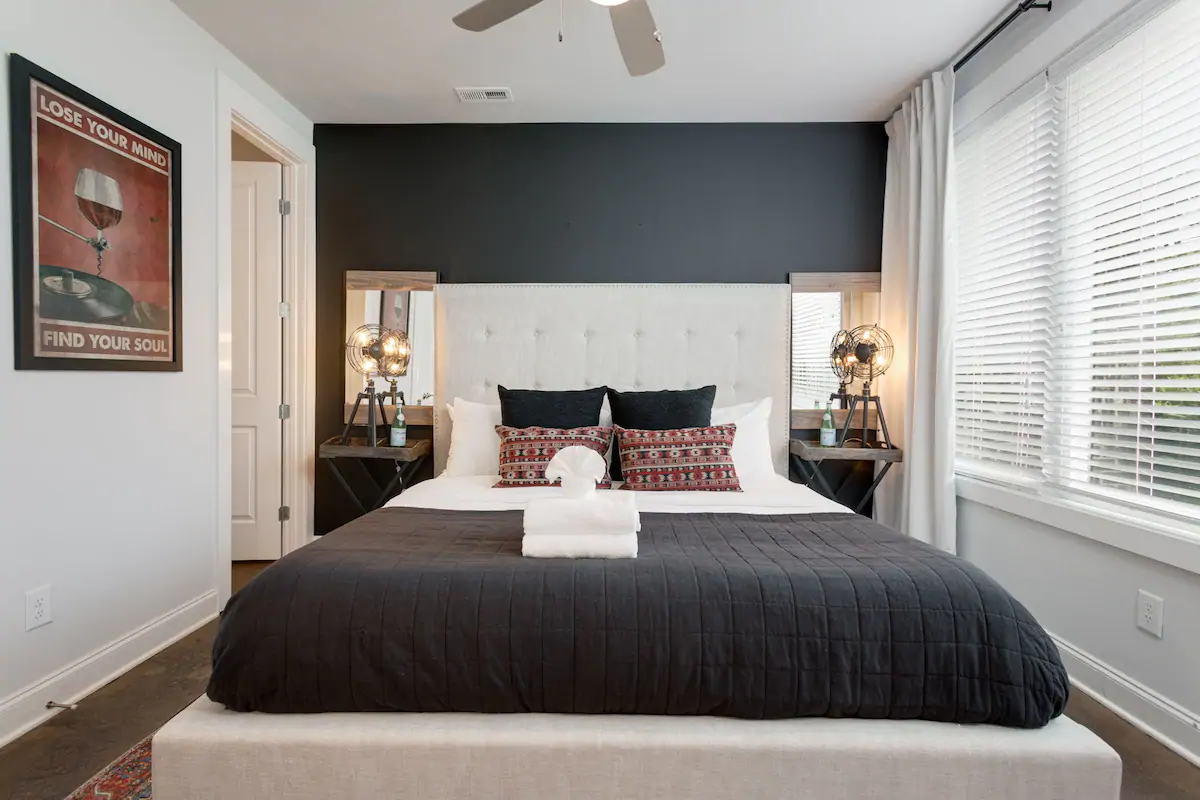 Private★Modern★Cozy★ Eastside loft~8 min Downtown!
This cozy home is another one to add to your list for Airbnbs for East Nashville. This guest house is perfect for both families and business travelers alike. It's close to the downtown action but also immersed in local living as it's close to local favorite restaurants.
The owners designed the space for privacy, comfort, and ease, so your stay is flawless. As locals, they're also available to offer recommendations for things to do while you're in town to make the most of your stay.
This home is 1 bedroom and one bathroom, with additional pull out beds in the living room to sleep a total of 4. You'll also enjoy a modern kitchen and a living room with a vintage electric mid century fireplace. It's about a 5-10 minute drive to popular attractions like Downtown Nashville, Gulch, Germantown, and Nissan Stadium.
Check rates: Airbnb.com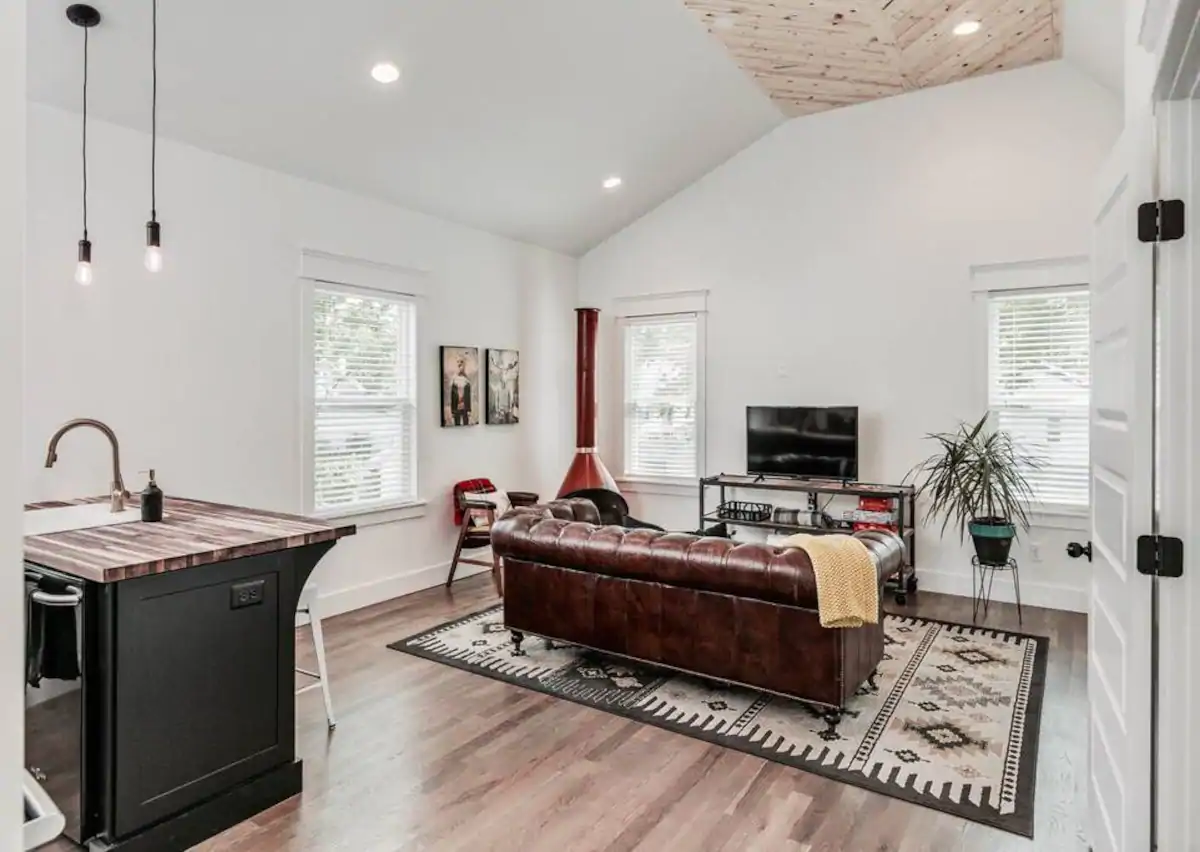 Nashville Whiskey Retreat
This gorgeous Airbnb in Tennessee is like a home away from home. Located in West Nashville this home is on the country side and tucked away from the noise of the city.
This home has 2 bedrooms and 2 bathrooms and can sleep up to 6 guests. It can be pet-friendly upon request. You'll also enjoy accommodations like a large front porch, and a backyard with a grill and fire pit. This home is about 15 minutes from downtown and 30 minutes from the airport.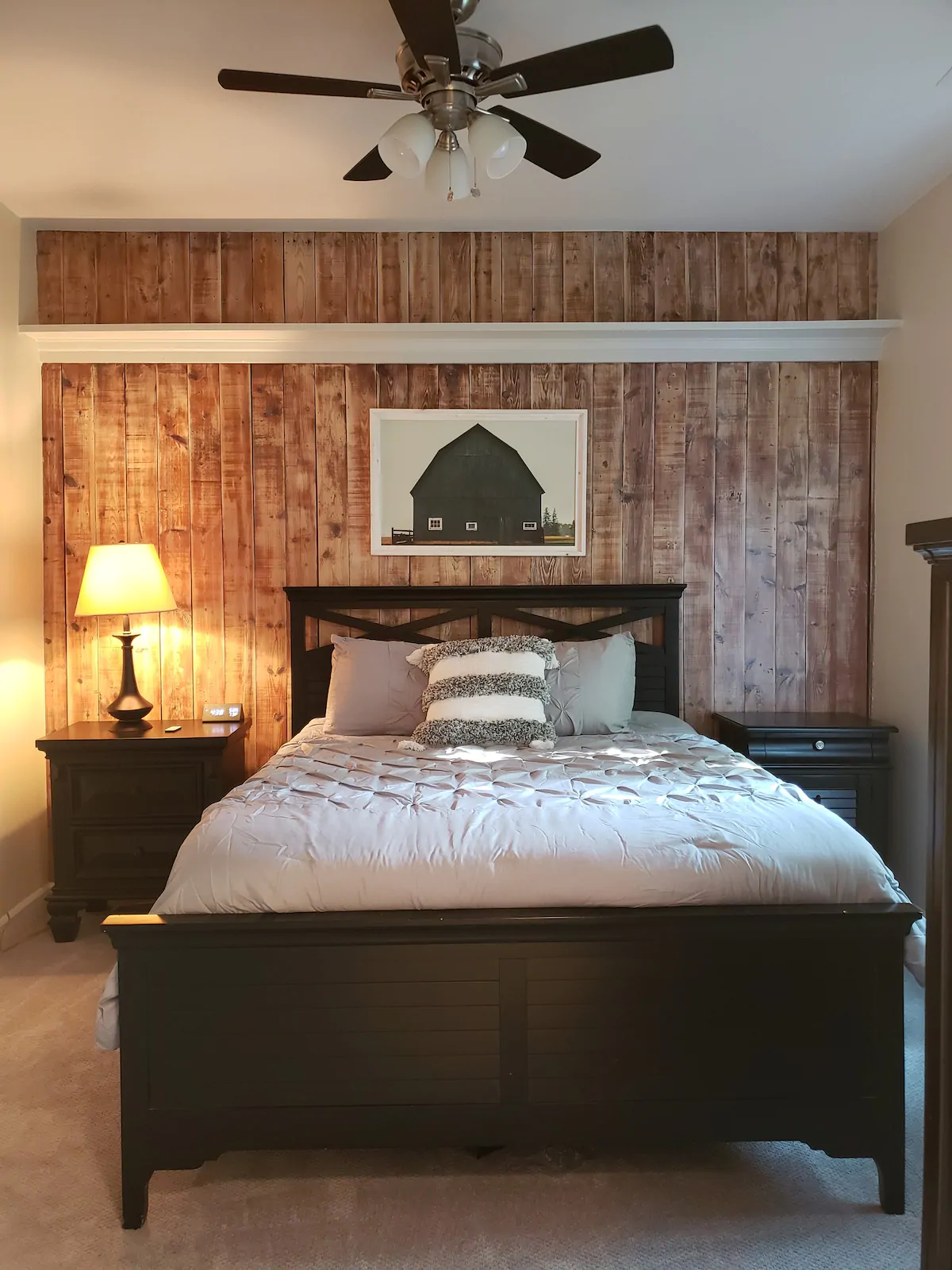 Nashville Downtown Magnificent Music City
One of the best Airbnbs in Downtown Nashville is just two blocks away from the famous Broadway strip. The decor adds a perfect touch of Nashville charm and the complex's common spaces are absolutely beautiful including the large pool.
This apartment can sleep up to 4 guests with 1 bedroom and two beds. Perfect for a quick stop into the city or a long term stay.
Check rates: Airbnb.com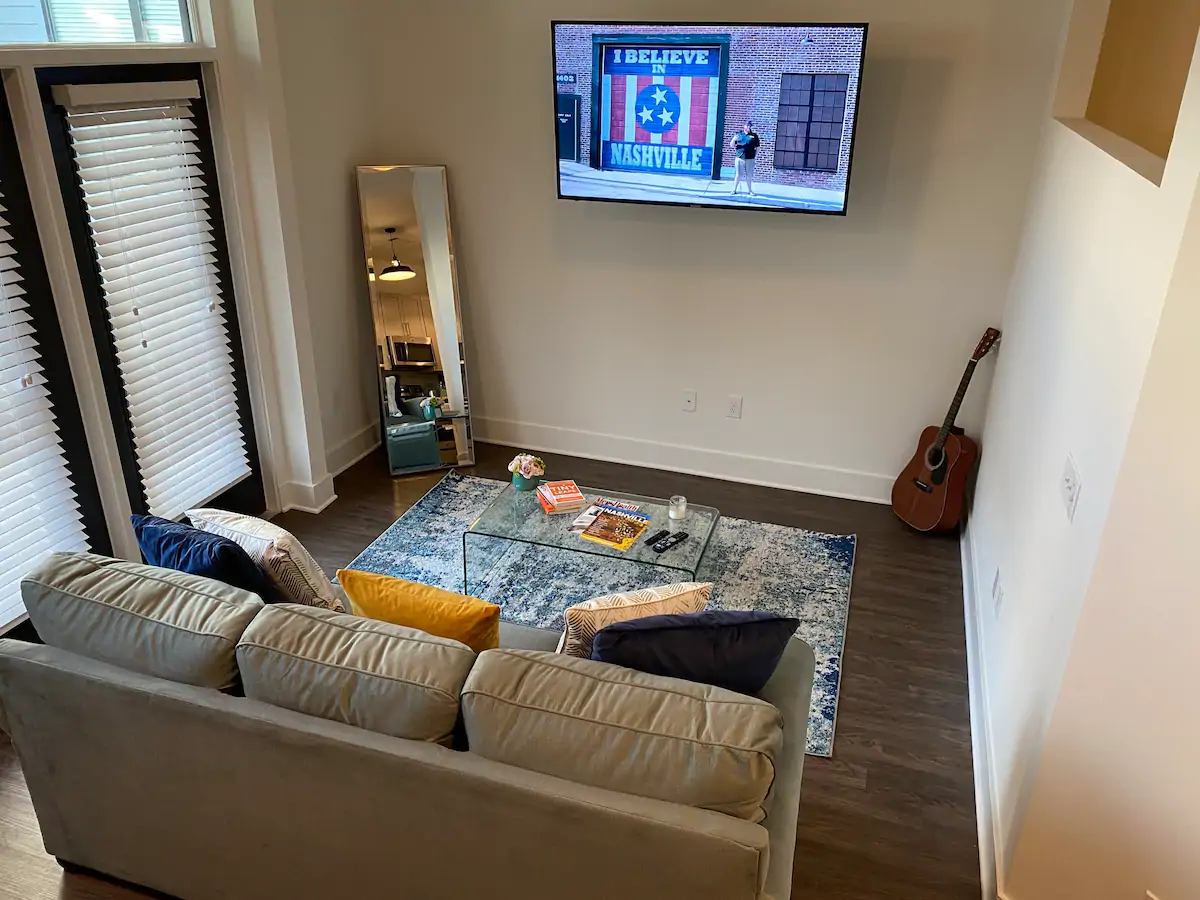 Cottage-Style East Nashville Home close to Downtown
If you're looking for a cozy stay at an Airbnb in East Nashville, this is an amazing option. Located just 1.5 miles from downtown, this home features all the comforts of home with charming decors like exposed brick, hardwood floors, and a fireplace.
This home offers 2 bedrooms and 2 bathrooms with a full kitchen and lounge space. It can sleep up to 6 guests with 3 beds.
Check rates: Airbnb.com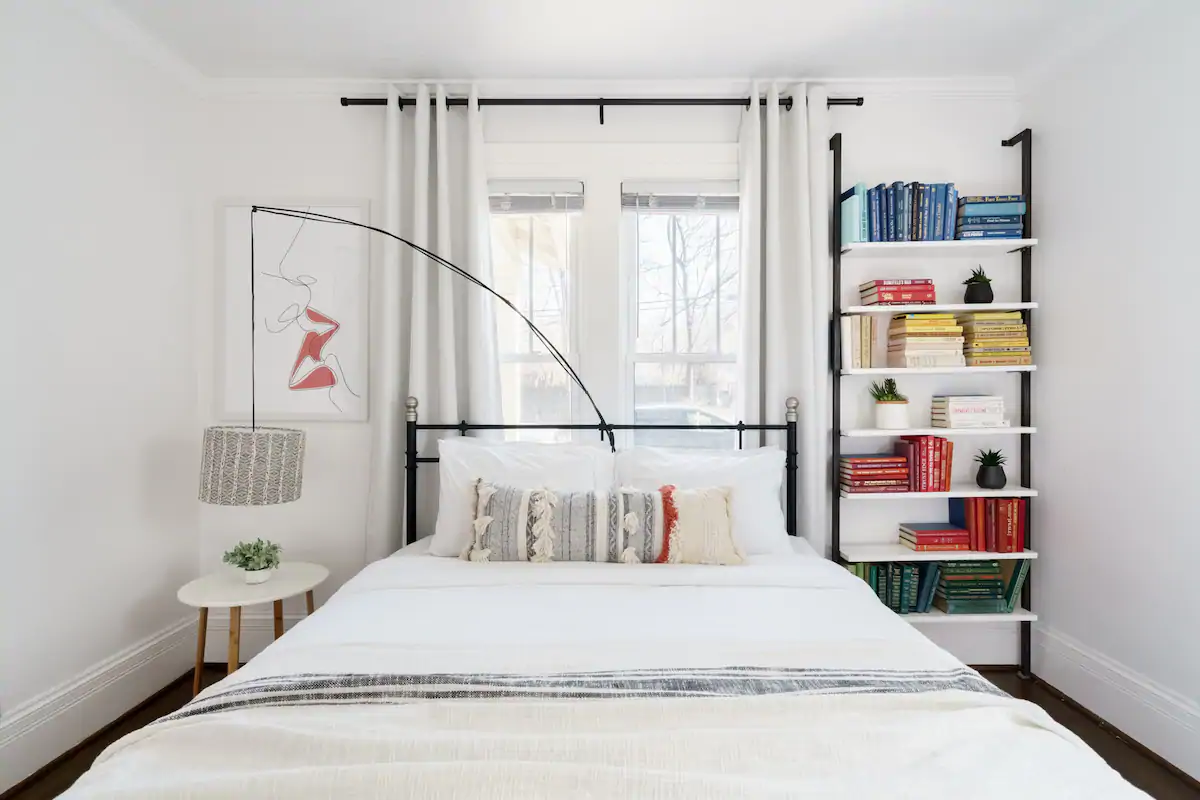 Elliston House #3
The Elliston House is a beautiful collection of 12 vacation rentals converted from a 96 year old building. It offers the experience of living like a local, as you would expect with Airbnbs in Nashville, but also with the creature comforts of a hotel, like coffee and snacks in the lobby.
Enjoy being just an easy walk or ride to the most popular attractions in this home. It's a studio style with a small kitchen and dining space, as well as 1 bedroom and one bathroom and can sleep up to 3 people.
Check rates: Airbnb.com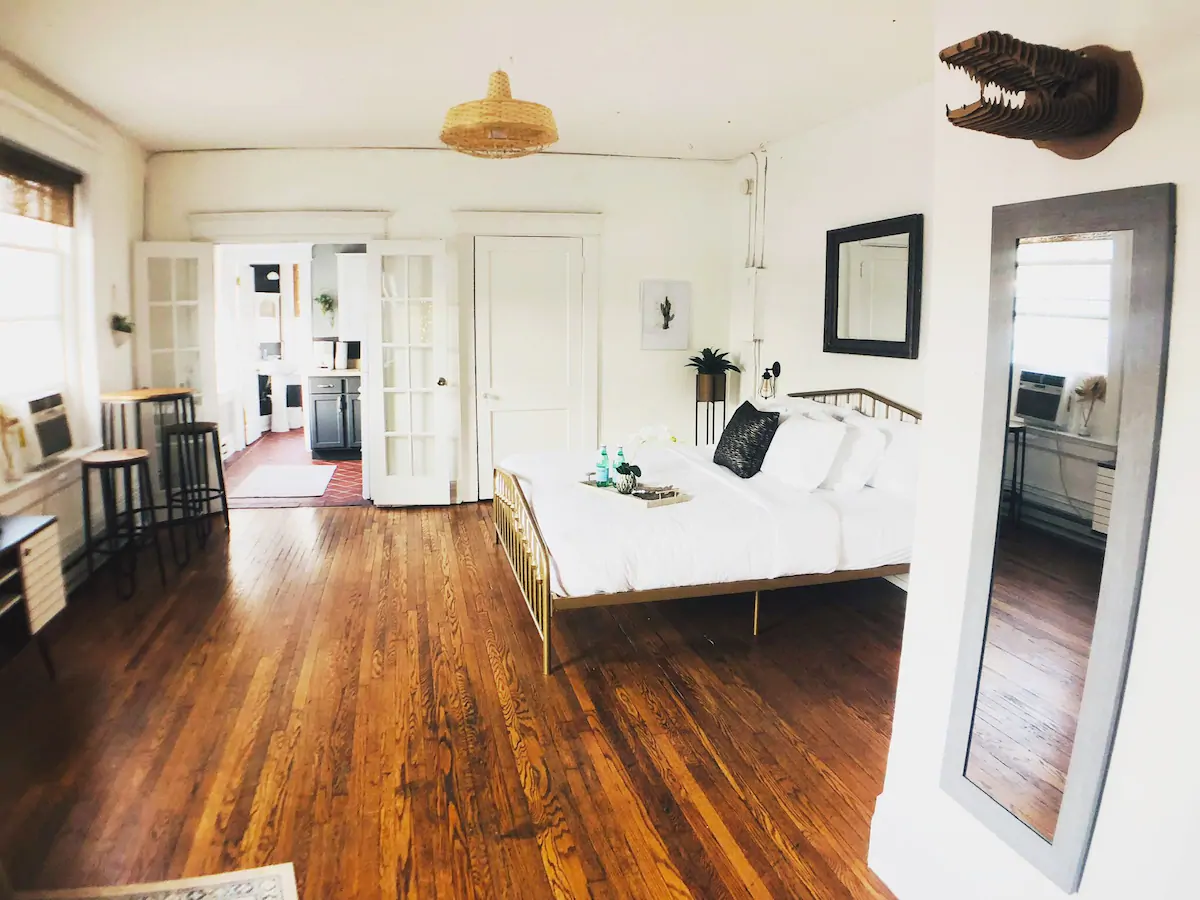 Heart of Nashville
This charming apartment is perfect if you're looking to be walking distance from lower Broadway. It's just a mile away, off of Elliston Place in Nashville's Midtown. It's also close to Vanderbilt, so perfect if you're in town for a game.
The cozy decor offers the perfect home away from home. This apartment features 1 bedroom with a queen bed but can sleep up to 4 with beds in the common spaces or an air mattress. You'll also have a small kitchen, full bathroom, living room and dining space.
Check rates: Airbnb.com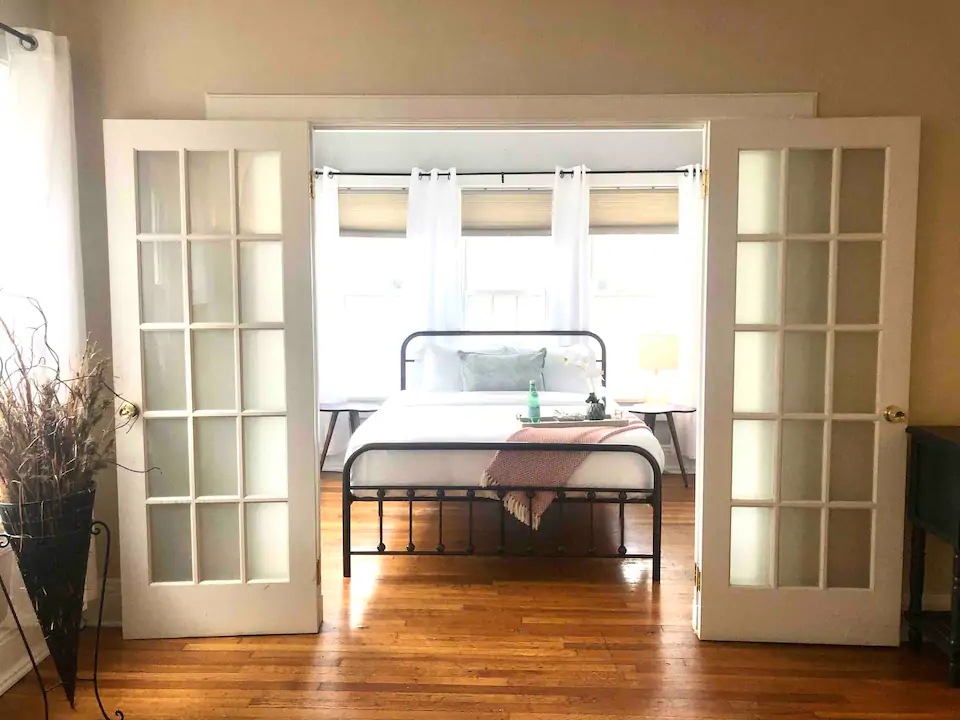 With so many Airbnbs in Nashville, it's hard to pick a favorite! There's a variety of options to fit your needs whether you prefer being close to the action in downtown, or have a place to stay in the quiet countryside.
When looking for an Airbnb in Nashville you'll certainly find something to fit your needs to a cozy and homey stay in Music City, USA.