If you are looking for the best Airbnb in Cinque Terre to accommodate your stay, then you have come to the right place! Cinque Terre is located on Italy's Ligurian Coast and is the place of all of your Italian dreams.
With gorgeous colorful buildings and beautiful coastlines, there's a lot to love about Cinque Terre, and having one of the best Airbnbs in Cinque Terre will be the cherry on top of a fantastic vacation! We have written an article all about Cinque Terre and which village to stay in, which you can read here.
Cinque Terre, or translated as 'five villages' is made up of Monterosso, Vernazza, Corniglia, Manarola, Riomaggiore, with all of them having a different vibe and are good for different things. For example, Riomaggiore has the best nightlife whereas Monterosso has the best beaches.
Airbnbs are a great option for travelers as they can often be cheaper, and the majority of the time with more amenities such as fitted kitchens and private terraces.  In this list, we will break down the best Airbnb in Cinque Terre, mentioning all of the villages so you can decide which airbnb is right for your stay.
If it is your first time staying in AIRBNB, use this coupon code!  Get a FREE $55 Airbnb coupon by using our code when you book! 
15 Best Airbnbs in Cinque Terre, Italy
Best Monterosso Airbnbs
If you're looking for the best vacation rental Cinque Terre with a sea view, this is the place for you! The balcony gives you gorgeous views of the beach and the ocean and is the perfect place to watch the sun go down over the horizon after a busy day.
You get the entire apartment which will sleep four people – perfect for friends or for a family! This VRBO comes with a kitchen, so you'll be able to save money by cooking your own meals rather than eating out every night which can become expensive. Besides, who wouldn't want to stay in an apartment that's pink on the outside!?
Click here to check the rates on VRBO.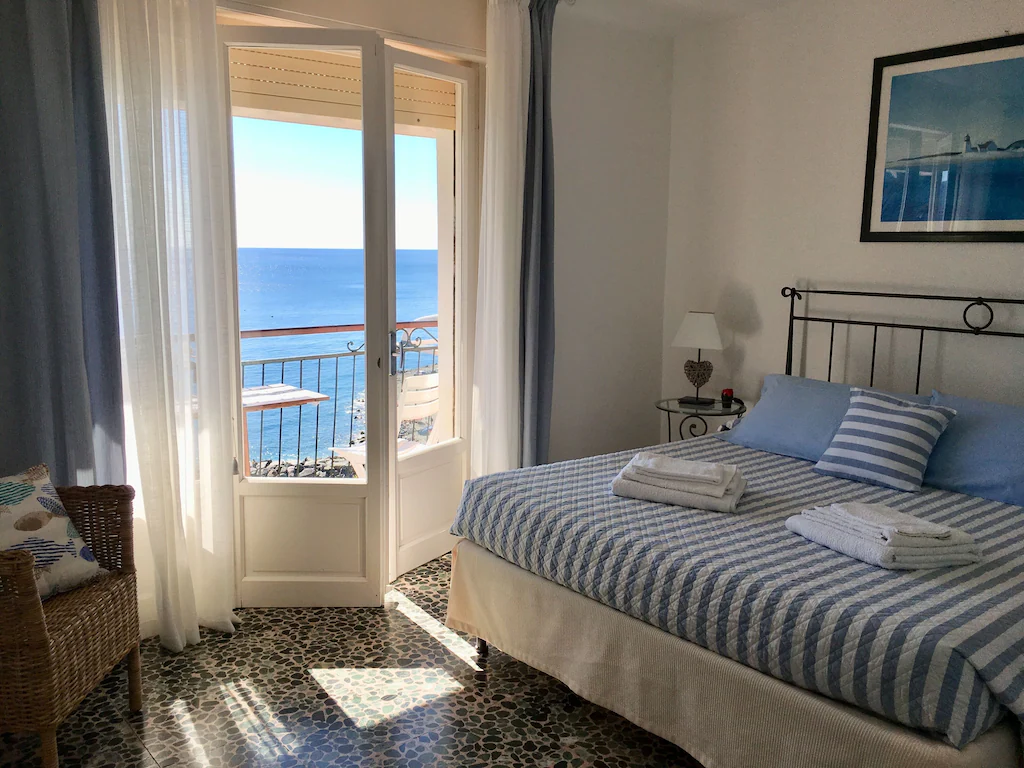 Located just 10 minutes from the train station and 40 steps from the beach, this Cinque Terre villa rental boasts a GORGEOUS fully fitted kitchen and a cute terrace which is perfect for soaking in the views. It is directly above the Fegina Beach, a beautiful place to swim.
It can sleep up to four people and is super close to lots of great restaurants, bars, and pizzerias! If you're looking for a cozy but lively spot, this is the place for you!
Click here to check the rates on Booking.com.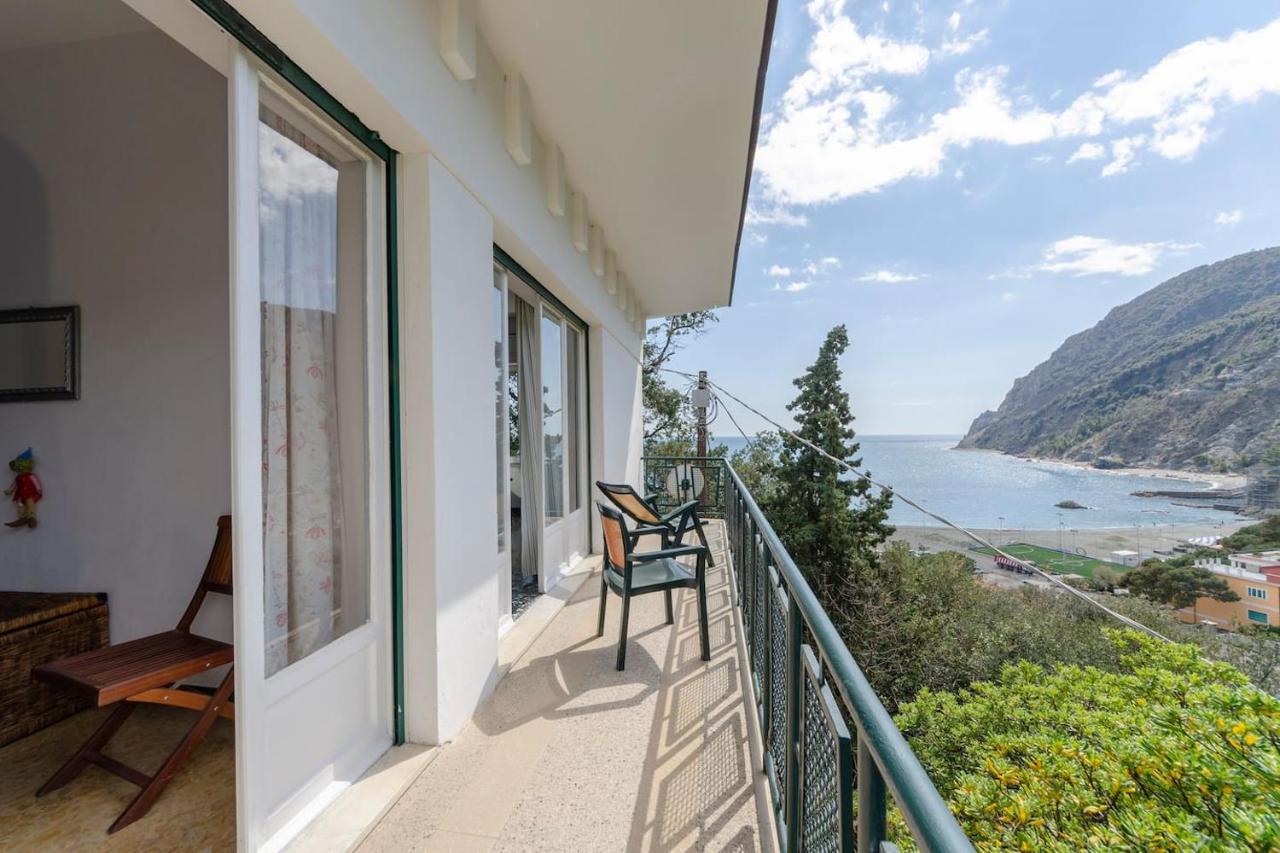 This Guest Suite in Monterosso will suit up to three people and is the perfect Airbnb in Cinque Terre for a couple. You are right in the heart of Monterosso and mere steps away from restaurants and beaches.
This Airbnb is located right next to the San Giovanni Battista Church, which was built in the 13th Century. Bells ring every day at 7:30 am, which may be a nice way to wake up depending on whether you're a morning person or not. The bells can be heard throughout the whole town, so it is something to keep in mind.
Whilst this is technically a rental bedroom, it has its own private entrance so it has the feeling of a private apartment.
Click here to check the rates on Airbnb.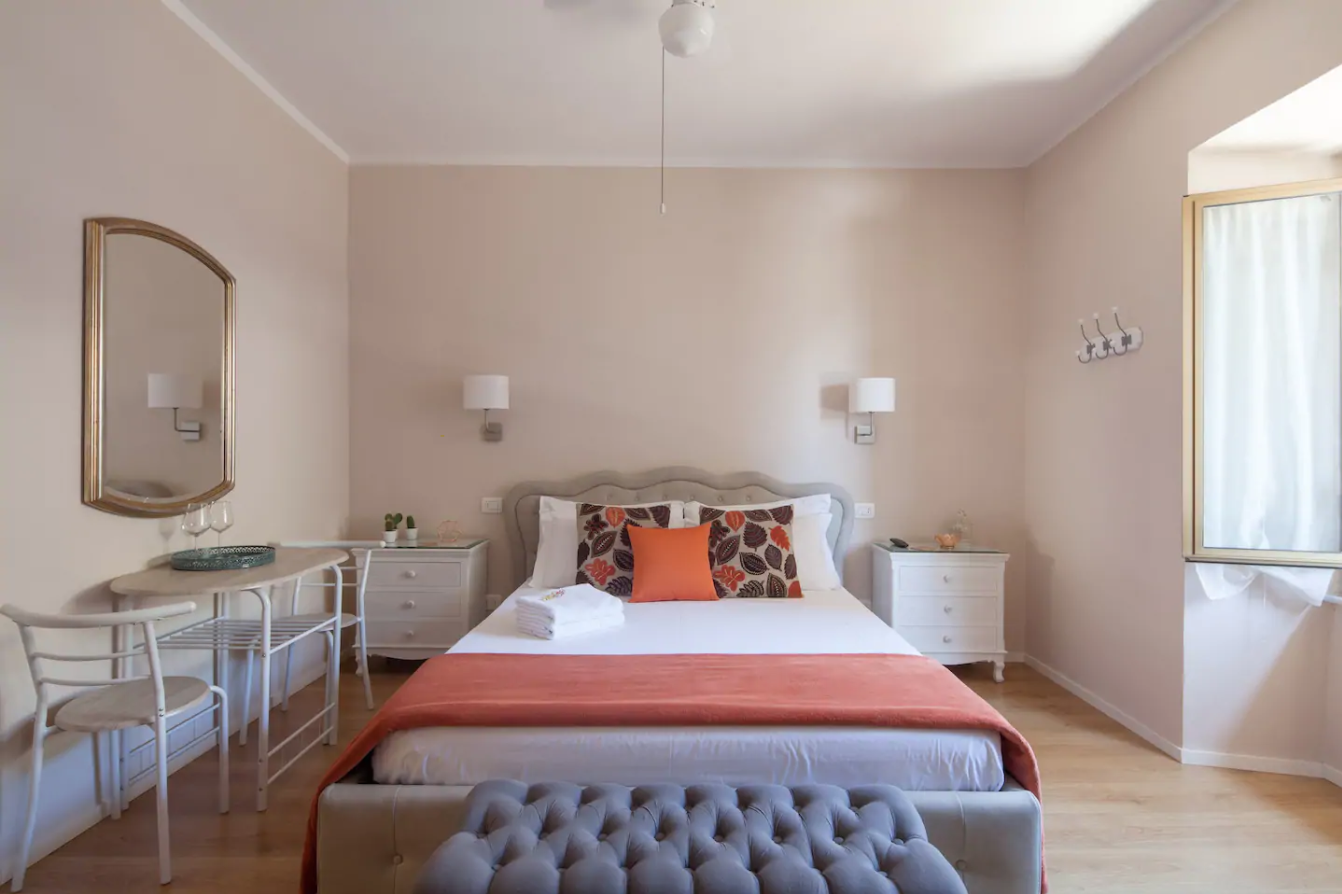 Best Vernazza Airbnbs
Airy and bright, this VRBO can sleep up to six guests and is located right in the heart of Vernazza. Keep in mind though that for these beautiful views, you'll have to climb 75 stairs from main street!
The private balcony has amazing views of the sea, but also of the village itself. This is one of the best VRBO in Cinque Terre if you're looking for something quieter. You're also only 5 minutes to the beach, harbor, and train station.
This VRBO is great for everyone; whether you're a couple, a group of friends, or a family.
Click here to check the rates on VRBO.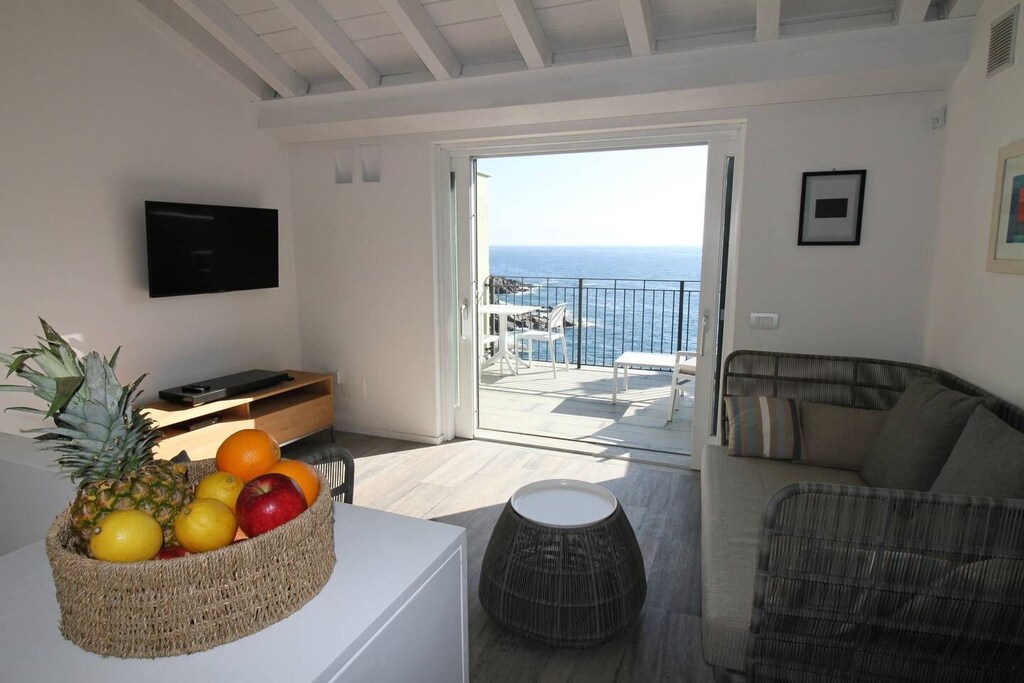 This beautifully decorated flat is one of the only ones in Vernazza still sporting its original decoration and style and has been well restored to accommodate four guests.
Located right on the Marina, this flat is nestled right amongst the gorgeous colorful buildings. This is a great VRBO in Cinque Terre for people who are looking to really immerse themselves in the Italian lifestyle.
Click here to check the rates on VRBO.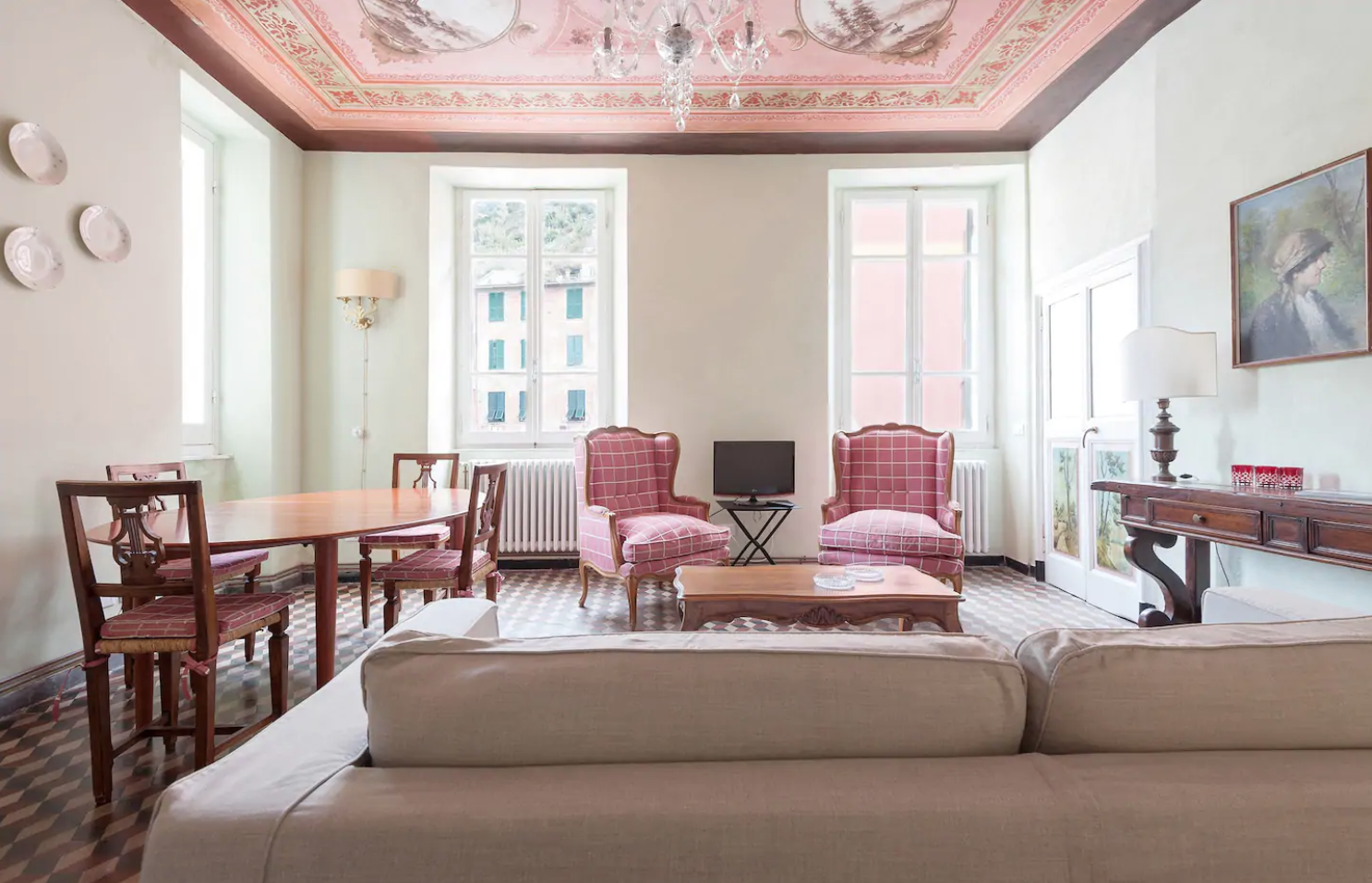 This suite benefits from a lot of natural light and the white walls give it a clean and modern look.
The location can't be beat! It's 250 feet from Vernazza Beach and has breath-taking views throughout! It's a quiet haven from the hustle and bustle, but not so far that you can't take a tour of town!
With country-style decor and wooden beam ceilings, this Cinque Terre villa rental is so romantic and is suitable for up to 2 guests.
Click here to check the rates on Booking.com.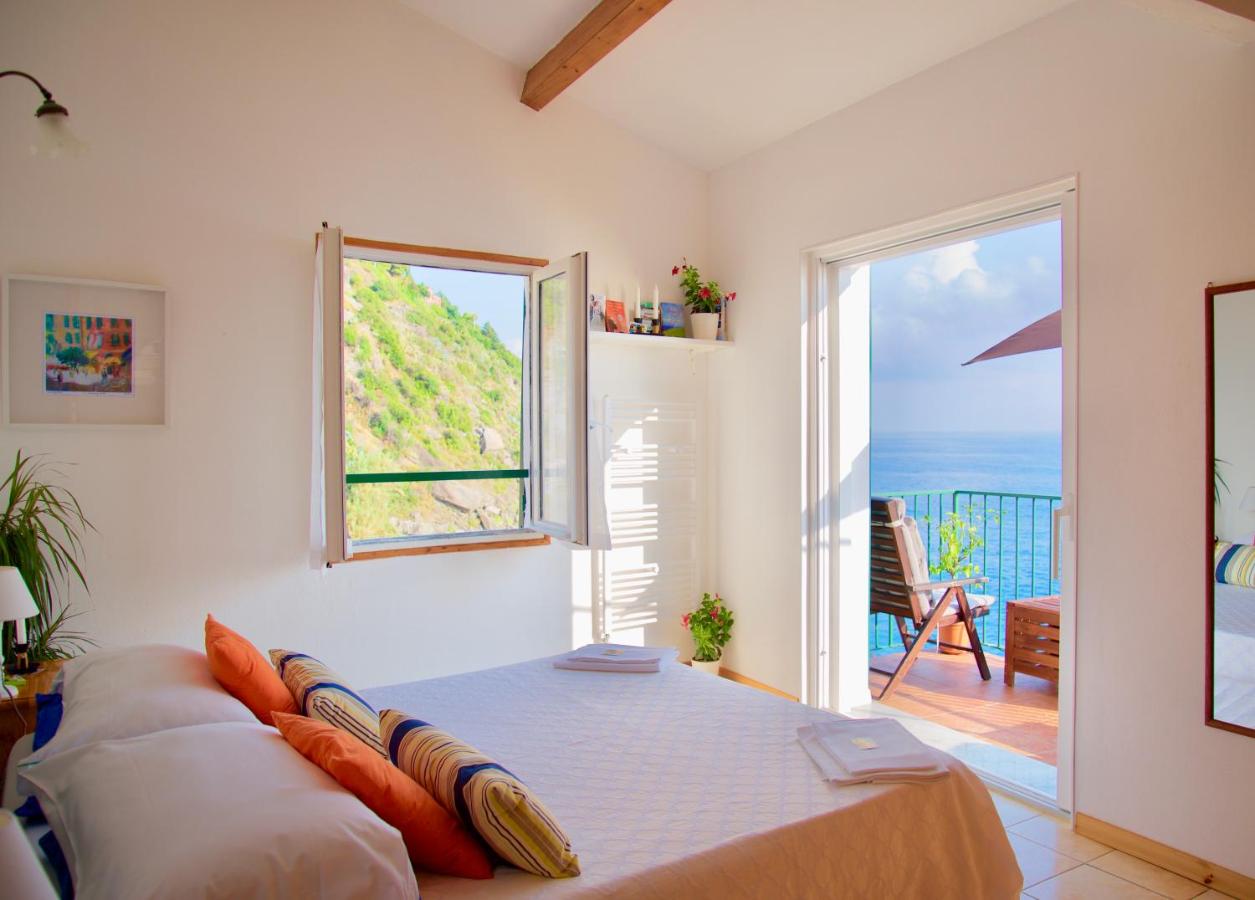 Best Corniglia Airbnbs
If you want a cozy and enchanting getaway that feels a little historical, check out this beautiful apartment, one of the most fabulous Cinque Terra holiday apartments.
You'll be struck by the beautiful stone walls that accent the apartment. Even better is the view of the beach! The terrace is a gorgeous little garden, the perfect place to kick back and relax after a fun filled day.
Suitable for up to 2 people, click here to check the rates on Booking.com.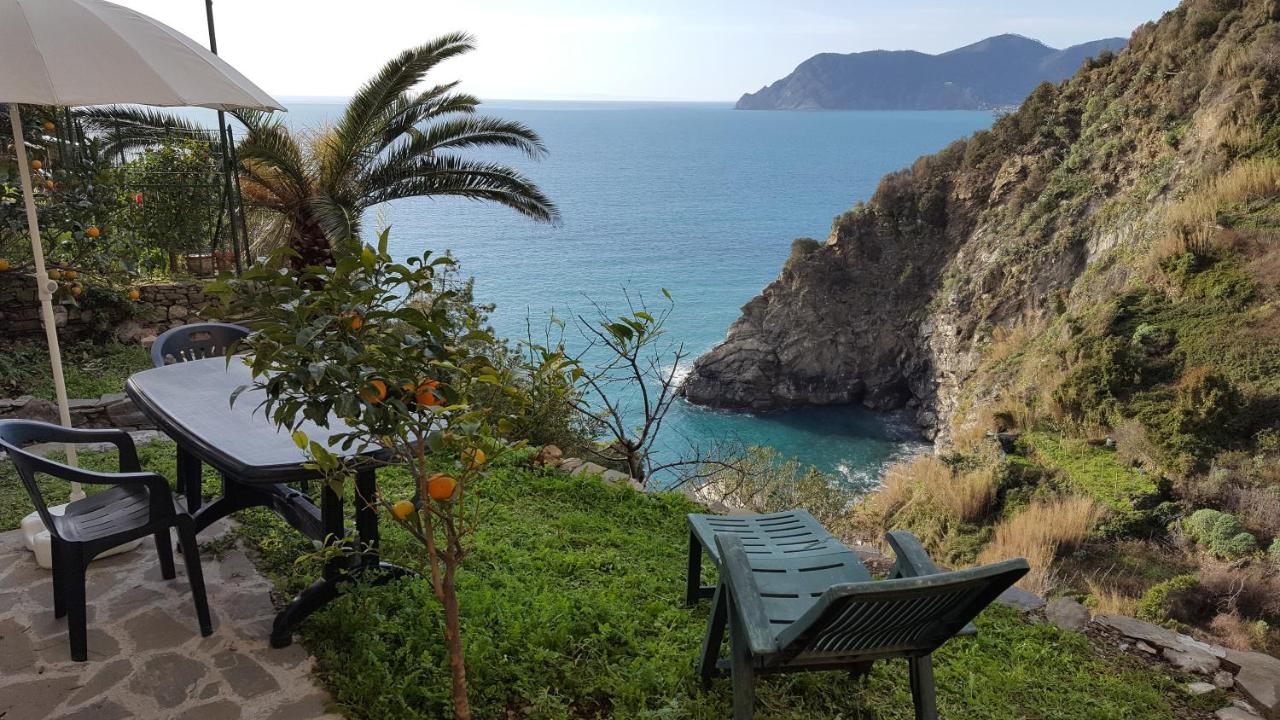 This modern, newly refurbished apartment is located within the downtown of Corniglia, making it just footsteps away from restaurants, bars, shops, and the beach. There is also a shuttle nearby which can take you to and from the local train station.
This VRBO in Cinque Terre suits 8 people with a double bedroom and two double sofabeds. The private terrace is the star of this VRBO, with views you can't believe. Bring some wine and cheese and kick back and relax.
This is a beautiful place that you won't want to leave!
You can check the rates on VRBO here.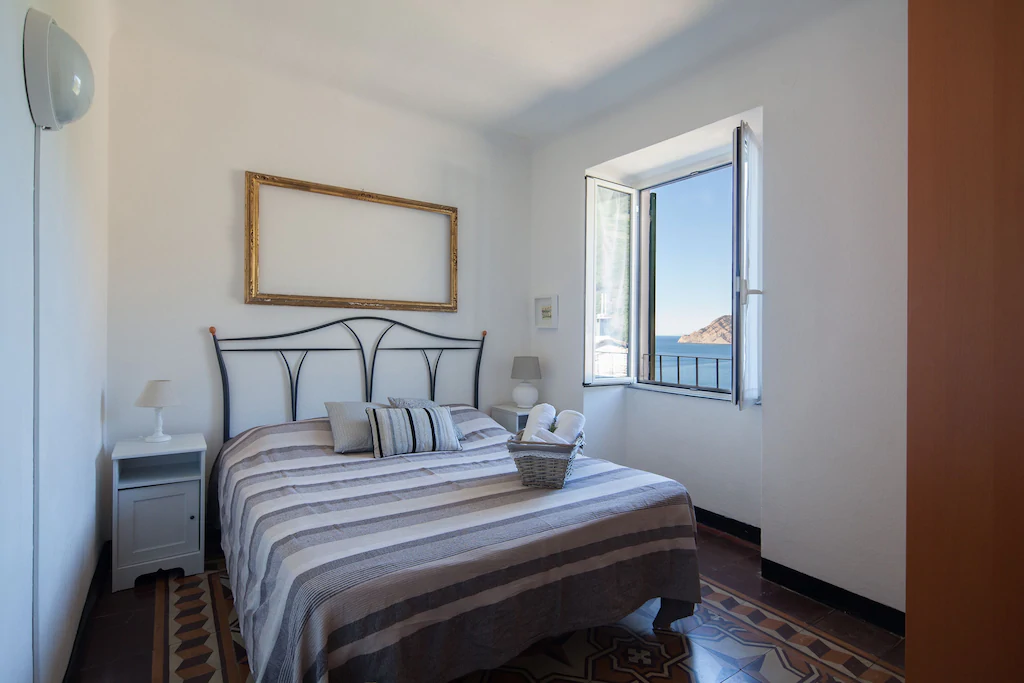 This private room is ideal for a couple looking for a short stay VRBO in Cinque Terre who are looking to spend most of their time in the village.
The windows provide a gorgeous view of the water, making it the perfect place to unwind. The interior is so charming, with light and airy décor throughout.
You'll also love that it's in the heart of Old Corniglia. You'll be in the perfect spot to explore the village on foot. You can't go wrong with this charming place!
Click here to check the rates on VRBO.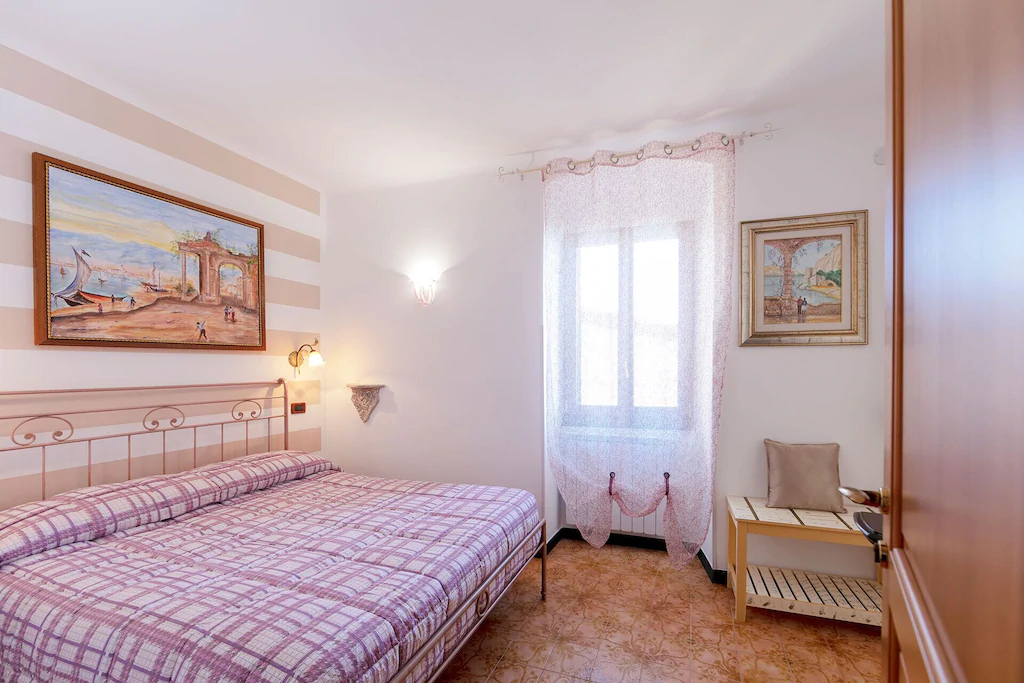 Best Airbnbs in Manarola
Manarola is known for its stunning views, so if you're looking for a Cinque Terre VRBO with a view, Manarola is the place for you.
This apartment is not like your typical Cinque Terre apartments. It has a view of both the city and the ocean! Take your morning coffee on the balcony and watch the city come alive! Take a gander of the bluest water you'll ever see through the window on the otherside!
The flat can sleep six people and you can check the rates on VRBO here.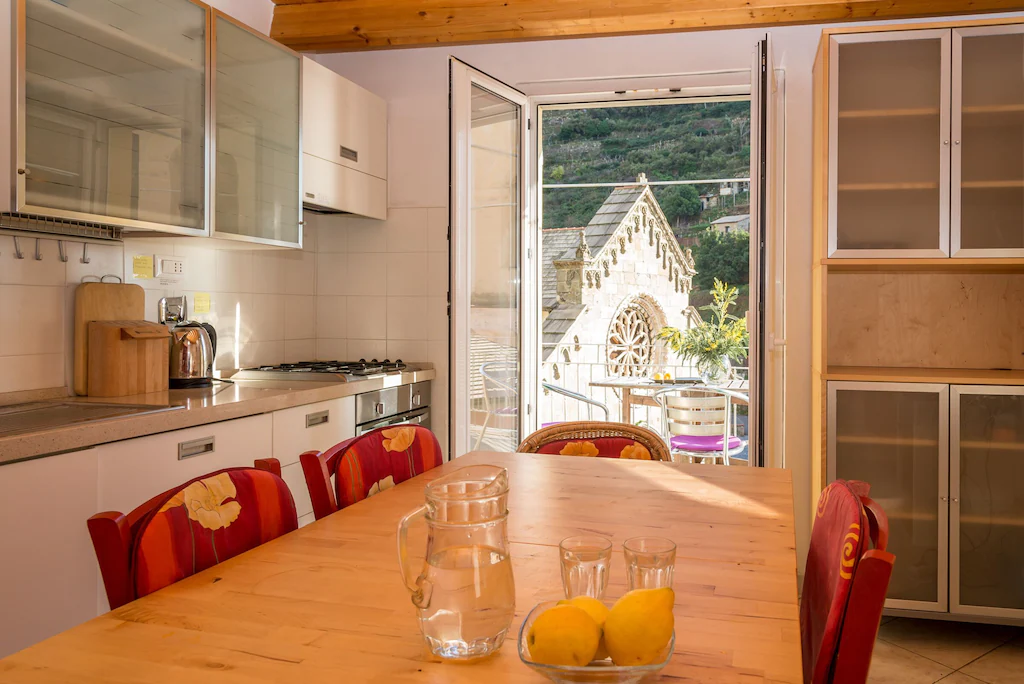 As you can imagine from the name, this Cinque Terre villa rental has one of the best terraces in all of Manarola. Soak in that refreshing ocean air here!
This beautiful and classic VRBO has one bedrooms and can host up to two people. You're just steps away from the yummiest restaurants and most fun shopping that the city has to offer. The host is happy to give you insight into the city and, if you're lucky, a bottle of her delicious and homemade limoncello!
You can click here to check the rates on VRBO, and we think you'll get the most magical experience at this sweet stay.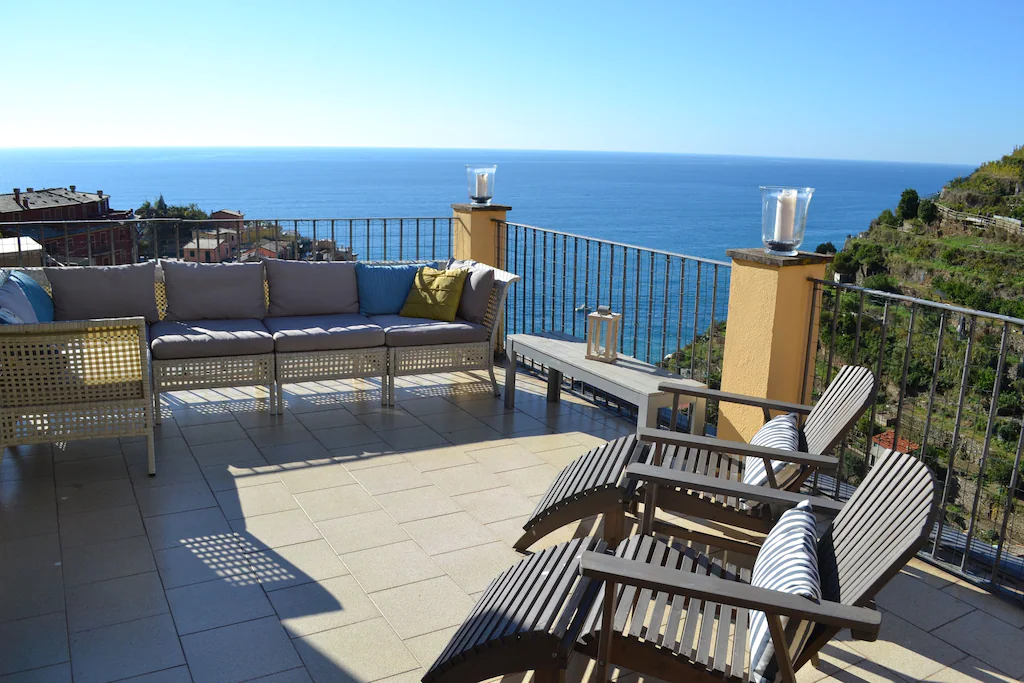 Located on the ground floor of a two-story villa, this apartment perches on rocks overlooking this sea.
Panoramic views from the ocean can be enjoyed on the terrace with a glass of wine. With its own kitchen, you have the option to be able to prepare your own meals as well as enjoying the local restaurants.
Click Here To Check Rates On Airbnb.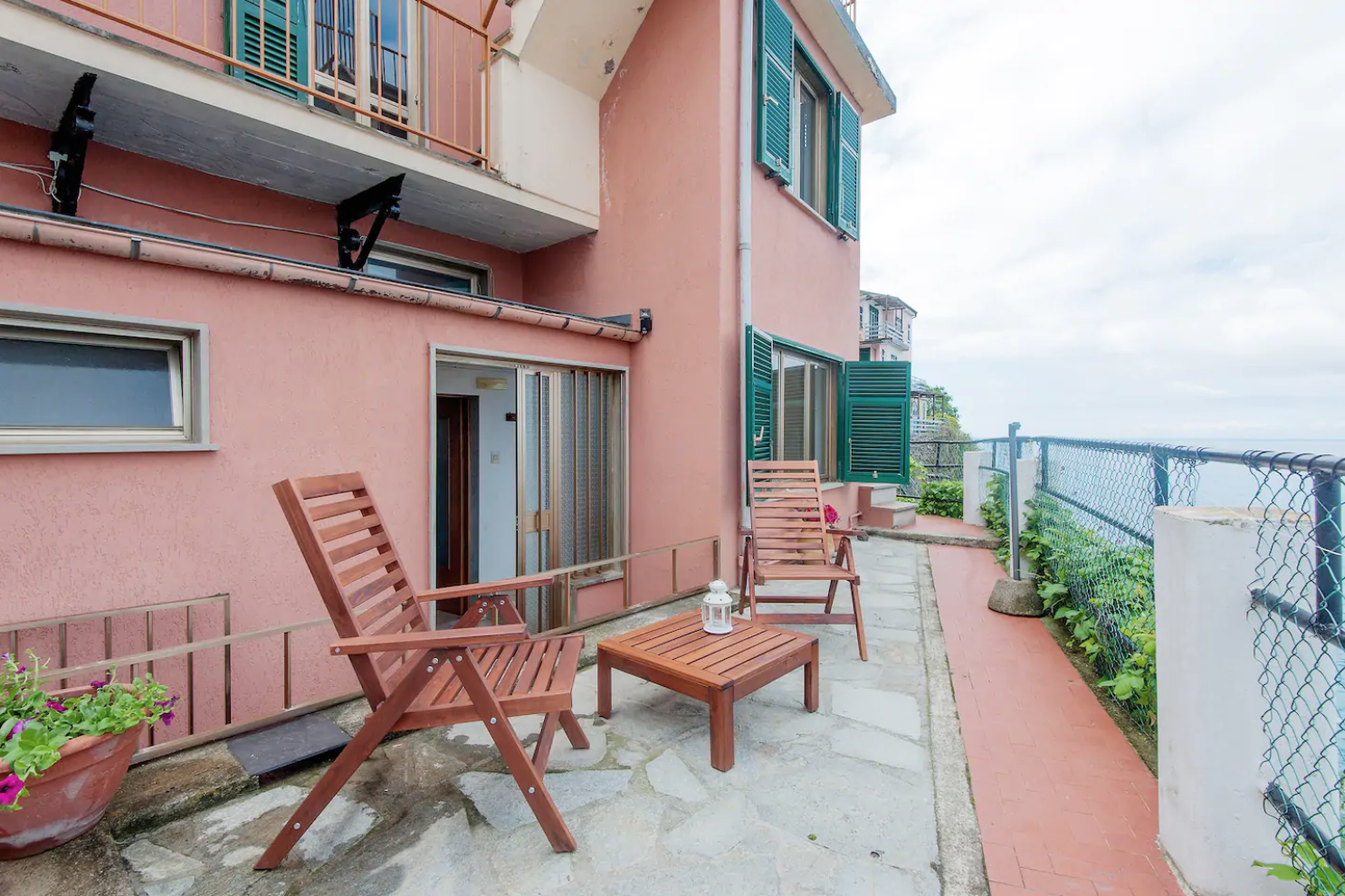 Best Riomaggiore Airbnbs
This Airbnb is one of the best Airbnb in Cinque Terre for a romantic getaway.
The studio is located in a historic house right in the heart of Riomaggiore. Whilst this is one of the more popular villages in Cinque Terre, you will not notice the hustle and bustle of the streets as the windows are soundproof! 
With the modern, fresh decor and the fully fitted kitchen, it's a great Airbnb in Cinque Terre if y0u truly want it to be just the two of you as you will be able to cook your own meals.
The exposed brick walls give this suite a nice rustic charm, which gives this place a very inviting look.
Click Here To Check Rates On Airbnb.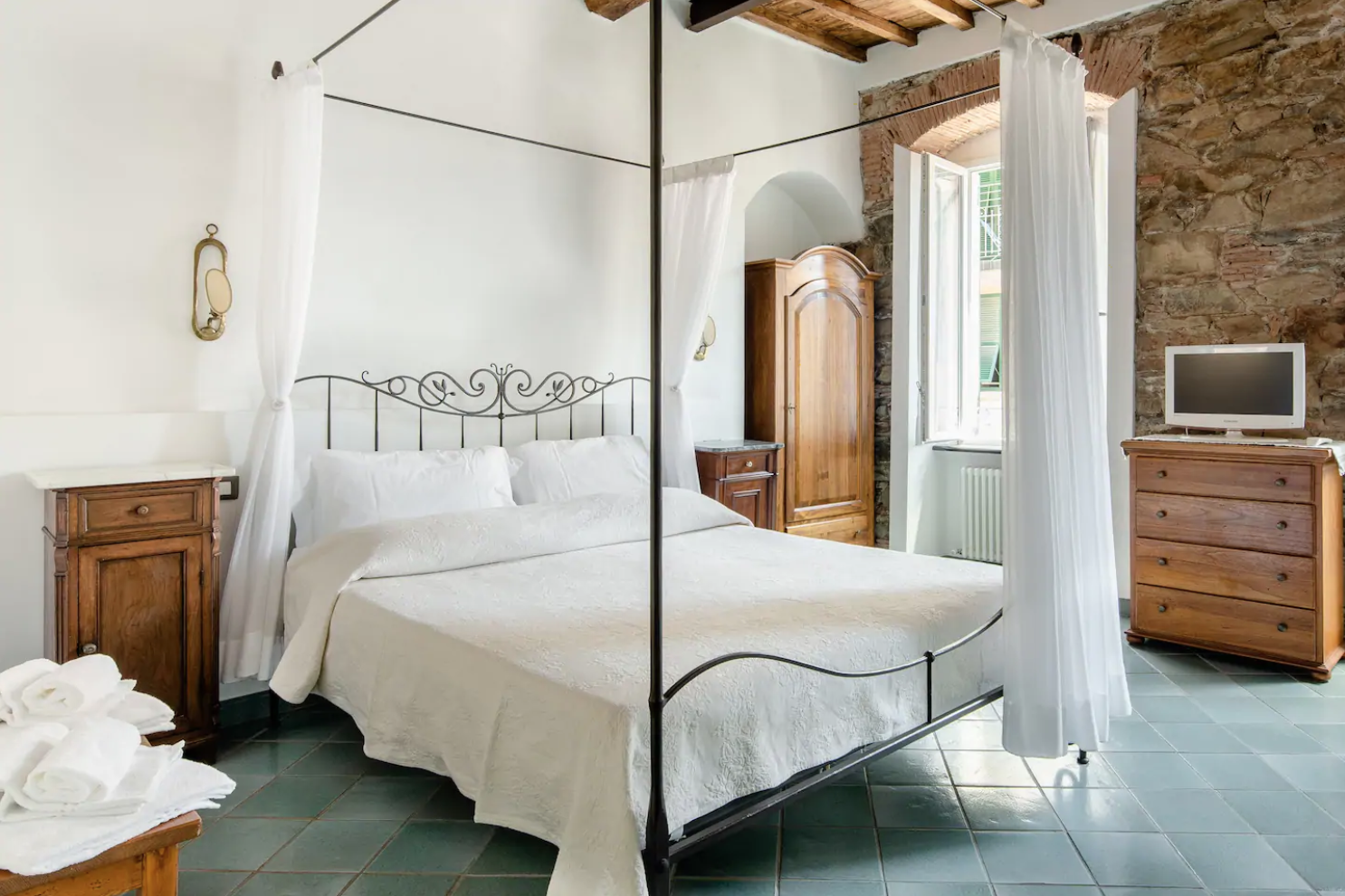 This rental benefits from a large terrace and colorful, modern interior.
With a dining table situated on the terrace, we're sure you will be having all of your dinners with a gorgeous sea view underneath lemon trees! The studio inside has Italian design pieces such as Foscarini lamps and Doimo Italia design furniture.
Ideal for couples or the lone traveler, you can click here to check the rates on Booking.com.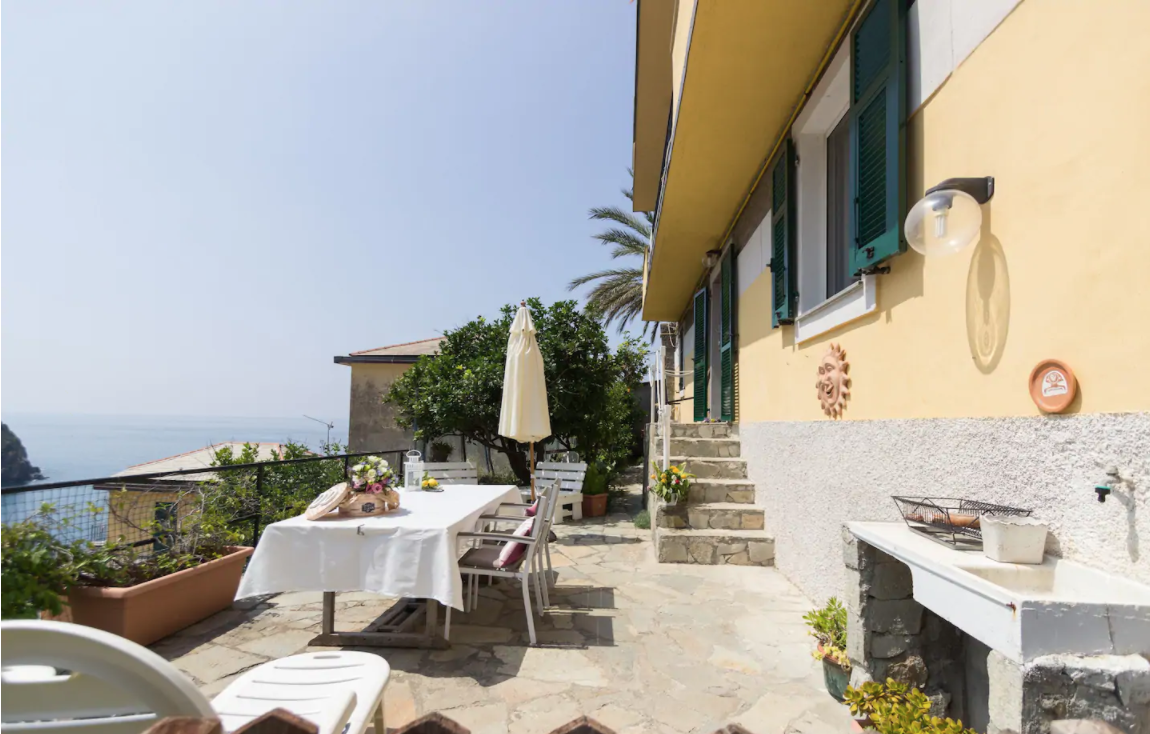 This stunning penthouse in the heart of Riomaggiore is bound to entice you in with that gorgeous view of the village of the sea!
Even though this flat is suitable for 4 guests, this is one of the most romantic holiday rentals in Cinque Terre. With vibrant and modern colors throughout, we think you'll love the artsy vibes inside this VRBO.
The balcony has a jaw-dropping view of both the beach and the mountains! The unit comes with a full kitchen and even a washer, making it a great base camp for a long or short stay!
Click Here To Check Rates On VRBO.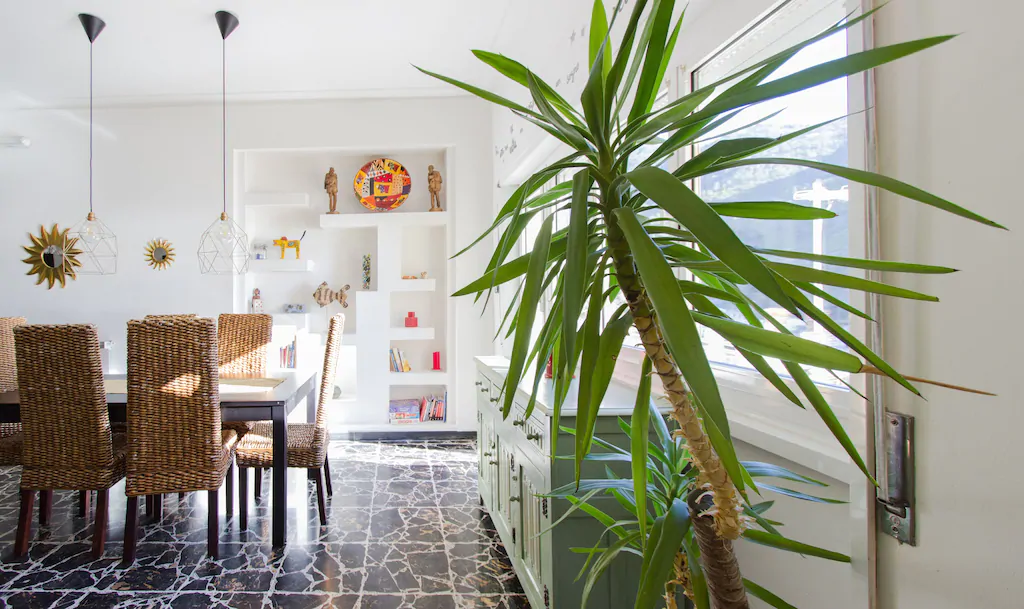 And there you have it! That's our list of the best Airbnbs in Cinque Terre. We hope you enjoy your stay in one of the most beautiful places in Europe, whichever village you choose to stay in!