Looking for the best Tucson Airbnbs for your next desert getaway? We're here to help with these 15 unique suggestions.
Tucson offers sunshine all year round, ideal winter weather, beautiful desert landscapes, delicious Mexican food, excellent hiking opportunities, and more. To make the most out of your trip however, you'll want to make sure you're staying in one of the best Airbnbs in Tucson.
Staying in a Tucson Airbnb gives you the added benefits of connecting with locals, getting their advice, and feeling like you're truly in a home away from home.
Many of the Airbnbs in Tucson are also historic homes in historic neighborhoods, so you could be staying in a remodeled bakery or sleeping under original 1929 wood beams.
So go ahead and take a look at this list of our favorite Airbnbs in Tucson and find the one that will be your cherry on top of a perfect southwest vacation.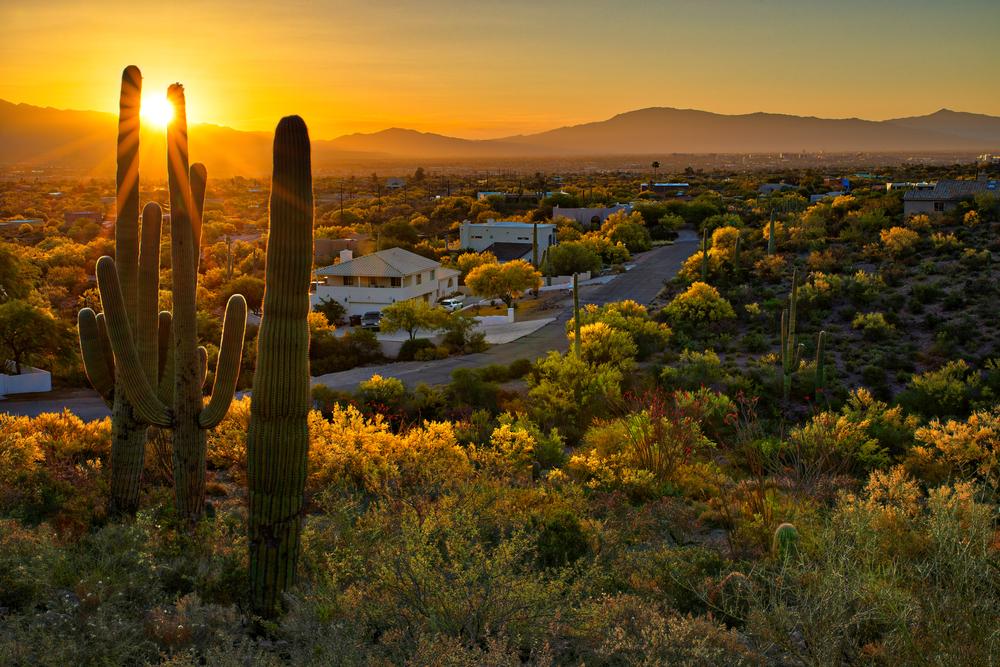 15 Best Airbnbs In Tucson, AZ (Cabins, Adobes And More!)
The Root Beer Adobe
Cozy, unique, and the perfect blend of historic charm and modern conveniences, the Root Beer Adobe is easily one of the best Airbnbs in Tucson. You'll find this spacious home is built with sturdy adobe walls, some plastered and some exposed, with beautiful wood beams on the ceilings above. 
The home is located in Barrio Viejo a quiet, historic neighborhood that is one of the oldest in Tucson. Built in the 1890's, the Root Beer Adobe sports an old sign on its front wall from the 50's when the building operated as a soda shop.
While enjoying the peaceful nature of this beautiful neighborhood, you can also take advantage of its convenient location within walking distance of cafes, restaurants, and downtown Tucson. It's also located only 2 miles from the University of Arizona and 15 minutes from Saguaro National Park.
From the vintage stove and bedroom skylights to the record player and book collection, the Root Beer Adobe is everything you could hope for in a home away from home. So dance around to the tunes coming from the vintage records or relax in the backyard among the fruit trees and get ready for a vacation to remember.
Click Here To Check Rates On Airbnb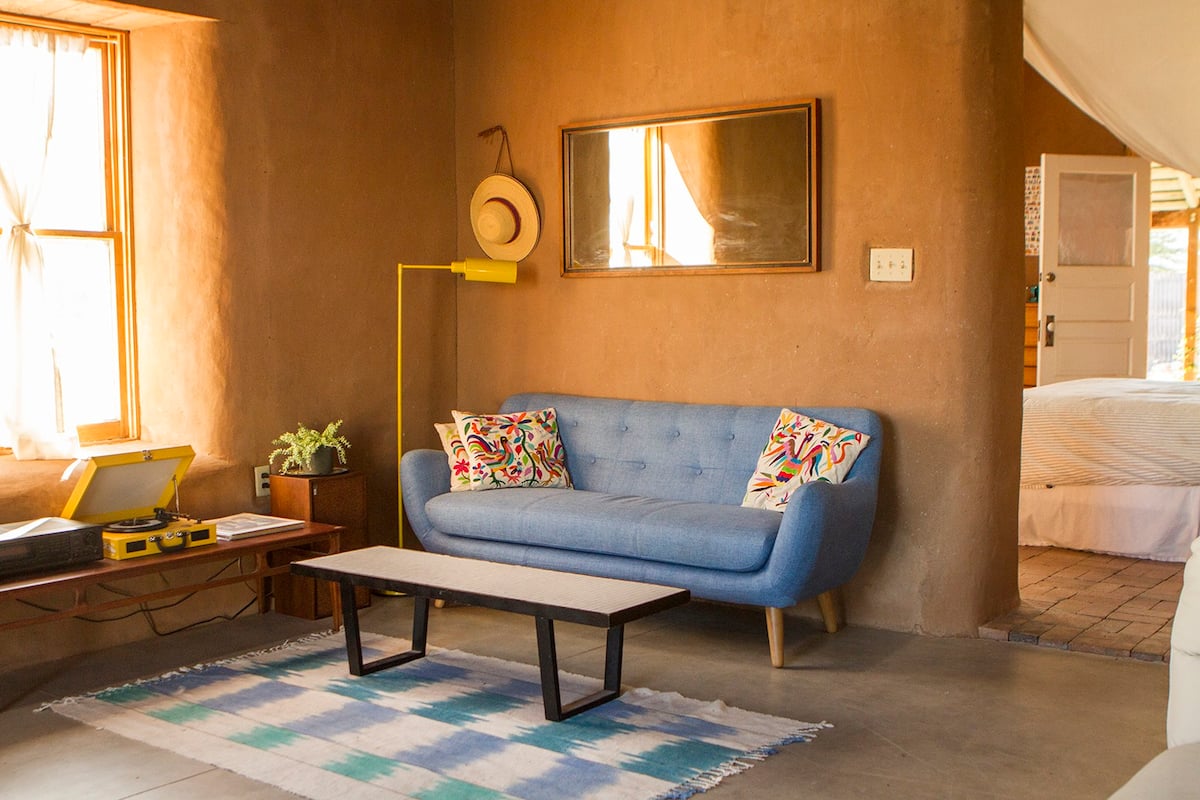 Casita Del Rey
We should start by mentioning that this beautiful Tucson Airbnb is home to Mediterranean miniature donkeys, horses, Nigerian Dwarf and Pygmy goats, and chickens. Hanging out with these animals is just the tip of the iceberg as far as what this impressive 5-acre property can offer you during your stay.
The small one-bedroom casita exudes southwest charm and is the perfect place to rest your head at night, but the real fun is found right outside the door.
When you're not visiting the animals you can cool off and kick back at the pool, shoot some hoops on the basketball court, relax in the courtyard, or grill at the BBQ pit.
When you're ready to venture outside the property to explore the rest of Tucson, you'll find that a short drive will take you to downtown Tucson or to excellent hiking trails in the Catalina Foothills.
Click Here To Check Rates On Airbnb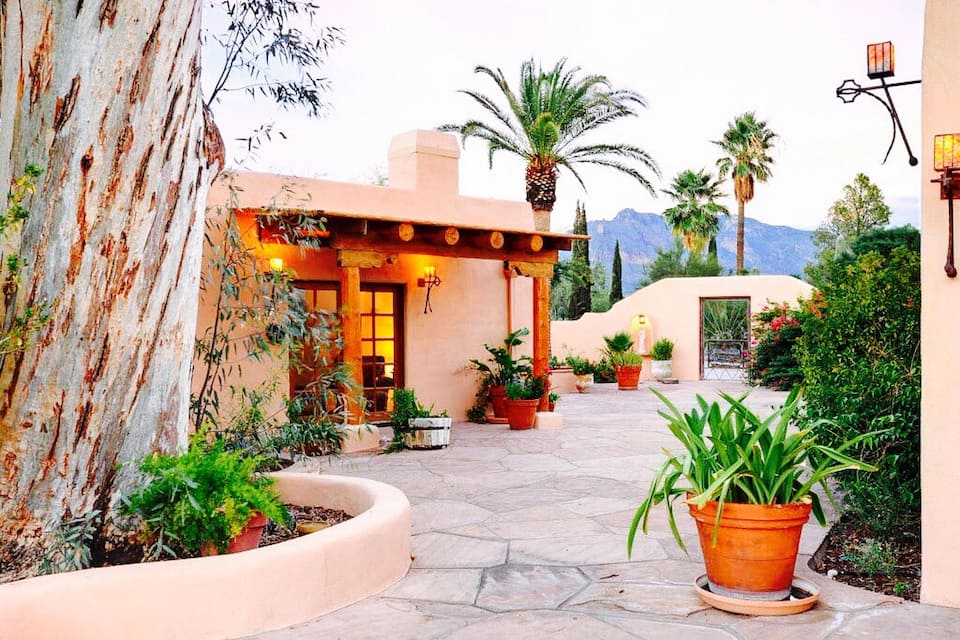 Tucson Poet's Studio
Visiting Tucson means having the opportunity to stay in a beautiful, unique home constructed from sun-dried adobe brick. As one of the best Tucson Airbnbs, the Poet's Studio is one of those adobe homes you won't want to miss.
This charming home is an ideal 2-person accommodation located in close proximity to excellent restaurant options as well as downtown Tucson. If you're visiting during the fiery hot summer months, make sure you take advantage of the plunge pool on the property to cool off.
The thoughtful host has coffee and green corn tamales among other treats waiting for you when you arrive. And if you can't bear to leave your pet at home while you travel, they're more than welcome at the studio!
You won't be disappointed if you allow the Poet's Studio to be your home base as you explore Arizona's southern desert landscapes.
Click Here To Check Rates On Airbnb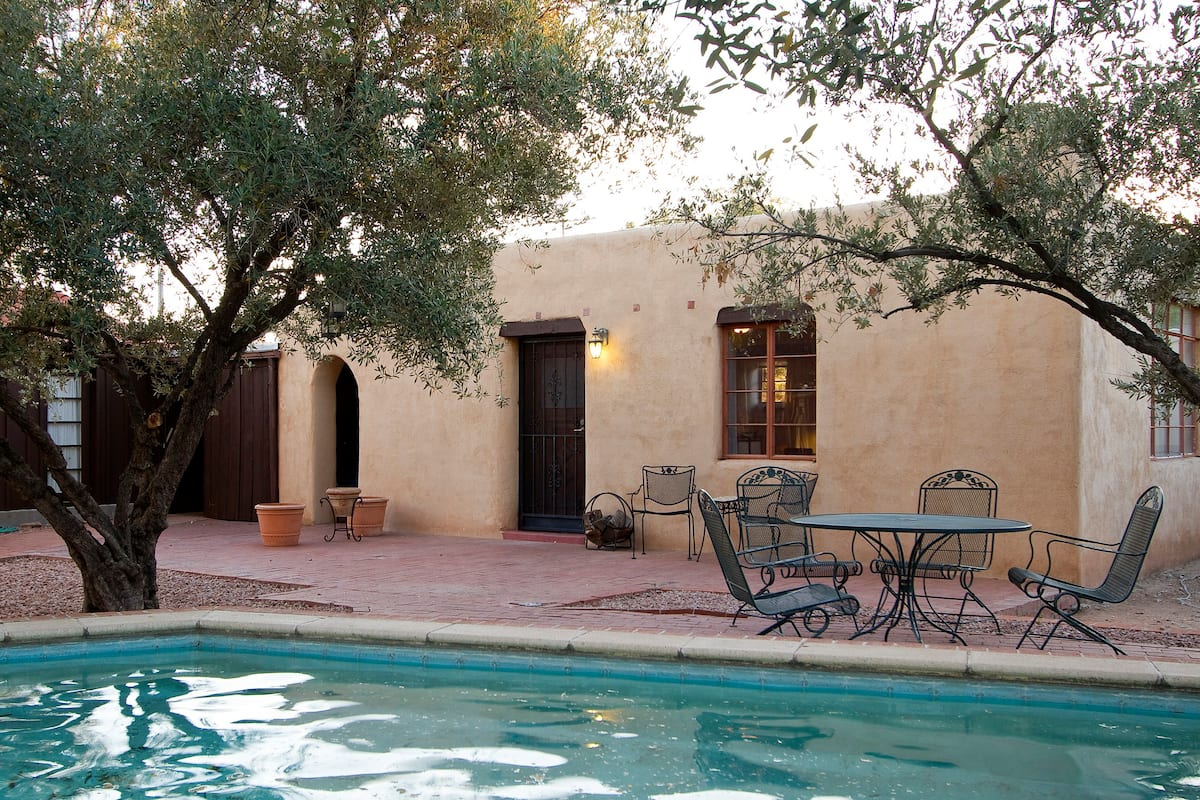 Get Some Social Distance Amongst The Saguaros
When you think of classic Tucson architectural styles you might picture Old Pueblo or New Modernist homes rather than cabins, and yet waiting for you at the edge of the Saguaro National Park is the perfect desert cabin retreat. This unique home is one of the best cabin rentals near Tucson, and it can be your peaceful, 3-acre happy place for your next vacation.
During your stay you'll have full range of the property including the pool which is perfect for hot summer days (the property and pool are shared with the main house). Just a short venture off the property will take you to hiking and biking trails in the Sweetwater Reserve. For all your necessities you'll find stores and restaurants just 5 minutes away and the University of Arizona just 15 minutes away.
The cabin itself is over 100 years old, but it is outfitted with all the modern amenities you'll need including a washer and dryer and a dishwasher. At night you can enjoy the coziness of this frontier cabin as you curl up next to the wood-burning fireplace while entertaining yourself with the provided books and board games.
If you're not curling up inside, you might try making dinner on the gas grill before hopping in the pool to watch the notoriously stunning Arizona sunset. Watch for rabbits, quail, javelina, (and yes it's possible you'll encounter a snake or scorpion that will remain harmless if you leave them alone), and listen for the coyotes howling at night.
Click Here To Check Rates On Airbnb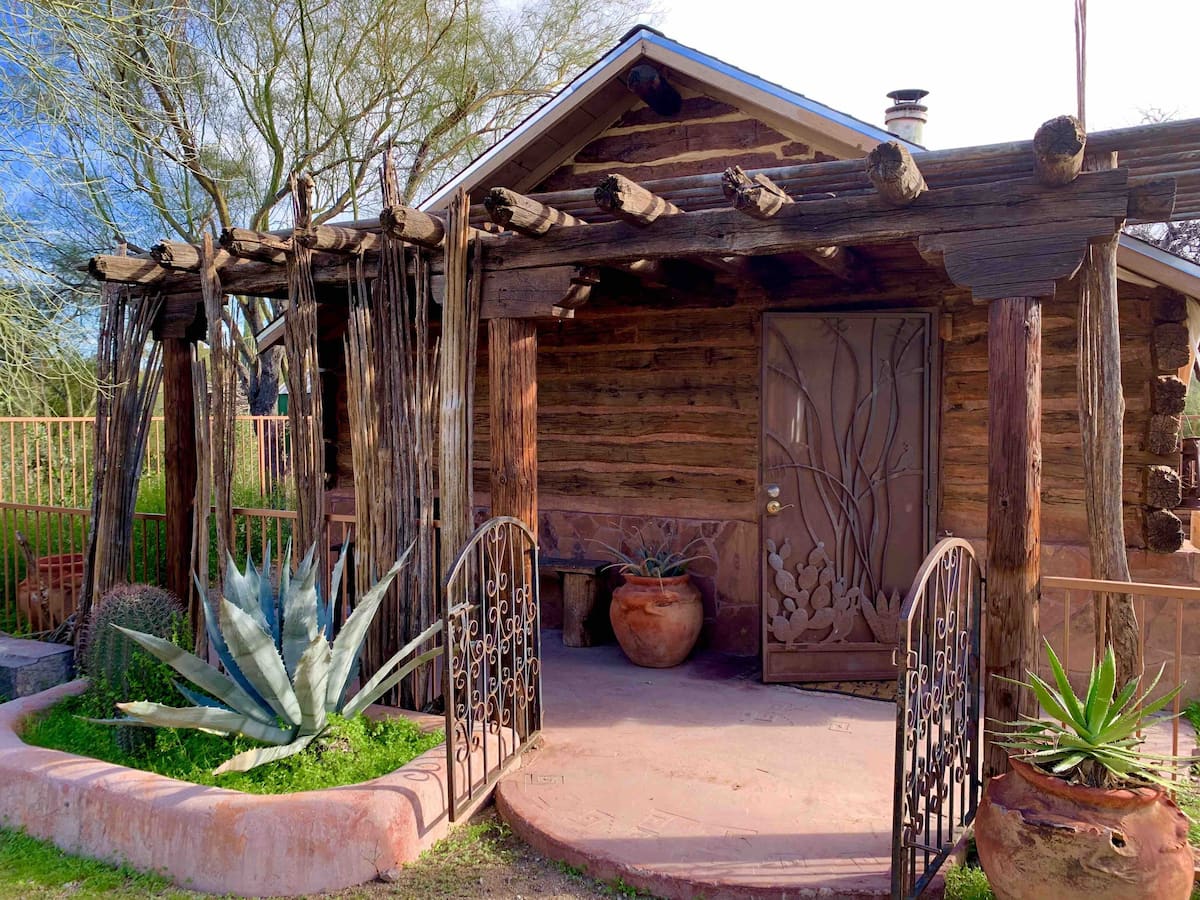 Stylish, Historic Bakery
Are you looking for historic Airbnbs in Tucson? This 120-year-old bakery complete with an old Spanish revival storefront, an armoire made from Mexican church doors, and a saguaro ribbed courtyard door screen, is the perfect southwestern getaway for you.
The high walled private courtyard is a particularly loved part of this Airbnb. With a fountain, orange tree, and flowers that attract the occasional hummingbird, it provides you with the relaxing sunlit setting for a morning coffee or a peaceful dinner cooked on the natural gas grill.
The Bakery is conveniently located just 5-10 minutes walking distance from downtown. Amazingly, despite its close proximity to the hustle and bustle of the city, the home is quiet, and the thick adobe walls certainly help to block out noise.
The Armory Park neighborhood where the Airbnb is located is on the National Historic Register and is full of unique charm and beauty that you're sure to love. Whether you're wandering the neighborhood, catching up with friends and family in the spacious, sunny great room, or are gazing at the beautiful patio through the wall of windows in the sunroom bedroom, your stay will be a memorable one.
Click Here To Check Rates On Airbnb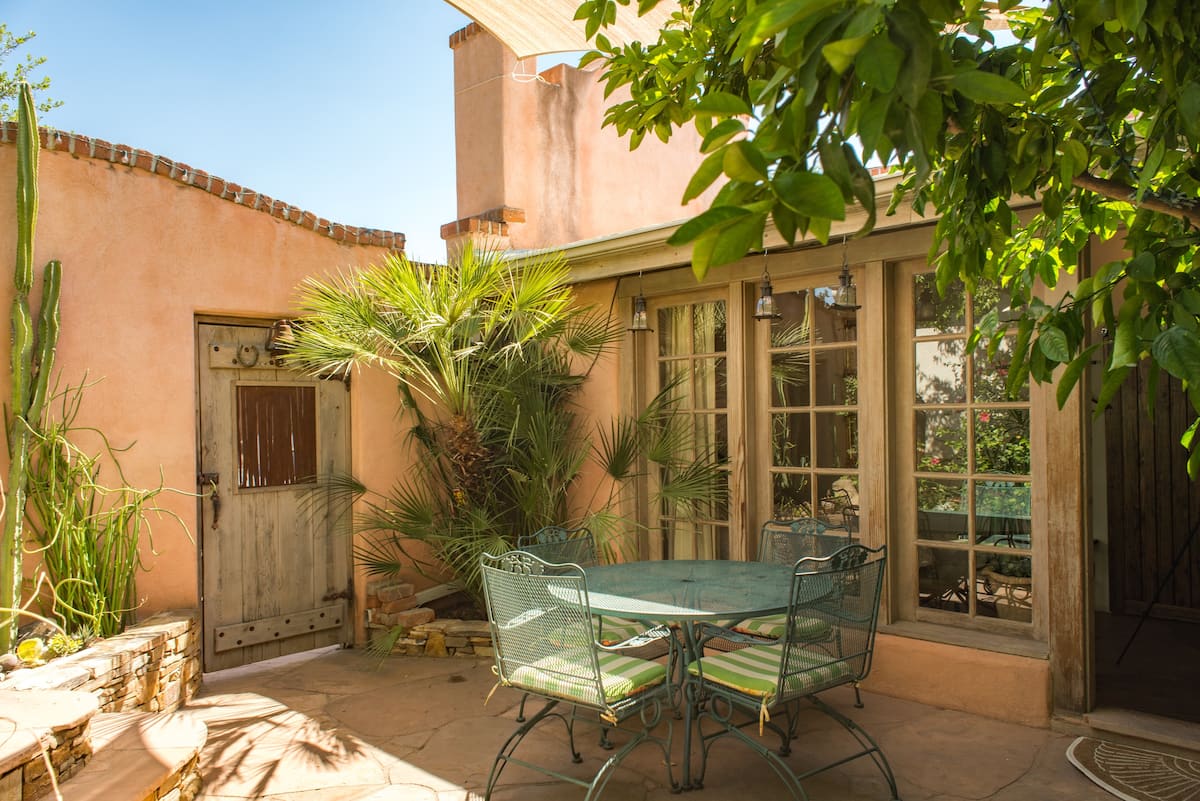 Desert Vibrations
A stay in one of the Airbnbs in the Tucson Foothills is exactly what you need to wind down and relax. Desert Vibrations with its magical desert views of the Catalina Foothills, towering saguaros, and majestic mesquite trees is that perfect location you're looking for.
The private backyard alone is enough reason to book this Tucson Airbnb in the Foothills neighborhood. Jump in the unheated pool for a refreshing dip or soak in the hot tub while basking in the glow of the famously spectacular Arizona sunset surrounded by string lights.
Sitting on the front porch bench with a cup of coffee as you watch the javelinas or rabbits go about their business is a great way to start the morning. And after a packed day of adventures around Tucson you can wind down with an al fresco dinner in the backyard followed by s'mores around the fire pit.
A quick 15 minute drive from the house will take you to downtown, historic 4th avenue, and the University of Arizona, while a mere 5 minutes will get you to excellent restaurants and shops. If you choose to stick around the house however, head to the Arizona room for beautiful window views, a bar complete with local mescal, a record player and vinyl collection, a daybed and futon, and board games for your whole party to enjoy together.
Click Here To Check Rates On Airbnb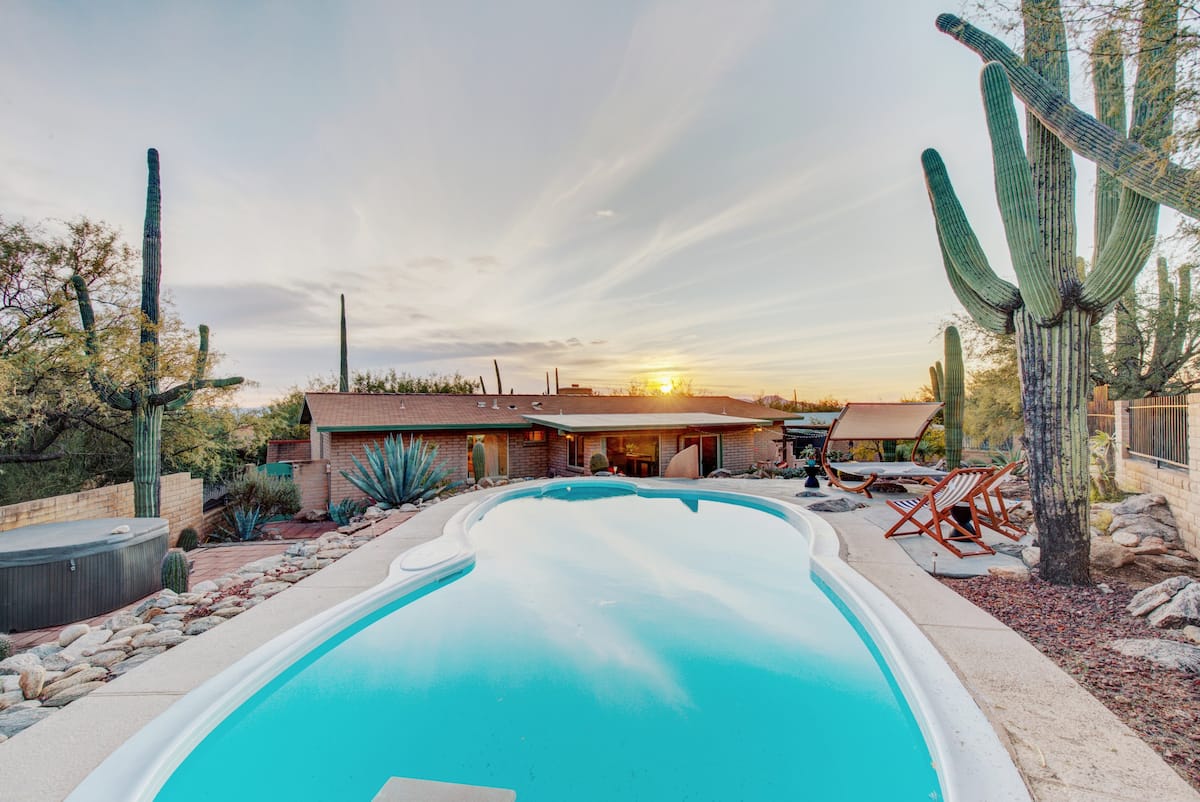 Copper House
The Copper House is a unique architectural structure that complements the surrounding desert landscape. As one of the best Airbnbs in Tucson you'll be sure to love this charming, private studio. 
Sunlight streams through this beautiful home thanks to the large windows throughout. Besides being fenced in making it perfect for bringing your pet along, the patio is particularly inviting as well with its view of the Catalina Mountains, picnic table for enjoying a cup of coffee or a meal, and decorative airstream.
Shops and restaurants are a quick stroll from the house making it easy to venture out when you wish. Tucson's downtown as well as excellent hiking opportunities are a short drive away as well.
Two bikes are available for your use, which is particularly convenient given the Airbnb's proximity to the Rillito River Park trail system. When you're done exploring Tucson's gems you'll enjoy returning to the cozy, modern comfort of the Copper House.
Click Here To Check Rates On Airbnb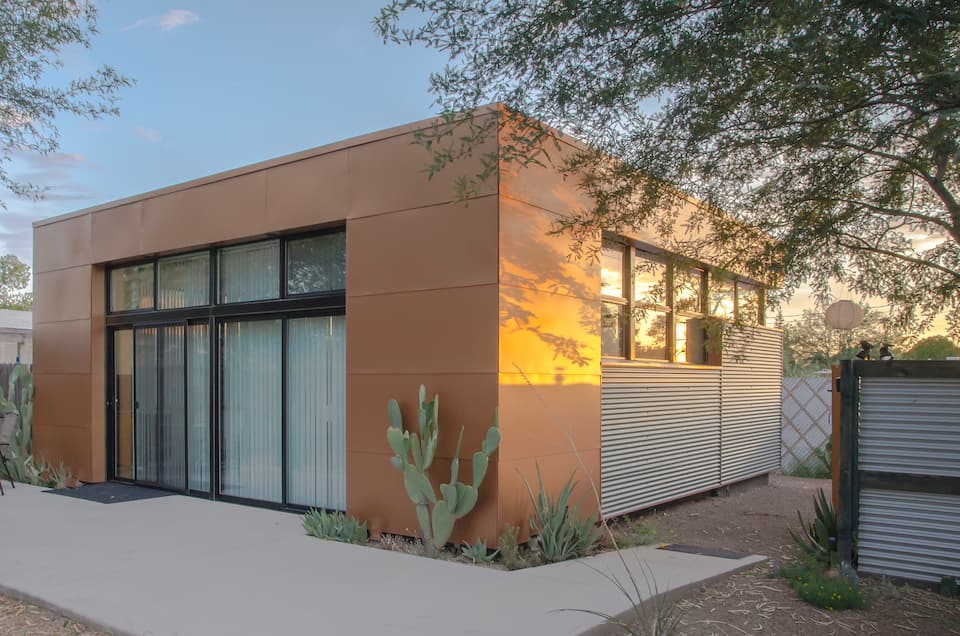 Central and Stylish Midcentury Pool House
Welcome to your own little oasis at this charming Tucson Airbnb. The Pool House is the perfect summer getaway when you're seeking plenty of sunshine and a refreshing plunge in the pool.
You can't help but relax at this stylish accommodation with its floor to ceiling windows that let in ample sunlight and pleasant views, and the sliding doors that when open, welcome in a fresh breeze. Though the pool and outdoor grill are shared with the hosts living in the property's main house as well as any guests staying in the casita, you'll still feel like your privacy is respected.
You are welcomed to your adobe home away from home with coffee, tea, treats, and pastries to start off your first day in Tucson the right way. Gather up your breakfast and head to the patio to fully enjoy the mountain views before taking your first dip of the day in the pool.
The pool house is located in the historic Jefferson Park neighborhood that is nearby the University of Arizona and is conveniently within walking distance of the streetcar that can take you downtown, to 4th avenue, and beyond. When you're done exploring and are ready to wind down your day you might consider returning to the patio to enjoy the glow of the string lights and the desert's setting sun.
Click Here To Check Rates On Airbnb
Mid-Century Modern Beauty in the Perfect Location
Hoping to spend quality time with family and friends at one of the best Tucson Airbnbs? This remodeled, mid-century modern beauty can accommodate up to 8 people with its stylish, comfortable bedrooms.
If you're vacationing with children they can have their own bedroom with two twin beds and free access to all their favorite Disney+ shows and movies. For younger children and babies, a highchair and pack-n-play are also available.
You'll find spending time in the spacious, fenced in backyard to be particularly enjoyable, whether you're gobbling up a delicious dinner made on the grill, watching your kids or dogs run around, or just sitting and appreciating the sunset and quiet evening. When you're ready to head back inside, one of the bathrooms features a large Jacuzzi tub that will be just the relaxing end to your day you're looking for.
Should you need to venture out for shopping, groceries, meals, etc., you'll find you're located just a stone's throw from all the stores you need including Costco, Target, Fry's, Starbucks, and more. You can also reach Sabino Canyon and its fantastic hiking trails in 10 minutes or just head across the street to tackle any portion of Tucson's 130-mile bike loop.
Click Here To Check Rates On Airbnb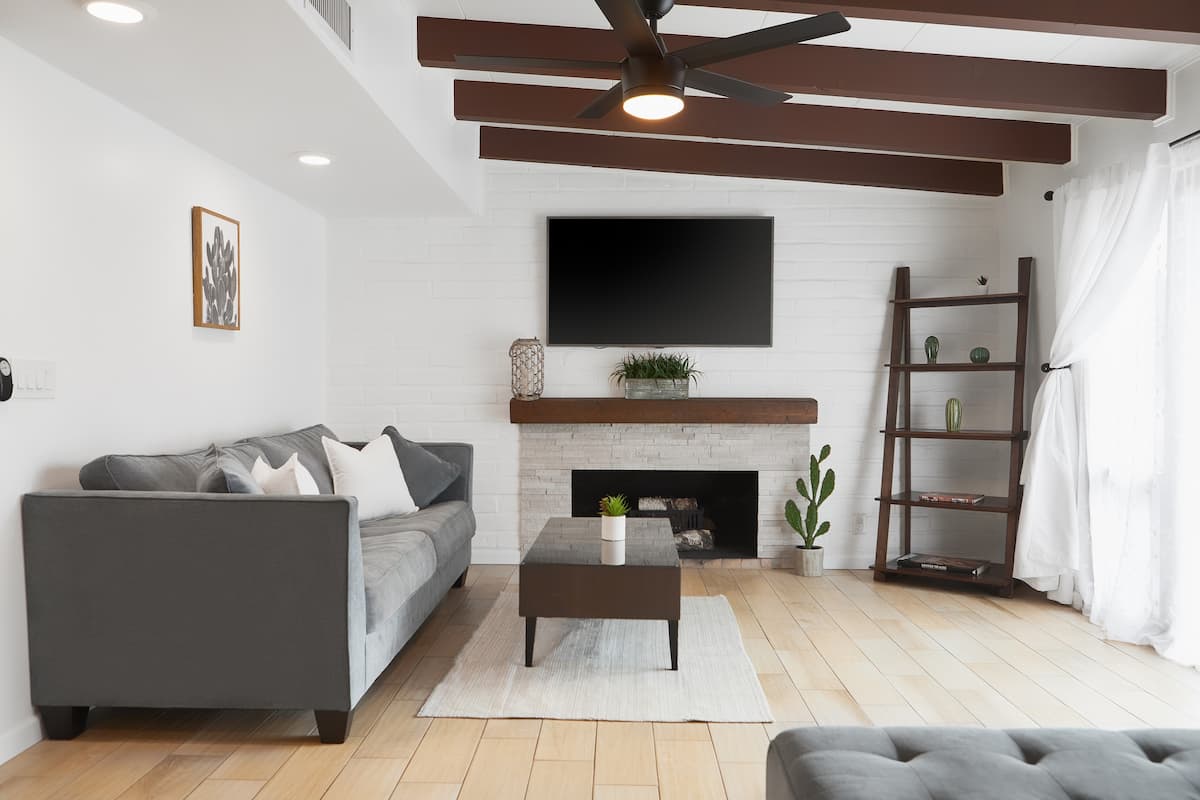 The Historic Silversmith House
As with many of the Airbnbs in Tucson, the Silversmith house is full of history. Built in 1929 as the workshop for the local silversmith, it is now a quirky, and charming getaway.
If you're up for a lot of color and artistic flair you'll love this Tucson Airbnb. From the wall of brightly colored doors on the patio to the local artwork hung throughout the home, the Silversmith House is wonderfully vibrant and inviting.
Though this historic home has been remodeled, some of the original workshop was preserved in the exposed wood beams and ceiling in the kitchen and bedroom. There's plenty more to love about this house as well, including the clawfoot bathtub, the complimentary coffee bar, and sitting area perfect for enjoying your favorite book while basking in the hot glow from the electric fireplace.
This Menlo Park Historic District neighborhood is just a quick walk away from shops and restaurants and gives you easy access to Tucson's downtown. And when you return home you have a backyard fire pit waiting for you so you can wind down your day in the fresh air while reminiscing on the day's activities.
Click Here To Check Rates On Airbnb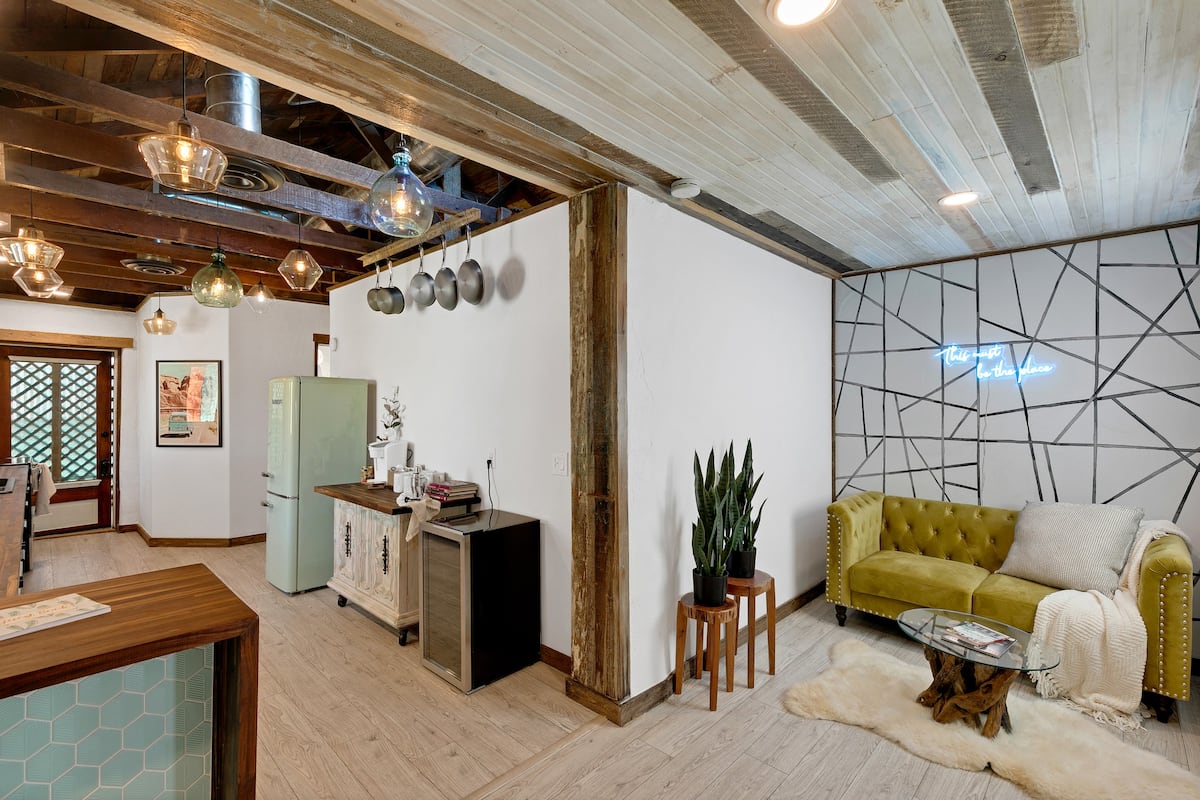 Casita Tolsa
Casita Tolsa is one of the most stunning Airbnbs in the Tucson Foothills. Though this studio guest suite is technically part of the main house, you have complete privacy thanks to a private entrance, and locked door and hallway separating the two. 
The highlight of this studio is certainly the private roof deck and outdoor patio. We highly suggest watching the sunrise and sunset from the deck while soaking in the Tucson city lights and gorgeous views of the Catalina Mountains.
The interior of the studio is inviting as well with beautiful wood beam ceilings and a fireplace in the bedroom. You'll feel cozy and at home in your little slice of Sonoran desert paradise.
For high end shopping you can walk to Encantada Mall and there are plenty of restaurants nearby as well. You're also conveniently located near local art galleries and great hiking trails where you can stretch your legs and get your heart pumping.
Click Here To Check Rates On Airbnb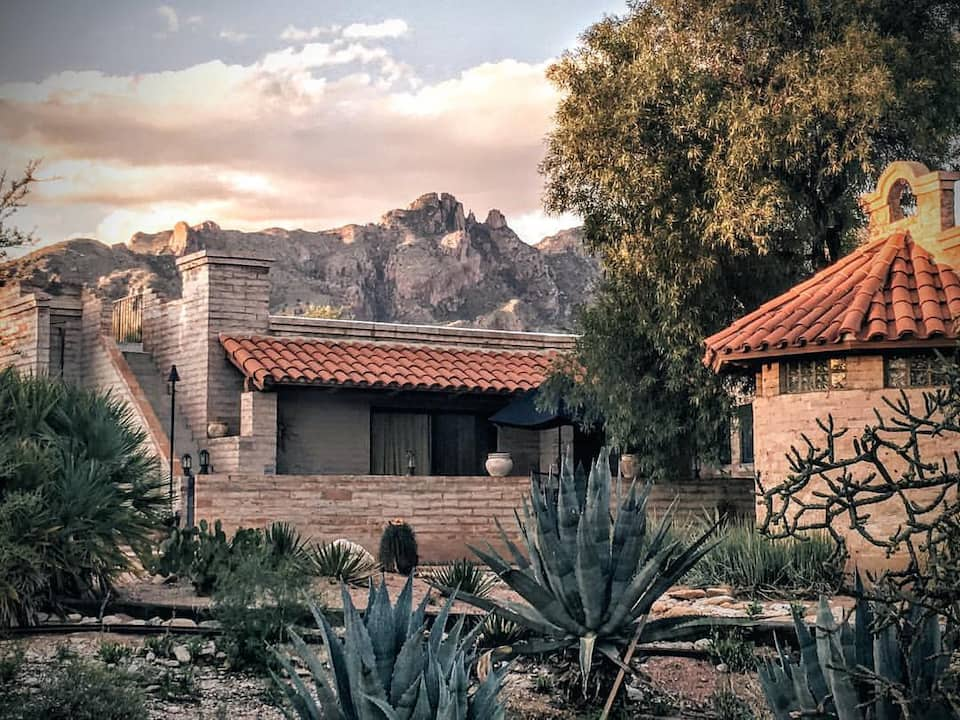 Central cozy casita with private yard
This centrally located Tucson Airbnb is a 1950's Territorial Revival style casita. Thoughtfully and tastefully decorated with beautiful blue accents throughout, this casita provides you with the perfect home away from home.
The host has kindly provided a Bluetooth speaker, books, games, and magazines ideal for quality lounge time in between your daily adventures. A private yard also allows you to relax in the fresh air and perhaps enjoy a meal outside on the outdoor dining set.
The casita is separate from the main house by the garage so you can enjoy complete privacy during your stay. Through a combination of vintage and modern furnishings and styles, the charming casita manages to stay true to the historic neighborhood while also making necessary updates.
Located in midtown Tucson, you can walk from the casita to the Reid Park Zoo and the El Con shopping center. Downtown Tucson and plenty of restaurants can also be easily reached by car in no more than 15 minutes.
Click Here To Check Rates On Airbnb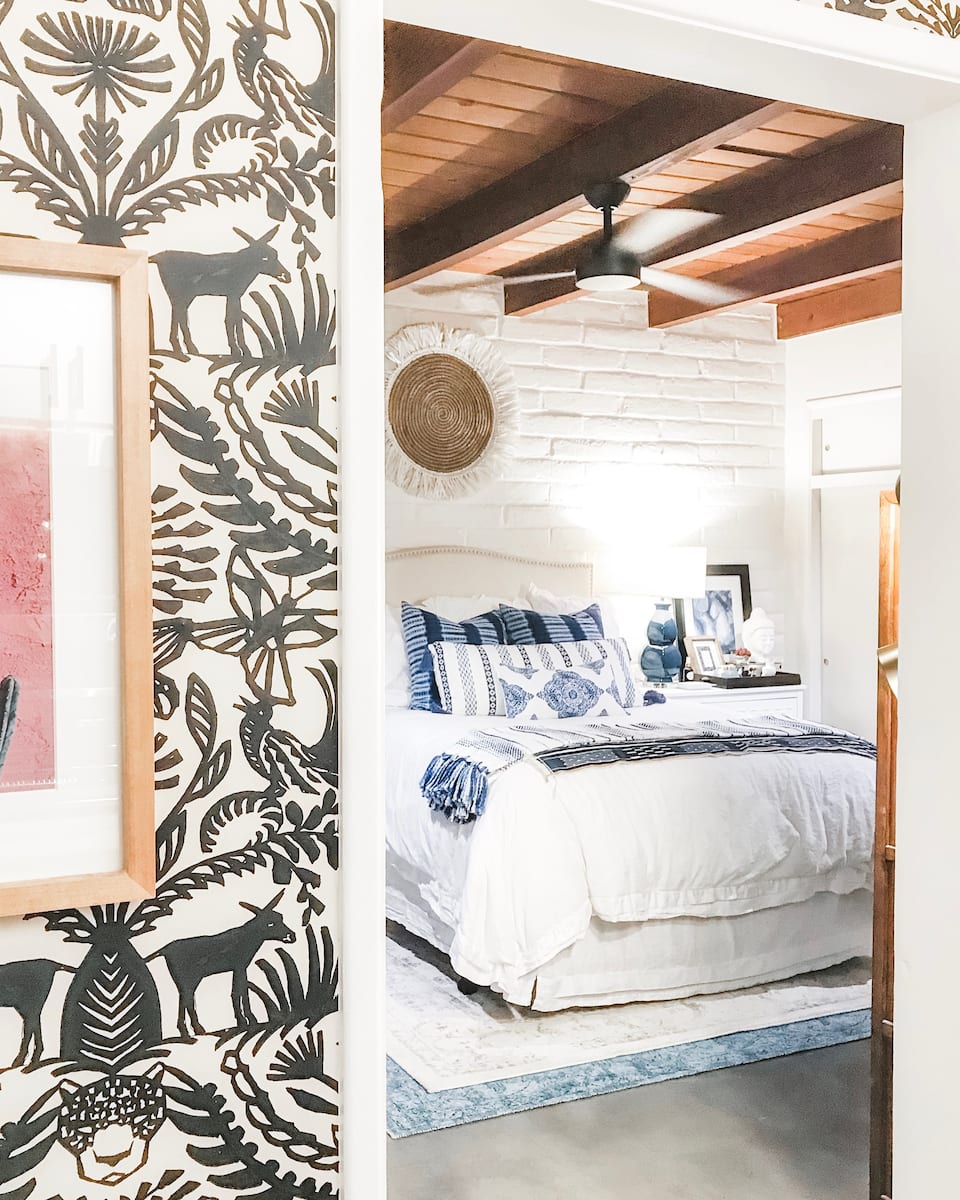 Adobe Libre
Looking for a relaxing stay in a Tucson Airbnb in the most historic neighborhood in the city? Adobe Libre is an 1880's era adobe beauty in the Barrio Viejo neighborhood that is quiet and full of character. 
Every aspect of this home is cozy and inviting from the fireplace warming up the sunshine-lit living room to the skylight and exposed adobe in the bedroom. Feel free to dance away the night to your heart's content courtesy of the record player, or play any of the provided games and let your competitive side shine through.
The twinkle lights outside make the private patio the perfect spot for enjoying a delicious dinner. You might consider taking a stroll around the neighborhood as the sun sets and enjoy looking at all the other historic homes.
The home is conveniently located just a few blocks from downtown, historic 4th avenue, and El Mercado. There's no television at the Airbnb, but who needs TV when you're surrounded by so much history, beautiful architecture, and classic desert landscapes.
Click Here To Check Rates On Airbnb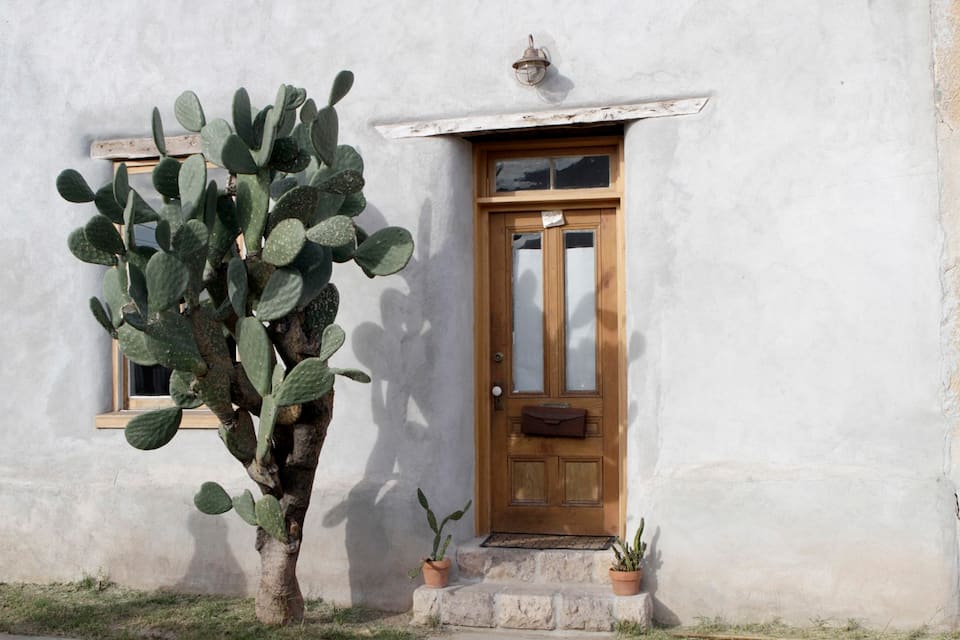 The Saguaro Suite
If you're looking to explore Saguaro National Park, or wander downtown Tucson, the Saguaro Suite is one of the best Tucson Airbnbs for you. Just 10 minutes from golf courses and tennis courts as well, there's no shortage of things to keep you busy during your Tucson getaway.
It'll be easy for you to stay holed up in the suite however with the video games, billiards and ping pong table to keep you entertained. And if you're on a trip that requires you getting work done, there's a designated workspace with an Apple computer for your use.
The property is shared with the hosts, however the studio itself is yours alone with a private entrance and private bathroom. You do have access though to the shared pool and backyard to cool off and relax.
Inside, the saguaro ribbed ceiling, turquoise ceiling fans, and hanging chili ristra immediately give you a classic southwest feel. If you're traveling with dogs you are allowed to bring them along with preapproval from the hosts who have dogs of their own named Fox Mulder and Dana Scully that patrol the backyard.
Click Here To Check Rates On Airbnb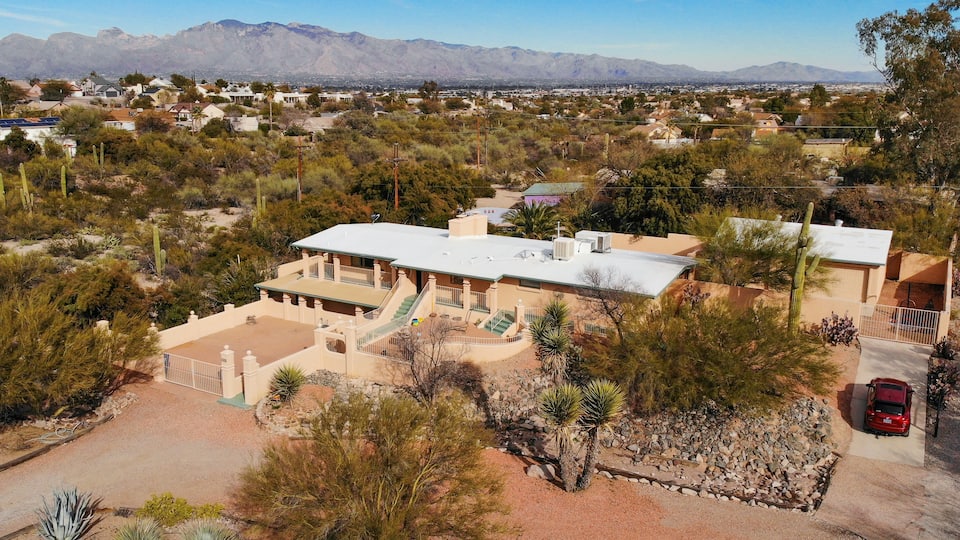 The Jacaranda with its veranda
Of all the Airbnbs in Tucson on this list, The Jacaranda is one of the farthest from downtown, yet it is still conveniently located as it is equidistant from many attractions. Though it's a 20-minute drive to Downtown Tucson and the Tucson airport, it's only 10 minutes from the zoo and University of Arizona and is an easy 5 minutes from parks, dog parks, bike and running paths, and the beautiful botanical gardens.
Because the Airbnb is a little farther from downtown, it feels a little more like a quiet retreat or getaway. Enjoy a cup of morning coffee on the front veranda or watch your dog run around the private walled patio and enjoy the break from your every day life.
You'll access the patio through the back door, which can be left cracked for a bit of a breeze and the sound of bird chirps in the morning. The casita isn't large, but it's cute and has everything you need for a cozy and peaceful stay.
The hosts provide you with water bottles, which are particularly appreciated in the summer heat. You also have access to a washing machine and dryer to ensure you never run out of clean clothes.
Click Here To Check Rates On Airbnb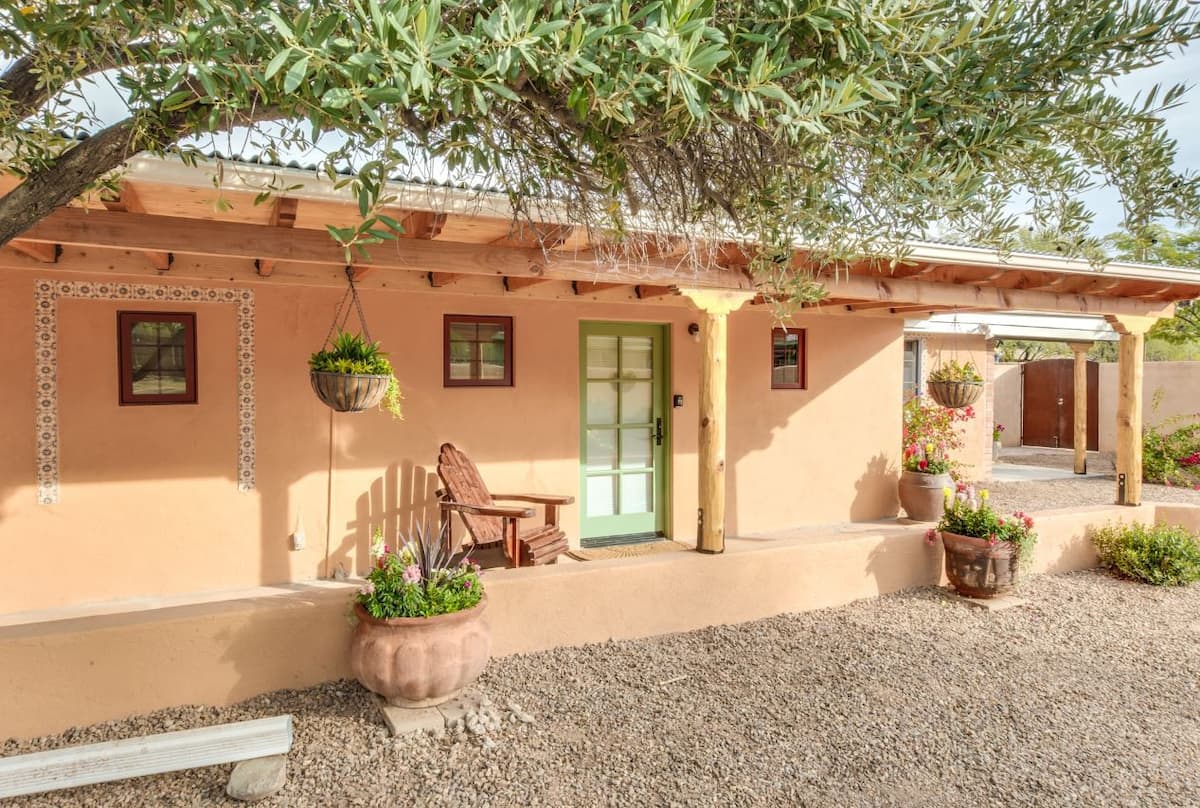 We're thrilled you've chosen to call the desert and mountains of Tucson your home for your next southwestern vacation. The architecture of the city is diverse and unique, and we hope one of these fantastic Airbnbs in Tucson will catch your eye and make your stay memorable.
Whether you're gazing out at the Catalina Foothills from a rooftop deck or cozied up by a fireplace in a thickly walled adobe home, you're sure to fall in love with the history and beauty of this city. If you have any questions or comments as you go about choosing one of these Airbnbs in Tucson, please let us know.