Booking one of the many luxury villas in Mexico for a family getaway, honeymoon, or just a little TLC is on the bucket list for many people. Mexico is the perfect travel destination because it is easy to get to from both North and South America [and even Europe], it is affordable to travel around, it offers epic views of tropical waters, the temperature is pleasant all year round, the locals are friendly and much more.
For years, Mexico has been the secret paradise for the rich and famous, but now luxury travelers and relaxation seekers from around the globe have their sights set on visiting this tropical paradise. There are also some fantastic resorts in Mexico for families so you can bring the kids and Grandma if you are looking for something for all ages! Whether you are interested in renting one of those Mexico beachfront rentals or getting a villa in the mountains, the largest country in Central America has something for everyone!
5 Luxury Villas In Mexico To Stay At Before You Die
#1: Cielos 88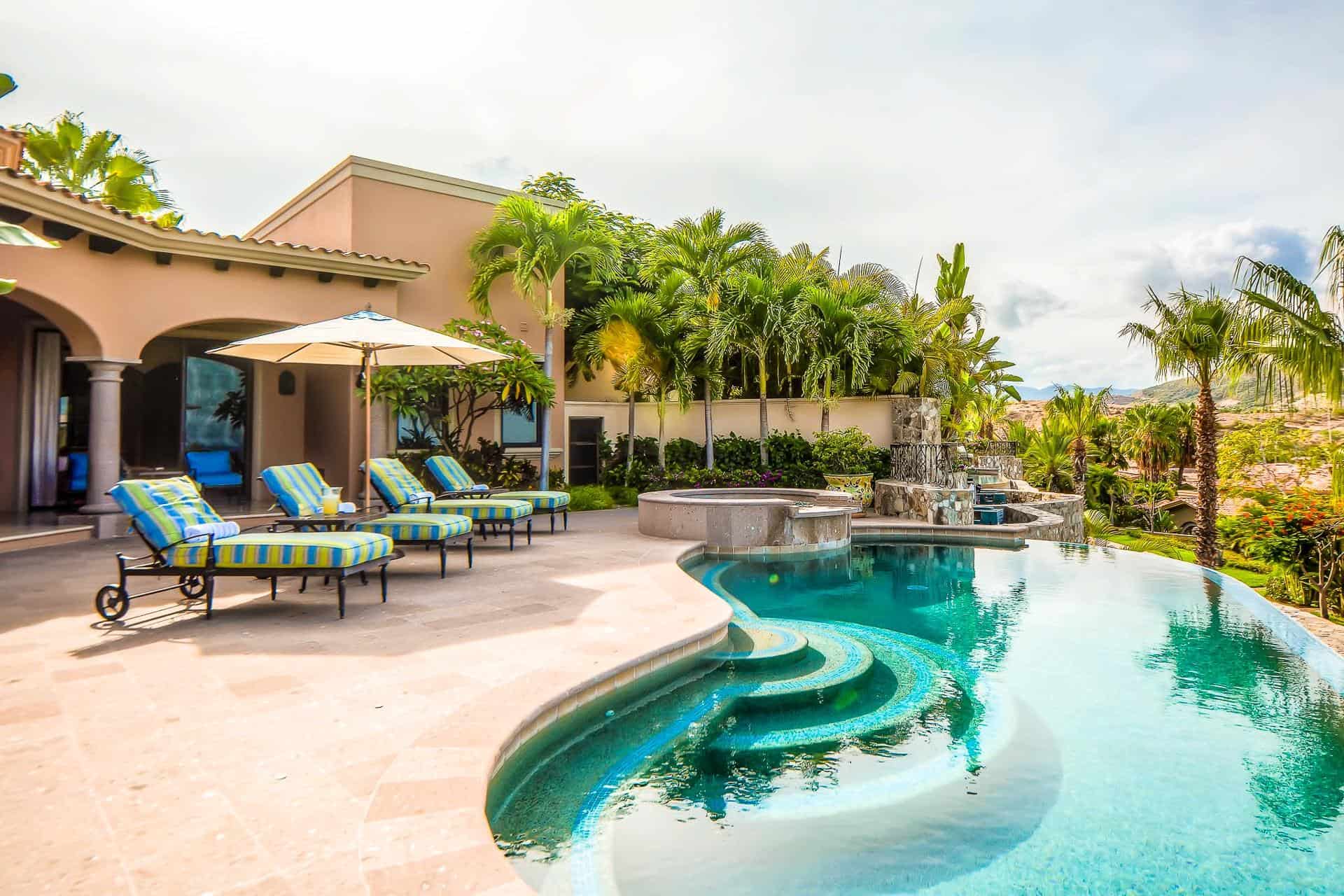 Located in ultra luxe Los Cabos, Cielos 88 is situated near the ocean, golf courses, nightlife, restaurants and more. It comes complete with not one, but two master bedrooms, so if you are traveling with your significant other and your parents, you are both able to be comfy in large rooms. When it comes to renting one of the many luxury villas in Mexico, space for your family and friends is necessary. Don't forget to pack a sleep mask and headphones for privacy!
Cielos 88 can host up to eight people, so you can be sure everyone has space to themselves. The outdoor living boasts stunning views and the high ceilings and exposed wood beams of the inside lend a rustic feel to the property. Since we live in a digital age, the wifi is strong, satellite TV ready, and espresso machine plugged in just waiting for your arrival!
See More Luxury Villas In Los Cabos
#2: Penasco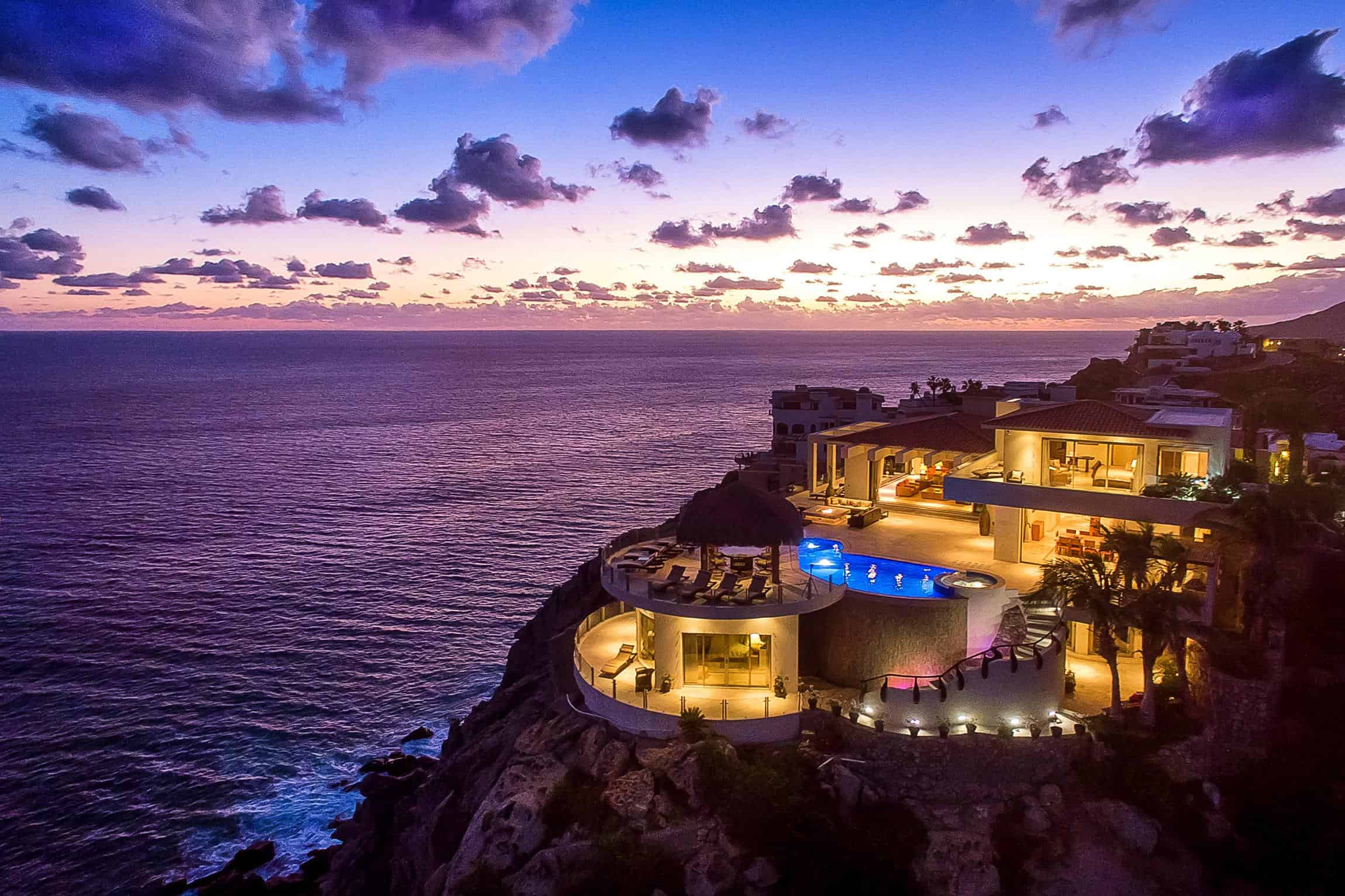 Holy moly are we swooning over the Pencaso in Cabo San Lucas. This place is what dreams are made of and could may as well be situated in the Mediterranean! The cliffside architecture and epic views of the sea and city make it worth the splurge for your honeymoon or next family or friends getaway. Think about it, if you all pool your money together, it won't cost that much per person, especially since this home can hold up to fourteen guests!
The infinity pool practically hangs off a cliff and the built in hot tub is perfect for stargazing under the warm night air so don't forget to pack your swimsuit or buy a new one before you go! Even better? Unlike many luxury villas in Mexico, Penasco comes with your very own telescope so you can get up close and personal with the little dipper while the sound of the fire in your outdoor firepit crackles next to you. The living space is elegant and modern and offers stunning views of the sea from multiple angles. Whether you are looking to buy, rent, or sell a timeshare or villa, Mexico is the perfect and affordable place to do so!
See Another Luxury Cabo San Lucas Villa
Get prepared for Mexico with our favorite products:

" src="data:image/gif;base64,R0lGODlhAQABAIAAAAAAAP///yH5BAEAAAAALAAAAAABAAEAAAIBRAA7″ alt="