Booking one of the many luxury villas in Mexico for a family getaway, honeymoon, or just a little TLC is on the bucket list for many people.
Mexico is the perfect travel destination because it is easy to get to from both North and South America [and even Europe], it is affordable to travel around, it offers epic views of tropical waters, the temperature is pleasant all year round, the locals are friendly and much more.
For years, Mexico has been the secret paradise for the rich and famous, but now luxury travelers and relaxation seekers from around the globe have their sights set on visiting this tropical paradise. There are so many all-inclusive resorts in Mexico as well as family-owned local places.
There are also some fantastic resorts in Mexico for families so you can bring the kids and Grandma if you are looking for something for all ages! Whether you are interested in renting one of those Mexico beachfront rentals or getting a villa in the mountains, the largest country in Central America has something for everyone!
5 Luxury Villas In Mexico To Stay At Before You Die
#1: Cielos 88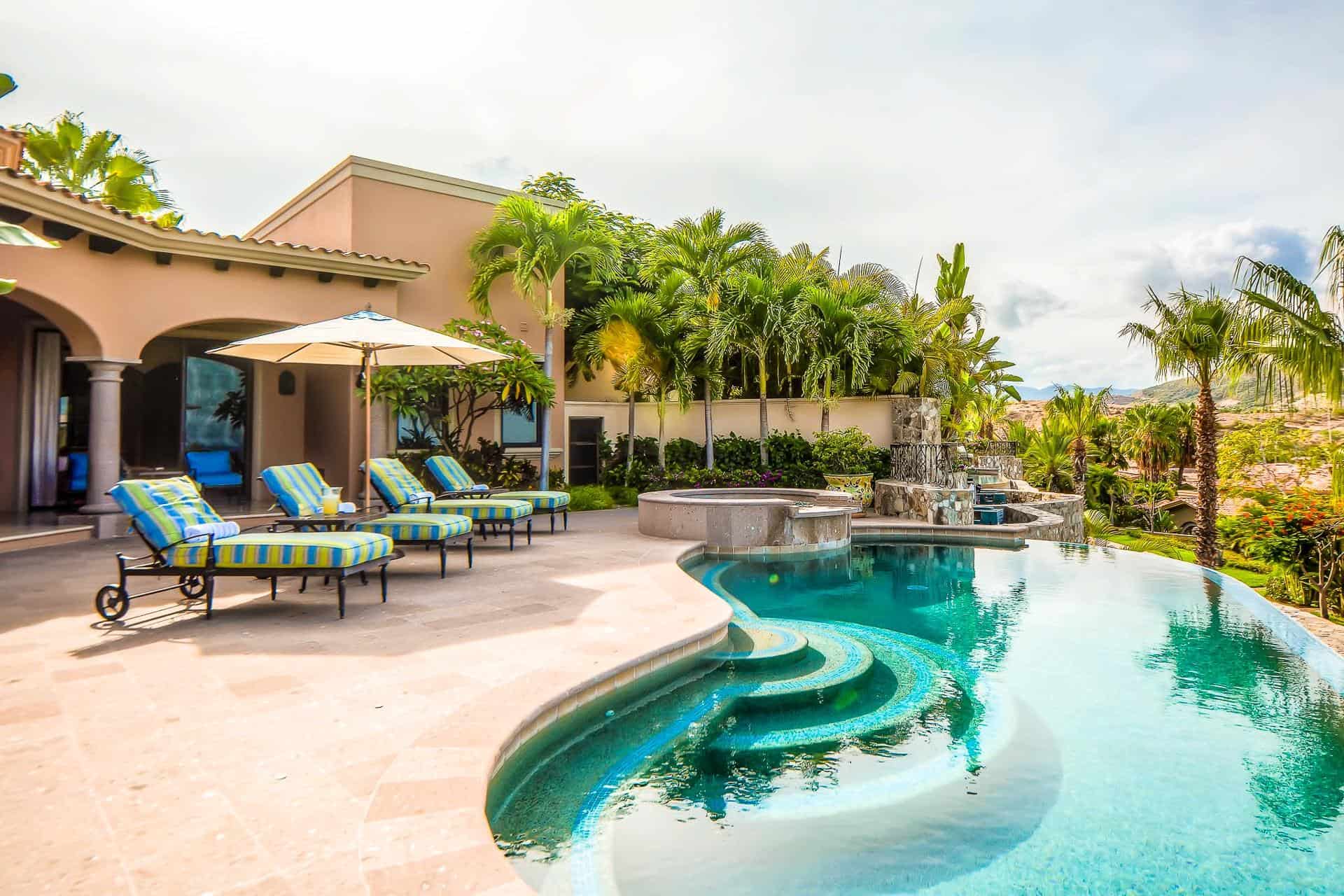 Located in ultra luxe Los Cabos, Cielos 88 is situated near the ocean, golf courses, nightlife, restaurants and more. If you are looking for some of the best food in Mexico, this is the place to be!
It comes complete with not one, but two master bedrooms, so if you are traveling with your significant other and your parents, you are both able to be comfy in large rooms. When it comes to renting one of the many luxury villas in Mexico, space for your family and friends is necessary. Don't forget to pack a sleep mask and headphones for privacy!
Cielos 88 can host up to eight people, so you can be sure everyone has space to themselves. It is perfect if you are hosting an intimate yoga retreat in Mexico or just for the family too!
The outdoor living boasts stunning views and the high ceilings and exposed wood beams of the inside lend a rustic feel to the property. Since we live in a digital age, the wifi is strong, satellite TV ready, and espresso machine plugged in just waiting for your arrival!
See More Luxury Villas In Los Cabos
#2: Penasco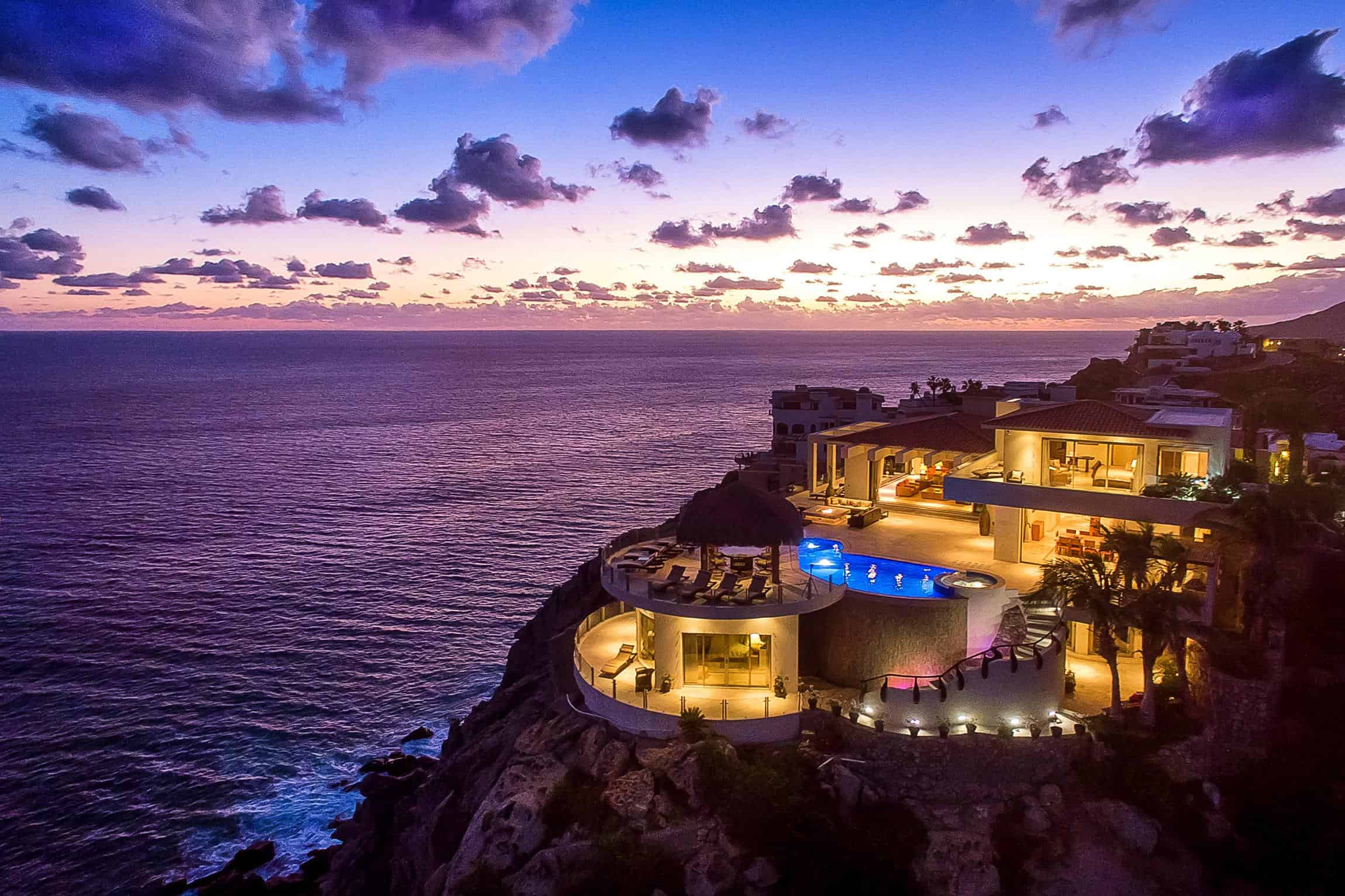 Holy moly are we swooning over the Pencaso in Cabo San Lucas. This place is what dreams are made of and could may as well be situated in the Mediterranean! The cliffside architecture and epic views of the sea and city make it worth the splurge for your honeymoon or next family or friends getaway. Think about it, if you all pool your money together, it won't cost that much per person, especially since this home can hold up to fourteen guests!
The infinity pool practically hangs off a cliff and the built in hot tub is perfect for stargazing under the warm night air so don't forget to pack your swimsuit or buy a new one before you go! Even better? Unlike many luxury villas in Mexico, Penasco comes with your very own telescope so you can get up close and personal with the little dipper while the sound of the fire in your outdoor firepit crackles next to you. The living space is elegant and modern and offers stunning views of the sea from multiple angles. Whether you are looking to buy, rent, or sell a timeshare or villa, Mexico is the perfect and affordable place to do so!
See Another Luxury Cabo San Lucas Villa
Get prepared for Mexico with our favorite products:


#3: Villa La Gran Tortuga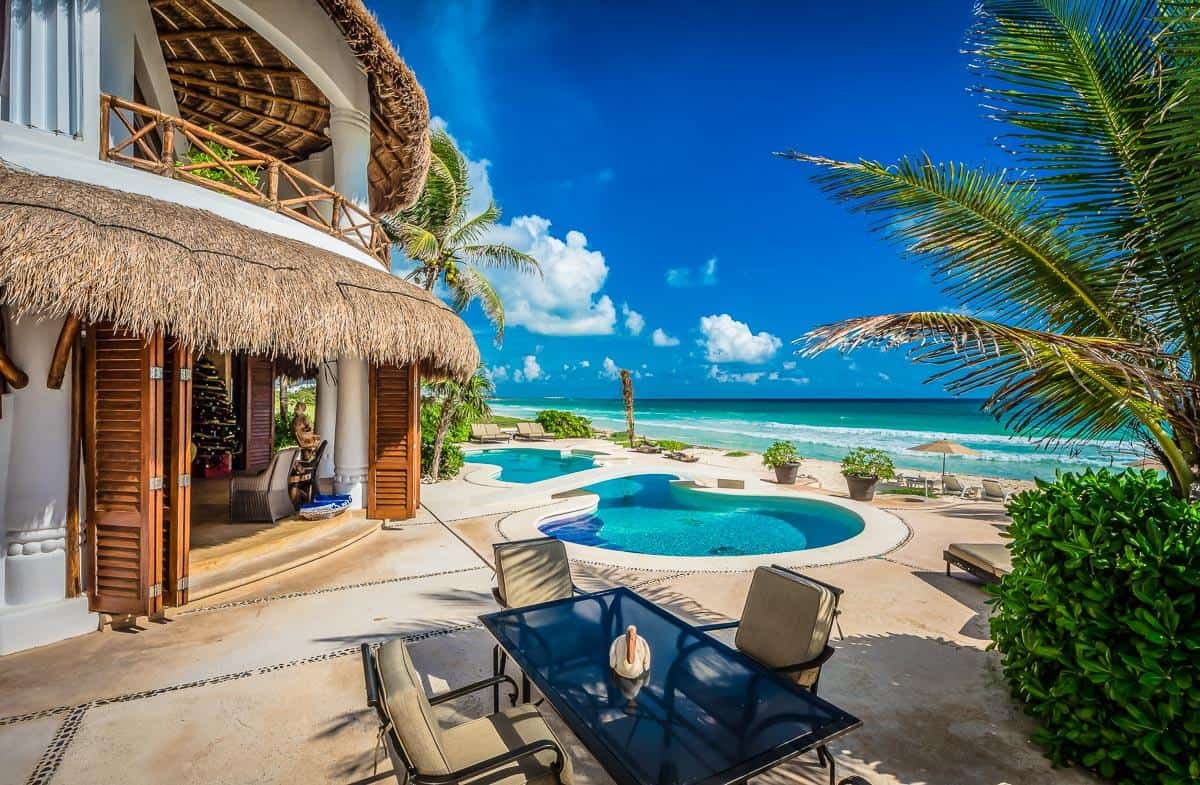 Many luxury villas in Mexico are located in condo associations or around a lot of people. This is not true regarding Villa La Gran Tortuga. This property is surrounded by green as far as the eye can see on three sides, and the ocean on the last. If you are looking for seclusion, Villa La Gran Tortuga is perfect for you.
Seeing the beach from your balcony is one thing, but being able to take a few steps from your back porch before your toes are in the ocean is quite another. The secluded nature of this luxury villa in Mexico makes it perfect for honeymooners or couples just looking to spend some time alone. Plus, who doesn't love a little bridge that goes over the swimming pool? What a fun selling point! Don't forget to pack this amazing full face mask/snorkel combo! 
#4: Villa Suzannah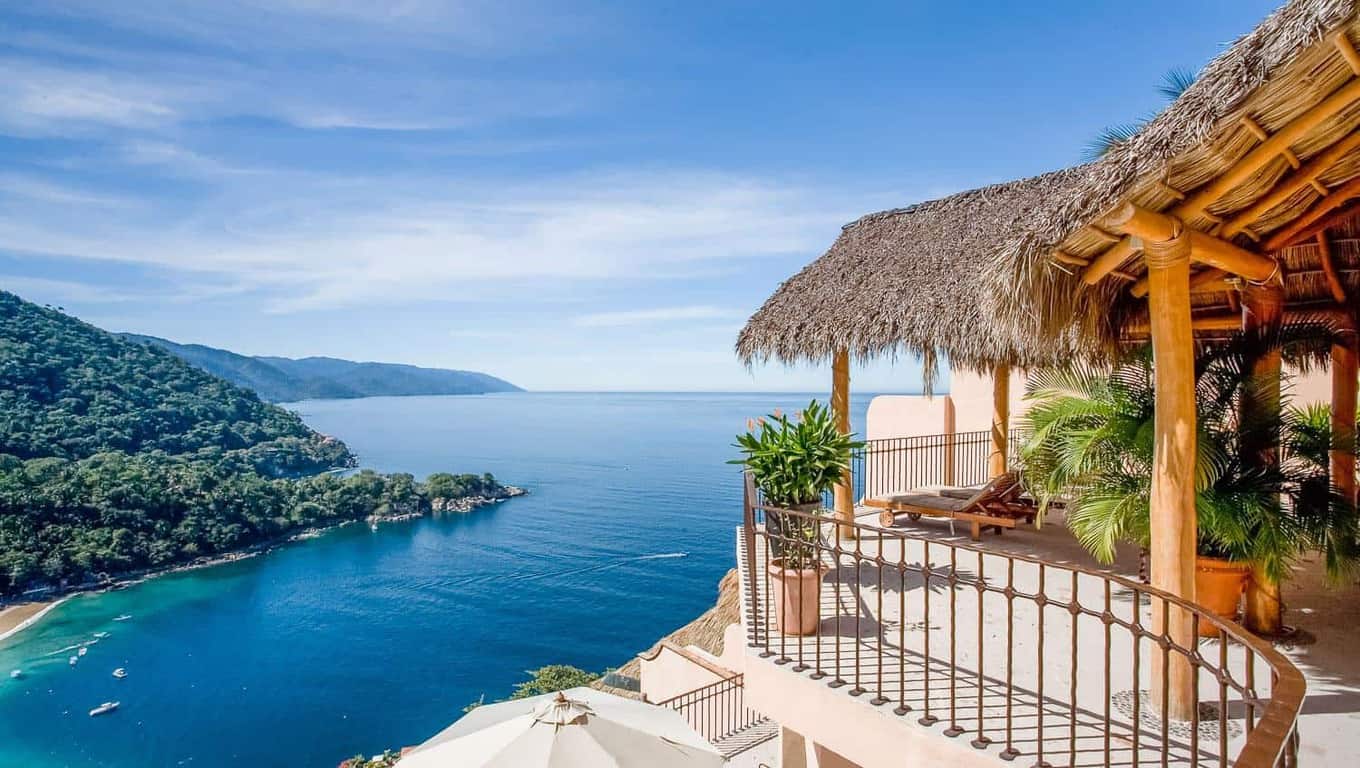 If you want to rent one of the luxury villas in Mexico without breaking the bank, Villa Suzannah is for you! This fantastic villa does not sacrifice amenities, views, or comfort for the price. Perched high on a mountain, you can still enjoy views of the ocean, your own private pool, epic fixtures, and the utmost luxury. Some people are more in-tune with the mountains than the ocean and Villa Suzannah gives you the best of both worlds.
The sunset views are unmatched from the large terrace, so be sure to plan a few dinners out on the porch to maximize your sunset viewing hours. Unlike other luxury villas in Mexico, you won't be starting at your neighbors, but instead will be enjoying views of the green treetops, golden Mexican sunlight, and beautiful ocean below. Still not sure about the cost? Bring your besties or your family to help split the cost eight ways. Suddenly you are barely paying more than a regular hotel and you get an entire home, epic views, and all your buddies under one roof!
#5: Jimmy Page Villa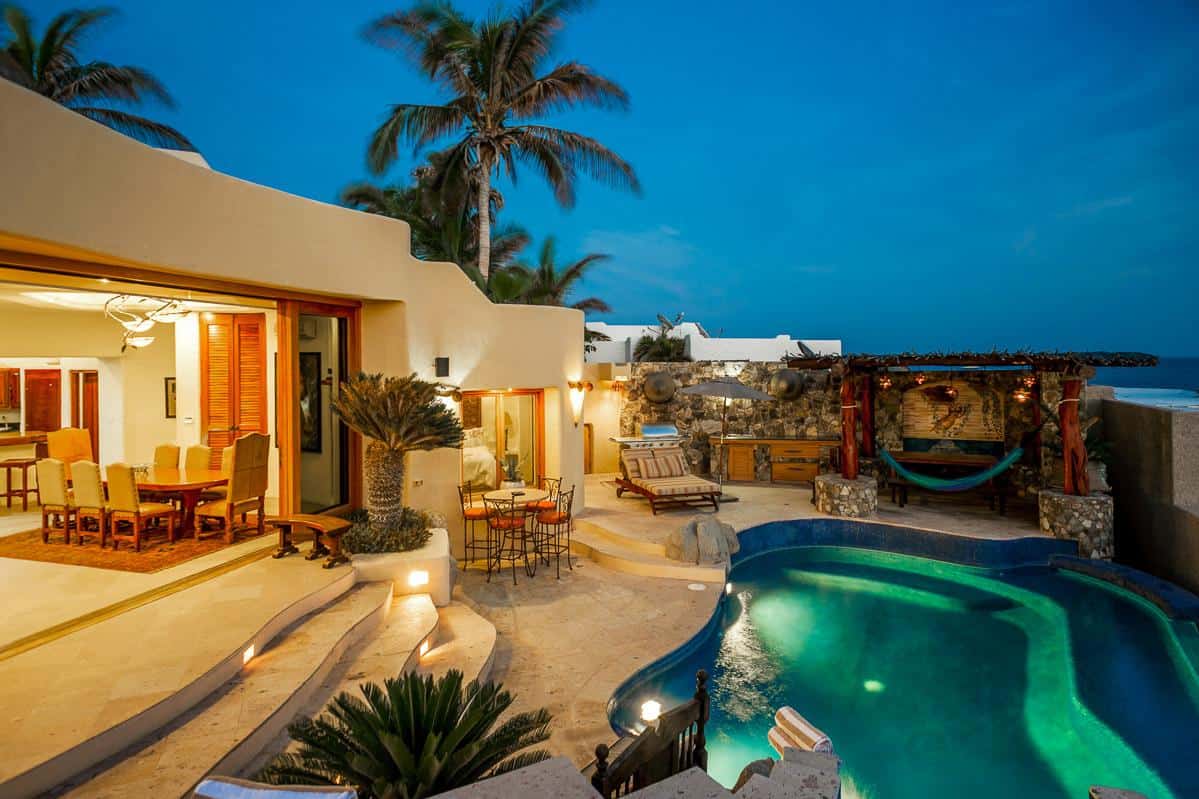 This villa made our top five list because of its southwestern architecture and because it has a SLIDE into the pool! We are just kids at heart, so having a slide is pretty nifty. Not many of the luxury villas have one, so that made the Jimmy Page Villa even more special. This luxury retreat in Mexico has 24-hour security for peace of mind, sweeping views of the ocean, and is just minutes away from popular surf spots so you can practice standing up on a board.
Don't want to surf? Don't worry! Some of Mexico's best golf courses are nearby as well as famous birding and fishing locations. The large open kitchen and living room allow you to continue to enjoy the beautiful Mexican views, even while indoors, and the entertainment system ensures you will never be bored, even after the sun sets. Even though Jimmy Page Villa is able to accommodate up to ten guests, we wouldn't blame you if you booked it as a special getaway for the two of you!
See More Luxury Villas In Mexico
From hostels (ideal for traveling alone, and on a limited budget) to stunning vacation rentals (full of plenty of space, with the beauty of luxury villas but the affordability of a hotel), your accommodations will adjust the way you see the country. These gorgeous luxury villas will have you torn between lounging in their beauty all day, and experiencing the natural outdoor beauty of Mexico.
5 Things You Must Pack For A Luxury Trip To Mexico
There is so much to pack for a beach vacation! here are a few favorites to get you started planning your luxury trip to Mexico!
1: A Full-Face Snorkel Mask. These things are all the rage and you better pack one before you head to Mexico! The crystal-clear water off the coast of Mexico begs to be explored and a full-face snorkel is an easy way to do it. If you have never heard of this innovation, check them out here! 
2: An Embroidered Sun Hat. Plain sun hats are so "yesterday" while hats with words or phrases embroidered on them are fresh and "of the moment." Pack one and you will fit right in with all the socialites visiting Mexico!
3: Aloe Vera Gel. No one is immune to sun burn, so start your luxury trip to Mexico by being prepared for inevitable burns. Too much fun in the sun can leave you looking more like a lobster than a luxury traveler, but Aloe Vera Gel will help soothe burnt skin. This is necessary when exploring Mayan Ruins and more!
4: GoPro Hero 5. You are going to want to capture your fun in the sun so you can remember it forever. Since GoPros are waterproof, you can take photos and videos both above and below the water. Download the app and create a fun montage of all of your photos and videos!
5: Fashionable Beach Tote. You are heading to Mexico for a reason! Make sure to get a cute beach bag to carry all of your stuff from your luxury villa down to the coast.
Pin this post: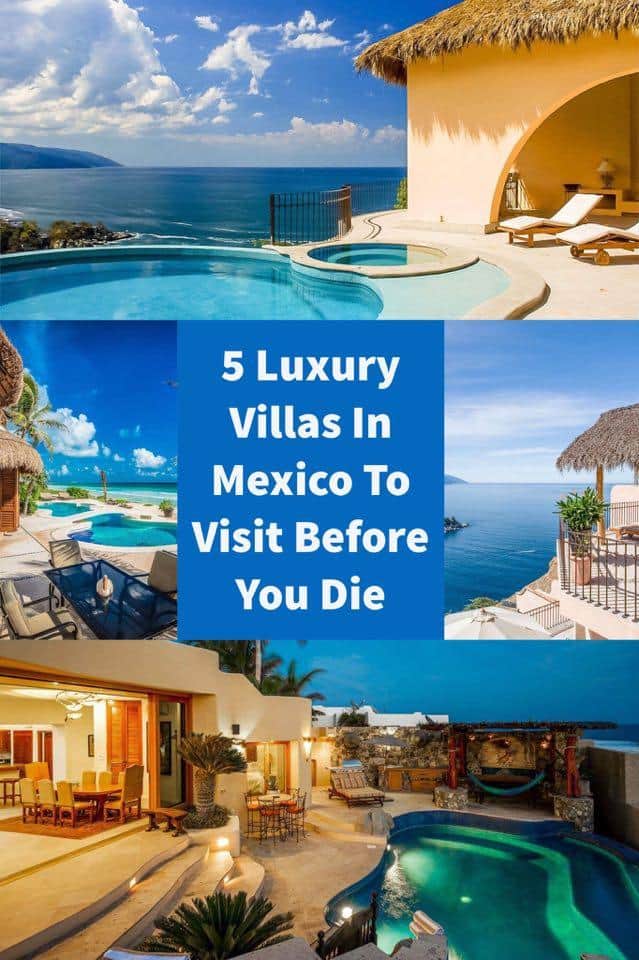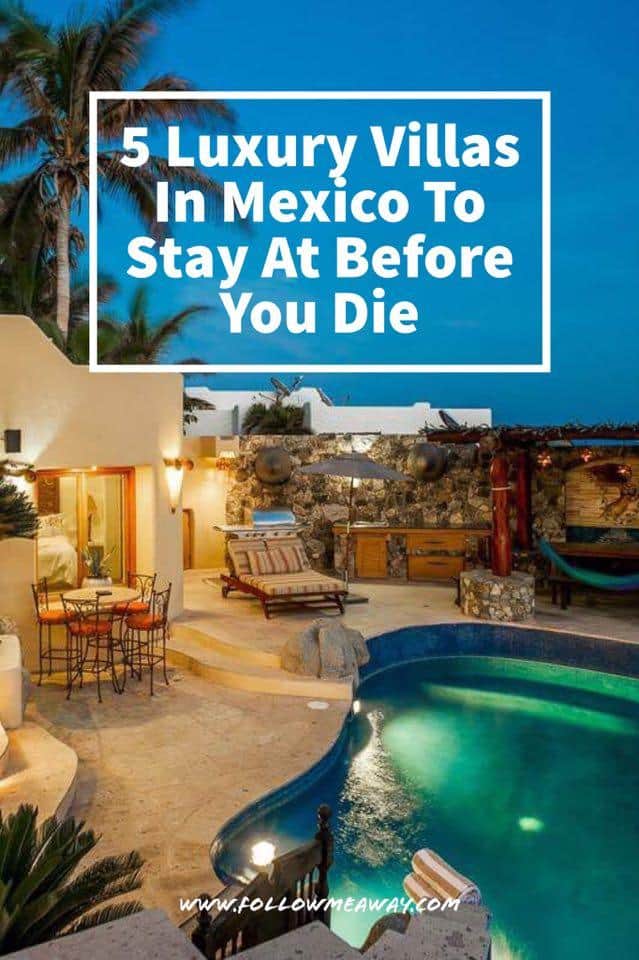 Please note: This post contains affiliate links which means we may make a small commission off your purchase at no additional cost to you. This will help us support Follow Me Away.