Before we had arrived at Hotel Paracas, we spent about a week and a half traveling around Peru. While our travels were exciting, they were also tiring and a bit dusty from the desert and sandy landscapes. When we navigated to the hotel entrance, we were greeted by a kind guard and a valet who relieved us of our car so we could check in.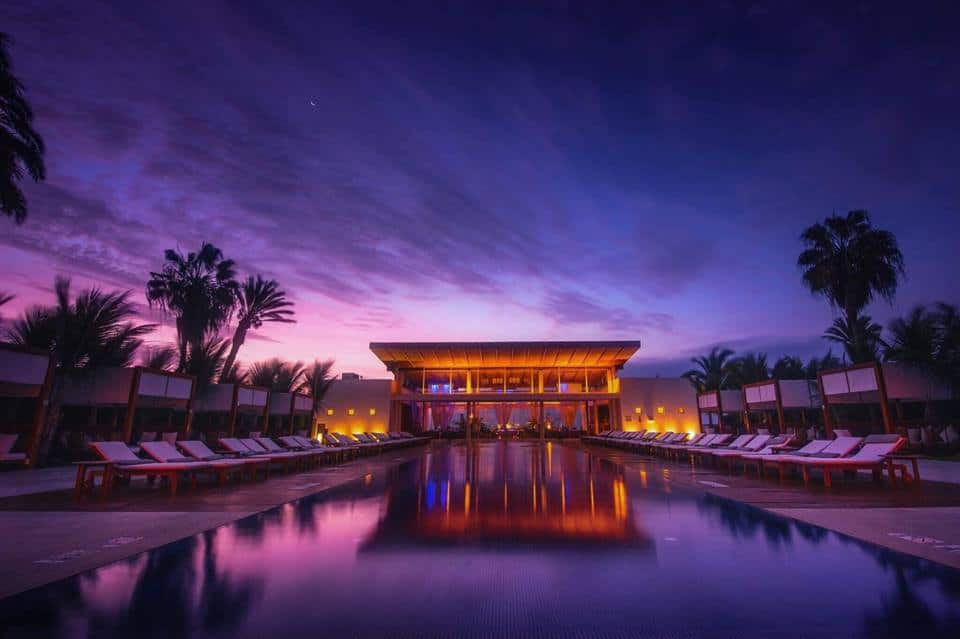 The check in area was nice but simple and unassuming. We had no idea of the luxury we were about to experience. Unlike many hotels, the check-in process at Hotel Paracas was smooth and painless. Once checked in, we were escorted to our room. Except, the rooms at Hotel Paracas aren't traditional in nature. The entire hotel property is comprised of little villas facing beautiful gardens, pools, or the ocean itself.
Rooms at Hotel Paracas
When we were brought to our villa, we thought there must have been a mistake. There is no way we could have this entire place to ourselves! It indeed was not too good to be true and we had the entire villa to ourselves! We later found out that there were other villas that were even larger and grander than the one we were staying in so you can rest assured that Hotel Paracas spares no luxury for guests.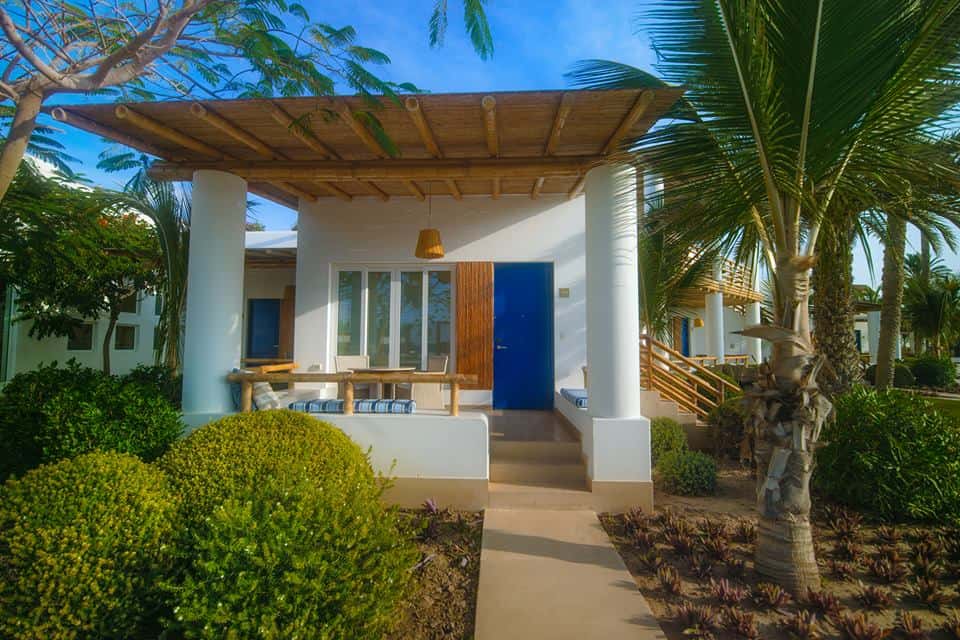 Our villa faced the main pool and a small garden, which we loved. Each villa comes complete with its own front porch! Inside our room, we found chocolates, a gift of the hotel, lovely locally made products, soaps, and more. Each night, Hotel Paracas provides a turndown service to guests and shares a card with the weather and some chocolates for you to enjoy.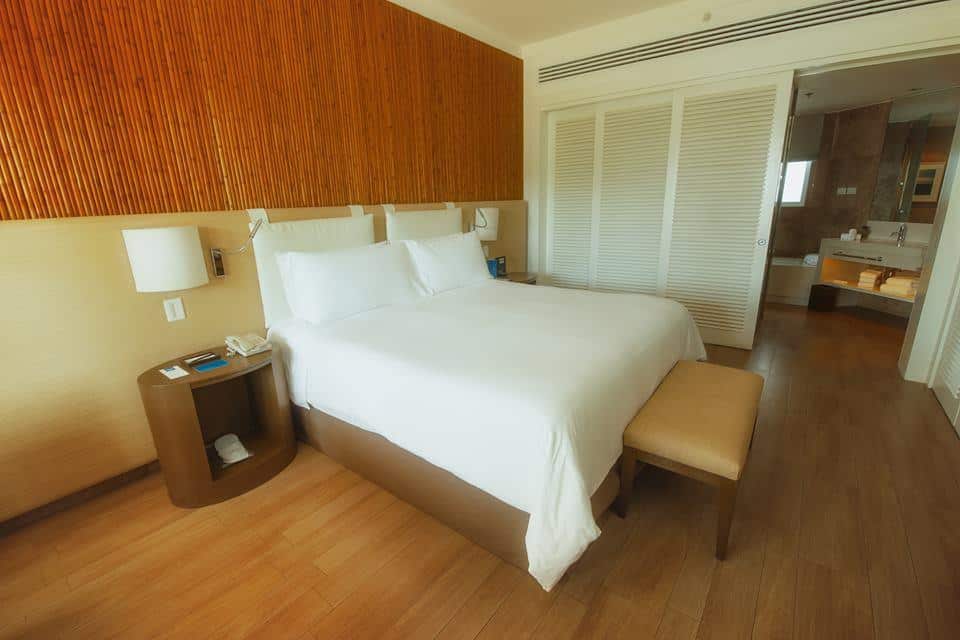 Dining At Hotel Paracas
Hotel Paracas offers guests multiple dining options. Ballestas Restaurant is the focal point of the entire hotel. It serves a fusion of Mediterranean and Peruvian dishes. We loved that the menu had an entire section dedicated to vegetarian or vegan fare. Although we didn't order anything from the vegan menu, the chef was more than happy to vegetarianize one of the main pasta dishes for Victoria. The flavors in all of the dishes were unique and the views from the floor-to-ceiling glass windows were romantic.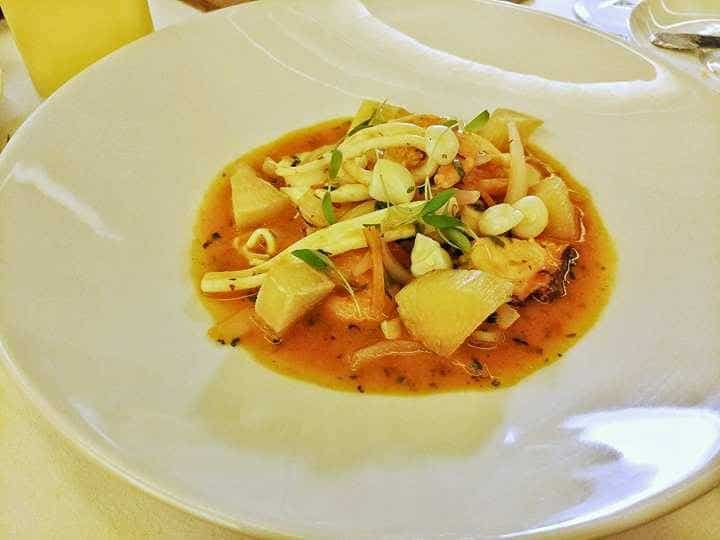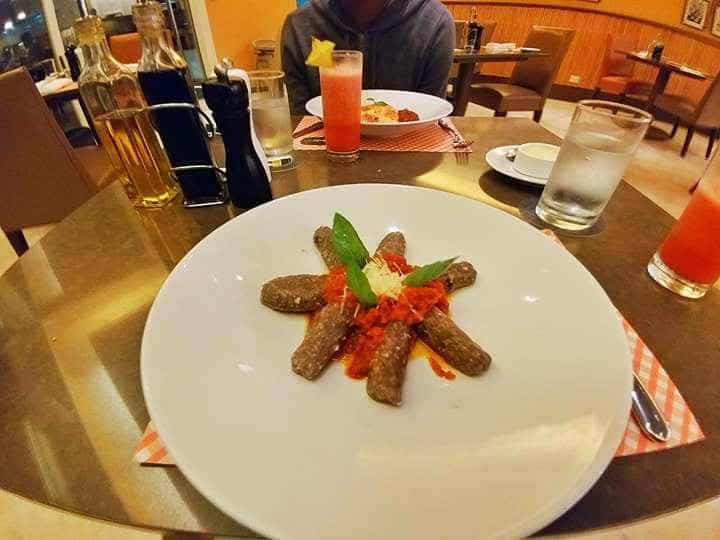 If you are looking for lighter fare or don't want to eat in the main dining room, you can head to the pool or nearby bars for delicious bites or to the Trattoria if pizza and pasta are what you are craving. We decided to give the Trattoria a try and were not disappointed. The intimate atmosphere and affordable prices all make the Trattoria a great option for dining at Hotel Paracas. We both opted for an entree over a pizza, but we saw the pizza's cooking and you wouldn't go wrong by choosing one!
The Spa At Hotel Paracas
The spa at Hotel Paracas is located in a beautiful garden setting and takes up two floors of space, with a full-size pool on the second floor. The spa offers everything from traditional facials to exotic massages. We were in the mood for relaxing on our own schedule and spending quiet time with each other so we chose to give the thermal circuit a try. We were shocked when the spa manager quoted a price that hovered just around $32 US per person. We found this to be extremely affordable for a spa experience at a luxury hotel.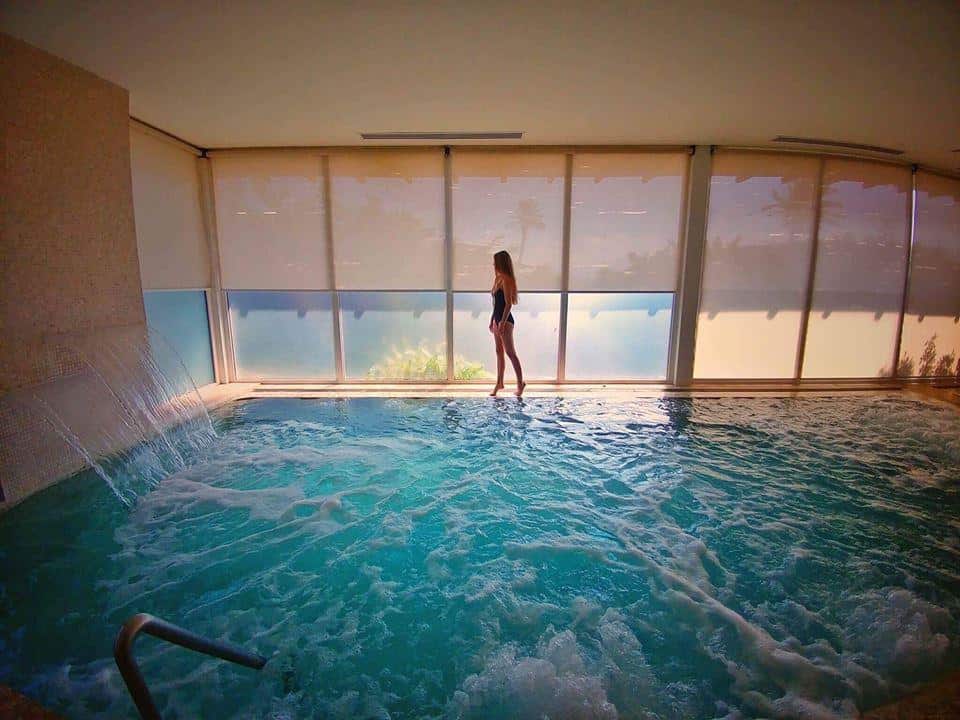 If you have never tried a thermal circuit before, it is quite the experience, and Hotel Paracas knows how to deliver. First, you enter a hot tub, spend some time there, and then make your way to a giant heated pool. The pool was on the second floor and had a ton of jets, waterfalls, and submerged lounge chairs. Once you have had your fill, you proceed to the cold plunge pool. The water is about 58*F and you are brave if you can run in, get wet, and run out! It was quite cold but quite the experience!
Once completed, you head to a Roman bath which is a steam room with fantastic heated seats. You cool down in a series of aromatherapy showers. This was our favorite part as the smell of eucalyptus and other essential oils filled the room. Next, you proceed to a dark room with little stars on the ceiling and relax on heated lounge chairs. Once complete, you proceed to a foot bath where pressured jets work on the muscles of your legs. Finally, you finish by relaxing on ceramic lounge chairs with a cup of chilled floral tea provided by the spa staff.
The experience was fantastic and we loved that we could do it ourselves. If you are looking for your first spa package or to reconnect with your significant other without breaking the bank, try the thermal circuit at Hotel Paracas.
Activities At Hotel Paracas
We were surprised and thrilled by the amount of activities and adventures Hotel Paracas provided to guests. The hotel comes complete with two infinity pools. One pool is the centerpiece of the entire property and is adults only. The other pool is for families but is equally as beautiful. We were disappointed to find that there were no outdoor hot tubs, but the water was warm enough to enjoy without needing to warm up after.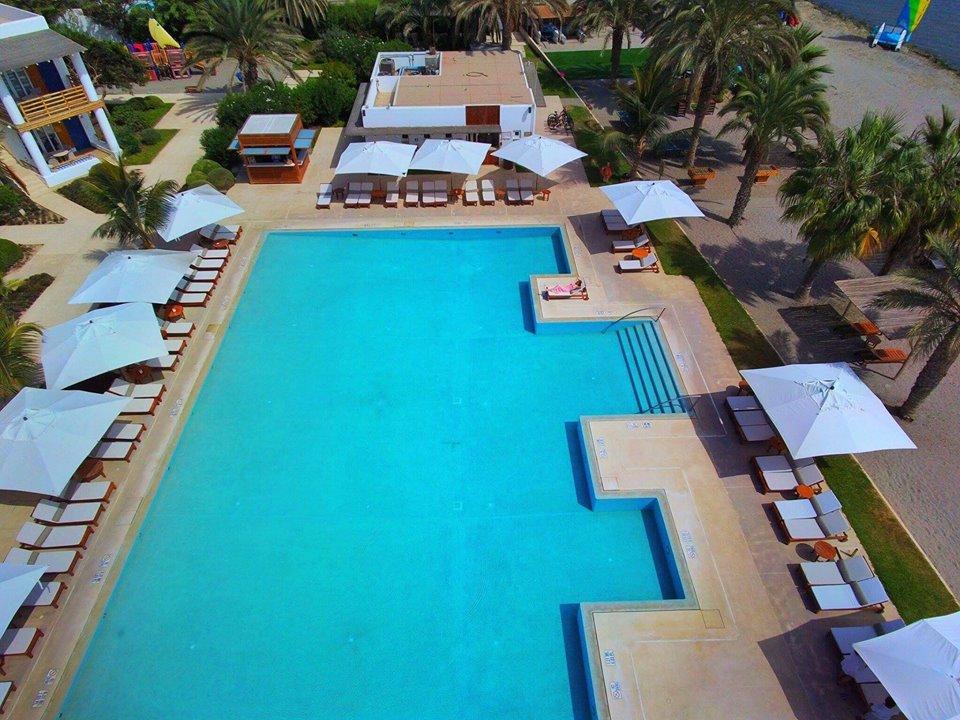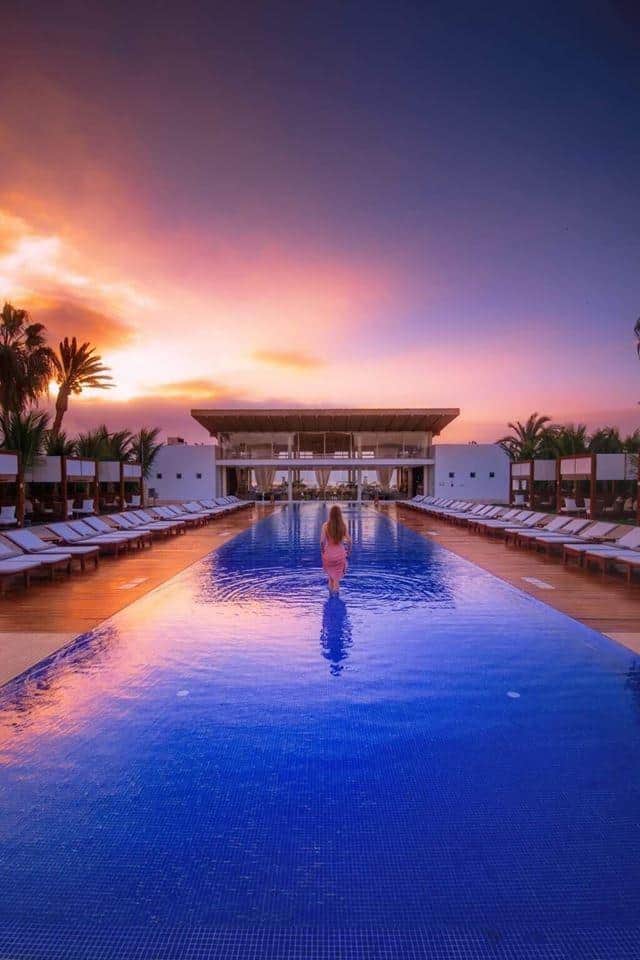 Every morning, Hotel Paracas offers a variety of activities, from windsurfing and paddle boarding to sailing and wakeboarding. We decided to go sailing and received a private captain from the hotel. Had we have been able to sail ourselves, we could have taken the boat out all alone. Although our captain didn't speak any English, he was still able to understand our gestures and broken Spanish. He took us to see the famous Flamingos in the nearby Paracas National Park and navigated us beneath thousands of birds. The whole trip lasted about an hour and a half and was a great way to relax and see the surrounding area.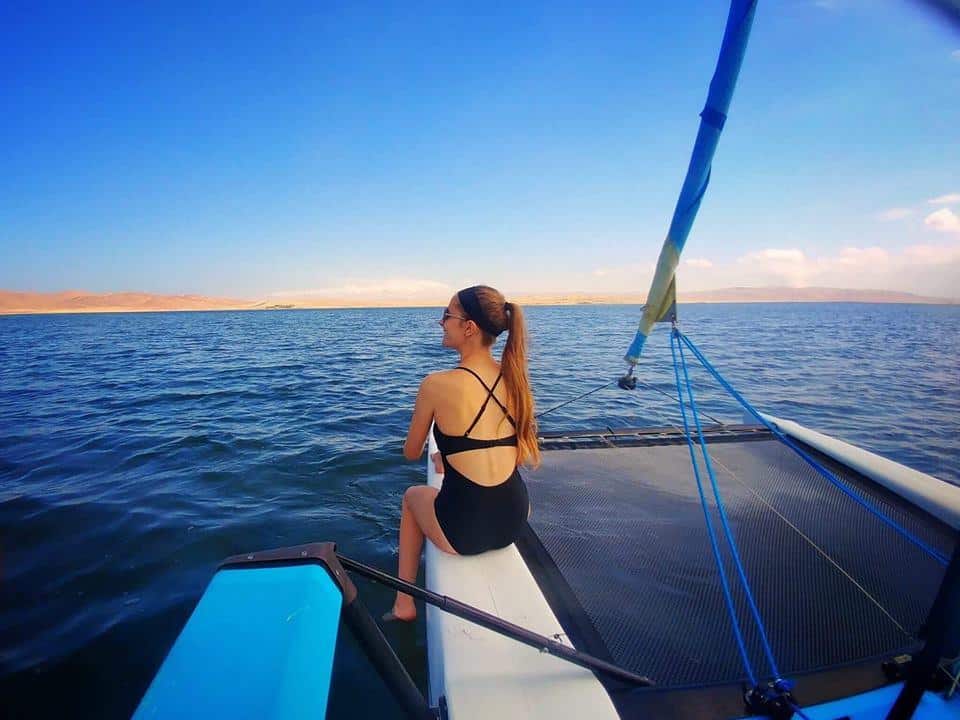 Our favorite activity at Hotel Paracas was the Ballestas Islands tours. We know that seeing the islands was top on our list during our visit in Paracas, so we were excited to learn that Hotel Paracas actually runs tours from their own private dock. At about $30 USD per person, they were a bit more expensive than the cheaper tours we could find in town, but they used newer and safer boats and were launched from our own private dock. We also received handmade souvenirs and coffee and pastries upon our return.
The boat tour was unlike anything we had ever experienced. Our guide spoke both English and Spanish and did a great job explaining everything about the islands. We were able to see ancient etchings, penguins, sea lions, and a ton of different unique seabirds. The captain of our little boat was kind and would always stop for the guests to take photos and then turn the boat so each person had a chance to view wildlife up close. This was truly a highlight of our trip and worth the small extra fee for convenience and safety.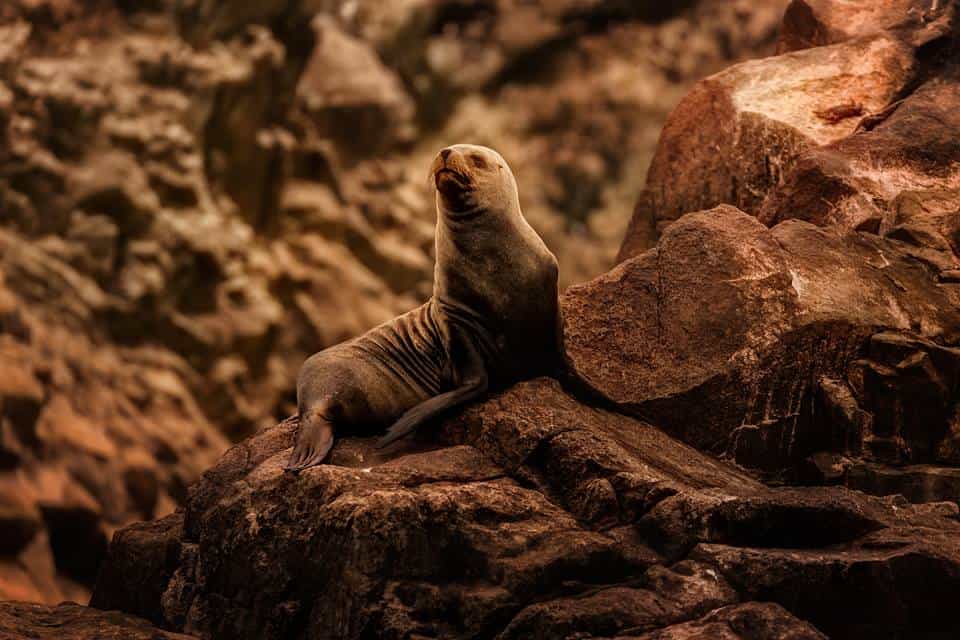 Overall, our experience at Hotel Paracas far surpassed our expectations. This oasis in the middle of the Peruvian Desert is worth every penny and the affordable add-ons make it even more attractive.
Do you want to stay in a luxury hotel in Peru? Let us know in the comments!
Please note: Hotel Paracas provided us with a complimentary reservation for the purpose of this review. All thoughts are our own and we really did enjoy their fantastic and luxurious hotel and encourage you to go!