I get so many requests for what I recommend people wear for travel photos on Instagram. I created this post to hopefully answer those questions for exactly what I wear and what I recommend! This article isn't to tell you what YOU should wear. It is simply to tell you what I wear in all of my travel photos on Instagram.
From dresses, skirts, shoes, jackets, and more, I am breaking down everything I personally own and wear and use on Instagram. Many of these outfits I have in multiple colors and styles too so you will know just how much I LOVE IT! If the exact thing I own isn't online, I will link to the next closest thing that I would personally use and buy.
For me, looking good on Instagram or in travel photos is NOT about having a zillion million pieces of clothing. I wear the same basic staples and rotate them through many different travel photos you see online. It isn't just one outfit and then I am done. That is wasteful and harmful to the environment. Buy a few pieces you love and wear the crap out of them. Get your money's worth!
When I choose clothing for Instagram, I have two things that I keep in mind. Number one, IS IT COMFORTABLE?!!! I am a "comfort over style" type gal and if it isn't comfortable I don't want anything to do with it. Secondly, is it colorful and will it stand out in photos. I have worn too many black pant/top/jacket/hat combos in the past and take it from me, that does you NO FAVORS when standing out against a landscape.
Please note: Follow Me Away is a participant in the Amazon Services LLC Associates Program, an affiliate advertising program designed to provide a means for sites to earn advertising fees by advertising and linking to Amazon.com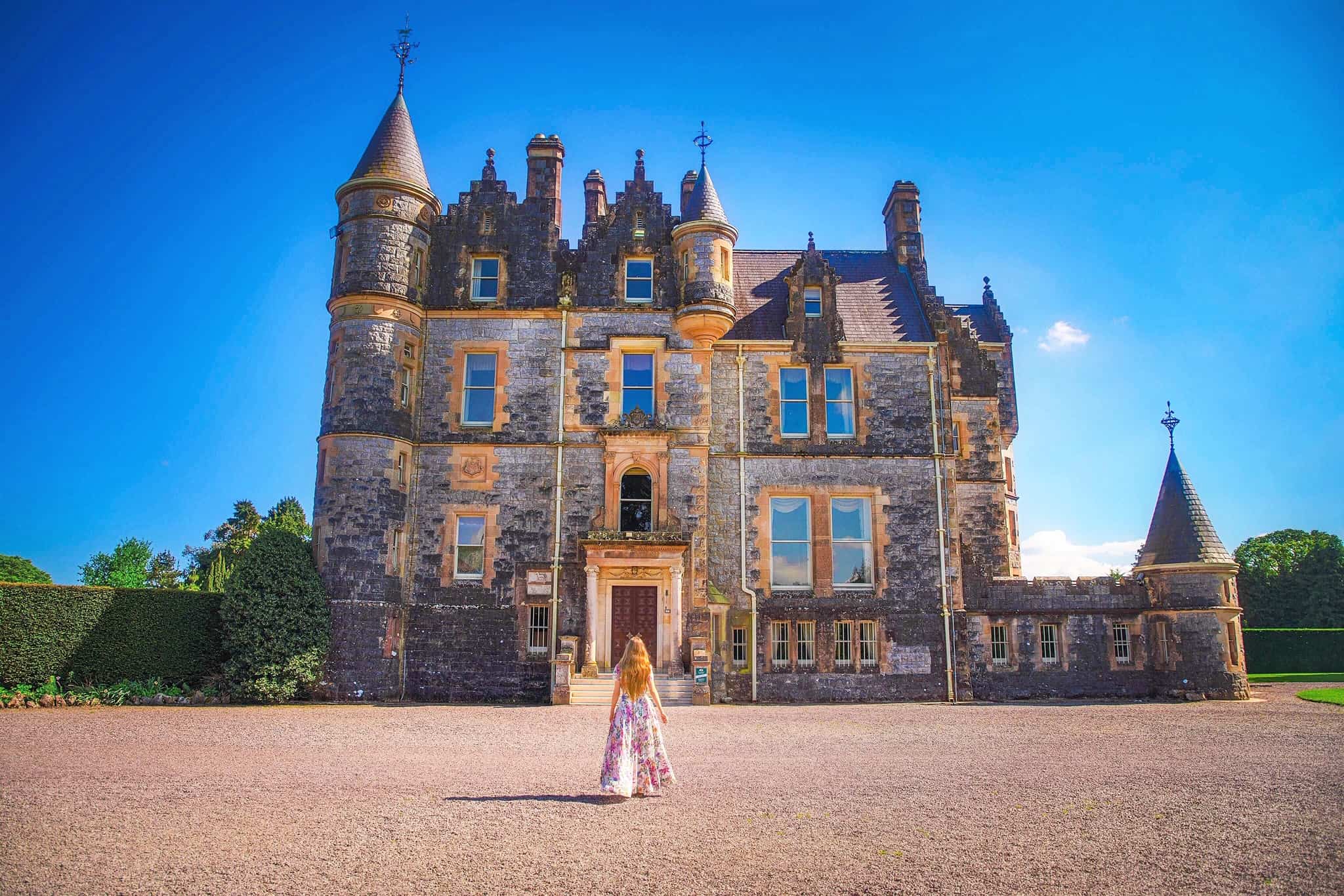 The Exact Outfits I Wear In Travel Photos On Instagram
Best Dresses For Travel Photos
Milumia Women's Floral Print Flowy Maxi Dress. This dress is my ALL TIME FAVORITE dress for photos on Instagram. So many people have bought it based on my suggestions and have loved it. If I could only suggest ONE dress to take your Instagram photos to the next level during your travels, this one would be it! First of all, it is SO COMFORTABLE! Second of all, it is SO AFFORDABLE!
I bought this dress for a trip to India and have since worn it on many trips. I also have it in like 5-6 colors. It is the queen of dresses on Instagram. It is casual but classy so you can wear it at night. It is long and flowy so it makes the perfect swish in your photos. It also comes in a variety of sizes including XS and plus size options so there is something for everyone which I really love. This dress is the beast of Instagram dresses and I also live in these dresses when traveling. It is a win-win!
This dress comes in 36 colors so there is plenty to choose from. The colors range from sunny and bright to darker patterns. I prefer bright colors as they are perfect standing out in travel photos on Instagram but it is really up to you. I am 120lbs and 5'7 and I wear a size small and it runs a little big on me but I like it that way. I recommend getting something your size for a looser fit or one size smaller than you usually wear for a more fitted feel around the waist! Either way, this is the absolute workhorse of travel dresses that also looks amazing in photos on Instagram and you cannot go wrong with it!
View this post on Instagram
Milumia Women's Boho Dress. I already loved my number one pick above, and this is my number two pick! Buy a few of these dresses for travels and Instagram and you will be set to go. They pack super small and are very light and airy. This dress is essentially the short version of my #1 pick from above. I have about four of these dresses and I love wearing them with a hat and sandals. They make for a great option for wearing over a swimsuit or for wearing for a day walking around when you still want to look cute for travel or Instagram photos.
This affordable travel dress comes in almost 20 colors and multiple sizes ranging from small to plus size options. It is a great flowy option when choosing your Instagram travel outfits because it hardly takes up any space at all! I wear this one around when I am at home in Florida and also when I am traveling to warmer destinations.
View this post on Instagram

Milumia Women's Long-Sleeve Flowy Party Maxi Dress. I would be lying to myself if I didn't include this option as well because it is one of my favorite dresses to wear when traveling and for travel photos on Instagram. The first option I mentioned is short/cap sleeve. This is the long sleeve version and goes down past your elbow. I was initially worried I would be too hot but the material is so light it makes the perfect travel outfit and looks amazing in photos. I just wore it to Oman in the Middle East and it was a great way to shield my arms from the heat and sun. I lived in these dresses the whole trip and even hiked in them.
I love the long-sleeve version of this dress is that unlike the other choices, it comes in solid-color options instead of just prints! If you are choosing dresses for Instagram choosing a print may get boring after a while and after you see it in a bunch of photos. A solid can be more versatile which is why I just had to include this option.
I own this dress in every solid color they offer and check monthly to see if there are more options added so I can buy it in that too. I'm really hoping it comes in a white And the price is so darn affordable too you really can't go wrong choosing a few of these travel dresses to take with you on your trip! It comes in 36 colors and a wide variety of sizes!
View this post on Instagram
Aria Open Sleeve Dress. I really love this dress by Westwynd Botique. They are a small boutique dress company and the dresses are actually SUPER affordable for this type of shop. Normally dresses from these types of stores cost $150 but this one rings in at under $50. It is well made and really flowy and magical. I wear it for travel photos and during my travels on @followmeawaytravel but we also shoot with it in our more magical style photoshoots on @followmeaway.
It is super comfortable for traveling and the solid color looks really pretty in photos during your travels. It has come everywhere from California to Ireland with us and will continue to be one of my top picks for travel outfits for Instagram! If you are looking to support a small business during your travels, this is the one to go to.
View this post on Instagram
Best Skirts For Travel Photos
Amelia Full-Length Maxi Skirt. This is my ALL TIME FAVORITE skirt to wear on travel photos and on Instagram. I also regularly wear it during my travels as well and even spoke in one during the New York Times Travel Show. I have this skirt in both yellow and rose. It also comes in light pink and I am DYING to see more colors be made. It is a bit pricey but it is very good quality chiffon and fully lined. I actually had a blue maxi skirt custom made because I couldn't find what I wanted and the price of the fabric alone was almost $70. I am not one to spend $90 on a skirt let alone two, but this was some of the best money I have ever spent.
This skirt is a great asset for taking Instagram photos in cold locations. You can simply wear a base top like a white thermal and then throw the skirt on over it for photos and then take the skirt back off. This is what I did in Iceland and in some of Paris. Alternatively, it also makes a great travel piece for the winter time as you can dress it up really cute and it keeps you warm. In the winter, I wear brown boots, multiple pairs of leggings, long sleeve top and scarf, and a jacket that I take off for photos. It is a truly stunning skirt and worth every penny. I have a size small.
View this post on Instagram
Women's High Waist Maxi Skirt. Now, I do not own this skirt, but I have purchased it and returned it. I bought the Morning Lavender one above and this one at the same time and then returned this one. The reason I include it here is that it is much cheaper than the $90 Morning Lavender one and can acheive some of the same look for your Instagram photos during your travels.
I do NOT like a stretch waistband which is why I returned this skirt. It was still a great skirt and very flowy and I know SO MANY photographers who use this skirt for their clients. If you are looking to try something a little cheaper, this is a great option. The tie can be used to hide the elastic waistband. I hate elastic waistbands which is why I went with the more expensive option.
View this post on Instagram
Women's A-Line Short Knee Length Tutu. Now this one is certainly NOT for wearing around cities during your travels but does wonders for Instagram! I mean, who doesn't like a good tutu skirt? I bought this skirt in three colors, red, light pink, and light purple. The light purple ended up being my all time favorite and yes, I brought all three on one trip! I have even worn them to Disney World with black leggings and brown shoes. If you are looking for a magical look on Instagram, this is the tutu skirt for you!
View this post on Instagram
Best Jackets For Travel Photos
Outdoor Hooded Women's Trench Coat. Every Instagrammer needs a yellow coat, right? I have to be honest, the jackets are cheap but they look GREAT in travel photos on Instagram. This jacket comes in a bunch of colors but I LOVE yellow or orange [I own yellow] and there is a reason why so many people wear a yellow jacket in Instagram photos. It just looks so great and really stands out in the photos! This is more of the type of jacket that you wear when it isn't completely freezing out and is more for looks but if you wear a base layer under it you are good to go. I wore it in Iceland with no issues of cold in September with a base thermal layer.
View this post on Instagram
Women Swing Double Breasted Wool Pea Coat. This coat is a total favorite for my travels and for photos. I was a little scared to own a white pea coat but so far it has been wonderful. It looks so classy over skirts or dresses in the winter and the wool keeps you VERY warm! I wore it over the Morning Lavender skirts all of Paris and NYC in the dead of winter and it was fantastic! It comes in multiple colors but I am so incredibly glad that I chose the white option. It is just beautiful. When it comes time to take your Instagram photos and if you don't want to wear the coat, just set it gently on top of your bag for the photo.
View this post on Instagram
Anne Klein Women's Classic Double-Breasted Coat. I have to be honest, this isn't the exact red pea coat I own but it is very close. My Grandma bought me my coat from the mall when I was like 15 years old and it has lasted over 10 years. It makes a GREAT centerpiece for Instagram photos and looks really nice in city backgrounds. The red really pops and it is comfortable enough to wear during your every day travels too even when you are not taking photos for Instagram.
View this post on Instagram
Best Tops For Travel Photos
Sivvan Women's Comfort Long Sleeve T-Shirt. I LOVE this top! It is what I wear with all of my skirts and also on the plane. You can get it in pretty much any color or size. I have it in black, grey, and white. I wear white and grey the most and it looks great with the skirts. Terrence originally thought that it would look bad because it is so casual and the skirts are so fancy, but not a single person has said anything either online or in person! I would say go for it! It is a great base for travels and to wear in your photos.
View this post on Instagram
Best Leggings For Travel Photos
Premium Women's Fleece Lined Leggings. Don't believe the hype! You do NOT need to pay $100+ for fancy fleece leggings. I get mine from Amazon and these are what I LIVE IN! I have them in black and have multiple pairs in the event one rips during my travels. They are very comfortable and I wear a size medium because I like them bigger. If you throw on the yellow raincoat suggested above with the hunter rain boots it becomes a super cute Instagram outfit and is comfy to wear during your travels. These are also what I wear under the skirts mentioned above during the winter time and sometimes I wear two pairs if it is very cold.
High Waisted Capri Leggings. I own these leggings in white. I don't generally like Capri leggings but I wear a white pair under my favorite dresses listed above. It is great for when it isn't hot out but it isn't cold out and there is a slight chill in the air. The Capri leggings allow them to hide underneath your outfit and the white color goes with the floral dresses. They have yet to get dirty on me so that is a good sign!
View this post on Instagram
Best Swimsuit For Travel Photos
CUPSHE Women's Ladies Vintage Lace Swimsuit. I own this swimsuit in three colors, black, yellow, and dark pink. Now I see they have a royal blue which I love and will be looking into right after I write this post! I like a swimsuit that has full coverage on the butt [like I said, I am comfort over style and I don't like a thong or cheeky styles as it isn't comfortable to me]. I also like the plunging neckline as I think it is flattering in photos. This swimsuit also fits tight around the stomach which allows for added tummy control. I have worn this swimsuit everywhere from Oman and Iceland to Jamaica and Austria. Comes in size small-XXlarge. I wear a size small.
View this post on Instagram
View this post on Instagram
Best Hats For Travel Photos
C.C Thick Cable Knit Beanie Hat. This is my GO TO winter hat for travel and photos. Trust me, my sister steals it on the regular for her trips. It is less than $20 so she should really just buy her own as you should too! It is a fantastic and substantial beanie hat and super cute in photos. I have worn it everywhere from Paris and Iceland to NYC in winter. It works like a charm and looks great in photos! I have it in white, red, and mustard. It is lined with a nice fuzzy material too which keeps you warm and breaks the wind against your ears!
View this post on Instagram
Wool Blend Plain French Beret. A beret is a super cute addition to any travel photos on Instagram. I bought mine online before a trip to Paris and wore them in every photo. I know loads of women who also wear berets for other countries and cities too so you don't have to be limited just to Paris. I have this exact beret in bright red, maroon, and light pink so that it goes with all of my skirts and outfits. I love the fact that it is wool because it keeps your head and ears warm during the colder times of the year. It goes great for a winter Instagram outfit with a skirt with a thermal top and scarf.
View this post on Instagram
Women's Wide Brim Braided Sun Hat. Yes, this may seem like a quintessential "Instagram" thing to do, but I LIVE in my sunhat during my travels to warm places, even when I am not in photos [especially then!] Wide brim and SPF 50 make this a great choice for your photos. If you are traveling to warm places and are looking for something to take your outfits to the next level in travel photos, this is for you!
View this post on Instagram
Best Shoes For Travel Photos
Women's Leather Ankle Army Boots. Brown ankle boots are my go-to under skirts and dresses for Instagram photos during the colder months. These are not the exact shoes I own, I got mine from Payless a few years ago, but these are close. I like to tuck my leggings into the boot so they don't fall out so I prefer a true anke boot, not these "bootie" style that go under the ankle that is so popular now. I wear my brown ankle boots everywhere and they go really well and are understated and don't draw the eye on Instagram.
View this post on Instagram
Vionic Women's Rest Farra Backstrap Sandal. These are the STAR of travel shoes. I own three pairs of the exact same shoe. I wear one and have two in stock in case they ever stop making them! I will wear these shoes until the last possible moment before it gets cold. They are actually orthopedic sandals which make for great comfort during your travels but they look great in Instagram photos as well. I own them in tan so they don't draw the eye away from the dresses and outfits I wear. My mom also owns them in black and they look really nice. I love that you can dress them down or up and they are easy to clean. A true favorite for travel photos on Instagram and something I totally live in 24/7 at home and during travels!
View this post on Instagram
Hunter Women's Original Tall Rain Boots. Like my $90 skirt above, I am NOT one to spend a whopping $110 on rain boots, but it was the best damn money I have ever spent! I bought these shoes for Ireland and have since worn them on so many trips and have never had to replace them. My sister bought a cheap pair of rain boots for our trip to Iceland from Amazon and they "died" her next trip in Greece so going cheap isn't always best when it comes to shoes! To name a few places, I have worn these boots in Iceland for two weeks, Ireland for two weeks [on two diff trips!] Oregon, California, Paris [two trips!] Austria, London, NYC and much more! I have yet to find a regular pair of boots I like enough for Instagram and travels to ditch these. So YES I wear rain boots with outfits and dresses. AND I LOVE IT!
View this post on Instagram
And there you have it! My Instagram travel wardrobe all in one place. I will continually update this post as I add new pieces, but for now this is pretty much everything I wear and bring on every trip whether it is cold or warm and that you see in all the photos on Instagram. I hope you found this helpful and I am happy to answer any questions you may have in the comments!
Pin this post: