If taking the train across Canada isn't on your bucket list, it totally should be! Seeing the entire country, from Halifax to Vancouver, by train is an unforgettable experience like no other. You will go to sleep in one province and time zone and wake up in a completely different part of Canada.
The Canadian train is a wonderful way to slow travel across Canada and enjoy the scenery, cities, and people along the way.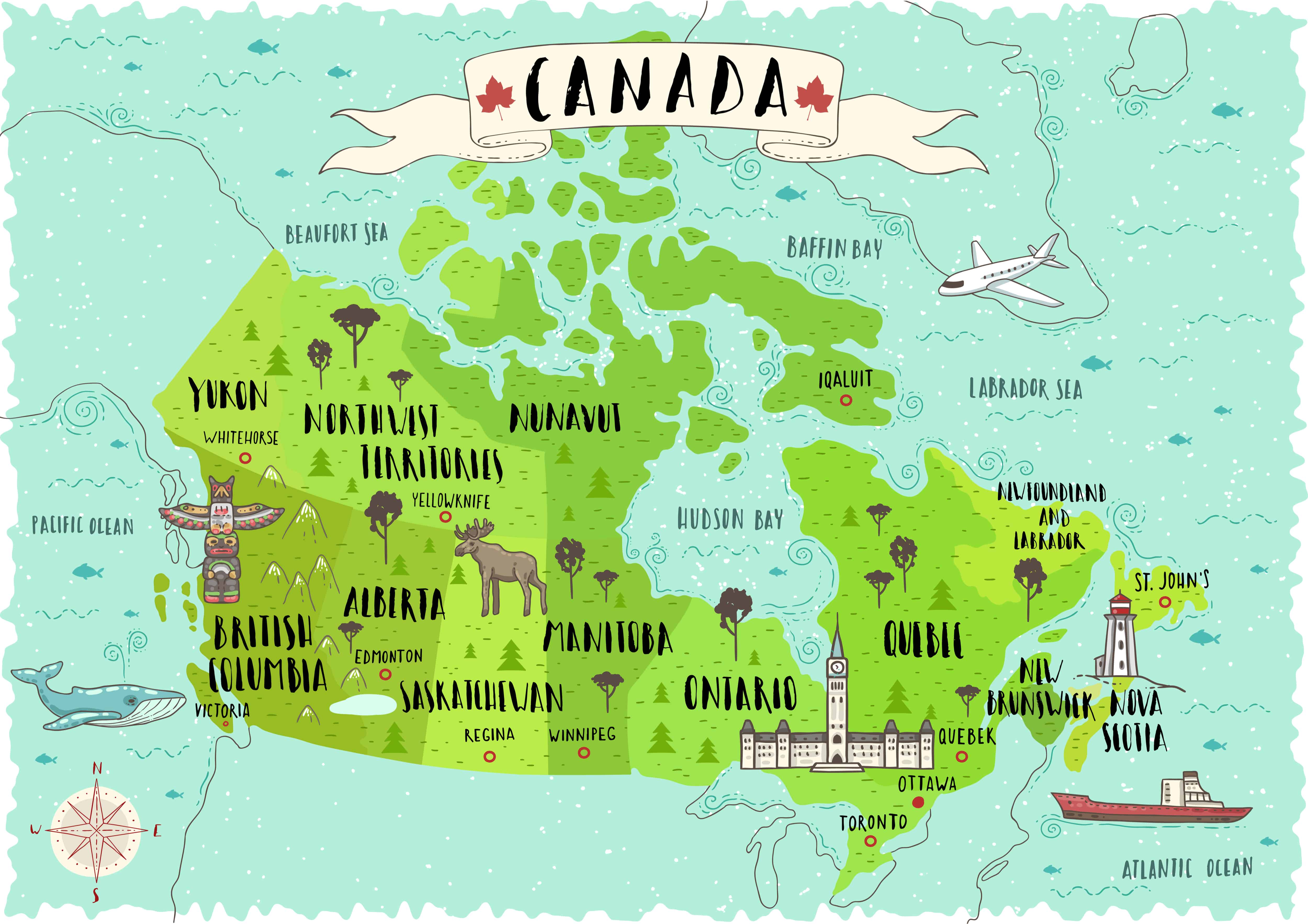 We have put together some things you should know about a trans-Canadian train journey so you are fully prepared for the epic you are about to experience! We recommend checking out Skyscanner to find the best and most affordable flights into Canada.
We use this tool to discover the best flights for our trip because you can easily compare rates. We also recommend booking your train across Canada journey on a travel credit card so you can earn points towards future travel! These are the travel credit cards we personally use!
Feel free to join our private Facebook group to ask any further questions about taking the train across Canada that you may have and to share your photos and experiences! We welcome getting to know each and every one of you and hearing about your trip!
Before you go, make sure to check out our Packing List For The Train Across Canada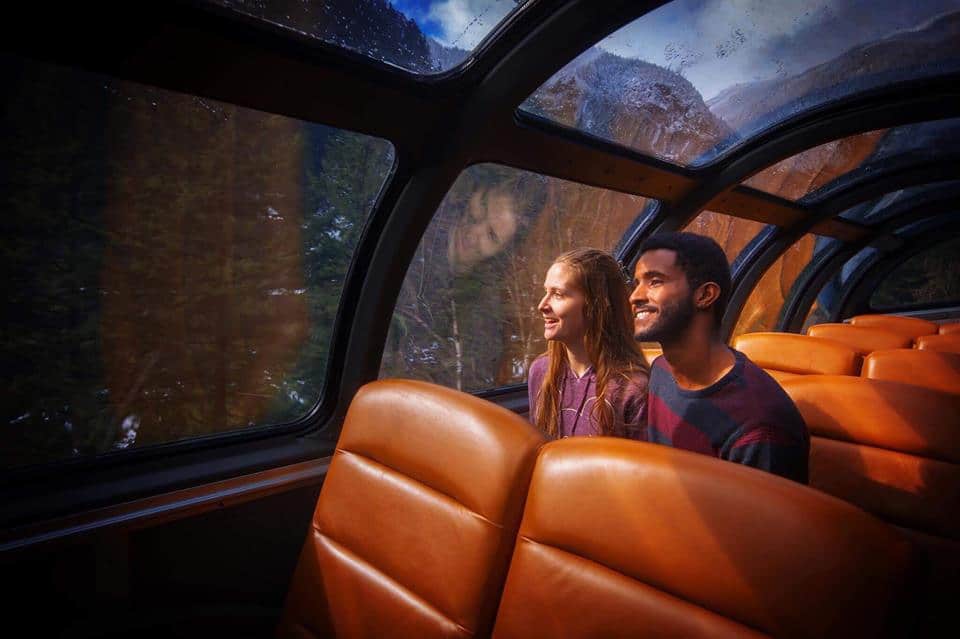 Train Across Canada: Insider Tips, Schedules, Fares, & Routes
15 Things To Know Before Taking The Train Across Canada
#1: Via Rail is the only company to offer cross Canada train travel
Via Rail Canada is owned by the Canadian government and is the only company to offer train travel from one end of Canada to the other. If you are looking to travel between Halifax and Vancouver, you are going to have to book through Via Rail.
Worried about only having one choice? Don't be! Via Rail Canada has been operating for decades as the trusted name in train travel across Canada! When you take the Canadian train, you will be riding with Via Rail!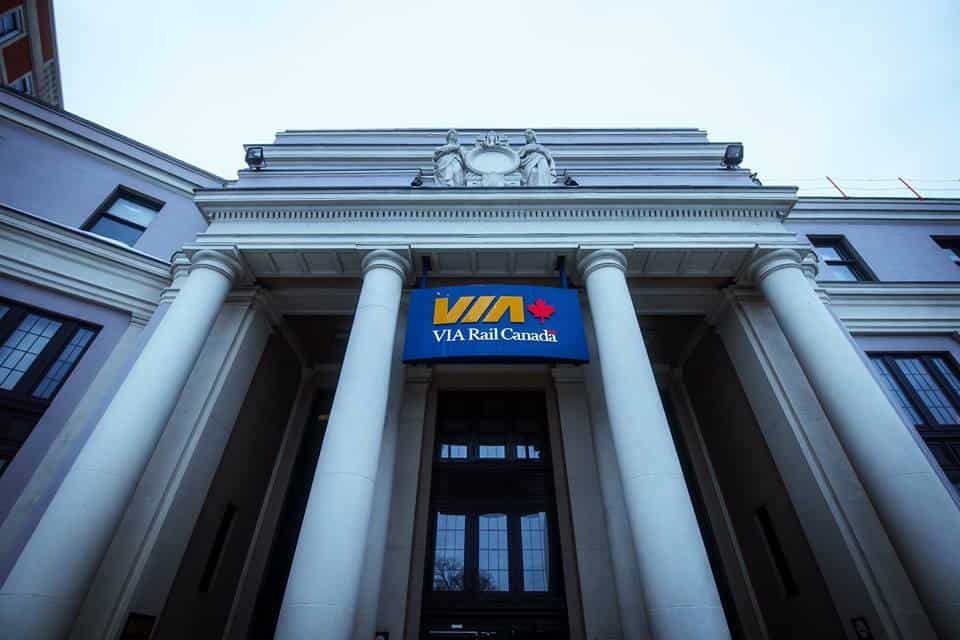 #2: The entire cross Canada train journey will take between 5-6 days, with no stops
Depending on the time of year you decide to take the train across Canada, the whole trip will take between 5-6 days. This is because you have to be sure that the Canadian train schedules match up with your connecting train!
If you are riding on "The Canadian" which runs between Toronto and Vancouver, the trip will be four straight days if you don't get off.
If you want the true transcontinental experience and start in Halifax, you will take "The Ocean" to Montreal and then take a commuter train down to Toronto. If this sounds confusing, it really isn't and Via Rail staff are just a phone call away to help with the planning.
Start Your Train Trip Off By Checking Hotel Price In Toronto
#3: Winter is the best time to take the train across Canada
You may be thinking that Canada in winter is a frozen tundra, but you are overreacting! We saw temperatures that ranged from 30-35*F in the mountains and 38-55*F everywhere else.
During the winter, you can book a transcontinental train journey for much cheaper than high season and will enjoy huge benefits including less people to compete with for views on the train.
Just make sure you pack your winter coat and a warm sweater for the train, you will want to be cozy! For more detailed information on what to pack, check out our post on 10 Things To Bring On The Cross Canada Train!
If you are planning to stopover at some cities like we did, the cities will be free from loads of tourists and much cheaper as well. Most importantly, traveling by train across Canada during the winter actually gives you the best views of any season!
Since many trees have shed their leaves, you can see through them and out to the landscapes beyond!
If you traveled during the summer, the trees would have their leaves and you would be stuck in a "tree corridor." Don't forget to pack your camera for great photos! We love the Sony a6000 for an affordable camera that anyone can easily learn to operate!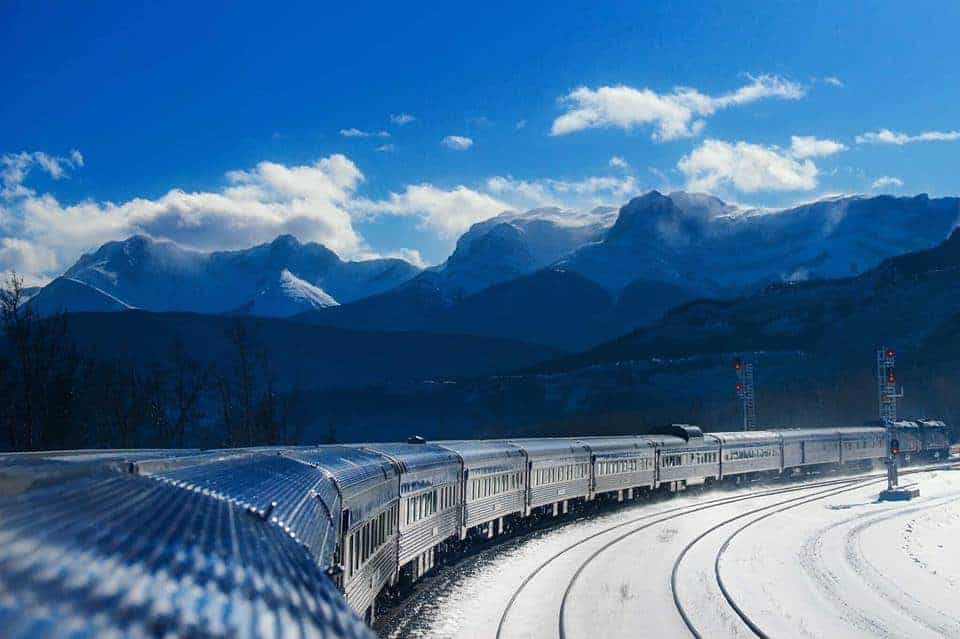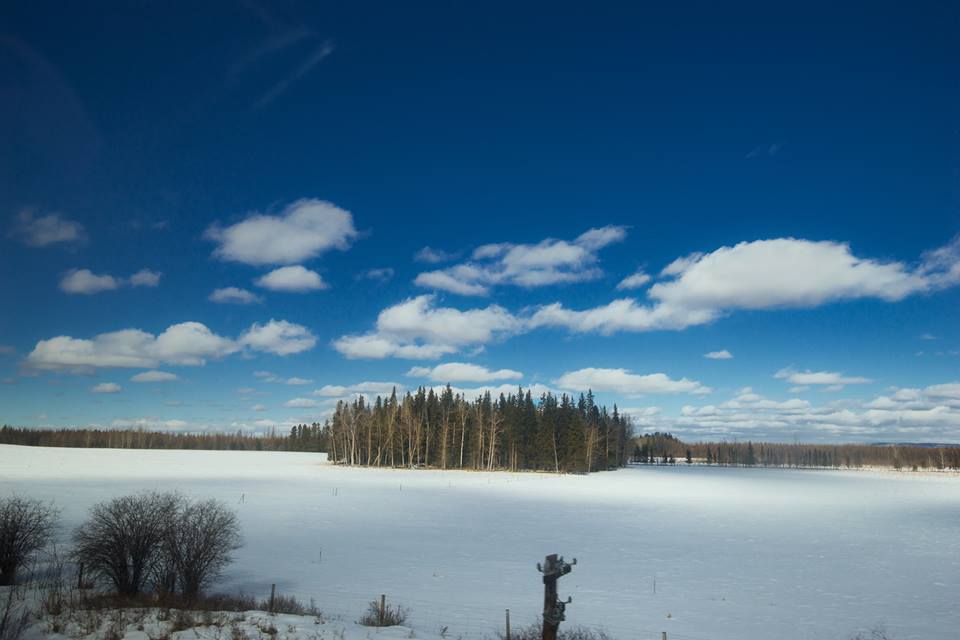 #4: Delays in the Via Rail Cross-Canada Train schedules are a very real thing…plan accordingly
Because of our booking process [we booked over the phone and the HR representative was leaving for surgery and 5 weeks of recovery the day after we booked], we did not know that the Canadian train would experience serious delays during our journey.
If we had known in advance and planned accordingly, the delays would have been no big deal. Since we had not, the delays had a big impact on a large part of our trip.
To be fair to Via Rail, they do have disclaimers on their website that you should not book onward travel or activities the day your train arrives into your station.
Delays are unlikely to happen every trip and our experience was extreme, but it is never bad to be prepared when taking the trans-Canada train.
Our Via Rail train was from Toronto to Jasper left 5.5 hours late which resulted in us arriving in Jasper 3.5 hours late [considering time change]. The Canadian train from Jasper to Vancouver [we did a stopover] was a whopping 9 hours late which cost us an entire day of sightseeing.
The moral of the story? If we had known about the possibility of delays in the Via Rail schedule, we would have simply added an extra day to our itinerary at each destination and would have expected delays at each stop.
Then, if we arrived at a reasonable time, it would have been unexpected. If you are planning to travel across Canada on Via Rail, simply build one extra day into your itinerary at each stop and do not book any flights the day you arrive. You can keep abreast of on-time performance on Via Rail's website.
Don't let delays keep you from taking the train across Canada, simply be prepared!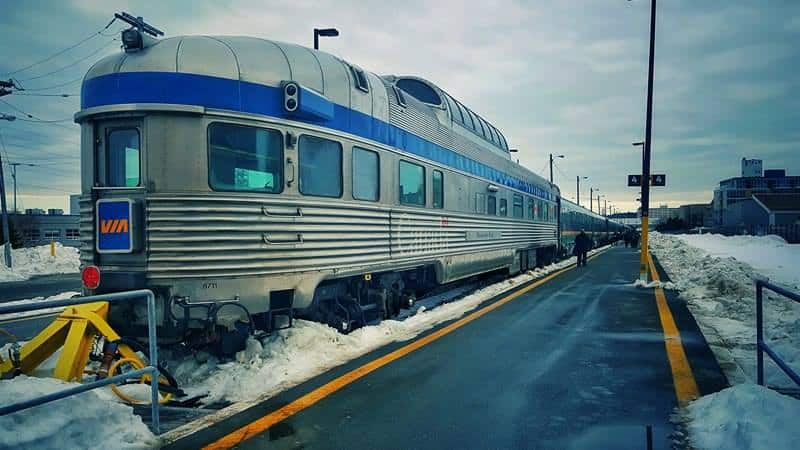 #5: Passenger trains in Canada share the track with freight and do not have priority
The main reason for all the delays on the Canada train? On Canada rail, freight trains bring in more money than passenger trains do so they get priority on the track. The freight company also owns the train tracks so Via Rail trains must often head over to a side rail to wait while freight trains pass.
Each train that passes may take up to 20-40 minutes because some freight trains in Canada can be 3 miles long!
Since passenger trains in Canada are a lot shorter, they must wait on a side track until freight passes. It is pretty neat to see the giant freight trains pass your train and count how many cars make up the train. That is a great way to make this part of the train ride across Canada even more enjoyable!
#6: Sleeping on the Trans-Canadian train is magically relaxing
We have slept in cars, on planes, and on cruise ships, but sleeping on the Canada train was something special and one of the best parts about taking the train trip across Canada.
The sound of the Canada rail cars traveling over metal tracks coupled with the relaxing movement of the train rocked us to sleep in under five minutes each night.
The motion of the Canada train was perfect enough to feel completely relaxed without feeling anxious about constant movement.
For an even more restful night, don't forget to bring your sleep mask and earplugs for maximum comfort! Traveling by train across Canada made for some super restful nights!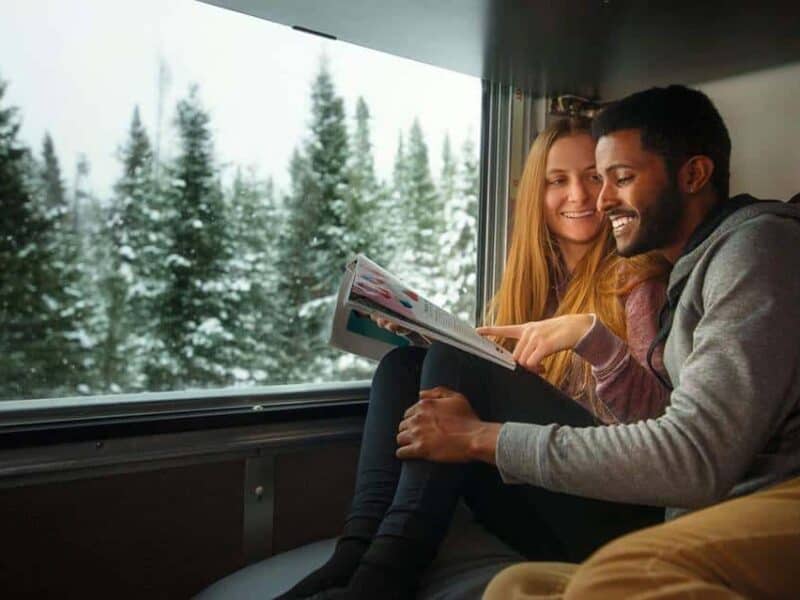 #7: Not stepping foot outside the Canada train for days on end is not a problem
You can get off the Canadian train at pretty much every stop if you want so not getting off for three straight days is totally on us! We are homebodies and it was winter so we didn't mind hanging out on the train through Canada for over 72 hours.
We got plenty of exercise trekking between all the Canadian train cars multiple times a day [these things can belong!] and loved being cozy inside at all the stops our train across Canada made!
If you are considering taking Via Rail "The Canadian" train trip, choose your stops along the way or choose to ride the Toronto to Vancouver train the whole way! Whatever you chose, you Canada train experience will be memorable!
#8: Only some Cross-Canada trains have Wifi
"The Atlantic" and the corridor train in Canada that connects Montreal to Toronto both come equipped with Wifi in certain cars, but "The Canadian" [the longest Canada train you will be on] does not.
The connection on our trains from Halifax and Montreal was great and it was nice to have access to the outside world.
It would have been nice to have the option for Wifi on "The Canadian" but you won't die without it and it's a great way to detox digitally. If you plan to take the train ride across Canada, pack or download some books in case you want to read them.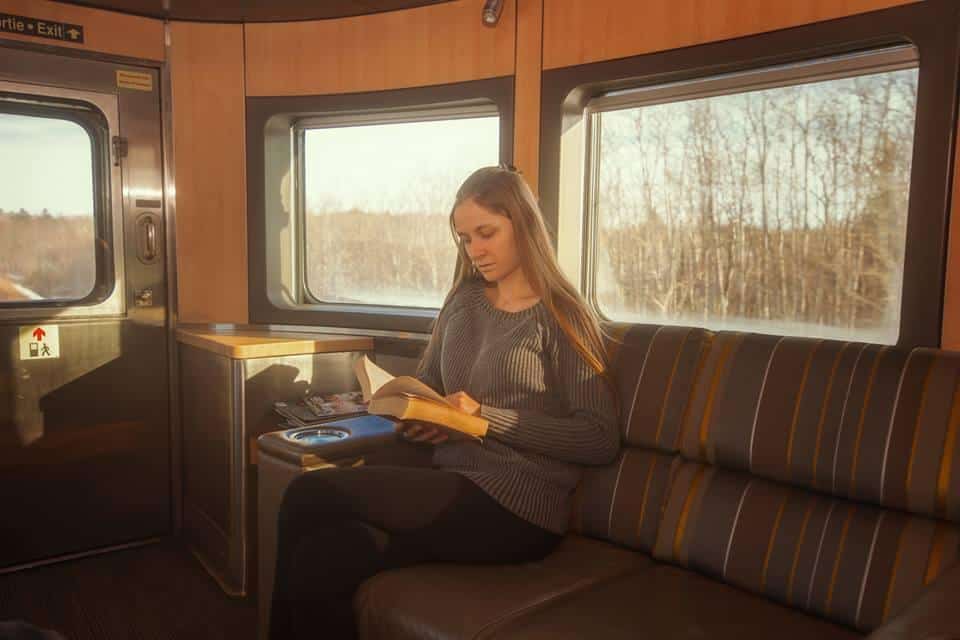 #9: You will find plenty to do and will rarely be bored on the train trip across Canada
In our entire 6 days of traveling by train across Canada, we can safely say that we were not bored one single time. The whole beauty of the train ride across Canada is getting to stare out the window and watch the world go by.
We are an introvert/extrovert couple and the experience was delightful to both of us. Via Rail Canada has activities on board such as wine and beer tasting, live music, discussions about what is going on outside and more.
There are also magazines and books and a constant supply of coffee, tea, and snacks. We also downloaded movies and watched them at night while relaxing on our bed. A Canadian train trip is truly an enjoyable and relaxing experience that you won't soon forget!
#10: Trans-Canada train food is actually very delicious
If you book a "sleeper plus" class ticket on "The Canadian" and "The Atlantic", you will have access to three very yummy meals a day in the dining car when riding the Canadian train.
For each meal, you are offered a soup or salad starter, a choice between a variety of entrees, and a choice of dessert. We were thrilled that there was a vegetarian entree offered with each and every meal for Victoria.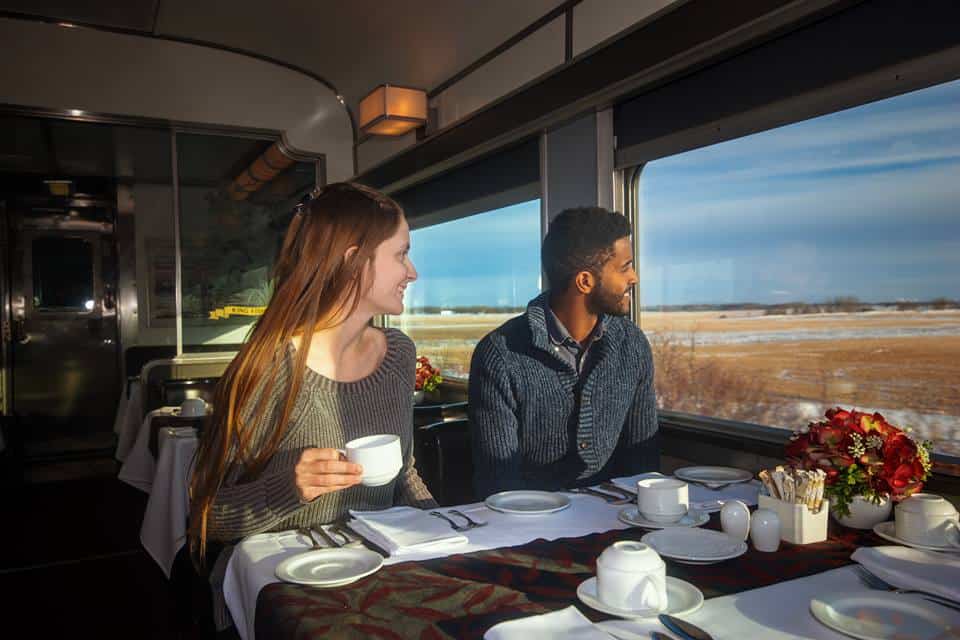 The food you will eat during your time on the train through Canada is high quality and home-cooked by Via Rail chefs in the kitchen. They have the ability to make minor substitutions since everything is cooked right in the dining car.
During one of our delays, the only vegetarian food left on the Canadian train was a salad, so the chef cooked Victoria a delicious grilled cheese with soup and salad. We were really impressed by the flexibility and range of food offered on a train across Canada!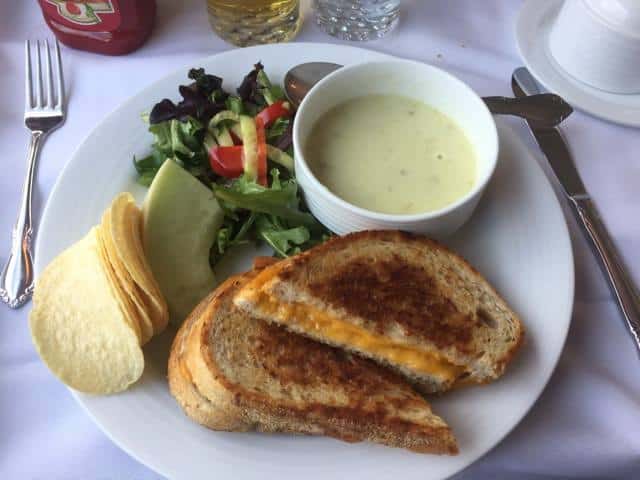 #11: You can choose your accommodations for the train across Canada based on your budget
With a little saving, everyone should take the opportunity to take the train across Canada. Fortunately, Via Rail offers a bunch of options for each price point. If you are on an extreme budget, you can travel in economy class, but you will not receive meals and you have to sleep in your [comfy] seat.
Looking for more room? You can book a "roomette" on the "Canadian" which is a cute semi-private bunk bed that lines the hallway in the sleeper car. The beds are huge and you have a curtain for privacy.
Alternatively, you can book a private cabin for one, two, or three, depending on your needs. Finally, if you are looking to go all-out, you can book the pricey Prestige Class which offers a full bed, unlimited liquor, a TV and more.
Although it is expensive, prestige is already fully booked for the summer so it is quite a popular way to travel by train across Canada. We stayed in a cabin for two it was super roomy and comfortable for the journey! You can keep track of the lowest possible fares on this page!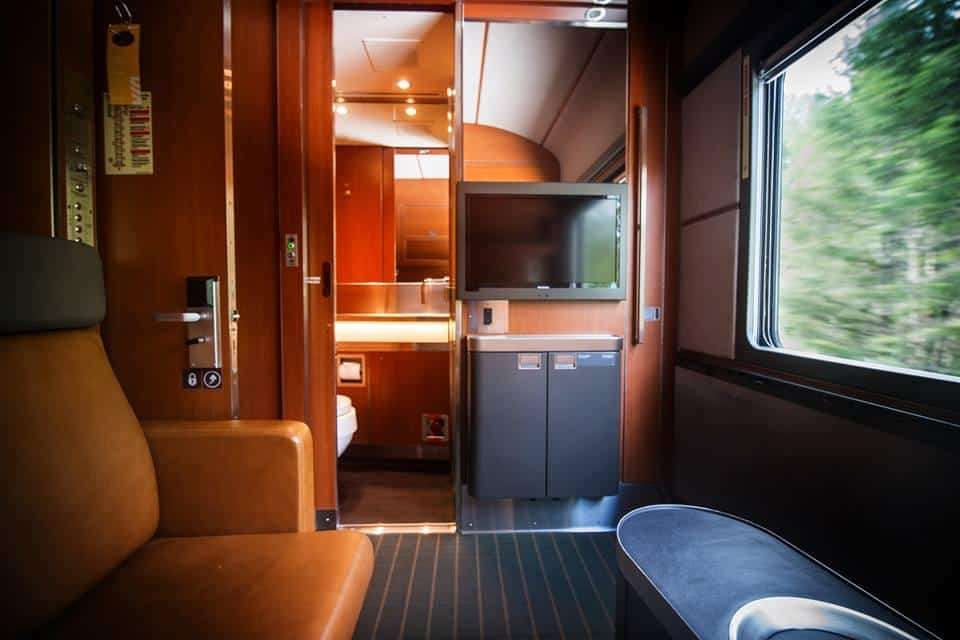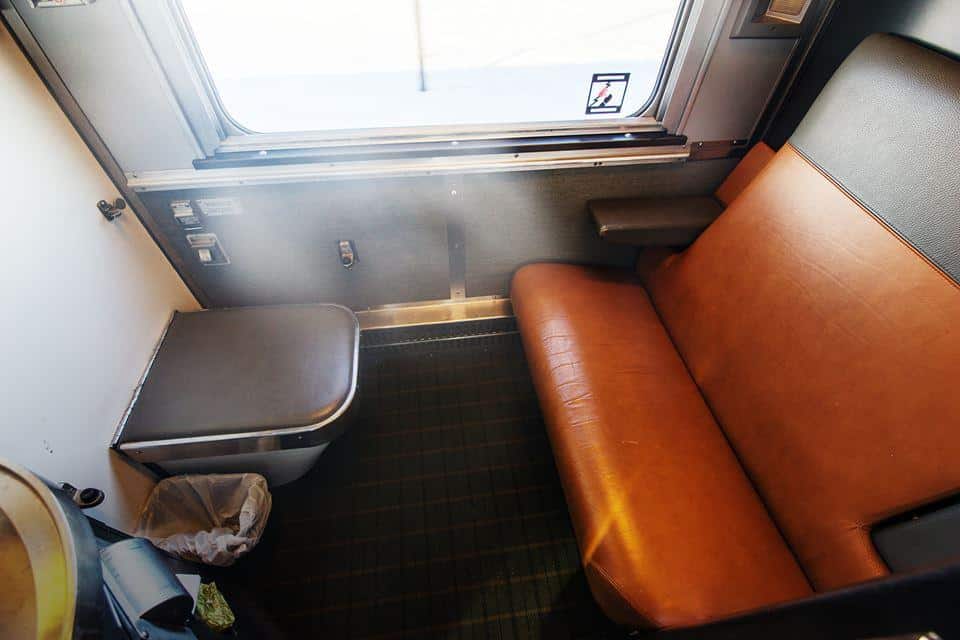 #12: The "Dome Car" offers the best view of Canada by train
The "Dome Car" was our favorite part of the Canada train and one of the best parts about traveling by train across Canada. It is equipped with very comfortable seating that elevates you above all the other train cars, giving you a 360 view of your journey.
This car is by far the most popular so we suggest getting there early if you want to a good space [but don't leave items to "save" your seat].
This car is perfect for photographers [or smartphone photographers] because you can see the entire train, what is ahead, what is above, and what is behind. These days, you can buy really affordable GoPros that make taking great videos and wide-angle photos easy for anyone! It is certainly one of the best parts of seeing Canada by train!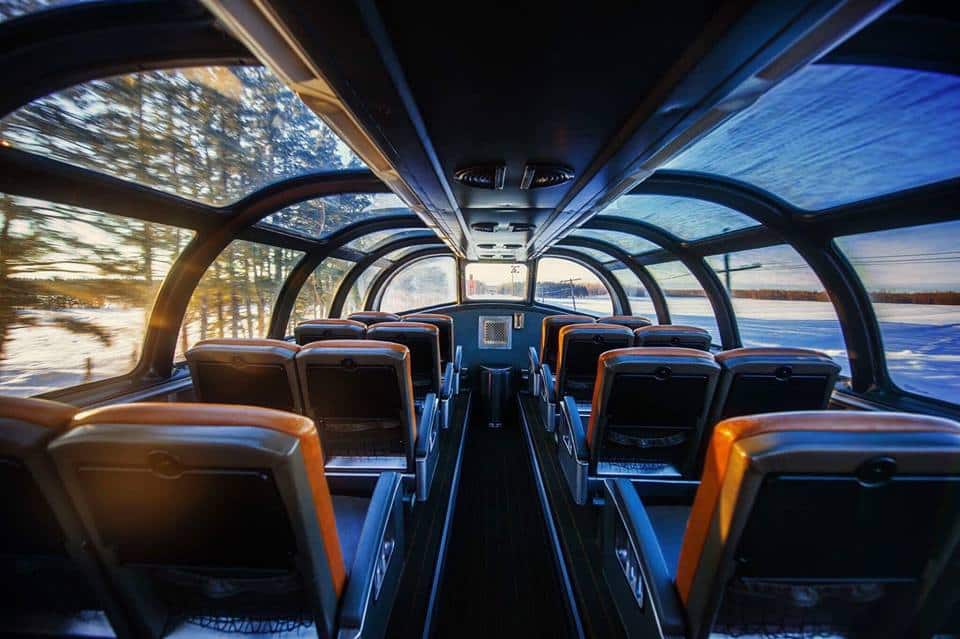 #13: You will meet a ton of new people on the train trip across Canada
Even if you are very introverted like Terrence, you are most likely going to meet a bunch of new people when riding the train across Canada.
We met people from different parts of Canada, America, Australia, England, and Korea. Simply by virtue of sitting together and admiring the scenery, you will start to connect with or chat with others.
People were intrigued by our camera which opened us to a lot of conversations making the train trip across Canada even more fulfilling!
In addition, you may not always get to sit at a private table for meals. Since the cars are so small and there are a lot of people, you may be put with other groups to dine. Other diners can tell if you are open to talking or not but some will befriend you anyway.
Out of all the meals we ate with others, there were only two where we didn't chat with our meal partners very much. By the end of our train ride across Canada, we had given away every business card to save one to all our new friends!
#14: You will travel through 5 time zones and getting used to a new one is super easy on the Trans-Canada Train
If you choose the entire transcontinental train trip, you will pass through five time zones [Atlantic, Eastern, Central, Mountain, and Pacific] from Halifax all the way to Vancouver.
Some people online seem to think that traveling losing time while your train is going forward will mess with your mind. It actually won't and this is truly the best way to cross time-zones that we have experienced.
When traveling out west, we usually have a difficult time adjusting to the time zone. During our time on the Canadian train, we didn't have a problem at all and our sleep was right on target the entire time!
If this is something you are worried about or considering, don't fret! There is something about taking the train across Canada that makes time zones a lot easier to adjust to! If you think you may still have a hard time adjusting, we suggest taking some melatonin just in case.
See Prices For Vancouver Hotels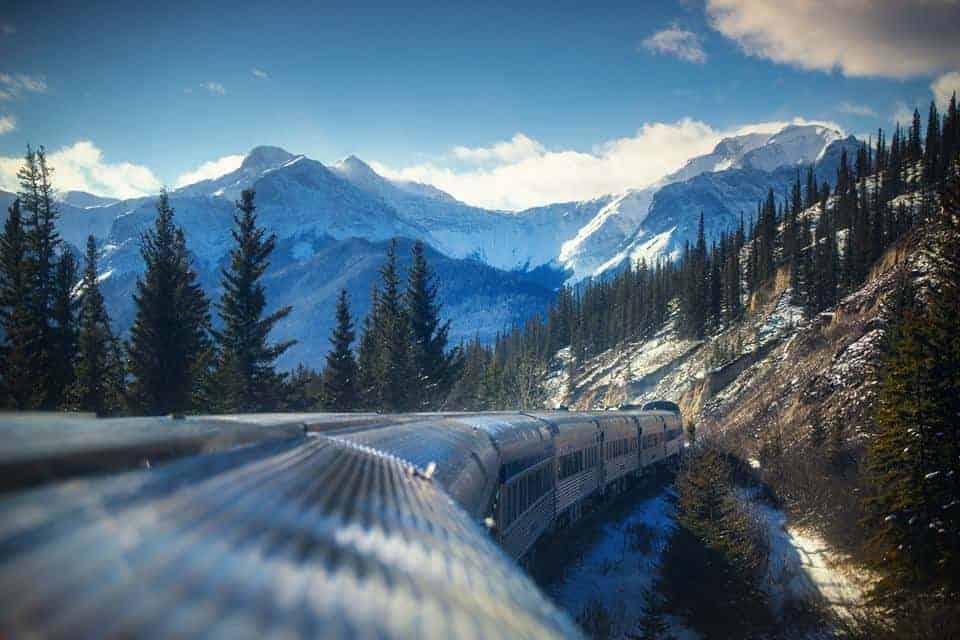 #15: You won't want to say goodbye to your train trip across Canada
You just rode a train across Canada which is something not many people get to do! When it comes time to pack up your belongings and say goodbye to the train and your journey, it is going to be really hard!
The experience is so unique that you will instantly begin to miss the motion, the meals, the views, your accommodations, and more.
We genuinely felt a little sad every time we had to step off the Canadian train, but especially when we arrived in Vancouver and had to leave for good.
Make sure to make the most of your travel so you can remember every detail about your time on the Canadian train!
Train Across Canada Routes
If you plan to take a train trip across Canada and you want to go the entire way, from Halifax to Vancouver, you will be taking two different Cross-Canada trains but they will all be with Via Rail Canada.
If you want to head from Toronto to Vancouver or back on the train across Canada, you will want to choose "The Canadian" option on the Via Rail Canada website under "The Great Western Way" tab. Via Rail Canada is the only company who provides the train trip across Canada through the entire country.

"The Canadian" is the most popular train trip across Canada route and you really can't go wrong with choosing it. It will show you the best of what Canada by train has to offer. But, if you are like us and want to truly travel Canada by train from one end to the other, you will choose "The Canadian" route as well as "The Maritime Way" Canada train route to take you through the Canadian Maritime area.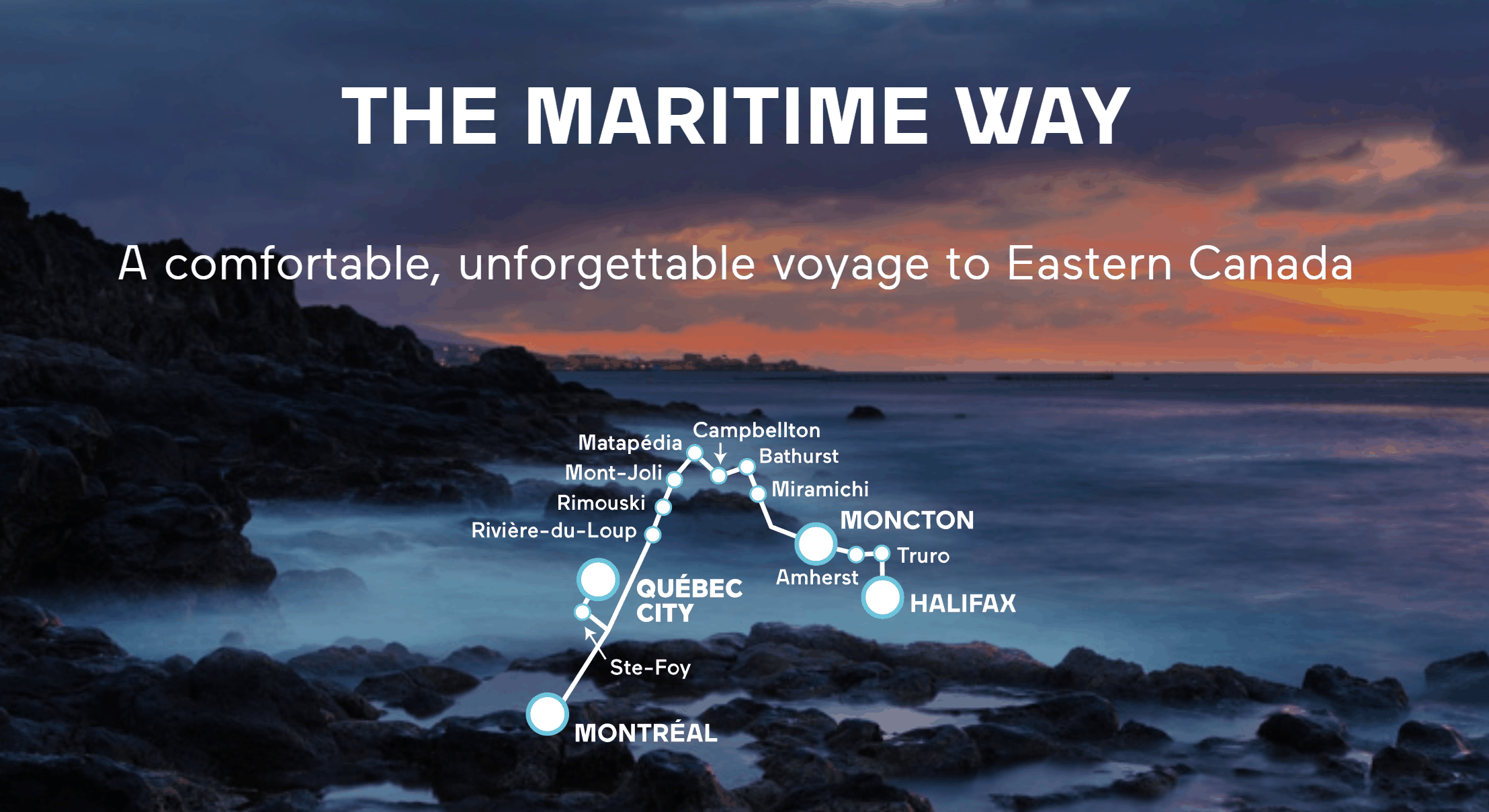 Fares And Prices For The Train Trip Across Canada
The good thing about taking the train across Canada is that you can choose the price you want to pay! If you are looking for a honeymoon or anniversary getaway, we recommend booking Prestige Class accommodation on the Canadian train to give you something romantic and luxurious.
If you are a student on a budget but still want to experience a train ride across Canada, Via Rail offers economy class fares and sales!
Winter prices for an economy ticket for the train through Canada start at $431 [updated 2018]. This is for the Canadian route from Toronto to Vancouver during the winter months.
We took the Cross Canada train in winter and highly recommend it! A winter fare for the train trip across Canada for Prestige Class, the most expensive Canada train fare offered, ringing in at $4,156 for the four-day cross Canada train trip.
Via Rail makes seeing Canada by train accessible to a variety of budgets with their varying cross Canada Train fares. There are budget trans Canada train options, luxury train across Canada options, and everything in between, depending on what you are looking to spend.
Check out the example fares directly from Via Rail below to see prices on the train trip across Canada.

Schedules And Timetables For Seeing Canada By Train
If you are looking for the updated train across Canada schedules and Cross-Canada train timetables, we recommend checking out this page on the Via Rail website. These timetables will show you the exact schedule for the train trip across Canada as written by Via Rail Canada.
Please remember that these trans-Canada train trip schedules are just predicted as things may change as detailed in our post above. We highly recommend being flexible when taking the Canadian train trip as the Canada train doesn't always stick to the timetables laid out here due to freight trains, weather, and a variety of other reasons.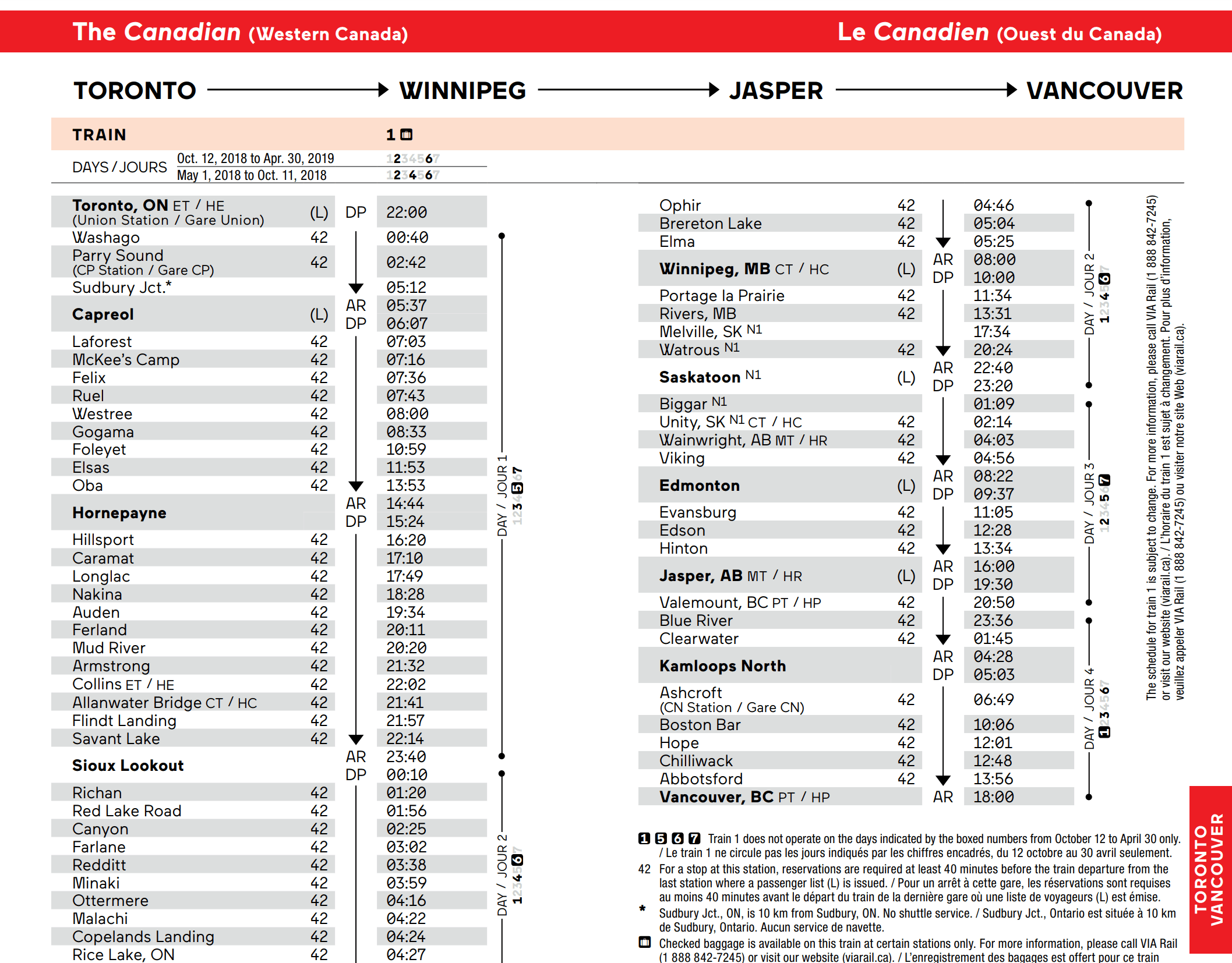 Safety Tips For The Train Across Canada
You may be surprised to see a section on safety tips for the train across Canada, but safety is important. Our number one Canada train safety tip is to make sure you are always holding onto two parts of the train at one time.
This means that if your feet are on the ground one hand should always be holding onto something on the train such as a wall, railing, or chair.
The train tracks in Canada can get quite old at parts which makes the ride a bit bumpy. The hallways are very narrow and if you aren't holding on and walking slowly, you can get thrown between the walls, and yes this happened to us and other people on our cross-Canada train trip.
To avoid this, walk slowly and with care when making your way throughout the Via Rail train. Ensure that you are always holding onto something because although the ride may seem smooth, you can't predict what the tracks are going to look like in a few moments and you are putting yourself at risk of being thrown off balance if the ride gets rough.
When walking between train cars, make sure to walk quickly and safely through the part where the cars connect. If you are taking the train across Canada in the winter, you will see snow buildup between the cars and it will be cold and possibly slippery.
As long as you are always anchored in two places [the floor and something else] you should have a safe and enjoyable train ride in Canada!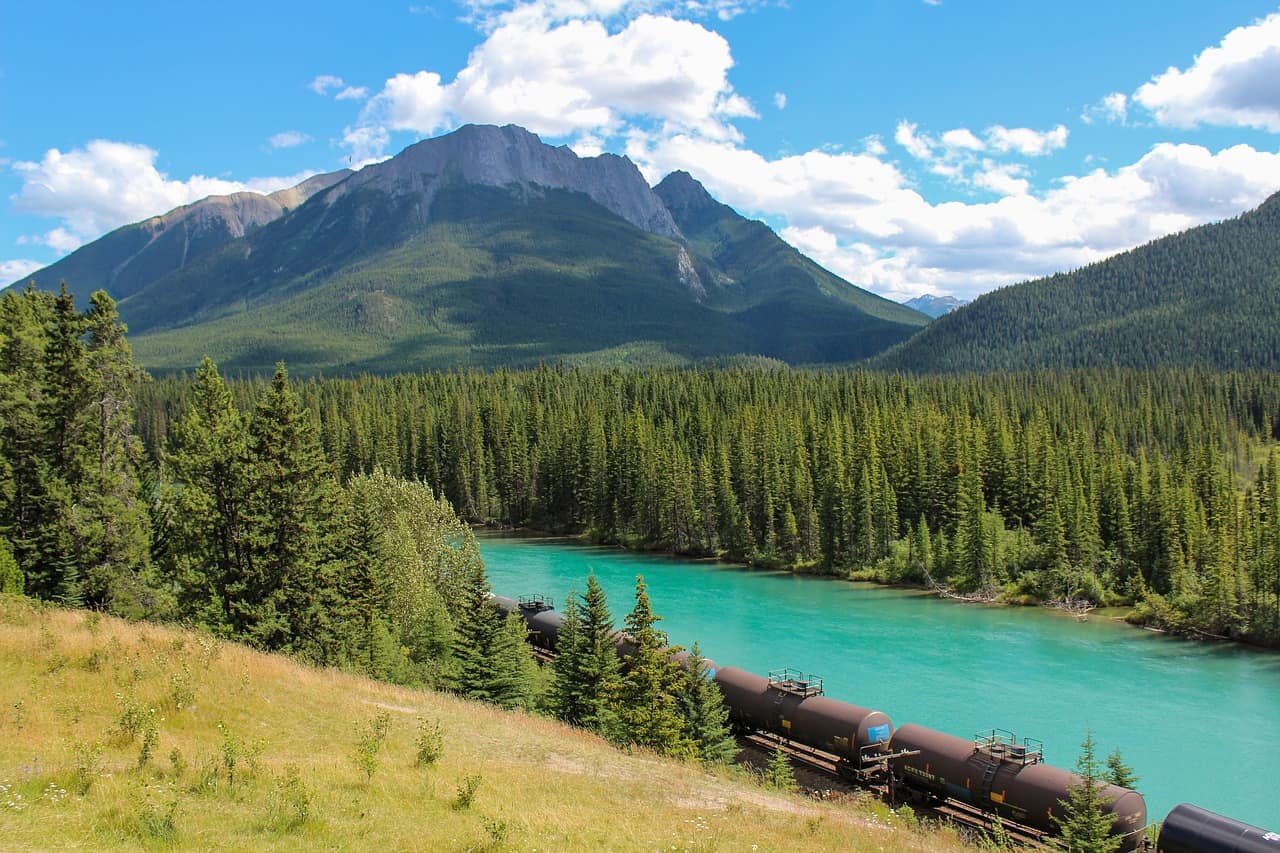 Getting To The Cross Canada Train
Luckily, getting to the Cross Canada train for your train ride across Canada has never been easier! The train through Canada begins and ends in two major world cities, Vancouver or Toronto!
Depending on where you are coming from in the world, the prices to fly to these cities are quite affordable! If you plan to take the train across Canada from either the United States or Canada, you may be within driving distance to one of the places where the train ride across Canada either starts or ends!
If you are in driving distance to either Toronto or Vancouver, we recommend renting a car one way and leaving the vehicle at your destination. This way, you won't have to come back to your starting point to return the car or pick up your own vehicle.
If you are flying in order to take the train across Canada, we highly recommend looking out for deals and considering budget airlines and a variety of days of the week in order to get the best deal. Luckily getting to the cross-Canada train is quite easy to do!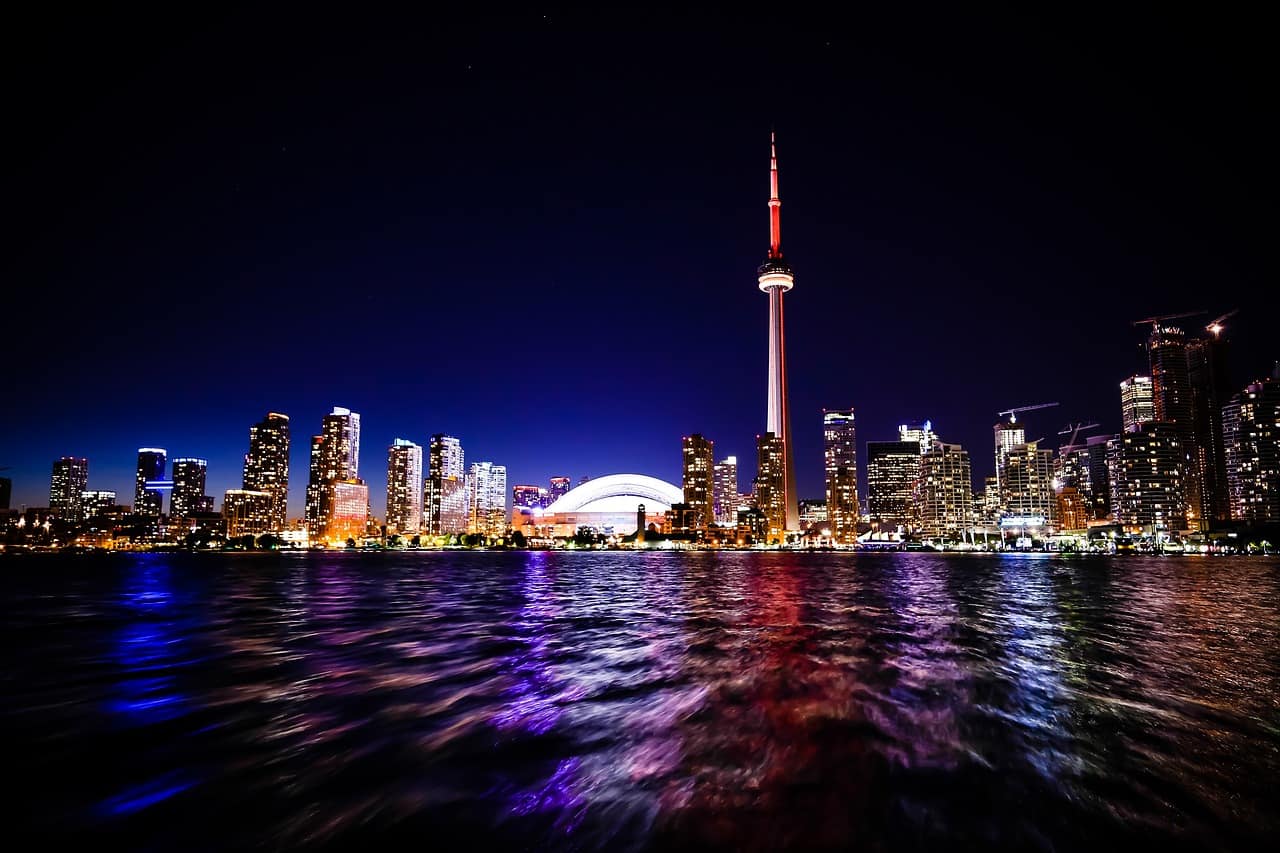 Quick Tips For Taking This Train Trip Across Canada
Pack Light For The Cross Canada Train
When taking the train across Canada, make sure to pack light but comfortably. We have a packing list for your Canada train trip, but we want to ensure that you understand how small the cabins on Vai Rail trains may be unless you book prestige class.
You want to have enough clothing to be comfortable in, but you also don't want your clothing and bags to overrun your room on the train through Canada!
Call Via Rail If You Have Any Questions Regarding Booking Your Train Ride Across Canada
Via Rail is very helpful in answering all of your questions. If you have not found the answer here, feel free to ask in the comments and we will do our best to answer your Canada train questions to the best of our ability.
That being said, if you can't find the answer anywhere online and want to make sure, it is a good idea to simply give Via Rail a call! They will help you out! You can call Via Rail here: 1 (888) 842-7245
Never Book Onward Travel The Day Your Cross Canada Train Arrives In Station
As detailed above, Via Rail must give priority to freight trains as Via Rail does not own the tracks for their train trips across Canada. As a result, you may experience delays that range from 20 minutes to 7-10 hours.
Be prepared for potential delays by not booking any onward travel such as flights or long drives on the day your Via Rail train is due to arrive in the station.
We also advise not to make any plans that are set in stone such as going to a birthday party or a specific hike. Make loose plans for the day you arrive at any station where you get off the Canadian train and be flexible as there very well may be delays.
Delays On The Canadian From Toronto To Vancouver Will Always Be The Worst
It is important to be aware that you may experience the worst delays when taking "The Canadian" route from Toronto To Vancouver by train. This part of the country is very popular with the freight trains, more than any other region in Canada. If you are taking the train from Halifax to Montreal or one of the other routes that Via Rail offers, you will be less likely in experiencing delays.
For our portion of our cross-Canada train trip that went through the Maritime provinces, we only experienced a few short delays whereas on "The Canadian" from Toronto To Vancouver, we experienced major delays as detailed above.
Instead of fretting about delays, we recommend you look on the bright side and be happy that you are getting "free" extra time on to enjoy travel across Canada by train. If you prepare yourself for delays ahead of time with our tips, you should be smooth sailing!
You Don't Have To Spend A Fortune To Experience A Trans Canada Train Trip
Did you know that Via Rail has economy class? Although we did not personally take the train across Canada in economy class, we have heard from many readers that the Toronto to Vancouver train trip is still very worthwhile to take in economy class.
During our time on the trans Canada train, we did see economy class and the seats looked very comfortable. Economy class Via Rail passengers have access to their own viewing car and an area where you can purchase food too.
We have also been told that economy class on the train ride across Canada is a great place to make friends and meet new people from around the world!
Via Rail Also Offers Luxury Train Trips Across Canada If You Want Pampering
In 2017, Via Rail introduced their Prestige Class. It was brand new when we took the cross Canada train, but we peeked into the rooms and took a few photos. Prestige Class sold out an entire season very quickly and it is easy to see why.
The Prestige Class rooms are only on "The Canadian" which is the Toronto To Vancouver train trip and the rooms are huge and offer full-sized beds, picture windows, large bathrooms, and your very own dome viewing car for your class.
If you are looking for a luxury train trip in Canada, Prestige Class is perfect for you and after seeing the cabins in person, we highly recommend the experience! Sleeping in a full bed next to your partner while looking out as your trans-Canada train whizzes through the countryside? What could be better than that?!
Be Aware That The Canadian Train Is Not Equipped With Wifi And Prepare Accordingly
This may sound redundant, but this cross Canada train journey does not come with wifi accessibility. No idea why other than possible budget restrictions, but it is slightly annoying but not the end of the world.
Now you may be a more mature traveler reading this and thinking oh you young folks and your phones can barely go without wifi for 5 days but that isn't the case! The majority of older travelers on our trans Canada train trip were very annoyed with the lack of wifi so we promise it just isn't young people!
Instead, make sure to come to your train trip across Canada prepared with lots of reading materials and perhaps an ipad with some movies or books on tape downloaded. During the day, you will have plenty to see and do, but we found having a book and some movies for later at night after dinner was quite helpful and enjoyable.
We recommend a Kindle E-Reader and a Kindle Unlimited subscription which gives you unlimited access to over 1 million titles! You can do a free trial of the Kindle Unlimited subscription and just cancel after your cross-Canada train trip which is exactly what we did 😉
Map Of The Train Across Canada Route
Sometimes, it can be easier to visualize something which is why we created this map of the train across Canada route. You can see the true size and scale of where you will visit when you take the cross Canada train.
When you look at the photo below, you will see the name "Union Station" which is the name of the Via Rail station in Toronto.
If you are only taking "The Canadian" then your Canada train journey will begin or end at this point. If you are doing the entire thing, then this is where you will transition between trains just like we did. Feel free to download this map so you can keep track of where you are during your Canadian train trip!
Click Here For Google Map Of The Train Route Across Canada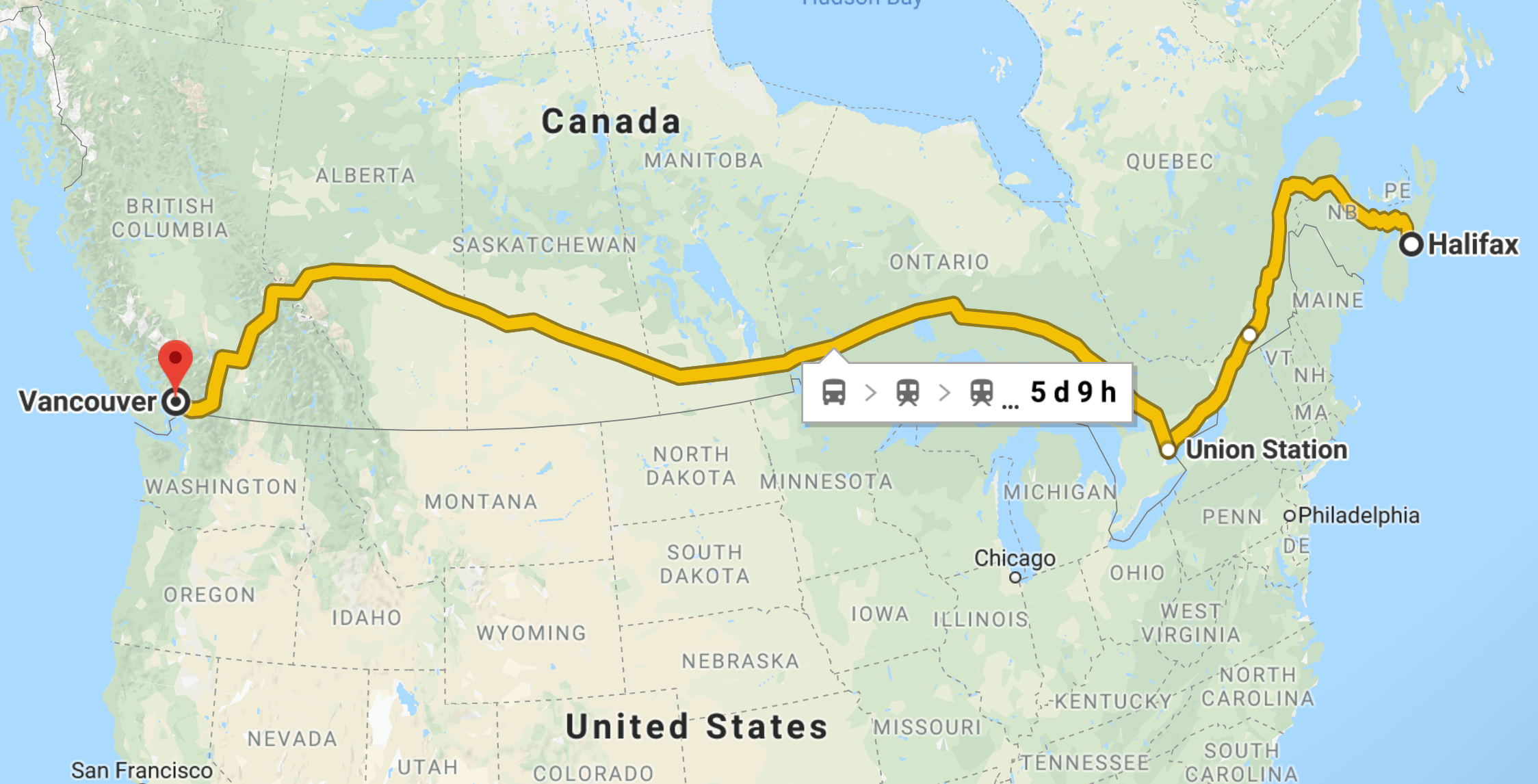 With the proper preparation, the train across Canada will be the trip of a lifetime. It is such a fantastic experience that you won't forget. During our train ride, we even talked to other passengers who have been on the same journey multiple times because they love it so much!
No matter what time of year you ride the cross Canada train, you will have a wonderful experience. Is a Canadian train trip on your bucket list? Make sure to let us know if you decide to see Canada by train! Let's chat in the comments.
Pin this post: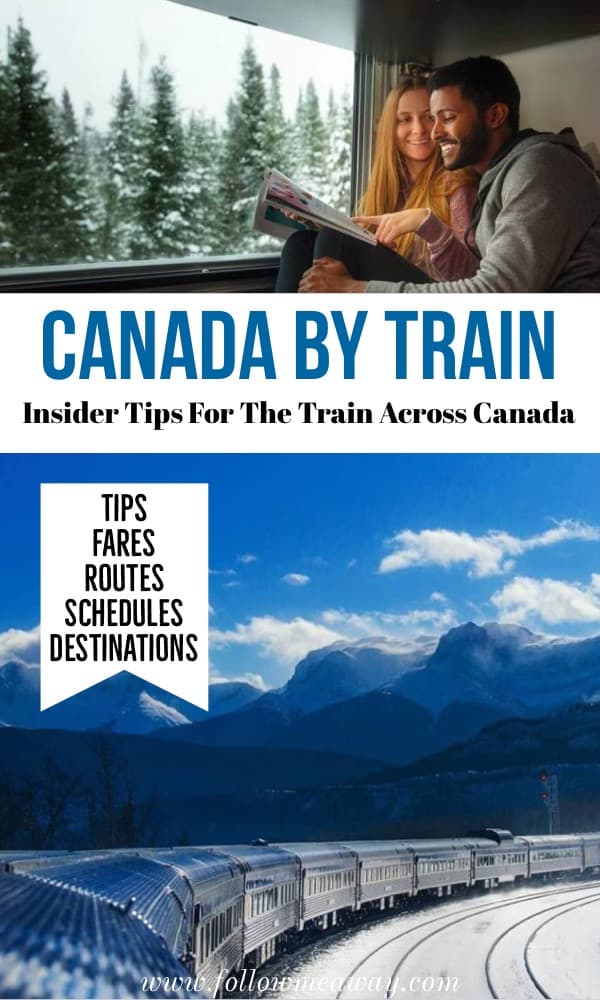 Please note: We were hosted by Via Rail for the purpose of this review. Our views are all our own and do not reflect those of Via Rail Canada. We were not paid to write this post. This post also contains affiliate links which means we may make a small commission at no cost to you if you purchase an Amazon product suggested by us.