If you are looking for the prettiest streets in London, you have come to the right place! Whether you are looking for cute and colorful, famous, or under-the-radar, there is a pretty London street that you will just love! The magic of London can be discovered by just wandering down a beautiful street after street as you dip into a coffee shop here and a pub there and end the day with a nice dinner.
London is well-connected by the Tube/Underground so getting to these streets is quite easy. That being said, London is a geographically large city so once you get off at your stop, you may have to walk a bit to find the best streets in London. Depending on the street, you can even take the Tube and then take a bus if the location is really too far or if the weather isn't the best.
We have included specific Google Map locations of each London street as well as the closest Tube stop to the area. There are so many beautiful and cheerful streets in London and we know you will love them as much as we did!
Looking to save money on your London trip? Get a FREE $55 Airbnb coupon by using our code when you book!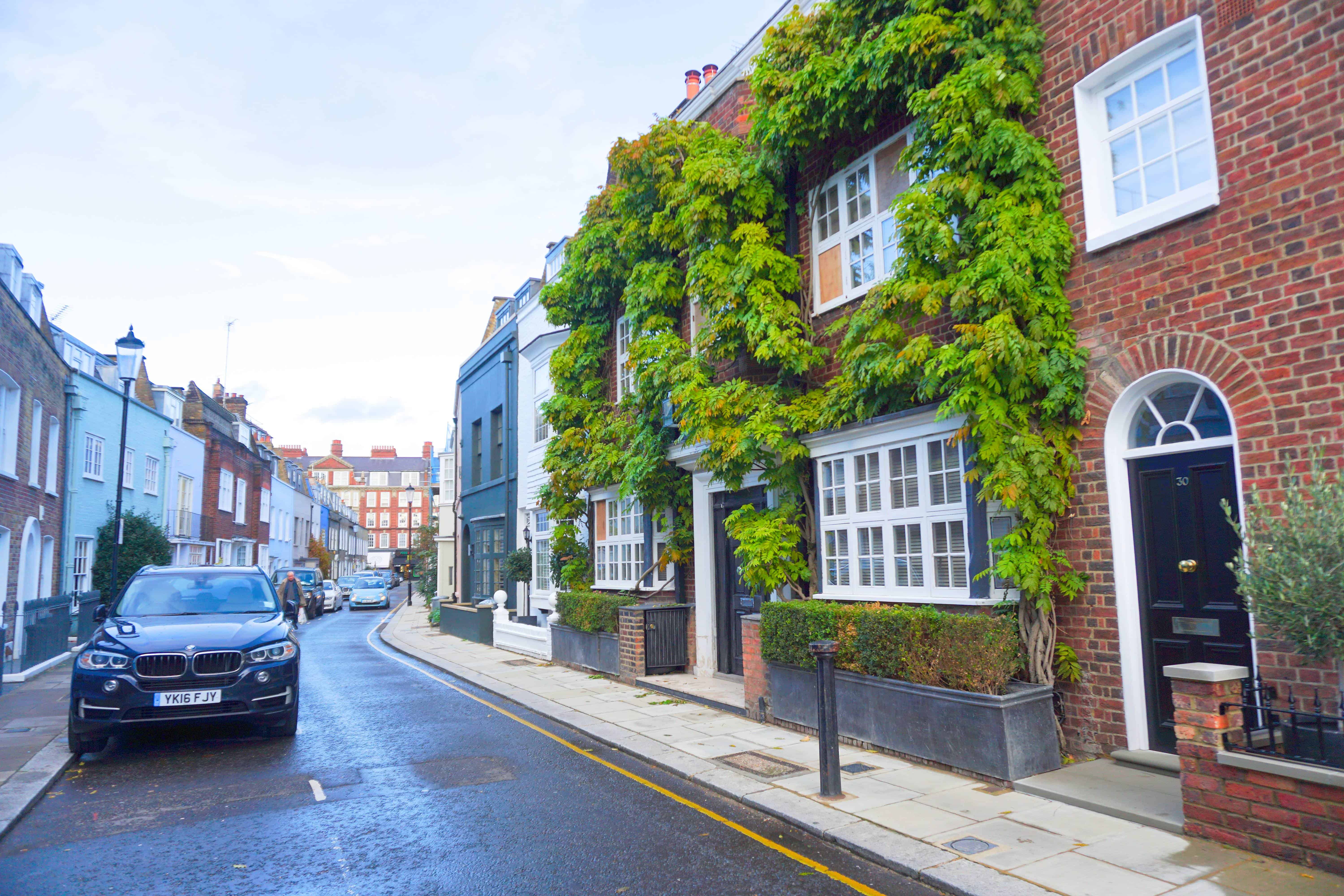 Top 10 Prettiest Streets In London
Neal's Yard Is One Of The Most Unique Streets In London
Neal's Yard is one of the shortest streets in London recommended here but it is also one of the most unique! This street, located in the Covent Garden Area, is often touted as London's best kept secret. Now, we are telling you, but you have to be respectful of the area when visiting to keep it pretty for many visitors to come! Neal's Yard is an alternative street where flowers and ivy climb and cover the walls.
Neal's Yard is also one of the most narrow streets in London on this list, but that adds to the charm! During your visit to Neal's Yard, we recommend stopping in Neal's Yard Remedies, an all-natural beauty and skin care shop that uses organic ingredients when necessary.
There are various other shops along this London street as well as a delicious cheese shop that is worth a stop if you love dairy! Many people don't know about Neal's Yard and don't leave the Covent Garden Market area and venture further to explore. They are missing out on one of the prettiest streets in London!
Click Here For Google Maps Location Of Neal's Yard
Closest Tube Stop: The closest Tube stop to Neal's Yard is the Covent Garden stop. When visiting the Covent Garden stop, there are almost 200 steps to climb so unless you want a workout, it is best to take the lift/elevator!
Where To Stay Near Neal's Yard:
2 Bed Near British Museum. Check Rates: Booking.com
Premier Inn London Leicester Square. Check Rates: Booking.com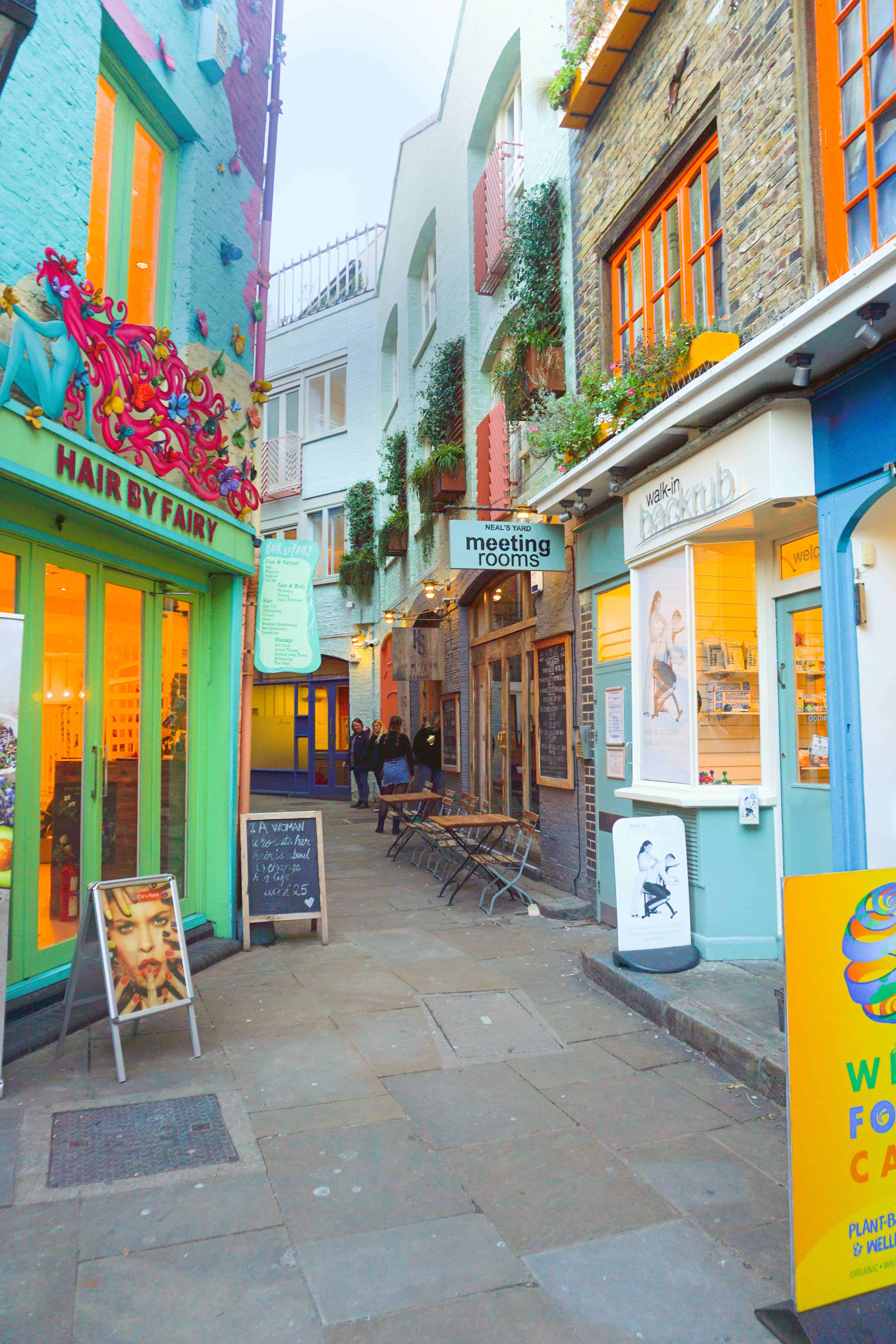 Ebury Street Is Lined With Beautifully Decorated Shop Windows
We are honestly surprised that Ebury Street doesn't top more lists of the prettiest streets in London! Ebury Street is home to the Instagram-famous shop Peggy Porschen Cakes, and it is easy to see why! Peggy Porschen Cakes is a cute pink building with a wonderfully decorated storefront.
But, the cake shop isn't the only pretty place along Ebury Street! Most people just visit for the Instagram location and then leave, missing one of the prettiest shopping streets in Paris.
If you continue to meander down Ebury Street, you will pass countless store windows that are beautifully decorated all year round. This makes Ebury Street easily one of the prettiest streets in London because the window dressings are so striking.
Whether you visit during spring, summer, or the holidays, the stores will be decked out and you will find numerous photo spots along the way. Even if you don't want to go shopping, this London street will blow you away by how well-done the decor is on both sides of the road!
Click Here For Google Maps Location Of Ebury Street
Closest Tube Stops: Victoria Station and Sloane Square are the closest Tube stops to Ebury Street. Either way, you are going to have to walk a few blocks to reach one of the cutest streets in London.
Hotels On Ebury Street:
Mid-Range: Lord Milner. Check Rates: Booking.com
Mid-Range: Astors Belgravia. Check Rates: Booking.com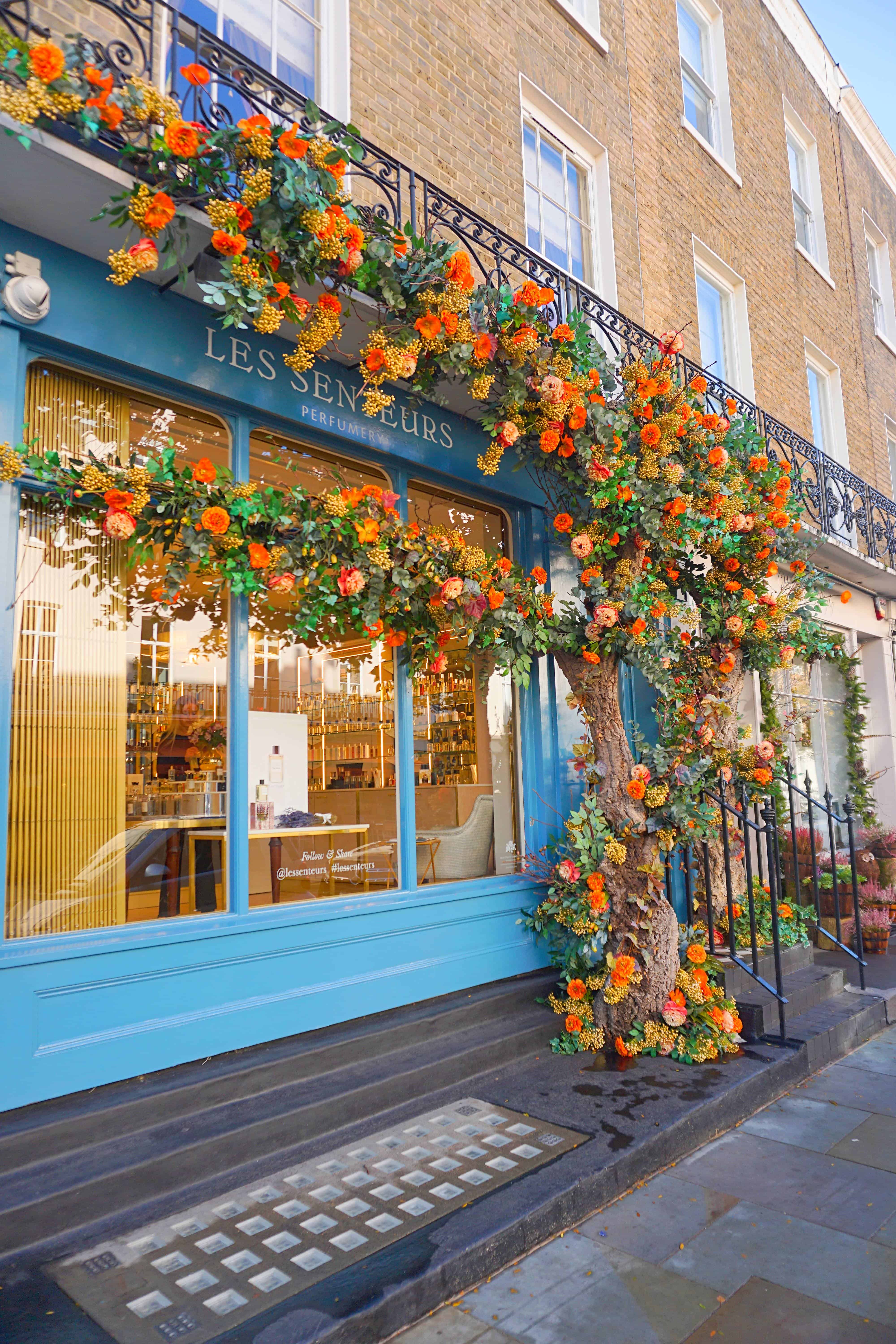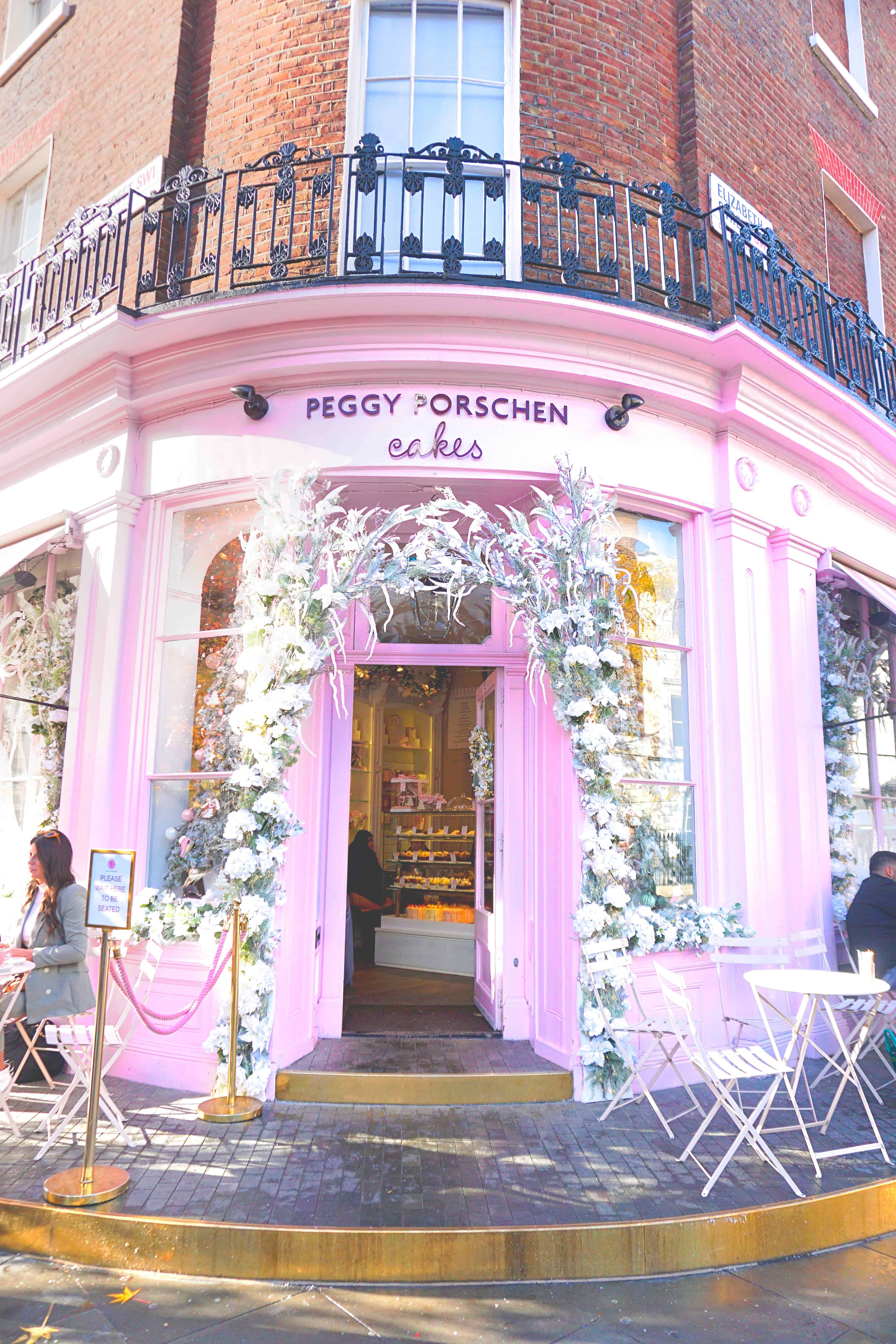 Bywater Street Offers Pretty Pastels In an Unexpected Location
Bywater Street is one of those streets in London that will surprise you! It is located in the beautiful and famous Chelsea area, but is mostly under-the-radar! Walking along, you wouldn't expect to find rows of cute and colorful houses right off the main road, yet when you step onto Bywater Street, there they are!
This pretty street in London is located off the busier King's Road so while you are exploring Bywater Street, you can also give a local business a visit if you get hungry or thirsty. This London street is a residential area so always make sure to be respectful when visiting as you are going to be in front of someone's home!
Click Here For Google Maps Location Of Bywater Street
Closest Tube Stop: Sloane Square is the closest Tube stop to Bywater Street. It is almost a half-mile walk from the Tube station but it is easy and pretty.
Where To Stay Near Bywater Street:
Upscale: Sloane Square Hotel. Check Rates: Booking.com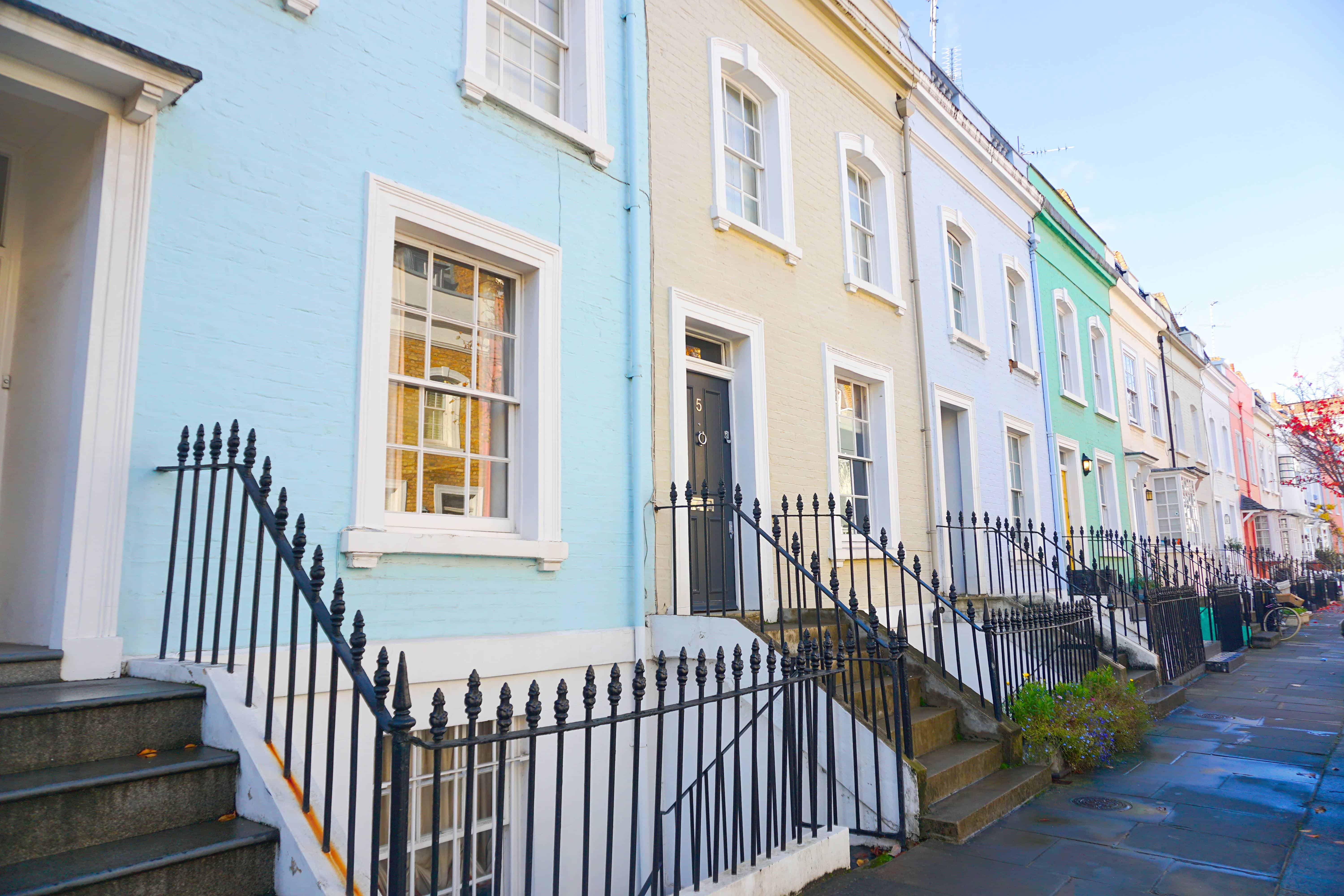 Wardour Street In Chinatown Is One Of The Most Underrated Pretty Streets In London
If you are looking for one of our favorite streets in London, Wardour Street in Chinatown is a top contender. Wardour Street near the Chinatown Gate is easily one of the prettiest streets in London. The architecture changes and the Chinatown Gate is breathtaking to say the least. We love how eastern and western cultures blend together along Wardour Street and there is always something to see, do, smell, and eat!
Wardour Street is one of the best streets in London for the food and drink as well as shopping options. If you are looking for a yummy treat, stop in for some Bubble Tea or grab a "bubble waffle" with ice cream in it! We never see Chinatown's Wardour Street recommended on lists of pretty streets in London and we think that is a shame because the area is so picturesque and beautiful! This underrated London is 100% worth a stop on any trip to the city!
Click Here For Google Maps Location Or Wardour Street
Closest Tube Stops: The closest tube stops to Wardour Street in Chinatown are either Picadilly Circus or Leicester Square. Wardour Street is about evenly split between these two stops so you are good to go if you get off at either option when visiting this underrated pretty street in Paris.
Best Hotels Near Chinatown:
Mid-Range: The Leicester Square Collection. Check Rates: Booking.com
Local Stay: Chinatown Apartments. Check Rates: Booking.com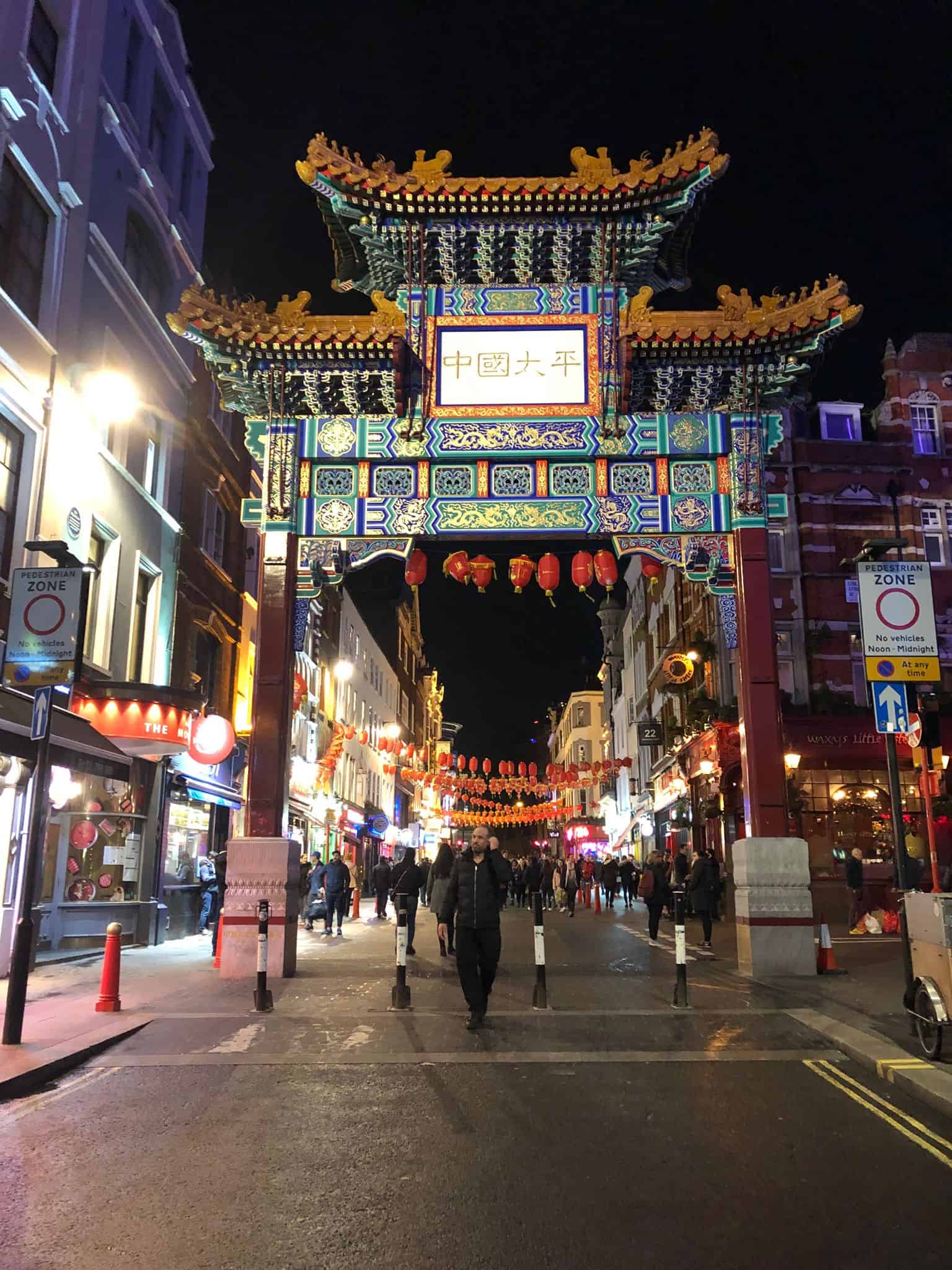 Kynance Mews Is The Prettiest Ivy-Covered Street In London
In case you didn't know, a Mews is basically the more magical London version of an alleyway or small side street. Kynance Mews is one of the prettiest streets in London, especially during spring, summer, and fall. Kynance Mews has archways and walls covered in ivy from top to bottom.
Not only are the walls and archway covered in ivy, but the ivy hangs down and "drips" off the wall in a magical sort of way! In summer, the walls are green and filled with life. In fall, they turn to vibrant reds and yellows as the leaves are decked in their autumnal tones.
Don't judge too hard on our photo of Kynance Mews. We visited right after a fall storm with wind and rain which knocked all the remaining leaves off in a few hours so the walls were a bit barren. A simple Instagram location search of the area will convince you that this is one of the most magical streets in London and that Kynance Mews is certainly worth a visit any time of year!
Click Here For Google Maps Location Of Kynance Mews
Closest Tube Stop: Gloucester Road is the closest tube stop to Kynance Mews. It is a bit of a walk to get to but nothing strenuous in any way! You can also take the bus to get dropped off just around the corner from this adorable ivy-covered London street!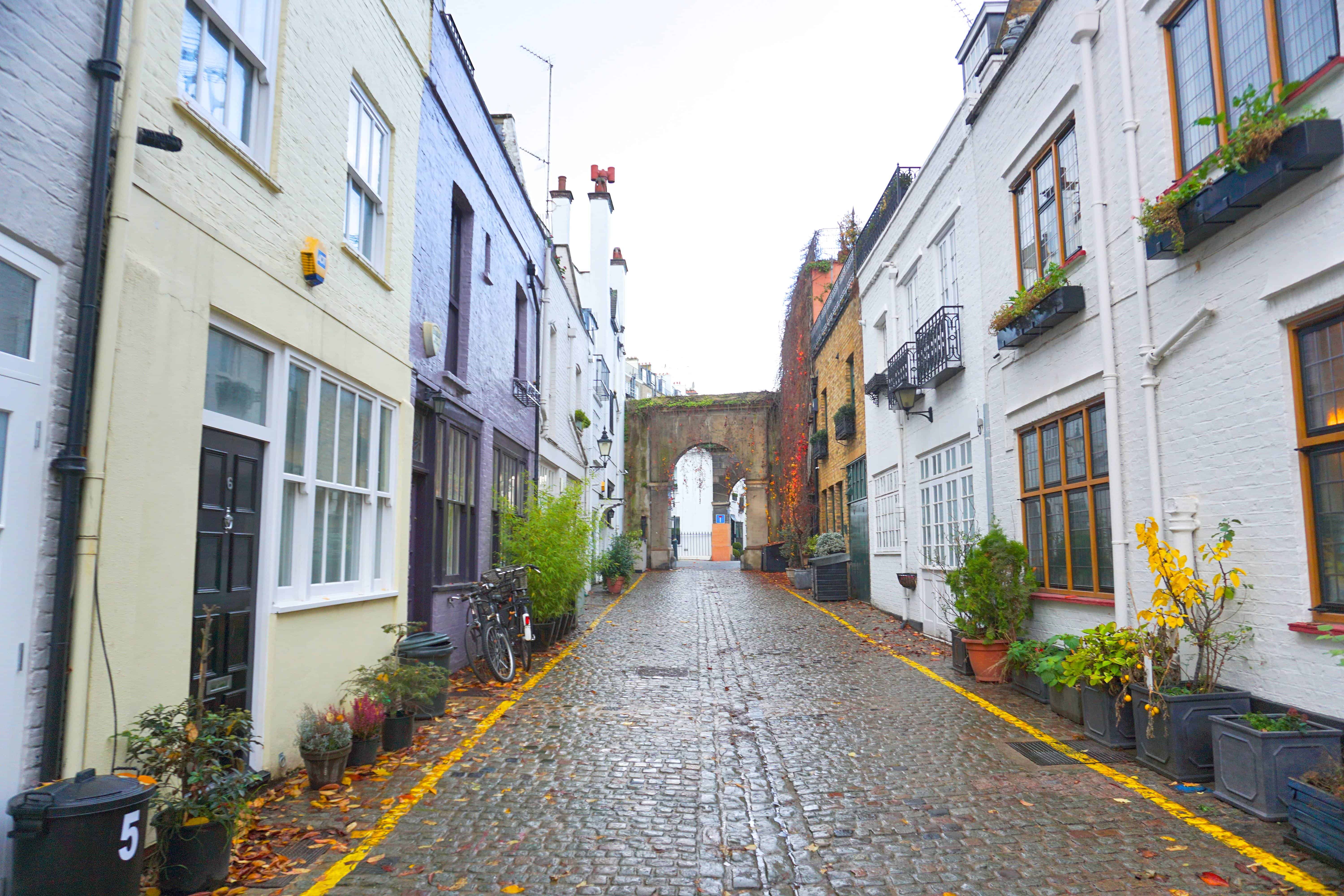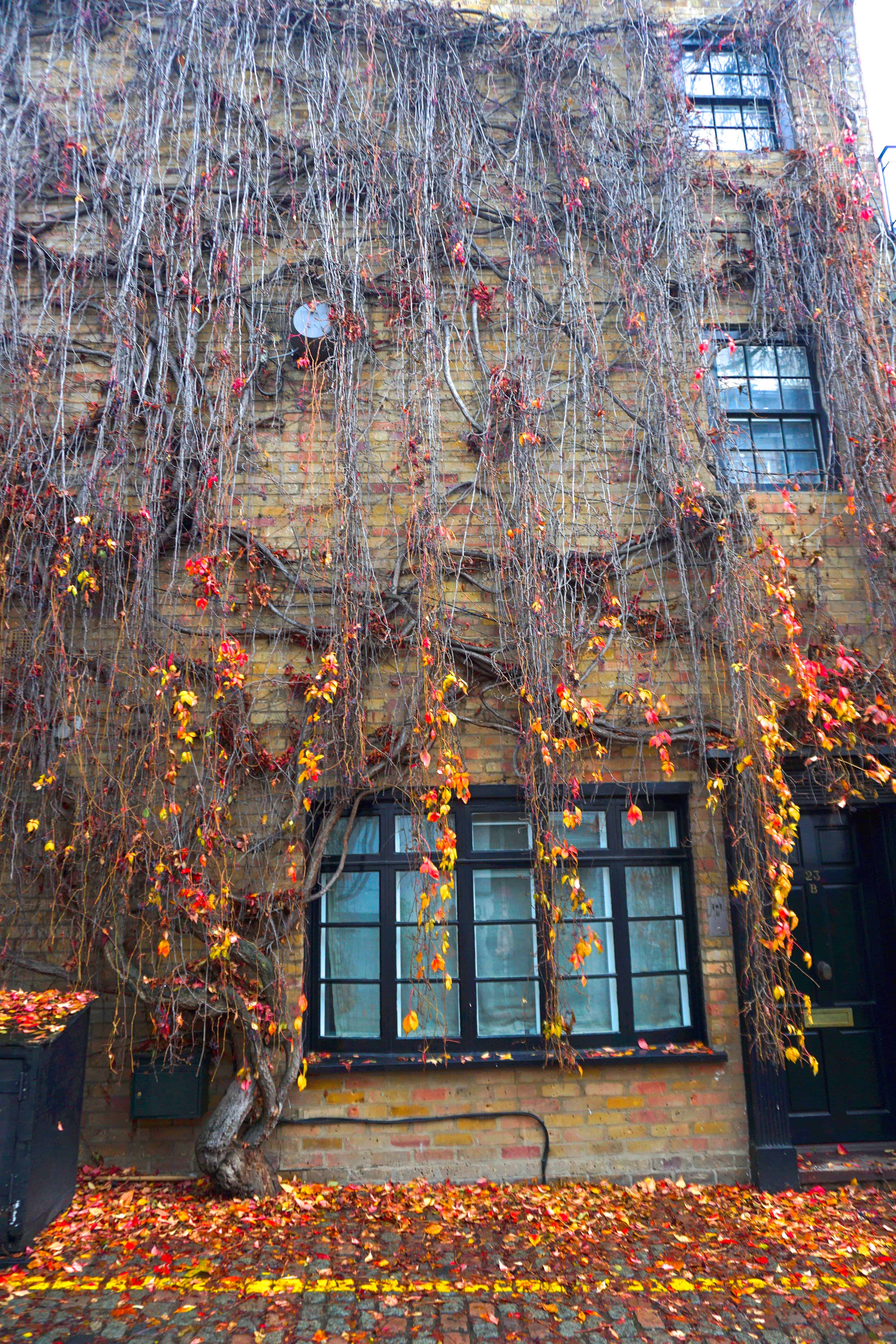 Westbourne Park Road Is The Most Colorful London Street
Westbourne Park Road is the street in London that is home to the most colorful and beautiful homes! The best place to see these colorful houses is where Westbourne Park Road intersects with Clydesdale Road.
We have marked the area on the map below so if you simply go to that location, you will be right in the thick of the beautifully colored homes. It is a great location for photography because the houses are so cheerful and colorful and more vibrant than other streets in London.
When taking photos here, refrain from going onto the porch or walking up the steps as these are peoples homes! It is best to photograph from the street or sidewalk for respect. Sadly, during your time, we saw some other people run up onto a porch/front patio for a photo. This is rude and these cute houses belong to someone.
Would you want someone standing on your front steps for a random tourist photo? We sure wouldn't! When visiting the most colorful street in London, give the respect you would want in your own home.
Click Here For Google Maps Location Of Westbourne Park Road
Closest Metro Stop: Ladbroke Grove is the closest metro stop to see the cute colored houses. While you are visiting them, you may want to take time to visit Portabello Road Market, which is less than a block away. The market is buzzing and cute and worth the stop if you are in the area during your time visiting the prettiest streets in London!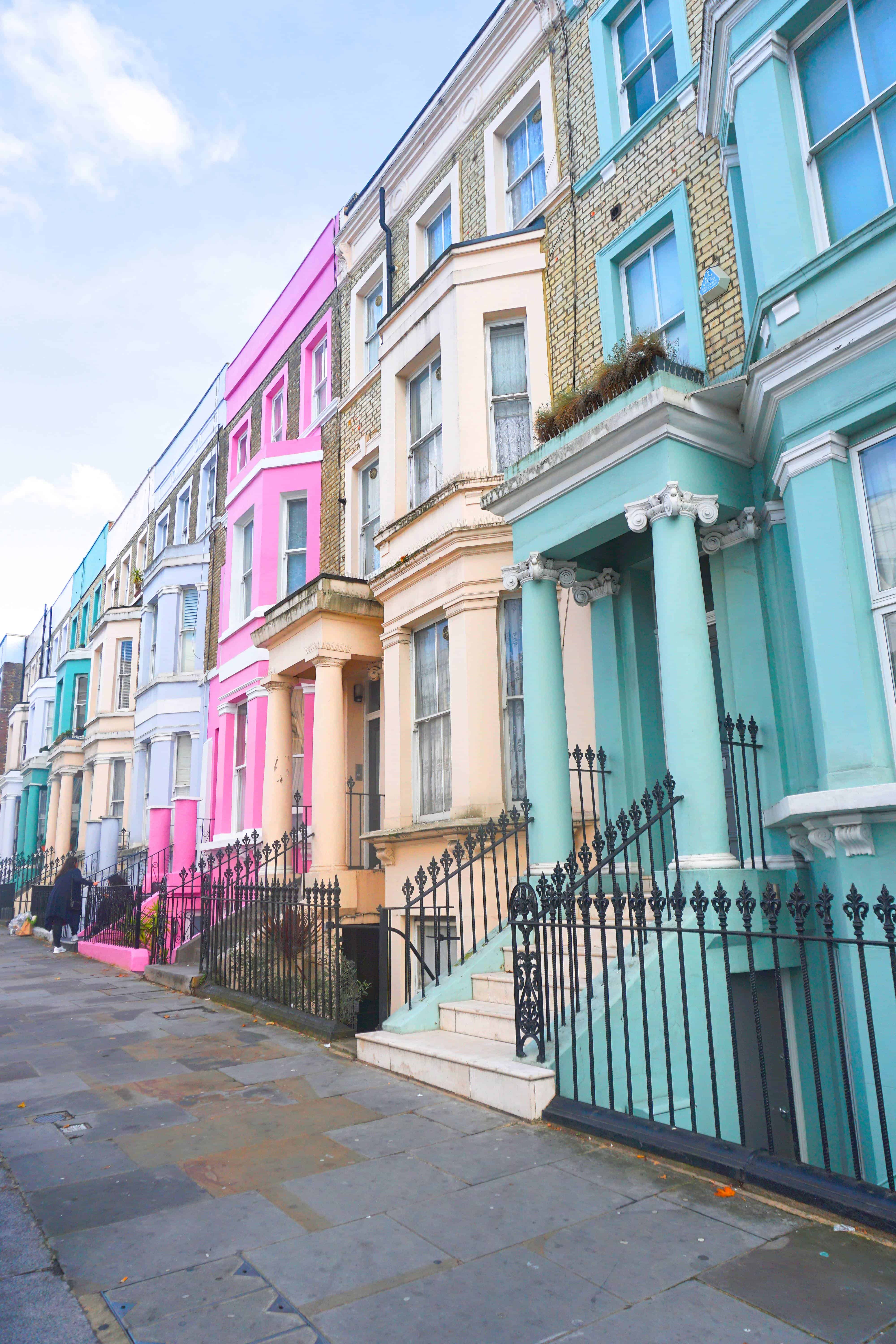 Ladbroke Gardens Is The Best Street In London To See How The Other Half Live
If you want to see how "the other half live" along one of the prettiest streets in London, head to Ladbroke Gardens. All of the homes along Ladbroke Gardens are perfectly white and very fancy. Unlike other cute and colorful homes on this list of beautiful London streets, Ladbroke Gardens pristine white row homes evoke wealth and status. It is honestly quite impressive how clean pure the white color of the homes are! Now if only we could have some lessons on keeping the outside of our homes so perfect!
If you look down the road toward Lansdowne Cres which is across the main road, you will see a pretty view as the lovely white houses curve around the side of the road. This area is built atop the "hill" in the Notting Hill area and we recommend taking time to walk around and explore the neighborhood near this pretty street in London! There are other lovely London streets with similar homes within a few blocks and you can't go wrong spending a bit seeing what else is out there!
Click Here For Google Maps Location Of Ladbroke Gardens
Closest Tube Stop: The closest Tube stop to Ladbroke Gardens is the Ladbroke Grove stop. You are going to have to walk up a semi-steep hill to reach Ladbroke Gardens but the short walk is worth it for seeing one of the fanciest streets in London!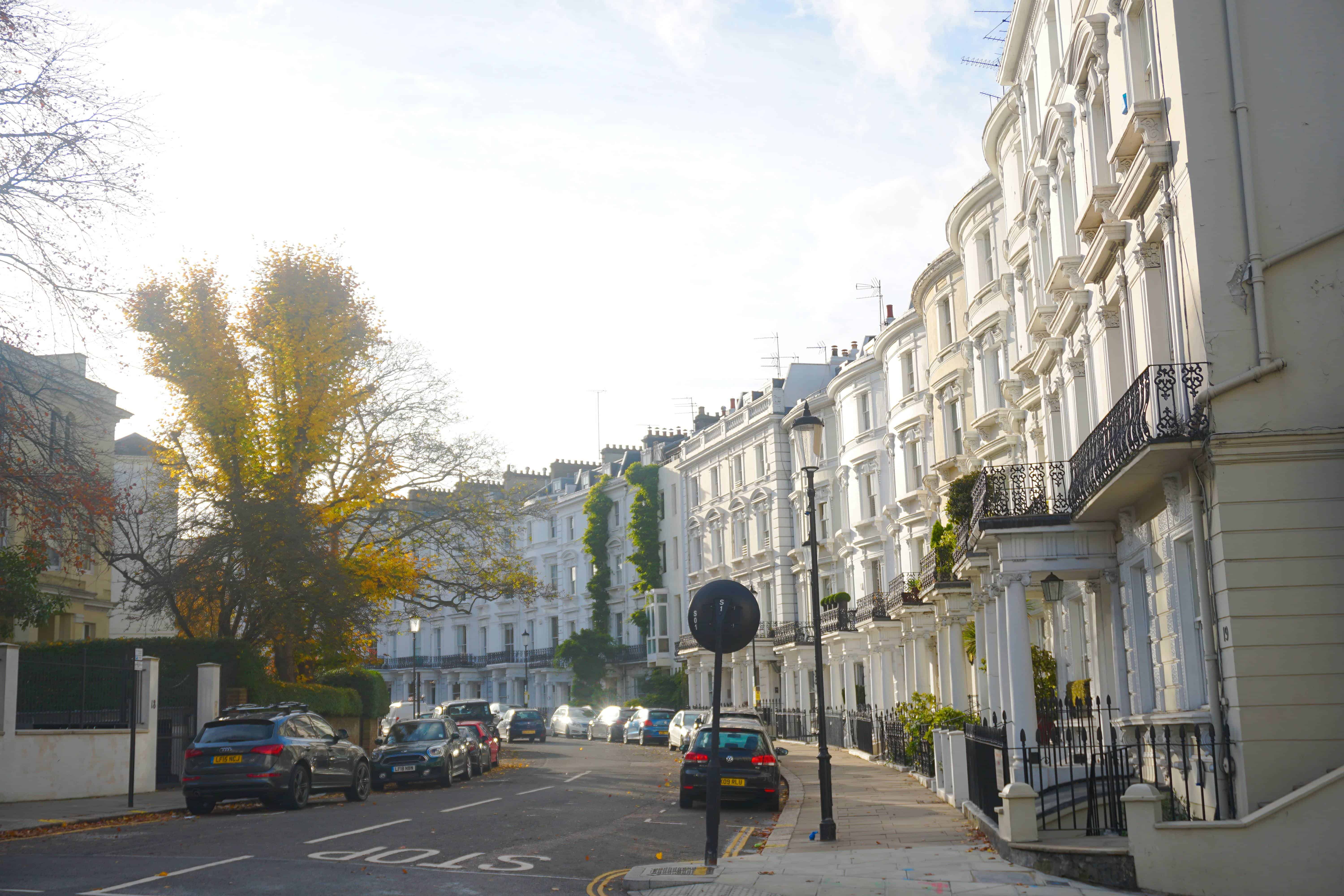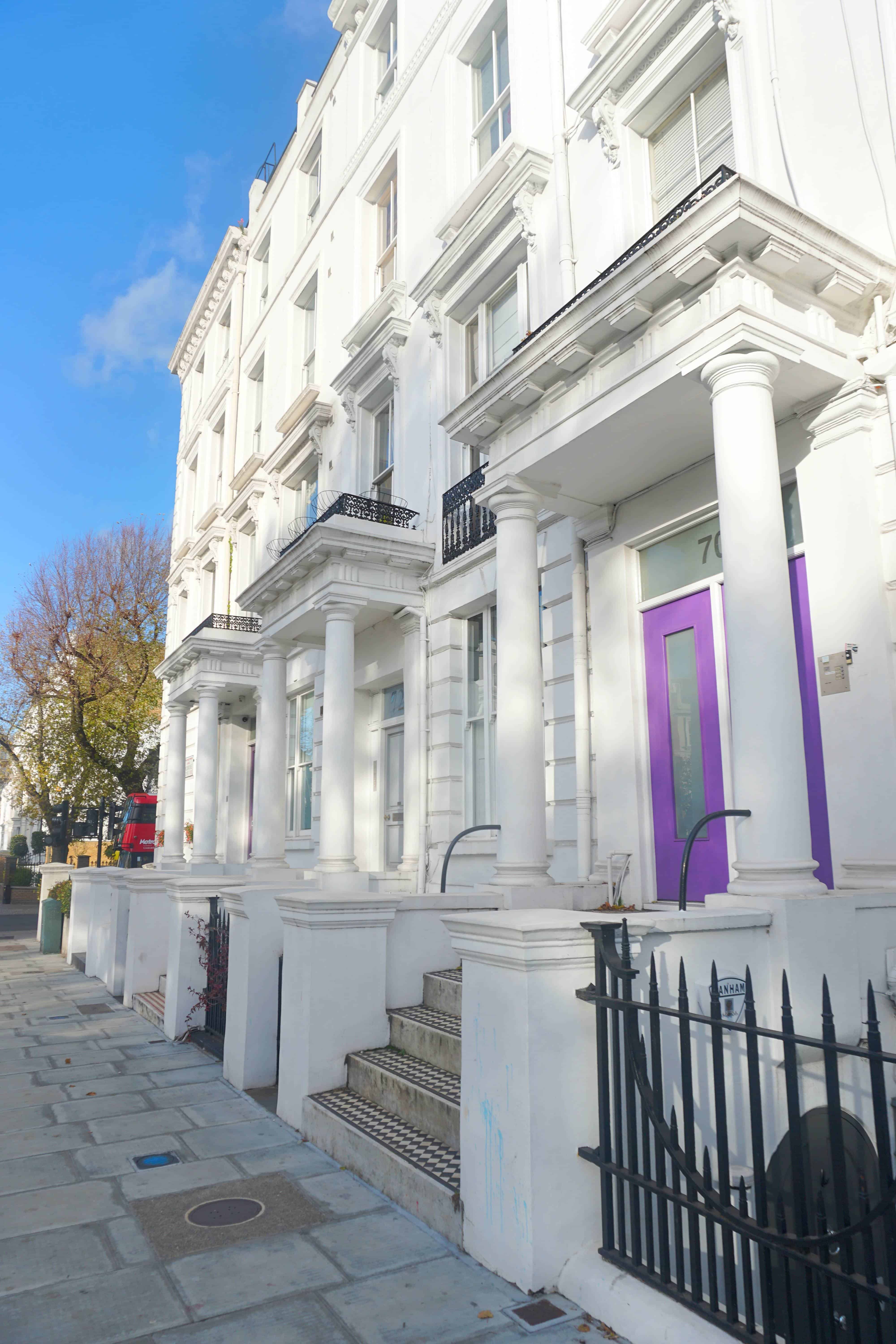 King Street Is One Of The Cutest Shopping Streets In London
If you are on the hunt for the best shopping streets in London, King Street, near London's Covent Garden Market, is the perfect place for you! King Street begins at Covent Garden Market itself and runs into Garrick Street which you can continue to walk down if you want to get your shop on. Covent Garden is totally worth a stop because it is world-famous and such a cute area to visit! There are shops and dining options as well as locally made goods to buy.
As you walk along King Street, you will pass down a narrow shopping street lined on both sides with stores, pubs, and restaurants. This cute London street is especially festive during the holidays as the Christmas lights twinkle in all of the shop windows and Christmas Trees line the avenue. King Street is a short but sweet shopping street in London that is totally worth a stop during your trip!
Click Here For Google Maps Location Of King Street
Closest Tube Stop: Covent Garden is the closest tube stop to King Street. As you walk to the Covent Garden Market area on your way to King Street, you will pass through a variety of other lovely shopping streets in London!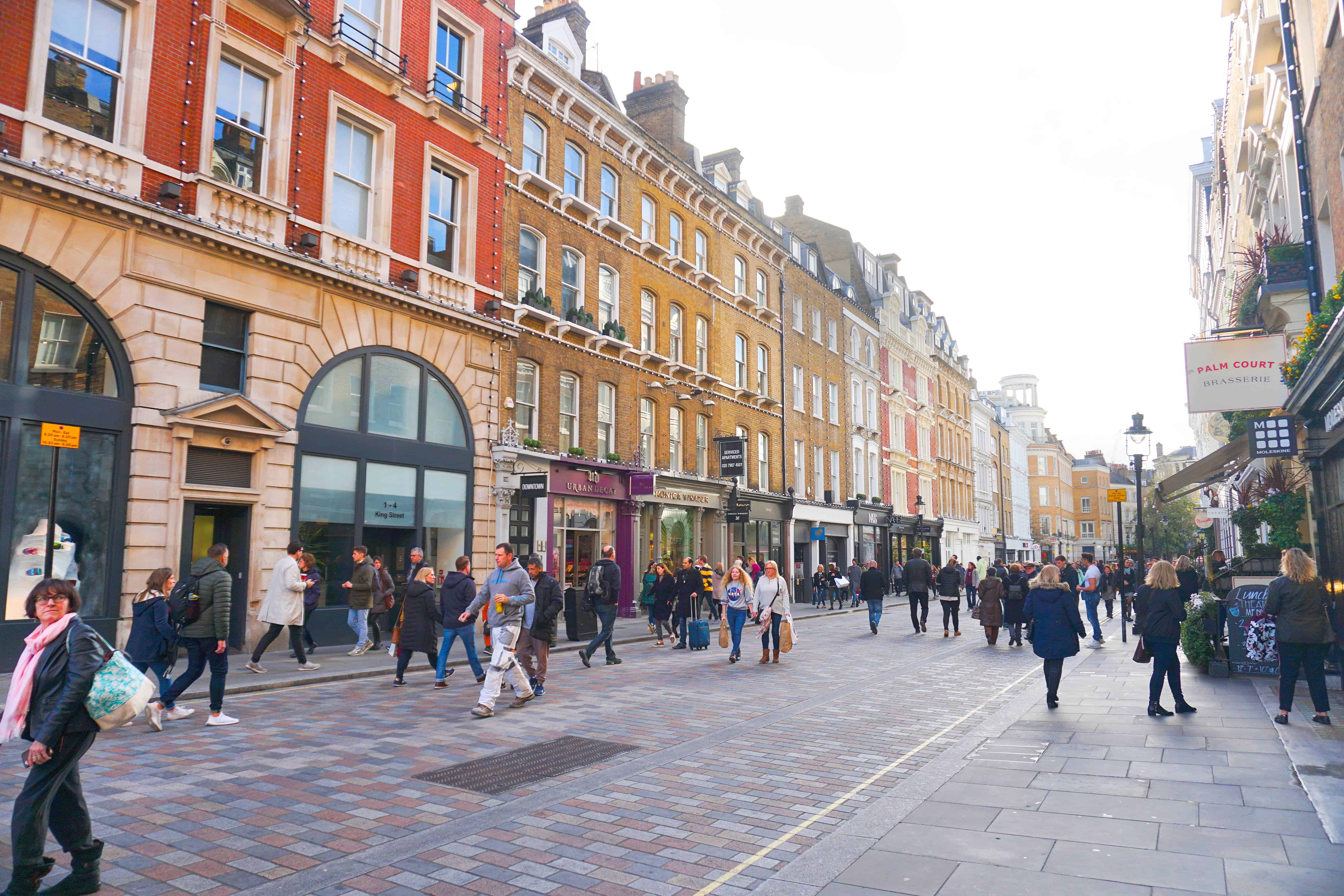 Campden Street Brings You To One Of The Prettiest Pubs In London
If you are looking for the prettiest pubs in London, head to Campden Street! At the very end of Campden Street, where the road intersects with Road A4204, you will find the magnificent Churchill Arms Pub.
This pub is so beautiful and wonderfully decorated that it made Campden Street shoot to the top of our list of the prettiest streets in London. This magnificent pub is dressed to the nines on the outside, with stunning floral arrangments and greenery all around the building.
Once you are done with the cute and perfectly British pub, you can walk off your drink down Campden Street itself. This is more of a traditional residential London street and the homes are very British with the brick and white exterior. This is a great way to glimpse everyday life in the city while still exploring one of the prettiest streets in London.
Click Here For Google Maps Location Of Campden Street
Closest Tube Stop: Notting Hill Gate is the closest Tube stop to Campden Street and the beautiful Churchill Arms pub. This Tube stop is about 3-4 blocks away from Campden Street.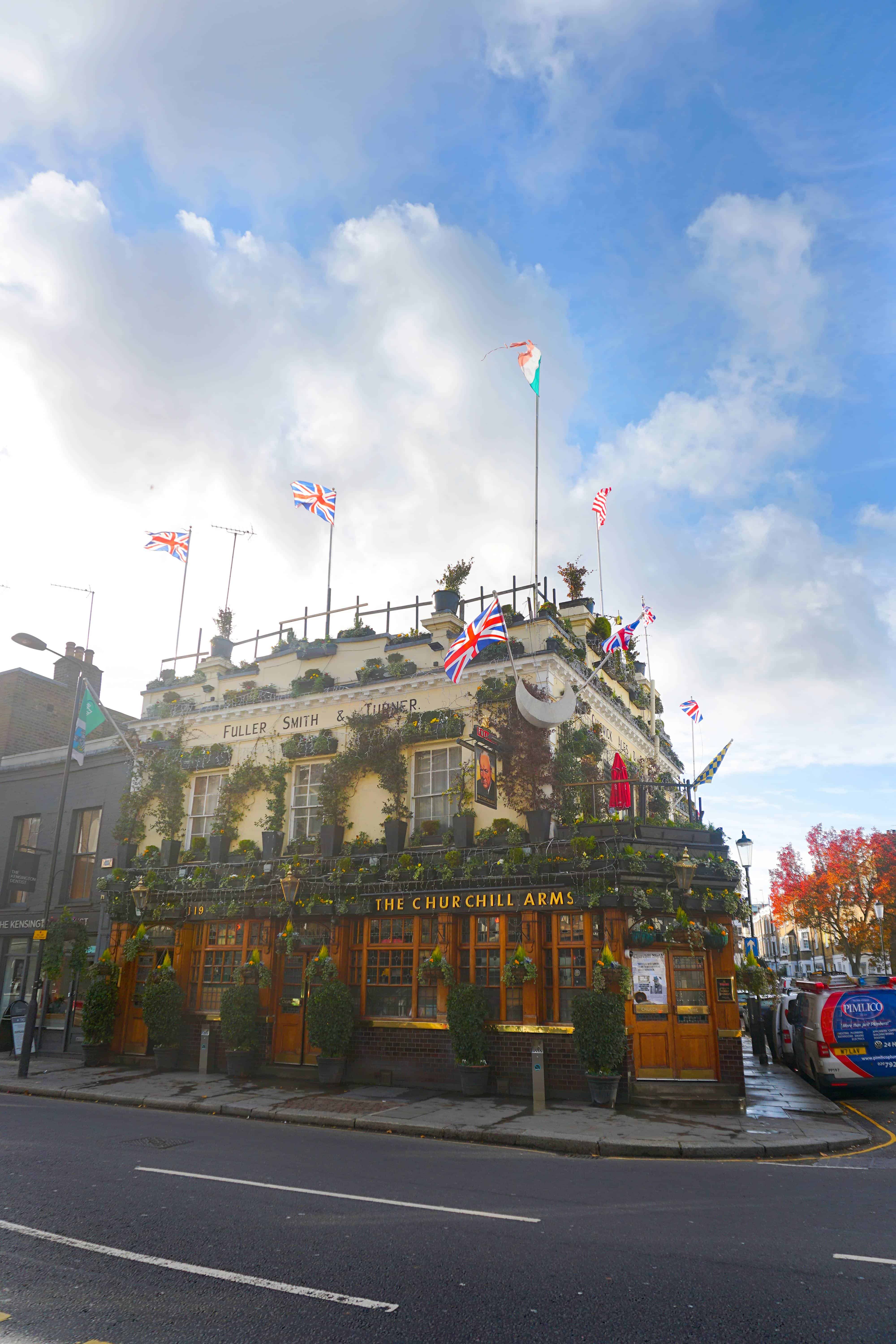 Farm Place Showcases Cute And Colorful Homes
Quick! We have gone a few suggestions without recommending a cute and colorful street in London! Farm Place is an adorable and local Notting Hill neighborhood that is a bit off-the-beaten-path. It is right off the main road and quite near the Tube stop, but you won't find tourists or photographers walking down it. This is one of our favorite colorful streets in London because it is quiet and you have the whole place to yourself.
As always, when visiting Farm Place, please have the utmost respect for the people that live in the area. This is their home and you want to respect the neighborhood. Plus, the homes look prettier from the street anyway! Our favorite along this stretch is the blue one! See if you can find it when you visit one of the most colorful streets in London!
Click Here For Google Maps Location Of Farm Place
Closest Tube Stop: Notting Hill Gate is the closest Tube stop to Farm Place. Thankfully it is just a very short walk to get to one of the most colorful streets in London! You won't have to walk or wait long until you arrive!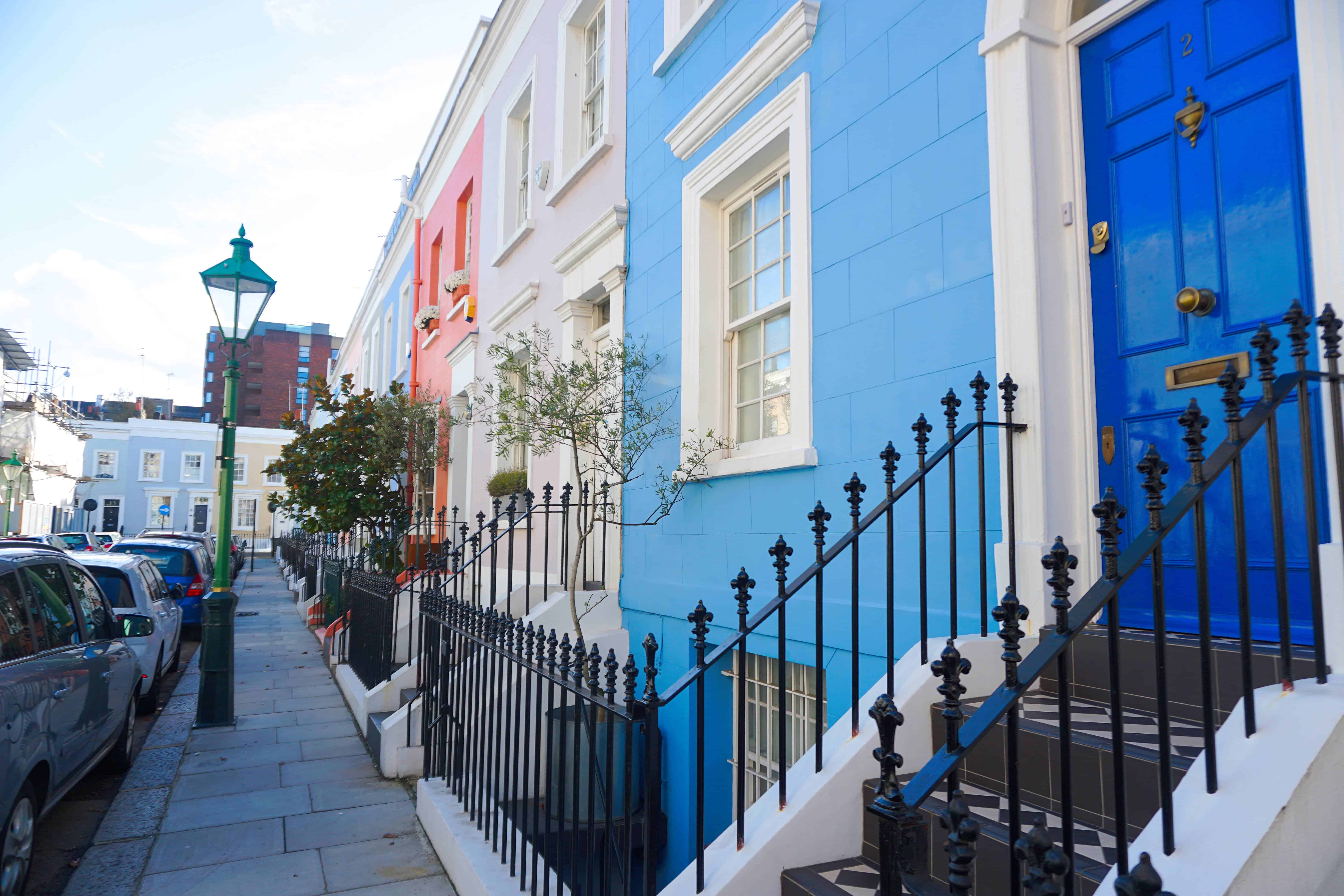 Packing Tips For Your Trip To London:
Here are some of our favorite items that you should consider packing for your trip to London! These are essential travel items that we use and love and you should make sure to consider for your travels.
A concealed travel pouch may be one of the most important items you bring with you! This unisex RFID blocking concealed travel pouch is lightweight and comes in several colors. It has lots of organization to give you peace of mind. You can keep your most valuable documents safe and secure next to your body.
If you have a pouch already you may not want to or need to invest in a new one. If it does not come with the RFID protection, these RFID sleeves would be handy to prevent identity theft. This configuration comes with enough passport and credit card sleeves that the entire family would be protected. They are slim too, so they will easily fit into your current pouch or wallet. These are the kind our family uses not only when traveling but at home as well.
If you have a camera on your packing list, you need to add additional memory cards on your list as well. Unless you are packing a computer for your trip, you will not be able to upload photos and clear your existing memory card. Purchasing additional memory cards cost under $20 and take up no space in your luggage. Having a backup can have the potential to save you a lot of heartaches if something goes awry! There is nothing worse than coming across that perfect moment and then finding out you don't have enough space to capture it on your camera!
Similarly, If you are planning to capture your trip on a smartphone, we beg you to bring some way to back up your memories. The best way to do this is with a portable smartphone flash drive. A flash drive is a small storage device that you can connect up to your smartphone and then safely and easily download the photos onto this device.
If you are planning on taking a lot of pictures with your phone you will definitely want to consider an external charging battery. This Anker high-speed phone charging battery is the exact one we carry with us on all of my trips. It can be used on a variety of phones, not just an iPhone like we have. And wow is it fast! We like that it holds its charging capabilities for several uses so we do not have to worry about it while out and about. And if we forget to recharge it at night, it will still be good to go the next day.
My mom was never a fan of packing cubes until she tried them out! Now she is sold. These Bagail packing cubes are the exact ones she uses whenever she travels and she travels a lot. She cannot believe how much more organized she is now! And she will never leave without them anymore.
We never leave home on a trip without our Bobble filtration bottle. The 18.5-ounce size is perfect for travel and it will fit nicely in the pocket of a backpack or your purse. Also when filled with water, it is not too heavy to carry. And the Bobble carbon filter ensures fresh clean water whenever and wherever you fill the Bobble. You can find filter replacements here.
Perhaps you are traveling a long distance and packing space is a premium. Then this set of collapsible silicone foldable water bottles would work well for you. Would not take up much space in your suitcase at all. And you will be receiving a set of two.
You will want to bring a backpack or daypack with you to store snacks, your water bottle, phone, extra clothes, etc.. This foldable water-resistant backpack would be great. It is very affordable and is available in many color options for you to choose from. The fact that it folds down into a zippered pouch will make it easy to pack.
Perhaps you need a more substantial backpack for your international travel. This antitheft backpack has a charging port, is water-resistant and can comfortably carry up to a 15.6″ laptop. It comes in a range of colors to choose from and it is inexpensive as well.
We all need to protect our eyes from the sun's harmful UVA/UVB rays. These unisex polarized sunglasses come in a lot of lens colors and frame designs and are extremely affordable too.
If you are fond of the aviator-style of sunglasses these polarized aviators may interest you. We like polarized sunglasses because they remove the glare off the water and help you to see things more clearly.
Map Of The Best Streets In London
If you are more of a visual person, sometimes it may help in the best streets in London all in one place! That is why we put together this Google Maps just for you! We did mark each individual London street below its suggestion so you can either find the location that way or simply click on the Google Map of all the locations in one spot right here. We recommend downloading the map offline so you have the list of the prettiest streets in London handy during your visit!
Click Here For Google Map Of Pretty London Streets
You May Also Like To Read:
The Ultimate 4 Day London Itinerary
5 Things To Know About London Grocery Stores
London is home to so many pretty streets, it is hard to narrow down a few suggestions for this article! If you have already seen some of these cute streets in London, we recommend going to your favorite neighborhood and just walking around and exploring. Who knows, you may find a new pretty street to add to this list! Everyone finds beauty in different things so we always encourage you to get out and find what speaks to you!
Don't forget to bring along a universal power adapter if you are traveling abroad. This worldwide power plug is a great example and will charge your phone at the end of your busy days. And this world traveler adapter kit can charge several devices at the same time. This is what you will need when there are several people traveling in your group, or if you bring several electronic devices on your trip that require charging at the same time.
Pin this post: