Austria will be one of your top destinations picks after we introduce you to the prettiest towns in Austria out of a fairy tale. Whether you love big cities or small cozy towns, these Austrian villages have you covered. The landscapes will vary throughout each town, but one thing you can be sure of is that you will feel like you have been swept away to a gorgeous movie set.
Austria is very mountainous due to its location in the Alps, two-thirds of the country sits over 500m (1,640 ft) above sea level. Austria is a land locked country and its official language is German. Throughout the year, the temperature typically varies from 27°F to 79°F and is rarely below 13°F or above 89°F.
Based on the tourism ratings, the best time of year to visit for warm-weather activities is from mid June to early September. As for cold-weather activities, we highly recommend visiting during Christmastime as these small towns in Austria really know the true meaning of being festive.
Austrians are known for celebrating life by enjoying good food and drinking delicious wine, so get ready for warm hospitality. Peaceful Alpine meadows, exquisite Baroque architecture, serene waterfalls, and majestic mountains can all be found in these Austrian villages. Come with us as we unveil the prettiest towns in Austria out of a fairy tale.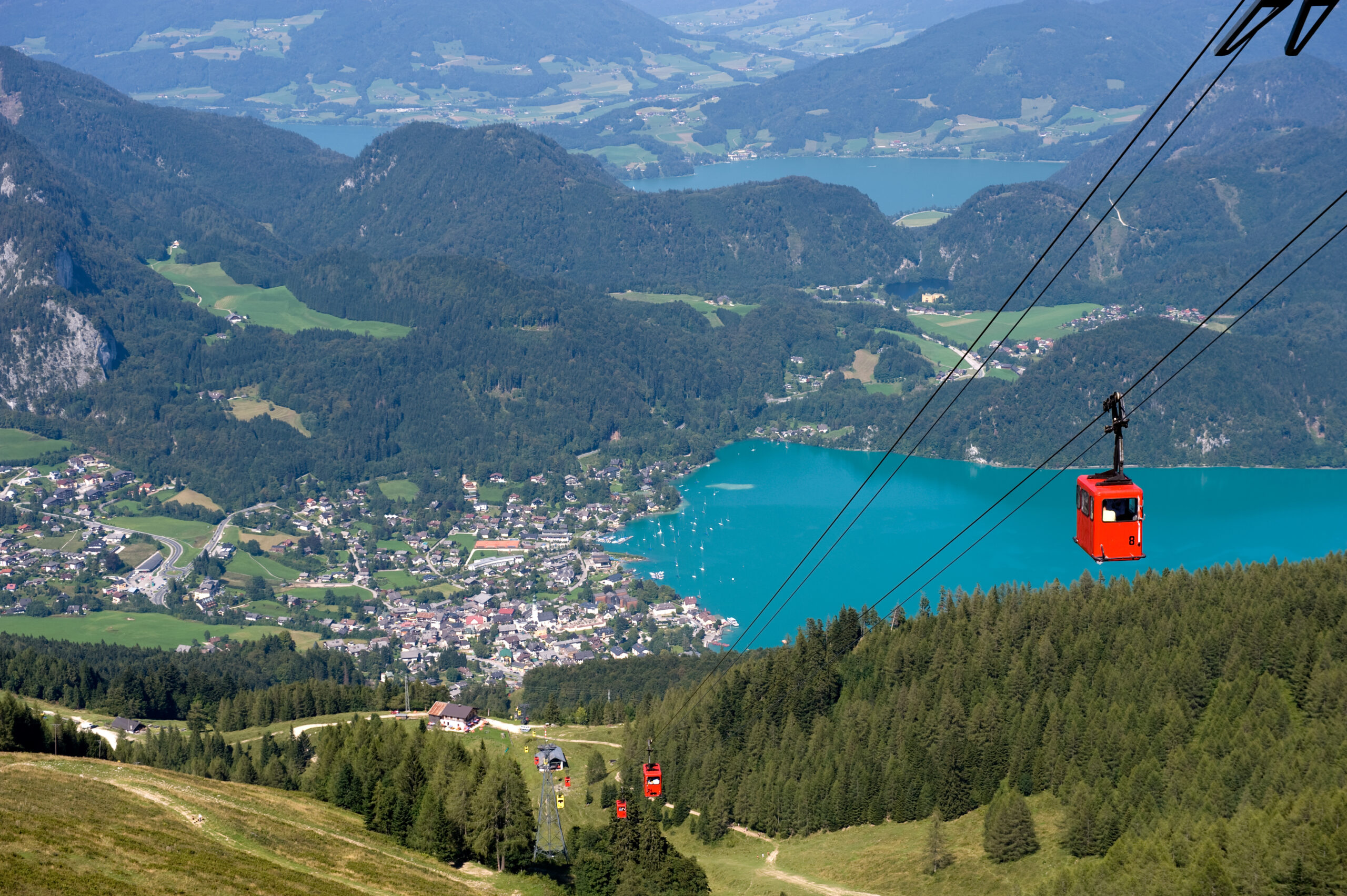 10 Prettiest Towns In Austria Out Of A Fairy Tale
Heiligenblut
Do you love to get in your car and just get lost? This small town in Austria will bring back nostalgia of childhood road trips. Have your camera ready! You just might get to capture the Apline Ibex, a species of wild goat that lives in the mountains of the European Alps.
Satisfy your wanderlust in Heiligenblut as you traverse Grossglockner High Alpine Road. The roadway is like a winding river that runs its course through the highest mountain in Austria, Grossglockner Mountain. Vibrant delicate flowers are found throughout the meadows and feel as though an artist painted them just for you. Don't forget to open the windows and breathe the fresh crisp mountain air.
During winter months, visitors can partake in skiing, snow hiking, mountain climbing and snowboarding. Panning for gold is a popular activity during the summer months. The Hohe Tauren National park features a recreated open air gold mining museum. Take some time to tour The Church of St. Vincent, an elegant historic site in Heiligenblut, that is sure to be a highlight of your itinerary.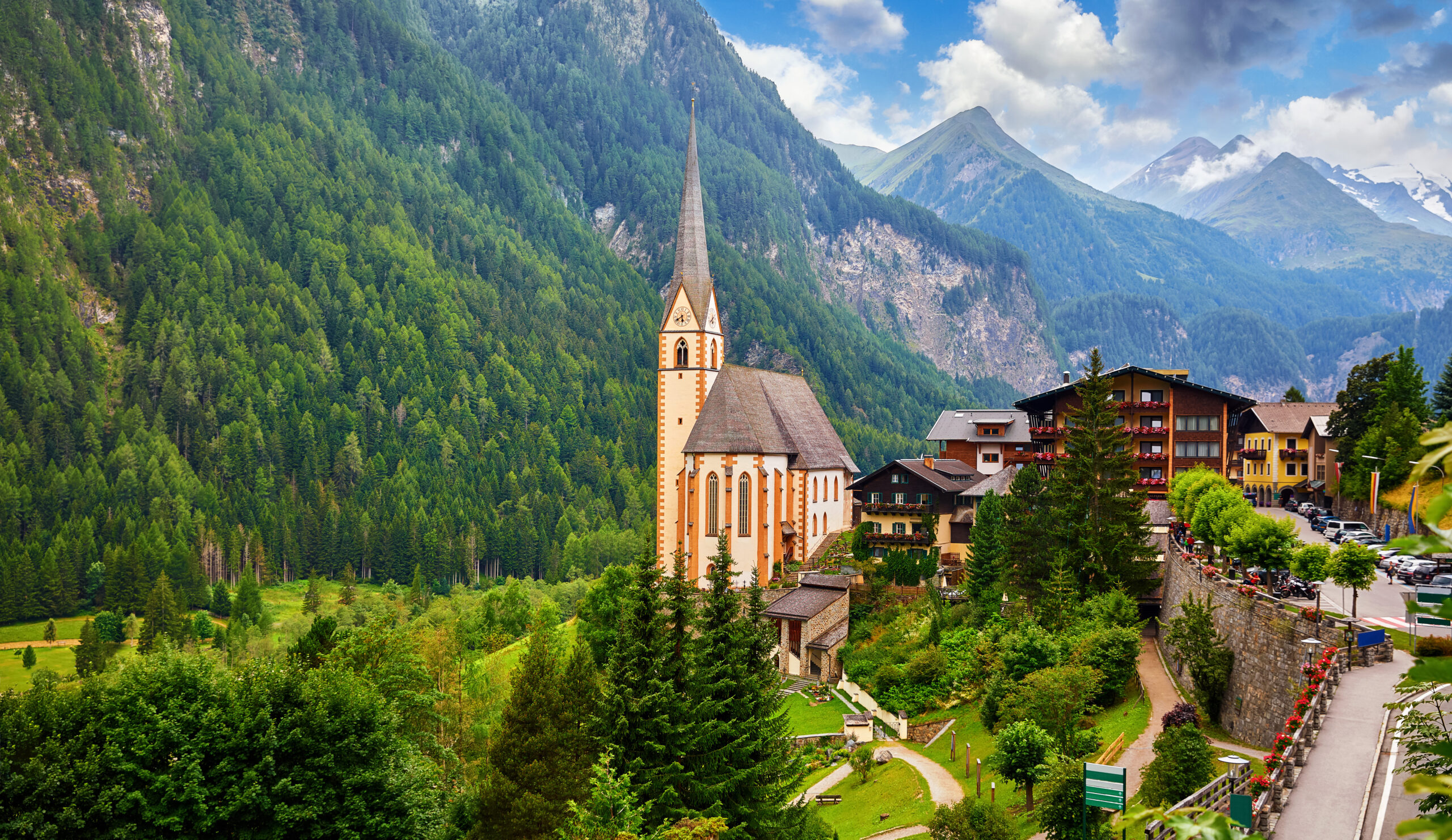 Hallstatt
You might just pick up and move to our next picture perfect Austrian town. Hallstatt is an adorable village situated on Lake Hallstatt's western shore in Austria's mountainous Salzkammergut region. The cutest ginger bread style homes are delightfully quaint and adorned with many flower boxes. You will feel like Snow White as you walk through this story book town.
The 16th Century architecture is whimsy and inviting. The cobblestone streets are lined with sweet little cafes that really whisk away to a different time. You will also see stunningly ornate churches and cozy mountain inns. Foodie at heart? You can feast on delicate pastries, savory schnitzel, fine lagers, airy sausage buns, and delectable seafood.
Salzwelten is home to Hallstatt's salt mines which date back to prehistoric times, possibly even to 4000 B.C. Visitors can take an exciting peek at history via guided tours of the mine, accessible by cable car. If you're looking for something more daring, you can check out 5 Fingers Viewing Platform which provides a birds-eye view looking down over Hallstatt. For that extra shot of adrenaline, visitors can use the platform that is entirely made of glass. With all Hallstatt has to offer, its not surprising that its become one of the more popular small towns in Austria.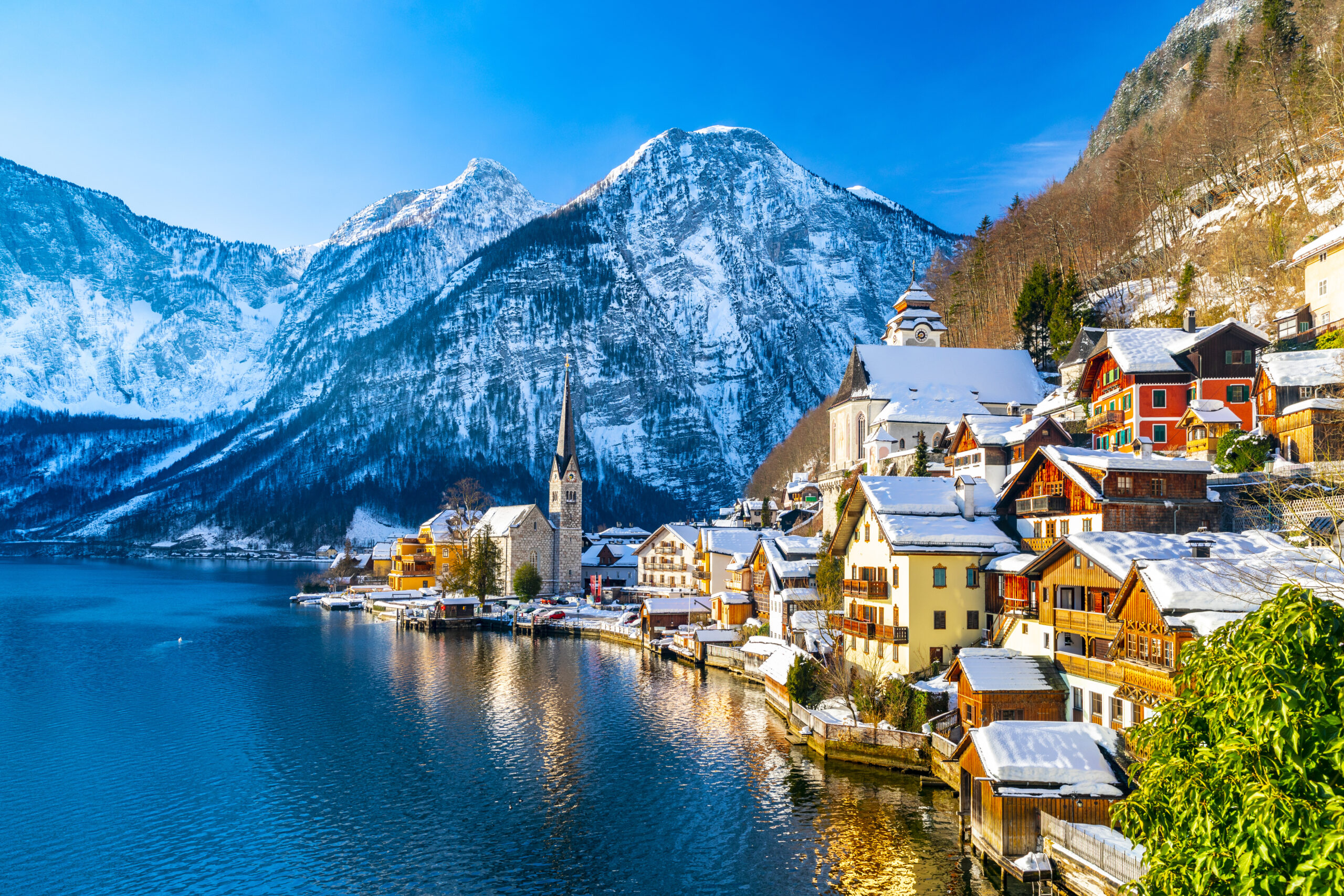 Bregenz
Our next stop is the perfect mixture of entertainment, culture, and relaxation. Bregenz has a lot of variety making it one of the more well rounded small towns in Austria. Do you love ferries and boats? How about art museums and music festivals? Well, we are very excited to introduce you to this incredible Austrian town.
Bregenz is the capital of the state of Vorarlberg and its located on the Lake Constance, the worlds third largest lake. Bring some comfy shoes because to see all of the waterfront views as you stroll the captivating promenade that borders Lake Constance. Many locals use this walkway as a scenic getaway as they jog or walk their dogs.
The Vorarlberg Museum is conveniently located in the center of Bregenz, very close to the train station and the promenade. The museum is completely painted white with only a few windows. Its peculiar architecture sparks your curiosity as soon as you see it. It houses collections from the Vorarlberg region specializing in folklore, history, and archaeology.
Visiting during July and August? Love music? You're in luck! Bregenz hosts an amazing music festival every summer. Great gifts can come wrapped in small town in Austria! What really sets this music festival apart from others is that the performances are spread out between various venues including theatres, barges, and amphitheaters. One of the more unique venues is a floating stage on Lake Constance.
Innsbruck
Want to do some shopping in the morning and then ascend a mountain in the afternoon? Innsbruck is the perfect Austrian town for both! We know it will appeal to both city lovers and nature seekers.
Innsbruck is the capital of Austria's western state of Tyrol, a city in the Alps. Two of the most popular stopping points in Innsbruck are Old Town and Nordkett Mountain. Both attractions are easily accessible and provide plenty of entertainment.
The mixture of Baroque and Gothic architecture in Old Town is truly fascinating. Many shops and restaurants line the roadways of Old Town. Most of Innsbruck's other attractions are within walking distance of Old Town. This small town in Austria is home to a two museums, a state theatre, the 18th Century Cathedral of St. James, and the Golden Roof (The Golden Roof, or Goldenes Dachl, an elaborate building that housed the very first government and administrative activities of the Hapsburg Dynasty).
Wait, don't put your camera away just yet! You won't want to miss the 360 degree panoramic views from the top of the Nordkett Mountains. Take a cable car ride to the top of the Nordkett Mountain range and you will be blown away its expansive beauty.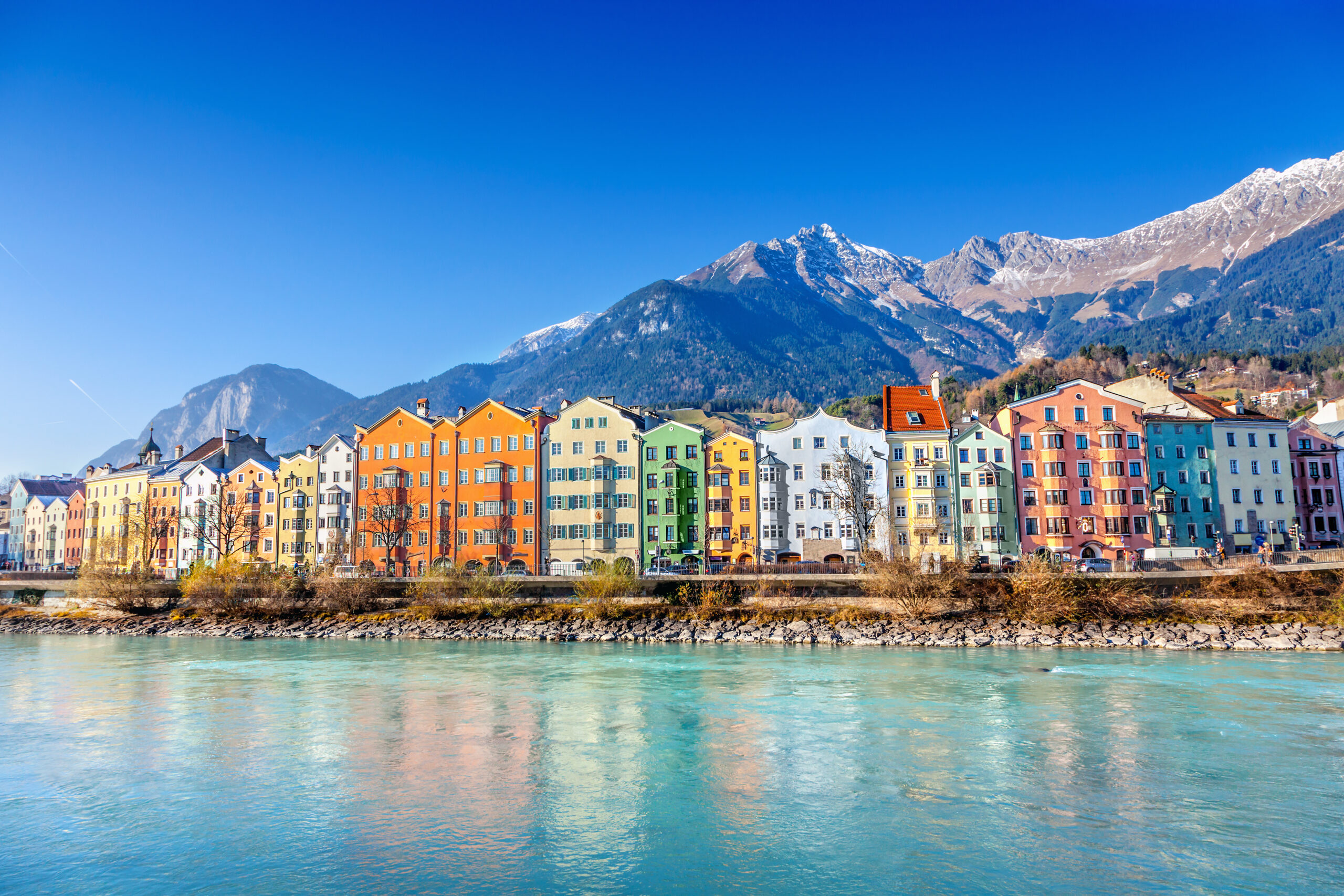 St. Gilgen
Our next Austrian town will be the perfect place to unwind and rip up any sort of time schedule. St. Gilgen has much less traffic and fewer tourists, but just as much charm as any of the other small towns in Austria. Don't forget your swimsuit as you'll pleasantly surprised to hear that St. Gilgen has a small public beach. The pretty blue-green water provides a nice and refreshing cool down after spending time in the sun.
Saint Gilgen is a village by the Wolfgangsee in the Austrian state of Salzburg, in the "Salzkammergut" region. The main square has the prettiest buildings with wooden balconies. Flower planters are scattered about the town and really add to its fairy tale atmosphere. This is the perfect place for casually strolling as you window shop.
You might get the feeling as if you've been here before, well don't worry because you're not alone! Many of the opening shots of The Sound of Music feature parts of St. Gilgen. This Austrian town is not only known for making appearances in movies, but it is also the birthplace of Mozart's mother.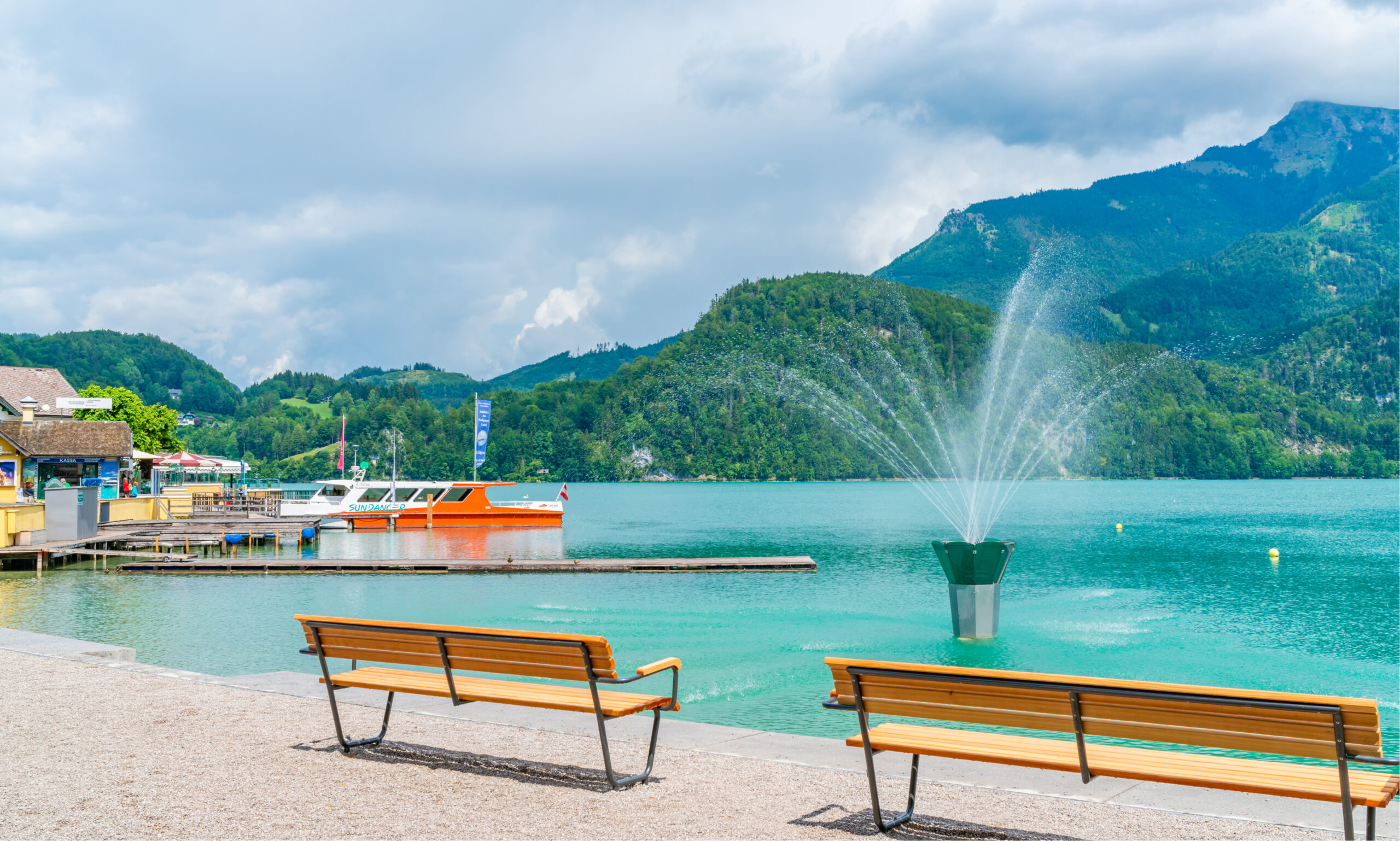 Lienz
Okay, let's pick things up a bit. Our next stop is Lienz and it just might be your favorite out of all the small towns in Austria. Lienz is like a giant playground for kids and kids at heart. Do you like rollercoasters? Seeking an adventure that is really one of a kind? Well, here we go!
Lienz features a steel roller coaster that twists and turns its way down the Austrian Alps. The Osttirodler or "Apline Coaster", is located in Moosalm Park. Other activities include a petting zoo, a nature themed adventure playground, and a climbing park. Lienz is the perfect Austrian town for a family friendly trip.
But, wait…there's more! Lienz is a really neat destination that is a combination an indoor/outdoor pool, water park, and spa. You can read a book poolside, go barreling down water slides, unwind in the steam room, and rejuvenate mind and body while soaking in a sauna bath.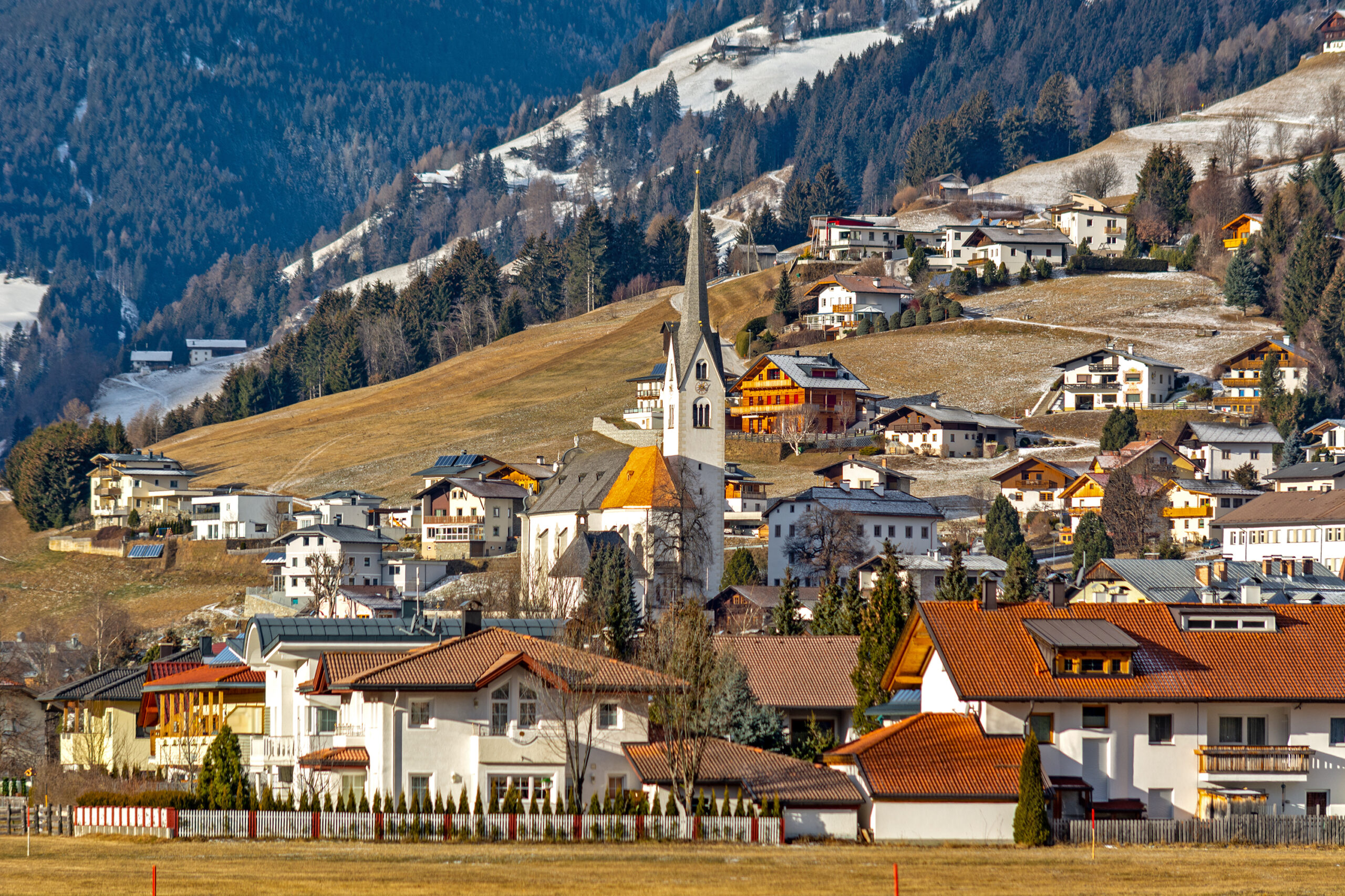 Maria Alm
Maria Alm is most well known for being a premier skiing destination. It is one of the more quiet and reserved out of the small towns in Austria. The Hochkönig Mountain provides an epic backdrop to this little Austrian town.
The church in Maria Alm provides a fabulous photo opportunity. It has a very striking and prominent needle like steeple that is very recognizable and distinct. During winter months, this magical little Austrian town looks like an antique snow globe.
Even though Maria Alm is most commonly viewed as a skiing destination, it is just as stunning during the summer months. This snowy winter wonderland transforms into the most brilliant green landscape. You can enjoy hiking, biking, or climbing. The cherry on top, is the forrest slide park where you can race downhill.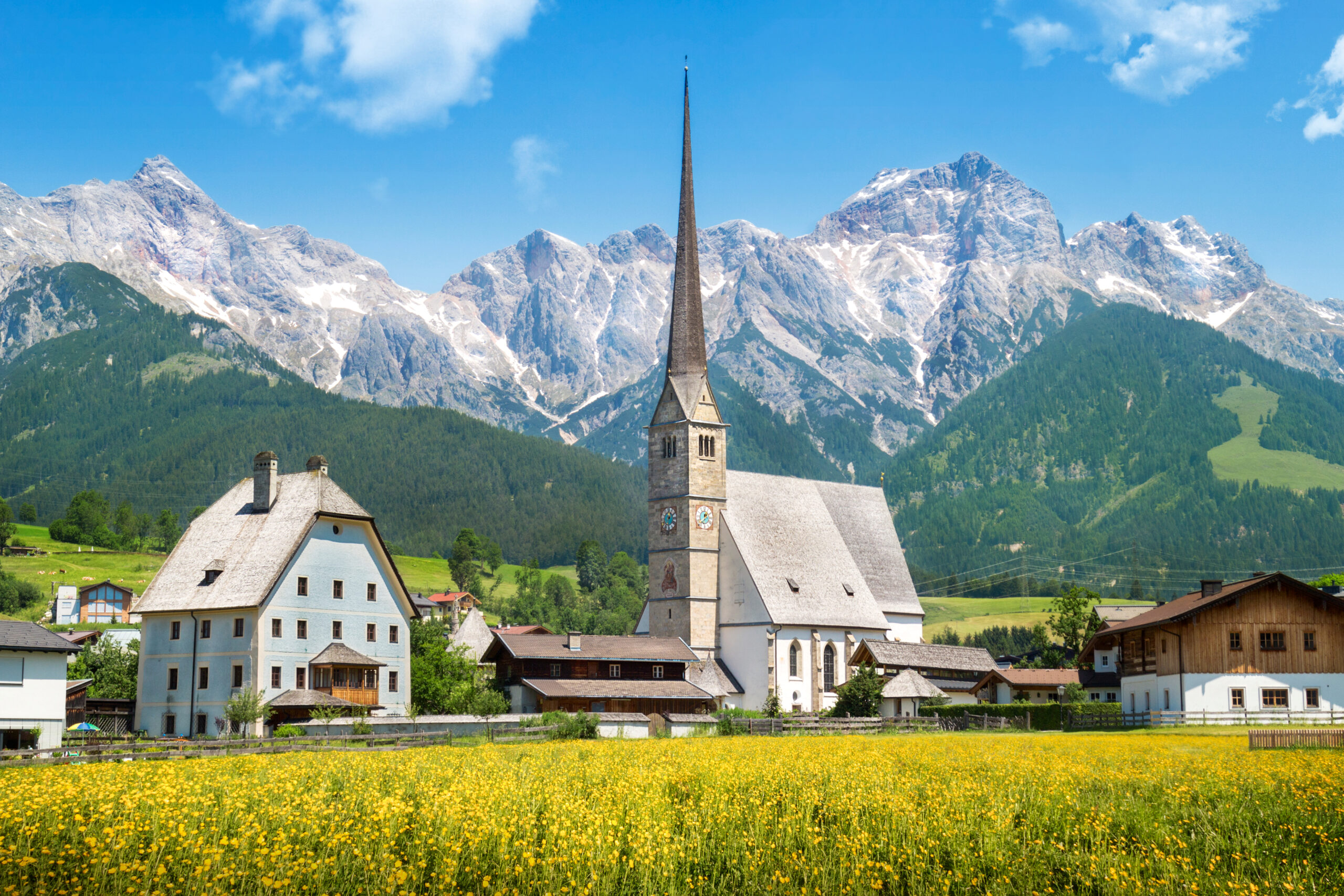 Melk
Melk is an Austrian town on the River Danube, west of Vienna. Due to its location, Melk is the perfect port location for river cruises. Melk has many historic landmarks to fill the most enthusiastic itinerary. Keep reading and we will tell you which ones must make your list.
Melk is most well known for the 11th-century Melk Benedictine Abbey, which is a massive monastery situated high above the town. This palace like monastery is comprised of several building which are arranged around seven courtyards. The Abbey's history dates back to 1082, but the structure we see today was constructed between 1702 and 1736.
Artstetten Castle is another amazing gem to be found in this Austrian village. This captivating castle was owned by Emperor Francis I of Austria in 1823, and was primarily used as a summer palace by members of the Habsburg monarchy. Parts of the castle are open to the public and serve as a museum.
Maria Taferl is yet another breathtaking historical site. This twin-towered church was built between 1661 and 1711. Maria Taferl's most notable features are a magnificent marble doorway and Baroque ceiling paintings. The pulpit is adorned with multiple statues including cherubs and the Madonna.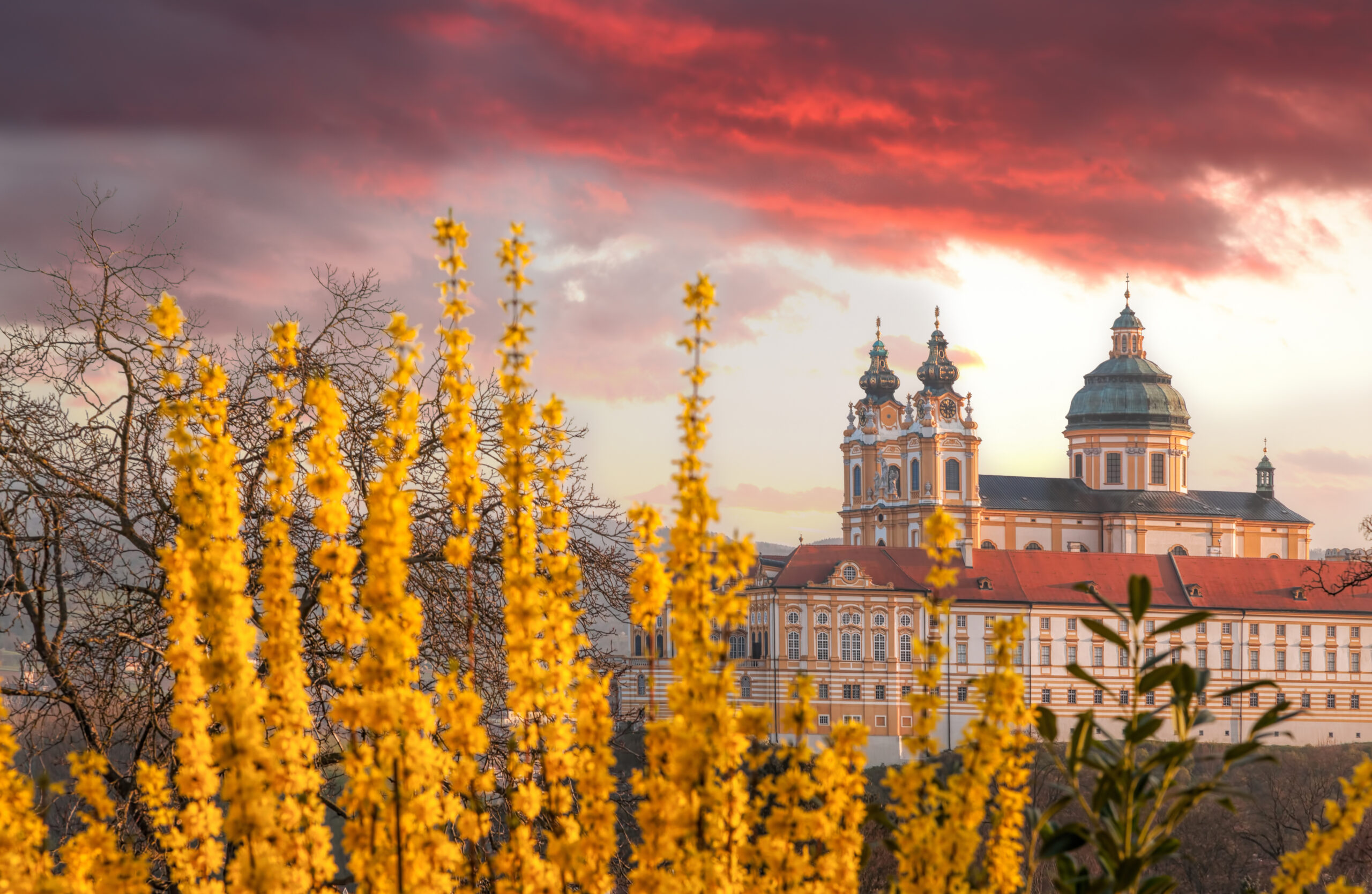 Seefeld in Tyrol
Seefeld is an Alpine town in the Austrian state of Tyrol. It is surrounded by the Wetterstein and Karwendel Mountain ranges. Seefeld is known to have a great nightlife due to its many bars, restaurants, and a casino.
Situated on a plateau high above Innsbruck lies Seefeld, a world renowned cross-country skiing haven and dazzling Austrian town. Athletes come from around the world to train and compete, making it one of the more famous of the small towns in Austria. Seefeld hosts competitions that combine both ski jumping and cross-country skiing.
Even though Seefeld has many expert only areas, there are also plenty of courses for the novice skier. You will also find that many visitors have a grand time tobogganing on snowy hills. During warmer months, you can check out Tiroler Bio Alpakas for some memorable animal interaction. They offer walking tours with their alpacas that last for approximately one hour and take you through the forest.
Want to explore nature on your own? We suggest checking out The Wildsee, occasionally also called the Seefelder See. The Wildsee is a lake near the Austrian resort of Seefeld in Tyrol located at the bottom of Gschwandtkopf Moutain.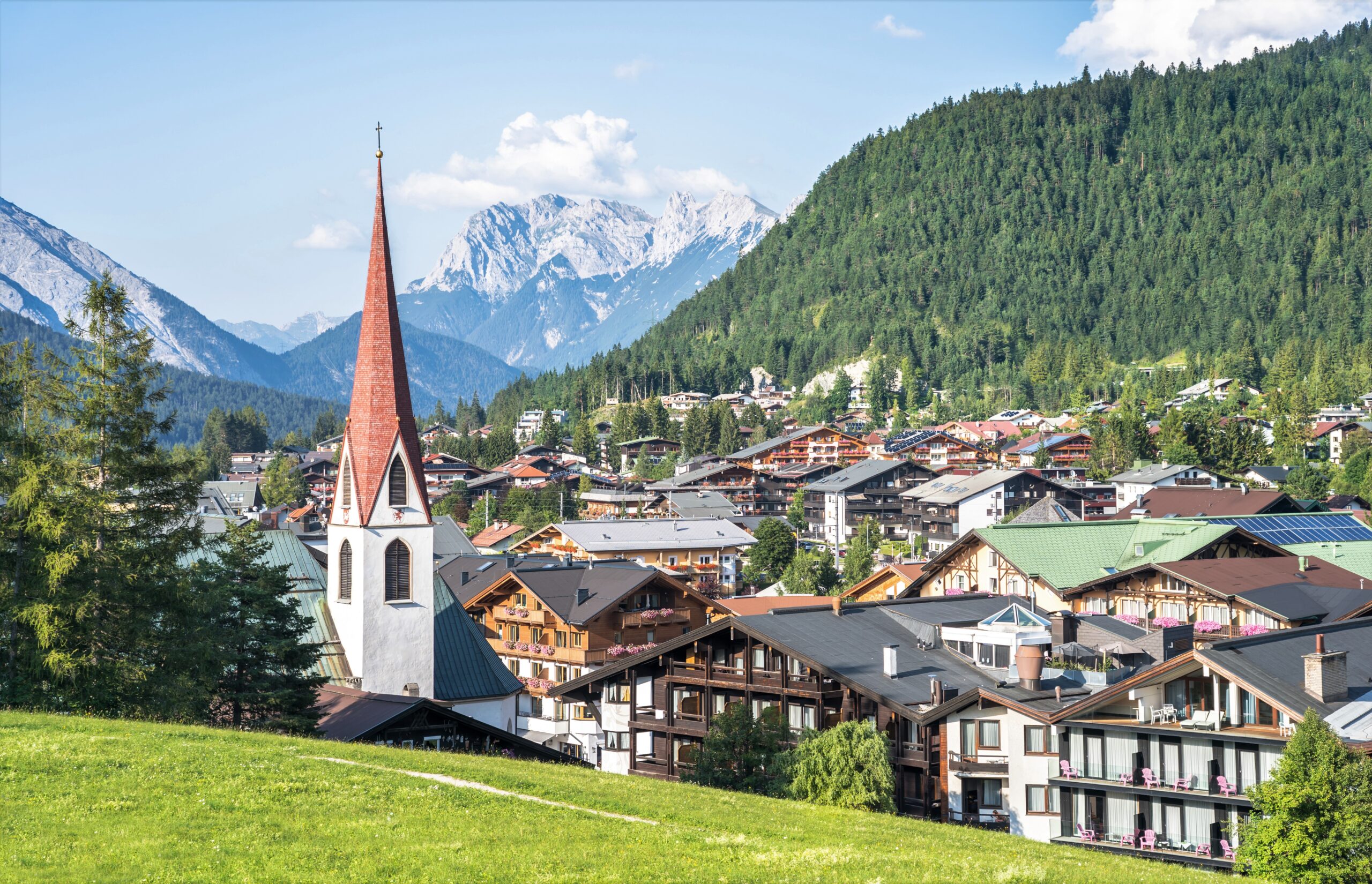 Zell am See
Our next small town in Austria pulls off a special trifecta by having mountains, lakes, and a glacier! This Austrian village has the feel of a big city shopping district while still keeping the welcoming vibe of little town. Want to treat yourself? Looking to wine and dine while you shop for high quality threads? Then, Zell am See is the place to be!
The restaurants of Zell am See feature international culinary greatness. You can order blindly and trust that when your food arrives it will be a delectable masterpiece for your taste buds. The shopping options are also of fine quality and filled with sophisticated fashion.
Lake Zell is a fresh water lake with a majestic mountain backdrop that is so stunning that you might not believe your own eyes. As if Lake Zell doesn't provide enough beauty all on its own, you can take the Schmittenhöhe cable car from lake to mountain top in the most elite modern style. When you reach the top of Gipfelwelt there are two viewing platforms that provide phenomenal views of both Salzberg and Hohe Tauern National Park.
The Kitzsteinhorn Glacier ski resort is open from October through the early summer months where you can experience first-class skiing and snowboarding. Don't worry, this Austrian village won't disappoint during the summer months because the ICE Arena Kitzsteinhorn offers tons of fun with slides and a snow beach.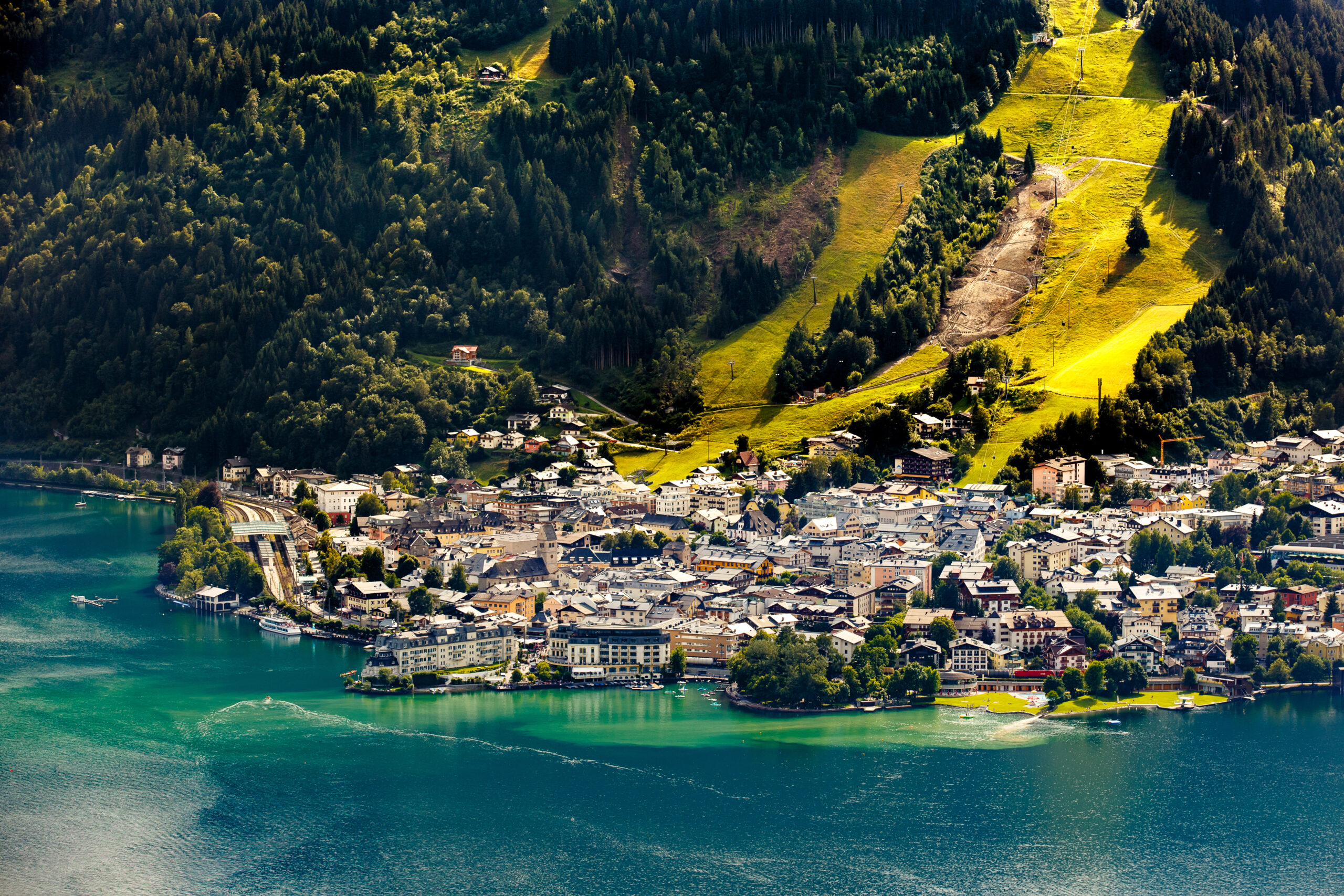 Well, we hope you've enjoyed learning all about the prettiest small towns in Austria out of a fairy tale. It may sound too good to be true, but trust us this storybook fantasy land is real and waiting for you. There are boundless opportunities for excitement, adventure, and recharging.
So, start taking that time off and booking those flights! With so many beautiful places in Austria, you might even add on an extra week to explore them all. The memories and experiences you will have from these unbelievable Austrian Villages will be vividly imprinted in your mind forever. We wish you happy and safe traveling.