Luxury trains in India are an incredibly unique way to see such a fascinating and beautifully chaotic country. Many people, even the most experienced of travelers, visit India for the first time and never come back because they didn't like the hustle and bustle of the country. Luxury trains in India allow you to experience much of what India has to offer while being able to have space away from it all to retreat to if you want time to yourself or just want to relax and enjoy the view. If you are on the hunt for the best luxury train journeys, India is the perfect place to start! From the friendly people to the colorful culture, India has so much to offer and there is no better way to see the country than from one of India's luxury train vacations.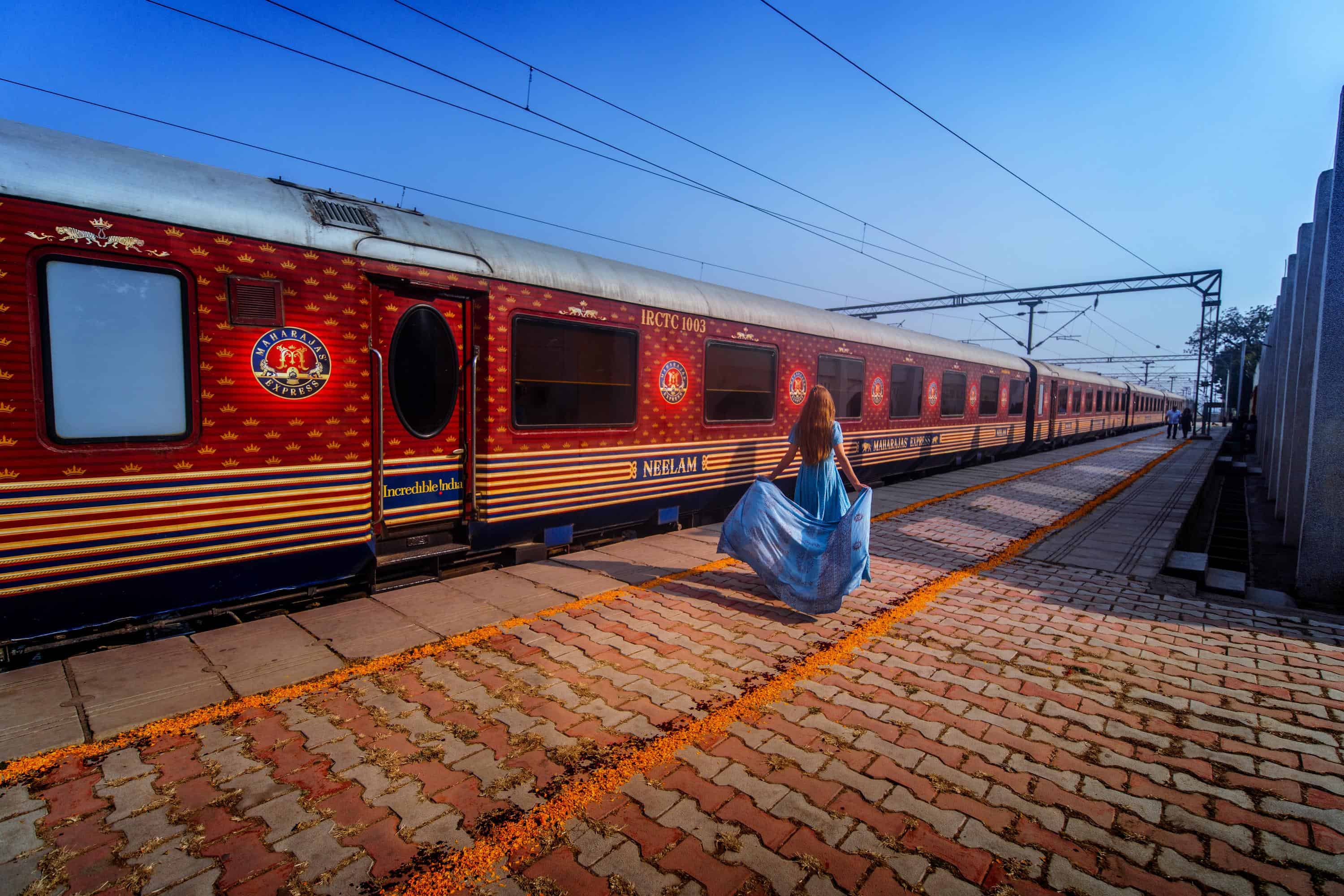 Getting To Know The Luxury Trains In India
There Are 4 Major Luxury Trains In India To Choose From
Most countries don't even have one luxury train vacation while India has four! The list of luxury trains in India is as follows:
Maharajas' Express Train
Palace on Wheels Train
Deccan Odyssey Train
The Golden Chariot Train
The Maharajas' Express is the crown jewel of luxury trains in India. It is the most luxurious of all the trains listed above and the newest as well. It has been awarded the best luxury train in the world time and again by many magazines and travel companies. The rooms on the Maharajas' Express are the most spacious and fanciest out of all the luxury trains in India so if you are looking for comfort, this is the train for you! This luxury train in India travels multiple routes including one from Mumbai to New Delhi and one that begins and ends in New Delhi and explores 5 Indian states [the route we took]. We highly recommend this luxury train in India!
Read more: 15 Things To Know Before Taking The Maharajas Express Train
The Palace On Wheels luxury train in India is the oldest of all of the trains and began service in 1982. The purpose of the Palace On Wheels was to showcase the state of Rajasthan by using train cars formerly employed by Indian royalty. The cars had been sitting empty since Indian independence and the government wanted to put these luxury train cars back in use. The Palace On Wheels was renovated in 1996 and then renovated again in 2017 to bring it up to standard with all the other luxury trains in India.
The Deccan Odyssey Train is perfect for those who are looking for luxury trains in India that go off the beaten path a little. If you don't love major tourist destinations, skip the north and head to the Deccan Odyssey which focuses mainly on the Maharashtra State Of India. This trip begins and ends in Mumbai so it is easy to fly in and out if this is the luxury train in India you choose to experience. If you have already been to India before or want to explore different parts, the Deccan Odyssey will take you to many historic parts of India including ruins, vineyards, and the beaches of Goa.
The Golden Chariot Train is one of the only luxury trains in India that focuses on the southern part of the country. Although other trains touch some of the same locations, The Golden Chariot is the only luxury train in India that stays exclusively in the south. While nice and a wonderful experience, The Golden Chariot train is the least luxurious and most affordable of all the luxury trains in India. If you want to experience an Indian train journey, consider the Golden Chariot Train! The service isn't skimped on and the only difference is there aren't crazy arrival performances like the Maharajas' Express or an entire presidential suite to stay in.
Some of India's luxury trains such as the Maharaja Express Train are critically acclaimed and have won many international travel awards. Other trains such as the Palace On Wheels train are government owned and still others like the Deccan Odyssey train are owned and operated by companies that run train journeys elsewhere in the world.
Each train has something a little different to offer so it is important to know what you are looking to experience. Before you choose your mode of luxury train travel, make sure that you do your research and choose which train is best for you!
No matter which train you choose, you will most likely need an Indian visa! Here is a step-by-step guide on getting an Indian Visa!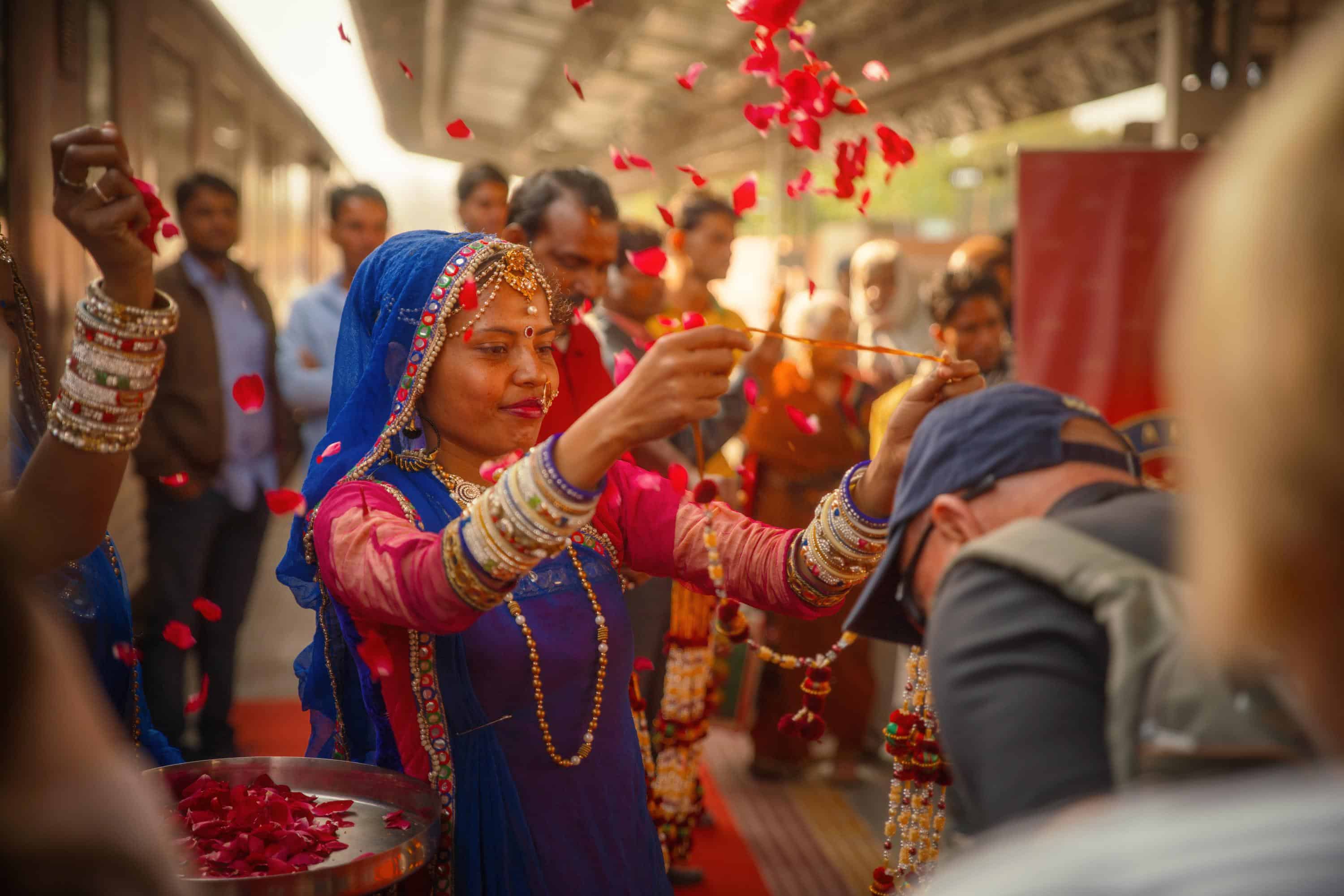 10 Tips For Booking Luxury Trains In India
#1. Winter Is Actually The Best Time To Book A Trip On One Of The Luxury Trains In India
High season in India is actually October to March so while the winter may be cold where you are from, this is the best time to experience one of the luxury trains in India! While India does indeed have mountains [hello Himilayas], much of the country gets extremely hot during the summer, especially in the states that many of these trains travel. If you are looking to experience the luxury trains in India, make sure to carve out some time during the winter and make this trip during one of the months listed above.
We went during February and the weather was just perfect! It was warm during the day and cool at night! Don't worry about being too cold and you won't be too hot either! Make sure to check the train schedule depending on which of the luxury trains in India you choose to experience!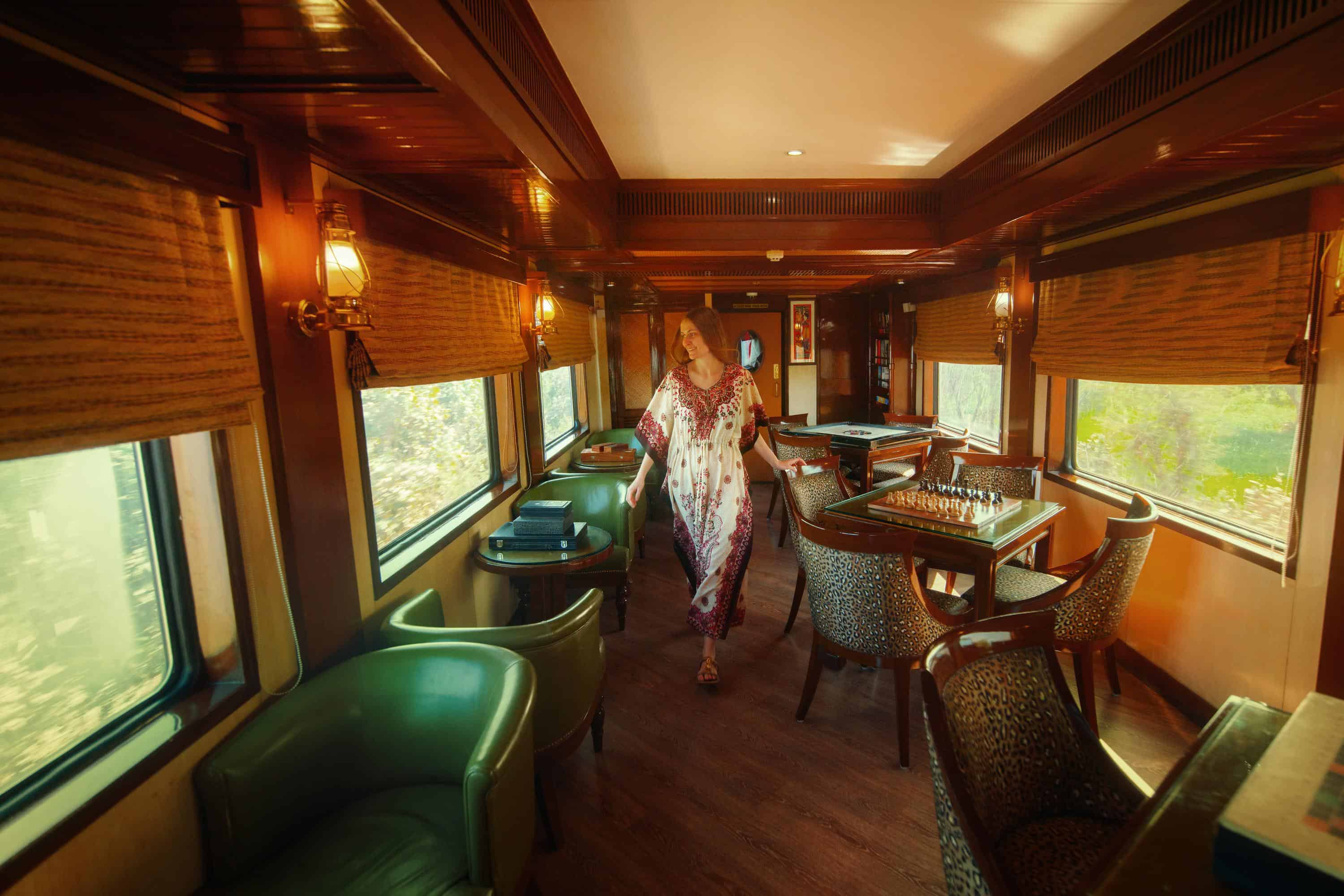 #2 All Luxury Train Vacations In India Come With Your Own Private Butler
One of the best parts about luxury train travel in India is that you get your own private butler to help attend to your every need! If this isn't pure luxury, we don't know what is! Unlike a room steward on a cruise or hotel, your butler will be more intimately involved with your life aboard the train. Your personal butler will give you a private wake up call every morning and will descend gracefully into your room with hot coffee, masala tea, muffins, fresh fruit, you name it and your butler will bring it to you in the morning!
Your private butler will only serve you and, at the most, two other cabins, so he is near whenever you need him! He will also walk you to and from your room when you enter and leave your luxury train in India and will carry your bags and greet you upon arrival. He will spruce up your room and leave towel animals and fresh flowers at every turn. No matter which of the luxury trains in India you choose, you will find that having a personal butler will make you feel like royalty. Getting to know your personal butler is the best part of all as each and every butler, from the ones on the Palace On Wheels to the Golden Chariot, is kind and personable! Make sure to tip your butler generously at the end of your train trip!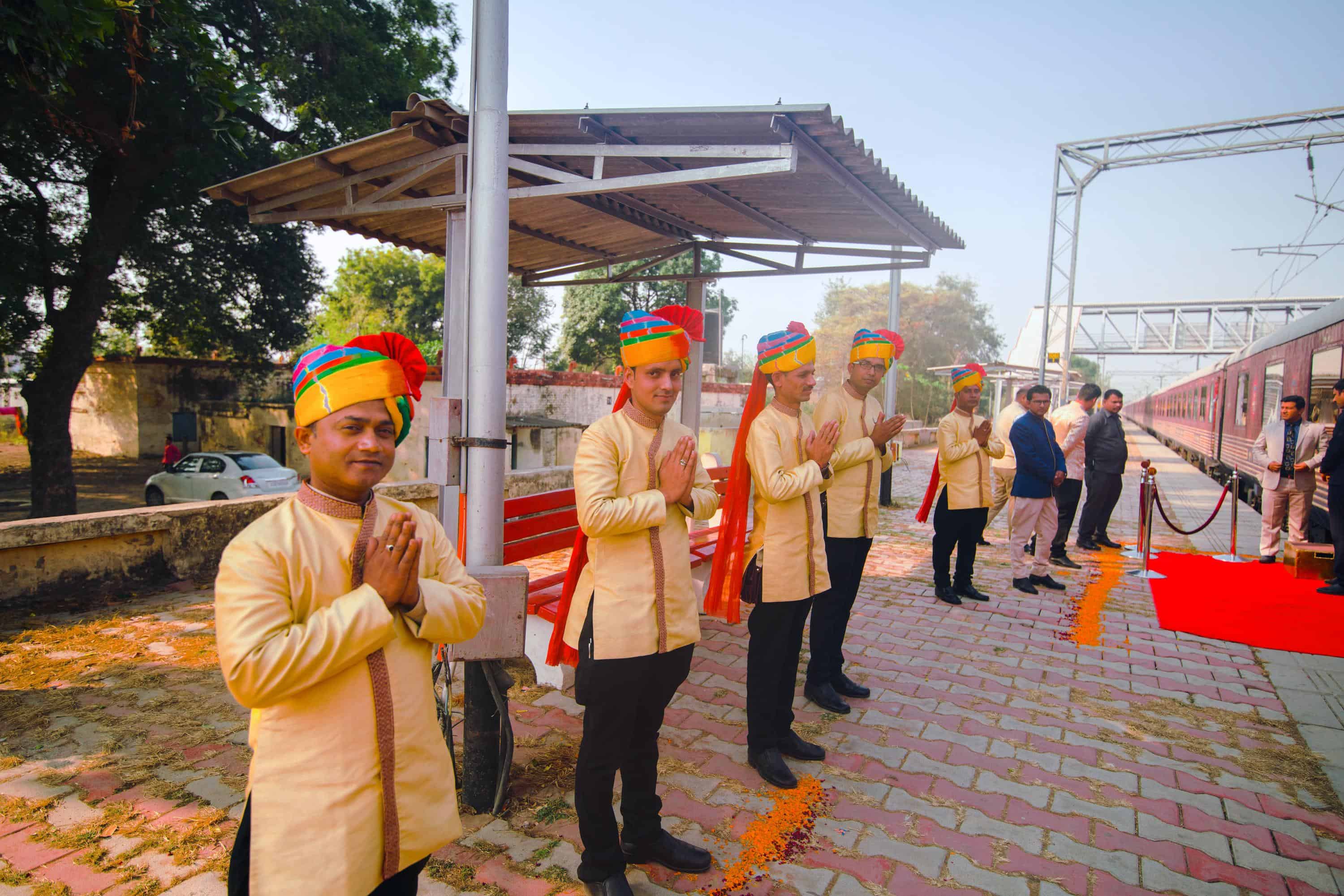 #3. Indian Luxury Trains Are Priced Differently So You Can Choose The Best One For Your Budget
Not all luxury trains in India are created equally! While they all offer a wonderful and memorable time, some are very expensive ultra-luxury while others still offer luxury but on a little more of a budget. For example, on the Maharajas Express, cabins start at around $900 per night per person depending on which class of cabin you choose. On the Golden Chariot Train, single occupancy starts at $6,135 with double occupancy starting at $10,000, depending on which cabin class is chosen. The Palace On Wheels Train single occupancy starts at $4000.
The price of luxury trains in India differs widely so it is best to look at what each Indian luxury train has to offer and then make your decision accordingly. Compare rates, what is offered, what the interiors and cabins look like, and what routes the trains run in order to come to your decision. For example, on the Maharajas' Express "Indian Panorama" tour, guests get to eat dinner in the courtyard of a real working palace where a real Maharaja and his family still live. This is an ultra-exclusive experience and may be worth spending extra if this is something you are interested in doing. Weigh the pros and cons of each train price when making your decision.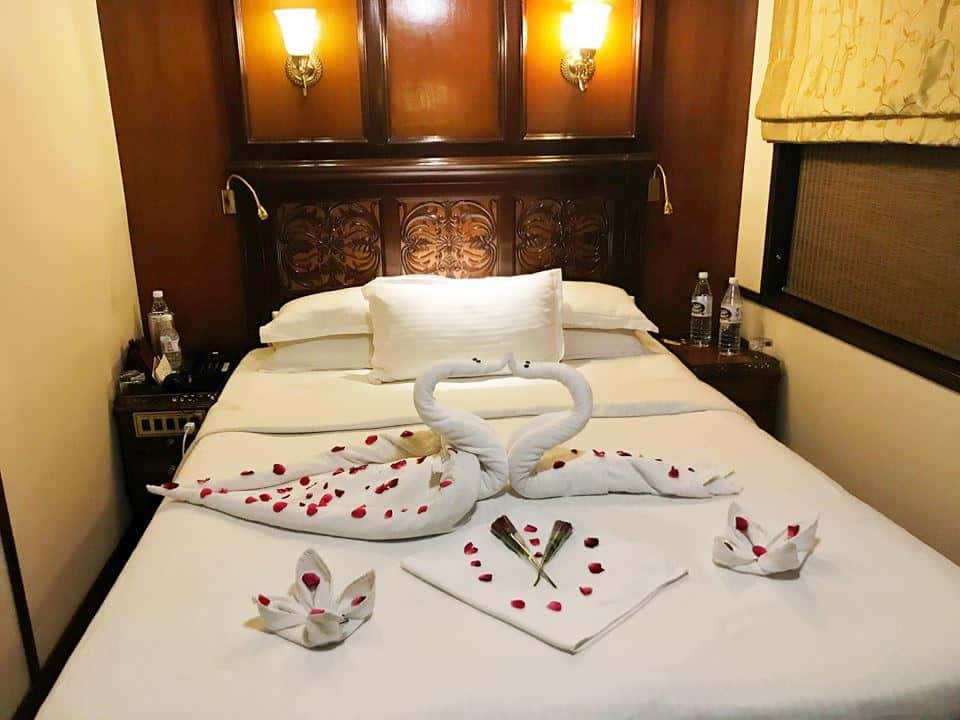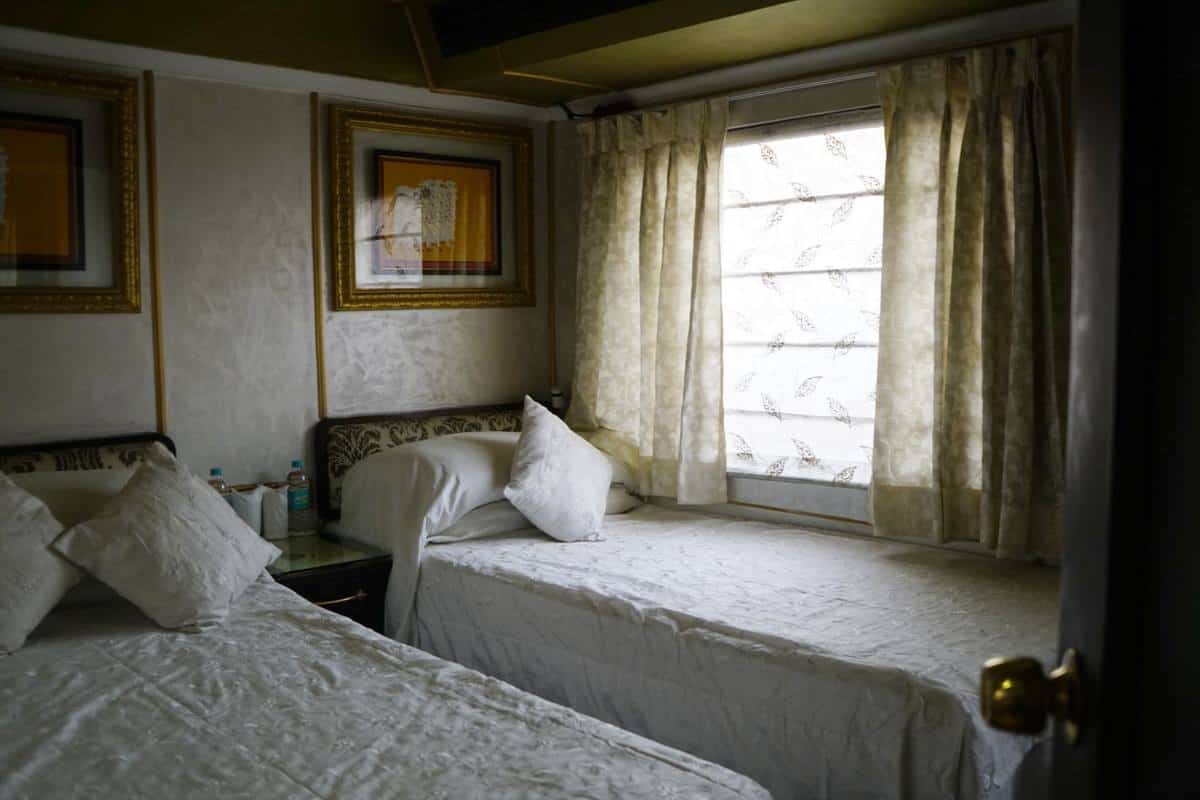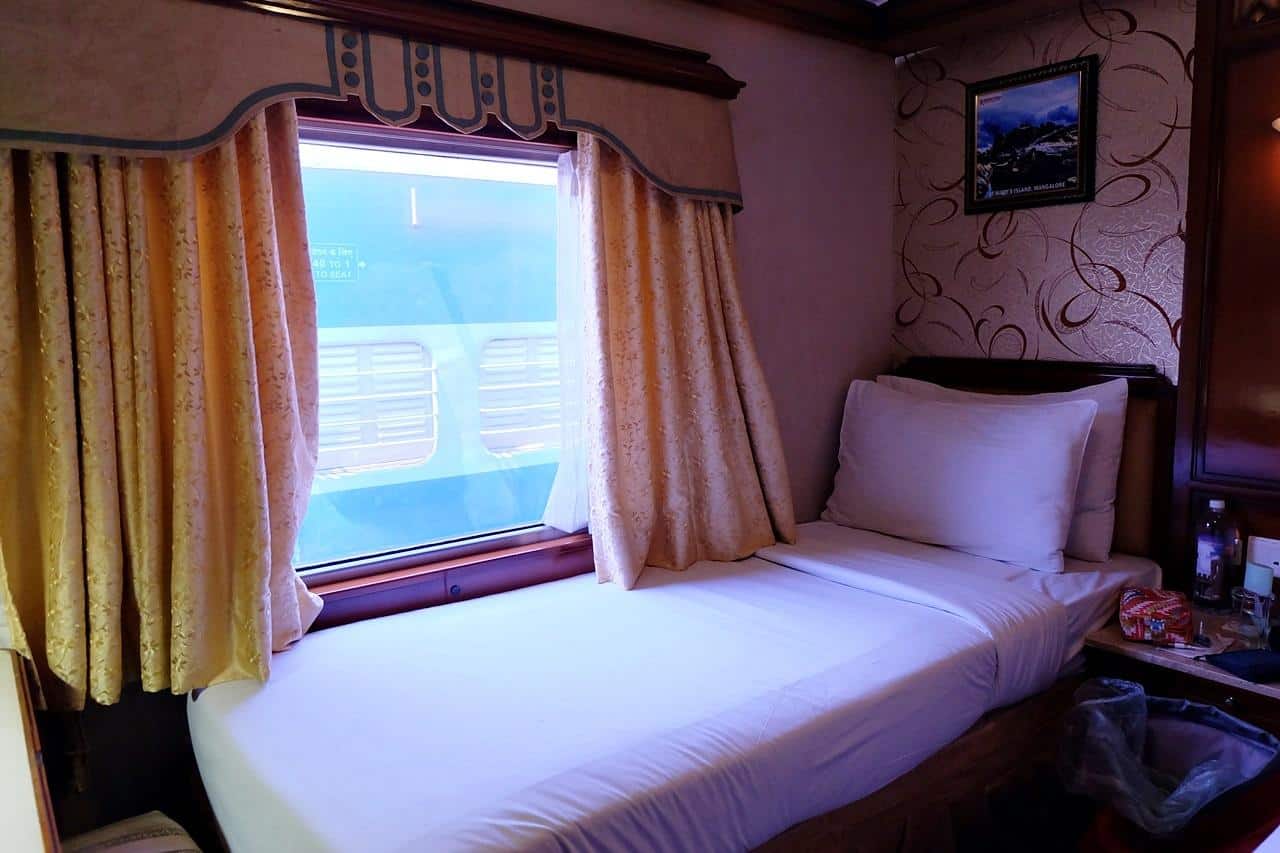 #4. All Luxury Trains In India Include Unlimited Food And Drink And Excursions
No matter how pricey, or ultra-pricey, these luxury trains in India may be, they all have one thing in common. That thing is that all excursions and food and drink are included. This means that unlike a cruise ship vacation where you have to pay extra for excursions, luxury train vacations in India come with them included in the price. Yes, this means that visiting Taj Mahal City is included in the price!
Similarly, alcohol is also included so you don't have to pay any extra to drink handcrafted cocktails while sailing through the Indian countryside! All of India's luxury trains include these two things so if you are stuck between choosing which train you want to travel on, keep in mind they do all offer included excursions, food, and beverages.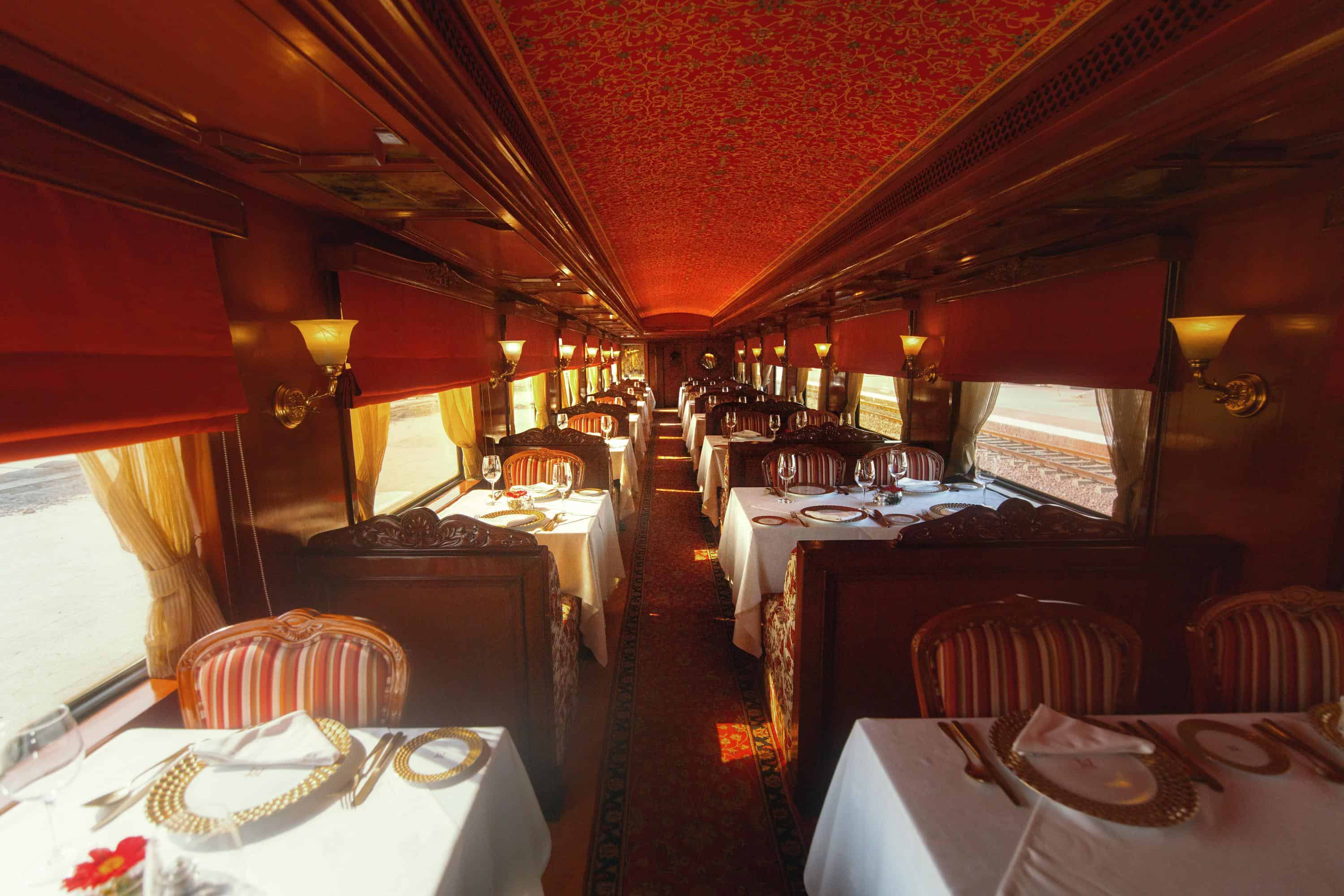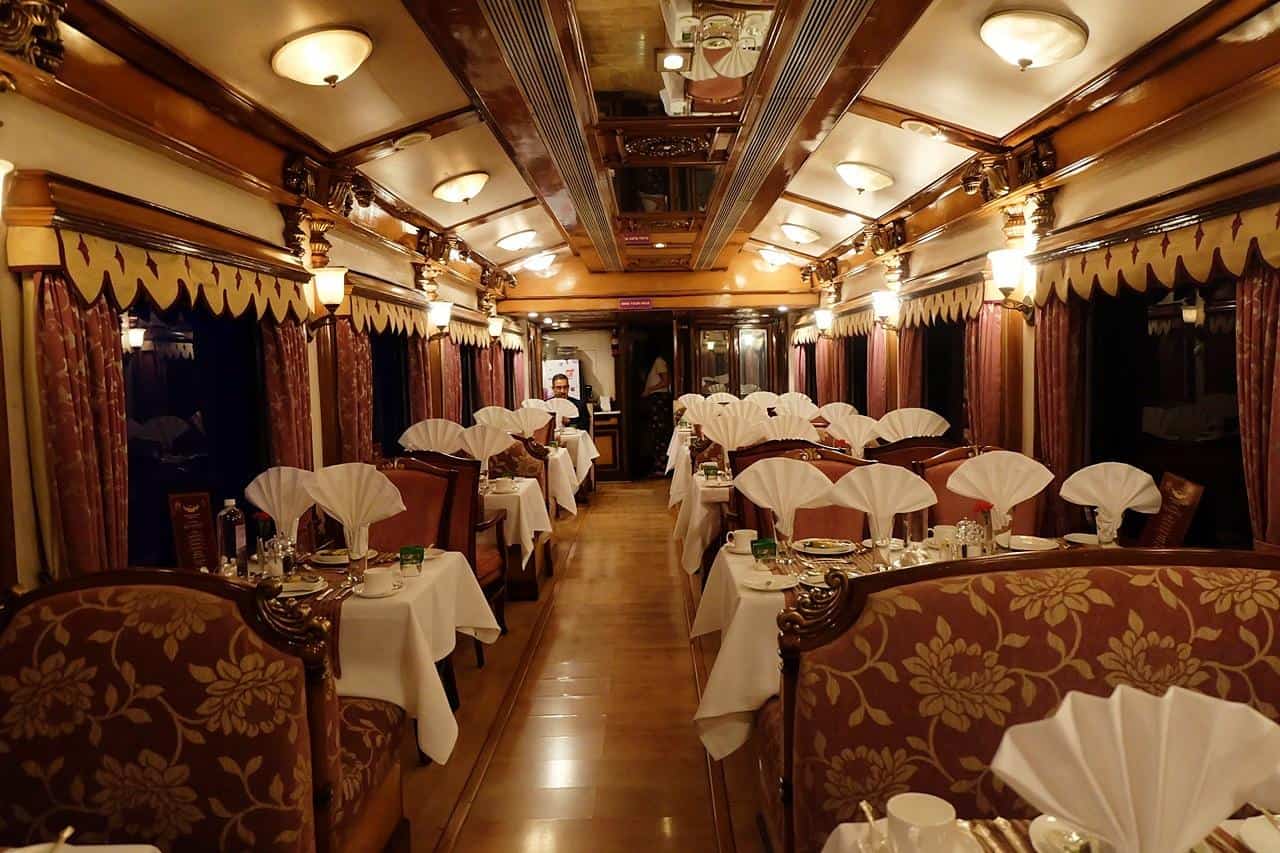 #5. Some Trains Have A Doctor On-Board For Your Health And Safety
Everyone knows that Indian food has a tendency to make your stomach upset. If you are worried about issues, make sure to pick a train with a doctor on board. For example, the Golden Chariot Train and the Palace On Wheels Train do not have an onboard doctor while the ultra-luxury Maharajas Express Train does. This doctor will go on excursions with groups and will come to your room with a full medical kit in case of an emergency.
The doctor will even administer injections if necessary and is just a phone call away. If having a doctor nearby is important to you, make sure to check to see which of the luxury trains in India have one on board your itinerary or if they have one at all! Some never have a doctor on board while others, like the Maharajas Express, have a doctor as standard procedure.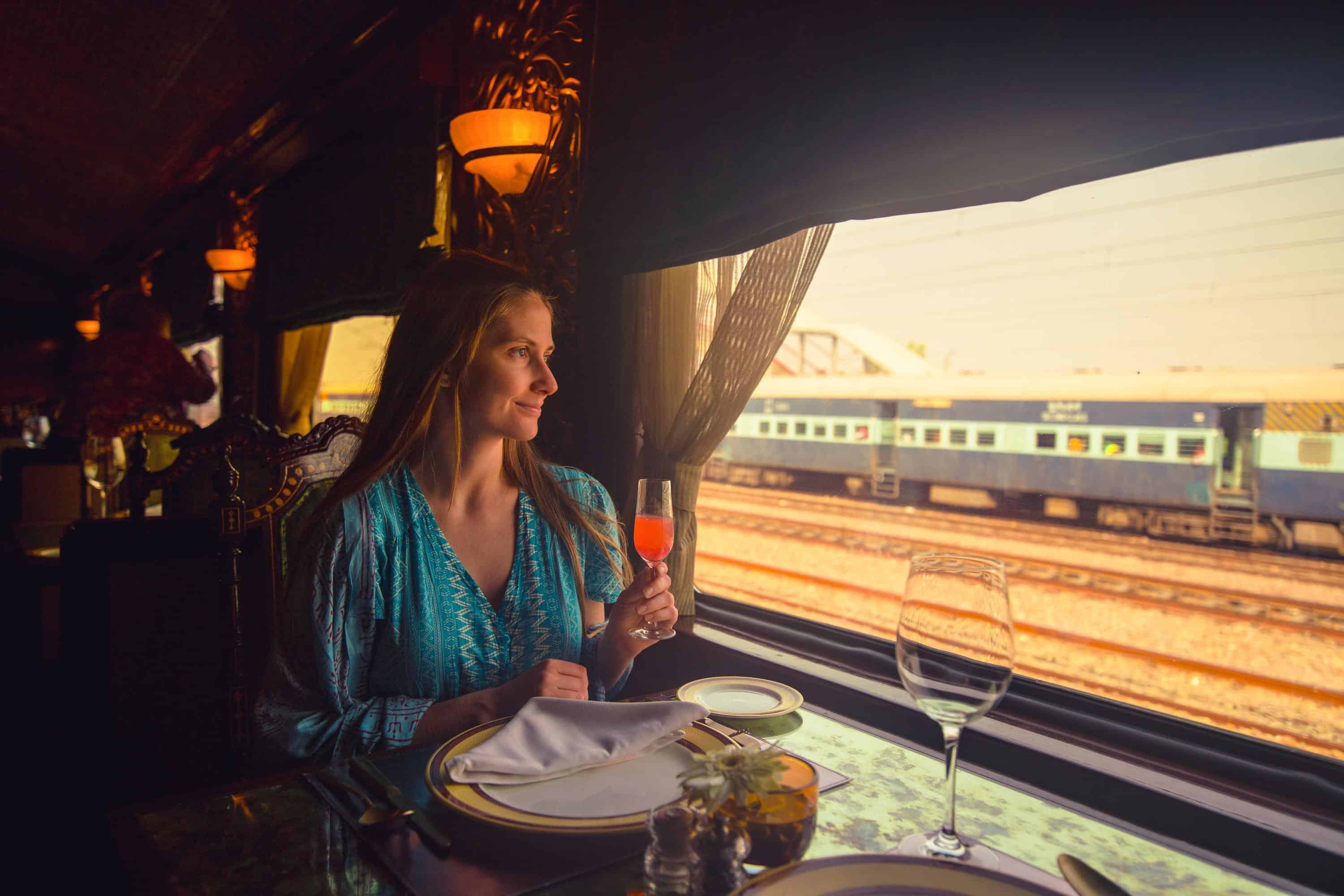 #6. All Indian Luxury Trains Offer A Mix Of Indian And Western Food Options
If you are not comfortable with eating Indian food at every meal, do not worry! All luxury trains in India want to make your dining experience as smooth and enjoyable as possible! As a result, Indian luxury trains offer a menu featuring lots of Indian options and some western food options at every meal. If, for whatever reason, the western options do not appeal to you, you can kindly request a simple dish such as pasta and the chef will quickly make it up for you right then and there! When figuring out what to bring to India, you may even want to consider packing some snacks or food options for yourself if you want a treat later at night. The trains offer plenty of food but not everyone likes lots of Indian influence for all meals!
If you have never tried Indian food before, the luxury trains in India offer a perfectly safe environment to do so! If you order a dish and taste test it and don't like it, you can order something more familiar to your taste buds! No matter what kind of food you choose, rest assured that it will be delicious!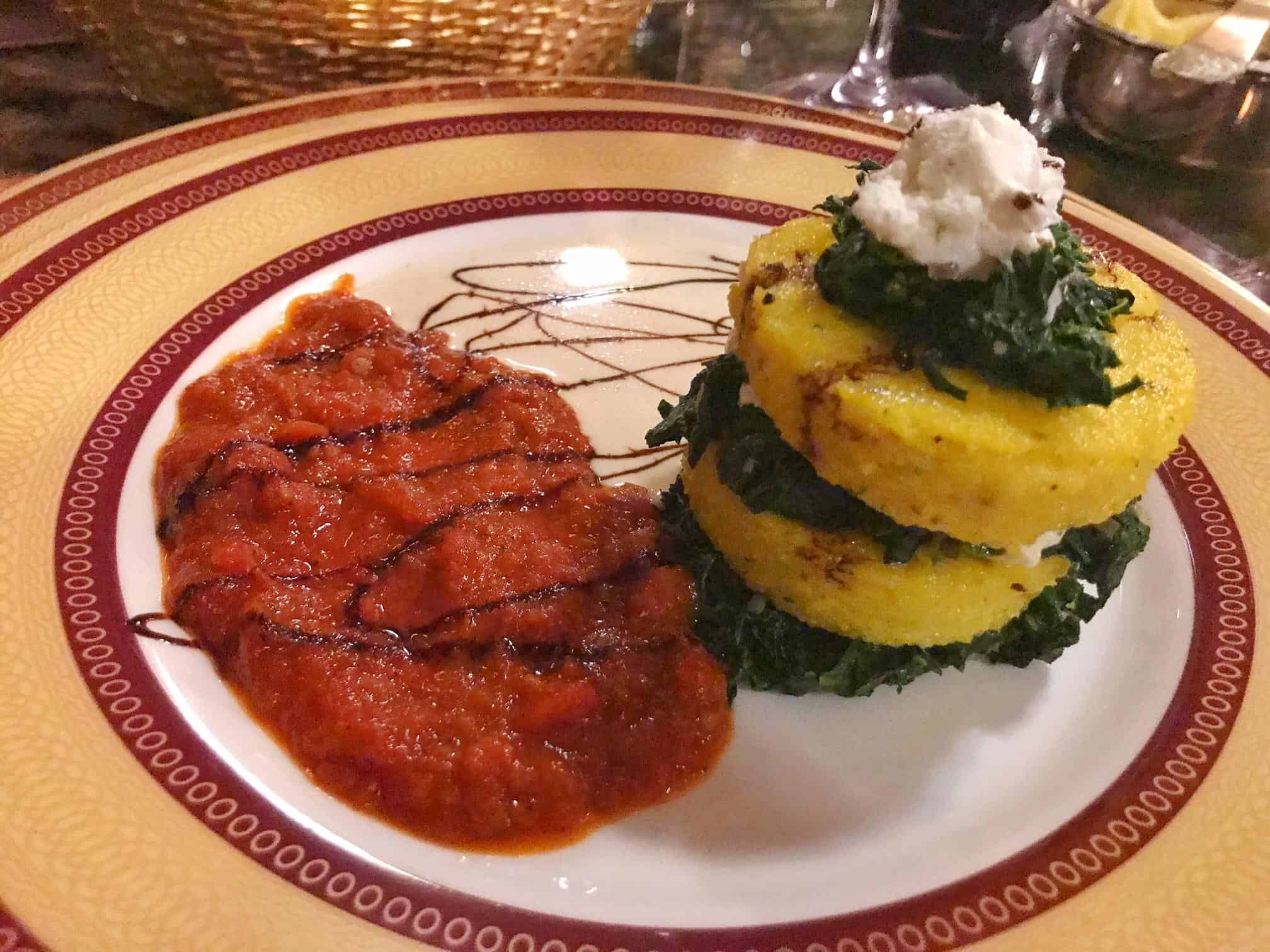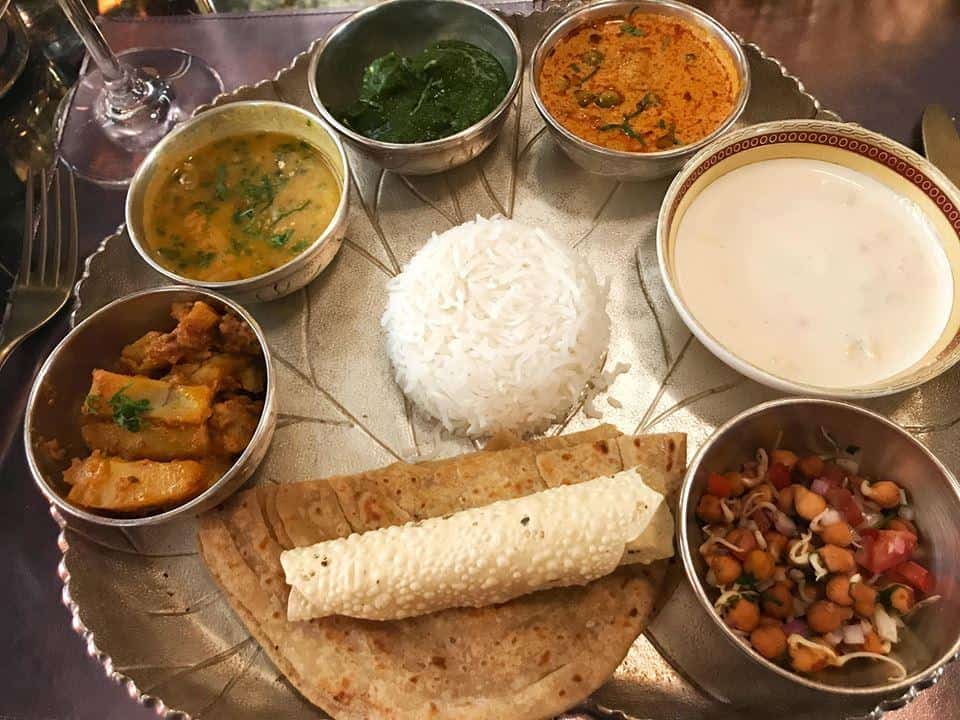 #7. Luxury Train Itineraries Differ By Train And Time Of Year
Each luxury train in India services different itineraries throughout the year. Each Indian luxury train also services different parts of the country than other trains and different itineraries. For example, the Deccan Oddesy may explore the areas surrounding Mumbai and Goa while the Maharajas Express will service the Nothern states of India and The Golden Chariot will service the southern. Sometimes, the Maharajas Express itinerary involves heading from New Delhi to Mumbai on a one-way basis.
Each of the luxury trains in India services different parts of the country and also offer between 3-7 different itinerary options. If you have your heart set on one part of India such a visiting the Taj Mahal or heading to Bangalore, make sure you choose a train and an itinerary that visits the stops you want. All of India is beautiful so no matter what luxury train itinerary you choose, you will be in for a real treat!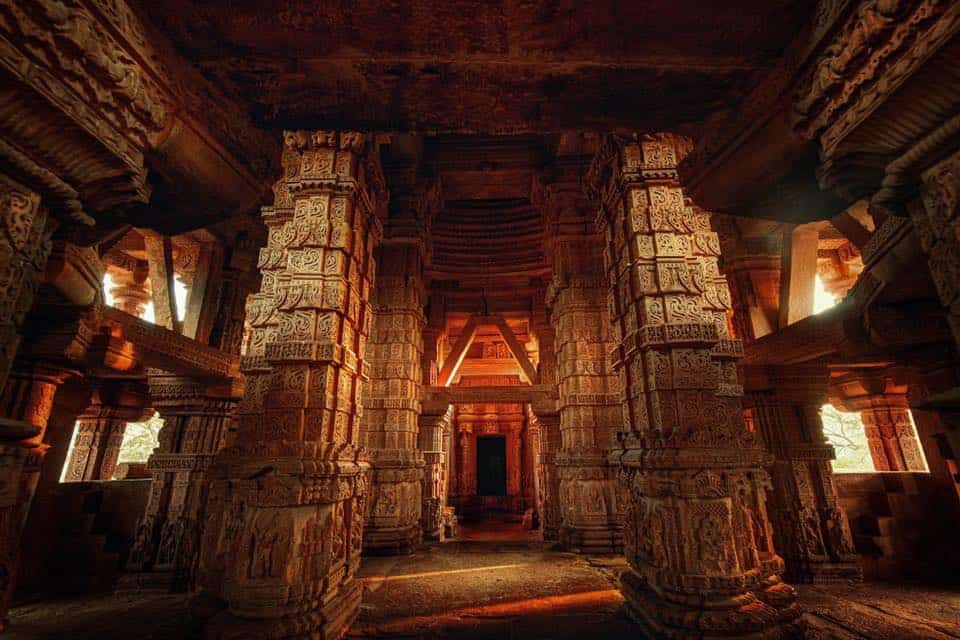 #8. You Actually Won't Spend Much Time Traveling On The Train During The Day
Unfortunately, you won't spend much time traveling on the train during the day. We say unfortunately because one of the highlights of train travel is relaxing in your luxury room and watching the world go by! There are a few days here and there where you will travel during the day, but most of your time traveling by luxury train in India is spent during the night. This is because your days are spent exploring the culture and experiences that India has to offer.
While this isn't a bad thing, understand that unlike a cruise where you may have a "day at sea" with nothing but traveling, luxury train travel in India offers more time off the train for sightseeing. Think of this experience more like a river cruise, where you stop every day and only travel at night, instead of an ocean cruise where you spend much of your time on the ship traveling.
#9. Sleeping On Luxury Trains In India Is Quite Enjoyable For Most But Be Prepared In Case You Dislike It
Many people love the feeling of sleeping on a train. Sleeping on a luxury train in India is even better because you have a large bed and an ensuite bathroom and much more. The motion of the train is not like that of a boat where there is rocking back and forth. It is more a feeling of a slight rumbling as the train travels over the train tracks. The white noise the rails provide along with the motion makes for a great night sleep….for some!
If you aren't sure how you will fare sleeping on one of the Indian luxury trains, make sure to bring some motion sickness medicine and earplugs. If you are on the Maharajas Express, a doctor will be present on board for medicine, but bring your own just in case! We truly think that the feeling of sleeping on the train is quite enjoyable and are confident you will love it too. Most people settle in after the first night of sleeping and tend to really love the feeling of moving while you sleep.
#10. A Trip On One Of India's Luxury Trains Is Truly Unforgettable
This should go without saying, but it is worth a mention again! Choosing one of the luxury trains in India for your vacation will be a once-in-a-lifetime trip! You will get to see the most colorful country in the world at the height of luxury and will also be able to spend time sightseeing at unique places and eating delicious food. The pace is a little fast, but you are free to do as many or as little excursions as you want! The goal of luxury trains in India is to showcase the Indian countryside to visitors in a way that makes them long for India and want to come back for a future visit. From sleeping on a luxury train and waking up to see the Taj Mahal to visiting the beaches of Goa, luxury trains in India offer something for every interest and price point.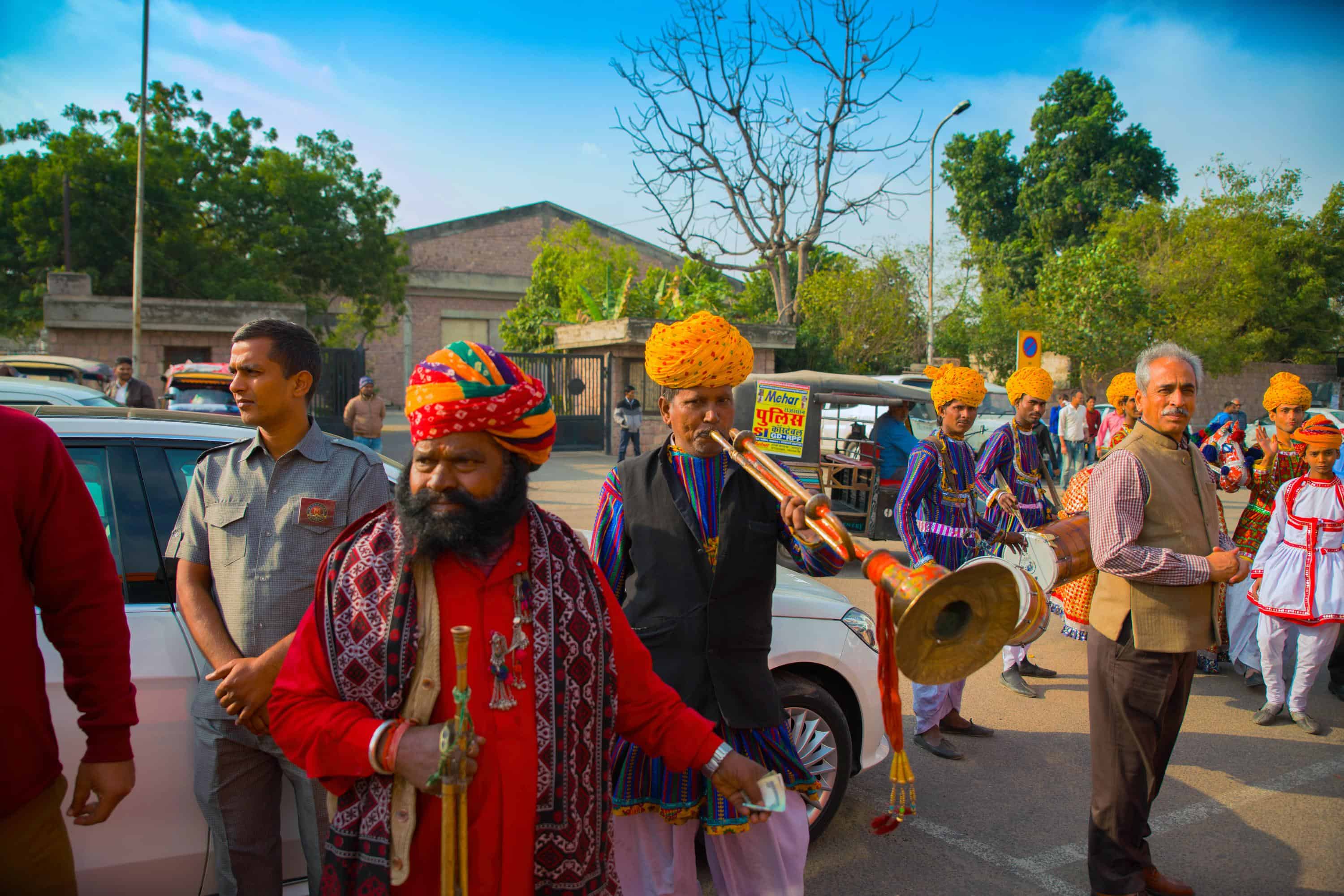 Getting To India For Your Luxury Train Journey
You are going to have to get to the country when taking one of these luxury trains in India! Luckily, India makes getting there very easy and actually quite affordable. Depending on which of the luxury trains in India you are taking will depend on where you will fly into. You will most likely fly into New Delhi Airport or the Mumbai Airport and both are major international airports. There are many flights that arrive and depart from these airports on a daily and weekly basis so you have options. Check out more things to discover in India if you want to stay after your train trip!
Depending on where you are coming from to take the luxury trains in India, you may have to procure a tourist visa. For Americans, this can be easily done online but you must apply with a passport size photo and even still you will be restricted upon entering the country after a certain amount of time during the year before you have to apply again. This easy step-by-step guide will help USA Citizens to figure out tourist visas when getting to one of these luxury trains in India!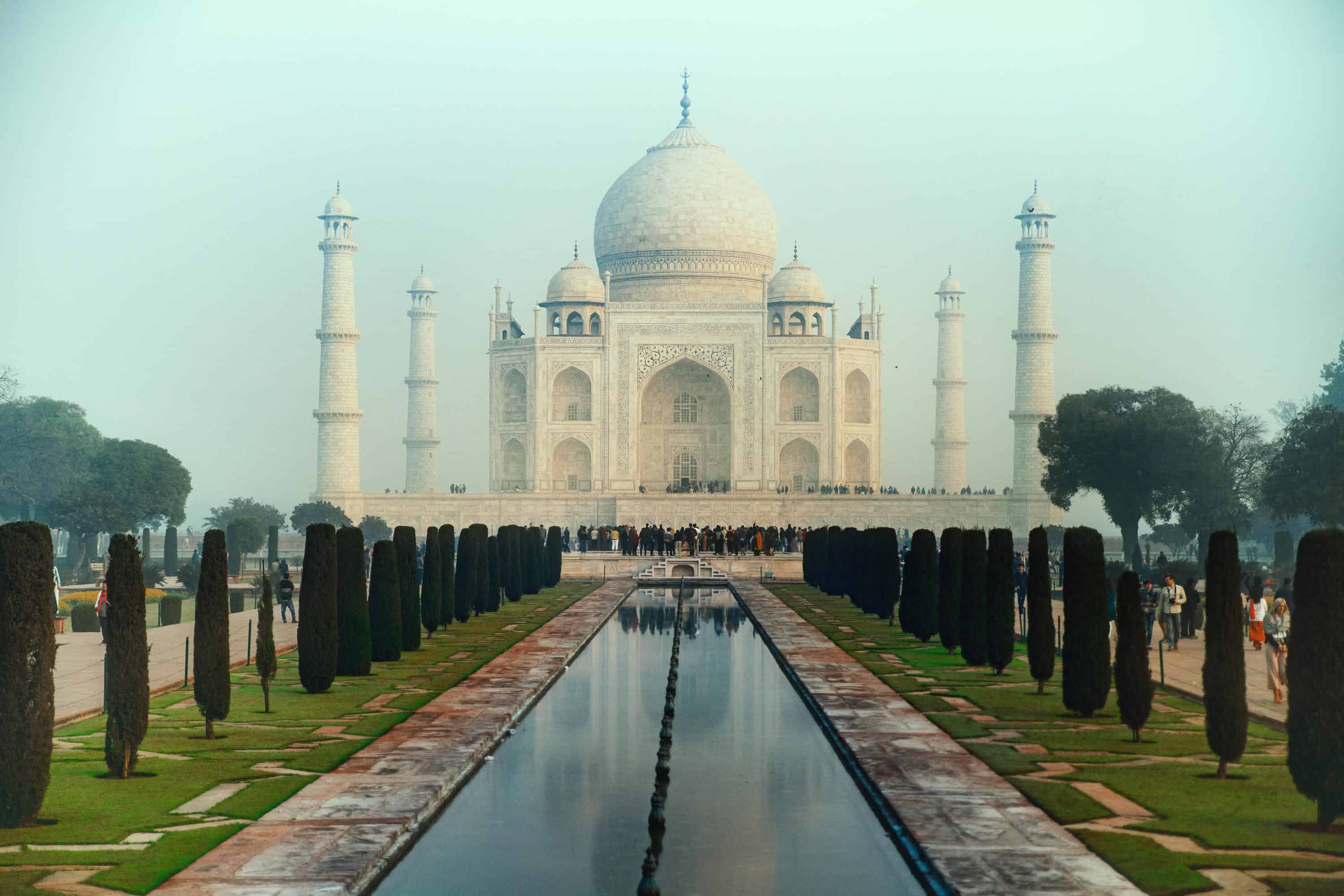 Have you ever considered taking one of these luxury trains in India? Have you traveled by train before? Let us know your thoughts in the comments, especially if you have booked a luxury train journey or if you have already visited India!
Please note: We were invited to India by the Incredible India Tourism Board and were guests onboard the Maharajas' Express for the purpose of this review. Our views are our own and do not reflect those of Incredible India or the Maharaja Express. We were not paid to write this post.