Marriage is an adventure, and we are here to make sure your Jamaica honeymoon is too! Congratulations on finding your person and taking this leap of serious commitment. We are so happy for you! And not only have you found your person, but you have also realized that the sweet sweet sands of Jamaica are just what you need to cement your love. Has anyone told you that you are a rockstar lately? Because your Jamaica honeymoon is going to rock. Bob Marley would approve.
Honeymoons are kind of a big deal, which is why we have taken the time to write out our tips for making your honeymoon in Jamaica an absolute hit. Jamaica is a great place to make the kind of memories you are looking for–the kind you never forget, and for all the right reasons. You are going to have so much fun! Between the amazing resorts, stunning beaches, and unforgettable sunsets… There is just no way to go wrong with a Jamaica honeymoon. We have the places to go, sights to see, and things you are definitely going to want to experience. Read on to find out how to plan the ultimate Jamaica honeymoon.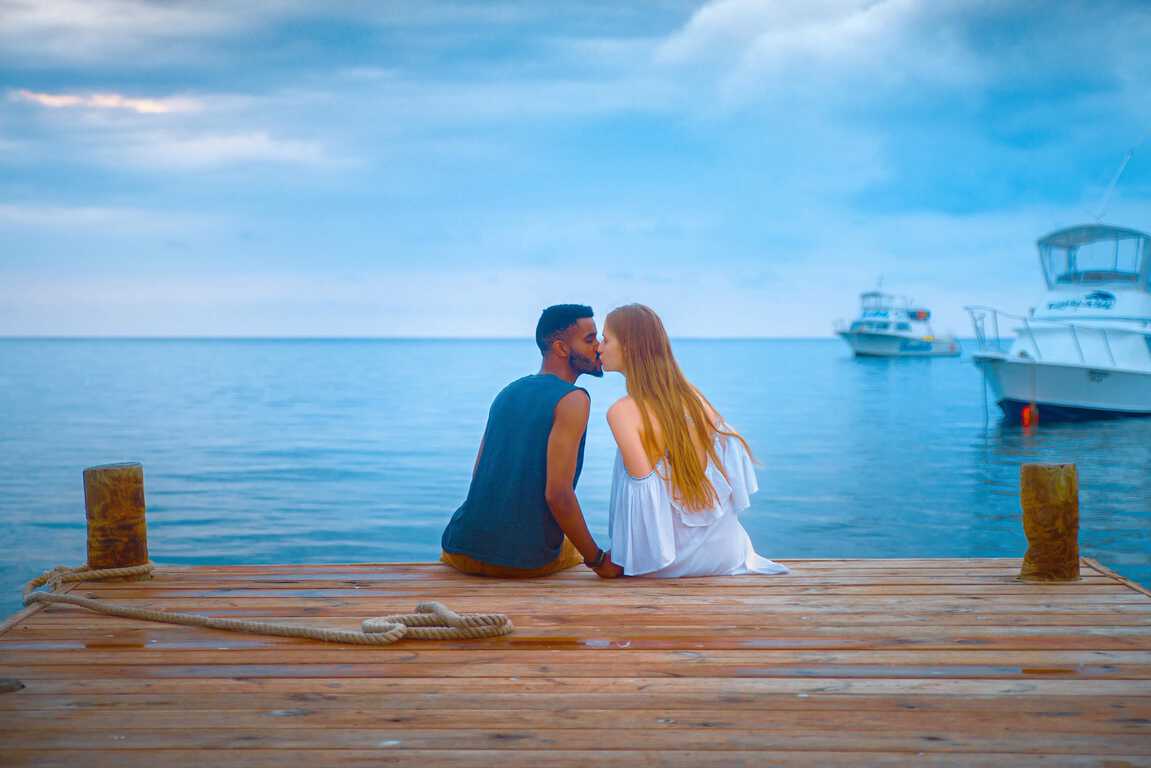 How to Plan the Ultimate Jamaica Honeymoon
When to Honeymoon in Jamaica
A Jamaica honeymoon is going to be the icing on your wedding cake. The island is famous for its incredibly tolerable weather and temperature–it is in the 70s and 80s all year round! (That is in the 20s for you celsius folk!) However, the best deals on hotels and flights happen between November to mid-December.
We know that is a short time range, and that you aren't going to plan your whole wedding around your Jamaica honeymoon. Don't worry! Jamaica is still its stellar self January through March, it is just more expensive. This is because these are the months when tourists flock to Jamaica. So be aware if you are traveling during this time you might have to share your pristine romantic beach with a few other people.
Flights are less expensive during the summer/early autumn months, but that is also the hurricane season for this beautiful island. If your wedding has to be in the summer, we totally understand that you are also going to want your Jamaica honeymoon to be in the summer! You will just want to make sure you are an informed traveler if this is the case and to be aware that seasonal storms may limit some of your honeymoon activities.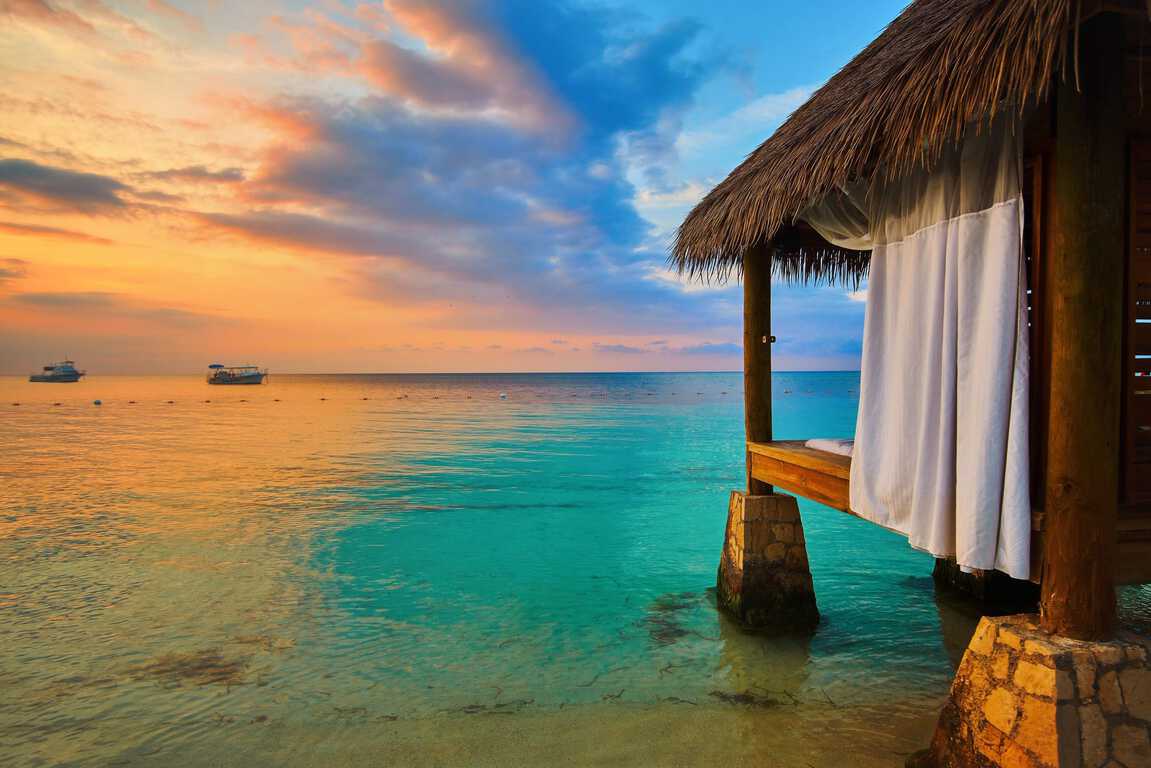 Romantic Jamaica Honeymoon Hotels
So many people honeymoon in Jamaica because it has something for everyone. From all-inclusive resorts to affordable hotels with some gorgeous beachfront, you will definitely find something that matches your tastes and budget. If you want the place you stay to also be your experience, Jamaica has you covered. If you want the place you stay to be just that–the place you come back to and stay at the end of your day out and about–Jamaica has you covered.
Whether you are going all out and ready for that all-inclusive experience or trying to save some of your money for the actual marriage, Jamaica is sure to provide some great options. Below we have some favorite places where we have personally stayed, as well as some other top-rated locations for you to check out. Wherever you choose to end up, we are confident you will find what you need for the Jamaica honeymoon of your dreams.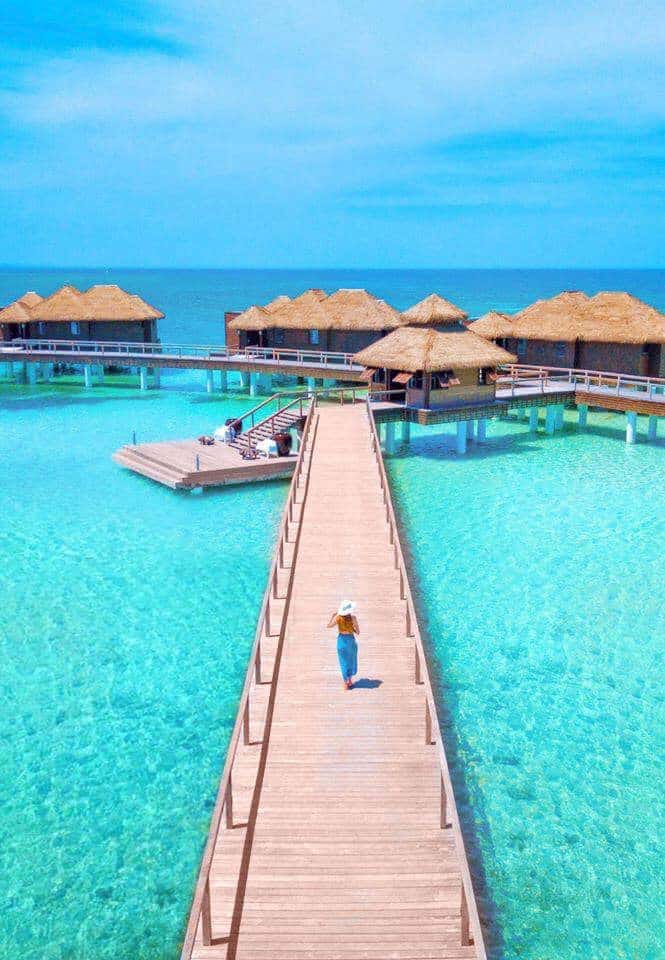 Sandals Montego Bay
Okay lovers, Sandals Montego Bay is the place for an all-inclusive Jamaica honeymoon! First of all, it is a Couples Only resort. Don't want children running all over the place and stealing all the best seats for a romantic sunset? We got you. (Don't get us wrong, we like kids. We just know that everything has a time and place, and that your honeymoon may not be the time and place for gaggles of children!) Not only is this place just naturally set up for the couple's experience, but they also have a private beach area and a garden. Depending on which room or suite you book, you may also have a private seating area! We stayed here, and we absolutely loved it.
Check rates: Booking.com | Hotels.com
Luna Sea Inn
How could you possibly regret staying in a place with a name like Luna Sea Inn? This place screams cozy, romantic, and refreshing. This turquoise painted inn has rooms facing directly to the water, with reclining chairs lined up to soak up the sun and the view. The Luna Sea Inn is a great place for those of you who want to arrange your own adventures and still have a great place to watch the sunset every night. They have a garden and outdoor swimming pool, and all rooms have a little seating area just outside the door.
Check rates: Booking.com | Hotels.com
Couples Swept Away
Couples Swept Away is a knockout location for your honeymoon location. Want a plunge pool? Check. A tennis court? They have it. A different outdoor swimming pool for each day of the week? Pretty much. Want a couples' retreat with a spa, eucalyptus steam room, and massage? You got it. Couples Swept Away isn't playing when it comes to offering every single thing you could possibly want to enjoy or experience during your Jamaica honeymoon. They also offer Montego Bay Airport transfer, so that you don't have to worry about how to get there, as well as several off-site excursion options. Couples Swept Away is the epitome of all-inclusive resorts in jamaica.
Check rates: Booking.com | Hotels.com
Couples Negril
Couples Negril is a fun place to stay if you are all about tasting different cuisines. This location offers four restaurants with cuisines from all over the world. It is also a great place if athleticism is your idea of fun. They offer a fitness center, tennis courts, yoga, Pilates, and water sports. Like Couples Swept Away above, they pull out all the stops when it comes to the things you can experience, including off-site excursions and glass-bottom boat rides! They have plenty of options for having fun and experiencing all the pleasure a Jamaica honeymoon has to offer.
Check rates: Booking.com | Hotels.com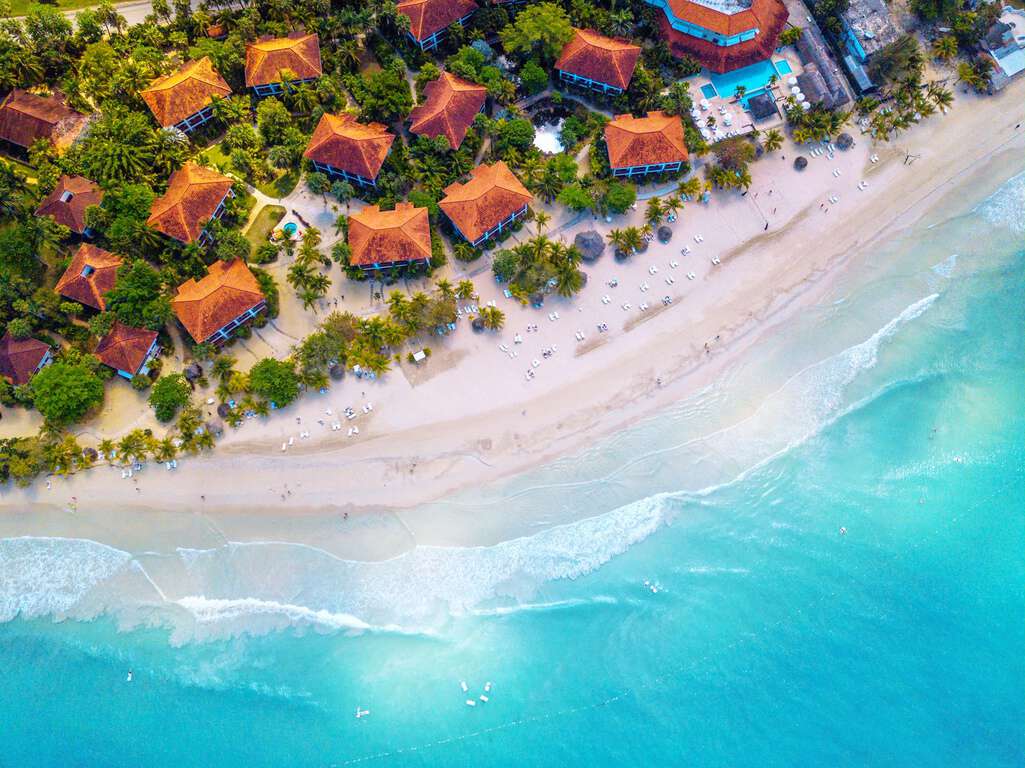 Sandals Negril Beach
Just like you, we love what we love. And we love Sandals resorts! They are truly some of the best all-inclusive resorts in Jamaica. Sandals Negril Beach is an absolute dream when it comes to Jamaica honeymoon locations. Like Sandals Montego Bay, Sandals Negril Beach is a Couples Only all-inclusive resort. This location offers an exquisite restaurant and bar, a garden, and room service for the days when you would rather stay in than go out. Sandals resorts leave very little to be desired and work hard to provide everything you could possibly wish for on your honeymoon in Jamaica.
Check rates: Booking.com | Hotels.com
Travellers Beach Resort
The Travellers Beach Resort is another great option for people who want a place to stay without all the extra frills. This place has balconies for days. You can check "epic picture on a balcony" and "Jamaica honeymoon" both off your bucket list with this one! This location is also great for those of you seeking simplicity in your Jamaica honeymoon lodging. They have everything you need, with nothing more and nothing less.
Check rates: Booking.com | Hotels.com
Sandals Royal Caribbean
What, another Sandals resort? How did that get here? Oh right, it is because Sandals resorts are amazing! We would not be doing our job if we didn't tell you about Sandals Royal Caribbean. This place has over-water bungalows. That's right. Stay here, and you can stay in a bungalow–on stilts–on the ocean. You see why we had to put it on the list, right?! Like the other Sandals resorts we have already listed, this one is Adults Only. They are all about couples and providing a truly memorable couple experience.
Check rates: Booking.com | Hotels.com
The Caves
While you can go pretty much anywhere in Jamaica for an adventure, we highly recommend The Caves. You can guess from the name what the main attraction here is. The beautiful limestone grottos that this hotel is located in are built atop a network of sea-caves. This is the place to come if you want to stay in a place as cute, and as packed with character, as your relationship with your new spouse. They offer snorkeling tours, free bike rentals, and the opportunity to dine in a couple of the caves! This just may be the most unique lodging option on our list.
Check rates: Booking.com
Sandals South Coast
Is it obvious yet which resort option in Jamaica is our favorite? We LOVE Sandals! That is why we are ending our lodging recommendations with Sandals South Coast. We had to include this one for the same reason as Sandals Royal Caribbean–they have over-water bungalows! And not just any over-water bungalows, Sandals South Coast has them in the shape of a heart. We're serious. Check out the picture below. Have you ever seen anything that screamed "Honeymoon in Jamaica!!!!!" so loudly? Of course they also offer a wide range of activities that you can do while staying in your super cute over-water bungalow and offer a free airport shuttle service.
Check rates: Booking.com | Hotels.com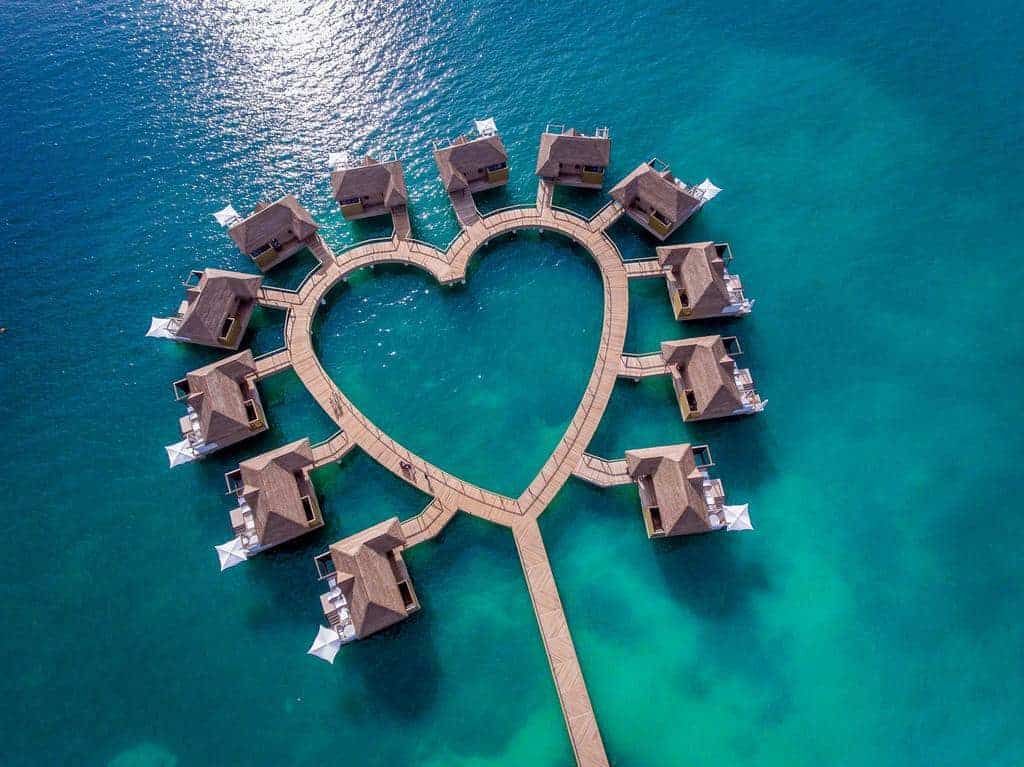 What to Pack for Jamaica
#1. A Travel Adaptor Specifically Designed for Jamaica Outlets
While some Jamaica resorts supply adaptors for honeymooners from outside the UK. However, we find that it is best to plan as if Murphy's Law (what can go wrong will go wrong) is in full force when traveling. If you have a travel adaptor you don't have to make sure your resort or location has one for you, and you can plug into other places besides just in your resort.
#2. Reusable Filtered Water Bottle
We always recommend this one. A great way to add some ease to your Jamaica honeymoon is to bring a reusable filtered water bottle with you. Save the planet, save your throat, and trust us–bring yourself a water bottle. It is so much easier and less expensive to carry water with you than to try to find it while you are out adventuring.
#3. Portable Power Bank So You Can Keep Going Strong
If you don't take pictures, did it really happen? Whether you use your phone camera or you're more high tech, it is always useful to carry something to recharge when an outlet is nowhere in sight. If you plan to stay in for the entirety of your honeymoon in Jamaica, then this one might not be as necessary. But, if you plan on going out and exploring this unique and wonderful place, bring a portable power bank. They are small, lightweight, and worth the space they'll take up in your purse or pockets.
#4. Action Camera for All Your Unforgettable Moments
If you are going on your honeymoon in Jamaica, then you know you will be doing some amazing things. Your memories will last a lifetime, but there is no harm in taking some video to help remember things a little better! And lucky for you, cameras are kind of (read: very much) our thing. We have a couple of articles you can check out to learn more: the 5 Best GoPro Dome Ports and How to Use Them, and the 11 Best GoPro Alternatives That Won't Break the Bank.
#5. Underwater Case for Your Action Camera
If you're going to bring an action camera to your Jamaica honeymoon (and we recommend that you do!), do yourself a solid and bring an underwater case for it. We recommend this case for over-under water shots and for snorkeling and/or swimming in shallow water. If you are all about that deep water diving, we recommend this case instead. Of course, why not come prepared and bring both?!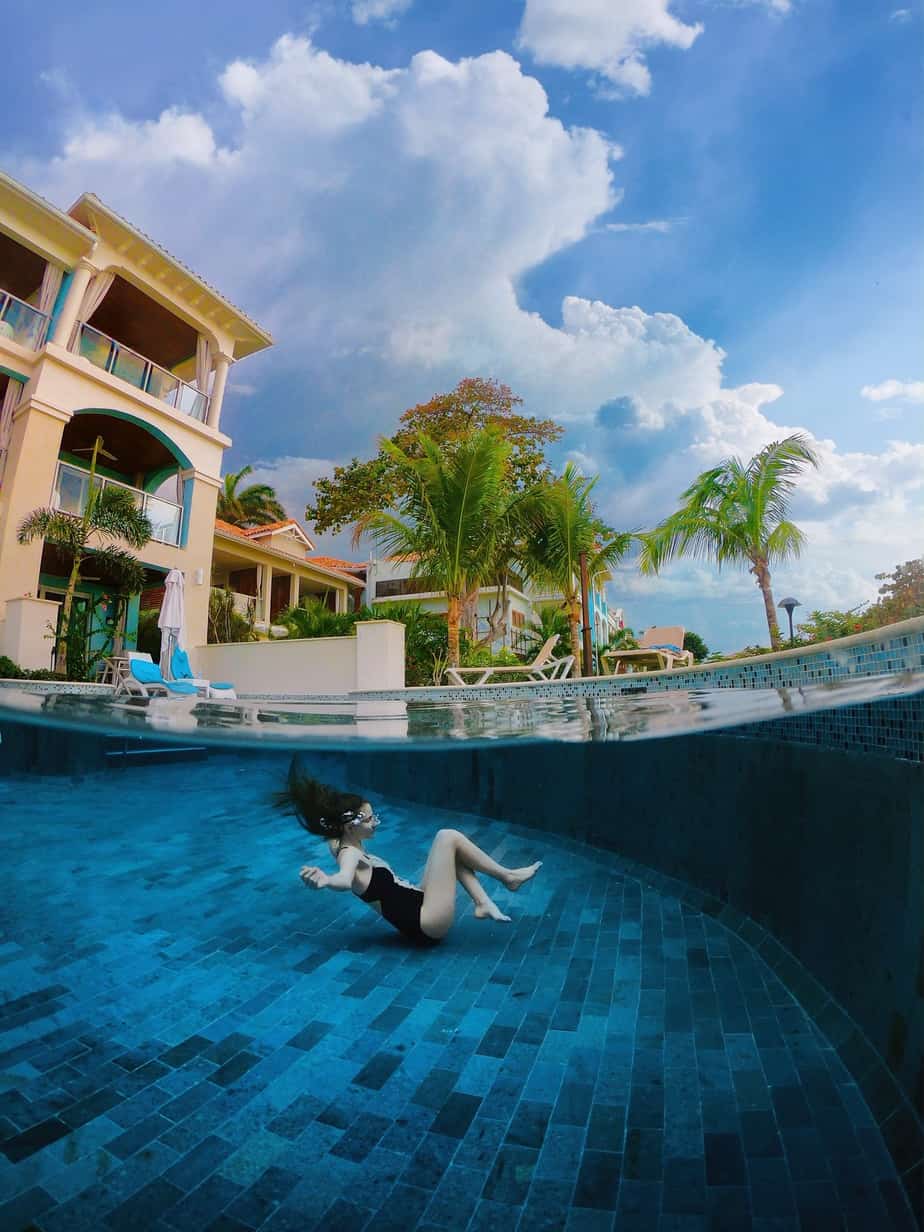 What to Do on Your Jamaica Honeymoon
Climb Dunn's River Falls
It is no secret that Dunn's River Falls are one of the most stunning sights in the world. Thousands of people flock here each year to see the beauty of Dunn's River as it makes its way through pools and waterfalls to the Caribbean Sea. You can hike the waterfalls themselves or climb the stairs along the sides of the falls. It has a reputation for being difficult, but there are guides available to help you traverse the terrain. Marriage comes with its own set of challenges–why not take the opportunity during your Jamaica honeymoon to practice your problem solving and teamwork skills together in one of the most beautiful places on earth?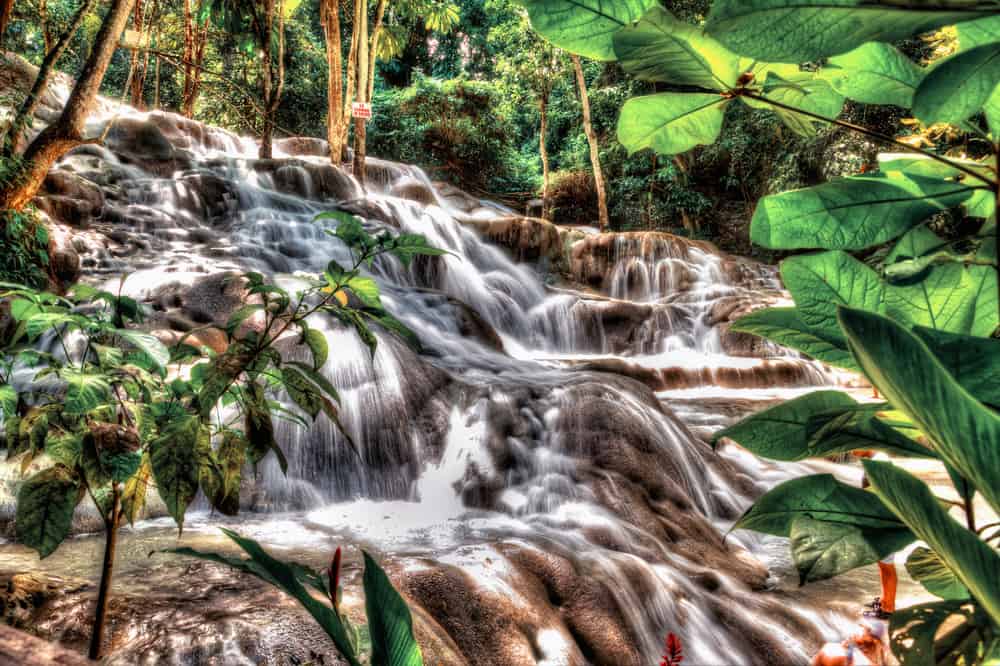 Surf Boston Beach
Jamaica may not be at the top of the list for surfing, but Boston Beach in Jamaica is. If you or your new spouse has a love for water sports, Boston Beach will be an excellent addition to your Jamaica honeymoon. This place has all the beauty that is characteristic of Jamaica, and excellent surfing to boot. And they also have a reputation for having excellent food options! Surf to your heart's content, and then try some internationally loved Jamaican jerk. A day at Boston Beach is a day well spent!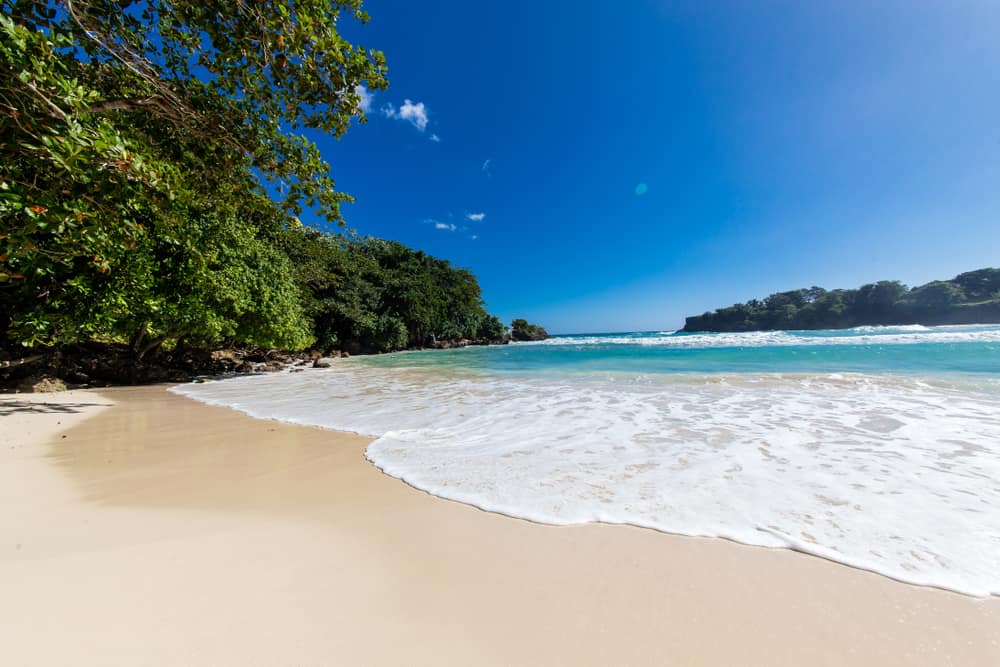 Cliff Jumping at Rick's Cafe
Speaking of amazing food, have you heard of Ricks Cafe? It is in Negril, which is pretty close to a lot of the places to stay we mentioned above. That means this is an easy place to go to if you don't want to go too far from your all-inclusive resort, but do want to have an experience you will definitely never forget. While the food at Rick's Cafe is great, that is actually not the experience we are talking about. People come to Rick's Cafe to eat, but mostly they come here to go cliff jumping! The highest cliff is 35 feet above the sea, which is quite far, but people of all ages and fitness levels jump from these cliffs. If heights make you sick but you still want to try it, don't worry. There are some shorter cliffs that even kids can jump from. It is a great way to impress your new spouse and to reaffirm to yourself that you can do scary things. It is also a great way to remind yourself that getting married is not the craziest thing you have ever done!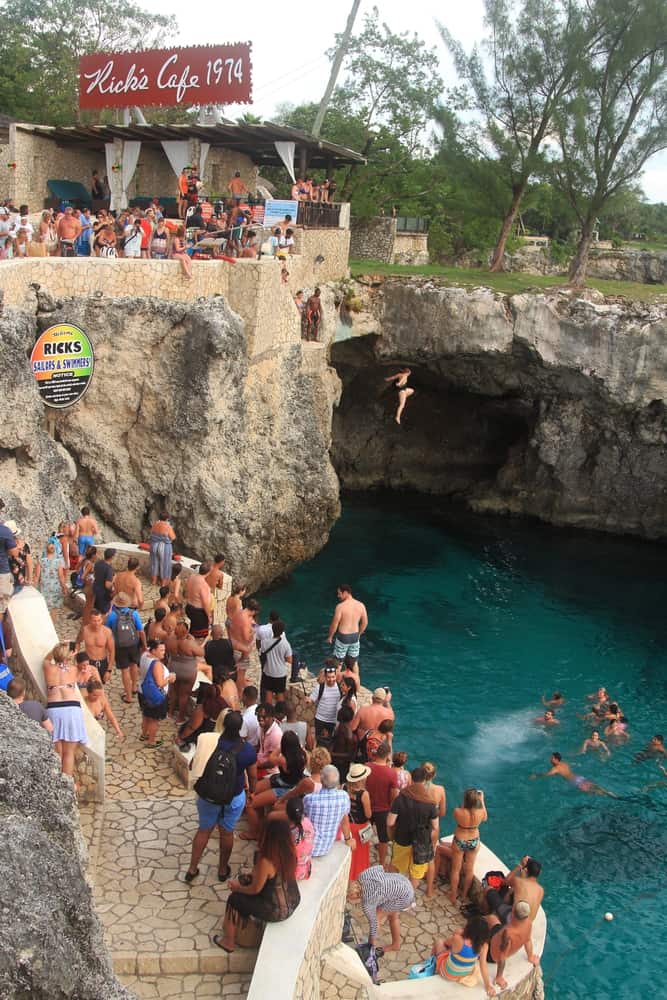 Go on a Bamboo Raft Ride
People love rafting down the Martha Brae River in Jamaica! There is even a long list of celebrities who have done it, including Chuck Norris and Johnny Cash. We recommend doing an actual bamboo ride tour. It will give you an insider's view on some of the history and amenities available in the area, as well as an actual professional to guide the raft. Plus there is a gift shop at the end to get fun souvenirs from! If you choose to experience a bamboo raft ride during your Jamaica honeymoon remember to bring/wear your swimming suit–you are bound to get at least a little wet! Check out this website to book a tour.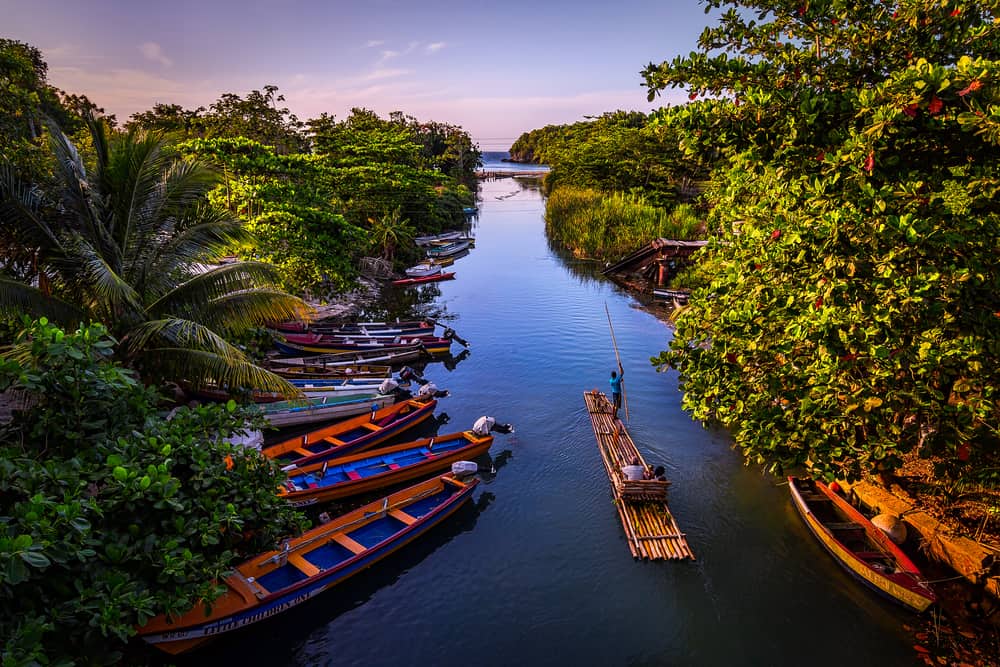 Visit Blue Hole Waterfall
If you would like something a little less touristy (read: a little less crowded) for your Jamaica honeymoon, we have a treat for you! The Blue Hole Waterfall is a treasure that even some Jamaicans do not know about. There is a reason for that–it is difficult to get to. "Road" is a generous word for the path to get to the Blue Hole Waterfall. You have the choice to either walk for miles, find someone to take you, or rent a vehicle that is able to handle some rough terrain. Why go to all that work? Because the Blue Hole Waterfall is paradise inside of paradise. Figure out how to get here, and you will be greeted by the most surreal, turquoise pool you have ever seen. A short hike beyond that leads you to the secret falls, and beyond that there are some little pools you can relax in. There are few places in the world that offer such an exquisite experience.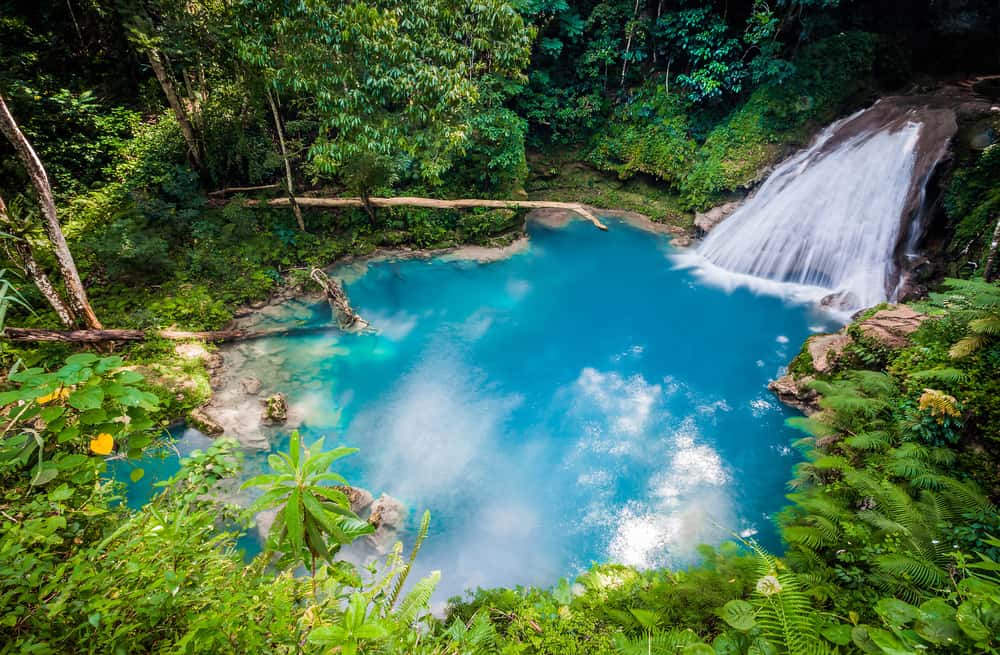 Hike Through Blue Mountains National Park
The Blue Mountains National Park is for the true adventurers. The hikes here are breathtaking for more reasons than one. You will stop breathing for a moment as you take in the awe-inspiring scenery and views, and you will also probably need to stop to catch your breath a few times too because serious hiking. If that sounds truly awful, rest assured, there is more to do than walk around in nature here. There is also the world-famous Blue Mountain coffee factory, where you can sit, drink some excellent coffee, and watch all the crazy hikers set out on their trek. Whatever your adventure speed, the Blue Mountains National Park has something for you.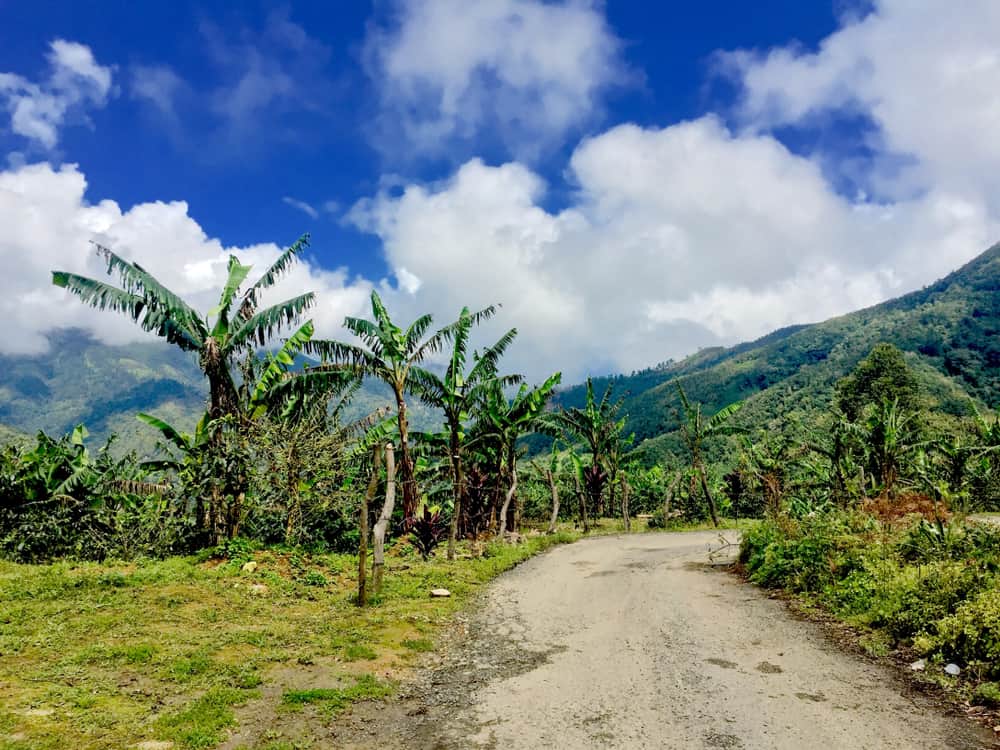 Pay Homage to Bob Marley at His Museum
Even people who do not know much about Jamaica and don't listen to Bob Marley know that Bob Marley and Jamaica go together. Now, if you are one of those people, this museum might not be high on your list of things you are determined to do during your time in Jamaica, and that is totally okay. Just skip on down to our tips for getting to Jamaica. We put this one on the list for those of you who cannot believe people who don't listen to Bob Marley even exist. Like, who even are they? (Maybe your new spouse is one of them–opposites attract after all. This is your opportunity to show them what they are missing!) Bob Marley is a legend, he has a museum, and you can visit it during your Jamaica honeymoon.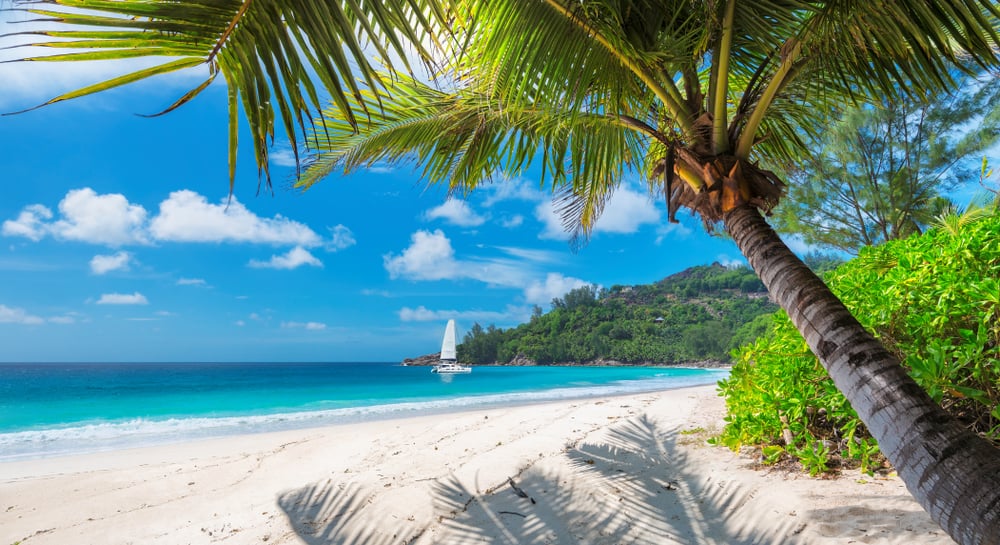 Getting to Jamaica
The shortest flight to Jamaica from the USA is out of Dallas, Texas, and takes about four and a half hours. (Another reason why a honeymoon in Jamaica is such a great choice! You don't have to fly for half a day or longer to get there!) You will most likely either fly into the Normal Manley International Airport in Kingston, or the Donald Sangster International Airport in Montego Bay.
Depending on where you stay, your hotel or resort may even offer free transportation from the airport–definitely check for this! Even if they offer transportation, but not free transportation, this is one of those things that may be worth paying for to have one less thing to worry about. You can also hire a driver or rent a car and drive yourself to your resort. However you do it, we wish you the best of luck in your travels and on your honeymoon. Congratulations–seriously. Finding a person who is worth marrying is huge, and we are so happy for you!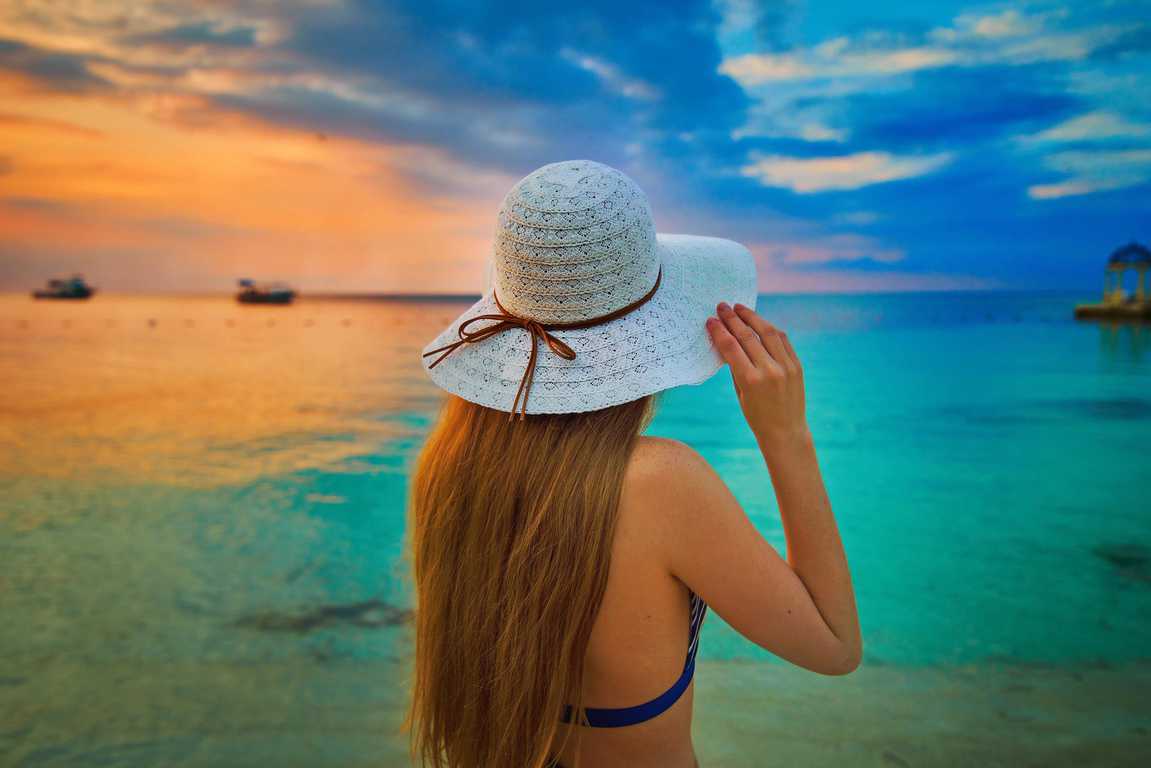 Jamaica is a wonderful, wild and beautiful place. You and your lover are going to have so much fun together! Congratulations again on getting married!!! We hope our tips help you plan a truly unforgettable Jamaica honeymoon, and that you have the best time possible. Feel free to check out some of our other articles about the Caribbean here. We wish you all the best adventures!