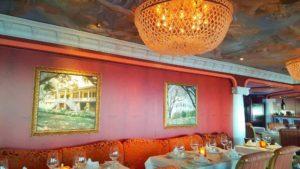 When we were cruising on Carnival Valor, we were excited to visit their specialty dining restaurant, Scarlett's Steakhouse. Steakhouses on Carnival Cruises cost an extra $35 per person [as of September 2016], and are hosted in a separate space from the main dining room.
We quickly learned that making a reservation was essential in order to score a dinner at Scarlett's Steakhouse. We chose a 6:30PM dining time and were glad to have some flexibility in the decision. We found out that Carnival prefers diners to dress up when eating at the steakhouse. Since we were on a 5-day cruise, we only had one "cruise formal" night so we welcomed this chance to get fancy.
If you are considering whether you should dress up, we highly suggest that you do. Think of this experience similar to going to the nicest restaurant in your home town.
When we arrived, our friendly waitress immediately brought a huge display of meats to our table and explained what was on the menu. She also explained different wine pairings to go with each meat.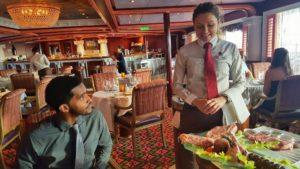 It didn't take long for Terrence to figure out he was going to order the 14 oz New York Strip, but Victoria was a different story. As a vegetarian, Victoria didn't see anything on the entree menu that she could eat.
Instead of suggesting she eat a side or a salad, our waitress brought out the Scarlett's Steakhouse chef himself to talk to Victoria. He didn't suggest a dish, but instead asked us what we liked, what sort of sauces we felt like eating, and what veggies Victoria liked. He then went back into the kitchen promising to whip up something yummy.
Just like in the main dining room, we had a menu with a variety of selections to choose from. Unlike the main dining room, everything was fancier, the quality of food was even better [how is that possible?!], the plating was beautiful, and the service was spot on.
For an appetizer, we ordered the mushroom caprese and the shrimp cocktail. We followed that with two different salads. Carnival Valor staff really timed our eating well and gave us enough time to enjoy our food and each other's company.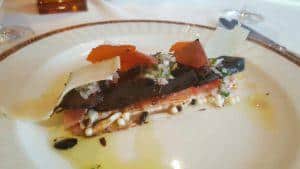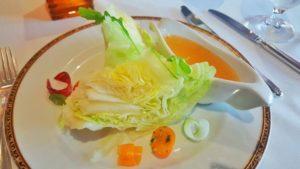 After we finished our starters, our main entrees arrived. For Victoria, the Scarlett's Steakhouse chef had put together a pasta in a cream sauce [with cheeses chosen ahead of time], featuring mushrooms, broccoli, and olives. For Terrence, the 14 oz New York Strip was better than anything he had ever had and so large he could have shared it with someone else and still been full.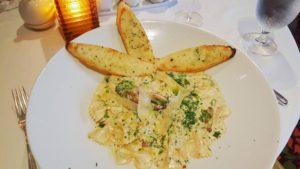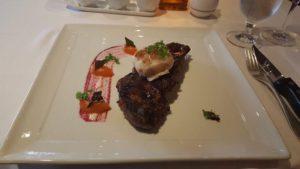 Finally, we were offered a large selections of desserts to finish off the night. We were so full from everything else but we knew we had to try something. We chose the New York Cheesecake. It was a towering layer of cake that we were glad to have shared.
So, was Scarlett's Steakhouse on Carnival Valor worth the extra $35? Terrence absolutely would return in the future and would be pleased to spend a little extra money for exceptional food. He already expressed his desire to head back on a future cruise.
Victoria was glad to experience the steakhouse but can't justify the $35 price tag as a vegetarian. That being said, she was thrilled that the kitchen staff went out of the way to make vegetarians feel comfortable so if you want to go there for a special celebration, you won't be left out!
READ NEXT: What It's Like Eating Vegetarian On A Carnival Cruise 
Have you ever done specialty dining on a cruise? Do you think it is worth the extra price? 
Pin this post: