Looking for some black travel bloggers who are inspiring as hell? While every travel blogger out there is pretty darn cool, this group is doing great things and going great places, all while staying kind. In the past, we have highlighted our favorite interracial couple travel bloggers and that article went over very well! It is important for us, as a mixed race couple, to showcase diversity and intersectionality on our website.
While black travel bloggers represent a small but growing portion of the overall travel blogging industry, black people DO travel and having role models in business, life, travel, photography and more is important.
We love following hundreds of travel bloggers and we wanted to put this list together to share our favorite black travel bloggers with you! If you don't follow all of these fantastic folks already, we promise that you won't be able to get through this list without being inspired and without finding a few new favorites!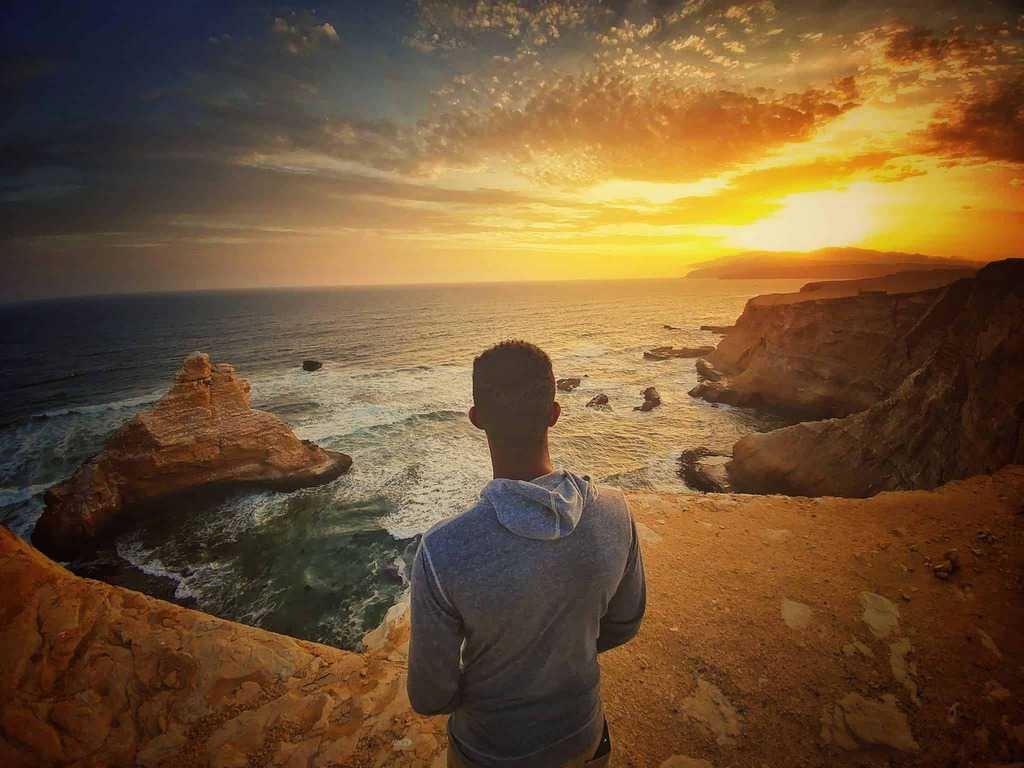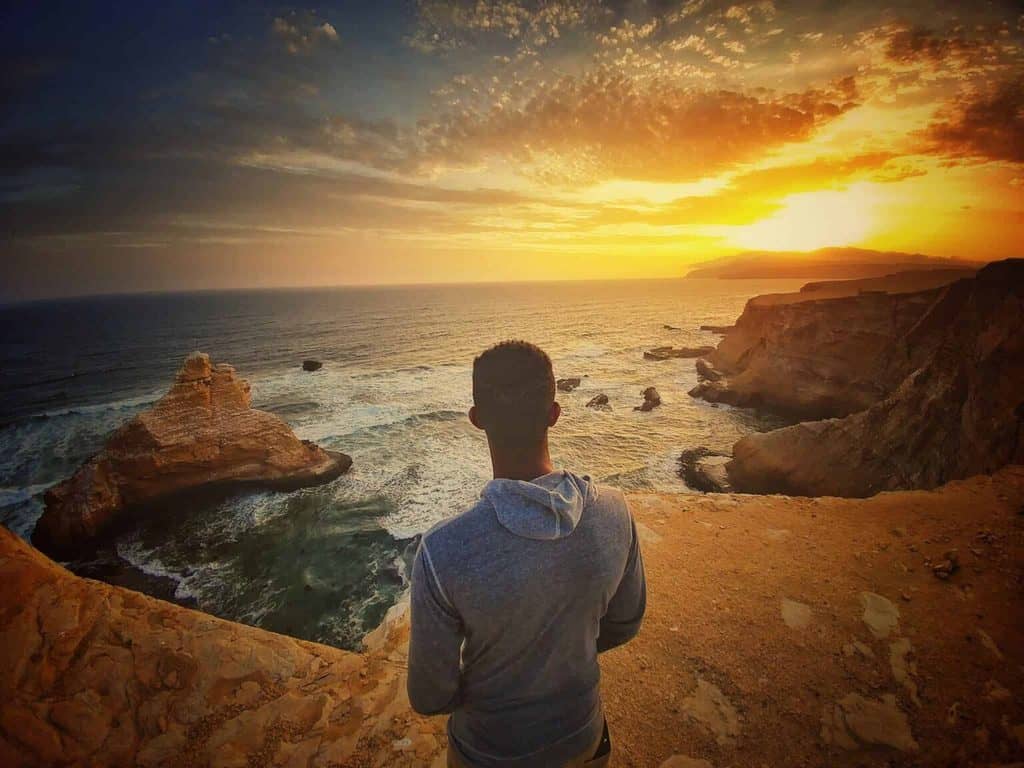 10 Black Travel Bloggers Who Will Inspire You To See The World
#1. Terrence Drysdale from Follow Me Away
What list featuring black travel bloggers would be complete without including our own Terrence? Terrence runs half of Follow Me Away and mainly takes care of all of the bright and striking photography. Terrence is one of our favorite black travel bloggers for obvious reasons, but especially because he stays humble and friendly no matter how successful [or unsuccessful] he may be.
In addition, he runs his own website and Instagram account for his own personal brand TJ Drysdale. Terrence aims to show, through Follow Me Away, the Follow Me Away Project, and his own personal photography, that people should never judge a book by its cover. Following Follow Me Away means seeing Terrence playing basketball in a foreign country on Instagram stories then heading back to our Airbnb to edit photos taken earlier that day!
#2. Courtney Blacher From The World In Four Days
Courtney is a badass boss lady traveler and single mom of Reese [who also owns her own business at just 8!]. Originally a nurse, Courtney left her job to focus on The World In Four Days and has been killing it ever since. She is one of our favorite black travel bloggers because her content is crisp and clean and her writing style is funny and interesting.
The World In Four Days focuses on literally just that, exploring the world in four days. Not everyone has time to travel full time and Courtney is one of the black travel bloggers that focuses on helping the everyday person plan their short-term travel. We love that she fills this niche and it inspires us to remember that not all fulfilling travel has to be for months at a time!
#3. Yaya From Hand Luggage Only
Not only does Yaya from Hang Luggage Only make our list of top black travel bloggers, the account makes our top list of all travel bloggers ever! Yaya and his partner Lloyd are travel blogger goals, bringing in over 1 million monthly views, creating visually stunning content on their blog, paving the way for other travel bloggers on Pinterest, and creating a diehard fan base that includes us!
Yaya is one of our favorite black travel bloggers because he sets out to create authentic content that readers want to read. Instead of writing for views or writing just for brands, Hand Luggage Only creates content and stories that are interesting to readers and things that people actually relate to and want to see. Yaya makes up half of one of the best travel blog powerhouse duos that we know and you need to follow Hand Luggage Only right now. Check them out and tell us we are wrong.
#4. Oneika From Oneika The Traveler
No list featuring black travel bloggers, female travel bloggers, or travel influencers, in general, would be complete without featuring Oneika from Oneika The Traveler. Originally a teacher, Oneika is now the host of multiple shows and web series for the Travel Channel. Yes, THE Travel Channel. Oneika is also the owner of her own travel website and very active on social media. Oh, and she has been to 100 countries and counting!
We love that Oneika doesn't shy away from talking about politics or difficult topics on her blog and discusses topics such as traveling as a black woman or being black in the travel industry. She regularly keynotes at travel conferences, is active on Instagram stories to give people a peek into her life, writes interesting and intriguing travel stories, and creates beautiful and colorful photographic content. What isn't to love?
#6. Danasia From The Urban Realist
We love Danasia because she expertly blends travel blogging and lifestyle in one neat little package. Danasia always seems to be on the go and we love following her journey on Instagram and her blog, The Urban Realist. The tones in her photography set her apart from the crowd and we love the unique tone and style she uses when writing her content!
If you are looking for a black travel blogger that also talks about what to do when you are home, Danasia is the girl for you! In real life, many of us aren't on the go 24/7, so we appreciate a blog that highlights travel with a little bit of style thrown in.  A black style blogger AND travel blogger? We are hooked and have been for a long time!
#7. Karl From Karl Shakur
While Karl has his own website, he isn't exactly a travel blogger but more of a travel Instagrammer. We are including him on this list because we think his work is completely epic and he is the only black guy we know shooting such a dreamy type of travel photography. [If you know more, comment or message us!] Karl is currently studying architecture while traveling and posting on Instagram in his spare time.
That hasn't stopped Karl Shakur from partnering with big brands to create inspiring content or from traveling all over the world. He is one of our favorite black travelers because he is doing something completely unique and unexpected. His work has us always eager to see more and his Instagram stories are hilarious. We know that you will love following Karl as much as we do!
#8. Bertaut From World Travel Adventurers
Bertaut, from World Travel Adventurers, is all luxury all the time! His "day job" is an engineer but his life as a black travel blogger and half of World Travel Adventurers [along with his wife Alexis], focuses on luxury travel for couples and families. We love that Bertaut is hilarious and handles the World Travel Adventurers Instagram Stories where his wit really shines. He is one of the black travel bloggers who successfully balance a full-time career AND travel and that is pretty darn inspiring.
Bertaut travels to some well-known destinations such as Iceland and Las Vegas, but we love when he takes readers to far-flung places such as Oman or the Maldives. Following Bertaut means keeping up with his adorable family and two kids who are always getting into something, making his journey as a black male travel blogger all that much more interesting! Bertaut is also a drone master, so if you love seeing the world from above, you will love following World Travel Adventurers.
#9. Glo From The Blog Abroad
Glo is one of the black travel bloggers who just keeps making waves in the industry and inspiring people around the world. Glo built her travel business, The Blog Abroad, from the ground up and has currently been to 61 countries and counting. Glo's writing style and personality are REAL. She keeps it 100% all of the time and that is one of the reasons her large and growing following totally loves her! If you are offended easily, then Glo may not be for you but that doesn't stop her from doing her thing.
While we love reading about her travels and following her on social media, we also appreciate when she takes the time to talk about her experience traveling as a black American abroad on her website. Even when it comes to discussing difficult topics, Glo talks about them in a raw and honest style that keeps her followers constantly coming back for more. We are obsessed with the way Glo is always laughing and having a good time in her Instagram photos and that she does a lot of shots with her face in them [something that we don't really do as much as we should!]
#10. Kerwin From Loyalty Travels [And Many More!]
Kerwin is one of our favorite black travel bloggers because he is focused on a very specific niche and that is air travel. Kerwin McKenzie has visited a whopping 121 countries and has flown on 172 different airlines! Wow, can you say impressive! As a black travel blogger, Kerwin makes his business focus on you, the reader, more so than himself. This is evident on his social media and on his websites [yes, he owns multiple!] where photos focus more on the experience of travel more than on himself.
Kerwin speaks at travel conferences around the world and is constantly talking all things air travel. He has covered luxury first-class air travel all the way down to flying a budget flight for 17 hours in the last row. If you want to learn about a specific airline or even a specific type of plane, make sure to check out Kerwin on his websites and social media. His advice was instrumental in helping us choose the best seat for our long-haul flight to India!
We could go on and write a novel about all of the black travel bloggers that you should follow, but for the sake of time, we have narrowed it down to the 10 deserving souls listed above. We are aware that there are many black male bloggers and black female bloggers we didn't include and that we may not even know about so we would love for you to share their name in the comments so we can check them out!
If you are a black travel blogger, we would love to hear from you and connect over the web and on social media! Black travel bloggers represent a small but growing population in the travel blogging industry and we love meeting new and inspiring folks and we hope you do too!
Do you have a favorite black travel blogger that we should follow? Let us know who they are in the comments and we will be sure to check them out! Did you find a new favorite to follow from our list above? Good! We are excited for you and thanks for reading!