If you are looking for a Europcar Ireland review, we have detailed our honest experiences in the post below. From the booking process and pickup to how the car we received ran and roadside assistance. This post details our Europcar Ireland review for your assistance when booking your car rental in Ireland.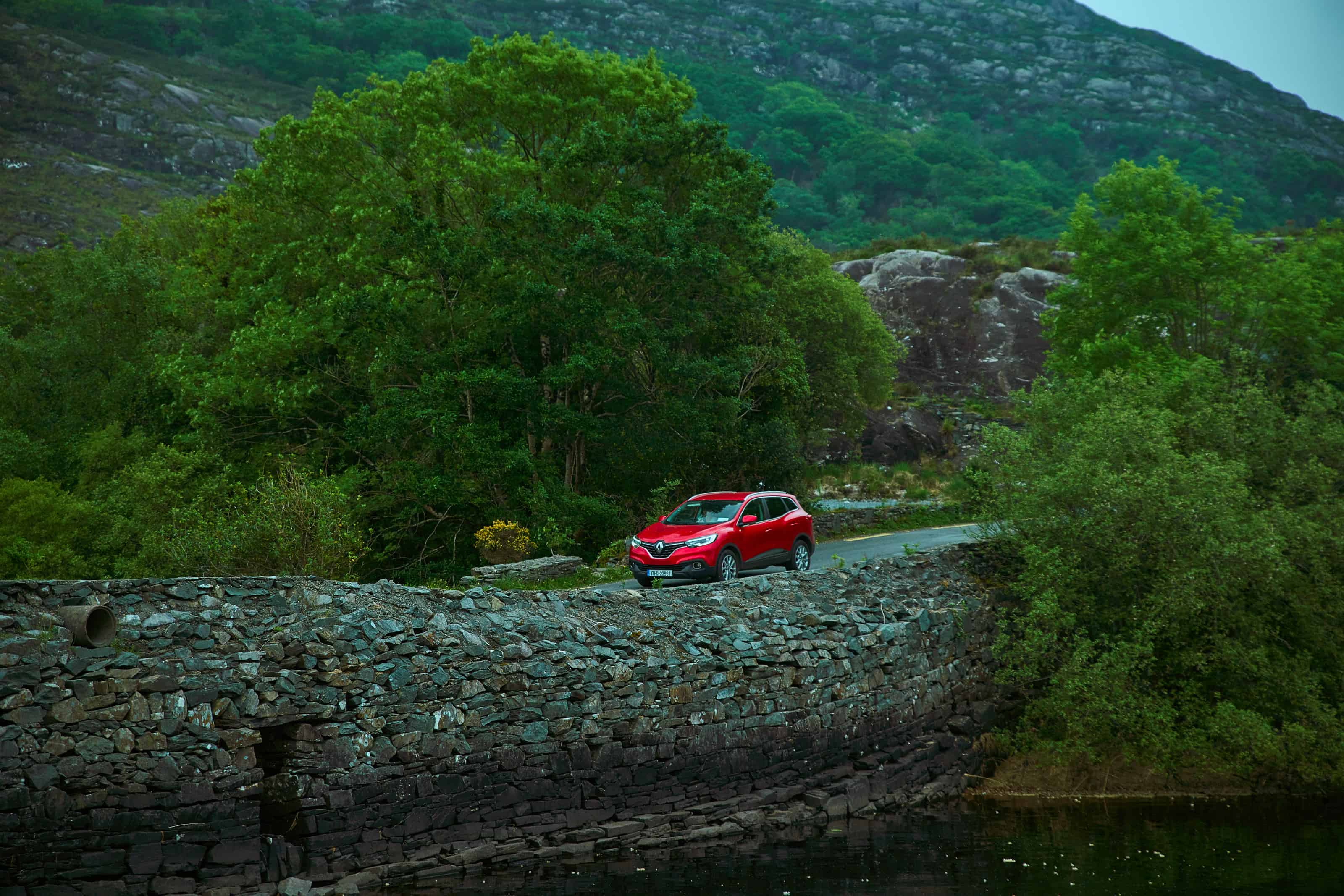 Europcar Ireland Booking Process
We decided to rent from Europcar Ireland for our Ireland road trip in May and found out you could either call Europcar or rent online. Renting and reserving online is much easier and convenient for us, but you are free to choose what works best for you! If you want to rent over the phone, here is the number: 353 1 812 2880
When booking with Europcar Ireland, you have the choice of where you want to rent your car from all around the island. Most typically, you will fly into Dublin which means you will rent your car from the Dublin Airport or Dublin city center. When renting from Europcar, you have the choice of picking up your car from many other areas around Ireland too such as Cork or Shannon Airport.
We chose to pick up our car from Dublin Airport as we would be flying directly out of Dublin at the end of our Ireland road trip. On a previous trip, we picked up our car in Dublin City Center since we were going to be spending time there before we left on our trip. Feel free to choose the location that works best for you.
Picking Up Our Europcar Ireland Rental Car At Dublin Airport
When we arrived at Dublin Airport, the airport was very busy. This is because we decided to unknowingly travel on a double bank holiday weekend! One weekend Northern Ireland [the UK] had a bank holiday and the immediate week following the Republic of Ireland had a bank holiday! This meant tons of people were traveling in and out of Ireland for their vacation.
Europcar Ireland has a rental car counter in Dublin airport and another off-site airport location that is still on airport property just a shuttle ride away. When we arrived, we inquired with the in-airport counter and were told that we had to take the shuttle to the off-site location. The shuttle was quick and easy and within 5 minutes we had arrived at the off-site rental car center.
The rental car center was extremely crowded and we thought it would be an hour before our number was called. We are pleased to say that Europcar Ireland's office was actually the most well organized and quickest rental car agency we have ever booked with. We were served in under 10 minutes even though there were probably 80-100 people in the office.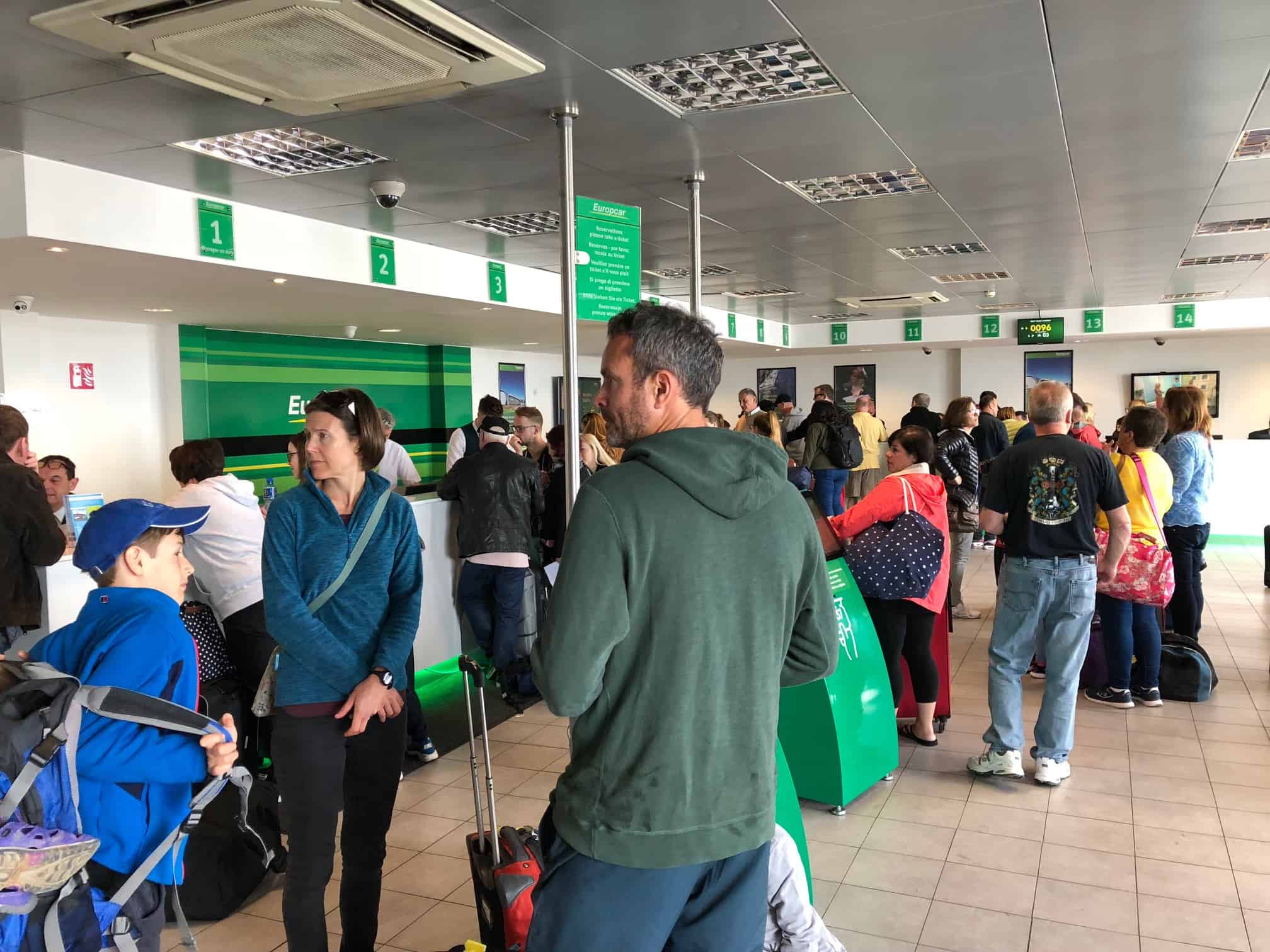 The Europcar Ireland service process begins when you arrive and you pick a number. On this very busy weekend, they had every single counter opened for faster service, unlike many places who only have a few counters open and long lines [we have waited over an hour in a line of 15 people for car rentals before!] We were shocked and pleased when our number was called within 10 minutes of arrival.
When it was our turn, the agent was very kind and helpful and provided us a car and took our information quickly. When we picked up our car, it was much smaller than we had requested. We had asked for something large enough to fit three people, three large suitcases, and three medium-sized bags.
We went back inside to another customer service counter and didn't have to wait in line again and the agents immediately helped us and upgraded us to a much larger SUV style car that fit our needs well.
The vehicle was a Renault SUV, a brand we had never heard of being from America, and it wasn't parked in the parking space we had been told. We flagged down a Europcar Ireland employee on his lunch break and he happily stopped his break and spent about 8 minutes finding our vehicle. We appreciated him stopping and helping us so quickly and resolving the issue.
When we received the car, the Europcar Ireland employee didn't do a walk around with us, and in our haste from the check-in process, we didn't do a walk around either. If you are renting a car in Ireland [or anywhere in the world], we HIGHLY recommend you remember to do a walk around and take photos of any damage you may find.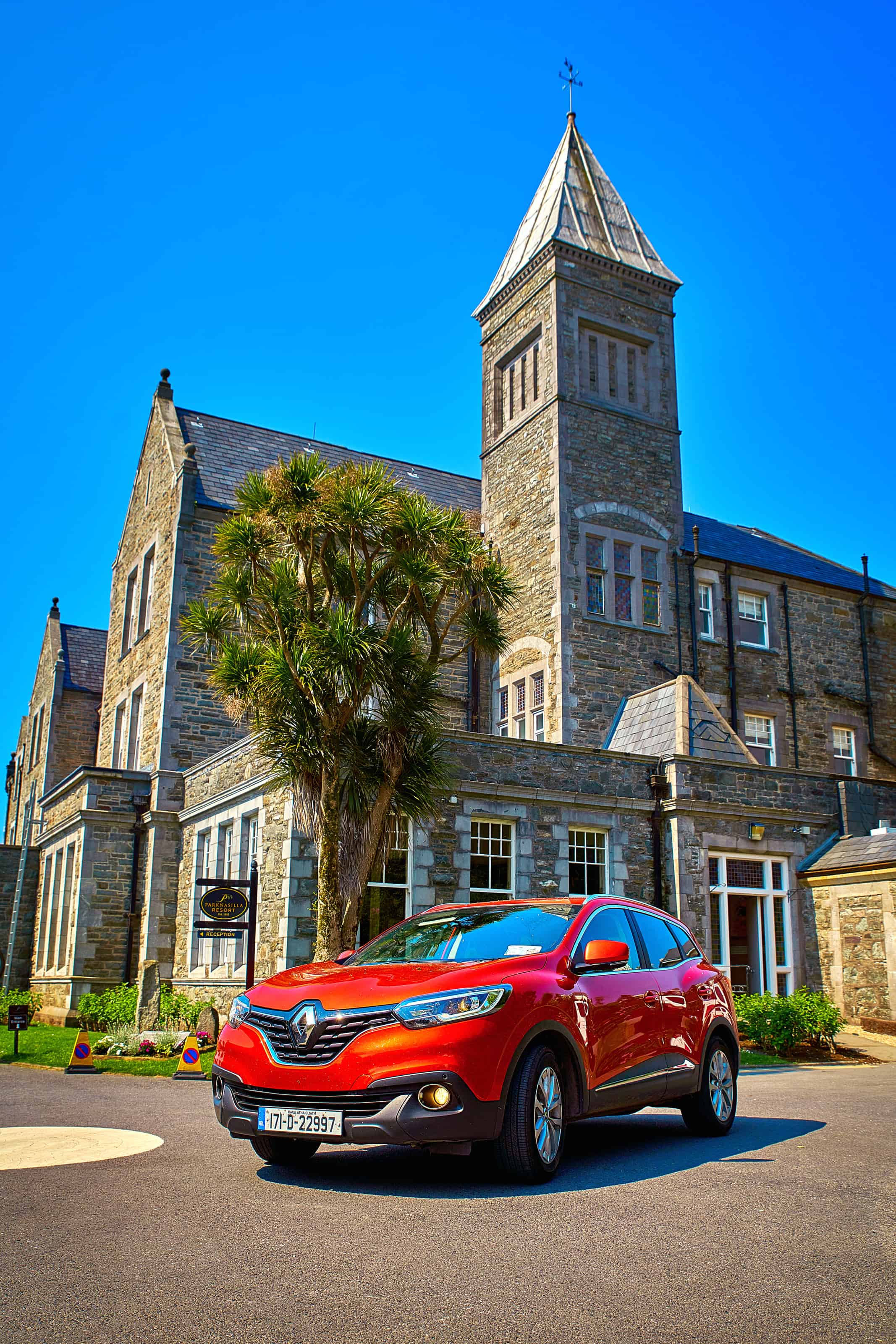 Our Europcar Ireland Rental Car
We were provided with a Renault SUV in bright red. Being from America, we had never heard of Renault before but liked that it was an SUV. We were thrilled with the car for the duration of our trip. We drove for 8 days straight and only had to fill this car up 3 times! We found out that the car provided to us by Europcar was so great on gas because it shut off when idling! So if you were waiting at a light or outside of a store, the car would shut off to save you on gas!
The car was clean, spacious, and perfect for our group of 3 and three large bags and everything else we brought along with us. We were very happy that Europcar was able to place us in an Automatic car within moments of us asking to switch.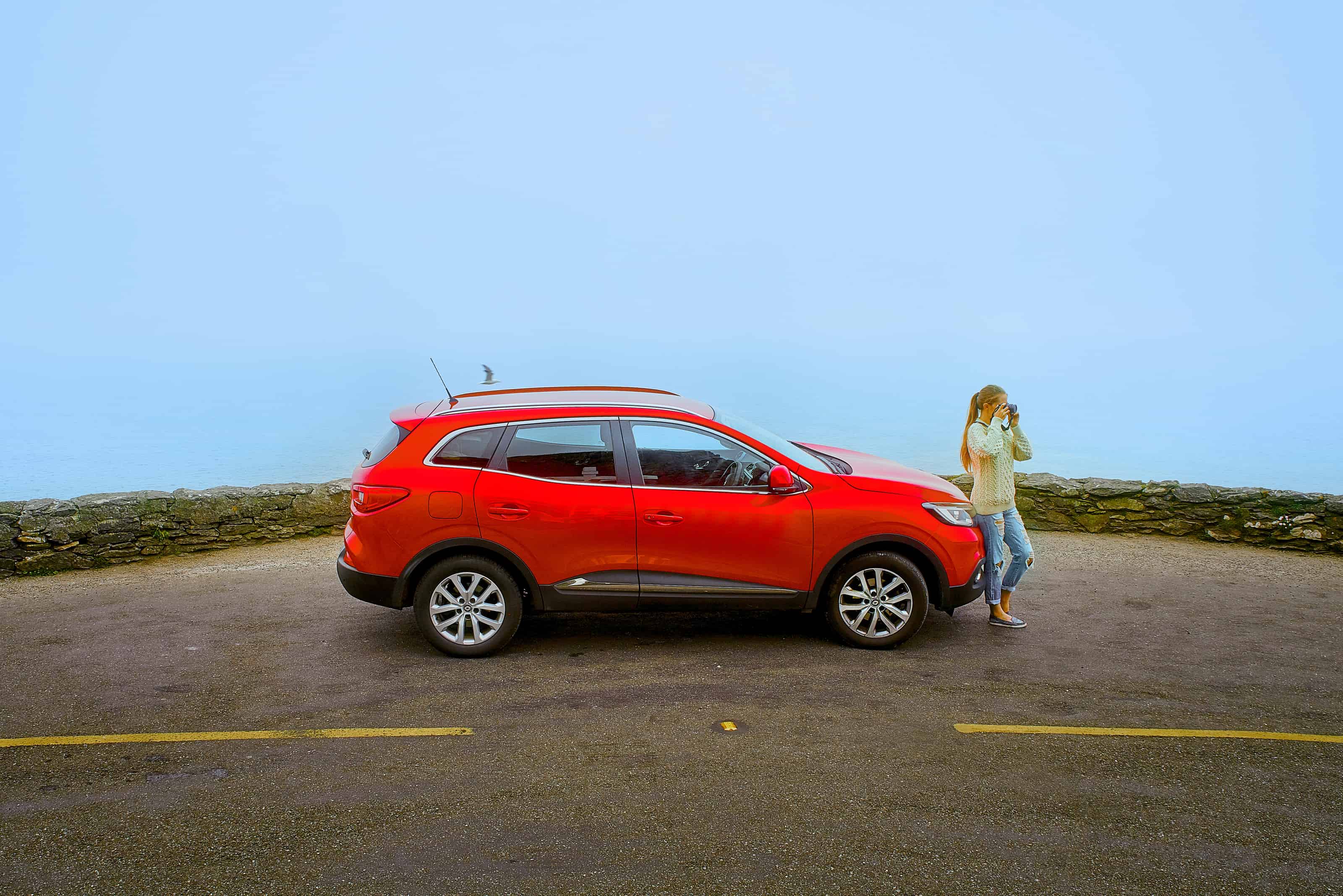 Roadside Assistance With Europcar Ireland
Our entire Ireland road trip went quite smooth and we didn't have any issues with the car or any flat tires or anything of that sort. One thing about Europcar Ireland that did give us peace of mind was that they offered 24/7 roadside assistance in the event of an emergency or mechanical troubles.
During our check-in process, we were provided with a phone number to call for the assistance and the license plate number was written clearly on our key. Although we didn't have to use roadside assistance, we appreciated the option for on-demand help if we happened to have needed it.
Check out additional Europcar Extras HERE!
Drop-Off Process With Europcar Ireland
When our road trip through Ireland sadly came to a close, we were emailed instructions from Europcar on the drop-off process. Luckily, the drop-off was the same place that we picked up our vehicle and the email had an address that we could easily plug into our GPS.
When we arrived, things were just as busy as everyone was leaving from their bank holiday fun [seriously check local holidays before planning trips!] The Europcar Ireland drop-off location is on the same property as the pick-up but in a different building near the entrance of the parking lot so they could keep the two areas separated. Even though it was busy, the drop-off building was fully staffed so we were helped quickly.
Our Europcar agent did a walk around with us and found two pieces of damage that he alleged were not previously there. We were quite proud of our driving this time in Ireland and had no bumps or bruises that occurred so we were a bit confused. Since we had to catch our flight and he did a second check and saw that these were indeed not marked before we picked up the car, we went inside, did the damage paperwork, and got ready to catch the shuttle back to the airport.
If you have any damages on your car, the money comes out of your deductible and you are refunded the rest of the money to your card. Since we were in a hurry, our Europcar Agent only had us fill out a little bit of paperwork and provided us with instructions to email him the rest when we got home. This was nice so we didn't have to spend added time at the rental facility instead of going back to the airport.
As we were getting on the shuttle, we remembered that although nobody did a walk around with us, we had taken photos of the car for our own purposes about an hour after picking it up. We zoomed in on the cell phone photos and saw the wheel damage clearly visible in the image. We brought the phone back into the Drop-off center, showed our Europcar agent the damage and the date and time stamp, and he immediately removed one of the two damages from the account.
When we arrived home, we zoomed in on the image again taken with the camera and saw the second damage there as well as the first one. We screenshotted this with date and time stamps and sent it back to Europcar. They gave us a full refund, but if we had done a walk-around during pick-up this would have been avoided altogether.
Otherwise, the drop-off process went relatively fast and the shuttle ride to the airport was quick and easy and we were dropped off right at our terminal.
Advice For Renting A Car In Ireland
If you are renting a car in Ireland, or anywhere in the world, we highly recommend you do a walk around and take photos of the vehicle each and every time. Since this trip, we have done it ourselves and taken photos of any damage, even if it may already be documented. Gone are the days of agents walking around the car with you, except in rare circumstances. If you are picking up from any airport, chances are the agency will be quite busy or the cars will be in a garage somewhere [not in Dublin but in other airports] so there will be no one to walk around with you.
If you are looking to save money, consider renting a manual shift car in Ireland too! We can't drive a manual so rented an automatic and all went smoothly but it is a bit more expensive but the pricing still wasn't bad!
Driving in Ireland is a once-in-a-lifetime experience and you shouldn't be afraid to do so! Just take the proper precautions and you will have a great time!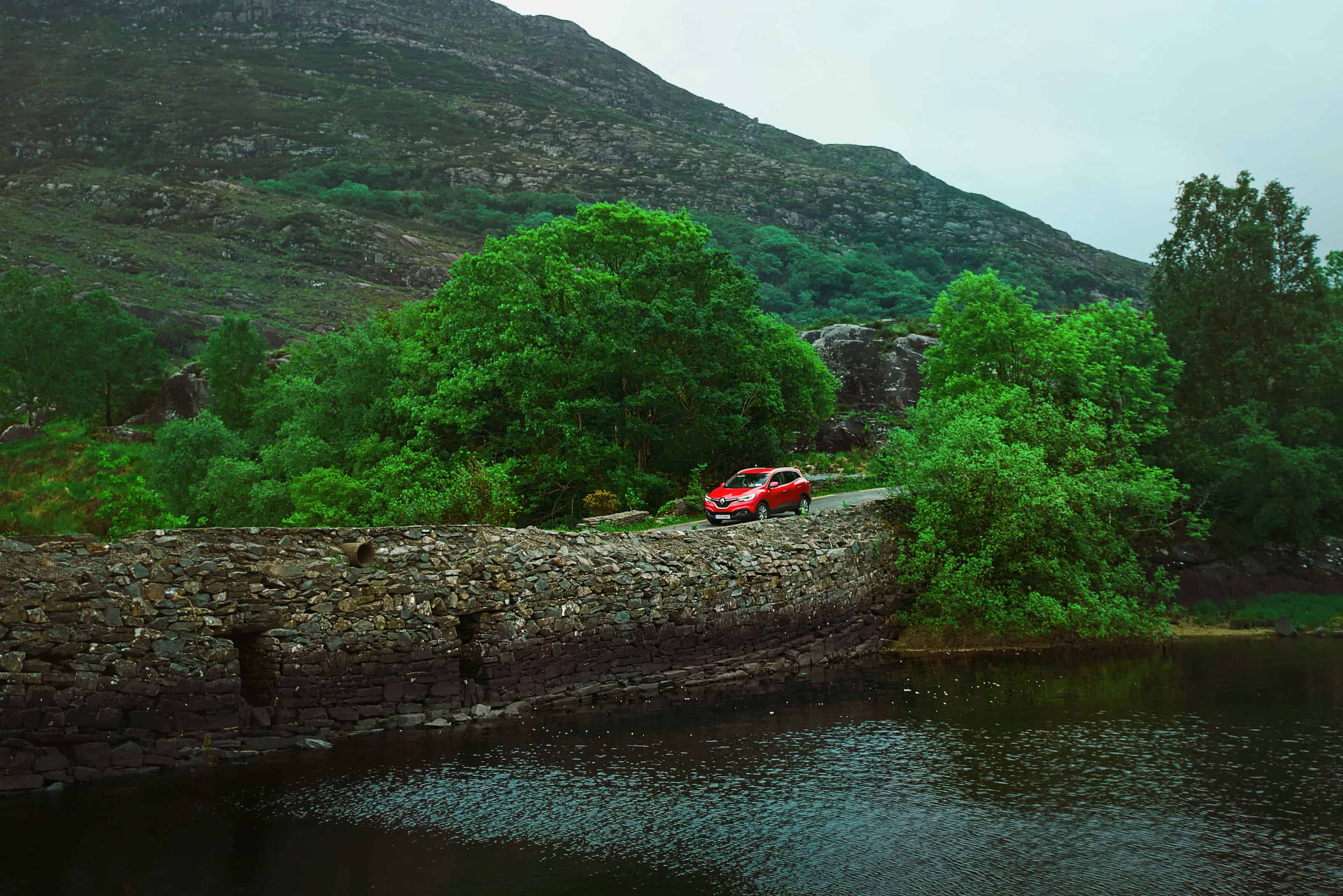 Have you ever rented a car in Ireland or driven on the "wrong side of the road?" Would you want to do a self-drive itinerary? Have you rented with Europcar Ireland before? Let us know your thoughts in the comments!
Special thanks to Europcar Ireland for providing us with a rental car in exchange for an honest review of our experiences. All opinions are our own and reflect on our personal experience with Europcar Ireland and not the company themselves.