Although we have seen many mountain ranges in our lives, from the Rockies to the Smokey Mountains, the Alps provide travellers with a totally different feeling. Maybe it is because they run east/west instead of the usual north/south of mountain ranges. Maybe it is because they are sitting in the middle of a foreign country. Either way, we were excited to experience the Alps for the first time in France.
We made a special trip to a little town called Modane, right in the middle of Vanoise National Park, on the rail line between Turin and Paris. In the summer, this ski town was a virtual ghost town, forcing us to eat plain bread for lunch and boxed mac & cheese for dinner. We chose this location because it was walking distance from the mountain side and a hidden waterfall.
While shooting in the French Alps, we captured on of our most famous shots to date, "Windswept Wanderer" [above right]. Shooting at the hidden waterfall in the alps was exhilarating. In order to capture the shots we wanted, we had to leave all of our valuables behind and get drenched by the falls' mist.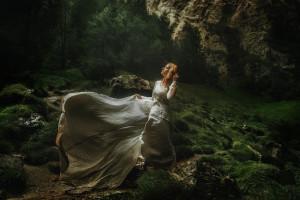 As with anything, there is always room for improvement. During this shoot, one of our lenses broke and the vast majority of photos were blurry and out of focus when we uploaded them to the computer when we were back home. Instead of crying about it, we vow to go back to this exact spot in the French Alps and do a "part two" to this shoot.
Pin this post: