Looking for the best San Antonio Airbnbs for your next trip to this historically significant city? We're here to help you out with these twelve suggestions.
Historic sites and neighborhoods surrounded by modern shops and restaurants make San Antonio a fascinating city to explore both by foot and by bike. Walk the grounds of The Alamo and learn about its history, stroll along the San Antonio River Walk before popping into your favorite restaurant for lunch, or rent a bike and ride between each of the Missions.
In order to make the most out of your trip you'll need to find the perfect place to stay, and that's where we come in. As a whole, San Antonio Airbnbs are very affordable, and some of the options on this list are even within walking distance of the River Walk and The Alamo.
Staying in an Airbnb gives you the opportunity to connect with locals, stay in historic homes, and fully immerse yourself in the city. So go ahead and check out this list and decide which of these Airbnbs in San Antonio will help make your trip unforgettable.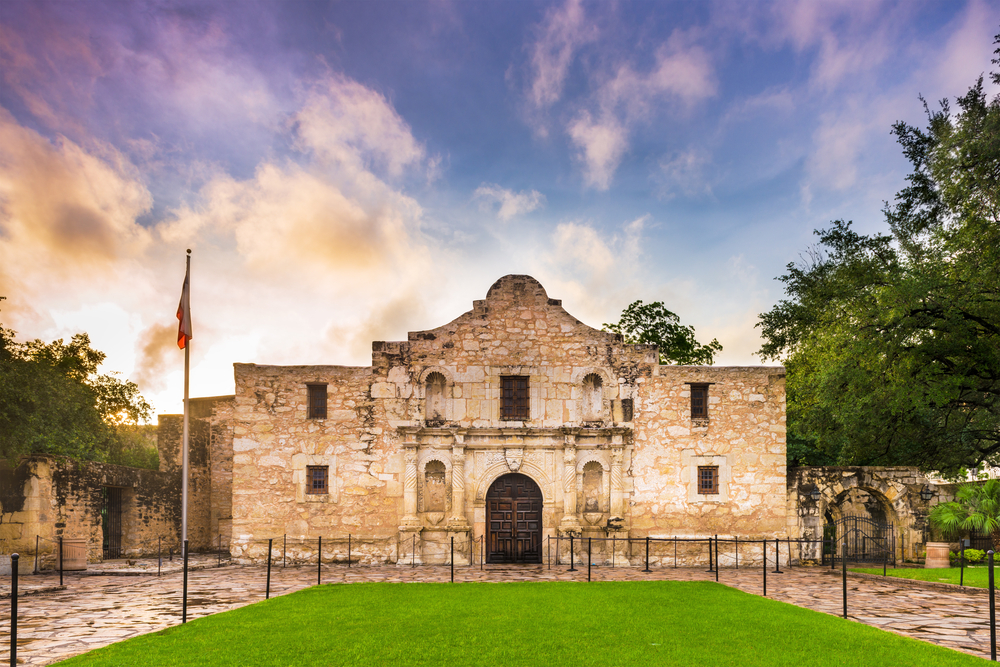 12 Best Airbnbs in San Antonio Texas (Farmhouses, Cabins, and More)
Beautiful Home in Historic Downtown San Antonio
If you're looking for San Antonio Airbnbs within about a mile of all the top tourist attractions in the city, this is the Airbnb for you. This beautiful home is in a historic district in the heart of the city, making it an ideal home base as you explore all that San Antonio has to offer. 
The Riverwalk, the Alamo, the San Antonio Mission National Historical Park, The Pearl, and the Historic Market Square are all only about a 5-10 minute drive away. You can even walk to the main, downtown River Walk and the Alamo in 25 minutes.
If you'd rather bike, you're only a 9-minute walk from the nearest San Antonio Bike Share station. If you'd prefer to rent a bike for a half or full day rather than for 60 minute intervals, you're only a 4 minute drive or 21 minute walk from the Blue Star Bike Shop that has prime access to the River Walk and San Antonio Mission Trail.
With four beds that can accommodate up to 8 guests, this is one of the best Airbnbs in San Antonio for vacationing with friends or extended family. So pack your bags and enjoy calling this tastefully decorated space your home for your next San Antonio trip.
Click Here To Check Rates On Airbnb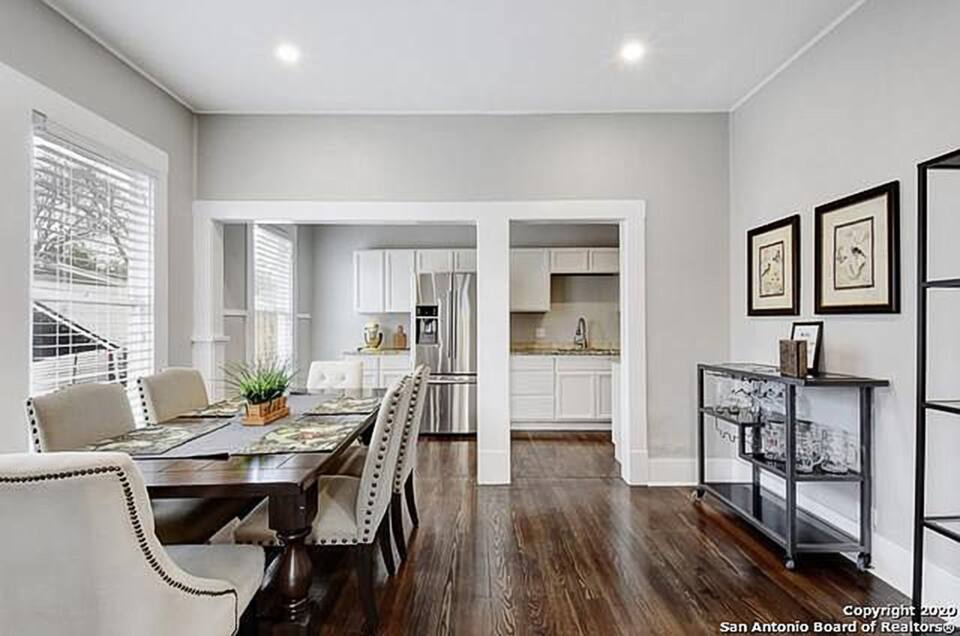 The Tiny Farmhouse
If you don't mind staying at San Antonio Airbnbs outside of the heart of the city, The Tiny Farmhouse might just be the ideal escape you're looking for. After all, who can resist being greeted by Spartacus, the Welsummer Rooster, in the mornings? 
Spartacus isn't the only farm animal ready to welcome you to your home away from home. Bun Bun the resident rabbit, Junior and Herman the cows, Aslan and Heidi the watchdogs, and Cutie Pie the cat are all waiting for your arrival as well.
You have access to a private deck with chairs perfect for watching the spectacular sunsets. You're also welcome to wander the front acreage of the property with all its green natural beauty.
This is definitely a country Airbnb, but you're still relatively close to the city and its conveniences. A 30-minute drive will get you to the heart of San Antonio where you can explore The Alamo and The River Walk.
Click Here To Check Rates On Airbnb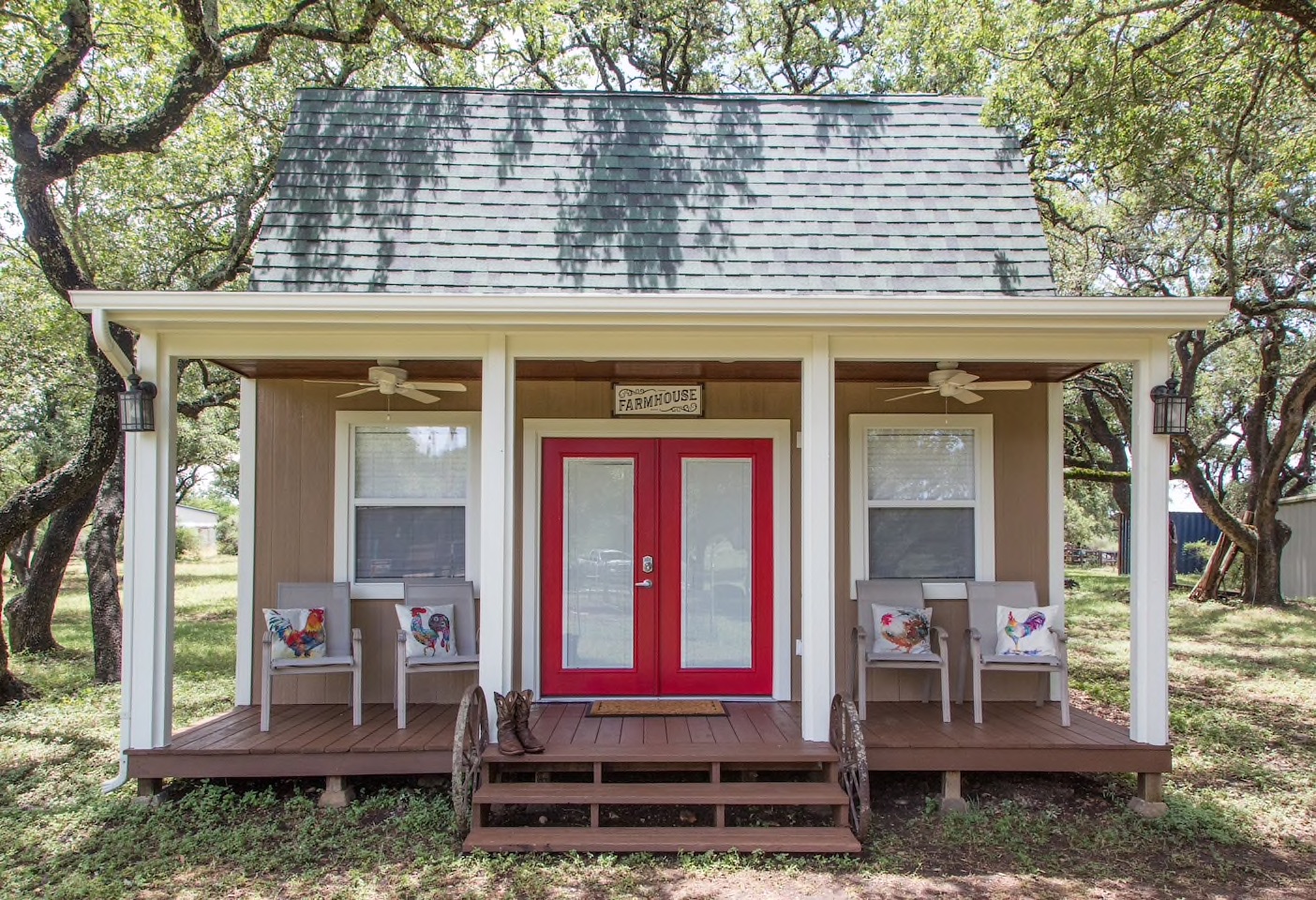 The Minimalist Escape
Charming and cute are the first two words that come to mind when thinking of The Minimalist Escape studio. Pops of pink, flower arrangements, wood floors and shelving, and a deck with a table and chairs out back make the space very welcoming. 
This is one of the best San Antonio Airbnbs for couples. The studio is fairly small and there's only one bed to house two guests, but the price reflects that and is very affordable.
The studio is conveniently located in the historic Dignowty Hill area about a mile from major attractions such as the River Walk and The Alamo. Though you can walk, Uber, or rent a bike, a tandem bike is provided for you at the studio to make your commute even easier!
You'll be afforded plenty of privacy during your stay at the guest suite, but the studio is attached to the back of the main house so hearing noise from the house is a possibility. The hosts have taken extra measures to insulate and thicken the walls however to minimize the amount of noise passing through.
Click Here To Check Rates On Airbnb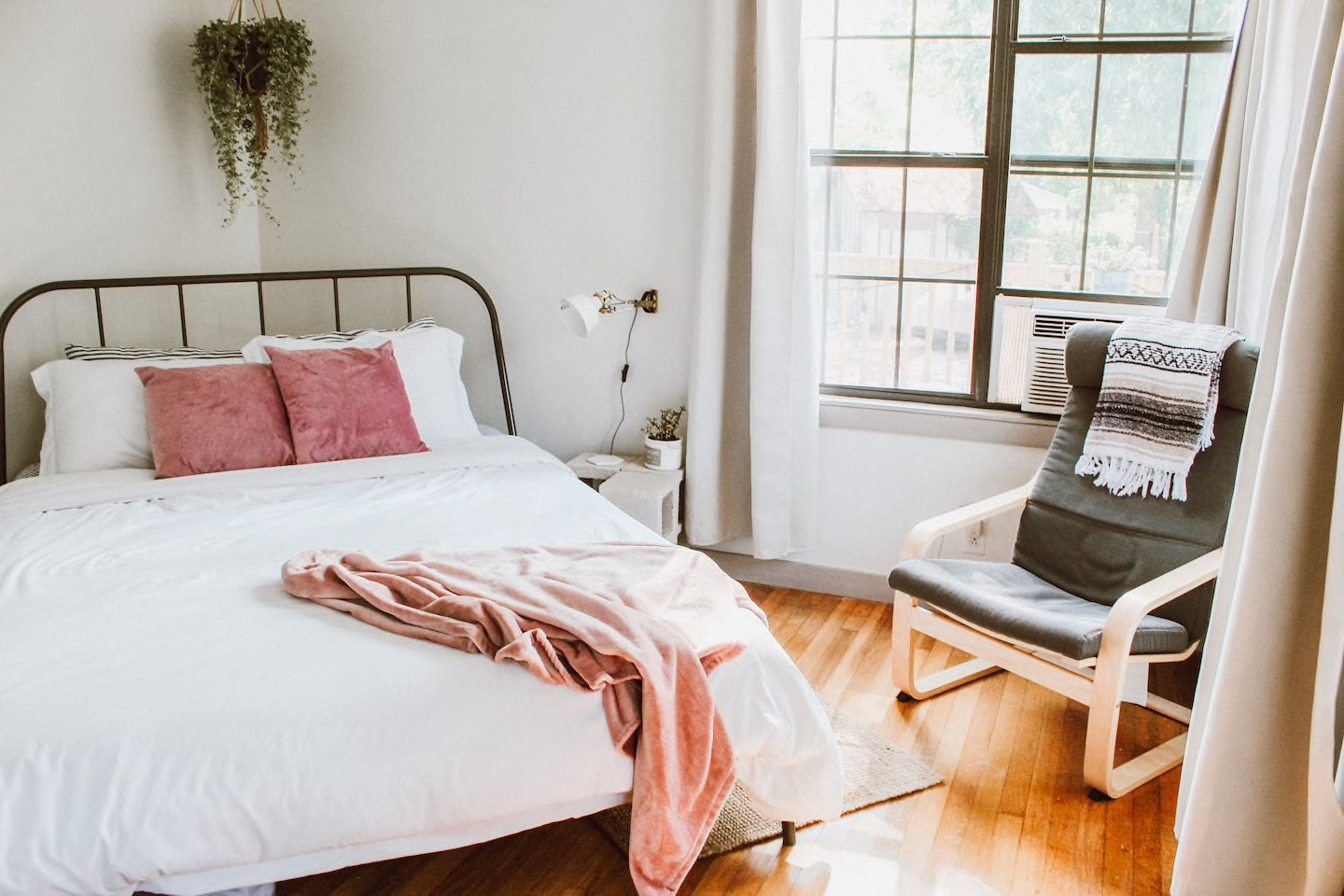 Meowgical Mermicorn
Looking for San Antonio Airbnbs with easy access to San Antonio's most popular sites? The Meowgical Mermicorn is only a few blocks from the Mission Reach section of the River Walk that connects San Antonio's five famous Missions. 
This studio has a stylish interior with uniquely tiled floors and a wood ceiling creating a modern southwest vibe. You'll also have access to a washer and dryer by the side door, which we know will be particularly appreciated if you've been traveling for a while or have booked a longer stay at the Meowgical Mermicorn.
Not only is the Airbnb close to the Missions and all the great biking trails in the area, it is just a short drive to the heart of downtown with all its restaurants and shops. If you're craving BBQ however, you only have to walk a short distance from the Airbnb to satisfy your cravings at South BBQ & Kitchen.
You can expect an affordable, cozy stay at this charming little haven perfect for exploring San Antonio's historic landmarks.
Click Here To Check Rates On Airbnb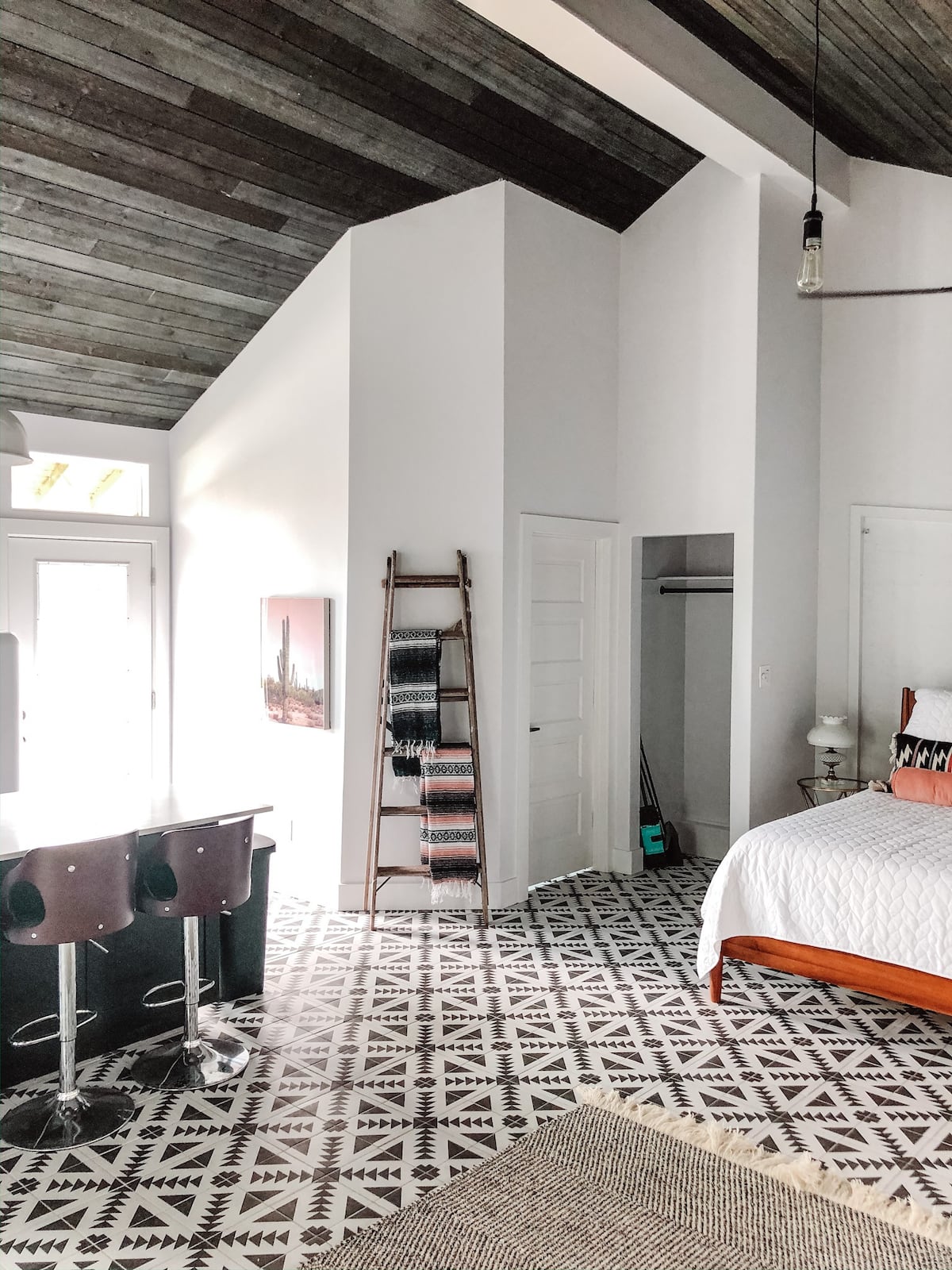 The Regina Farmhouse
The Regina Farmhouse combines vintage and modern with beautiful shiplap walls from the original historic home, a vinyl record player, artwork throughout, and a sleek work desk.  You can't help but feel welcomed home at this stylish Airbnb. 
This property is one of the more pet-friendly Airbnbs in San Antonio with payment of a $30 pet fee. You'll find a pet bed and treats waiting for you upon arrival and a fenced in backyard giving your pet the freedom to run around.
A spacious outdoor deck allows you to enjoy your morning outdoors with a fresh cup of coffee before heading out for your San Antonio adventures.
Located in the up and coming Riverside neighborhood, you're only 4 miles from the River Walk and less than 2 miles from the San Antonio Missions National Historical Park. You're also less than a mile from the grocery store and gas stations making this Airbnb a conveniently situated location.
Click Here To Check Rates On Airbnb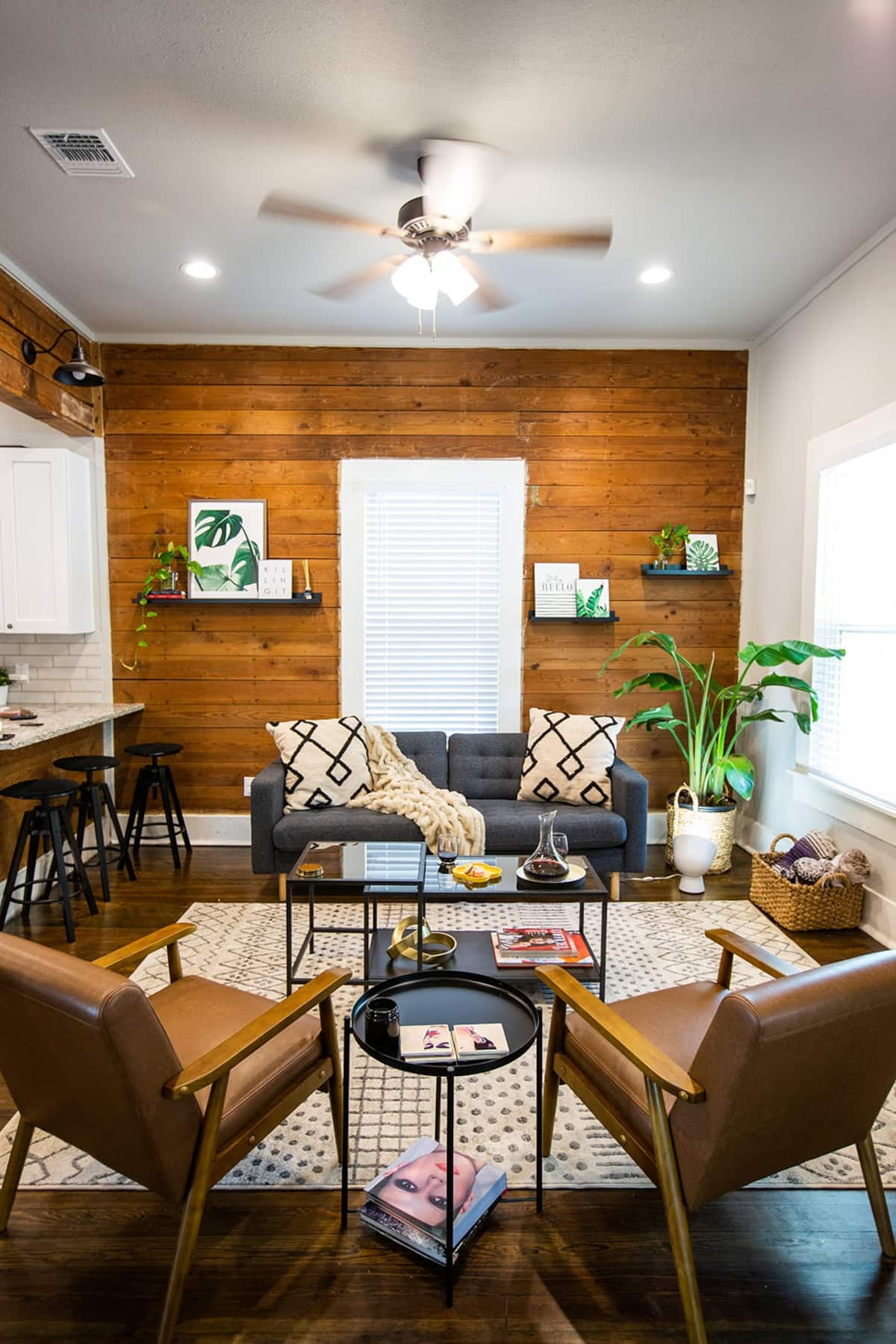 Artist Studio/Loft in Southtown
We've found the perfect space for creative souls looking for unusual San Antonio Airbnbs. This artist studio/loft was once part of a mattress factory and now has been transformed into a local artist residence and studio in San Antonio's art district of Southtown. 
Brick walls, plants hanging throughout, vintage furniture, and modern art all add to the unique appeal of this open concept loft. This space sparks creativity and you can't help but feel inspired amidst so much color and artwork.
If it's important to you to find Airbnbs in San Antonio that are close to major tourist attractions, this artist studio will do the trick. A short drive or bike ride will get you to the River Walk and The Alamo, both of which are under two miles away.
One thing to note before booking this loft is that it is located near a railroad track so if you're a light sleeper this might not be the location for you. That being said, the trains have certain rules they must follow to minimize noise so the noise levels aren't obnoxious.
Click Here To Check Rates On Airbnb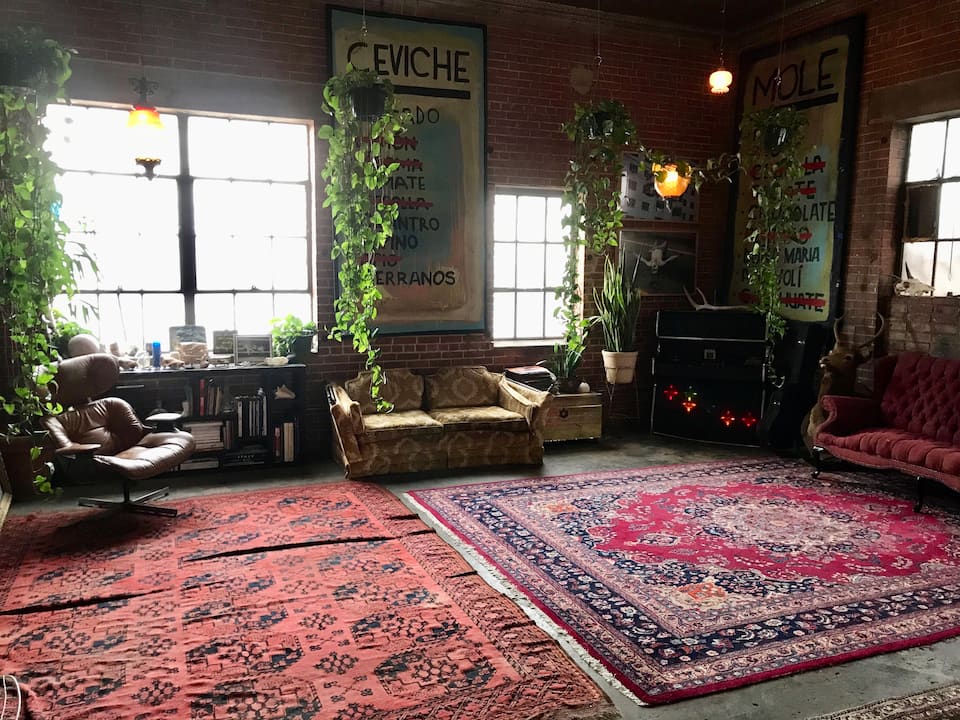 Exclusive River Walk Apartment
Who can resist the opportunity to stay in a unique, historic home right on the edge of the River Walk? San Antonio River Walk Airbnbs are rare finds and this exclusive River Walk apartment is particularly special. 
You'll find this architectural mix of Moroccan and Queen Anne style designs in the historic King William neighborhood. You'll be staying in the second floor apartment of the home (note that you must be able to climb the 26 stairs to reach the apartment from its private garden entrance).
Drink your coffee on the elevated back porch for a view of the River Walk. Access to the river, its walking/bike riding paths, and other activities such as paddle boarding and kayaking doesn't get any easier than this.
A 10-15 minute walk will take you to the downtown section of the River Walk and a 5-minute walk will get you to Southtown and its restaurants and shops. Whether you're exploring the quiet, historic neighborhood or are venturing out to the more touristy spots of the city, this Airbnb provides the perfect, centrally located home base for your adventures.
Click Here To Check Rates On Airbnb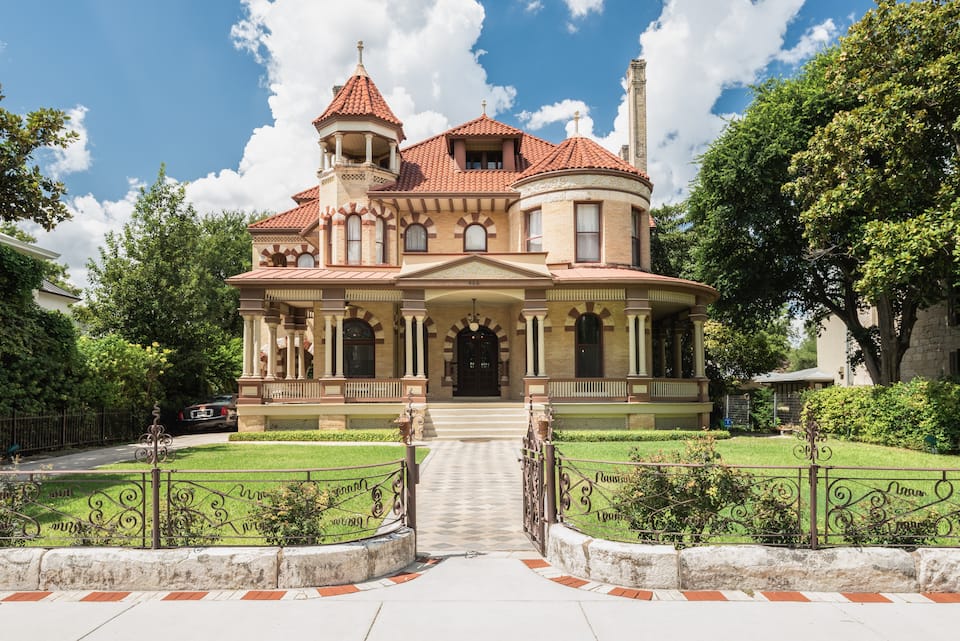 Amazing-Industrial Contemporary Southtown Loft
If industrial-style San Antonio Airbnbs sound appealing to you, this industrial contemporary Southtown loft should be at the top of your list. What once was a timber warehouse is now an apartment complex. 
In 2019, the host renovated the space to maximize its potential. It now features concrete floors and ceilings, pops of red throughout, a walk-in shower, and a loft bed reached by a ladder (make sure you're comfortable climbing a ladder without rail guards before booking).
By staying in this Airbnb you also have access to various complex amenities such as a 24-hour Fitness Center, pool, and grill. You might also consider heading out to the small rooftop patio to kick back after a day of San Antonio adventures.
The apartment is conveniently located less than two miles from the River Walk and The Alamo, making it a great location for individuals or couples looking to explore the heart of the city.
Click Here To Check Rates On Airbnb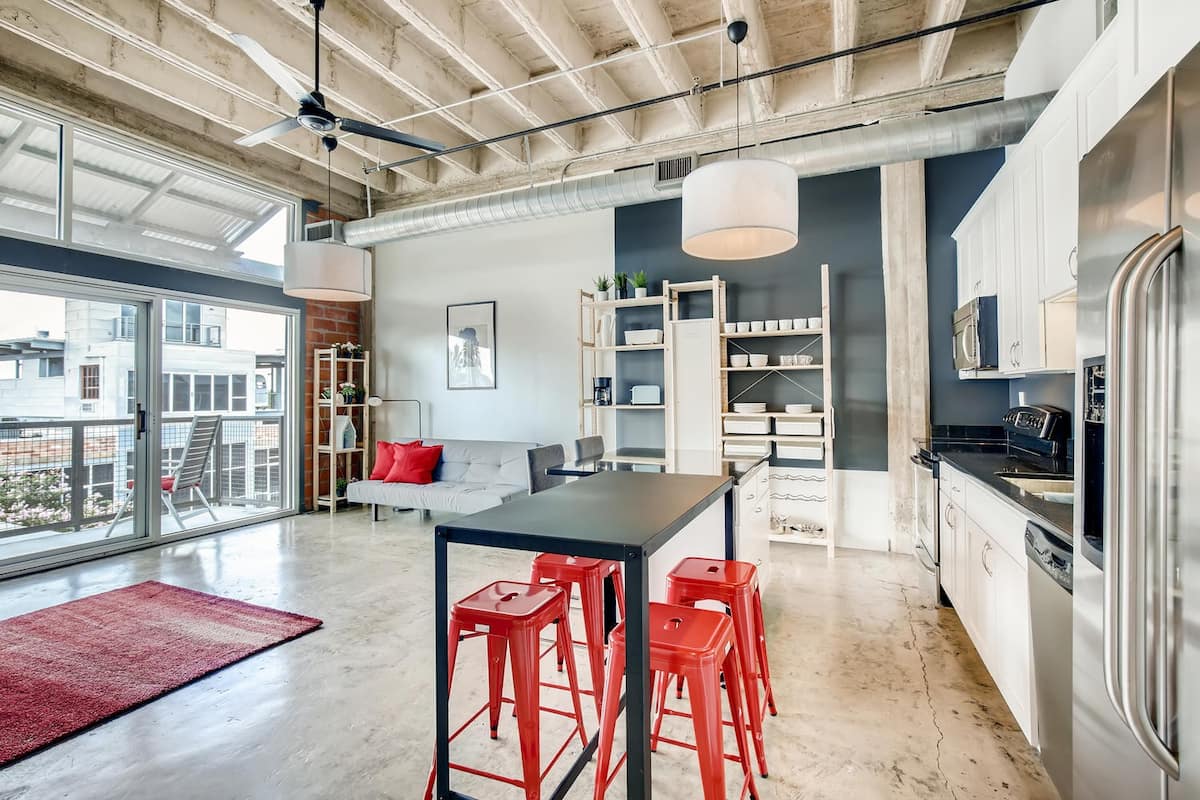 "Town & Country" Vineyard Cabin
Staying in San Antonio Airbnbs in the center of the city isn't everyone's cup of tea. If you prefer space and natural beauty, the Town & Country Vineyard Cabin in Grey Forest on the outskirts of San Antonio might just be the perfect home away from home for you. 
This location has everything you need to relax and enjoy your vacation including a front porch and back deck, shared swimming pool, vineyard, orchard, gardens, fish pond, and bocce court. The cabin is found on over one acre of land that is shared with the main house (though it is separate enough to maintain a sense of seclusion and privacy).
A bottle of homemade wine from the hosts awaits you upon arrival to help start your vacation the right way. Grab a glass and venture to the deck to sip your wine in peace surrounded by a vibrant sunset.
The enclosed property is perfect for dogs to run around and stretch their legs. The hosts have two dogs themselves (Vienna and Geneva) who will no doubt be more than happy to show your dog the lay of the land.
Click Here To Check Rates On Airbnb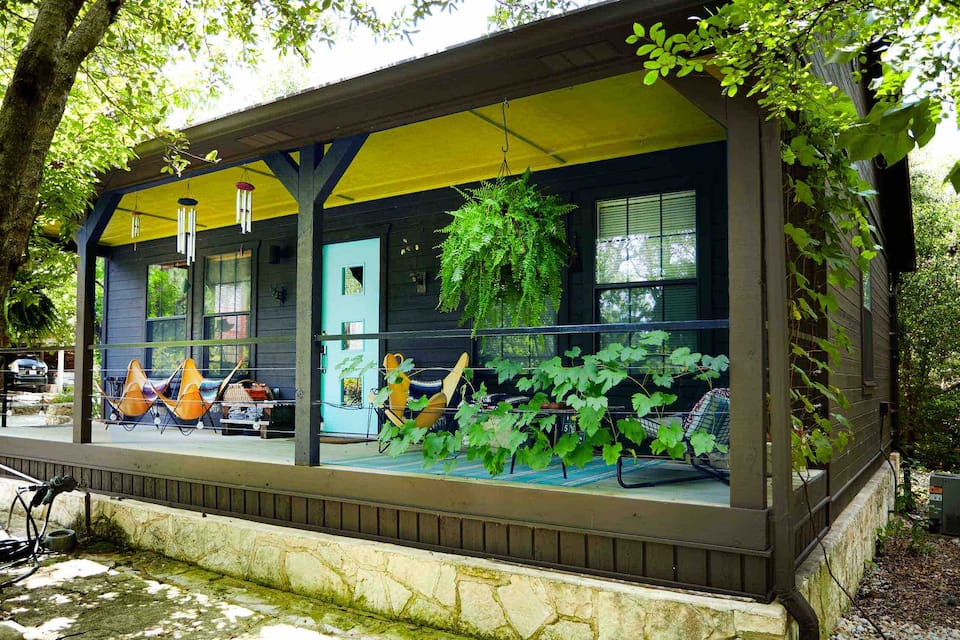 Vibrant Downtown Bungalow
It's easy to feel at home in this vibrant downtown bungalow from the colorful, turquoise exterior to the mix of modern and antique furniture awaiting you inside. You'll find this charming little bungalow in the historic Lavac neighborhood. 
The Airbnb is ideally situated within walking distance of the River Walk, The Alamo, and the Southtown arts district. Bringing your own bike or renting a bike is a great, easy way to travel back and forth from the Airbnb to the major sights as well.
A shared pool in the backyard is the perfect way to wind down after an adventurous day. End the evening on the porch admiring the lights from the Tower of the Americas in the distance.
This bungalow is among the best San Antonio vacation rentals for couples who don't need a lot of space but can appreciate a small, cozy haven.
Click Here To Check Rates On Airbnb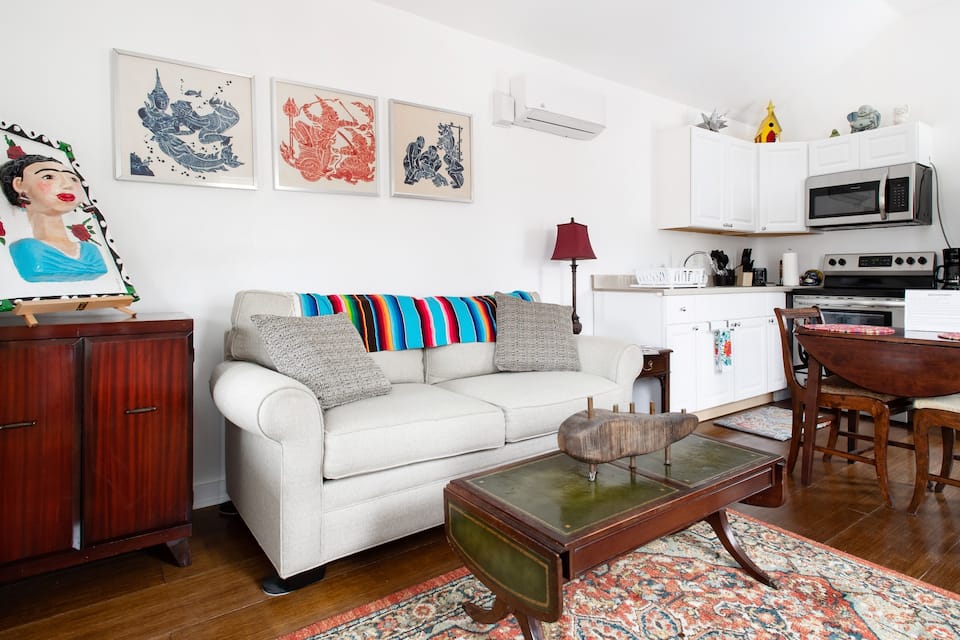 Historic House on San Antonio River
Wishing you could stay within a 15-minute drive of downtown while also enjoying ample space and seclusion? This historic house on the San Antonio River offers you the best of both worlds. 
You'll find this 2 acre property right on the river only a 5 minute walk from the Mission San Juan Capistrano, and the house itself is within the UNESCO World Heritage area. Because the Airbnb is surrounded by national park land, it offers more privacy and seclusion than most San Antonio Airbnbs do that are this close to the heart of the city.
Though this is the priciest of our Airbnb suggestions, the house can accommodate up to 10 guests in 3 bedrooms (1 king and 8 singles) so you can split the cost among friends or gather with extended family. Take note that the loft and its twin beds are best for children or young adults who don't mind climbing the steep staircase.
The home and surrounding property is incredibly inviting with a beautiful sun room, coffee nook, fire ring, koi pond, outdoor lounge area, BBQ, plunge pool and more. Toast some marshmallows, make some s'mores, watch the sunset and the fireflies at night, and enjoy lounging with your companions at this charming San Antonio Airbnb.
Click Here To Check Rates On Airbnb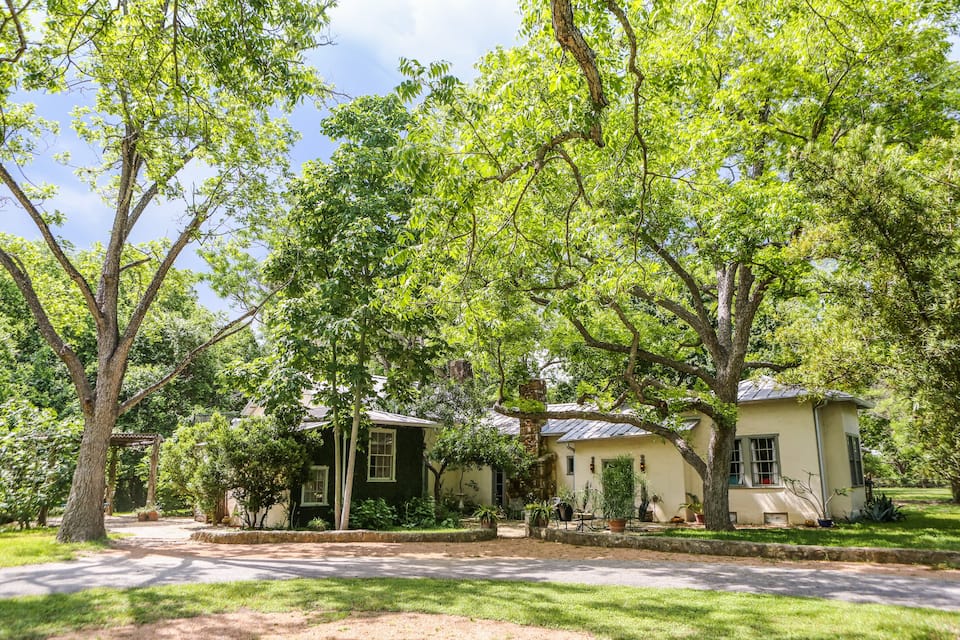 Staycation | Children's Hospital | Near Riverwalk
This third-floor apartment is the last of the San Antonio River Walk Airbnbs on our list. The apartment complex is located on the river and is just a short drive from downtown as well as the Blue Star Arts Complex with its shops, studios and restaurants. 
Staying in a complex has its advantages including access to a large resort-style swimming pool, a grill area and fire pit by the pool, a fitness center, a Wi-Fi Café, and a Media Lounge with complementary coffee and tea. As with many of the Southtown Airbnbs on this list, there are railroad tracks nearby, but the train noises are relatively quiet and are unlikely to disrupt your stay unless you're a light sleeper.
The apartment itself has charming décor and contains everything you need for an enjoyable stay including a well equipped kitchen, a smart TV, bathrobes, an iron and ironing board, hair dryer, complimentary toiletries, and a washer and dryer with laundry detergent. If you need it, the host has probably already thought of it.
A queen bed and a sofa bed can accommodate up to four guests. Individuals, couples, or small groups won't regret calling this apartment home for their next San Antonio trip.
Click Here To Check Rates On Airbnb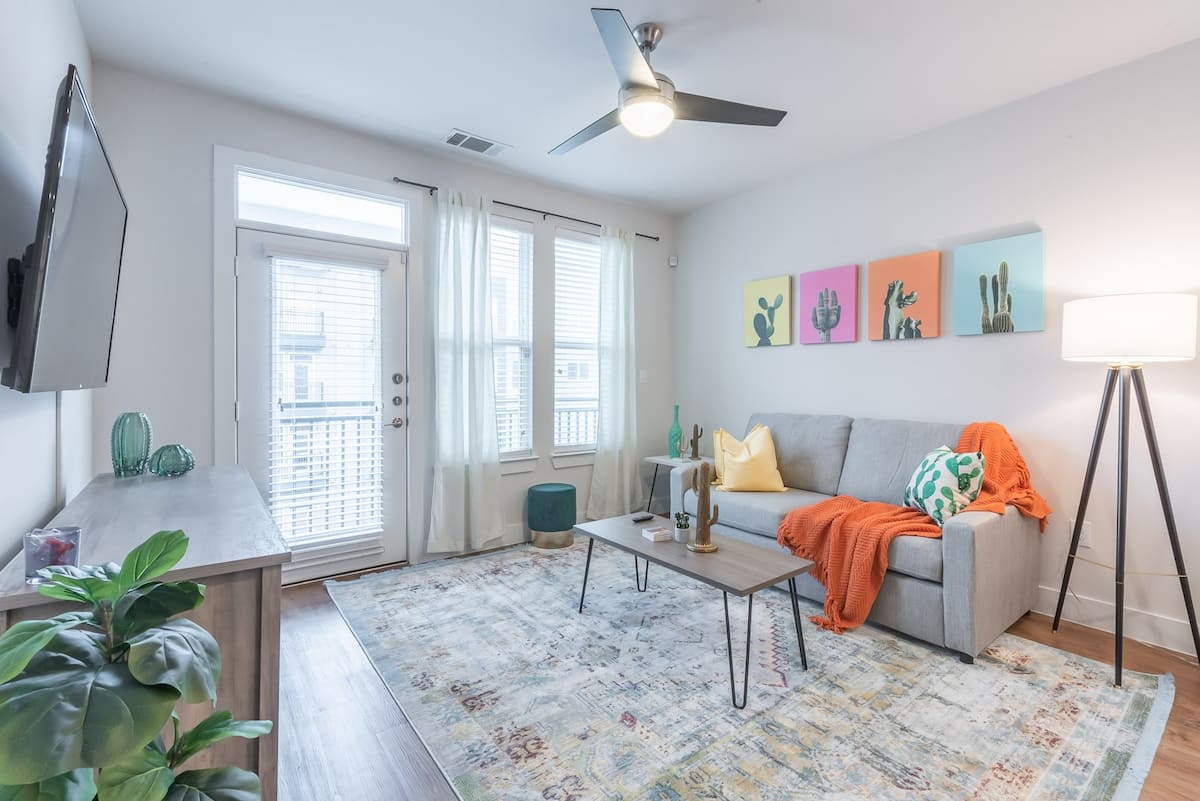 We're thrilled you've chosen to call San Antonio home for your next vacation. We hope one of these San Antonio Airbnbs will catch your eye.
Whether you're looking to stay in the heart of the city within walking distance from the River Walk and The Alamo or wish to stay on the outskirts closer to nature, you're sure to enjoy your time in this city filled with history. As you decide which of these San Antonio vacation rentals is best for you, please let us know if you have any questions or comments.