Looking for the best Airbnbs in Boulder for your upcoming vacation to the entrancing mountains of Colorado? We're here to help out with these 12 unique options that we've found to be the best Boulder Colorado Airbnbs.
From the iconic Flatirons and the delicious breweries to the charming shops of Pearl Street and the college town vibe, Boulder attracts outdoor adventure enthusiasts from around the world who are anxious to spend some time hiking followed by drinks, excellent food, crisp mountain air, and a soak in a hot tub when available.
Boulder is conveniently located within reasonable driving distance from Denver as well as smaller towns such as Golden and Arvada. And from the vibrant leaf changing colors of fall to the snow draped peaks of winter, Boulder is the perfect place to visit at all times of year.
To maximize your experience in this thriving mountain city, you'll want to look for the best Boulder Airbnbs that will allow you to connect with the locals and avoid generic hotel life. There's nothing quite like cozying up in a cabin and receiving restaurant and activity recommendations from your knowledgeable host.
As you prepare for you next vacation, take a look at these Airbnbs in Boulder and ensure your stay is truly memorable.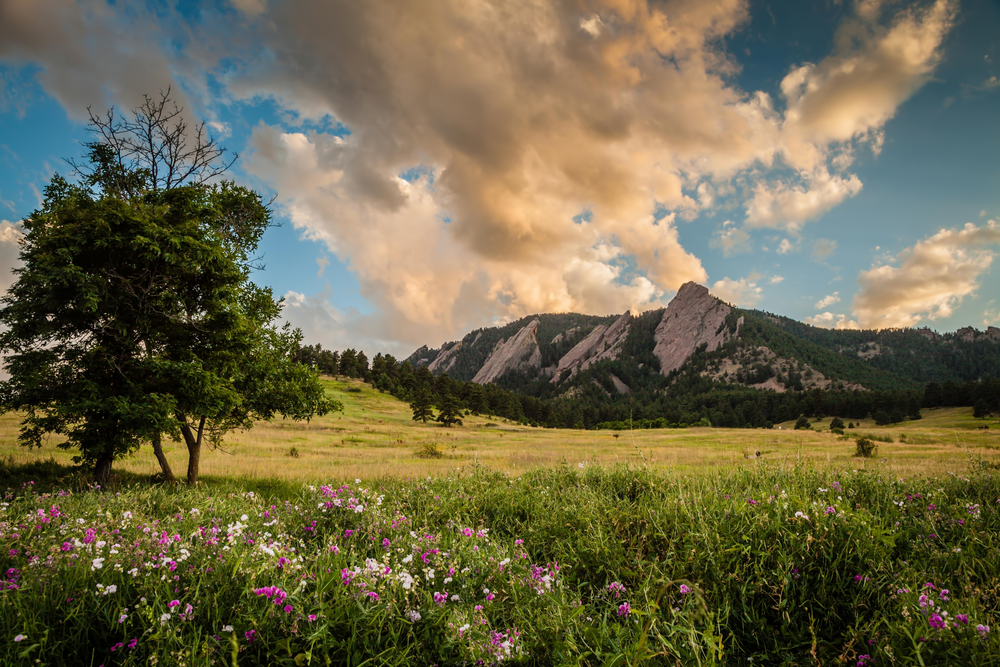 12 Best Airbnbs In Boulder Colorado (Cabins, Treehouses, And More!)
Dreamy Bohemian Bungalow
The ideal trip to Boulder often involves a combination of hiking and other outdoor activities as well as a stroll down Pearl Street as you treat yourself to food and souvenirs from its charming stores and restaurants. The Bohemian Bungalow is located just three blocks from Pearl Street at the heart of the city making it one of the best Boulder Colorado Airbnbs.
Besides being walking distance to Pearl Street, the bungalow is within a short drive of grocery stores and larger chain stores to take care of any essential shopping needs. You're also close to excellent hiking trails including the famous Flatirons in Chautauqua Park.
The bungalow itself is a 1914 Victorian home decorated with beautiful art from the host's travels around the world. The exposed brick wall throughout the house and the south facing windows that allow in ample sunlight give the bungalow a coziness that will make you feel right at home.
Outside you'll find a café table on one of the decks as well as a shaded gazebo perfect for enjoying your morning coffee or eating a meal outdoors. Or you can rock back and forth on the porch swing soaking in the views of the Flatirons.
Click Here To Check Rates On Airbnb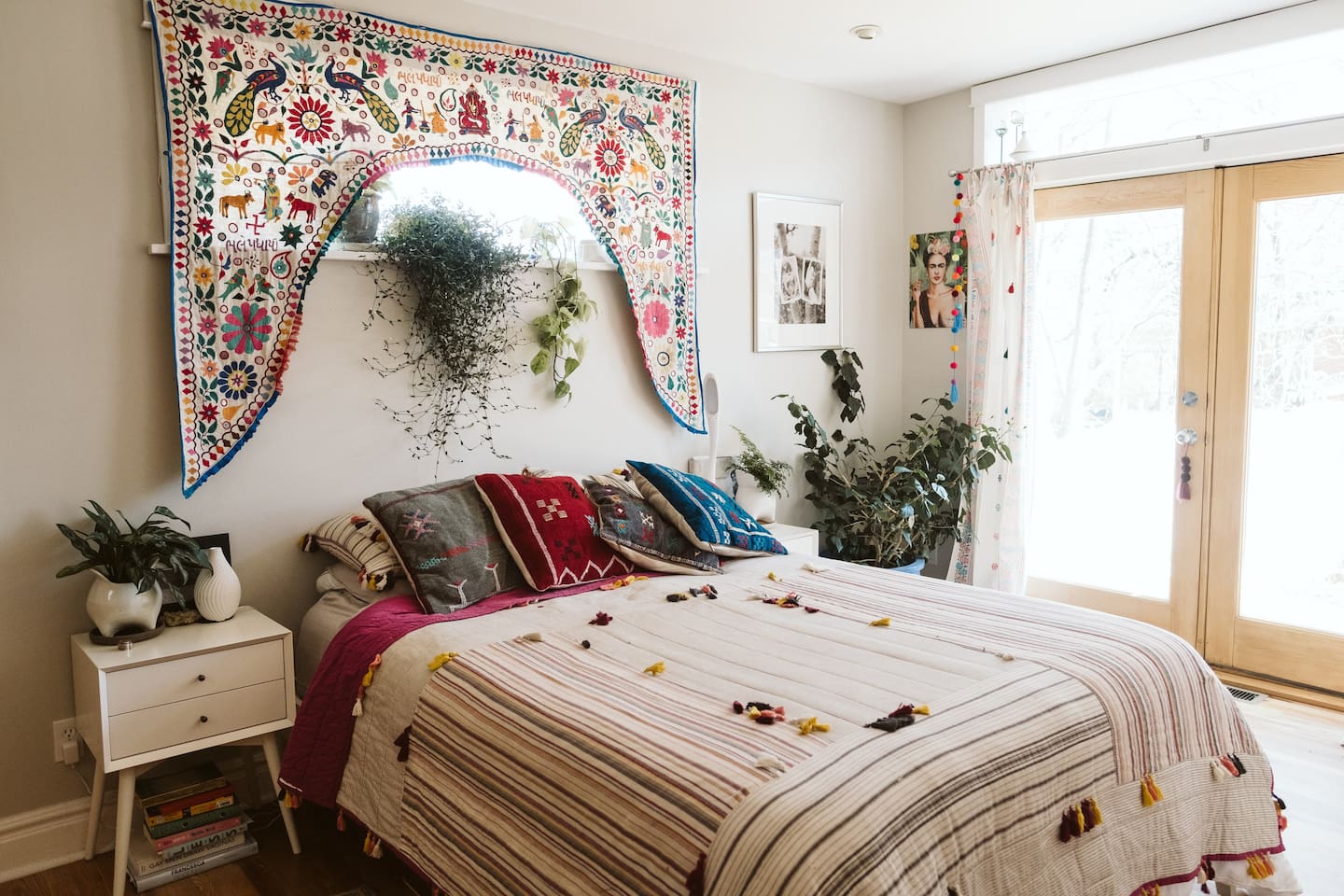 Stylish Retreat Home
This stylish retreat home is one of the best Airbnbs in Boulder for large groups looking to explore all that the city has to offer. The home can host up to 10 guests, so grab your friends or family and prepare to relax in your new home away from home. 
Because the house is divided into a first floor and a basement, it's perfect for two separate families looking to stay together but have some privacy as well. Both floors have their own kitchens, bathrooms, and bedrooms with a living room completing the top floor and a laundry room in the basement.
You'll be tempted to spend your whole day at this western-style retro home with its beautiful artwork, comfy beds, luxurious Jacuzzi bathtub, and private outdoor patio for enjoying a cup of coffee or a glass of wine. The host has also thoughtfully provided games, movies, books, and puzzles for your enjoyment.
Though staying inside has its appeal, who can resist the allure of Boulder's beautiful natural landscape, charming shops, and delicious restaurants? The house is conveniently located close to Boulder's downtown as well as plenty of hiking trails so you'll have no shortage of things to do while you're in town.
Click Here To Check Rates On Airbnb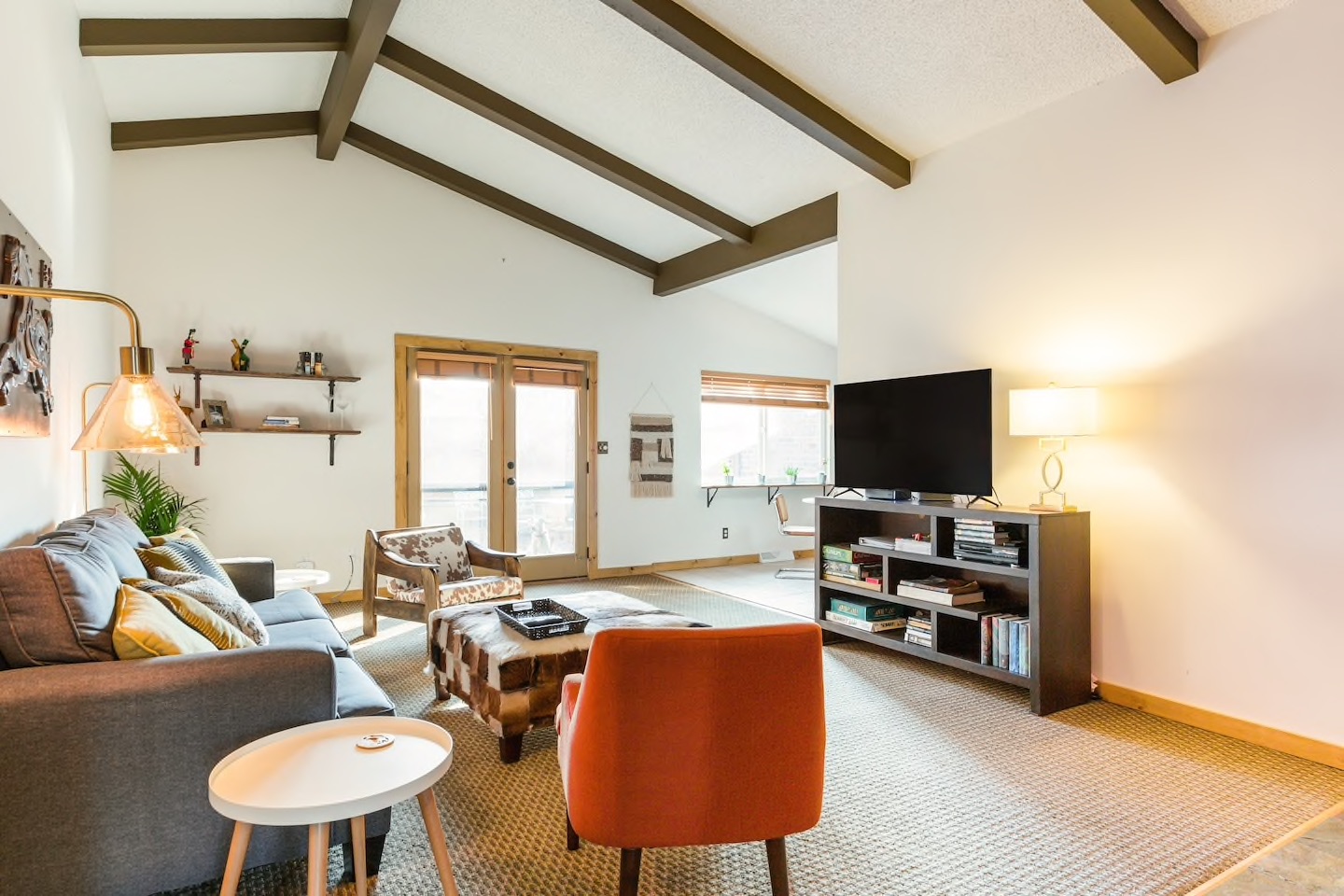 Boho Chic Log Cabin with Zipline
Looking for romantic Boulder Colorado Cabin rentals? Why not check out nearby Coal Creek Canyon where you can experience an idyllic mountain getaway in a quiet, wooded neighborhood, while still being only 35 minutes from Boulder.
This cozy log cabin comes complete with a zip line, treehouse, and slide allowing adults to let loose and feel like a kid again. Follow that with an evening spent stargazing from the skylight in the loft and you'll be thankful you chose this magical cabin as your home base. 
Relaxing on the patio while preparing a delicious dinner on the propane grill is the ultimate way to wind down your day. Head to the hammock after dinner to bask in the crisp mountain air and beautiful views of the surrounding nature, and if you're lucky you might catch a herd of deer wandering by.
Back inside you can strum the guitar, play board games, read books, pull down the blackout blinds, and pass out on the comfortable bed to reset for another day of adventure. With beautiful wood beams, wood floors, and wood furnishings throughout, it's impossible not to feel cozy and at home in this charming log cabin.
Click Here To Check Rates On Airbnb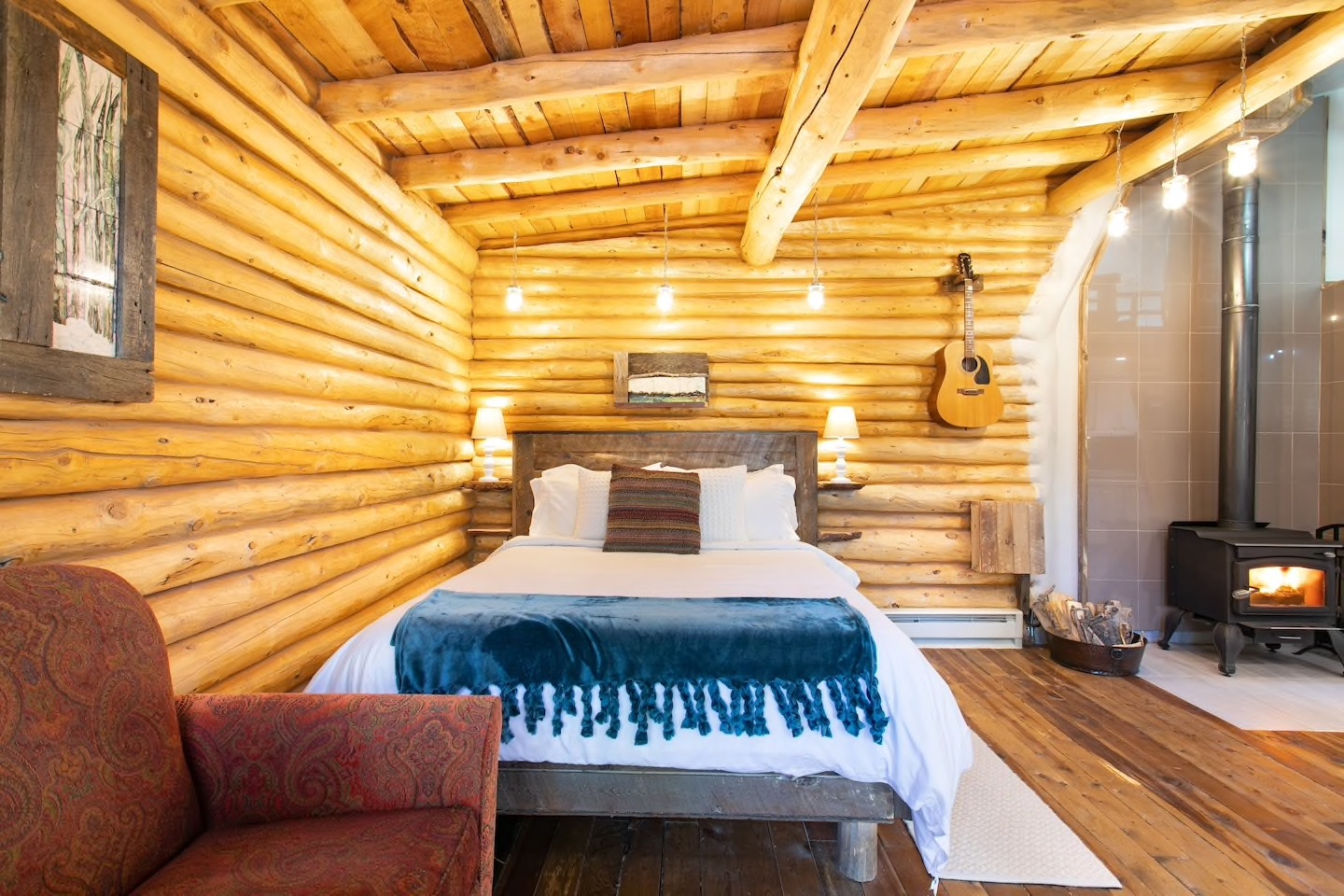 Canyon Escape
Mountain life is magical, but cabins in Boulder give you the best of both worlds allowing you the warm, cozy feel of cabin life out in nature while still having easy access to the comforts of the city. Canyon Escape is the Boulder cabin you're looking for. 
This cabin in Boulder Canyon has easy access to Boulder Creek and the path along the creek, which is perfect for hikers and cyclists. It's also just a couple miles from Boulder Falls and the cliffs of The Narrows, a place loved by avid rock climbers. Surrounded by the woods, you'll feel remarkably at peace in this charming natural landscape.
The cabin itself is divided into two separate studios, but you'll have a private entrance to your half. The hosts live on the property in one of three total cabins and are happy to make themselves available to you should you need them during your stay (playing with their dog is an added bonus).
The studio is the ideal place to return to after a day of outdoor adventures with a fireplace inside, a wonderfully comfortable bed, a desk nook, a hammock and wood stove outdoors, and a garden for added natural beauty. The gift basket of local snacks is the cherry on top of what is sure to be a memorable stay.
Click Here To Check Rates On Airbnb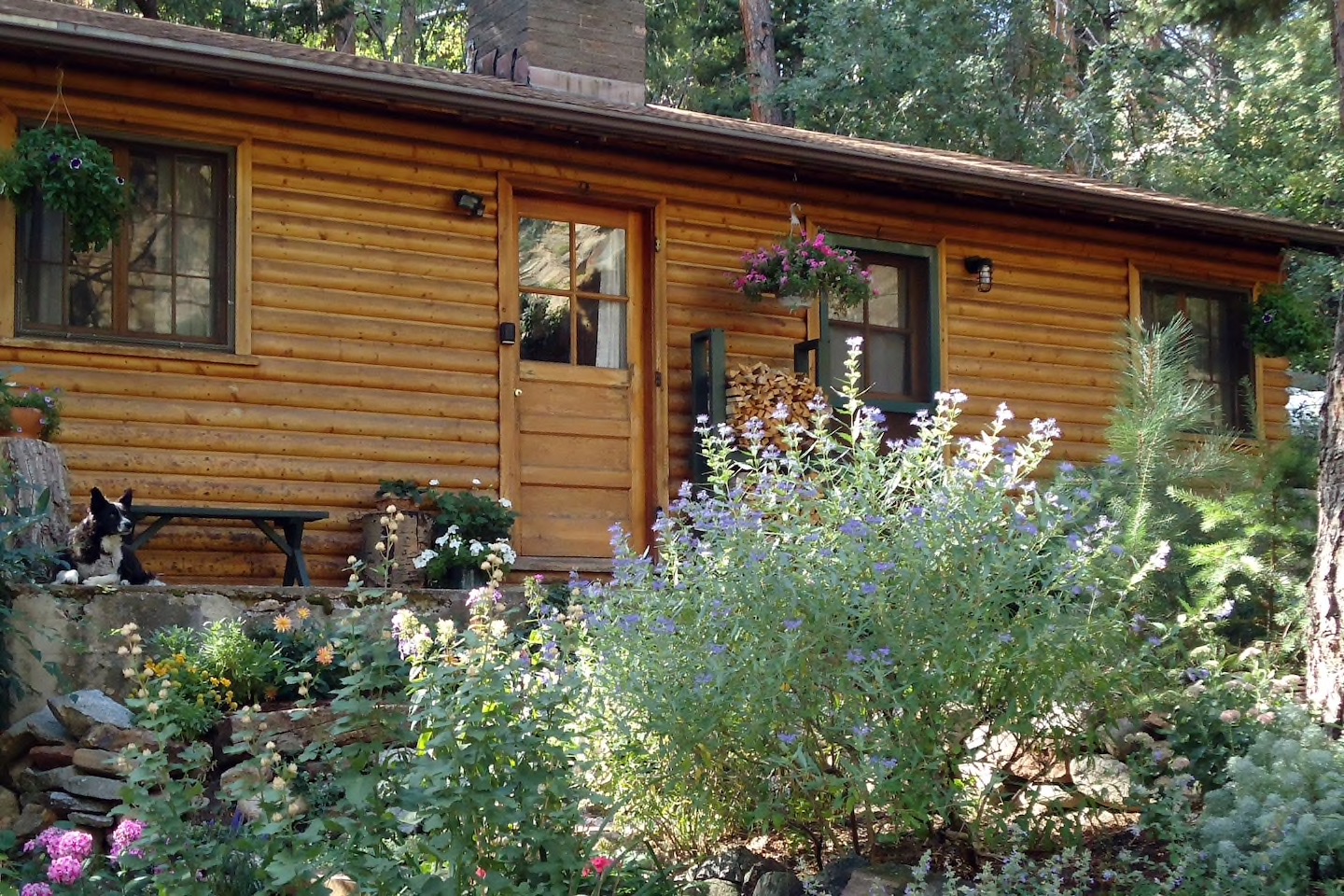 The Cottage at Four Clover Farm
Looking for Boulder vacation rentals that allow you to kick back and enjoy the fresh air and sunlight of farm life? Head just 25 minutes away from Boulder to Longmont for a charming stay at the cottage at Four Clover Farm. 
What better way to start your vacation than by being greeted by the smiling faces of the two resident dogs, Brady and Layla. Follow that by petting and feeding the goats Star, Blackjack, Gizmo, and Carl and the horses Sonata, Slew, and Scout. And don't forget to give the ducks and chickens some love too.
For a small fee you can begin your day with a delicious breakfast made with farm fresh eggs, or you might try requesting the host's delicious cheese tray. Pour yourself a cup of the provided coffee or tea, sit out on the porch, and you're well on your way to having a great day.
The cottage is on a 5 ½ acre lot situated 75 yards from the house for ultimate privacy while still having access to the hosts if need be. There's no wifi at the cottage, but who can complain when you get to start and end your days watching the sun rise and set over the mountains.
Click Here To Check Rates On Airbnb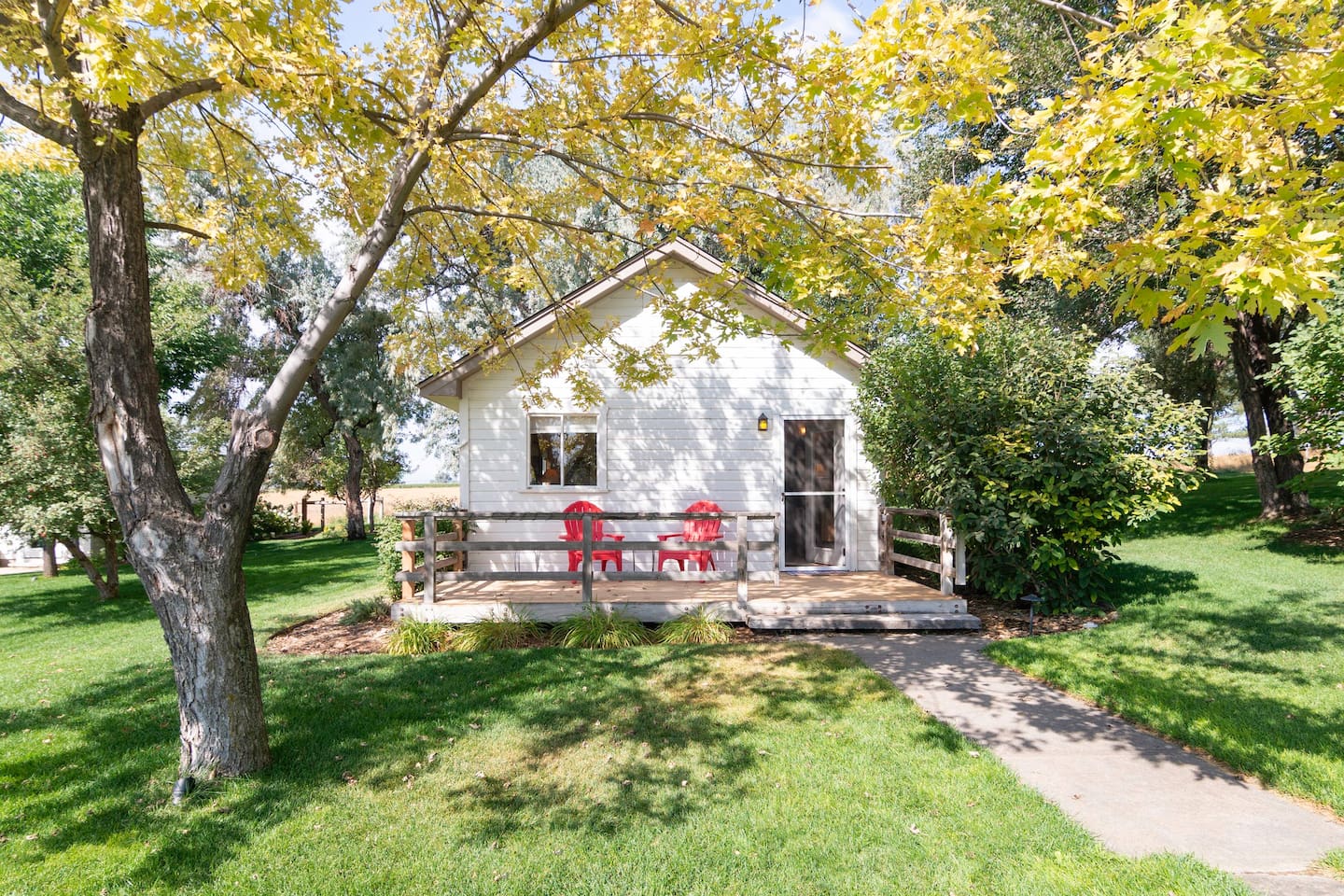 Mountain Suite
It's rare to find Airbnbs in Boulder Colorado that allows you the seclusion of mountain living while being a hop and a skip from downtown. So be sure to book a stay at the Mountain Suite, just 15 minutes from Boulder's Pearl Street, with its beautiful views of Boulder and the mountains.
Your suite is located in the basement of this Snuzzleton Ranch home in Boulder Heights with a separate, private entrance. Though the inside of the suite is comfortable, the outside of the home is what lands it on our best Airbnbs in Boulder list.
You'll love soaking in the outdoor hot tub on a cold night with views of Green Mountain and the Boulder city lights, followed by stargazing when the sun goes down. An abundance of trees, a 1-mile hiking loop around the neighborhood, deer, and the occasional fox sighting make this mountainous community the perfect place to spend your vacation.
Reaching the mountain suite requires driving up a steep winding road, and depending on the time of year will require snow tires or snow chains. You'll also need to be a dog lover to enjoy your stay at the suite, as you'll be bonding frequently with the host's two lovable dogs Gabriel and Smokey.
Click Here To Check Rates On Airbnb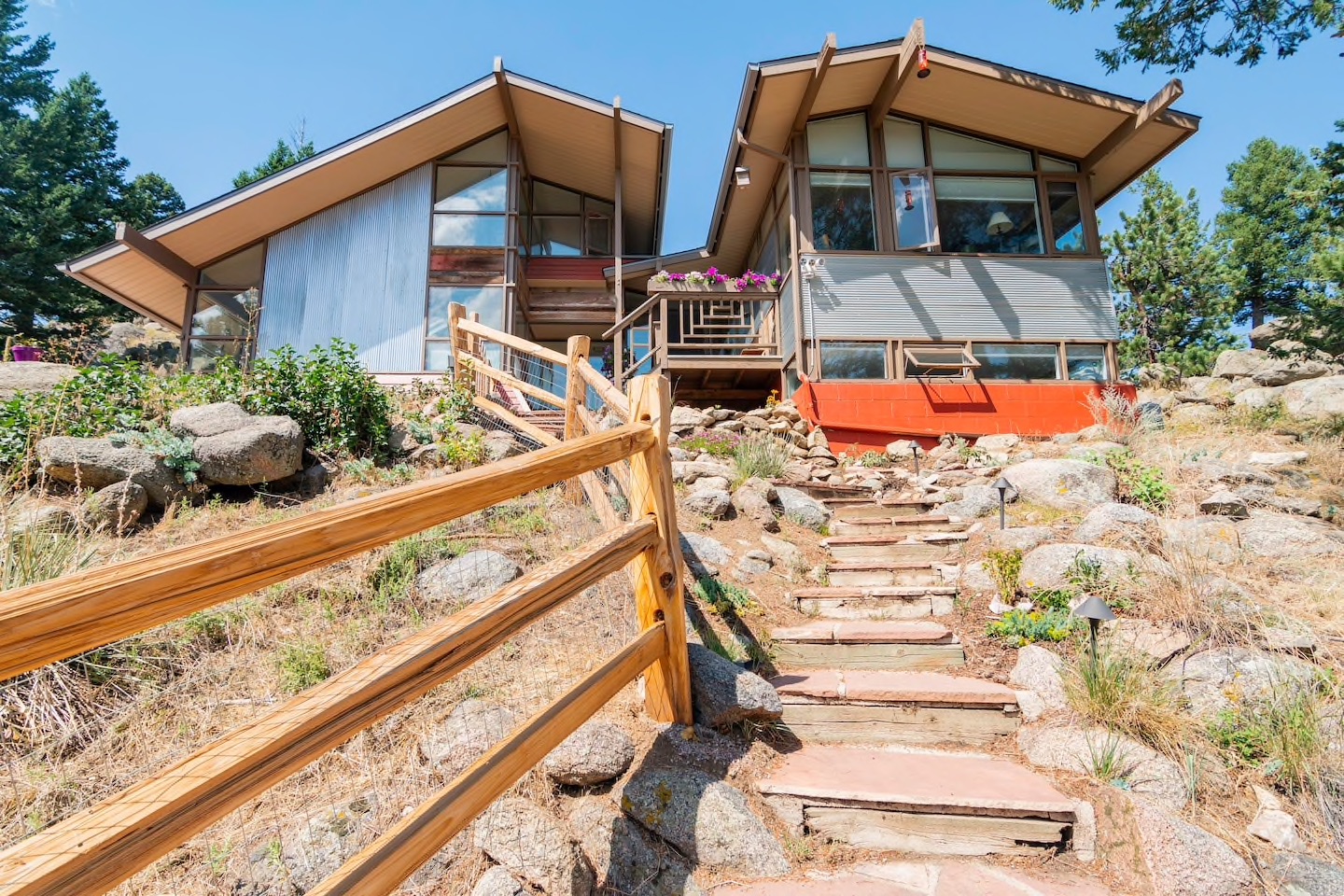 Beautifully Remodeled Executive Rental in Boulder
If you're traveling for work and looking for the best Boulder Airbnbs to rent for a month or more at a time, this beautifully remodeled executive rental is the perfect home away from home for you. This condo has a minimum 28-day rental requirement and offers you your own desk space with an external computer monitor and printer, perfect for getting any necessary work done in between exploring Boulder. 
This condo is the perfect combination of sleek and modern while still being wonderfully homey. You'll have access to a full kitchen and washing machine during your stay as well as fireplace candles that enhance the cozy feel of the place.
The condo is conveniently located just 3 miles from downtown Boulder and has quick, easy access to coffee shops and restaurants to keep you fueled and ready to go. Everything you need is right at your fingertips.
The back patio looks out onto a greenway and a bike path, and is the place to relax after a day of work or exploration. Boulder is also easy to navigate on bike should you choose to rent a bike and join the other cyclists on the path.
Click Here To Check Rates On Airbnb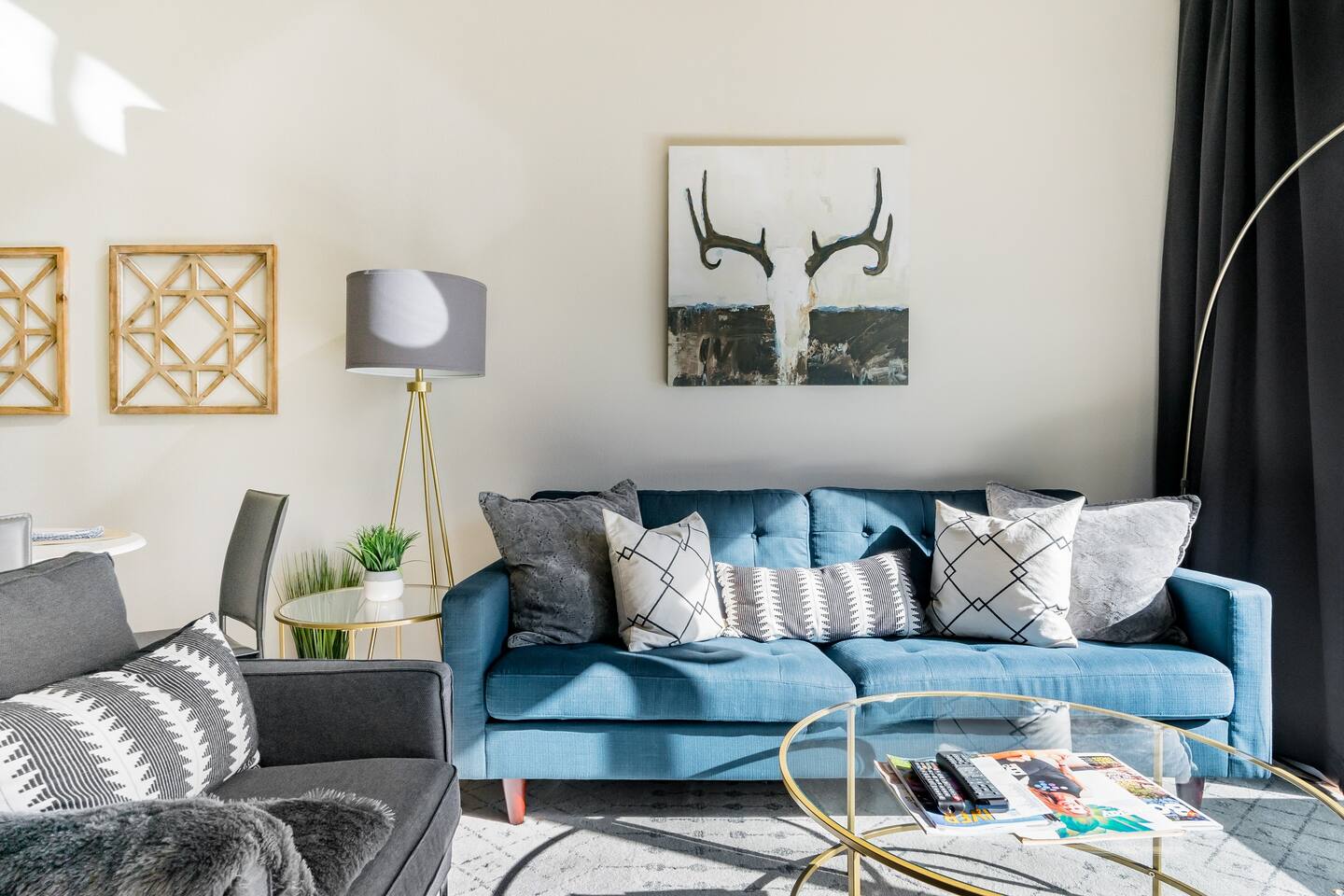 Little Red Treehouse
Looking for the best Airbnbs in Boulder for two? Consider heading 25 minutes away to Lyons, Colorado for a magical stay in the Little Red Treehouse. 
Up among the trees you'll find the coziest, comfiest accommodations complete with a bathroom, efficiency kitchen, heat, air, and electricity, a Murphy bed that allows you to maximize the small space, a loft, and even Wi-Fi. You get the benefits of seclusion in a unique space with mountain views while still having all the basic comforts of life.
Start your day eating breakfast and sipping coffee on the outdoor patio as you take in the views. You'll likely be visited by hummingbirds that love stopping by the hummingbird feeder, and if you look below you might spot the odd bunny or fox.
Bikes are provided if you decide you'd like to ride in to the Lyon Town Center, which alternatively is just a 5-minute walk. You can easily walk to restaurants and shops as well as hiking trails and river tubing opportunities making this charming, unique treehouse a convenient location to have as your home base.
Click Here To Check Rates On Airbnb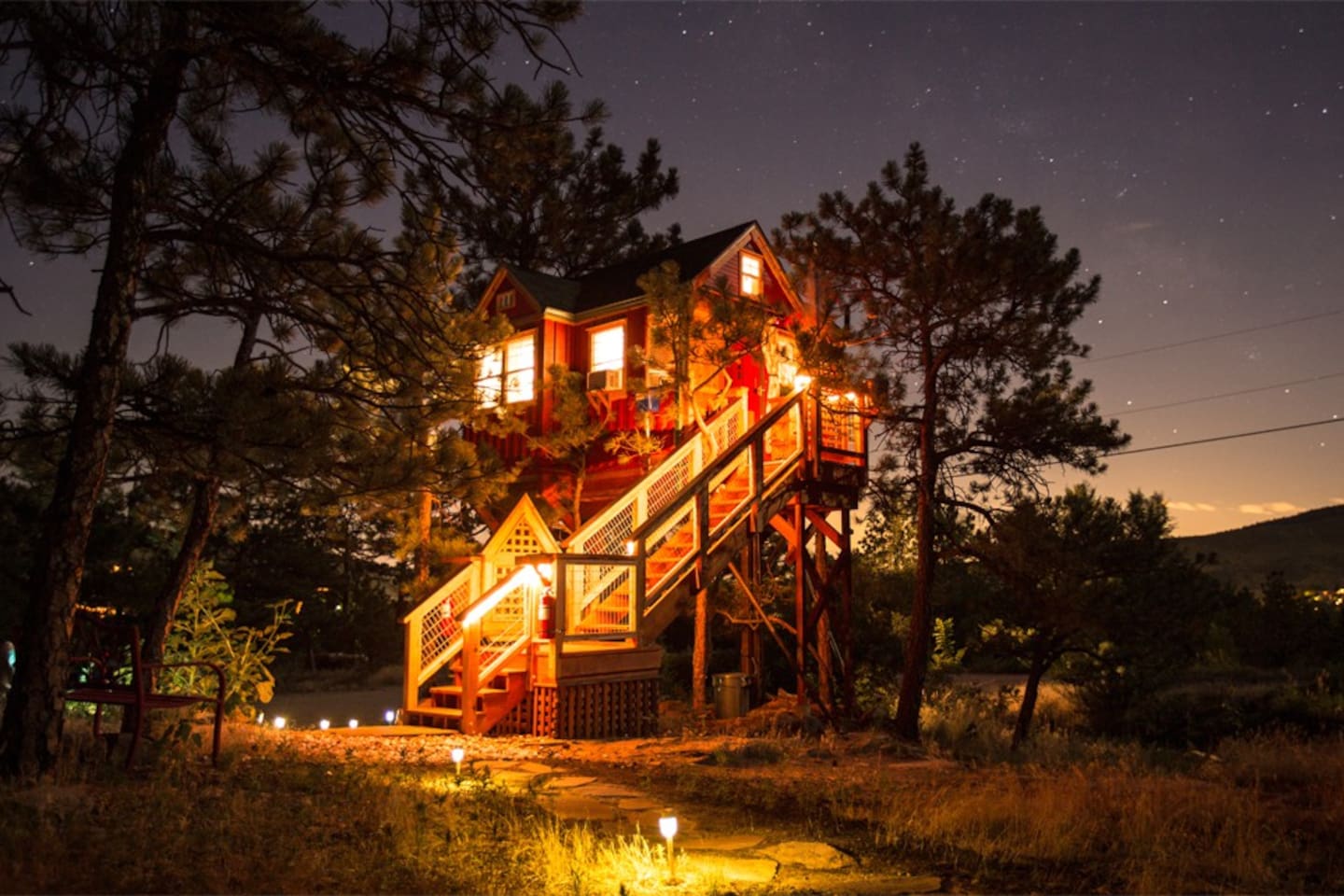 Modern Studio with Awe-Inspiring Views
Airbnbs in Boulder with mountain views make for breathtaking starts to your days. This modern studio is a gem that not only has stunning views of the foothills and of Boulder, but you can see it all from the comfort of your bed. 
After you wake up to the sunrise and mountain views, you can head onto the deck to take it all in some more and say hi to the hummingbirds that like to swing by for a visit. You can also spot the Eldora Ski Resort in the distance, which is a 30-minute drive away if you're looking to ski during your trip.
The studio is roughly 20 minutes from the heart of Boulder, but is conveniently located just 10 minutes walking from Dream Canyon and the creek. When you're done adventuring for the day you'll want to take a dip in the shared hot tub on the deck of the main house where the host lives.
Though the host lives on property, the studio is detached from the main house and offers you plenty of privacy. It's suggested that you drive a 4-wheel drive car to be prepared for the unpredictable winter weather and the steep driveway.
Click Here To Check Rates On Airbnb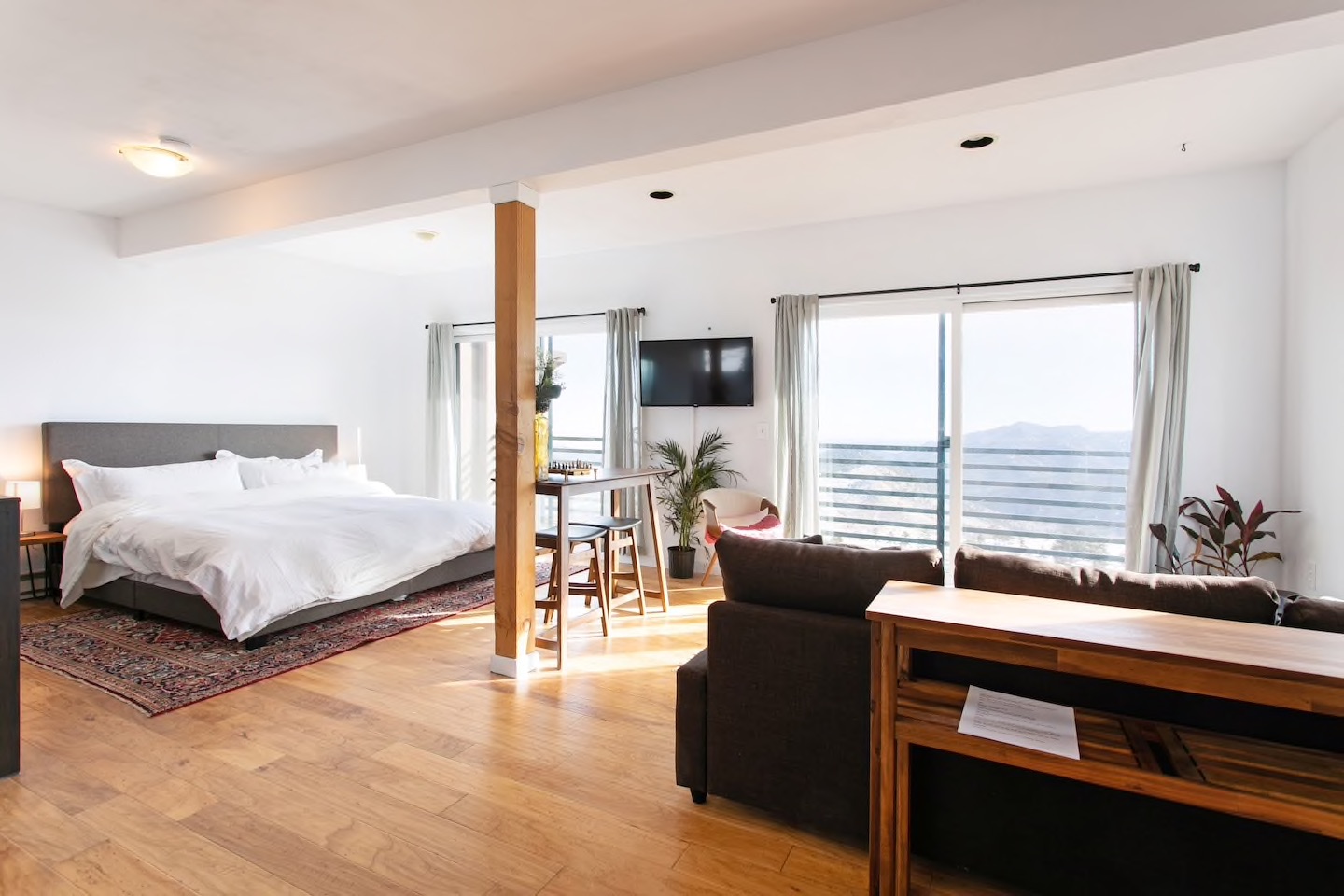 Downtown Penthouse Decks & Views
Great views, a record player, and three chickens…what more could you ask for from Airbnbs in Boulder? This third floor private downtown apartment is within walking distance from Boulder's Pearl Street, and that's just the beginning of what makes this location so appealing. 
The penthouse is located in a historic 1880's Victorian home in the Whittier neighborhood. Though there is parking behind the house for visitors who bring their car, you could easily make this a no-car trip as you can walk to Pearl Street, the Colorado University campus, the Creek Path, and hiking trails at Mt. Sanitas.
After enjoying the chicken coop and the free little book library outside the home, you'll likely find yourself spending most of your time on the 250 square foot outdoor deck with a beautiful view of the Flatirons. It's the perfect spot to enjoy a glass of wine and watch the sunset after dinner followed by some living room dancing courtesy of the vinyl record player.
You should note that there's a 5-day minimum for any reservations made over a month in advance. There are also two flights of stairs to reach the apartment so only visitors who are mobile and can easily climb staircases should book this location.
Click Here To Check Rates On Airbnb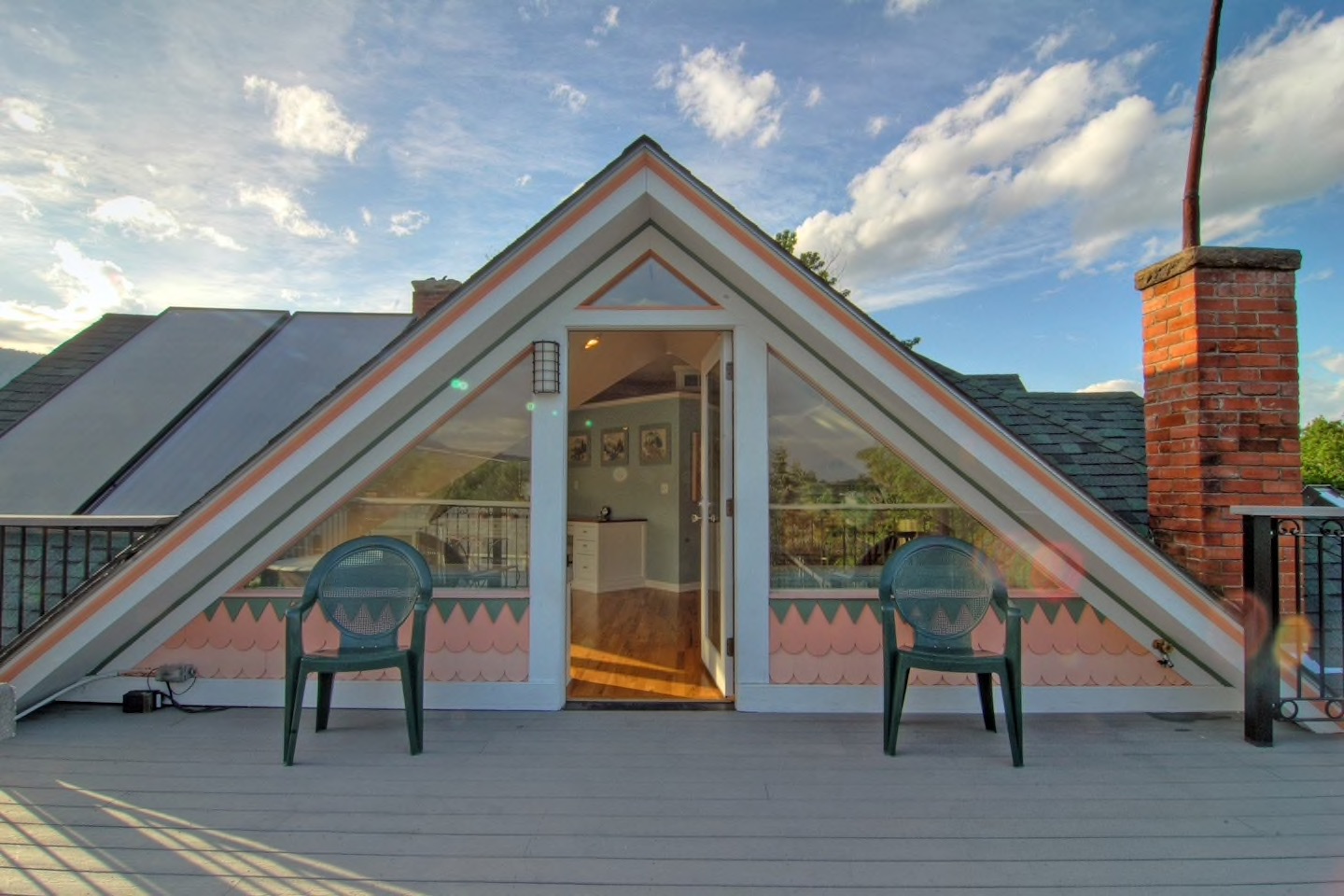 Livestock Rescue Farm
Are you an animal lover looking for a taste of farm life at one of the best Boulder Colorado Airbnbs? There's the perfect livestock rescue farm waiting for you just under a half an hour away in a quiet section of an Arvada neighborhood. 
The backyard is its own little paradise with small water features, a small flower garden, and outdoor games. There's also a fire pit with seating around it perfect for a cozy evening spent reminiscing on the day's activities with a glass of wine and perhaps a cheese board that you can get from the host for an additional charge.
The main draw of this Airbnb is the rescue farm at the back of the property with Elliot and Chief the Great Pyrenees, Linus and Lucy the goats, Tito and Emma the alpacas, and Pepper and Mama Lemon the chickens. You're sure to fall in love with these adorable rescue animals.
Though this is a shared house, you'll have your own private bedroom and bathroom and the host is very respectful of your privacy. Whether you're venturing to nearby Boulder, Denver, or Olde Town Arvada, or are staying in to watch the sunset and sunrise from the patio or take in the mountain views from the front porch, you're sure to enjoy your stay at the farm.
Click Here To Check Rates On Airbnb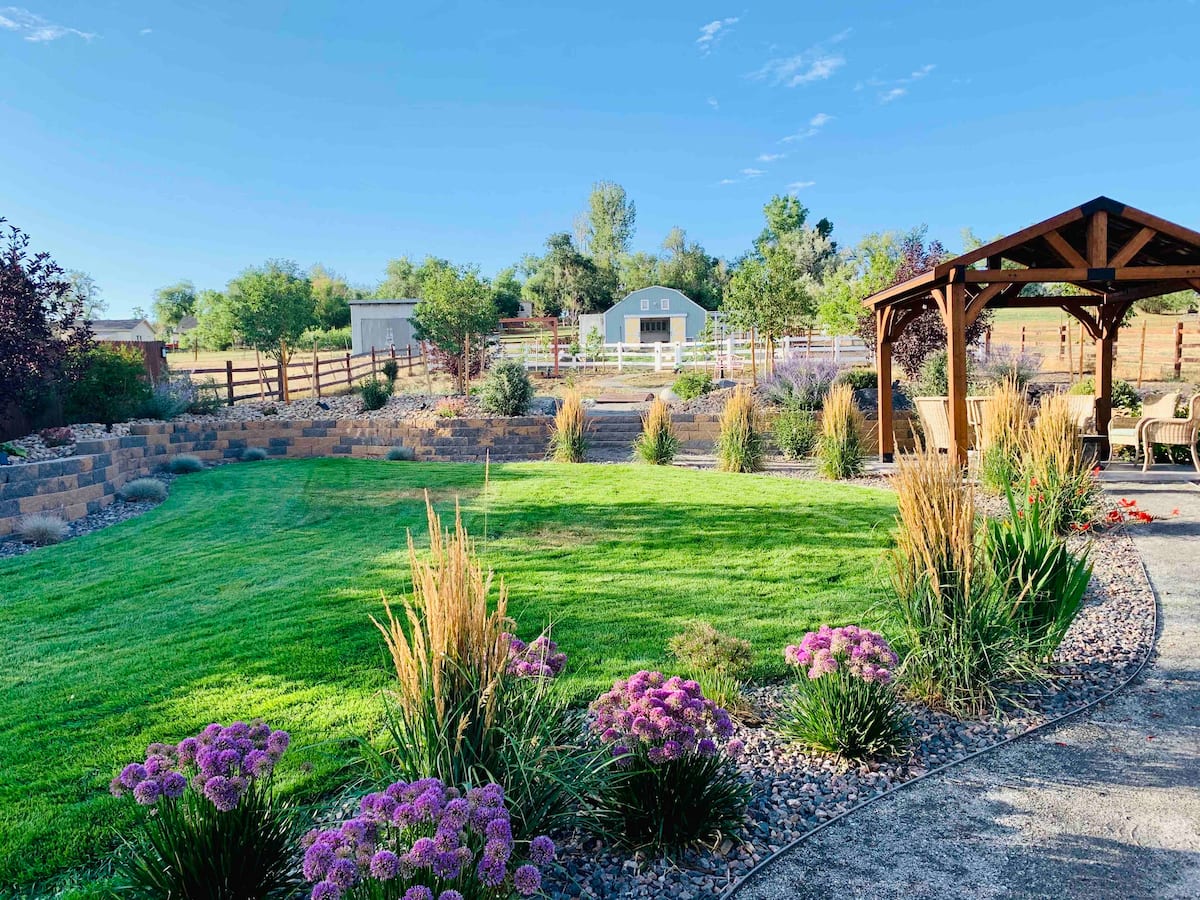 Stylish, Modern Mapleton Home
This stylish, modern Mapleton home is one of the best Airbnbs in Boulder for large groups of people hoping to explore Boulder together. You'll find this home to be incredibly spacious and can host up to 11 guests in 4 separate bedrooms, though you should note there is a 30-day booking minimum. 
The interior of this modern home is beautifully designed with a lot of color pops throughout. There are heated floors which are much appreciated in colder months, extremely comfortable beds, two kitchens for plenty of cooking space, and a claw foot tub and large sunken tub for soaking after a long day.
There are two patios with the back patio featuring a fire pit and BBQ grill. When you're done enjoying a cozy evening outdoors, head back inside to enjoy the board games and indoor sound system.
The home is ideally situated within walking distance of Pearl Street and great hiking opportunities including the Mt. Sanitas trails. There are also road bikes provided for your enjoyment if you'd rather adventure around this bike-friendly city on two wheels.
Click Here To Check Rates On Airbnb
We're thrilled you've chosen to make the mountains and charming streets of Boulder your home for your next vacation. Hopefully one of these wonderful Airbnbs in Boulder will catch your eye.
Whether you're staying in the heart of the city to wander downtown with easy access to restaurants and shops, or you're enjoying the nature views, unpredictable weather, and wildlife up in the mountains, you're sure to fall in love with this town that calls out to lovers of the outdoors. As you decide which of these Boulder vacation rentals are best for you, please let us know if you have any questions or comments.